The heat map: stick with high quality businesses with excellent growth prospects
The US-centric Polen Focus Growth Fund (not currently available for Australian investors) is coming around for its 33rd anniversary and in the period to…
The US-centric Polen Focus Growth Fund (not currently available for Australian investors) is coming around for its 33rd anniversary and in the period to 30 September 2021 it has delivered returns approaching 16 per cent per annum (gross), outperforming the S&P 500 by 4.8 per cent per annum.
This extraordinary return has coincided with similar annualised Earnings Per Share (EPS) growth at the Portfolio level. Hence, there is a very high long-term correlation between the Fund performance and the Portfolio EPS growth.
Throughout its history, and that of most of its peers, the Polen Focus Growth Fund has never been through a genuinely inflationary period. Interest rates have trended mostly downward for the past 40 years, with US ten-year bonds enjoying an enormous once in a lifetime rally, declining from 16 per cent to a low of 0.5 per cent, recorded in mid-2020. In the past 16 months, there has been some minor retracement to the current US ten-year bond yield of 1.65 per cent.
Higher interest rates would likely put downward pressure on price-to-earnings (P/E) multiples, even in the absence of high inflation. As noted here, the dynamics of higher inflation could remain in place for some time as global supply chains and labour markets work to readjust to increased demand after severe dislocations stemming from COVID-19. Over the medium-term however, inflation will have to compete against a number of structural deflationary forces including aging demographics, globalisation, automation and digitisation.
For companies with higher valuations, we need to believe earnings growth estimates support at least double-digit average annual returns, even if there is some compression of the P/E multiple over time due to the potential of higher interest rates.
The best way to offset P/E multiple compression is through investing in companies that can deliver continuous and sustained earnings growth to the Portfolio. And to achieve this, the Portfolio must be packed with businesses that have a unique value proposition, a strong competitive advantage and a deep desire to deliver results for all key stakeholders.
The heat map below analyses Degrees of Expected Returns, where the y-axis depicts the compounded annualised EPS growth over 5 years (from 0 per cent to 25 per cent) and the x-axis represents the change in the P/E multiple over 5 years (from negative 67 per cent to positive 10 per cent).
The example, ABC Company, is growing its EPS at 15 per cent per annum. If there is no change to the P/E multiple, then its five-year return is 15 per cent per annum. However, if there is a linear 25 per cent P/E compression, its five-year return declines to 9 per cent per annum. Furthermore, the P/E multiple would need to compress by more than 50 per cent for ABC Company to deliver a negative return.
According to research by Polen Capital, based on the Portfolio's elevated expected earnings growth over the medium term (say 5 years), the Fund could withstand a compression in the Portfolio's P/E multiple of approximately one-third, and still deliver double-digit annualised returns. And based on the Heat Map, those companies that deliver annualised EPS growth of 20 per cent over five years while also experiencing a linear one-third P/E compression should still achieve an annualised 11 per cent return.
Source: Polen Capital
inflation
markets
interest rates
correlation
inflationary
deflationary
Dip-Buyers Beware Ahead Of The Fed
Dip-Buyers Beware Ahead Of The Fed
This week has seen carnage at the surface and below the index level in US equity markets, capped off by…
Dip-Buyers Beware Ahead Of The Fed
This week has seen carnage at the surface and below the index level in US equity markets, capped off by the chaos around the open today and the start of a $3.1 trillion options expiration, that we have detailed previously.
An ugly week…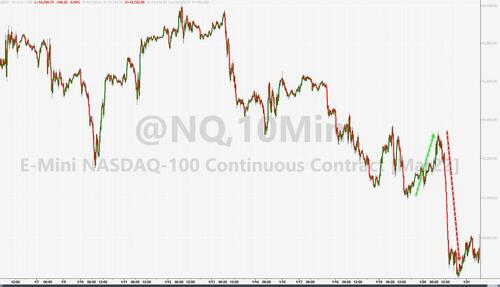 And a chaotic open…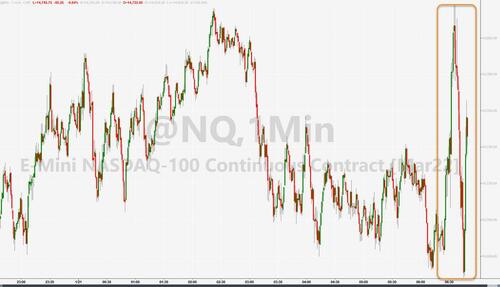 However, what really matters is what happens next? Is it time to buy-the-f**king-dip? Or is Fed fear too much to overcome in the short-term?
First things first, in order to judge what happens next, we need some color on WTF happened yesterday as markets puked with barely a bid. Nomura's Charlie McElligott lays out exactly how things happened…
The PTON shock headline was important to "get the ball rolling"—it had been a "Growth Darling" on the public equities side (+498% from 2019 IPO into early 2021 highs), and for many funds, was once a private-side holding–which optically and sentiment-wise VERY MUCH MATTERS right now, as those "unicorn" books are finally getting an MTM "come to jesus" which is crushing performance now for many funds, instead of previously carrying it—so there was fear of cascade into other "legacy" growth names with stupid valuations

So shortly thereafter (about 15-20 minutes), when the critical 100dma in ES of 4570 I mentioned in the morning note couldn't hold, that was first "ruh roh"…bc up to that point, the Dealer Delta covering HAD been a rocket ship

At this point, our internal Equities Futures "pressure" / imbalance monitors began showing that same heavy ongoing "vwap-style" de-risking seen in prior days, hitting bids, particularly in 'large lots'—meaning big institutional / asset-manager –type size

We then saw some really really big cash "sell" baskets which started going off at 2:30pm and escalated into the close, with TICK (proxy for large notional "program" flows from customers across single-name equities) hitting -1850 a few times in waves, and actually printed -1875 at the peak, which is largest "downtick over uptick" impulse across NYSE Equities since 9/20/21

From there, the kill-shot from the FLOW-perspective was when we began approaching the CTA "sell trigger" in S&P at 4507 I wrote about in the morning, when stating that it "had to hold"…..i had about 50 bberg chats pop-up once we moved down below 4520, as Traders were clearly "keying" on it / front-running it

And we absolutely BLEW through the flip level (4507 to the cash close of 4474 in about 20 minutes), which by our estimates meant $25B of Spooz to go from CTA Trend

This flow then took-out the 4500 strike with ease (notably the largest $Gamma strike)—where at that spot level also saw us near yesterday's point of Dealer "max short Gamma," in the area of ~ -$22B per 1%

And of course, the coup de grace was the NFLX outlook whiff after the cash Equities close, where this (former?) "General" of the FANGMAN / mega-cap Growth -era was slaughtered like a Microcap Lamb, -20% after-hours—which then further spiraled fears 'liquidation cascade" fears across the Fund universe, where so many "thrivers / survivors" of the past decade simply overweighted 5-10 of these names and watched their "returns vs benchmark" drive asset growth
So now we know how we got down here, we should remember that into today's Op-Ex, the set-up is as follows: massively short $Gamma and vs spot…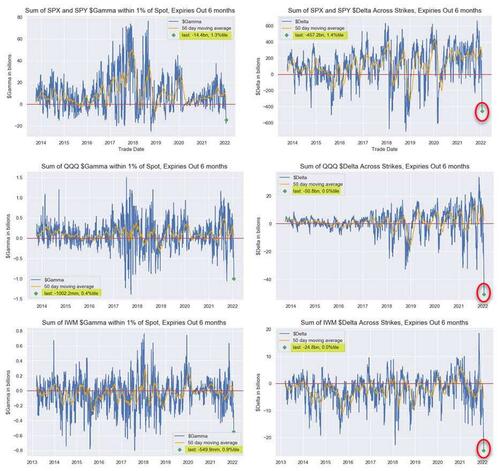 …but with a huge percentage of $Gamma set to roll-off thereafter, which means potential for Delta relief next week.
The majority of the (negative) Gamma set to roll-off today is in client downside / Puts, meaning that Dealers will have MUCH less Delta exposure to hedge / sell futures against come next week…i.e. if we are now closer to the end of client de-risking and there is "less hedging required on smaller underlying books = downside not rolled-out," Dealers will be buying-back their "short futures" hedges.
As SpotGamma highlights, yesterday certainly felt like some forced liquidations, which fed into large negative gamma and an accelerated drop. 4500 is the major gamma strike currently on the board, but all strikes are very put-dominated. As such we think today's flows will be hyper sensitive to shifts in implied volatility (vanna) and decay (charm).
We show >=33% of total S&P + QQQ gamma expiring today, which will lead to put covering. We therefore anticipate some relief rally today (or an attempt at one).
Its likely that a lot of put flow is rolled out due to the FOMC (+ volatility & other general risks), and still feel that a meaningful, multi-session rally cannot take place until after Wednesdays Fed.
In other words respect the magnitude of possible rallies today, but we advise not to consider them stable.
SpotGamma concludes then that the clearing of puts is supportive of markets, and may spark a short cover rally. However, because of the FOMC we do not think implied volatility will be offered in large supply as traders hedge the event risk. While we do give an edge to "pre-Fed" S&P lows being in, but anticipate large directional swings into Wednesday.
This is very risky, fragile market with lots of large flows that can shift price rapidly.
But, McElligott notes that CTA shorts are now in-place for US and could act as further "fuel for a squeeze" on spot stabilization / client monetization…as for now, "buy to cover" triggers in S&P, Nasdaq and Russell 2k futures are far more proximate than next "sell triggers"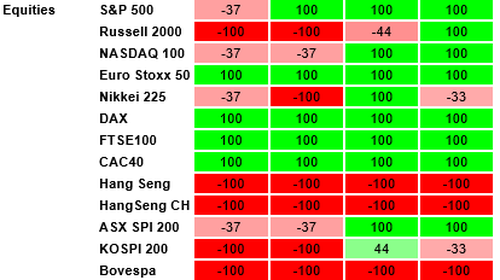 …the case for at least a short-term "mechanical" rally (meaning not one really built on bullish sentiment improving, per se) following Op-Ex and out-of the Fed next week still largely stands.
But the Nomura strategist concludes with a warning not to get too excited:
"Bigger picture however, the above is just providing a temporary "mechanical relief" and little more…because there is undoubtedly a sense we are in a new-regime from the Vol-sense"
We are forcibly transitioning to a world that requires "tightening" of still-too-easy financial conditions which requires simultaneously policy hiking and balance-sheet unwind
And that's why all I keep hearing about from clients is a resumption of the "4Q18 Playback," as the scar-tissue from that QT + hikes experiment is the backtest people are drawing on…
…but this time, with just so much more extensive speculative & valuation excess as a starting point…
…but this time, due to the inflation issue, a "Fed Put" which is now struck much lower below spot…
…meaning no "dovish pivot" relief unless things get much, much worse from the markets-side.
Tyler Durden
Fri, 01/21/2022 – 10:45
inflation
markets
policy
fed
Roku Investments At These Levels Make Sense
A few years ago I was a skeptic about the exuberance over Roku (NASDAQ:ROKU) stock. However, in the past two years I changed my mind because of the improvements…
A few years ago I was a skeptic about the exuberance over Roku (NASDAQ:ROKU) stock. However, in the past two years I changed my mind because of the improvements in the financial fundamentals. Therefore, today I am speaking as a proponent of buying the dip in ROKU stock.
Source: JHVEPhoto/Shutterstock.com
This week, equities are under pressure as investor sentiment has soured. This makes for touching trading conditions. For example, yesterday stocks fell out of bed mid morning and for no reason. The bulls had a clear win on their hand, and they chose to lose the game on purpose.
The lasting bad effect from that is that in the process they triggered bearish patterns. Almost all mega cap stocks are now below neckline that can carry prices much lower. Apple (NASDAQ:AAPL) for example triggered a bearish head and shoulders pattern that could target $156 per share.
The bulls can still save it, however now they are on their back feet peddling upstream. Similar scenarios are in the Nasdaq and the S&P 500 charts too. Amazon (NASDAQ:AMZN) has already started its breakdown from higher levels. And Netflix (NASDAQ:NFLX) just finished its target and then some.
ROKU Stock Is in Good Hands

Click to EnlargeSource: Charts by TradingView
This brings us to ROKU stock, which has already been in pain for months. There was good news yesterday because among the rubble, it managed to close positive on the day. Sadly, it fell overnight in sympathy to the reaction to Netflix's recent earnings report. Investors completely rejected the message from Netflix and sold the stock down 20%. This dragged Roku down after hours erasing whatever good news transpired during the day.
My selling point today is more about technicals than fundamentals. However, it is good to know that the company is executing on plans very well. Otherwise they wouldn't have delivered a tenfold increase in gross profit since 2016 and a six-fold increase in revenues. Clearly they know what they're doing, so investors should give them the benefit of the doubt.
The growth rate is not showing signs of deceleration. Therefore I can assume that this swoon in ROKU stock price will pass. Statistically this is not an expensive stock with a price-to-sales under 10. This puts it in the range of Apple, Microsoft (NASDAQ:MSFT) and Facebook (NASDAQ:FB).
If there are no fundamental problems, then the chart would be the second opinion I need. In this case Roku has already shed 70% of its value since its all time high. Moreover, it reached the level that was a massive failure in 2019, and the breakout after the pandemic. When stocks fall into such pivotal zones, they tend to find support. I bet that there are buyers lurking below these current prices.
Guard Against Outside Factors
Since I noted the technical bearish triggers in the indices I must leave room for error. Investors looking to initiate positions in Roku should only do partial size at first. The idea is to average in, not average down. Wall Street is having a crisis of sentiment in anticipation of the Federal Reserve monetary policy change. My gut says that our imagination is being more bearish than it needs to be.
Hopefully soon Federal Reserve Chair Jerome Powell sheds some light over their plans. Until then investors will be preparing for the worst. Those already long the stock may have missed the opportunity to panic out of it. The easy fall has already happened, and the bears from here will need hard work to do more damage.
On the date of publication, Nicolas Chahine did not have (either directly or indirectly) any positions in the securities mentioned in this article. The opinions expressed in this article are those of the writer, subject to the InvestorPlace.com Publishing Guidelines.
Nicolas Chahine is the managing director of SellSpreads.com. 
More From InvestorPlace
The post Roku Investments At These Levels Make Sense appeared first on InvestorPlace.
B2Gold (NYSE:BTG) (TSX:BTO) shows strong production, but Mali risks persist
B2Gold's (NYSE:BTG) strong 2021 production numbers are overshadowed by its underperforming Gold Miners Index (GDX) by nearly 20%. The drop was partly…
B2Gold's (NYSE:BTG) strong 2021 production numbers are overshadowed by its underperforming Gold Miners Index (GDX) by nearly 20%.
The drop was partly due to a record comparative earnings year in 2020 as well as perceived risk in Mali. If recent sanctions do not impact mining operations, B2Gold's price could start to better reflect its solid fundamentals. 
Low cost producer with strong cash position
Annual production for FY2021 was 1.04M oz. with all-in sustaining costs (AISC) between $870 and $910. AISC for FY2022 are projected to be $1,010-$1,050 due to inflationary pressures. Even so, B2G is poised to remain among the lowest cost producers in the industry.
2021 cash flow from operations is estimated at $650M. The strong cash position with virtually no debt gives the company options for exploration and M&A. $29M has been allocated to grassroots exploration for 2022, highlighting their ambition to continue to grow by drilling.
In the words of chief executive Clive Johnson, "we've always been very entrepreneurial, yet we're very good at the bricks and mortar of our business…. We'll do deals that other companies may not do."  
Perceived Mali risks but no impact on production
Over half of B2Gold's production comes from the Fekola Mine in Mali, where regulatory and geopolitical events have been an ongoing theme. 
There was a military coup in May which, while not impacting operations, created some negative investor sentiment regarding one of Africa's biggest gold producers. The government's revocation of an exploration permit for B2Gold's Menankoto property also caused negative market reaction. Although a permitting agreement was reached in December, recent sanctions on the country imposed by the Economic Community of West African States (ECOWAS) raise the possibility of supply disruptions.  
Nonetheless, Fekola exceeded 2021 production estimates with 567,795 oz. and CEO Clive Johnson maintains that it will withstand supply disruptions and meet 2022 targets.     
Image source: b2gold.com
Underexplored jurisdictions
Part of B2Gold's strategy is to operate and develop in jurisdictions which, while relatively underexplored, are often perceived as higher risk compared to, for instance, Canada, Nevada, or Australia. As Clive Johnson states, "a core part of our strategy is to go where others fear to tread."
Aside from core operations in Mali, The Philippines, and Namibia, the company has exploration projects in Uzbekistan and Finland as well as a JV development in Colombia. In July 2021, they signed exploration contracts in Egypt.  
In the face of perceived geopolitical risks, Johnson highlights the solid economic foundation gold miners brought to countries during COVID and anticipates B2Gold's experience and reputation will set it apart.     
Valuation fundamentals
B2Gold offers one of the highest dividends in the industry (4.38%). It is trading at 8.67 times earnings and has healthy current and quick ratios of 4.89 and 2.90, respectively. Price to forward earnings and price to cash flow are both below industry averages.
If perceived Mali risks begin to ease and gold continues to show a strong hand in volatile markets, B2Gold's value could start to be better reflected in the price.
The above references an opinion and is for information purposes only. It is not intended to be investment advice. Seek a licensed professional for investment advice. The author is an insider or shareholder of one or more of the companies mentioned above.
The post B2Gold (NYSE:BTG) (TSX:BTO) shows strong production, but Mali risks persist appeared first on MiningFeeds.
gold
markets
mining
inflationary
tsx
nyse
tsx-bto
b2gold-corp