The Rittenhouse Verdict: Media's "Social Justice" Delusions Versus Actual Justice Backed By Facts
The Rittenhouse Verdict: Media's "Social Justice" Delusions Versus Actual Justice Backed By Facts
Submitted by QTR's Fringe Finance
By now,…
The Rittenhouse Verdict: Media's "Social Justice" Delusions Versus Actual Justice Backed By Facts
Submitted by QTR's Fringe Finance
By now, most people know the basic facts of why Kyle Rittenhouse is on trial.
He either "provoked fatal shootings" in Kenosha, WI in the midst of racial-justice protests by pointing his AR-15-style weapon at people last year or he simply acted in self-defense in shooting two people while trying to be a good Samaritan, putting out fires and offering medical aid to those engaged in violent and volatile protesting.
It all depends on who's telling the story. Here's two lines from closing arguments at his trial that sum it up:
"When my client shot Joseph Rosenbaum, he feared for his life," Rittenhouse's lawyer said in closing arguments.
"When the defendant provokes this incident, he loses the right to self-defense. You cannot claim self-defense against a danger you create," the prosecution's attorney said.
And while these statements appear to represent two arguments that both have merit, the Rittenhouse trial proved that the objective truth sides far closer to the defense's narrative than the prosecution's. In fact, when Gaige Grosskreutz, the third man shot by Rittenhouse and the only one who survived, testified, he responded "correct", when defense attorney Corey Chirafisi asked him: "It wasn't until you pointed your gun at him, advanced on him … that he fired, right?"
For many, that was the end of the trial. It was a stunning and eye-opening admission that seem to solidify the case for self-defense in Rittenhouse's favor.
Former New York City prosecutor Julie Rendelman told Fox News the defense "hit it out of the ballpark" with the admission. Even self-proclaimed Democrats who had "gotten the wrong impression" about Rittenhouse were forced to walk back their preconceived notions about what took place that night.
Even self proclaimed Democrats who had "gotten the wrong impression" about Rittenhouse quickly made public mea culpa's. Take, for instance, billionaire Bill Ackman who quickly posted a Tweet thread stating that he found Rittenhouse to be a 'civic-minded patriot' who acted in self-defense.
"We found him to be a civic-minded patriot with a history of helping his community as an EMT and fireman in training, in his removing hate graffiti earlier that day from a local school, and ultimately in volunteering to protect a business during the night of August 25th in Kenosha," Ackman wrote.
His thread continued: "Our first hand impressions of Kyle were materially different from those we had previously formed based on media reports and opinion pieces that we had consumed."
"I have always been frustrated to read an inaccurate press report about a subject I know well, yet somehow I continue to believe other articles in the same newspaper about subjects I know less well. Media and political bias are dividing our country and destroying lives. While we have not heard the entire trial, based on our assessment of Kyle on the stand, we believe that he will be found innocent by the jury."
He concluded: "Kyle Rittenhouse's life is at risk. Justice demands a fair trial. Society would benefit greatly if politics did not enter the court room and convict innocent people."
Unfortunately, that Tweet thread was quickly followed by a Tweet showing exactly how skewed, political and biased our media has become. Ackman wrote:
"Just got a call from the media asking if my Twitter account was hacked. That is, the reporter couldn't conceive of the idea that I could believe that Kyle is innocent because I am not a right winger. Crazy."
As the case progressed, not only did it become clear that Rittenhouse was likely innocent, but it also emerged that the prosecution was engaging in tactics that warranted them admonishment by the judge.
Here's one such incident where the judge took exception to the prosecution's line of questioning:
A second questionable incident from the prosecution came to light just hours ago when it was discovered that video evidence provided to the defense was not of the same quality that the prosecution had access to. This prompted the defense to request a mistrial:
Kyle Rittenhouse's attorneys asked the judge to declare a mistrial even as the jury was deliberating Wednesday, saying the defense received an inferior copy of a potentially crucial video from prosecutors.

Judge Bruce Schroeder did not immediately rule on the request, the second mistrial motion from the defense in a week.

At issue was a piece of drone video that prosecutors showed to the jury in closing arguments in a bid to undermine Rittenhouse's self-defense claim and portray him as the aggressor. Prosecutors said it showed him pointing his rifle at protesters before the shooting erupted.

Rittenhouse attorney Corey Chirafisi said the defense initially received a compressed version of a video and didn't get the higher-quality one used by the prosecution until the evidentiary portion of the case was over.
The difference in the quality of the video evidence was stark:
And as the case progressed even more myths about Rittenhouse were proven to be incorrect, one by one.
In preparing my own thoughts on this matter, Bari Weiss did a great job of laying out several of these in her article this morning which I encourage everybody to read:
First, she dispels the notion that Rittenhouse was somehow a "white supremacist":
There was zero evidence that Rittenhouse was connected to white supremacist groups at the time of the shooting. He was a Trump supporter, yes, though he wasn't old enough to vote. He was an admirer of police and firefighters, also true. He was a lifeguard. He'd been part of a "police explorer" program, and was also a firefighter/EMT cadet with the fire department in Antioch, Illinois, where he lived with his mom and two sisters.
Then, she points out his connection to Kenosha, which much of the media questioned:
In addition to having a job in Kenosha, Rittenhouse testified that much of his family lived there: his father, his grandma, his aunt and uncle, and his cousins. He also testified that on the morning of the shootings, he went downtown with his sister and friends to see the damage done by rioting the night before, and spent about two hours cleaning graffiti off of the local high school.
Finally, she dispels with the rumor that Rittenhouse drove across state lines with a gun to oppose protests that night:
This was a line that we heard constantly—never mind that Antioch, Illinois, is about 20 miles from Kenosha, Wisconsin. As the trial has shown, Kyle Rittenhouse did not travel to Kenosha to oppose protesters. He testified under oath that he had traveled to Kenosha for his job the night before the shootings, and was staying at a friend's house. Rittenhouse didn't bring the gun to Kenosha. The gun was purchased for Rittenhouse months earlier by a friend and stored in Kenosha at the home of that friend's stepfather, as then-17-year-old Rittenhouse was too young to purchase it.
Or that it was illegal to have the gun:
That is not true. Under Wisconsin law, 17-year-olds are prohibited from carrying rifles only if they are short-barreled. The weapon Rittenhouse was carrying was not short-barreled. Which is why, during closing arguments, the court threw out the charge.
Or that he was "looking for a fight":
Unless there's evidence we haven't seen, there's no clear indication that Rittenhouse sought to kill anyone. What we know is that he showed up with a first aid kit and an AR-15-style rifle. Video evidence, and Rittenhouse's own testimony, indicates that he offered medical assistance to protestors and ran with a fire extinguisher to try to put out fires—and that later, after being pursued, he killed two people, Joseph Rosenbaum and Anthony Huber, and severely wounded a third.
Her piece goes on to wreck the mainstream media's narrative even further and I would recommend a full read of it here, as well as subscribing to her superlative blog, Common Sense.
But predictably the two entities not doing damage control after the facts came to light were politicians and the mainstream media, who constantly referred to Rittenhouse as some type of white supremacist and portrayed him as such every chance they got. And this nonsense isn't new to me: I've written about the media's bold lies when it comes to everything from inflation to ivermectin, from Hunter Biden's laptop to hospitalization data. 
In the case of Rittenhouse, there has been a conspicuous absence of correcting the record from media outlets who went into this trial with a clear bias and angle toward walking Rittenhouse to a guilty verdict.
Left leaning politicians don't seem much concerned with the truth, either. Even Press Secretary Psaki, when confronted about President Biden's spin of Rittenhouse, shied away from questions on the issue from Fox News' Peter Doocy last week:
Q: And then just something tied to an ongoing court case. Why did President Biden suggest that Kyle Rittenhouse, on trial in Kenosha, is a white supremacist?

MS. PSAKI: So, Peter, what I — I'm not going to speak to right now is anything about an ongoing trial nor the President's past comments.

What I can reiterate for you is the President's view that we shouldn't have, broadly speaking, vigilantes patrolling our communities with assault weapons. We shouldn't have opportunists corrupting peaceful protests by rioting and burning down the communities they claim to represent anywhere in the country.

As you know, closing arguments in this particular case — which I'm not speaking to; I'm just making broad comments about his own view — there's an ongoing trial. We're awaiting a verdict. Beyond that, I'm not going to speak to any individuals or this case.

Q: But the President has spoken to it already. And his mom now — Kyle Rittenhouse's mom came out saying that the President defamed her son and that claims — she claims that when the President suggested her son is a white supremacist, he was doing that to win votes. Is that what happened?

MS. PSAKI: I just have nothing more to speak to an ongoing case where the closing arguments were just made.

Waking up to the agenda of the media isn't an easy task, especially for those who have been brainwashed for decades. But this headlines like this one:
"There's no other way to put it: the President of the United States refused to disavow white supremacists on the debate stage last night," President Biden had Tweeted about the incident in September of last year.
Given all of the new information that we had access to at trial, the Rittenhouse case should help to serve as a Nick Sandmann-style brick in the wall as to how many in the media have a serious problem presenting the objective truth over whatever narrative they are currently trying to peddle.
Unfortunately, I already fear that the verdict in Rittenhouse case is not heading in the right direction – the jury is taking too long of a time to deliver what, in my opinion, should be a relatively quick "not guilty" verdict after the entire world was treated to exculpatory evidence during the trial.
While I can only hold out hope, if Rittenhouse is made to be the enemy and ultimately winds up convicted after what can only be called a circus of a trial and laughable media coverage of an event where he appears to have not, objectively, been in the wrong, it'll be a tragic commentary about how far our media's war on "social justice" has gone to influence actual justice in the country and how broken our nation truly is.
*  *  *
This was a free look at paid subscriber content from QTR's Fringe Finance. If you enjoy and want to support my work, I'd love to have you as a subscriber. Zerohedge readers get 10% off a subscription for life by using this link. 
Tyler Durden
Thu, 11/18/2021 – 12:16
inflation
"Team Transitory" Is Dead After Powell Says "Time To Retire Word Transitory Regarding Inflation"
"Team Transitory" Is Dead After Powell Says "Time To Retire Word Transitory Regarding Inflation"
Remember when clueless macrotourists  and…
"Team Transitory" Is Dead After Powell Says "Time To Retire Word Transitory Regarding Inflation"
Remember when clueless macrotourists  and worthless econo-hacks who have zero understanding of actual economic dynamics spent miles of digital ink convincing their tiny echochambers that they were right and that inflation was transitory (or rather, desperately scrambled to mask their utter lack of grasp of even the simplest concepts):
Team transitory won btw. pic.twitter.com/7CEwdC11h7

— George Pearkes (@pearkes) October 13, 2021
Three month core inflation. Why isn't everyone calling this a win for team transitory? pic.twitter.com/KB9EawJLo1

— Paul Krugman (@paulkrugman) October 13, 2021
Not out of the supply chain woods but score one for team transitory–used car hyperinflation is behind us@SmokeonCars pic.twitter.com/YLkRkC4MVJ

— Dr. Julia Coronado (@jc_econ) August 11, 2021
Well, one month ago we made it quite clear where in the financial pecking order these so-called 'experts' fall…
"team transitory" is officially the new Gartman pic.twitter.com/BKBqUrPLJZ

— zerohedge (@zerohedge) November 12, 2021
… and then moments ago none other than Jerome Powell put to rest any further debate on the topic of transitory vs permanent inflation:
*POWELL: TIME TO RETIRE THE WORD TRANSITORY REGARDING INFLATION
*POWELL: THREAT OF PERSISTENTLY HIGHER INFLATION HAS GROWN
Powell's cremation of "team transitory" took place after the Fed chair was asked how long inflation has to run above-target before he decides it's not so transitory, with Senator Pat Toomey mocking the term "transitory", saying: "Everything is transitory. Life is transitory" to which he could have also added that "on a long enough timeline the survival rate for everything drops to zero."
In response, Powell said it's probably a good time to "retire that word", a clean and clear admission from Powell that inflation is no longer transitory.
Does the Fed have the power to take out words from the Oxford English Dictionary? #RetireTransitory ????$USD

— Viraj Patel (@VPatelFX) November 30, 2021
And while it is certainly good news that we can finally stop polluting the airwaves with idiotic discussions whether inflation is transitory or not, it hardly helps Americans because as the latest BofA transitory vs permanent inflation reading shows, both are at all time highs.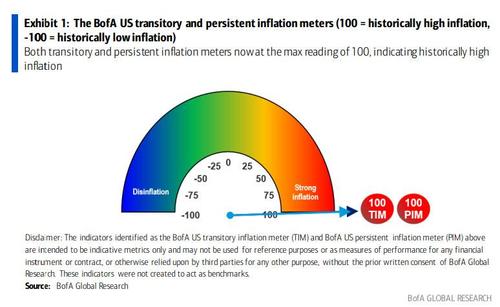 The market was not happy either because just moments later, Powell also said the one thing that traders dread, namely that the taper could wrap up a few months earlier:
*POWELL: CAN CONSIDER WRAPPING UP TAPER A FEW MONTHS SOONER
Tyler Durden
Tue, 11/30/2021 – 11:12
inflation
fed
Stocks, Bonds, & Cryptos Crushed As Powell Threatens Accelerated Taper
Stocks, Bonds, & Cryptos Crushed As Powell Threatens Accelerated Taper
Fed Chair Powell has been more hawkish than many expected during…
Stocks, Bonds, & Cryptos Crushed As Powell Threatens Accelerated Taper
Fed Chair Powell has been more hawkish than many expected during this morning's hearings, specifically noting the non-transitory nature of inflation and the need to use his tools to address it.
"At this point the economy is very strong and inflationary pressures are high and it is therefore appropriate in my view to consider wrapping up the taper of our asset purchases, which we actually announced at the November meeting, perhaps a few months sooner. I expect we will discuss that at our upcoming meeting."
This is a significant change from earlier this month, when the FOMC was pointing to wrapping up the taper in June 2022, and was not what the market wanted to hear…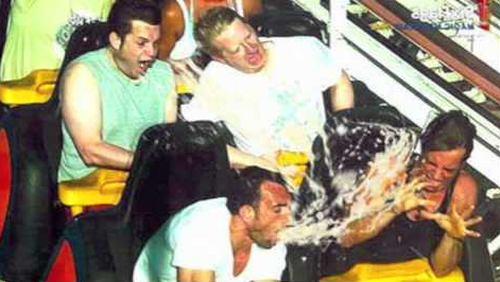 Stocks immediately reversed their post-open ramp…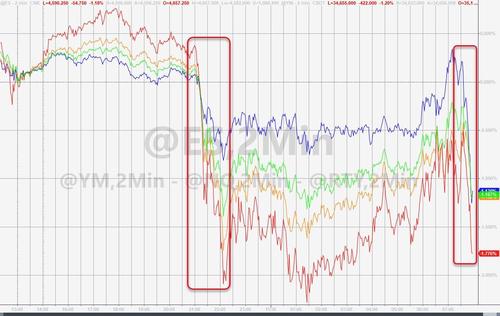 That leaves Small Caps down 6% since the onset of Omicron anxiety…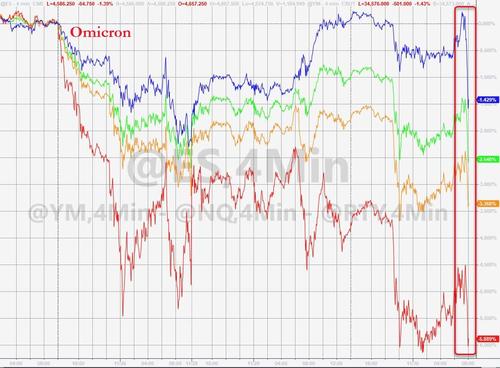 Yields jumped across the curve with the short-end spiking most (30Y has almost erased the initial spike)…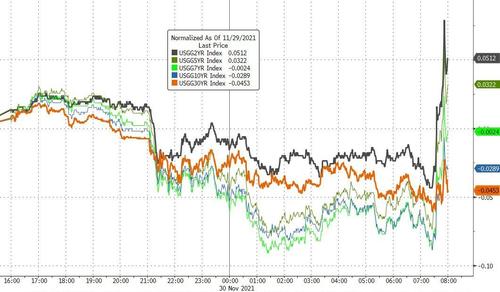 Rate-hike odds spiked dramatically…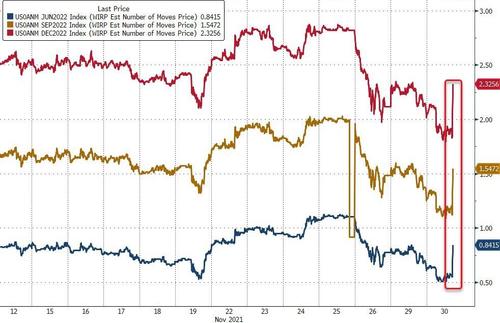 And the yield curve puked as 'policy error' fears soar…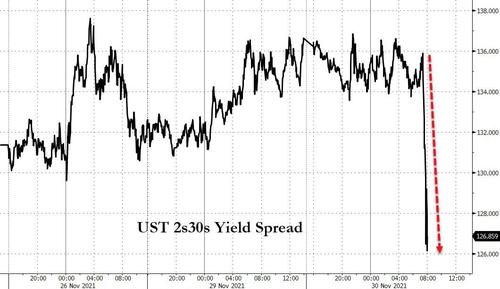 Cryptos also plunged…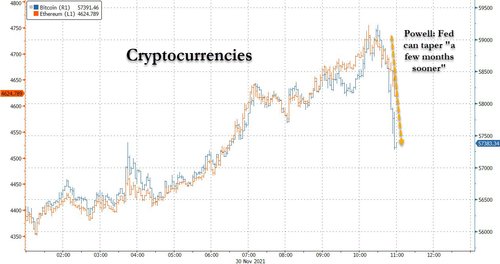 And the Dollar spiked…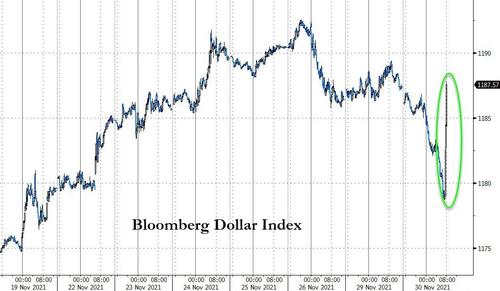 The Powell-Put just went kaput…
Live scenes of the "Powell Put" $USD pic.twitter.com/Rrsm27KT3y

— Viraj Patel (@VPatelFX) November 30, 2021
Tyler Durden
Tue, 11/30/2021 – 10:59
dollar
inflation
policy
fed
inflationary
Rabobank: Brushing Up Our Greek Alphabets
Rabobank: Brushing Up Our Greek Alphabets
By Michael Every of Rabobank
Brushing up our Greek alphabets
After a 'sell first, ask questions…
Rabobank: Brushing Up Our Greek Alphabets
By Michael Every of Rabobank
Brushing up our Greek alphabets
After a 'sell first, ask questions later' Friday, markets regained some confidence on Monday. News that Omicron may lead to relatively mild symptoms may have helped the mood, though much about the new strain still remains unclear, including how infectious it is compared to other variants and whether it requires updated vaccines. The health ministers of the G7 issued a joint statement that contained little new information on the strain, but did warn that it "requires urgent action". European equities also defied news that Germany is now the next country to consider stricter measures to curb the rise in cases.
The risk-on tone weighed on fixed income, with 10y Bund yields rising 2bp on the day, though that reverses only part of Friday's decline. And the German inflation numbers didn't provide much support for Bunds either. High inflation was already expected, with a 5.5% consensus forecast. Nevertheless, the German HICP managed to surpass that, as prices rose 6.0% y/y in November. With similar inflation rates already observed in other European countries, including Spain (5.6%) and Belgium (5.6%), a high Eurozone-aggregate HICP today shouldn't come as a surprise.
In addition to German inflation being higher than expected, it was also a bit more broad-based: certainly, energy was an important contributor, but clothing, furnishing and household equipment, and particularly recreation and culture -though notably a volatile component- also drove prices higher. Despite the wider base of inflationary pressures, that doesn't take away from the fact that most of these effects are probably still temporary factors that result from the reopening of the economy, supply chain disruptions, and the changes to German VAT at the start of the year. Indeed, the Bundesbank had already warned for a near-6% inflation rate this month, and the ECB's Isabel Schnabel stated in a TV interview that "November will prove to be the peak."
Nikkei reported some reassuring news to that extent, noting that the supply chain disruptions in the auto sector are starting to ease. According to the newspaper, the global supply of chips used in the auto industry may finally be improving: "after months of shortages, inventories have risen for the first time in nine months." While it may still take some time before shortages across the entire supply chain are resolved, this does suggest that some bottlenecks are indeed gradually easing, boding well for both price pressures and for the output of one of Germany's key industries. That said, bear in mind that the chip shortages were at the forefront of the global disruptions; since then shortages in many other materials and sectors have followed.
The rebound in China's manufacturing PMI may also offer some reassurance about the recovery of the global value chain. The headline recovered to an expansionary reading of 50.1, but this may understate the improvements in actual output, seeing that one of the main drags on this headline relates to a sharp decline in energy prices faced by manufacturers. This likely reflects the government's interventions in the coal sector, boosting production. Bloomberg reports that the National Development and Reform Commission met with coal producers last week and that prices would have to be guided towards to a "reasonable range".
That is, of course, assuming that omicron does not throw a spanner in the works here. It certainly does make central bankers' jobs that bit harder again. Fed Chair Powell said yesterday that the new strain, as well as the general rise in Covid-19 cases, poses downside risks to the full employment mandate and adds uncertainty to the inflation outlook. While he didn't specifically mention any implications for the Fed's current policy trajectory, it adds to the markets' doubts whether the FOMC will still decide to accelerate the pace of tapering in its December meeting, and whether the market wasn't too aggressive in its pricing of rate hikes next year. EUR/USD continues to find some support in this revaluation of potential for US policy moves.
Certainly, uncertainty also clouds the ECB's decisive December meeting. However, with a more dovish starting point, that is less of a marked change. If anything, the European Central Bank may want to commit less in December, leaving more options open for earlier in the year when the Governing Council has more clarity on the outlook and omicron's impact. A key case in point are Vice President De Guindos' remarks on the TLTRO-IIIs this morning: he is clear that "the TLTROs are not finished yet", confirming that -in his view- this year's long-term liquidity providing operations certainly weren't the last. However, he added that "it's not going to be a decision we discuss in December". Assuming that the future of (or rather after) PEPP will still be decided in December, that does put much more weight on the few other tools the ECB could use to mitigate the expected end of pandemic purchases. This could set markets up for an initial disappointment.
Tyler Durden
Tue, 11/30/2021 – 10:45
inflation
markets
policy
fed
central bank
expansionary
inflationary