The Time to Vaccinate the World is Now
Much of the world is on fire with COVID-19, new variants continue to emerge, and places like Brazil, India, and the United States see repeated waves of…
Much of the world is on fire with COVID-19, new variants continue to emerge, and places like Brazil, India, and the United States see repeated waves of infection.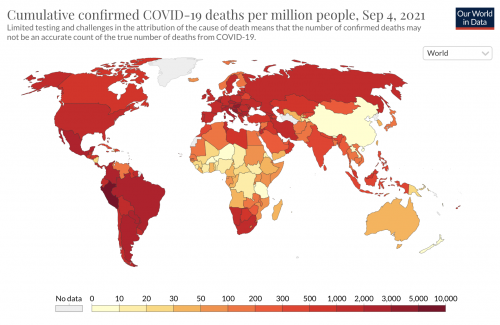 Herd immunity is not working. We need to get the world vaccinated, and we need to do it now. Andy Slavitt and Jeremy Farrar have put forward a goal of vaccinating 70% of the world population with at least one dose by March 2022 (210 days) with a public launch at the UN General Assembly meeting in September (Inside the Bubble podcast, August 25, 2021). We'll add a goal, that 80% of the world population is fully vaccinated by Summer 2022. This will be an enormous challenge, but it is achievable.
Why We Need to Vaccinate Now
We need to vaccinate the world because the pandemic continues to rage worldwide, killing millions, leaving many survivors debilitated and wreaking havoc on economies. Periodic waves of infection overwhelm health care systems, causing excess death and demoralizing clinical staff. Vaccines reduce the rate of spread, and they keep people out of hospitals.
We now have almost 40% of the world's population vaccinated. This sounds better than it is. The proportion of the population that is vaccinated varies shockingly around the globe. We're getting most people vaccinated in the US and Canada, Western Europe, and China. Some people are immunized in Russia and Central and South America. But few of the more than 3 billion people in most of Africa and South Asia are vaccinated, including < 1% of the Democratic Republic of the Congo, Nigeria, Papua New Guinea, or Zambia.
We are 18 months into the pandemic, and already dozens of variants have emerged. Several are sweeping across the globe, driven by their ability to proliferate rapidly and to evade immunity. It's only a matter of time before a variant with high-level vaccine escape emerges, and even vaccinated people start getting sick again in large numbers. The more virus is circulating, the more chances for variants to arise. We control new variants by preventing the spread of the virus, and vaccination is the best way to do that.
The COVAX Alliance has shipped 215 million doses of vaccine to date. That's a start, but it's nowhere close to meeting the need, and many countries, particularly in underdeveloped regions, have vaccination rates that are only in the single digits.
Can We Vaccinate the World?
Yes, we can. We have produced about 4 billion doses of vaccines in the past 9 months. To get everyone in the world two doses of vaccine will require another 12 billion doses. That's a lot of vaccine, but we can do it. COVAX estimates global vaccine production capacity at 8 billion doses in 2021 and 42 billion doses in 2022. The bigger challenge is getting vaccines into people's arms. That's going to be a huge lift, and that's why universal vaccination needs US leadership, UN and WHO support for international mobilization, and massive logistics support from many countries to get vaccinators trained and deployed, supplies procured and distributed, cold chains setup, regulatory approvals obtained, record-keeping established, and vaccines administered.
There is precedent for international medical mobilization to fight infectious disease. Under President George W. Bush, the US-led the PEPFAR initiative to deliver HIV medications worldwide. The success of this program saved millions of lives in Africa and remains an enduring legacy.
How the US Comes Out Ahead by Leading the Effort
David Cutler and Larry Summers estimated that COVID has cost the US $16 trillion. The economic impact globally dramatically exceeds this. Operation Warp Speed cost $12 billion to develop and deploy vaccines in the US. It has already more than paid for itself. Ramping up vaccine production to produce 12 billion doses might cost $25 billion, and the logistics and deployment might cost another $50 billion. That's not trivial spending.
Consider, however, that the US will lose trillions of dollars of GDP each year as long as the pandemic continues. We risk seeing regional economic and potentially even political collapse in many parts of the world. Congress is considering multi-trillion-dollar infrastructure plans. Global mobilization for vaccination will quickly pay for itself in maintaining the economic viability of our trading partners. And, of course, saving humanity, that's priceless.
Moreover, the larger the population of infected people on the planet, the more rapidly COVID variants emerge. The whole world is connected now, and COVID has shown that it rapidly crosses oceans. Fighting COVID in the world is essential to control it at home.
---
David J. States, MD PhD is the Chief Science/Medical Officer of Angstrom Bio, Austin, TX.
The post
The Time to Vaccinate the World is Now
first appeared on
The Incidental Economist
.
dollar
bubble
Rabobank: We Live In A World Without Consequences Where Everyone Is Corrupt
Rabobank: We Live In A World Without Consequences Where Everyone Is Corrupt
By Michael Every of Rabobank
Salo News Day
Regular readers…
Rabobank: We Live In A World Without Consequences Where Everyone Is Corrupt
By Michael Every of Rabobank
Salo News Day
Regular readers will know I am a cynic. Try writing a Daily for over two decades and not be – and events over the last 24 hours underline that fact. Indeed, you could call it a "Salo News Day" in reference to the controversial Italian film "Salò, or the 120 Days of Sodom", a loose adaptation of the 1785 novel by the Marquis de Sade. As Wikipedia puts it: "The film explores themes of political corruption, consumerism, authoritarianism, nihilism, morality, capitalism, totalitarianism, sadism, sexuality, and fascism." In other words, a typical day at work in the markets of 2021.
After all, the Wall Street Journal reports "World Bank Cancels Flagship 'Doing Business' Report After Investigation", frustrating to economists who rely on it. The rub is: "Chinese officials in 2018 were eager to see their ranking improve, and so Mr. Kim and Ms. Georgieva and their staff held a series of meetings to discuss ways that the report's methodology could be altered to improve China's rankings." So untrustworthy World Bank data – and no consequences; a World Bank boss with a stained reputation – and no consequences; and an IMF boss with a stained reputation – and no consequences. That makes it two in a row for the IMF, with the previous one now running the ECB.
At the Fed, "Powell orders ethics review after Fed presidents disclosed multimillion-dollar investments". Somehow this ethical violation on the part of the people running the global financial system passed them by until now. Yet is this really rare? How about if a rate-setter at a central bank told you over lunch about the land their company was snapping up for development? That happens - just not at the Fed. (As far as I know.)
One can openly trade stocks based on legislation one writes if a member of Congress: House speaker Pelosi is just one example of many. How about the swirls of corruption around the Trump administration, or Hunter Biden's "Mr 10%" emails subject to an FBI investigation? A grand jury just indicted Michael Sussmann, the lawyer accused of making false statements during the 2016 presidential campaign to slander then-candidate Trump; and as Glenn Greenwald notes, this key story was then sugar-coated at the New York Times by the journalist whose 'Russiagate' book Sussmann helped to sell. Moreover, this is hardly just an American problem. What about the scandals around the revolving door, and wallpaper, of the British BoJo administration, former French president Sarkozy, or former German chancellors working for Russia? And have you ever been to an emerging market?
Even in terms of the most existential issues, the same selfishness prevails. We are seeing a flood of money into ESG funds, but Morningstar data published in February shows 256 funds repurposed or rebranded as sustainable in 2020, up from 179 the year before. In Q1 2021, it was 127. Morningstar states: "Transforming existing funds into sustainable strategies is a way for asset managers to leverage existing assets to build their sustainable-funds business, thereby avoiding having to create funds from scratch." Repurposed funds typically just add terms such as 'sustainable', 'ESG', 'green', or 'SRI' to their names. Yet 40-years of the same neoliberalism, then a burst of idealism and Covid-19, have also seen energy prices exploding towards recessionary levels, matched by worries over food prices. The energy spike is likely to force the dirtiest of fuels to be used again, and the economic domino effects are just starting to be felt in an already-unhappy populace as we move towards winter (and more lockdowns?). Keep your fingers crossed for mild weather and Russian generosity on EU gas supply. Maybe Mr Schroeder can put in a good word?
Overall, we may need to coin a new markets term. "Immoral hazard". Indeed, if 40 years of neoliberalism has rotted everything away, how exactly is liberal democracy not to fail, as some fear? The ancient Greeks, no longer taught in the West, argued government moves in cycles: aristocracy > timocracy > oligarchy > democracy > tyranny (Plato); monarchy > anarchy (Aristotle); democracy > aristocracy > monarchy, and their degenerate forms of ochlocracy > oligarchy > tyranny (Polybius), which seems to fit better.
Of course, that's why we now have 'Build Back Better'. However, it needs to get a move on - winter is coming. Years ago, I posited it would be far easier to sell 'Build Bombs Better' (i.e., national-security mercantilism) than social welfare. That fits the bill given AUKUS and military-industrial policy is now in play. Which has upsides and downsides. More jobs: but China now says Australia will be targeted in a nuclear war even if it does not have nukes. This morning, both the US and Australia underlined their commitment to strengthen ties with Taiwan, raising tensions further.
AUKUS also eclipsed yesterday's launch of the EU's Indo-Pacific strategy, which appears to revolve around trade deals as if we are back in 1995 or 2005. Relatedly, I pronounce AUKUS as "Orcs", as in Lord of the Rings. Some might see this as a contrast to the perceived 'Elves' in Europe. Unfortunately, it is more a case of 'Hobbits', the French Bagginses aside. Notably, if not by German leadership, the EU parliament yesterday adopted by a 570-61 vote a new position paper on China, concluding: "We must not be naive when dealing with China. Whilst China is an important trading partner, it is also a systemic rival that poses a challenge to our way of life and the liberal world order. Economic gains should not make us blind to the Chinese Communist Party's ambitious political agenda…"  
China also reacted to the 'Orcs' by officially applying to join CPTPP, the trade pact Australia is in: on the same day their press talked about nuking it. There are various takes on this latest move in our Great Game, but here is one more to note. The NAFTA 2.0 deal the US struck with Canada and Mexico gives the US veto rights over either country's entry into a trade deal with a non-market economy: guess what China is in US eyes? Guess which trade pact Canada and Mexico are members of? And guess who therefore gets veto on Chinese entry into it?
Meanwhile, China, which still teaches the ancient Greeks in ancient Greek, and is very aware of the cycles of government, faces up to, as Bloomberg puts it, the "Nightmare Scenario" of an "Uncontrolled Crash" at Evergrande. The property behemoth is now to hold an auction 30 September to raise funds for investors who bought its wealth management products (paying 13%!), effectively offering cheap apartments in lieu of cash. Yet this is exactly the kind of forced margin-sales that can drag down prices in the whole property market. Things clearly can't carry on like this; and a crash surely cannot be allowed to happen; and yet a Western-style 'rich-first' bailout looks incompatible with Common Prosperity. Build Back, yes - but how, exactly?
In more traditional market terms we also have the traditional looming US debt-ceiling Kabuki; triple-witching of US equity options today; and a backdrop of slightly higher US Treasury yields and a stronger USD due to a US retail sales beat helped by a downwards revision to the previous month's data.
Now go enjoy another Salo news day. Happy Friday.
Tyler Durden
Fri, 09/17/2021 - 08:52
dollar
markets
policy
fed
central bank
crash
Investors' Cash Balances Struggling to Swallow Smart Money Supply
There are near-record amounts of cash ready to be deployed into markets…and corporations are doing their best to drain it.Investors have a near-record amount of cash ready to invest in stocks (or whatever else), a bullish indication of "cash on the s…
There are near-record amounts of cash ready to be deployed into markets...and corporations are doing their best to drain it.
Investors have a near-record amount of cash ready to invest in stocks (or whatever else), a bullish indication of "cash on the sidelines" as deceptive as that clichè is. According to the Investment Company Institute, investors hold more than $4.5 trillion (with a "t") in money market funds.
And yet corporations are issuing a record amount of stock, a bearish indication of supply and smart-money selling pressure. Bloomberg data shows that U.S. corporations have issued more than $450 billion in stock via IPOs, secondary, and additional offerings over the past 52 weeks.
Bullish investors will give more credence to the former; bearish investors the latter. There is little question that both are factual, and it's a relatively unusual situation. Usually, when corporations are issuing boatloads of stock, investors have small cash reserves and vice-versa; when corporations can't issue shares due to lack of demand, investors are usually hoarding cash at the time.
It's rare to see such high levels at the same time. If we look at a ratio of the two, then things become a bit clearer.
During the pandemic panic, the ratio neared 30 and was the highest in 30 years. In other words, there was 28 times more cash available than shares offered in supply. There are ways to quibble with the technicals, but it's simply meant as a reflection of sentiment.
Over the past year, the ratio has declined steadily as supply ramped up. Corporations are "feeding the ducks," as the saying goes. Even though money market assets haven't been drained much, the skyrocketing supply has caused the ratio to drop below 10 for the first time since the year 2000. 
---
What else we're looking at
A deeper look at money market assets and the ratio to corporate stock issuance
What it means when individual investors become bearish with stocks near their highs
A detailed look at the surge in natural gas prices and the futures curve
Small-cap stocks are entering a seasonal soft spot
---
Stat box



Natural gas futures prices have skyrocketed by 110% over the past 6 months. That's the most since 2004 and ranks as the 5th-largest 6-month return in 30 years.
---
Etcetera
Less shiny. The Optimism Index on the GLD gold fund plunged below 11.5% on Thursday, one of its lowest levels in a year. Our Backtest Engine shows that GLD rallied over the next week after 13 out of 16 prior signals.
Go big or go home. Over the past 3 sessions, the IWM small-cap ETF has lost an average of more than $500 million in assets per day. That's the 2nd-largest amount since small-caps entered their trading range in February.
A mostly pessimistic world. Our Optimism Index Geo-Map shows that investors in most parts of the world are showing pessimism (the deeper the green color, the more pessimism). Pockets of optimism are seen in Asia, including India and Japan.
gold
markets
money supply
Research Review | 17 Sep 2021 | Financial Shocks And Crises
Banking-Crisis Interventions, 1257 – 2019 Andrew Metrick and Paul Schmelzing (Yale) September 7, 2021 We present a new database of banking-crisis interventions…
Banking-Crisis Interventions, 1257 – 2019
Andrew Metrick and Paul Schmelzing (Yale)
September 7, 2021
We present a new database of banking-crisis interventions since the 13th century. The database includes 1886 interventions in 20 categories across 138 countries, covering interventions during all of the crises identified in the main banking-crisis chronologies, while also cataloguing a large number of interventions outside of those crises. The data show a gradual shift over the past centuries from the traditional interventions of a lender-of-last-resort, suspensions of convertibility, and bank holidays, towards a much more prominent role for capital injections and sweeping guarantees of bank liabilities. Furthermore, intervention frequencies and sizes suggest that the crisis problem in the financial sector has indeed reached an apex during the post-Bretton Woods era – but that such trends are part of a more deeply entrenched development that saw global intervention frequencies and sizes gradually rise since at least the late 17th century.
Can Financial Soundness Indicators Help Predict Financial Sector Distress?
Marcin Pietrzak (IMF)
July 23, 2021
This paper shows how the role of Financial Soundness Indicators (FSIs) in financial surveillance can be usefully enhanced. Drawing from different statistical techniques, the paper illustrates that FSIs generate signals that can accurately detect, with 4 to 12 quarters lead, emerging financial distress—as measured by tight financial conditions.
Financial Crises: A Survey
Amir Sufi (U. of Chicago) and Alan M. Taylor (U. of California)
August 17, 2021
Financial crises have large deleterious effects on economic activity, and as such have been the focus of a large body of research. This study surveys the existing literature on financial crises, exploring how crises are measured, whether they are predictable, and why they are associated with economic contractions. Historical narrative techniques continue to form the backbone for measuring crises, but there have been exciting developments in using quantitative data as well. Crises are predictable with growth in credit and elevated asset prices playing an especially important role; recent research points convincingly to the importance of behavioral biases in explaining such predictability. The negative consequences of a crisis are due to both the crisis itself but also to the imbalances that precede a crisis. Crises do not occur randomly, and, as a result, an understanding of financial crises requires an investigation into the booms that precede them.
Macroeconomic and Financial Risks: A Tale of Mean and Volatility
Dario Caldara (Federal Reserve), et al.
August 2021
We study the joint conditional distribution of GDP growth and corporate credit spreads using a stochastic volatility VAR. Our estimates display significant cyclical co-movement in uncertainty (the volatility implied by the conditional distributions), and risk (the probability of tail events) between the two variables. We also find that the interaction between two shocks–a main business cycle shock as in Angeletos et al. (2020) and a main financial shock–is crucial to account for the variation in uncertainty and risk, especially around crises. Our results highlight the importance of using multivariate nonlinear models to understand the determinants of uncertainty and risk.
Pre-crisis conditions and financial crisis duration
Thanh Cong Nguyen (Phenikaa University)
July 3, 2021
This paper examines how pre-crisis conditions affect the duration of different types of financial crises using a data sample of 244 financial crises in 89 countries over the period 1985-2017. Results from our parametric survival analysis show that the duration of any type of financial crisis is longer for countries having higher levels of public debt prior to financial crises, whereas it is shorter for countries characterised by higher pre-crisis levels of (i) current account balance, (ii) international reserves, and (iii) institutional quality. Similarly, while pegged exchange rate regimes are associated with a longer duration of financial crises, majority governments help countries emerge faster from crises. Moreover, banking and currency crises tend to be more prolonged when preceded by higher credit growth. We also find a positive effect of pre-crisis fiscal balance on the probability of crisis ending, and it is noteworthy that this effect is strengthened under majority governments and a stronger institutional environment. Finally, our duration dependence analysis suggests that banking, currency, and twin and triple crises are more likely to end when they grow older.
Monetary policy, financial shocks and economic activity
Anastasios Evgenidis (U. of Newcastle) and A.G. Malliaris (Loyola U. Chicago)
March 1, 2021
This paper contributes to a deeper understanding of macroeconomic outcomes to financial market disturbances and the central bank's role in financial stability, by using Bayesian VAR (BVAR) models. We document that a shock that increases credit to non-financial sector leads to a persistent decline in economic activity. In addition, we examine whether the behavior of financial variables is useful in signaling the 2008 recession. The answer is positive as our medium-scale BVAR generates early warning signals pointing to a sustained slowdown in growth. Finally, we suggest that the expansion phase of the business cycle can be subdivided into an early and a late expansion. Based on this distinction, we show that if the Fed had raised the policy rate when the economy moved from the early to late expansion, it could have mitigated the severity of the last recession.
Stress Testing the Financial Macrocosm
J. Doyne Farmer (University of Oxford), et al.
August 30, 2021
What kind of models do we need to guide us through the next crisis? If past crises are any indication, we need to explore new approaches. During the Great Financial Crisis, the models that existed at the time were of little value because they focused on firm-level interactions and did not capture the system-wide dynamics that fueled the crisis. In this paper, we sketch a vision for a new approach to understanding and mitigating financial and economic crises. We argue that next-generation stress test models must take a comprehensive a view of the financial macrocosm to enable the regulator to effectively regulate and supervise the macro-financial dynamics of the global economy.
---
Learn To Use R For Portfolio Analysis
Quantitative Investment Portfolio Analytics In R:
An Introduction To R For Modeling Portfolio Risk and Return

By James Picerno
---
monetary
reserve
policy
fed
central bank
monetary policy