Time & Peak Inflation
    The Consumer Price Index print today of 6.2% is the highest print we have seen this year. I wouldn't be surprised if this was the highest print…

The Consumer Price Index print today of 6.2% is the highest print we have seen this year. I wouldn't be surprised if this was the highest print we see for this entire cycle. There has been enough ink spilled on this that I don't want to add to the noise1, or repeat myself. Instead, I want to discuss a few reasons why we seem to have such difficulties with the concept of "transitory." We may understand it intellectually, but we find it more difficult to manage emotionally.
The French mathematician and philosopher Blaise Pascal summed up our circumstances by observing: "All of humanity's problems stem from man's inability to sit quietly in a room alone."
It is even worse in the modern era. The forces behind our "inability to sit quietly" include, the 24/7 Media, Recency Effects, Social Media, even FOMO. Perhaps most significant of all is the concept of Time; more specifically, the way we experience time in the modern era.
There is the Here & Now, and that is pretty much it.2 And, we just barely exist within those parameters. We are hardly present, easily bored, always looking for a distraction. And the "right now" is the best we can hope for. Our memories are fallible, nostalgia-tinged recollections, error-prone, and self-edited to make ourselves look and feel better. The future is unknown and unknowable, experienced as a mixture of wishful thinking that fails to anticipate the (in hindsight) obvious, while completely missing the unexpected.
Is it any surprise we have a hard time with the concept of transitory?
Our time experiences were not always this way. In his book, Four Thousand Weeks,3 Oliver Burkeman explains that the very concept of time was unknown by most people a mere few centuries ago. Medieval farmers didn't experience time as "an abstract entity — as a thing," instead they followed the rhythms of Nature. There were seasons, governed by the movement of planets and stars, or the Gods, depending upon your schooling. Day and night, Winter and Summer. There was no sense something might be amiss, but not to worry, it might soon pass after some duration (or not), and then we can get back to normal. The world just was.
That is not how we operate today.
Today, we form an idea that something like inflation might be transitory, could well last 6 or 9 or 12 months, then fade away. We understand the concept of disrupted supply chains and pandemic re-opening. We place this idea within a broader intellectual framework, imagining how it will impact the Federal Reserve and the Bond Market, and the White House. We read up on it, research it, crunch the numbers, do the historical comparisons. We fully grasp the idea and file it away in our own memories.
All of that took place on a random Monday in March.
The next day brought other data consistent with it. Then the next day, some data was higher; the next day lower. The markets jinked and turned, the newsflow accelerated. Every day after, there was some new hot take, another meme, a fresh Twitter thread. Home price bidding wars! Used car prices! Quarterly earnings saw CEOs mention inflation. Google Trends saw a big uptick in inflation searches. Lumber prices rose (then fell), as did Coal and Steel and Oil. Meat prices rose just in time for Thanksgiving. Endless anecdotes of rising prices. Do you know what it costs to buy 12 gallons of milk a week? No, why the hell should anyone know that?
Day after day, an endless firehose of news and punditry and data and noise.
All of which, not coincidentally, actually confirm the original thesis that inflation caused by disrupted supply chains and vaccinated post-pandemic reopening would send prices spiking before they fell back to normal.
Here we sit, in the Here & Now, with the most recent CPI data out, and at 30-year highs, there is nothing in the data that does not also confirm that thesis. We understand all of this, and yet we still — STILL — lack the ability to sit quietly in a room alone.
Previously:
Return of the Inflationistas (May 14, 2020)
The Inflation Reset (June 1, 2021)
Deflation, Punctuated by Spasms of Inflation (June 11, 2021)
_________
1. We have repeatedly discussed why I think the inflationistas are wrong, that they misunderstand the general state of inflation, and that some of them are motivated by partisanship.
2. David Nadig makes the case that we experience the world on a 200-millisecond delay, as that is how long it takes for sensory inputs to traverse the distance of our nerves and be received and processed by the brain. This makes  the Here & Now actually the Here & 200 MS ago, but for the purposes of this essay, we shall stick with "Now."
3. Assuming you live to be 80, you have just over four thousand weeks in your lifespan.
The post Time & Peak Inflation appeared first on The Big Picture.
Inflation Never Mattered Much For Crypto… Until About A Year Ago
Inflation Never Mattered Much For Crypto… Until About A Year Ago
Inflation never mattered much for crypto… until about a year ago.
As…
Inflation Never Mattered Much For Crypto… Until About A Year Ago
Inflation never mattered much for crypto… until about a year ago.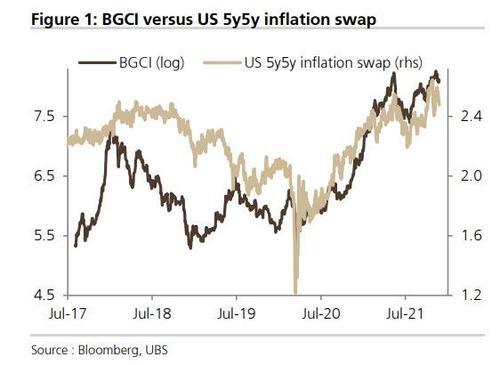 As UBS notes in its latest Crypto Keys note last week, forward-looking measures of US consumer prices today rank among the most prominent correlations for digital assets…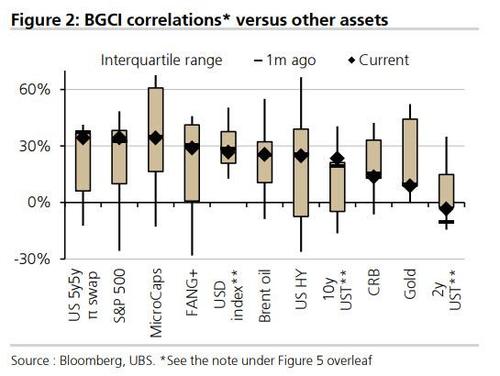 …. something we first pointed out a month ago.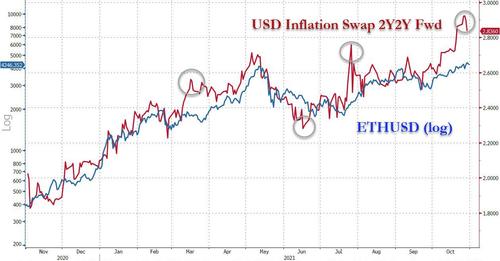 Sensitivity to actual data prints is also mounting accordingly…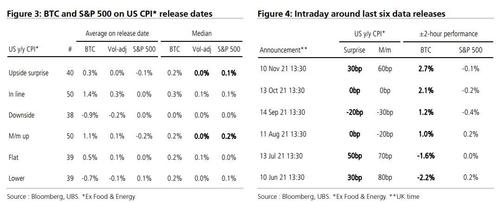 … and as UBS notes, BTC, ETH and a range of more established tokens screen statistically on par with traditional instruments that are considered classic inflation winners or losers.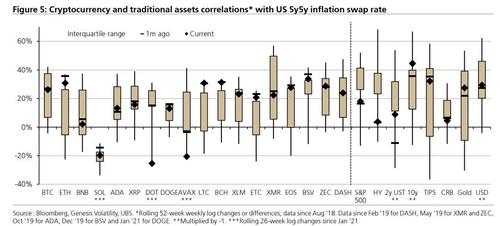 Co-movement is weaker for newer coins like BNB as well as ADA, SOL, DOT and AVAX, which have strongly outperformed in 2021, along with meme plays like DOGE. But to UBS that seems encouraging rather than surprising when idiosyncratic factors have clearly been driving their price action.
But while inflation clearly has be driving the top cryptocurrencies in the past year, the risk now according to UBS is that more powerful drivers will emerge to dislodge the status quo. Potential candidates could be things like stablecoin regulation, tighter exchange and account registration requirements reducing activity in CeFi and DeFi, and new restrictions on bank participation, all of which could be near-term negatives affecting market liquidity and activity but longer-term positives paving the way for institutional participation. While such things may sound crypto-specific, they mirror conditions that govern how conventional inflation hedging instruments behave. 
Tyler Durden
Sun, 11/28/2021 – 19:00
inflation
Hillary: "Americans Just Don't Appreciate What Joe Has Done For Them"
Hillary: "Americans Just Don't Appreciate What Joe Has Done For Them"
Via 21stCenturyWire.com,
This might be the longest-ever Thanksgiving…
Hillary: "Americans Just Don't Appreciate What Joe Has Done For Them"
This might be the longest-ever Thanksgiving weekend for Joe Biden. While he's been enjoying a warm blanket and a hot cup of Ovaltine with his family in Nantucket, the President's poll numbers have been in virtual free-fall. It seems that the nation is fast losing confidence in his ability to handle important issues like the economy, the border, foreign policy and crime running wild on America's streets. In short, the majority of Americans, both Democrat and Republican, do not believe Joe is capable of fulfilling his duties as the chief executive of the world's premier superpower.
At present, Biden's average job approval rating stands at around 40%, a steep drop from the 55% percent average approval rating he enjoyed last May.
No one really knows just how low Joe will go.
Still, this hasn't stopped his ardent allies from rushing to his defense, and blaming his flagging numbers on social media trolls (see deplorables).
Carlos Garcia from The Blaze writes…
Former presidential candidate Hillary Clinton tried to explain away President Joe Biden's poor polling by accusing Americans of not appreciating what Biden has done for them, and blamed social media.
Clinton made the comments while a guest on Rachel Maddow's MSNBC show Tuesday evening.
"You know, democracy is messy. You know, a lot of people got, oh I think, kind of frustrated looking at the messy process of legislation," said Clinton.

"And they didn't really appreciate that, within a year, the Biden administration has passed two major pieces of legislation through both the House and the Senate, they passed another major piece through the House that will be soon be in the Senate," she continued.
"By any measure those are extraordinary accomplishments and they really will help many millions of Americans with healthcare and prescription drug prices, as well as climate change and so much else," said Clinton.
"But because of the way we are getting our information today," she concluded, "and because of the lack of gatekeepers and people who have a historic perspective who can help us understand what we are seeing, there is a real vulnerability in the electorate to the kind of demagoguery and disinformation that, unfortunately, the other side is really good at exploiting."
Both Maddow and Clinton accused Republicans of undermining the results of fair elections and calling for violence as a political solution in the interview.
Biden's poll numbers have suffered greatly after a cascade of damaging incidents plaguing his administration. Among the worst were the disastrous retreat from Afghanistan, the painful cost of high inflation, and the crisis of illegal immigration at the border.
One poll from October found that only 38% of Americans thought Biden deserved a positive job rating.
Watch Hillary's clip here: 
Tyler Durden
Sun, 11/28/2021 – 17:30
inflation
policy
Silver price under pressure despite the risk-off sentiment
Silver price extended the week's losses in Friday's session despite the risk-off market sentiment. In the coming week, focus will be on Fed policymakers'…
Silver price extended the week's losses in Friday's session despite the risk-off market sentiment. In the coming week, focus will be on Fed policymakers' remarks and data related to its industrial and precious metal status.
Market mood
The fear & greed index shifted from a greed level of 64 to the fear end of the spectrum. On Friday, the index's reading was at 31. Both the market volatility and safe-haven demand are exhibiting extreme fear. Usually, risk aversion boosts precious metals based on their safe-haven status.
However, a strengthening US dollar is exerting pressure on silver price. Concerns over the new wave of COVID-19, coupled with positive economic data from the US, boosted the dollar index to its highest level since July 2020. Besides, slowed growth of the Chinese economy has raised concerns over silver's industrial demand.
In the new week, silver price will be reacting to manufacturing PMI from China and other economies. Besides, investors will be keen on Jerome Powell's testimony as well as speeches from various Fed policymakers. The speeches come a few days after Fed meeting minutes that exuded a hawkish tone. The nonfarm payrolls data scheduled for Friday will further influence the metal's price movements.
Silver price technical outlook
Silver price has been under pressure over the past week. The week's losses defined a trend reversal after the precious metal hit a four-month high in the previous week. Since Monday, it has dropped by about 6.89%.
The precious metal ended the week at 23.17; down by 1.83%. On a four-hour chart, it is trading below the 25 and 50-day exponential moving averages. Besides, with an RSI of 26, it is in the overbought territory.
In the coming week, I expect silver price to remain under pressure amid the strengthening US dollar. However, it may begin the week on a corrective rebound as it finds support along the psychological level of 23.00.
It may bounce back to find resistance along the 25-day EMA at 23.72. Subsequently, it may trade within the formed horizontal channel with 23.16 and 23.72 as the lower and upper borders respectively. Above the aforementioned resistance level, the bulls will be eyeing the 50-day EMA at 24.03. On the flip side, a move below Friday's low of 22.94 will likely place the support zone at 22.35.
The post Silver price under pressure despite the risk-off sentiment appeared first on Invezz.