Trading with Focus – Is Woolies going to bounce?
I hate retail shares. It's such a hard thing to judge. You have to have a view on global demand … Read More
The post Trading with Focus – Is Woolies…
I hate retail shares. It's such a hard thing to judge.
You have to have a view on global demand shifts, input costs, margins, product lines and competition.
They can also go through long periods of decline, as the stores and the brand can go a bit stale.
But one thing's for sure. Retail has been smacked. Especially discretionary retail.
It seems that pretty much everyone has a new TV and a new phone and a new coffee machine, a whole new wardrobe and the latest car. And that means they are less likely to need more in the immediate future.
Inflation is also starting to bite. Interest rates might be going up sooner than expected. There are also supplier problems, because you can't get workers to pick veggies or load trucks from home.
With all of this negativity around the sector it's not surprising there's a lot of pain in retail stocks. And where there's pain there is also opportunity!
Kogan's down from an all-time high of $25, to $8.50.
Harvey Norman was over $6, now it's under $5.
JB Hi-fi, $55, down to $45.
But I understand why these guys are down, and they still carry a lot of risk for mine. Interest rate cycles are long, and we are only just starting to talk about it turning back up.
But old man Woolworths. One of the bluest of the blue. If I was to make up a 5-stock portfolio, they'd be in it every time. Great management, great brand, and a virtual duopoly.
(I finally went to an Aldi the other day for the first time. It was OK, but it's unlikely I'll drive the extra 500m to go there regularly… And I have a Woolies credit card, so…).
But Woolies are down. They peaked at $42.66 on the 20 August, and now they are down to $36. So that's a 15% sell-off.
Maybe Xmas sales were off a bit. Maybe we aren't seeing the same panic sales in toilet paper. Maybe they have a few empty shelves.
It's probably all Covid-related somehow…
But from what I'm told, Omicron will blast its way through, kill a bunch of people, and leave a whole lot of people behind who will still need bread and milk, and those soft delicious chocolate chip cookies that they make.
So maybe this is just a chance to buy a few on the cheap for a trade, or for the super fund.
Buy the dip?
First off, here they are, still, since the dawn of time.
And a bit of oversimplified back-story.
Woolies had a free run at being the best supermarket chain in Australia, right up until Wesfarmers bought Coles in 2007. Coles had been public, and were bought out by some VCs and had various management trying to compete and continually failing for no particularly obvious reason (including one CEO who famously hadn't even been in a shop for several decades).
But then they gave up and sold it to Wesfarmers.
As with pretty much everything Wesfarmers do, they took their time and then fixed the damn thing. Got it running on all cylinders at the same time that Woollies needed a refresh. So there was a bigger dip in 2015 to 2017 than usual, but history would dictate that every single dip was a buy.
So, if history is a guide in the markets at all, and it sometimes is and sometimes isn't, then somewhere here Woolies must be good value.
Buy this dip?
Well, it certainly has bounced after every dip of this magnitude since 2016. Things have obviously changed, sure, but this sell-off was sparked by a trading update in December, and one to which people should not have been too surprised.
Basically, if you skim it, it says "Covid covid covid covid covid covid covid". Like I thought.
So let's have a look at a few more indicators.
The RSI is certainly showing as oversold.
The stochastics are not as oversold this time around, and this feels a little more like a second and less motivated wave of selling, maybe from the 'failed bounce shortselling brigade', but we did also have a massive wave of Covid since then, and another run of empty shelves. So I can't solely blame traders.
If I was going to put my toe in the water, I would do this.
First, whack on a 'sensitive news alert'.  I don't want to get caught unawares in case there's more bad news.
Then, I'd probably buy a few, with the view of averaging down if they keep going down. This isn't a speculative company, if you end up with a few too many Woolies shares you'll still be smarter than 98% of people in this market…
Then, so I don't get caught up watching the least speculative thing in my portfolio, I would put in some price alerts, above and below, and it'll just ping my mobile.
Some would put in stop-loss orders, but this is Woolies. I'd probably just keep averaging down.
So to finish, I dunno about this article. I was hoping to give you some more insight, but apart from pointing out that Woolies is a blue-chip that's probably only going through a rough patch…
To me, the worst that can go wrong here in my limited opinion is that I get bored to death.
At Marketech our platform is about technology, providing you the tools and technology to trade.  We encourage our high-function trading platform to get you live pricing, live charts, live market depth to ensure you have the tools and trading capability at your fingertips, and on your mobile phone or PC.
You trade your own stock on your individual HIN. It is your cash in your own Macquarie account where you keep the competitive interest you earn.
Our subscribers get access to brokerage starting at $5, and then 0.02 per cent for trades over $25k.  If you want to trade the market, you need immediate access wherever you are and the seamless Marketech mobile app means you are live anywhere anytime.
Marketech Focus subscribers also get 2-months free access to the 'Marcus Today' newsletter to help you with your investing and trading goals.
Go to www.marketech.com.au to set up a free trial – you will be astounded by the simplicity and tools that this technology gives you.  No spin, just low-cost trading and the tools that give you advantage over hype.
This article was developed in collaboration with Marketech Online Trading Pty Ltd (ACN 654 674 432), an Authorised Representative (1293528) of Sanlam Private Wealth Pty Ltd (AFSL 337927), and a Stockhead advertiser at the time of publishing.
All information and material contained herein is general in nature and does not consider your financial situation, investment needs or objectives. The information does not constitute personal financial advice, nor a recommendation or opinion that a security or service is appropriate for you. You should seek independent and professional tax and financial advice before making any decision based on this information.
The post Trading with Focus – Is Woolies going to bounce? appeared first on Stockhead.
Alamos Gold: Haywood Lowers Target To $12.75 Following 2022 Guidance
Last week, Alamos Gold Inc. (TSX: AGI) reported its fourth quarter and full-year production results, as well as their 2022
The post Alamos Gold: Haywood…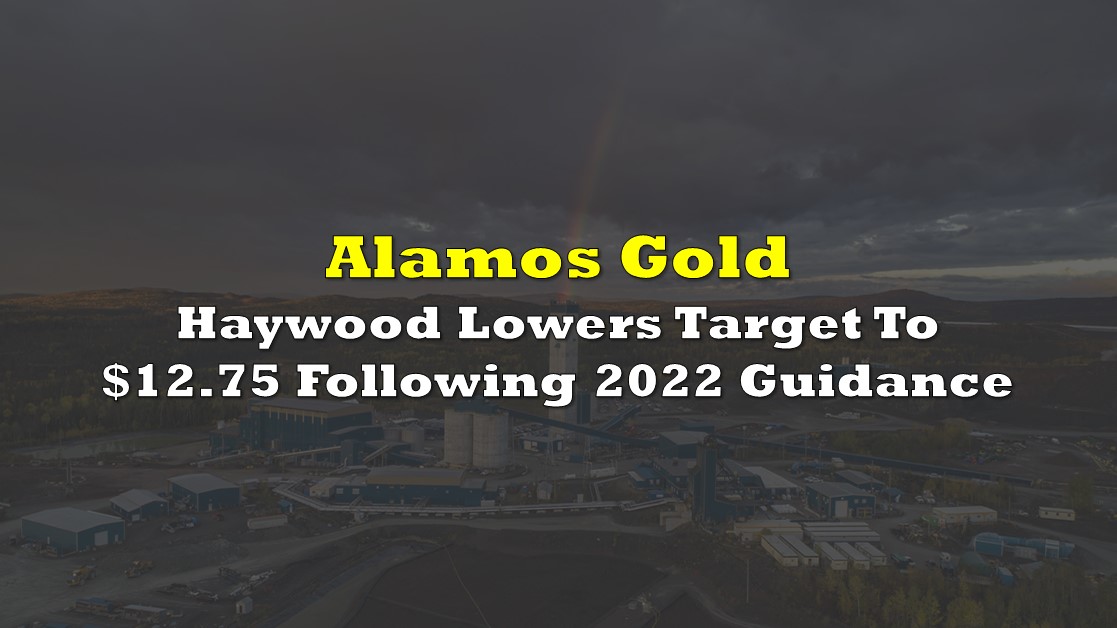 Last week, Alamos Gold Inc. (TSX: AGI) reported its fourth quarter and full-year production results, as well as their 2022 to 2024 production estimates.
For the fourth quarter, Alamos Gold produced 112,500 ounces of gold, bringing the full year 2021 production to 457,200 ounces, which was the lower range of guidance. Costs have not yet been finalized but the company says that it is expected to be consistent with their guidance.
The company also provided 2022 guidance, which included expected gold production of 440,000 to 480,000 ounces. Cash costs are expected to be between $875 to $925 per ounce and all-in sustaining costs are to be between $1,190 to $1,240 per ounce. Total capital expenditures will be between $305 and $345 million, while exploration is expected to cost $27 million for 2022.
For the longer run, the company expects these numbers to grow to 460,000 to 500,000 ounces of gold in 2024, with cash costs of $650 to $750 per ounce and $950 to $1,050 of all-in sustaining costs per ounce.
Currently Alamos Gold currently has 13 analysts covering the stock with an average 12-month price target of C$12.46, or a 36% upside to the current stock price. Out of the 13 analysts, 1 has a strong buy rating, 6 have buy ratings, 5 have holds and 1 analyst has a sell rating. The street high sits at C$17.50 or a 91% upside to the current stock. While the lowest price target sits at C$9.98.
In Haywood Capital Markets' note, they reiterate their buy rating but lower their 12-month price target from C$15 to C$12.75, saying, "lower production and higher costs for 2022," and that inflation is finally starting to impact the production costs.
For the fourth quarter and full-year production numbers, they came in line with Haywood's estimates although they note that the full-year production numbers came in the lower half of guidance.
For the companies three-year guidance, Haywood expected 2022 production to be 485,000 ounces, below their high-end figure. While cash costs were expected to be $785 per ounce, lower than their guided number. This is the same for all-in sustaining costs as Haywood expected it to be $1,055 per ounce. Haywood says that this cost increase in 2022, "is due to industry-wide cost inflation as well as temporary higher costs at Mulatos."
Below you can see Haywood's estimates versus the company's guidance.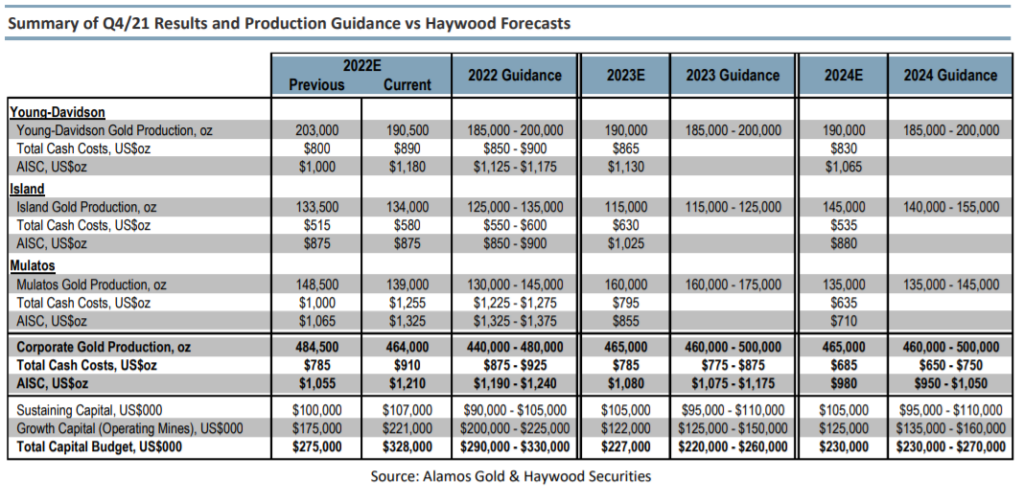 ---
Information for this briefing was found via Sedar and Refinitiv. The author has no securities or affiliations related to this organization. Not a recommendation to buy or sell. Always do additional research and consult a professional before purchasing a security. The author holds no licenses.
The post Alamos Gold: Haywood Lowers Target To $12.75 Following 2022 Guidance appeared first on the deep dive.
gold
inflation
markets
tsx
tsx-agi
alamos-gold-inc
alamos gold inc
S&P Suffers Worst Start To A Year Since 1939 As Yield Curve Yells 'Recession'
S&P Suffers Worst Start To A Year Since 1939 As Yield Curve Yells 'Recession'
Before we start, let's make this clear right from the start…
S&P Suffers Worst Start To A Year Since 1939 As Yield Curve Yells 'Recession'
Before we start, let's make this clear right from the start – despite today's panic-buying, this is the worst start to a year for the S&P 500 since 1939 (and on course for its worst January ever)…
Nasdaq is down 5 straight weeks (16% from its highs) – the longest losing streak since 2012 – while Small Caps are down 22% from their highs (in a bear market)…
Source: Bloomberg
Everything was going so well too… "smooth sailing" they said! "Fed Put" they said! "Transitory inflation" they said…
Today was just a little bit turbo as it seems ugly sentiment data (10 year lows) and plunging growth expectations (Q1 GDP forecasts collapsed), was the 'bad news' the dip-buyers needed to reassure themselves that uber-hawkish Powell wouldn't execte on his plan to crush inflation into a recessionary environment. We have one word for them – stagflation, and it leave Powell in an ugly box.
Atlanta Fed GDP expectations crashed to zero for Q1…
Source: Bloomberg
And as that happened, rate-hike expectations shifted dovishly lower (modestly at the time)…
Source: Bloomberg
Which helped send stocks soaring (particularly hyper-growth, long duration stocks). But that all came to an abrupt end at 1400ET today (for no obvious reason)… which was immediately met with a wall of dip-buyers amid the total lack of liquidity. Then all the majors just went vertical into the last 10 minutes as a significant buy-imbalance appeared (all helped by AAPL's explosive gains today). Nasdaq was up a shocking 3% today (from down 1% pre-open). The S&P was up 2.5% today (from down 1% pre-open). Russell 2000 closed up almost 2% today from down 2% pre-open…
As one veteran trader noted, "today was a shitshow, no liquidity, gamma-driven gappy jumps everywhere… it was all algos and no average joes."
Well that idiotic rampage managed to get the Dow, S&P, and Nasdaq unchanged on the week (which appears to be all that mattered to the machines)…
Just look at the volatility (but Monday's puke lows held… and so did Wednesday's pre-Fed highs).
Growth stocks were flat on the week as Value was bid (mostly benefitting on Thursday)…
Source: Bloomberg
Both Defensive and Cyclical stocks were hammered equally this week (while obviously cyclicals were more volatile)…
Source: Bloomberg
Today's bounce was not really triggered by a short-squeeze as the size of the swing higher is very modest and unsustained…
Source: Bloomberg
The energy sector is the only one up in January while Tech and Consumer Discretionary are down hard MTD…
Source: Bloomberg
Real yields continue to rise (to their highest since June 2020 – but still negative), and have recoupled with gold…
Source: Bloomberg
…but have completely decoupled from stocks (Nasdaq should be significantly lower relative to Russell 2000)…
Source: Bloomberg
Notably, if real yields keep rising, then valuations are going to come under significant pressure…
Credit markets saw very little of the chaotic chop in stocks this week as they just fell with HYG (HY Corporate Bond ETF) at its lowest since Nov 2020…
Source: Bloomberg
Treasury yields were extremely mixed on the week with the short-end exploding higher and long-end actually coming all the way back to unchanged…
Source: Bloomberg
This week saw 2Y yields jump most since Oct 2019 (up for the 6th week in a row to the highest since Feb 2020).
Source: Bloomberg
The yield curve was crushed this week, triggered by The Fed's hawkish tilt…
Source: Bloomberg
…with 7s10s at almost record flats, 20s30s still inverted, and 2s30s at its flattest since March 2020… all screaming The Fed is about to make a big mistake and hinting strongly at recessionary risks rising fast…
Source: Bloomberg
Short-term markets are now fully pricing in 5 rate-hikes by year-end (and a 25% chance of 50bps hike in March)
Source: Bloomberg
Perhaps even more notably, the forward OIS market is pricing in rate-cuts between 2024 and 2025…
Source: Bloomberg
The dollar soared higher for the 5th straight week (best week since June 2021), closing at its highest since July 2020. NOTE, the dollar took out the December USD spike highs and faded…
Source: Bloomberg
Cryptos had a nasty drop on Monday, along with stocks, and another puke after The Fed, but bitcoin ended the week modestly higher, while Ether was down around 5%…
Source: Bloomberg
Commodities were very mixed this week with most lower by hawkish tilts (Silver slammed 8% on the week) while crude rallied on geopolitical tensions…
Source: Bloomberg
Silver dropped back below $23…
WTI came very close to $89 intraday during the week, its highest since Oct 2014 (up for the 6th straight week in a row)…
NatGas went supersonic this week amid chaotic settlement and a new cold front, breaking above the early Jan highs (and up 19%, its best week since Aug 2020)…
Finally, just in case you think the market can handle all this vol, think again – liquidity in the most-liquid global equity futures contract (ES) is at its lowest since the COVID crash in 2020…
Simply put, a moderate-sized order moves ES 10 ticks so how do you think it's going to handle all the fintwit/tiktokkers "paper hands" puking out of their Robinhood accounts?
The good news is that US COVID cases are following the same trajectories at UK and South Africa and tumbling…
Source: Bloomberg
Nevertheless, as we noted above, GDP in Q1 could well print contractionary.
Tyler Durden
Fri, 01/28/2022 – 16:02
dollar
gold
silver
inflation
stagflation
commodities
markets
fed
crash
nasdaq
3 Stocks to Buy Now That Are Winning on Earnings
I'm always on the lookout for stocks to buy after earnings. And nothing beckons like a company's share price gapping higher as investors cheer the…
I'm always on the lookout for stocks to buy after earnings. And nothing beckons like a company's share price gapping higher as investors cheer the numbers.
Unfortunately, positive responses have been a rarity during this earnings season. The twin troubles of high inflation and a hawkish Fed have thrown a wet blanket on asset prices. And it's overshadowing most of the reports getting released.
That said, there have been a few bright spots. Given the sea of red greeting stock watchers each session, they've been easy to find. Sort your watchlist by percentage change, and the big winners will rise to the top. I noticed three standouts that both delivered great numbers and saw their share prices respond positively.
If you're willing to ignore the messy indexes, these are three of the best stocks to buy.
Stocks to Buy: Apple (AAPL)
Source: The thinkorswim® platform from TD Ameritrade
The market was desperate for its leader to wow the crowd and bring buyers back in. Fortunately, Apple did just that by reporting its largest quarter of revenue ever. For the previous three months, the maker of all i-things saw its sales grow 11% year-over-year to $123.9 billion. That was good enough to boost earnings per share by 25% to $2.10.
The only product category that didn't top analyst estimates was iPads. Buyers swarmed following the release, sending shares higher after hours Thursday. Importantly, AAPL stock has held onto the overnight gains in Friday's session. The stock is testing its 50-day and 20-day moving averages and overhead resistance near $170. To fully turn the trend and give the green light to buyers, AAPL needs to break through them all.
Use that as the trigger for today's idea.
The Trade: Buy the March $170/$180 bull call spread for around $4.
You're risking $4 to make $6 if the stock tops $180 by expiration.
Microsoft (MSFT)
Source: The thinkorswim® platform from TD Ameritrade
As the second-largest company in the S&P 500 and one whose share price entered the earnings report 17.5% off the highs, Microsoft also needed to deliver. And it did. The software giant raked in $2.48 per share on $51.73 billion in revenue, topping analyst forecasts. As a result, MSFT stock leaped higher after hours, but the up gap on Wednesday was aggressively sold into.
Fortunately, shares have stabilized, and we're now forming a sideways base. Much work remains, though. The falling 20-day moving average needs to be breached to signal a more significant turnaround is afoot. I suggest using that as the trigger for today's trade idea.
You could go with another bull call like AAPL, but I'm going to mix it up to provide a higher probability alternative.
The Trade: Sell the March $275/$270 bull put spread for 90 cents.
Consider it a bet that MSFT stock stays above $275 for the next six weeks. If it does, you'll capture the max gain of 90 cents. Conversely, the max loss is $4.10.
Stocks to Buy: Visa (V)
Source: The thinkorswim® platform from TD Ameritrade
The final idea for today's stocks to buy is Visa. Shares of the financial company are surging after reporting rosy numbers. Its quarterly revenue surpassed $7 billion for the first time, helping Visa capture $1.83 per share. Both metrics topped analyst estimates. With V stock submerged beneath all moving averages, it entered Thursday's event in desperate need of a boost.
Now, with Friday's pop, we're nearly above them all. And there's also an unfilled gap overhead that could quickly suck prices higher.
The Trade: Buy the March $230/$240 bull call spread for $3.50.
You're risking $3.50 to make $6.50 if Visa rises beyond $240.
On the date of publication, Tyler Craig did not have (either directly or indirectly) any positions in the securities mentioned in this article. The opinions expressed in this article are those of the writer, subject to the InvestorPlace.com Publishing Guidelines.
For a free trial to the best trading community on the planet and Tyler's current home, click here!
More From InvestorPlace
The post 3 Stocks to Buy Now That Are Winning on Earnings appeared first on InvestorPlace.