Trump Hints At Biden Rematch: "You Think I Kid, But I'm…Not"
Trump Hints At Biden Rematch: "You Think I Kid, But I'm…Not"
Authored by Phillip Wegmann via RealClearPolitics.com,
The former president…
Trump Hints At Biden Rematch: "You Think I Kid, But I'm…Not"
Authored by Phillip Wegmann via RealClearPolitics.com,
The former president made a gaffe, realized his mistake, and then made a joke sure to make the Republican establishment nervous.
It was Friday night, and Donald Trump was telling a crowd at Mar-a-Largo about his last campaign, about how "we were going to go in with a fourth term." Of course, he was talking about his unsuccessful bid for a second stint in the White House. So, pivoting with a quick quip, Trump said, "It could be; you know we should be entitled to a fourth term too, after what we had to put up with!"
The audience — including some former Cabinet members and sympathetic members of Congress — laughed and cheered. They laughed and cheered again when Trump said he couldn't use "Keep America Great" as a slogan because, as he explained it, "with all of the things that are happening in this country, I'll say it, America, right now, is not great; America is under siege."

The slogan needed an update: "It's 'Make America Great Again, Again.'"
More laughing and more cheering from the crowd.
But Trump was serious.
"You think I kid," he warned, "but I'm actually not. I'm actually not."
The private remarks, shared with RealClearPolitics, are the clearest sign yet that Trump is considering a return to politics. Some close to him believe he's already decided. Last  month, his former chief of staff, Mark Meadows, told a radio host to lend him "all your money" so he could "bet that [Trump] is running again."
Trump's latest remarks came at the end of a policy summit hosted by the America First Policy Institute, the brainchild of his former senior domestic policy adviser, Brooke Rollins. It was a chance to replay all the old hits, introduce new ones at the expense of Joe Biden, and continue the will-he/won't-he routine that's aggravated the GOP establishment and titillated the MAGA base since he left office.
The Virginia gubernatorial election was proof that the Trump method works, at least according to the former president. A year after he issued an executive order banning federal training programs that even mention critical race theory, he said it "had become the number one issue in the Virginia governor's race."
On the eve of that election, Trump hosted a tele-rally for Glenn Youngkin, who went on to defeat former Gov. Terry McAuliffe by 2.3 percentage points. If he hadn't called in to the rally and his base didn't turn out to vote, Trump argued, "you would never ever have even come close to winning that election. Not even close." Three days later, then, at Mar-a-Largo, Trump was ready to explain what "Glenn's victory" meant. In his estimation, it was "a complete vindication of the arguments, and that was truly a vindication of our movement and the things we have been talking about for years."
More such vindication is coming, he predicted, though Trump warned that "once these incompetent radicals are voted out of office … we have our work cut out for us because they are vicious and they are smart and they do stick together."
But the GOP that will emerge if Trump is right about next November will be "a much different party," he said, citing the gains his 2020 campaign made with blue-collar voters. "They even call it the party of Trump. And I said, 'It's not the party of Trump. This is the party of all of you in this room, and this is going to long outlast Trump.'"
One area where this assessment seems apparent: The proliferation of culture war political arguments. Though Youngkin was hesitant to embrace Trump in Virginia, the Republican candidate was more than eager to lean into the debate over parental rights in education. Pointing to the Virginia victory, and to the salience of the CRT debate, Trump argued, "We did not start the so-called culture war. But we will win it, and we will win it very strongly."
But while Trump was ready to declare early victories, he also returned to old grievances, reading aloud from a list of Republicans who he believed had wronged him. He griped briefly about Sens. Mitt Romney, Ben Sasse, and Bill Cassidy. His harshest remarks, however, were reserved for the Senate minority leader. Trump called Mitch McConnell "an old, broken-down crow."
"They don't fight like they should," he said of that wing of the party.

"They're afraid of doing anything without apologizing to the radical left."
The crowd seemed to enjoy this commentary, but they sounded ecstatic when the 45th president turned his attention to the current occupant of the Oval Office.
According to Trump, the chaotic withdrawal from Afghanistan was "the most embarrassing moment in the history." Rising inflation is ruining the economy, and things are so bad that Jimmy Carter looks "like a brilliant president by comparison." The surge of illegal immigrants crossing the southern border wasn't the result of incompetence, he asserted; the uptick was evidence that the Biden White House "wants these people to pour into our country."
All of it sounded like one his old stump speeches, but Trump rolled out new material for his guests. "You just saw what happened to Joe Biden on his travails in Europe. That wasn't good," Trump said of unsubstantiated right-wing rumors that the current president was indisposed during his recent visit to the Vatican. "He went to see the pope. He was, uh … a little late. What the hell happened to him? Does anybody know what happened?"
As Trump was riffing, someone in the crowd started bellowing, "Let's go, Brandon!"
Another crossover of politics and culture, the chant has become a GOP rallying cry. And Trump was delighted.
"Brandon has become a big star. Nobody ever heard of this guy before. Now he's one of the biggest stars," Trump told his supporters. The chant that had started at a NASCAR race, when an Alabama crowd interrupted a live interview of Brandon Brown in the winner's circle with shouts of "F— Joe Biden" — and the confused interviewer jokingly told the driver that fans were chanting his name — suddenly echoed in the ornate  Mar-a-Largo ballroom. Trump was pleased. He enjoyed the original: "I still like the first phrase better somehow. It's more accurate."
This new meme has become part of the Trump camp's marketing machinery. Along with the red MAGA hats and branded plastic straws, there are now the "Let's Go, Brandon!" T-shirts for sale. Without officially running, the former president has amassed a war chest of more than of $102 million. Along with his grassroots army, that pile of cash makes Trump impossible for the GOP establishment to ignore.
Given that he wins most 2024 nomination straw polls, why wouldn't he run again? That was the question RCP's Tom Bevan asked the former president last month. His answer:
"Well, one reason could be your health. You get a call from your doctor and that's the end of that. … You never know, there are many things can happen; politics is a crazy world. It is a big commitment of you, your children, your wife and your family."
If Trump has any hesitation now, he didn't express it Friday night. He talked about Trump World, particularly the America First Policy Institute that hosted the night, as part of a larger "movement," one that transcended him. Those followers, he told the black-tie crowd, "will prevail."
"They're destroying our country," he said of progressives in summing up his hour-long speech. "We're gonna make our country greater than ever before."
Tyler Durden
Mon, 11/08/2021 – 20:40
inflation
policy
"Team Transitory" Is Dead After Powell Says "Time To Retire Word Transitory Regarding Inflation"
"Team Transitory" Is Dead After Powell Says "Time To Retire Word Transitory Regarding Inflation"
Remember when clueless macrotourists  and…
"Team Transitory" Is Dead After Powell Says "Time To Retire Word Transitory Regarding Inflation"
Remember when clueless macrotourists  and worthless econo-hacks who have zero understanding of actual economic dynamics spent miles of digital ink convincing their tiny echochambers that they were right and that inflation was transitory (or rather, desperately scrambled to mask their utter lack of grasp of even the simplest concepts):
Team transitory won btw. pic.twitter.com/7CEwdC11h7

— George Pearkes (@pearkes) October 13, 2021
Three month core inflation. Why isn't everyone calling this a win for team transitory? pic.twitter.com/KB9EawJLo1

— Paul Krugman (@paulkrugman) October 13, 2021
Not out of the supply chain woods but score one for team transitory–used car hyperinflation is behind us@SmokeonCars pic.twitter.com/YLkRkC4MVJ

— Dr. Julia Coronado (@jc_econ) August 11, 2021
Well, one month ago we made it quite clear where in the financial pecking order these so-called 'experts' fall…
"team transitory" is officially the new Gartman pic.twitter.com/BKBqUrPLJZ

— zerohedge (@zerohedge) November 12, 2021
… and then moments ago none other than Jerome Powell put to rest any further debate on the topic of transitory vs permanent inflation:
*POWELL: TIME TO RETIRE THE WORD TRANSITORY REGARDING INFLATION
*POWELL: THREAT OF PERSISTENTLY HIGHER INFLATION HAS GROWN
Powell's cremation of "team transitory" took place after the Fed chair was asked how long inflation has to run above-target before he decides it's not so transitory, with Senator Pat Toomey mocking the term "transitory", saying: "Everything is transitory. Life is transitory" to which he could have also added that "on a long enough timeline the survival rate for everything drops to zero."
In response, Powell said it's probably a good time to "retire that word", a clean and clear admission from Powell that inflation is no longer transitory.
Does the Fed have the power to take out words from the Oxford English Dictionary? #RetireTransitory ????$USD

— Viraj Patel (@VPatelFX) November 30, 2021
And while it is certainly good news that we can finally stop polluting the airwaves with idiotic discussions whether inflation is transitory or not, it hardly helps Americans because as the latest BofA transitory vs permanent inflation reading shows, both are at all time highs.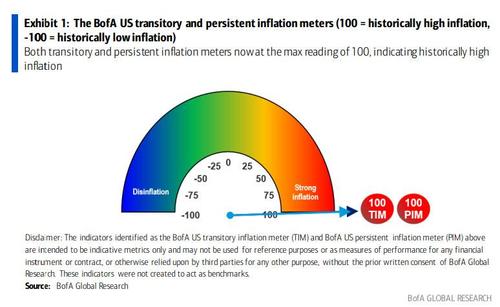 The market was not happy either because just moments later, Powell also said the one thing that traders dread, namely that the taper could wrap up a few months earlier:
*POWELL: CAN CONSIDER WRAPPING UP TAPER A FEW MONTHS SOONER
Tyler Durden
Tue, 11/30/2021 – 11:12
inflation
fed
Stocks, Bonds, & Cryptos Crushed As Powell Threatens Accelerated Taper
Stocks, Bonds, & Cryptos Crushed As Powell Threatens Accelerated Taper
Fed Chair Powell has been more hawkish than many expected during…
Stocks, Bonds, & Cryptos Crushed As Powell Threatens Accelerated Taper
Fed Chair Powell has been more hawkish than many expected during this morning's hearings, specifically noting the non-transitory nature of inflation and the need to use his tools to address it.
"At this point the economy is very strong and inflationary pressures are high and it is therefore appropriate in my view to consider wrapping up the taper of our asset purchases, which we actually announced at the November meeting, perhaps a few months sooner. I expect we will discuss that at our upcoming meeting."
This is a significant change from earlier this month, when the FOMC was pointing to wrapping up the taper in June 2022, and was not what the market wanted to hear…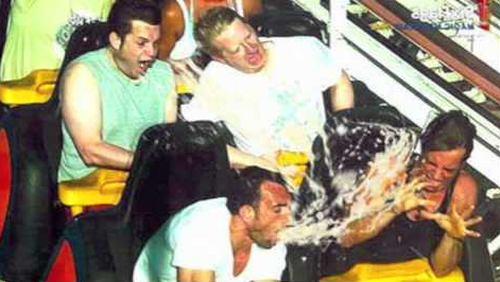 Stocks immediately reversed their post-open ramp…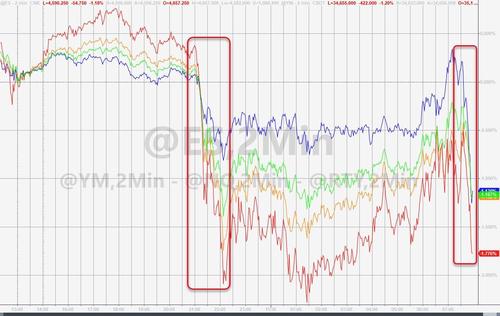 That leaves Small Caps down 6% since the onset of Omicron anxiety…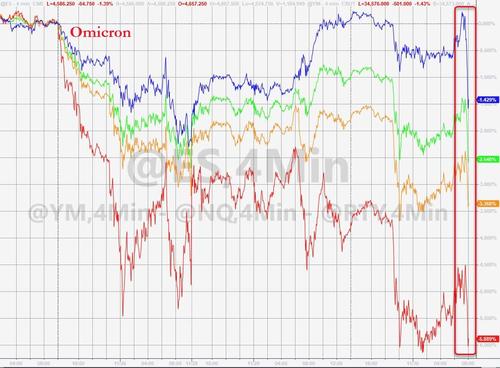 Yields jumped across the curve with the short-end spiking most (30Y has almost erased the initial spike)…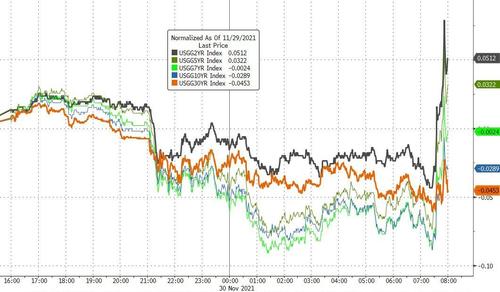 Rate-hike odds spiked dramatically…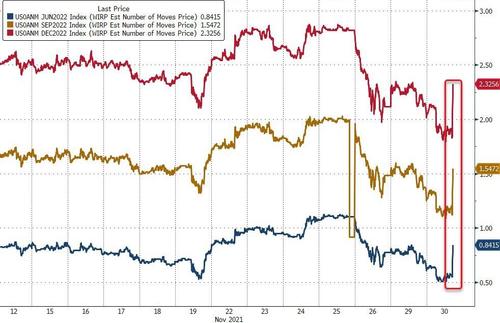 And the yield curve puked as 'policy error' fears soar…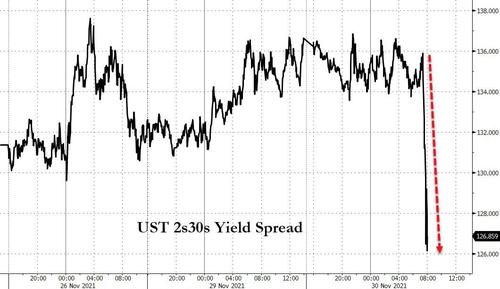 Cryptos also plunged…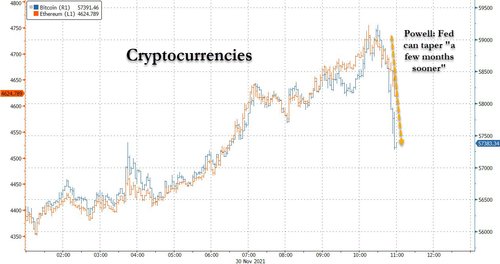 And the Dollar spiked…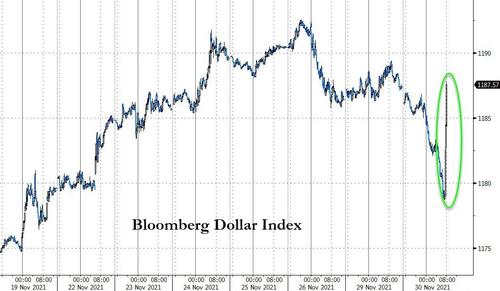 The Powell-Put just went kaput…
Live scenes of the "Powell Put" $USD pic.twitter.com/Rrsm27KT3y

— Viraj Patel (@VPatelFX) November 30, 2021
Tyler Durden
Tue, 11/30/2021 – 10:59
dollar
inflation
policy
fed
inflationary
Rabobank: Brushing Up Our Greek Alphabets
Rabobank: Brushing Up Our Greek Alphabets
By Michael Every of Rabobank
Brushing up our Greek alphabets
After a 'sell first, ask questions…
Rabobank: Brushing Up Our Greek Alphabets
By Michael Every of Rabobank
Brushing up our Greek alphabets
After a 'sell first, ask questions later' Friday, markets regained some confidence on Monday. News that Omicron may lead to relatively mild symptoms may have helped the mood, though much about the new strain still remains unclear, including how infectious it is compared to other variants and whether it requires updated vaccines. The health ministers of the G7 issued a joint statement that contained little new information on the strain, but did warn that it "requires urgent action". European equities also defied news that Germany is now the next country to consider stricter measures to curb the rise in cases.
The risk-on tone weighed on fixed income, with 10y Bund yields rising 2bp on the day, though that reverses only part of Friday's decline. And the German inflation numbers didn't provide much support for Bunds either. High inflation was already expected, with a 5.5% consensus forecast. Nevertheless, the German HICP managed to surpass that, as prices rose 6.0% y/y in November. With similar inflation rates already observed in other European countries, including Spain (5.6%) and Belgium (5.6%), a high Eurozone-aggregate HICP today shouldn't come as a surprise.
In addition to German inflation being higher than expected, it was also a bit more broad-based: certainly, energy was an important contributor, but clothing, furnishing and household equipment, and particularly recreation and culture -though notably a volatile component- also drove prices higher. Despite the wider base of inflationary pressures, that doesn't take away from the fact that most of these effects are probably still temporary factors that result from the reopening of the economy, supply chain disruptions, and the changes to German VAT at the start of the year. Indeed, the Bundesbank had already warned for a near-6% inflation rate this month, and the ECB's Isabel Schnabel stated in a TV interview that "November will prove to be the peak."
Nikkei reported some reassuring news to that extent, noting that the supply chain disruptions in the auto sector are starting to ease. According to the newspaper, the global supply of chips used in the auto industry may finally be improving: "after months of shortages, inventories have risen for the first time in nine months." While it may still take some time before shortages across the entire supply chain are resolved, this does suggest that some bottlenecks are indeed gradually easing, boding well for both price pressures and for the output of one of Germany's key industries. That said, bear in mind that the chip shortages were at the forefront of the global disruptions; since then shortages in many other materials and sectors have followed.
The rebound in China's manufacturing PMI may also offer some reassurance about the recovery of the global value chain. The headline recovered to an expansionary reading of 50.1, but this may understate the improvements in actual output, seeing that one of the main drags on this headline relates to a sharp decline in energy prices faced by manufacturers. This likely reflects the government's interventions in the coal sector, boosting production. Bloomberg reports that the National Development and Reform Commission met with coal producers last week and that prices would have to be guided towards to a "reasonable range".
That is, of course, assuming that omicron does not throw a spanner in the works here. It certainly does make central bankers' jobs that bit harder again. Fed Chair Powell said yesterday that the new strain, as well as the general rise in Covid-19 cases, poses downside risks to the full employment mandate and adds uncertainty to the inflation outlook. While he didn't specifically mention any implications for the Fed's current policy trajectory, it adds to the markets' doubts whether the FOMC will still decide to accelerate the pace of tapering in its December meeting, and whether the market wasn't too aggressive in its pricing of rate hikes next year. EUR/USD continues to find some support in this revaluation of potential for US policy moves.
Certainly, uncertainty also clouds the ECB's decisive December meeting. However, with a more dovish starting point, that is less of a marked change. If anything, the European Central Bank may want to commit less in December, leaving more options open for earlier in the year when the Governing Council has more clarity on the outlook and omicron's impact. A key case in point are Vice President De Guindos' remarks on the TLTRO-IIIs this morning: he is clear that "the TLTROs are not finished yet", confirming that -in his view- this year's long-term liquidity providing operations certainly weren't the last. However, he added that "it's not going to be a decision we discuss in December". Assuming that the future of (or rather after) PEPP will still be decided in December, that does put much more weight on the few other tools the ECB could use to mitigate the expected end of pandemic purchases. This could set markets up for an initial disappointment.
Tyler Durden
Tue, 11/30/2021 – 10:45
inflation
markets
policy
fed
central bank
expansionary
inflationary