3 Gold Stocks To Watch This Month
Making a gold stock watchlist in September? Here's 3 to take a…
The post 3 Gold Stocks To Watch This Month appeared first on Gold Stocks to Buy, Picks,…
Making a gold stock watchlist in September? Here's 3 to take a look at
The pandemic and economic situation of the last year and a half has had an interesting effect on gold stocks. Many gold stocks rose to new record highs last year as gold prices increased with the crash of the economy. Now in 2021, things are much different. Metals are trending lower at the moment as the dollar grows stronger. While gold may be going down in price, the metal still holds a strong position in the market.
Last Friday, both of the metals reached four-week highs. Analysts believe that the pullback gold is experiencing right now is regular after these solid gains. There is a lot of uncertainty in the world right now when it comes to the economy. Just when it felt like things were getting better, COVID-19 cases began to rise again due to the delta variant of the virus. At the same time, there are many people that are still unvaccinated at the moment.
If you want to invest in gold stocks, there are a few precautionary steps you can take. Looking at the latest world news such as things related to the pandemic can be extremely useful when buying gold stocks. Looking at news in the sector, such as shortages and surplus can be helpful as well. Company-specific news is always really important when picking a gold stock to buy. Let's take a look at three companies that are performing well in the market right now.
Top Gold Stocks To Watch
AngloGold Ashanti Limited (NYSE: AU)
Royal Gold Inc. (NYSE: RGLD)
AngloGold Ashanti Limited (NYSE: AU)
AngloGold Ashanti is a gold mining company that produces gold, silver, uranium, and sulpheric acid. It currently operates 14 mines and three projects, located in nine countries around the world.
On September 2nd, AngloGold and Latin Metals entered a non-binding letter of intent regarding three gold exploration projects. These projects are the Organullo, Ana Maria, and Trigal Gold Projects. The letter of intent provides a 90 day period to negotiate and enter an agreement if deemed advisable. Then AngloGold would be granted the option to acquire up to an 80% interest in the projects.
Keith Henderson, CEO of AngloGold Ashanti said, "Securing joint venture partners is a key part of Latin Metals' prospect generator operating model and we are pleased to have entered into the LOI with AngloGold, as a potential partner for our projects in Salta province." Keeping this new information in mind, will AU stock enter your watchlist in September 2021?
Eldorado Gold Corporation is a mining-based company that discovers and acquires land, explores it, develops it, and then produces and sells precious metals. Eldorado's products include but are not limited to gold, silver, zinc, lead, and iron ores as well. Its current operations are the Kisladag and Efemcukuru mines.
On August 9th, the company announced the sale of its Tocantinzinho Project located in Brazil to G Mining Ventures Corp. This sale has a minimum upfront consideration of $50 million, comprised of $20 million in cash and 19.9% of GMIN shares upon closing of the transaction.
George Burns, President and CEO of Eldorado said, "This transaction provides Eldorado with immediate value for TZ, while also retaining meaningful exposure to future value creation through our equity stake in GMIN." Considering all of this news, will EGO enter your list of gold stocks to watch this month?
Royal Gold Inc. (NYSE: RGLD)
Royal Gold is a gold corporation that acquires and manages royalties and metal streams. The company does this for stream or royalty interests. Its minerals mined for are gold, silver, copper, zinc, nickel, lead, and cobalt. Currently, the company has 189 sites with 41 mines and 17 developmental projects.
On September 13th, Royal Gold will be presenting at the Gold Forum Americas 2021. The company's President and CEO, Bill Heissenbuttel will participate virtually in a fireside chat on this date. This announcement was made on Tuesday, September 7th. It will be interesting to see what the company's CEO has to say in this presentation and how it will affect RGLD stock price. Will RGLD stock enter your watchlist in 2021?
Top Gold Stocks To Buy?
Now that we have made it through this gold stock watchlist, have you found one of these companies interesting? There are plenty of gold stocks to choose from when you are forming your watchlist. It will be interesting to watch how the market for these mining stocks progresses in 2021. For now, which gold stocks are on your list?
The post 3 Gold Stocks To Watch This Month appeared first on Gold Stocks to Buy, Picks, News and Information | GoldStocks.com.
dollar
gold
silver
metals
mining
crash
nyse
zinc
iron
tsx-eld
eldorado-gold-corporation
eldorado gold corporation
Flipping Several Scripts
The script has been flipped, so to speak, this time around. Whenever we'd go through one of those regular, alternating downturns worldwide, like the…
The script has been flipped, so to speak, this time around. Whenever we'd go through one of those regular, alternating downturns worldwide, like the one which began right from the start of 2018, it was services which held up the increasingly troubled manufacturing sector. The variation for the swing, from globally synchronized growth to globally synchronized downturn, was mostly contained in industry at least during its initial phase.
It had been that way in 2015, too. A safety net or margin for downside economic error provided by service providers less easily influenced by the initial macro direction change. 
This time around, however, Uncle Sam plus corona combined to decimate then hold back the rebound in services. In the US, Americans binged on goods often at the expense of purchasing their normal rounds of non-manufacturing. This continued along with the negative effects of lockdowns most pronounced on that side of the economic ledger.
And it wasn't just in America; services globally, by their touch-y, feel-y nature are what's most exposed to the irrational ire of those all-in on pandemic. You can stay home and buy from Amazon easily through delta, omicron and whatever comes next.
Unless those at the margins have exhausted any surplus cash.

Separating one from the other, though, that's going to be the trick. Take, for example, the Federal Reserve Bank of New York's Empire Manufacturing survey. While case counts and hospitalizations were rising in near-vertical ascent during December's seasonal omicron surge, according to FRBNY's data on manufacturing everything remained fine.
It wasn't in January, though. As cases and whichever pandemic number peaked late last month, the headline for the survey collapsed by nearly 33 pts, going from 31.9 all the way down to -0.7 even though the COVID numbers have dropped. This was the first negative number for Empire since August 2020.
More to our more recent point about inventory and the Christmas cycle(s), FRBNY's Empire New Orders tanked by a similar amount; crashing from 27.1 in omicron-surged December to omicron-abating January's -5.0 – the worst since May 2020.
Is this merely a delayed consequence to the latest seasonal upswing in disease, even though the government(s) in New York's response to it has been nothing nearly as draconian as December 2020 and January 2021? Sure, vaccine mandates/corporate vax requirements are causing some problems and a great deal of uncertainty for many, maybe too many.
But what else could be different about the start of 2022 not disease or regulatorily related?
It isn't just this one manufacturing index. While Empire is first for January, there've been other curiously similar indications including, believe it or not, inflation numbers. Last week's CPI featured an unhealthy dose of what I wrote up top; mainly, the huge difference between services and goods.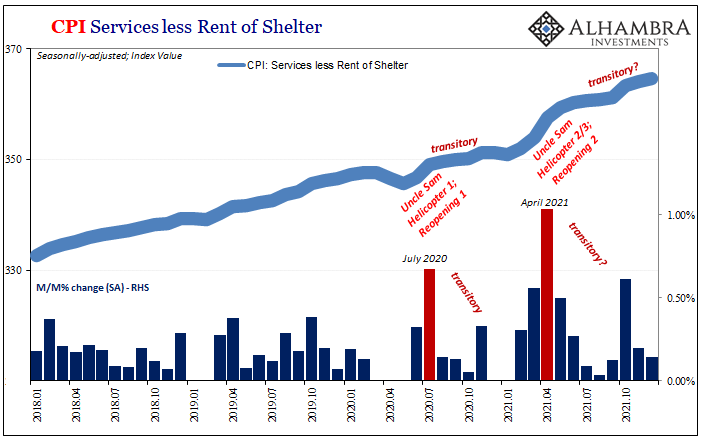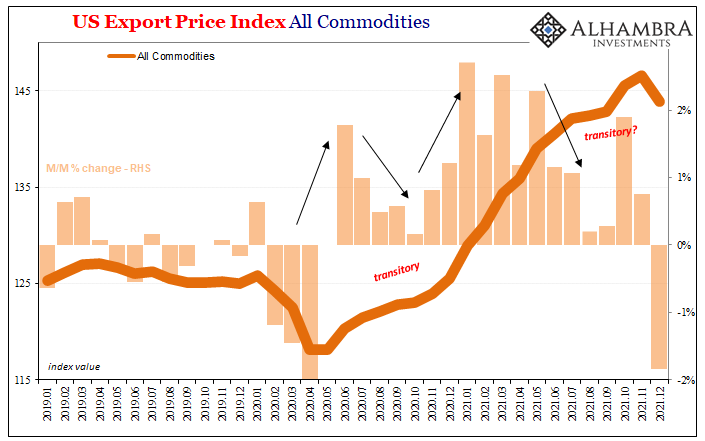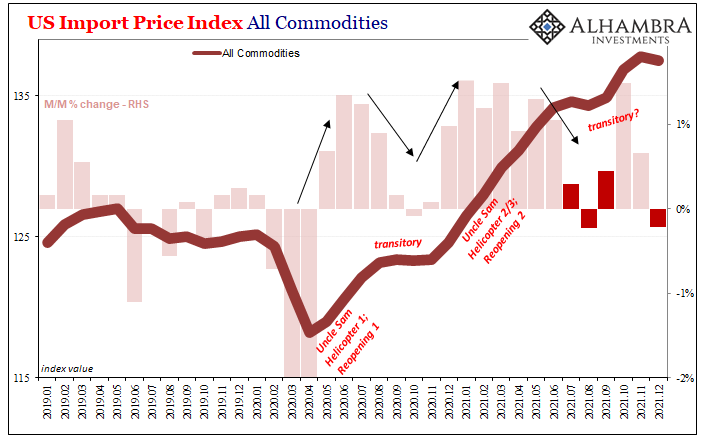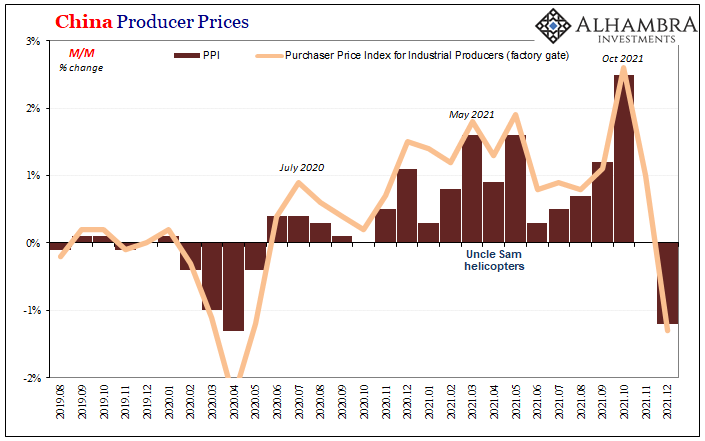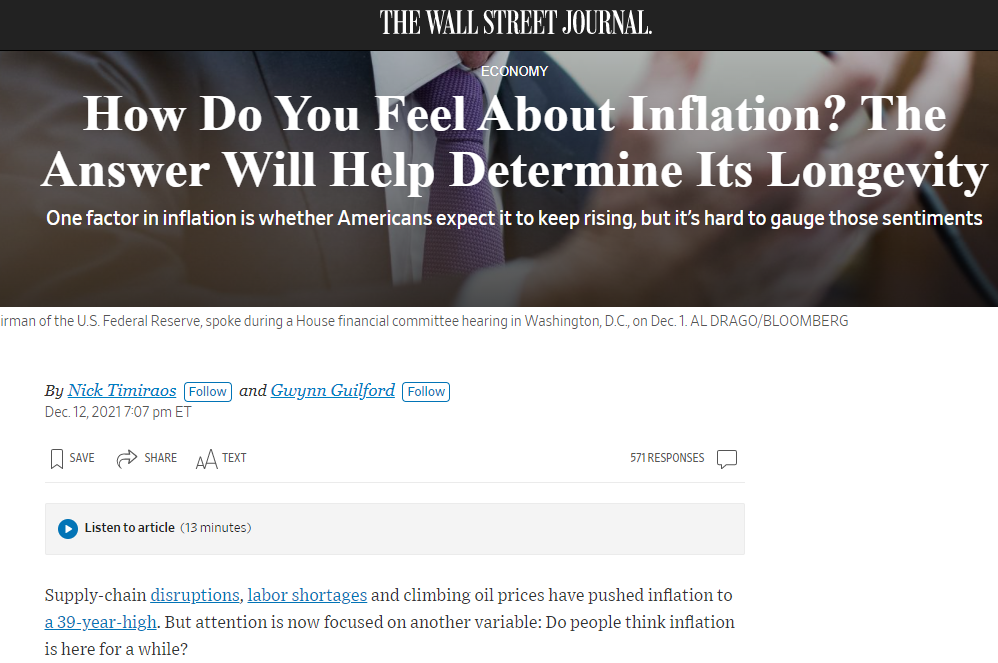 Now to go along with services CPI, BLS also calculates that export like import prices took a step backward in December. Maybe that was a global omicron effect, but in these series we find yet again a defined peak clearly set back in October before this latest troublesome variant ever showed up late in November.
It would match instead the front-loading of Christmas shopping; as would a non-pandemic association within FRBNY's Empire survey, particularly the stout drop for new orders.
So, if the manufacturing part of the economy begins to suffer a bit, too, a slowdown that doesn't have to be anything huge – not even to the proportions of a 2018 or 2015 – for the whole thing to tilt the wrong way. Again, services this time aren't there for support should manufacturing begin to wane (if not already).
As we've been writing since delta, if the "growth scare" was nothing more than delta then pretty quickly the global economy goes right back to rebound. But it wasn't delta; the downside keeps coming. There's an almost technical analysis aspect to the figures; lower highs and lower lows.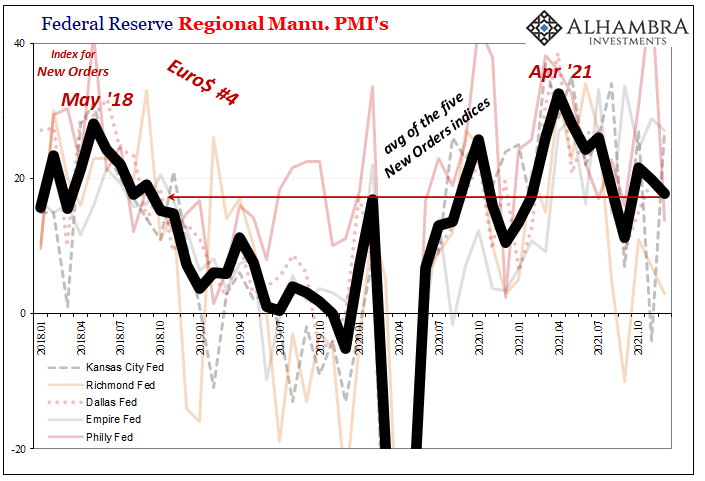 Looking at the trends instead across these series and more, especially in Xi's backyard, maybe if it is omicron this time it explains some degree of the weakness. It can't account for all of it in all of these places.
A big contributor in that respect might again be services which still haven't recovered.
Obviously, none of this is definitive. One Empire survey for one month isn't going to change anything, or conclusively represent a total regime shift as more than maybe local factors.
But it's not really just the one month in the one place. Slowly, as variants come and go, it's the other side which does seem to be beginning to pile up. 
What Kind of Tiger 'Needs' Wings?
Chinese Communists, like their counterparts everywhere around the world, they do love their metaphors. Speaking virtually at Davos again in 2022 like he…
Chinese Communists, like their counterparts everywhere around the world, they do love their metaphors. Speaking virtually at Davos again in 2022 like he had in 2021, the theme was largely the same. A year ago, China's dictator had warned about the uncertainty of the global recovery, a celebratory party only then getting going around those parts; he got that one spot on, though hardly anyone noticed.
Xi Jinping began his sermon this year with a doozy of a downer. He told his audience of the ultra-rich and connected how in two weeks it will begin China's Year of the Tiger. The great cat symbolizes "bravery and strength" to the Chinese people who often, Xi said, pair the "leaping tiger" alongside the "soaring dragon" both together symbolizing the one-half of the binary nature of this our globalized economic system.
The momentum of the world either flourishes or declines; the state of the world either progresses or regresses.
We need not guess to which of those options the "spirited dragon and dynamic tiger" might refer. But Xi claimed that this year we all must instead makes sure to "add wings to the tiger." Huh? What kind of sickly beast is this? It doesn't sound like the first options he gave.
Basically, the Chinese strongman warned Western leaders not to count their inflationary/recovery chickens before they hatch. As in 2021, Xi in 2022 warns that not all is aligned right for those things – only beginning with China.
As if to emphasize the message, Ning Jizhe, the Chinese National Bureau of Statistics' current director, admitted to reporters the state of the diseased cat. In Ning's press conference announcing the latest batch of economic data from the world's second largest economy, the Big Three (IP, FAI, and ugly retail sales) to go along with Q4 2021 GDP, the typical Communist platitudes which he dispatched with the required emphasis suddenly dissipated in his summary in favor of Xi-like clarity:
At the same time, we must be soberly aware that the current downward pressure on my country's economy is still relatively large…
You can only spin so much before such context of a wingless and ailing tiger cuts straight through such semantic reflexiveness.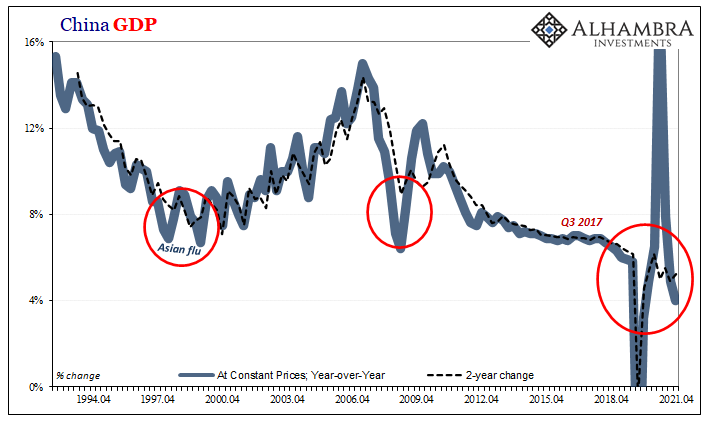 For the fourth quarter data, we can forego need of the 2-year comparisons to make sobering analysis; the annuals are all free from any leftover base effects and do an effective enough job illustrating the struggle. According to Ning's agency, China's real GDP gained only 4% year-over-year, the worst rate since the 2020 recession.
Even on a quarterly basis of a +1.6% when compared to Q3, China didn't actually end on such a good note. Authorities seeking only to manage the country's decline, first reduced the RRR rate having recognized the wane of momentum and activity during 2021's final three months.
And now other rate cuts, too. The Loan Prime Rate (LPR) had already been reduced (by a "whopping" 5 bps, but still) and now, just this week, the PBOC took 10 bps off the MLF rate for some institutions at eligible operations. Just as the rest of the world's central banks turn ultra-hawkish, Chinese authorities seek instead salve for their cat via the mildest of dovish cases.
Why? Despite near-constant Western proclamations of a turn higher for China's mythical "credit impulse" (private measurements derived from a combination of filing cabinet labels and old phone numbers) all throughout the second half of last year – any day now, they kept saying – this is what really happened: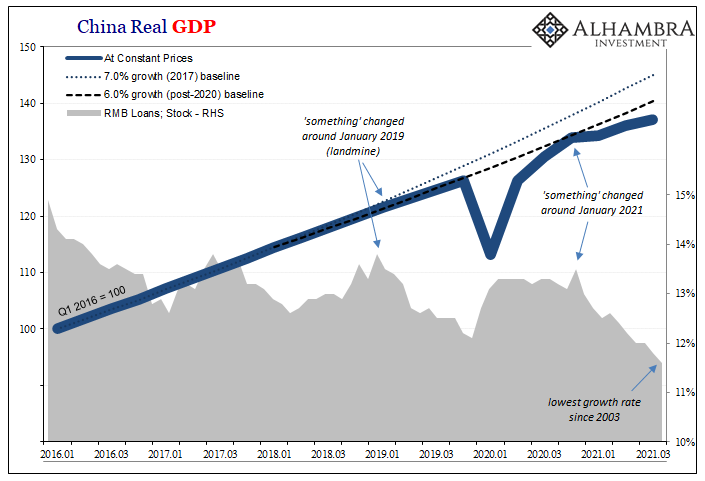 Thus, Xi's communication using whichever animal set anyone might rather suggest; the decaying tiger in need of a lift just to keep from sinking further toward the abyss.
In other words, to all those central bankers who've taken their eyes off the real risks to the global system, be forewarned (it all sounds really familiar, like we've all done this before). They won't heed any of this because their own biases are forever upward and inflationary (see: Stanley Fischer).
The rest of the Chinese data went along with GDP. An uptick in Industrial Production brought the post-pollution control growth rate to an anemic annual change of 4.3% – which weirdly has been celebrated as a lone bright spot even though the floor for IP had not long ago been placed at around 7%.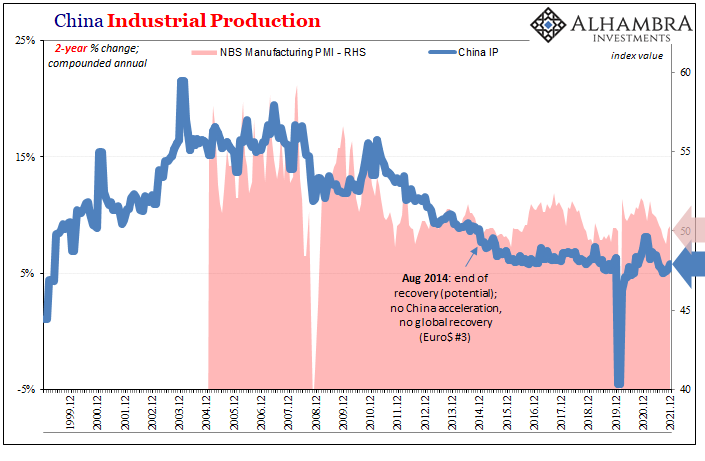 Likewise Fixed Asset Investment (FAI), where the accumulated growth rate for all of 2021 compared to all of 2020 was a stunning 4.9%. Stunning in the sense of having suffered and slowed to a full-year 2.9% in 2020 when compared to 2019, the rebound obviously fell short of even previously slowed speeds.
And in the final few months of last year, the mess and drama of Evergrande only punctuated the downside dangers just now emerging for an economic system which had been heavily influenced, to the upside, by real estate. According to the NBS, for 2021 the accumulated growth rate for all private FAI was 7%, but that was down from an 11% accumulated rate as late as August.
This spurred Ning to tout public FAI as the Keynesian alternative, though at indicated levels nowhere near any of 2020, 2016, 2012, or especially 2009 (charts below).
With the acceleration of the issuance of local government special bonds since the second half of last year, and the accelerated release of investment in the central budget, 102 key projects identified in the "14th Five-Year Plan" have been launched one after another. Increased policy support such as monetary investment is conducive to the steady recovery of fixed asset investment.
"Increased policy support." Sure, but increased compared to what?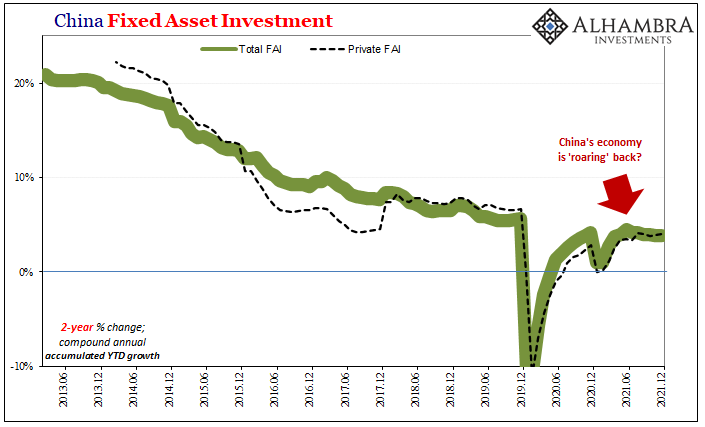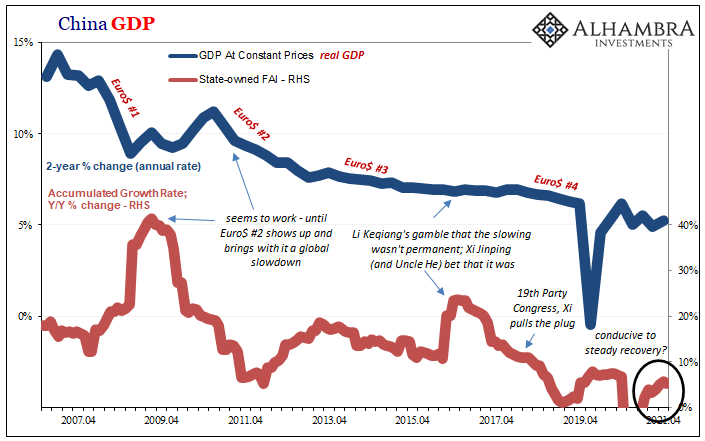 Finally, not much more needs to be said about the state of internal Chinese demand that hasn't been said repeatedly since 2018. The Retail Sales figures "unexpectedly" dropped in December (and a like basis with November), producing a year-over-year change of not even 2%.
Yes, COVID restrictions and whatnot, but while that might explain this one month below 2% it does not indicate why every month has been substantially less than what used to be the worst of the worst cases (7%).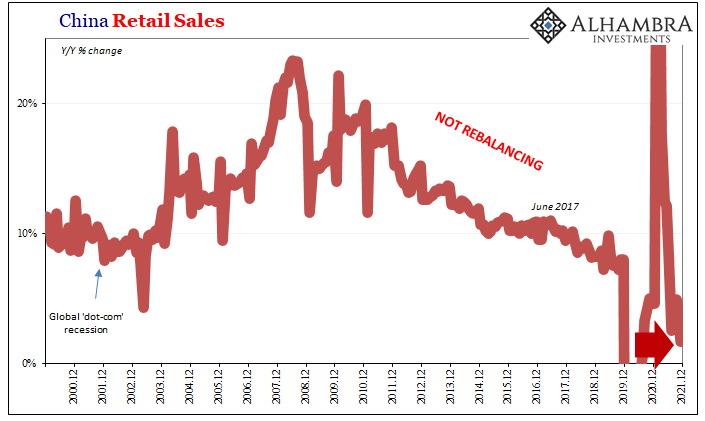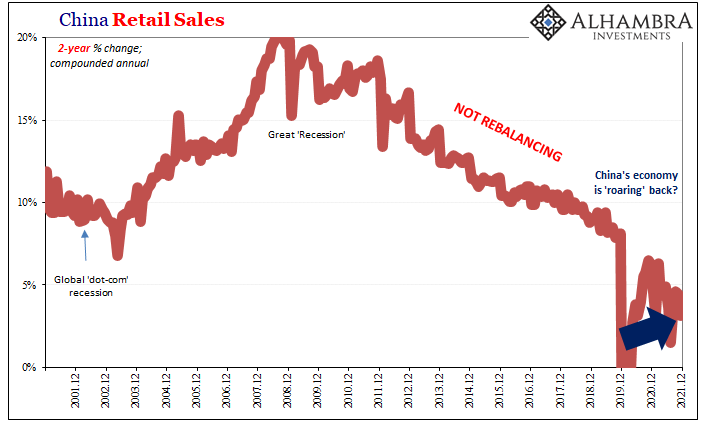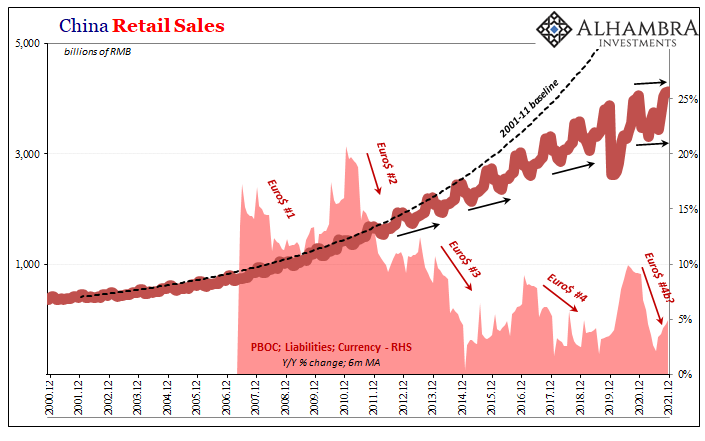 As usual, the question gets asked, "so what?"
Xi may be right about what's going on in his own den, yet is doing nothing more than whining to the private jet-set about a situation in which China has no one to blame but those in it. The Developed World, so called, has hit its stride, most say, and if it isn't benefiting China in the way the Communists there would like, neither Jay Powell nor Christine Largarde is going to lose any sleep nor any taper pace over it. 
While doubtlessly true, as we've seen countless times, too many times before, the Western narrative always shifts favorably even when undermined by the constant and almost regular undercut of Chinese weakness. Think back only to 2018 (just like 2014), Euro$ #4's erosion which first registered in places like Germany and Japan – and China.
Xi didn't use the word "synchronized" (though maybe he did; I have no idea from Google's translation the actual, specific word Xi chose), yet that was his meaning anyway backed up by every bit of economic history recent as well as the preceding few decades under Deng Xiaoping's version of Socialism with Chinese Characteristics.
Globalization meaning the global economy is either flourishing, or, forewarned by the tiger's lethargy, it just isn't. Any short run differences amount only ever to timing. The problem with globally synchronized growth was never the first two of the slogan's words.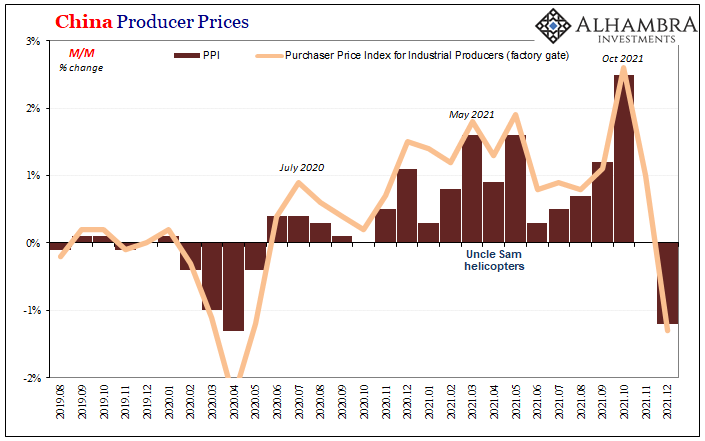 World Anti-Doping Agency Warns Athletes Over Contaminated Chinese Meat Ahead Of Beijing 2022
World Anti-Doping Agency Warns Athletes Over Contaminated Chinese Meat Ahead Of Beijing 2022
Authored by Rita Li via The Epoch Times,
Olympic…
World Anti-Doping Agency Warns Athletes Over Contaminated Chinese Meat Ahead Of Beijing 2022
Authored by Rita Li via The Epoch Times,
Olympic athletes must "exercise extreme caution" as they eat Chinese meat, which can be contaminated with the prohibited substance clenbuterol, the World Anti-Doping Agency (WADA) warned last week.
A WADA spokesperson said its guidelines for traveling athletes "only to eat at places given the all-clear by event organizers" in countries such as China remained in place, Olympic news website Inside the Games reported.
It came after the German Anti-Doping Agency alerted its athletes to avoid Chinese meat at all cost and to seek an alternative over possible clenbuterol contamination.
Concerns over contaminated Chinese meat have existed for decades, although China banned farmers in 1997 from using clenbuterol, also known as "lean meat powder," to feed livestock such as swine and calves. The illegal food additive was designed to produce leaner meat by speeding up muscle-building and the burning of fat.
Competitors of the upcoming Games are unlikely to have their meals outside the Athletes' Village where they could eat such performance-enhancing foods, as Beijing started operating a closed-loop system two weeks ago. Athletes will enter the Olympic bubble upon their arrival or after 21 days in quarantine if not fully vaccinated.
According to the report, WADA said it was the "responsibility of event organizers and governments to ensure the meat available to athletes is not contaminated," including at the Village.
Athletes could test positive in drug tests for "very low levels" of clenbuterol, the spokesperson added.
Clenbuterol, which was banned by the European Union in 1988 and the United States in 1991, can also cause serious health problems in humans including tremors, nausea, and headaches.
Yet scandals in the industry led to waves of domestic and foreign skepticism with Chinese authorities' capacity to properly regulate food safety.
In March 2011, hundreds of Chinese people became sick from consuming pork contaminated with clenbuterol, according to the National Center for Biotechnology Information, as some pig farmers continued to illegally use the drug for profit.
In 2012, China's General Administration of Sports issued an urgent demand telling Chinese Olympic athletes not to eat meat, over fears that they would consume clenbuterol. The announcement came after Chinese Olympic judo champion Tong Wen was banned for two years for having traces of clenbuterol in her bloodstream.
Tyler Durden
Tue, 01/18/2022 – 18:30
bubble