3 Gold Stocks To Watch This Month
Making a gold stock watchlist in September? Here's 3 to take a…
The post 3 Gold Stocks To Watch This Month appeared first on Gold Stocks to Buy, Picks,…
Making a gold stock watchlist in September? Here's 3 to take a look at
The pandemic and economic situation of the last year and a half has had an interesting effect on gold stocks. Many gold stocks rose to new record highs last year as gold prices increased with the crash of the economy. Now in 2021, things are much different. Metals are trending lower at the moment as the dollar grows stronger. While gold may be going down in price, the metal still holds a strong position in the market.
Last Friday, both of the metals reached four-week highs. Analysts believe that the pullback gold is experiencing right now is regular after these solid gains. There is a lot of uncertainty in the world right now when it comes to the economy. Just when it felt like things were getting better, COVID-19 cases began to rise again due to the delta variant of the virus. At the same time, there are many people that are still unvaccinated at the moment.
If you want to invest in gold stocks, there are a few precautionary steps you can take. Looking at the latest world news such as things related to the pandemic can be extremely useful when buying gold stocks. Looking at news in the sector, such as shortages and surplus can be helpful as well. Company-specific news is always really important when picking a gold stock to buy. Let's take a look at three companies that are performing well in the market right now.
Top Gold Stocks To Watch
AngloGold Ashanti Limited (NYSE: AU)
Eldorado Gold Corporation (NYSE: EGO)
Royal Gold Inc. (NYSE: RGLD)
AngloGold Ashanti Limited (NYSE: AU)
AngloGold Ashanti is a gold mining company that produces gold, silver, uranium, and sulpheric acid. It currently operates 14 mines and three projects, located in nine countries around the world.
On September 2nd, AngloGold and Latin Metals entered a non-binding letter of intent regarding three gold exploration projects. These projects are the Organullo, Ana Maria, and Trigal Gold Projects. The letter of intent provides a 90 day period to negotiate and enter an agreement if deemed advisable. Then AngloGold would be granted the option to acquire up to an 80% interest in the projects.
Keith Henderson, CEO of AngloGold Ashanti said, "Securing joint venture partners is a key part of Latin Metals' prospect generator operating model and we are pleased to have entered into the LOI with AngloGold, as a potential partner for our projects in Salta province." Keeping this new information in mind, will AU stock enter your watchlist in September 2021?
Eldorado Gold Corporation (NYSE: EGO)
Eldorado Gold Corporation is a mining-based company that discovers and acquires land, explores it, develops it, and then produces and sells precious metals. Eldorado's products include but are not limited to gold, silver, zinc, lead, and iron ores as well. Its current operations are the Kisladag and Efemcukuru mines.
On August 9th, the company announced the sale of its Tocantinzinho Project located in Brazil to G Mining Ventures Corp. This sale has a minimum upfront consideration of $50 million, comprised of $20 million in cash and 19.9% of GMIN shares upon closing of the transaction.
George Burns, President and CEO of Eldorado said, "This transaction provides Eldorado with immediate value for TZ, while also retaining meaningful exposure to future value creation through our equity stake in GMIN." Considering all of this news, will EGO enter your list of gold stocks to watch this month?
Royal Gold Inc. (NYSE: RGLD)
Royal Gold is a gold corporation that acquires and manages royalties and metal streams. The company does this for stream or royalty interests. Its minerals mined for are gold, silver, copper, zinc, nickel, lead, and cobalt. Currently, the company has 189 sites with 41 mines and 17 developmental projects.
On September 13th, Royal Gold will be presenting at the Gold Forum Americas 2021. The company's President and CEO, Bill Heissenbuttel will participate virtually in a fireside chat on this date. This announcement was made on Tuesday, September 7th. It will be interesting to see what the company's CEO has to say in this presentation and how it will affect RGLD stock price. Will RGLD stock enter your watchlist in 2021?
Top Gold Stocks To Buy?
Now that we have made it through this gold stock watchlist, have you found one of these companies interesting? There are plenty of gold stocks to choose from when you are forming your watchlist. It will be interesting to watch how the market for these mining stocks progresses in 2021. For now, which gold stocks are on your list?
The post 3 Gold Stocks To Watch This Month appeared first on Gold Stocks to Buy, Picks, News and Information | GoldStocks.com.
dollar
gold
silver
metals
mining
crash
nyse
zinc
iron
tsx-eld
eldorado-gold-corporation
eldorado gold corporation
"Well, That Escalated Quickly…"
"Well, That Escalated Quickly…"
Well, that escalated quickly…
US equities suffered their worst day since October (but was saved by…
"Well, That Escalated Quickly..."
Well, that escalated quickly...
US equities suffered their worst day since October (but was saved by a decent late-day ramp off the S&P 100DMA and Dow support). S&P was the least bad on the day followed by the Dow and the Nasdaq, with Small Caps the biggest loser...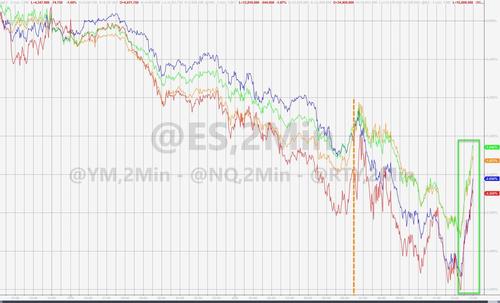 The Dow, S&P, and Small Caps were ramped back to practically unchanged from the US cash open...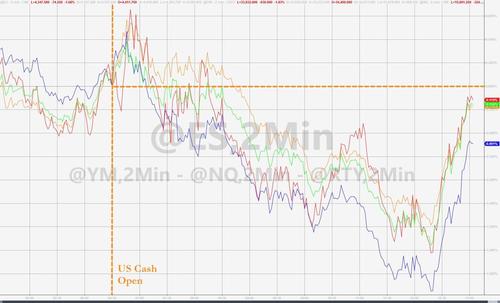 After being down almost 1000 points, the Dow bounced hard off the July lows...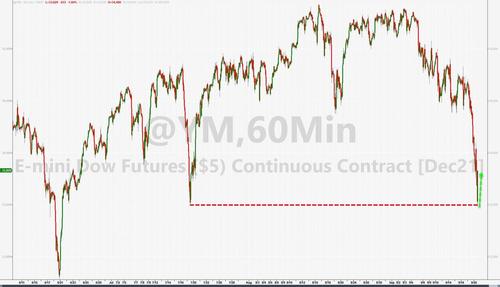 As Deutsche's Jim Reid noted:
"To be fair I've been worried about the over leveraged Chinese property sector for years without anything much happening so it's hard to know whether this is finally the big one or not."
With the opening crash driving the second biggest selling wave in history...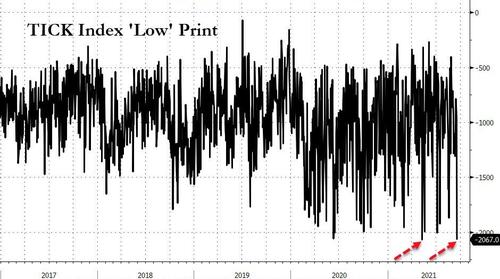 Source: Bloomberg
Who coulda seen that coming? Well plenty of things were flashing red...
1) the post options expiration "gamma unclench" and "vol expansion window" allows for movement in US Equities (SPX and QQQ $Gamma were both +90%ile just two weeks back, now Dealer Gamma in negative territory vs spot for both)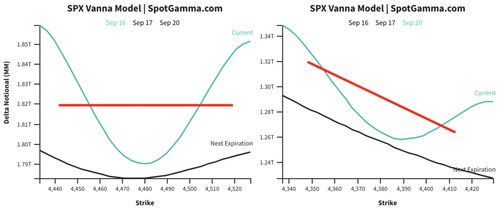 2) a US Equities Vol market which has been pricing outright "crash" metrics for months (SPX Skew, Put Skew, iVol vs rVol, Term Structure all upper 95-99%iles),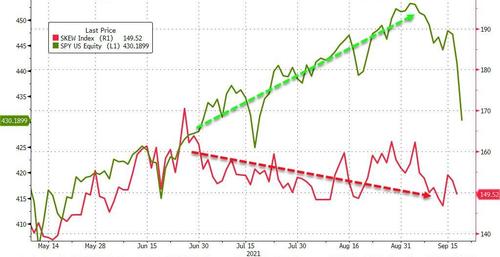 Source: Bloomberg
3) significant de-risking flow potential from "negative convexity" vol-sensitives (what was +99%ile SPX- and QQQ- options $Delta just ~two weeks ago, 90%ile historical CTA Trend net exposure in DM Equities and 87%ile Vol Control fund US Equities exposure)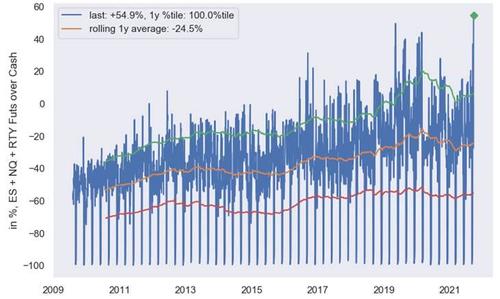 4) this week's FOMC event-risk (higher Fed dot plot will signal faster tightening trajectory for '23 & '24) and Debt Ceiling fears (the T-Bill curve's kink is becoming increasingly extreme and USA sovereign risk is on the rise)...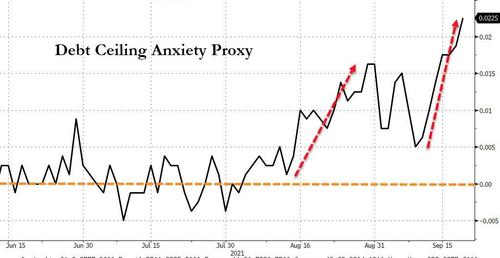 Source: Bloomberg
5) a poor weekly seasonal slice for global Equities ahead (Sep17-Sep24 median chg ~-0.4% SPX, -0.9% HSCEI, DAX & Eurostoxx, -1.4% for Russell, with clear "Defensives / Duration over Cyclicals" historical sector performance tilts)…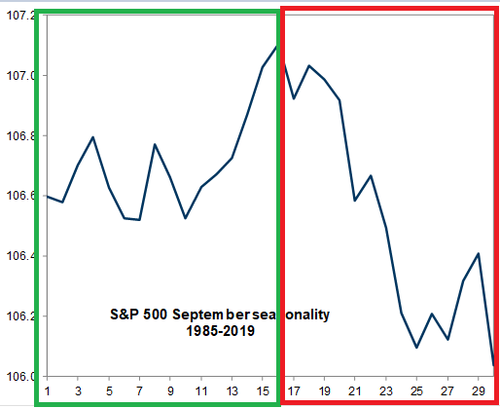 6) a macro scare catalyst to-boot (China real estate "contagion" off Evergrande - mainland closed for holiday, but HSI Real Estate and Financials smashed overnight, while USDCNH moving towards 6.50 with client "Evergrande default" hedges in topside there)...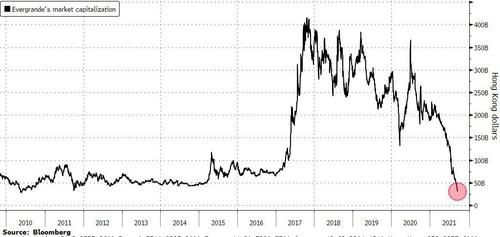 Source: Bloomberg
And the ultimate risk for Beijing is blowing out...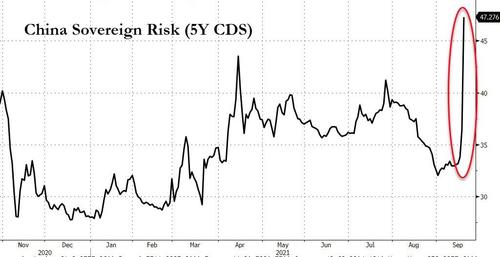 Source: Bloomberg
and 7) A drawdown is overdue (S&P was down 5% from the highs today, the first time since October)...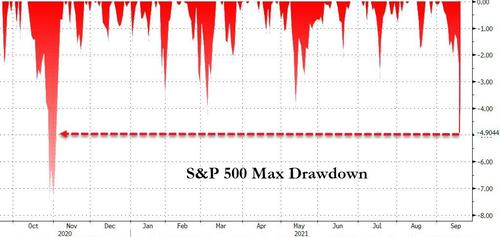 Source: Bloomberg
There were a few other divergences...
HY debt has also not been as exuberant in the last few months as The Fed unwound its corporate bond book...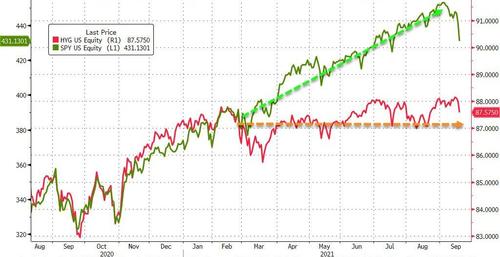 Source: Bloomberg
Dow Transports divergence from Dow Industrials is triggering 'Dow Theorist' warnings signals...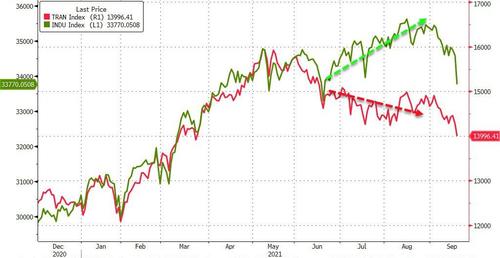 Source: Bloomberg
And breadth has stunk...
Source: Bloomberg
99% of S&P members were lower today - the worst level since June 2020's collapse...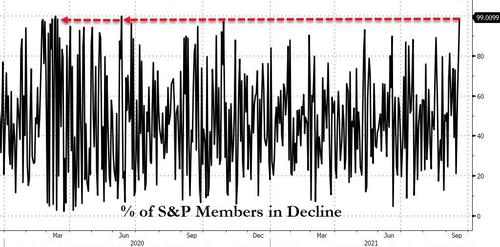 Source: Bloomberg
The Nasdaq closed back below its 50DMA...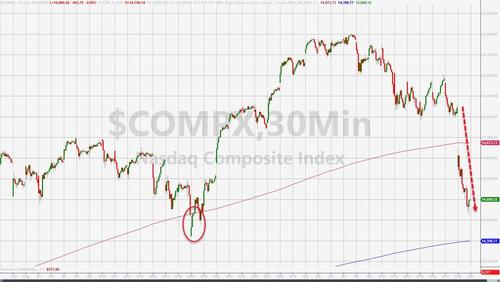 S&P broke below its 100DMA...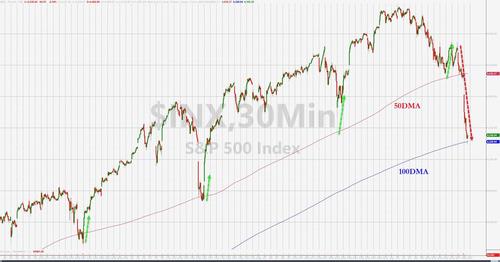 ...and then late-day buying panic rescued it...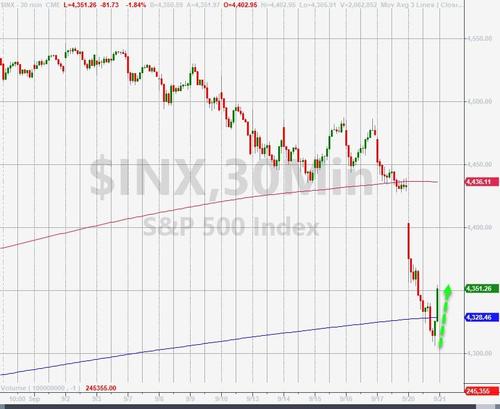 Small Caps crashed back below the 200DMA (and closed below it)...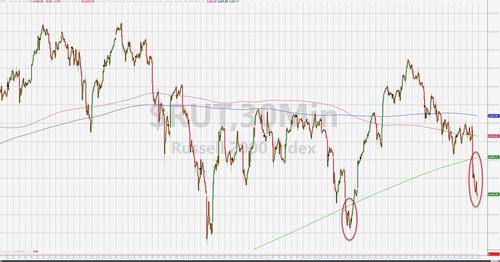 All US equity sectors were in the red today with Energy the hardest hit along with financials. Utes were the least bad horse in the glue factory...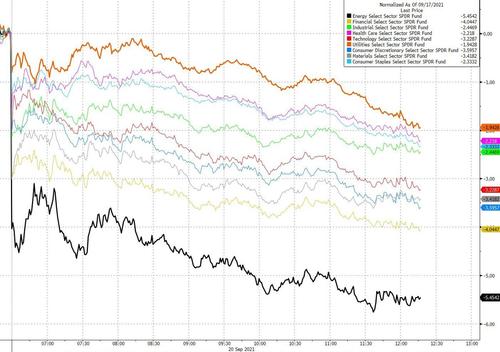 Source: Bloomberg
VIX spiked up near 28 intraday today...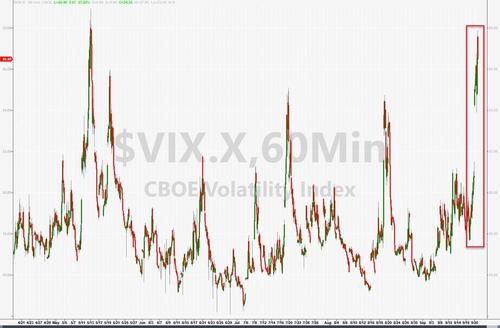 Cryptos were clubbed like a baby seal...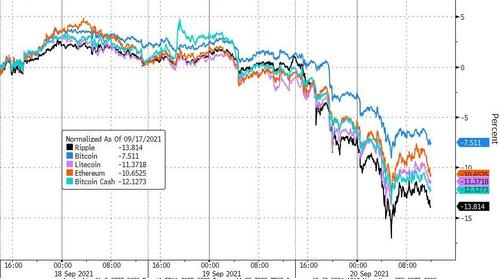 Source: Bloomberg
Bitcoin puked down to the spike lows from Sept 7th and the El Salvador malarkey...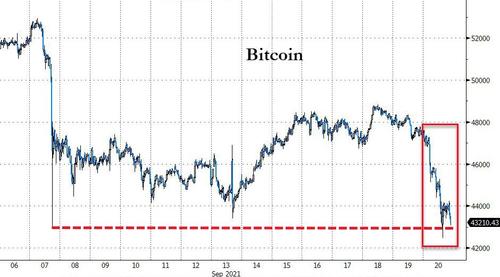 Source: Bloomberg
Still not everything was dumped today.
Bonds were bid across the curve (Asia was closed), with the long-end of yields down around 6bps...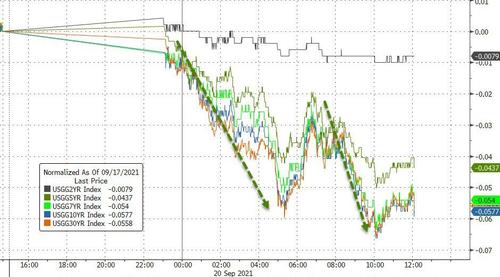 Source: Bloomberg
On Friday, we pointed out that yields had hit a previous resistance...and sure enough, yields plunged...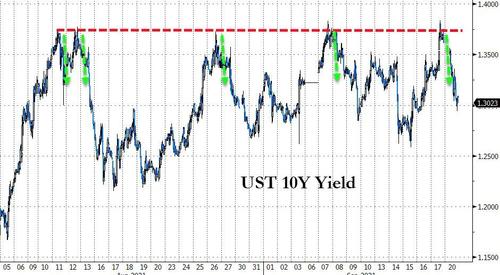 Source: Bloomberg
The dollar was also bid, safe-haven/liquidity flows, and held at the pre-Jackson-Hole levels...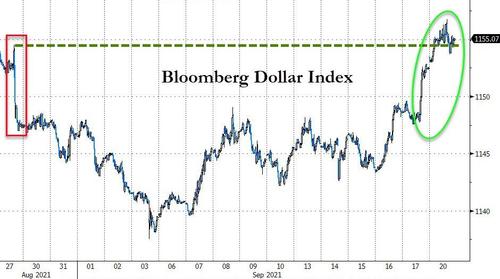 Source: Bloomberg
Commodities were mixed today with PMs bid and growth-related assets (copper and crude) dumped...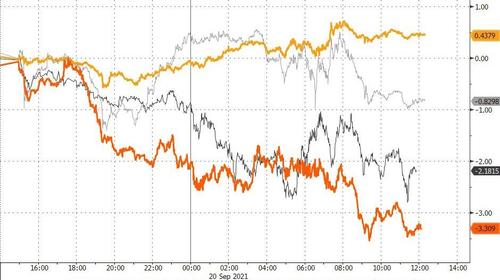 Source: Bloomberg
Finally, you have nothing to fear but fear itself...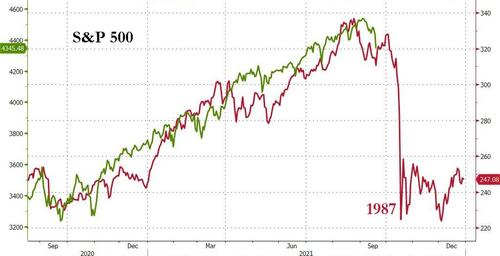 Source: Bloomberg
Tyler Durden
Mon, 09/20/2021 - 16:01
dollar
commodities
fed
crash
Commodities and Cryptos: Oil slumps, Gold rebounds, Bitcoin plunges
Oil Crude prices are sharply lower after Evergrande debt default fears triggered a flight-to-safety that sent the dollar higher.  Evergrande's woes…
Oil
Crude prices are sharply lower after Evergrande debt default fears triggered a flight-to-safety that sent the dollar higher.  Evergrande's woes are threatening the outlook for the world's second largest economy and making some investors question China's growth outlook and whether it is safe to invest there.  In addition to risk aversion flows pumping up the dollar, some investors are anticipating further hawkish signals that the Fed will set up a formal November taper announcement on Wednesday. 
Complicating the move in crude prices is the surge to record highs for UK gas futures.  Europe does not have enough gas and the energy problem could intensify if the early weeks of winter are cold. 
The US Gulf of Mexico production continues to recover from hurricane season, with now only 18.3% of offshore production being shut-in.  The oil market will still be heavily in deficit early in winter and if more demand comes that way, energy traders will buy any dip they get with crude prices. 
Gold
Gold's rout is taking a break as investors run to safety over concerns Evergrande's debt default concerns could spillover.  Gold got a boost as Treasury yields plunged, with the 10-year yield falling 5.4 basis points to 1.307%. 
Gold's rally could have been much higher if not for the reports that Senator Manchin may be thinking of suggesting Congress take a "strategic pause" until 2022 before voting on the $3.5 trillion social-spending package.  Considering stocks are about to have their worst day since October, it is very disappointing that gold prices are only up around $10.  Gold may continue to stabilize leading up to the FOMC decision, with the next move likely being further downside.  Gold could struggle until the Fed finally starts tapering asset purchase.  It is then that it may start acting more like an inflation hedge.    
Bitcoin
A retest of the September low came far too easily for Bitcoin.  The fallout from the Evergrande is putting a tremendous dent in risk appetite that is sending everything lower. Cryptocurrencies, despite all the volatility, have been the best performing asset of the year, so it should not surprise Wall Street they are the first asset sold in the beginning of China-driven market selloff.    
Retail traders remain bullish, albeit many have capitulated in locking in some profit.  Some traders are anticipating a short pullback, while some lunatics are readying to buy more after tomorrow's full moon.    
In El Salvador, President Bukele tweeted "We just bought the dip. 150 new coins!"  El Salvador's total is now 700 coins and that enthusiasm has yet to be matched by other countries.   
If Bitcoin breaks below the $40,000 level, it could see momentum selling have it eventually return to the $30,000 to $40,000 range that it was in earlier this summer.  
dollar
gold
inflation
commodities
fed
Asia's Largest Insurer Hammered As Investors Sell First, Don't Bother To Ask Questions
Asia's Largest Insurer Hammered As Investors Sell First, Don't Bother To Ask Questions
Few were surprised to see that the crash in Evergrande…
Asia's Largest Insurer Hammered As Investors Sell First, Don't Bother To Ask Questions
Few were surprised to see that the crash in Evergrande dragged down property names (one among then, Sinic Holdings, crashed 87% in minutes and was halted), banks exposed to the property developer (according to report there are over 120), with the contagion spreading to commodities directly linked to China's property sector (such as Iron Ore which plunged 10%), as well as FX of commodity-heavy countries, one ominous decline was that of Asia Pacific's largest insurer, Ping An (whose name literally and unironically means "safe and well"), which dropped 3%, following a 5% drop on Friday, and hitting a four year low on concerns about its property exposure.
The selling took place even though the company issued a statement Friday saying that its insurance funds have "zero exposure" to Evergrande and other real estate companies "that the market has been paying attention to." Real estate accounts for about 4.9% of Ping An Insurance's investments, versus an average 3.2% for peers, according to Bloomberg Intelligence.
"For real estate enterprises that the market has been paying attention to, PA insurance funds have zero exposure, neither equity or debt, including China Evergrande," Ping An said in a statement as it rushed to reassure investors.
While it may have no exposure, Ping An does have RMB63.1bn or $9.8bn in exposure to Chinese real estate stocks across its RMB3.8TN ($590BN) of insurance funds, and took a $3.2BN hit in the first half of the year after the default of another developer, China Fortune Land Development. The insurer is also head of the creditor committee for China Fortune Land, which specialises in industrial parks in Hebei province and suffered from delayed local government payments. One of its restructuring advisers, Admiralty Harbour Capital, was hired by Evergrande this week.
At a time when any Evergrande counterparties or even rumored counterparties are immediately deemed radioactive, Ping An's plight demonstrates how acute and widespread the selloff could become in China if Beijing fails to intervene.
"I expect a lot of financial institutions could be hit by the worries" about Evergrande, said Zhou Chuanyi, a Singapore-based analyst at Lucror Analytics. "As long as a financial institution has exposure to developers, Evergrande should take quite a significant share of that."
Yet as the market waits for some response official response, hopeful that Beijing will step in, we discussed earlier that China's policymakers have instead sought to crack down on excessive leverage across its vast real estate sector over the past years, which makes up more than a quarter of the economy, imposing a firm threshold known as the "3 Red lines" which developers must adhere to, and which has meant most developers are limit to % or 5% debt growth at best. 
For now it remains unclear how far the contagion will spread, although if Beijing stubbornly refuses to intervene, expect much more pain as capital markets seek to force Beijing's hand by make it unpalatable for the CCP to suffer even more selling which could spark social unrest.
"The price action across several asset classes in Asia today is horrendous due to rising fears over Evergrande and a few other issues, but it could be an overreaction due to all of the market closures," said Brian Quartarolo, portfolio manager at Pilgrim Partners Asia.
As discussed earlier, Xi faces a tricky balancing act as he tries to reduce property-sector leverage and make housing more affordable without doing too much short-term damage to the financial system and economy. Mounting concerns that he'll miscalculate are spreading ever-further beyond China-focused property developers and their suppliers.
"It's what the Chinese would describe as trying to get off a tiger," said United First Partners research Justin Tang, best summarizing Beijing's lose-lose dilemma.
Tyler Durden
Mon, 09/20/2021 - 15:28
commodities
commodity
markets
crash
iron