3 Trending Gold Stocks For Your Watchlist
These gold stocks could be worth your while in October There have…
The post 3 Trending Gold Stocks For Your Watchlist Right Now appeared first on Gold…
These gold stocks could be worth your while in October
There have been a lot of profitable gold stocks in 2021. Many of these businesses struggled to maintain the momentum that they had in 2020. This is because, as a result of the pandemic and the economy's collapse, gold hit a new all-time high last year. Regardless, there are still plenty of gold stocks that are performing well in the market right now.
Many gold stocks will rise and fall in sync with the metal's price. That is why, while investing in these mining equities, checking the price of gold is a must. As you may be aware, the current state of the economy has benefited gold stocks. In fact, the metal's price hit a new high in the market last year.
Considering everything that has been said so far, you may be baffled as to which way gold is moving. Given the high level of unpredictability in the market, it can be perplexing. If you're investing, it's critical to keep up with the latest news. This might range from industry news to global news to company-specific news. When investing, it's also a good idea to look at a stock's volume. Let's look at three gold stocks that are currently going up in the market this October.
Top Trending Gold Stocks
New Gold Inc. (NYSE: NGD)
Eldorado Gold Corporation (NYSE: EGO)
Gold Fields Limited (NYSE: GFI)
New Gold Inc. (NYSE: NGD)
New Gold Inc. is a mining stock that is up 10.83% on October 13th. This is a mining company that acquires, develops, and manages mineral resources. Its primary goal is to locate gold, silver, and copper deposits. The Rainy River gold-silver mine in Ontario, Canada, and the New Afton gold-copper mine in British Columbia, Canada, is 100% owned by the corporation.
Earlier this month, it updated its fiscal 2021 operational projection. New Gold plans to produce between 405,000 and 450,000 ounces of consolidated gold equivalent at its Rainy River mine, up from 440,000-490,000 ounces before. As a result of this happening, the company's guiding figures have reduced marginally.
[Continue Reading]
The company finds this unfortunate but still has a very positive outlook for the future. It seems that investors may have a positive outlook as well, as the company's stock price is up over ten percent on no company-specific news. The company's volume is also much higher than its average in the market at the moment. With this in mind, will NGD be on your list of gold stocks to watch?
Eldorado Gold Corporation (NYSE: EGO)
Eldorado Gold Corporation is a mineral resource exploration, discovery, acquisition, development, production, and sale firm. Eldorado's main interests include gold, silver, lead, zinc, and iron ores. Kisladag and Efemcukuru in Turkey, Lamque in Canada, Olympias and Stratoni in Greece are the five mines it currently runs.
On October 12th, the company released its third-quarter 2021 preliminary production results. Its gold production was reported at 125,459 ounces, which was an 8% increase quarter over quarter. The company is currently reviewing the full-year production guidance ranges and plans on providing a full update soon. Its financial and operational results will be released on October 28th, 2021. This will take place after the market closes on that Thursday. Keeping this in mind, is EGO a contender for your gold stock watchlist?
Gold Fields Limited (NYSE: GFI)
Gold Fields Limited is a gold mining company that has a wide range of resources and reserves. Chile, South Africa, Australia, Ghana, and Peru are among Gold Field's properties. The corporation presently operates 9 mines that produce 2.2 million ounces of gold equivalent per year. Furthermore, the company possesses 51.3 million ounces of gold mineral reserves and 115.7 million ounces of mineral resources. It also has 616 million pounds of copper reserves and 882 million pounds of mineral resources.
Back in August, the company released its results for the six months ended June 30th, 2021. The company's profit attributable to owners of the parent was $387 million. This was compared with profits of $156 million for the same period a year before. Its normalized profit went up from $323 million to $431 million during this period as well. Other than this, there have been no super recent updates from Gold Fields Limited. This is another company that often moves up and down based on gold prices. On October 12th, GFI stock went up 3.31% in the market. For now, will GFI stock be on your gold watchlist?
What Does the Future Hold for Gold Stocks?
Inflation fears are rampant in the market right now. Nobody knows how this will influence the market for all mining stocks right now. Despite its calming in the United States, the pandemic is still raging in many parts of the world. Another factor to consider is what might happen to gold stocks in the future especially with the Delta variant being around. In October, which corporations will you add to your list of gold stocks to watch?
The post 3 Trending Gold Stocks For Your Watchlist Right Now appeared first on Gold Stocks to Buy, Picks, News and Information | GoldStocks.com.
gold silver inflation mining nyse copper zinc iron tsx-eld eldorado-gold-corporation eldorado gold corporation
Bitcoin Breaks Out To New Record High, BITO 'Gamma Squeeze' Under Way
Bitcoin Breaks Out To New Record High, BITO 'Gamma Squeeze' Under Way
Update (1245ET): Bitcoin made a new all-time high at $19,511 in Dec…
Bitcoin Breaks Out To New Record High, BITO 'Gamma Squeeze' Under Way
Update (1245ET): Bitcoin made a new all-time high at $19,511 in Dec 2017, then in Dec 2020 it broke out to a new record high, jumping 23% in 2 days (and accelerating 115% to just below $42k in January 2021 before sliding back).
In early February 2021, Bitcoin retook its January record high and accelerated over 25% in 2 days before extending gains to 44% by late Feb before pulling back.
On March 13th, BTC broke out to a new record high and jumped over 8% that day.
On April 13th, BTC broke to another record high and accelerated almost 9% in 2 days.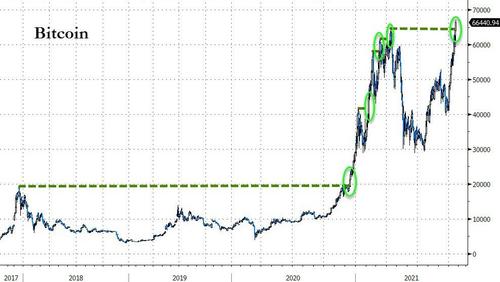 Today's break of the April record high has so far prompted a 5% or so gain. Given the historical strength of these breakouts, it would seem more is to come...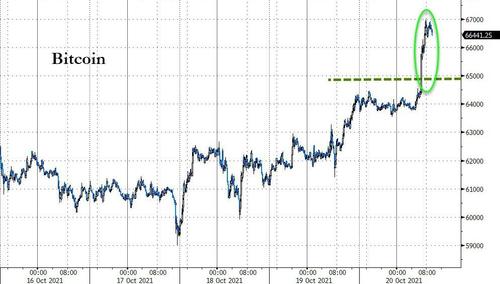 Additionally, there are a number of notable developments across the ETF-Futs-Spot space this week:
1. BITO 2nd day volume on target to bigger than opening day (which is nearly unheard of)...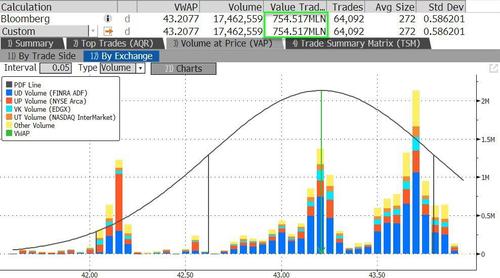 2a. BITO demand has sent BTC Futs soaring higher and spreading across the next few months contracts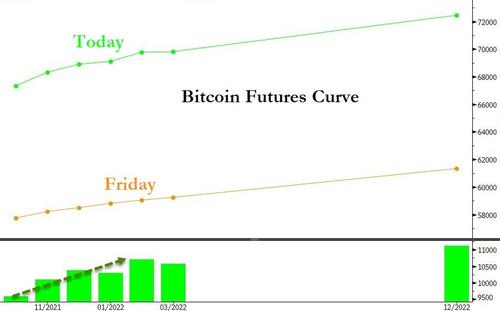 2b. BTC Futs OI now dramatically rising relative to ETH Futs (forced ETF-driven buying in BTC)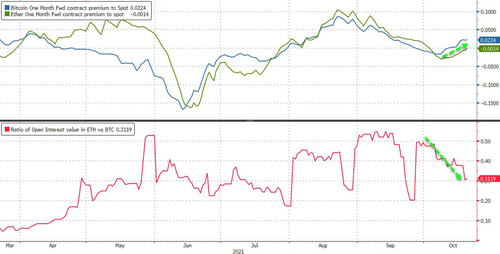 3. The BTC Futs curve implies a significant cost of carry. Goldman Sachs notes that the CME funding continued to rise over the course of last two weeks and is now hovering close to 20% annualised (Figure 3). This is the negative cost of carry that investors will face by investing in CME futures-based ETF at these levels (the funding has been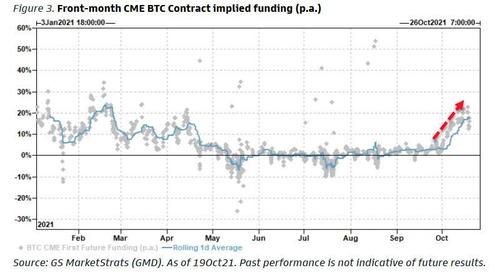 4. BTC Futs premium to spot at over $600 (up notably from last week)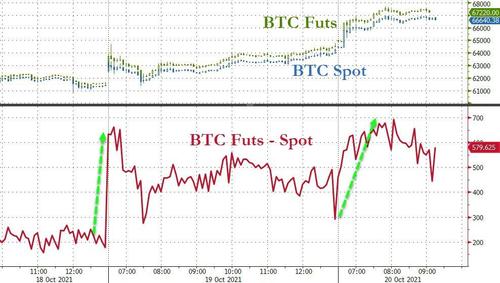 5. GBTC discount to BTC is at record high (as demand pulls away from the BTC Trust)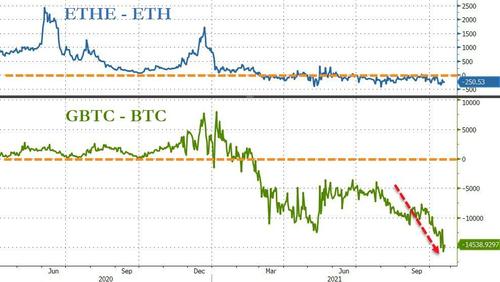 6. Perhaps the biggest indicator of more progress to come is the fact that traders are buying short-dated very deep OTM BITO Calls in massive size...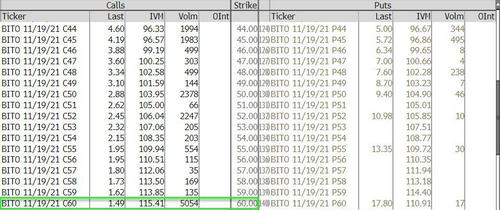 A "gamma squeeze" is underway.
*  *  *
Update (0945ET): On April 14th, 2021, Bitcoin reached a record high at $64,869 before various FUD headlines hit from the SEC and China, sending the biggest cryptocurrency reeling lower - below $30k at one point.
Now, having bottomed at $29,307 on July 20th, bitcoin has just surged above April's prior highs to a new all-time high...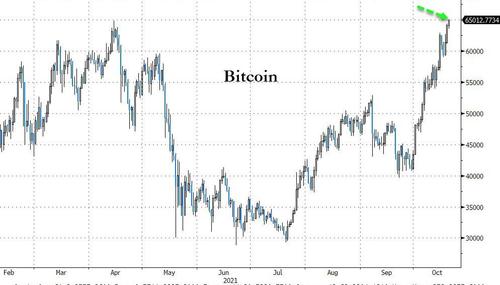 Spiking above $66k...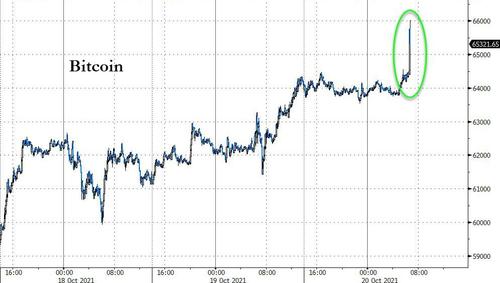 As BITO spiked also...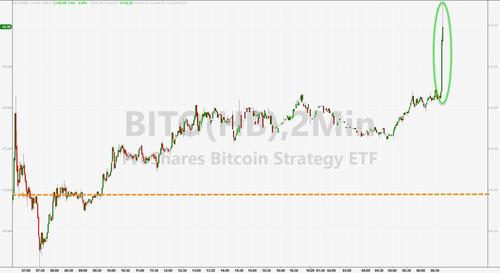 Ethereum is catching a bid, trading up to almost $4k...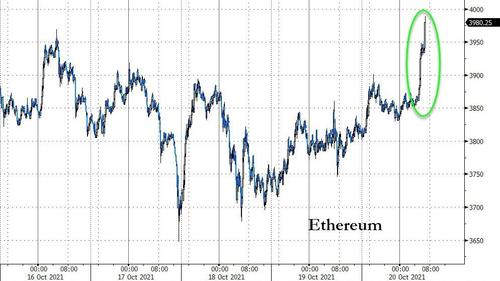 As PTJ said this morning, "crypto is the preferred inflation hedge to gold"...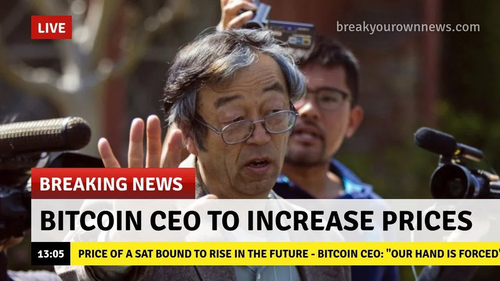 *  *  *
Following the record volume for an ETF's opening day yesterday for the first Bitcoin (futures) ETF, today could be even more 'exciting' as options on the ProShares Bitcoin Strategy ETF (BITO) start trading on the NYSE Arca Options and NYSE American Options exchanges. BITO is trading at yesterday's highs in the pre-market...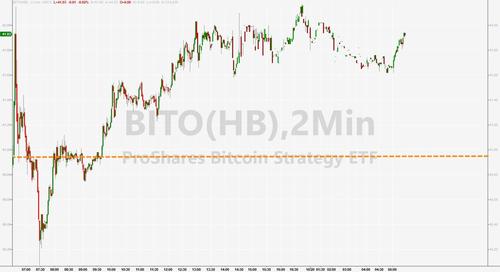 Bitcoin options have traded on crypto exchanges for a while but this will be the first ETF-based options to trade on the cryptocurrency and deepens the crypto adoption for pros and retail alike. Notably, as bybt.com data shows, open interest across all the crypto exchanges has soared to a record high ahead of today's exchange-traded launch...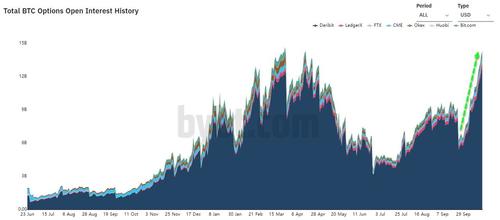 There is a clear bias to upside calls vs downside puts in the crypto-exchange data...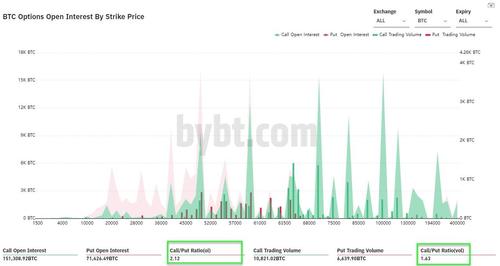 "Options are huge in this case," said Eric Balchunas, senior ETF analyst at Bloomberg Intelligence.

"Retail-YOLO types will be able to trade calls on Bitcoin for the first time in regulated financial markets. Institutions can use puts to hedge or go short Bitcoin." 
The introduction of ETF options should serve to make the crypto derivatives market more liquid as a whole, according to David Abner at Gemini Trust Co., a digital asset firm. 
"Yes, you can go to crypto platforms and trade options, no question -- but you have to go to crypto platforms to do that," Abner said.

Options on the fund "adds to the ecosystem around the ETF which enables better trading for it, so I think it's a good thing for both options traders and investors and the ETF itself," he said.
We suspect the term for today's trading will be "brace" as the options tail wags the underlying's dog to some extent.
Tyler Durden
Wed, 10/20/2021 - 12:46
gold
inflation
derivatives
markets
China Home Prices Drop For The First Time Since 2015 As Existing Home Sales Crash 63%
China Home Prices Drop For The First Time Since 2015 As Existing Home Sales Crash 63%
Two weeks after we reported that China's property market…
China Home Prices Drop For The First Time Since 2015 As Existing Home Sales Crash 63%
Two weeks after we reported that China's property market just suffered "catastrophic" property sales in September which invoked Goldman's "hard landing" scenario and which saw total sales of 759.6b yuan plunge 36.2% from September 2020 (and 17.7% lower from the same period in 2019), deepening a downward spiral that started in July with transaction volume of residential properties in Beijing, Shenzhen and Guangzhou declining 30% y/y, while Shanghai fell 45%, the freeze in China's property market is starting to manifest in prices for what Goldman has dubbed the world's largest asset class.
Overnight, China's National Bureau of Statistics reported that China's home prices fell for the first time in six years as the property slump deepens in the world's second-largest economy. New-home prices in 70 cities, excluding state-subsidized housing, slid 0.08% in September from August, the first drop since April 2015. Values in the secondary market declined 0.19%, down for a second month.
Some more details from Goldman:
Average housing prices in the primary market edged down 0.5% mom annualized in September, the first sequential decline since April 2015. Property prices in tier 1 cities rose 1.3% mom annualized in September after seasonal adjustments, moderating from 3.2% in August. Price appreciation in tier 2 cities also slowed to 1.9% mom annualized in September from 5.8% in August.  Property prices in tier 3 cities fell further by 1.5% mom annualized in September following a decline of 1.0% in August and prices in tier 4 cities dropped 7.5% mom annualized in September (vs. -2.3% in August).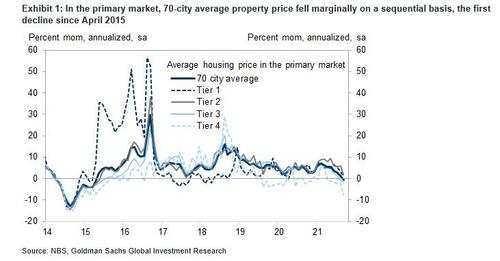 Much fewer cities saw higher property prices in primary and secondary markets in September (Exhibit 2).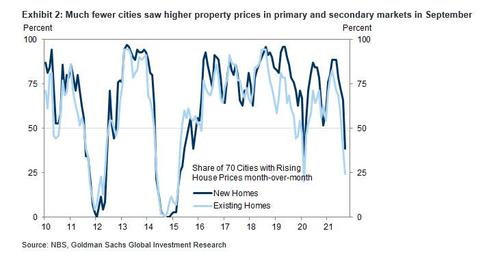 Major cities' inventory months (sellable gross floor area divided by 12 month rolling gross floor area sold) rose marginally to 11.1 in September from 10.7 in August. The year-on-year decline in property sales and new starts narrowed slightly in September while property completions slowed based on NBS data.
There appears to be some marginal easing on mortgage extension in September as suggested by the acceleration in household mid-to-long term loans after PBOC's window guidance in late August and late September. That said, Goldman warns that the policy direction of deleveraging the property sector is unlikely to shift, which could continue to weigh on overall growth next year.
Echoing what we said two weeks ago, Caixin notes that a slump in the home market is becoming more evident as developers including China Evergrande Group struggle to raise money and buyers stay away.
And since 70% of China's net worth is parked in housing, and since Chinese citizens have not encountered a drop in home prices since 2015, falling prices may fuel a vicious cycle by further weakening demand, worsening the cash shortage at builders and forcing them to offer bigger discounts.
As we reported previously, even though September is traditionally a peak season for the home market, residential sales tumbled 17% by area, investments slid for the first time since early 2020, and the rate of failed land auctions climbed to the highest since at least 2018.
The downturn has continued into this month, with existing-home sales crashing 63% from a year earlier in the first 17 days of October, according to a Nomura note Monday.
"The new-home market faces relatively big downward pressure in the short term," Yang Kewei, a research director at China Real Estate Information Corp., said before the figures were released. "The effects of price discounts are waning."
Fears of contagion from the crisis at Evergrande have intensified after a surprise default by Fantasia Holdings last week and a wave of credit rating downgrades at other developers sent bond yields on Chinese high-yield dollar bonds, which are dominated by builders, soaring to their highest in about a decade, hurting a key funding channel for the sector. Yields did dip modestly after the PBOC sought to reassure the population that the situation is under control, in a deja vu moment from the days surrounding the Lehman bankruptcy.
That will have a knock-on effect on the broader economy, since Goldman Sachs Group Inc. estimates the property sector and related downstream industries make up almost a quarter of gross domestic product.
Tyler Durden
Wed, 10/20/2021 - 12:26
dollar
markets
policy
crash
Demographics, Birth Rate, & The COVID Baby Bust Are Quite Deflationary
Demographics, Birth Rate, & The COVID Baby Bust Are Quite Deflationary
Authored by Mike Shedlock via MishTalk.com,
Let's discuss the…
Demographics, Birth Rate, & The COVID Baby Bust Are Quite Deflationary
Authored by Mike Shedlock via MishTalk.com,
Let's discuss the inflationary and deflationary impacts of the ongoing baby bust accelerated by Covid.
Civilian Noninstitutional Population
The Civilian Noninstitutional Population is defined as those age 16 and older not in an institution (e.g. prison, armed service, nursing homes) residing the the 50 states plus the District of Columbia.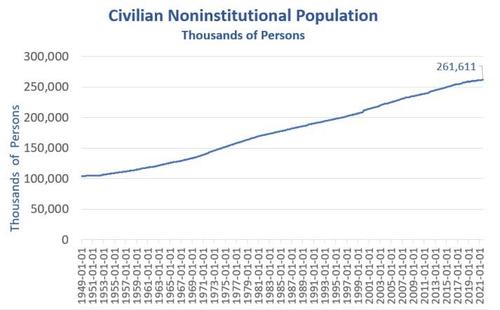 Essentially, CNP is the working age population except that most people aged 16-22 are in high school or college, thus not working full time.
Birth Rate Per 1,000 Persons
16-Year Lag
The spikes and declines in the birth rate correlate to changes on the first chart with a 16-year lag.
The latest data for the above chart is as of April of 2019. In other words, birth rate data predates Covid.
The Pandemic Caused a Baby Bust, Not a Boom
Scientific American reports The Pandemic Caused a Baby Bust, Not a Boom
When the COVID pandemic led to widespread economic shutdowns and stay-at-home orders in the spring of 2020, many media outlets and pundits speculated this might lead to a baby boom. But it appears the opposite has happened: birth rates declined in many high-income countries amid the crisis, a new study shows.

Arnstein Aassve, a professor of social and political sciences at Bocconi University in Italy, and his colleagues looked at birth rates in 22 high-income countries, including the U.S., from 2016 through the beginning of 2021. They found that seven of these countries had statistically significant declines in birth rates in the final months of 2020 and first months of 2021, compared with the same period in previous years. Hungary, Italy, Spain and Portugal had some of the largest drops: reductions of 8.5, 9.1, 8.4 and 6.6 percent, respectively. The U.S. saw a decline of 3.8 percent, but this was not statistically significant—perhaps because the pandemic's effects were more spread out in the country and because the study only had U.S. data through December 2020, Aassve says. The findings were published on Monday in the Proceedings of the National Academy of Sciences USA.

Birth rates fluctuate seasonally within a year, and many of the countries in the study had experienced falling rates for years before the pandemic. But the declines that began nine months after the World Health Organization declared a public health emergency on January 30, 2020, were even more stark. "We are very confident that the effect for those countries is real," Aassve says. "Even though they might have had a bit of a mild downward trend [before], we're pretty sure about the fact that there was an impact of the pandemic."
Covid Accelerated the Existing Trend
Covid accelerated the already declining birth rates.
Given the 16-year lag between births and the civilian noninstitutional population coupled with the aging of the workforce there will be fewer and fewer workers supporting retired workers on Social Security.
Notice the relatively steep decline in the birth rate starting in 2008 and continuing through today.
That impact will start showing up in 2024 and last a minimum of 12 years.
How long depends on whether the birth rate picks up after Covid. I highly doubt the birth rate will pick up.
Deflationary and Inflationary Impacts
Inflationary: Shortage of workers increases wage pressures

Deflationary: Fewer workers support an increasing number of retirees

Deflationary: Older workers need more assistance, buy fewer things, travel less. 

Deflationary: More government debt and deficits. Government spending has a negative impact on real GDP.
Regarding point one, please consider Dominos Reports There's No One to Deliver the Pizzas, Plus Mish Anecdotes
However, the net impact of the four points is rather deflationary, not inflationary.
Point 3 relates to demand destruction that kicks in as people age. It accelerates at age 70 or so. Note that all baby boomers will be 65 or older by 2030. The vast majority of them will be retired, living off savings or Social Security (and good luck for the latter).
Lacy Hunt accurately discussed point 4 in Hoisington Management's Third Quarter Review.
For discussion, please see Lacy Hunt Sticks With His Message: Lower Bond Yields On the Way
A Word About Fed Policy
Nearly 1 in 4 homes for sale is purchased by an investor

Thanks to the accelerating wealth inequality resulting from Fed policy, we're fast becoming a country of landed gentry & tenant serfs

How long until the 99% is forever priced out?

(h/t @MishGEA)https://t.co/VcsjpfiMFY pic.twitter.com/ztrE8xwW0c

— Adam Taggart (@menlobear) October 16, 2021
For discussion of landlords, serfs, and tenants thanks to the Fed, please see Investors Rush to Buy Nearly 1 in 4 Homes
*  *  *
Like these reports? If so, please Subscribe to MishTalk Email Alerts.
Tyler Durden
Wed, 10/20/2021 - 12:11
policy
fed
inflationary
deflationary