US Close: Stocks sink on rising rates and risks, Debt drama, Dollar down but still king,
US stocks are lower as fiscal policy remains up in the air, high energy costs are now a given, no one can answer how long peak supply chain constraint…
US stocks are lower as fiscal policy remains up in the air, high energy costs are now a given, no one can answer how long peak supply chain constraint problems will last, global growth concerns for the upcoming quarter continue to worsen, all while the what was the never-ending safety net of central bank stimulus seems poised to end soon.  Last week, Wall Street finally saw the S&P 500 index give back 5% in an intra-day move and now everyone wants to find out if we will see a 10% drop from record high territory before the bulls roar back.  The Nasdaq is the punching bag as global bond yields rise and as many investors anticipate the cyclical rotation trade will become the playbook after the DC debt drama.
The outlook has many risks and growth will decrease slightly, but stagflation is not one of them.  As long as demand remains strong from the consumer and business, perma-bulls should not lose sleep over the next year.  
Debt
President Biden's comments over the debt ceiling was a reminder of how far apart Democrats and Republicans are over increasing the country's borrowing limit.   Congress will undoubtedly bring the US to the brink of failing its debt for the first time ever, before some agreement is reached.  Dragging the debt ceiling as close to the October 18th deadline will undoubtedly unnerve some investors.  
DC looks like it is poised for a couple more weeks of posturing before Democrats trim the $3.5 trillion spending bill.  Risk appetite is struggling as the blue wave's last major initiative will likely be chopped down to something closer to $2 trillion and while markets widely anticipate a Fed taper announcement on November 3rd.  
FX
The dollar is lower across the board, but undoubtedly still king.  The dollar still looks bullish over the short-term as risks to the outlook from Evergrande and tensions between Xi/Biden will drive safe-haven flows, while inflationary pressures will keep the Treasury curve steepener trade going.  If EUR/USD has 1.1550 breached, momentum selling could peak around the 1.14 level.  
dollar
stagflation
markets
policy
fed
central bank
inflationary
7 A-Rated Energy Stocks to Buy Before Winter Strikes
The fact that the Federal Reserve is contemplating shifting its easy money policies as early as mid-November shows that inflation isn't as transitory…
The fact that the Federal Reserve is contemplating shifting its easy money policies as early as mid-November shows that inflation isn't as transitory as thought a couple months ago. And that's great news for energy stocks.
When inflation rises, the dollar weakens as interest rates rise. That means it takes more dollars to buy commodities like oil, for example. Certainly, the supply chain problems have something to do with this but it's also a lack of supply that started during the pandemic last year.
Now, demand bounces back — until the delta variant slowed things down again — but it's tough to ramp up production in a quarter or two. It's certainly a unique situation.
But that doesn't mean you have to wait until things get better before stepping into the market. Energy stocks like the ones below can be a great addition now, as we see that energy prices will remain high for some time to come. Another noteworthy aspect of these stocks is that each has an A-rating in my Portfolio Grader.
Energy Stocks to Buy: Continental Resources (CLR)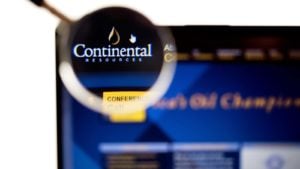 Source: Maksym Vynohradov / Shutterstock.com
Exploration and production (E&P) companies are also called upstream energy companies. That means they're the ones finding oil and natural gas and then selling it downstream.
CLR is an E&P player that primarily works out of the Bakken Shale in North Dakota and Montana. Its energy leans more toward oil than natural gas but it produces both. And both are in great demand, especially in global markets.
Since extraction costs are more or less fixed for E&P companies, the higher the price of oil and gas means the bigger the margins. And that's precisely why CLR stock is up 203% year-to-date. But even after that run, its current price-to-earnings ratio is 48x. That's a little high, but there's a good chance earnings will be rolling in to justify it.
ConocoPhillips (COP)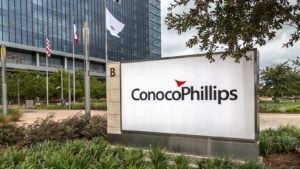 Source: JHVEPhoto / Shutterstock.com
COP is a global E&P player with a nearly $100 billion market cap that also operates some midstream (pipelines, transportation) services to move production to demand markets.
This is a good time for COP since natural gas is in high demand in Europe and Japan, and oil is in demand in China. With a global E&P and distribution operation, COP can supply them with what they need efficiently. And COP can realize expanding profit margins.
The stock has risen 95% YTD and is richly valued. But this is the way the energy markets work — big swings in either direction — and we're in an multi-year uptrend now. Earnings will catch up.
COP also still has a 2.5% dividend, which isn't beating inflation, but it's a nice kicker.
Energy Stocks to Buy: Diamondback Energy (FANG)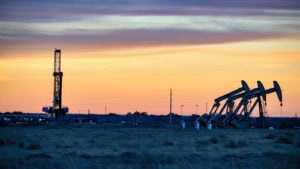 Source: FreezeFrames / Shutterstock.com
FANG is a land-based U.S. E&P that has operations primarily in the Permian Basin, an energy-rich area in West Texas and Southeast New Mexico. The company has numerous properties in the basin and uses unconventional drilling methods — fracking and horizontal drilling — to access the reserves.
About 60% of its production is oil, another 20 is natural gas and the remaining 20% in natural gas liquids (NGLs). All these products are in high demand.
The trouble is, FANG has been struggling to keep its earnings in positive territory recently unlike other energy stocks. This shouldn't be a problem moving forward, now that global energy demand has kicked into gear.
FANG stock has gained almost 130% YTD and has a 1.6% dividend. There's still plenty of upside left.
Marathon Oil (MRO)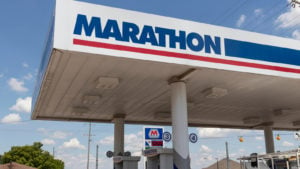 Source: Jonathan Weiss/shutterstock.com
Like other E&P plays, earnings haven't been great for MRO as we slowly emerge from the pandemic and the delta variant wave. But now we're in recovery mode and demand it rising in all sectors, including energy stocks.
That's great news for MRO, which has been drilling for black gold since 1887. And with that kind of legacy, today's markets aren't anything new to this company. It has seen a few things just as crazy since Grover Cleveland was president.
MRO stock is up 146% YTD and has a sub-1% dividend. But we're not concerned about dividends now. This is about energy demand growth, and MRO will be a beneficiary.
Energy Stocks to Buy: HollyFrontier (HFC)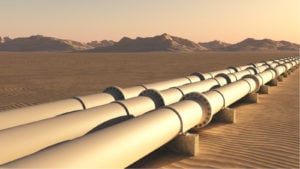 Source: bht2000 / Shutterstock.com
Once you get the black stuff out of the ground and ship it along a pipeline, the business of turning it into viable products begins at the refinery. And that's where HFC comes in. It operates about a half dozen oil refineries and three asphalt terminals.
In energy parlance, refineries are part of downstream operations, along with distribution and marketing to retailers and wholesalers. This is a key part of the process since getting the oil out of the ground doesn't mean much if it can't be refined in a timely manner.
HFC is one of the smaller refiners in the U.S. — it has a $6 billion market cap — which means its gains will amplify in current markets. The stock is up 43% YTD and still trades at a decent current P/E around 31x.
ONEOK (OKE)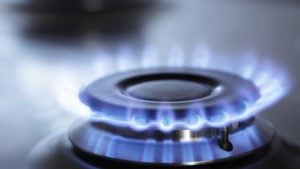 Source: Shutterstock
Founded in 1906 as the Oklahoma Natural Gas Company, OKE is a leading natural gas and NGL marketer in the U.S. NGLs are derivatives found in raw natural gas that are then used in various industrial processes or for fuel.
The most common are ethane (plastic bags, anti-freeze), propane (fuel), butane (synthetic rubber, lighter fuel), isobutane (refrigerant, aerosols), pentane (gasoline) and pentanes plus (gasoline, ethanol).
The U.S. is like the Saudi Arabia of natural gas supplies. Even as prices have risen domestically, overseas prices are triple or are higher than they are here, which makes for great export opportunities.
This is a very good time for natural gas companies regardless of where they sit in the supply chain. And OKE is a sure beneficiary of the current demand but also a growing transition to cleaner burning (more efficient) fuels, which also boosts its interest with ESG investors.
OKE stock is up 75% YTD yet it only has a current P/E of 22x and offers an inflation-pacing 5.8% dividend.
Energy Stocks to Buy: Royal Dutch Shell (RDS.A)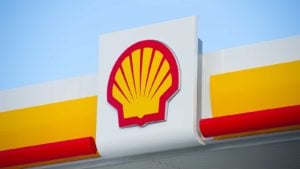 Source: JuliusKielaitis / Shutterstock.com
As measured by revenue, Shell is among the largest companies in the world. That's some rarified air. But if you can recall a few years ago, when energy prices were headed in the opposite direction as they are today, RDS.A wasn't very attractive. It had cut its dividend and was tightening operations, shuttering wells … the whole nine yards.
But in good times, the big integrated oil companies are like the desert blooming after a rain. Big energy stocks can grow their margins upstream, midstream and downstream. And just a little growth in margins is huge when you're talking about the scale of RDS.A.
Plus, Shell is actively looking to establish itself in renewable and alternative energy markets as well. For example, it can convert some of its natural gas into "blue" hydrogen and then begin to use its filling station networks as distribution points.
The stock has risen 35% YTD and it has a P/E of 34x. It also has a 2.6% dividend that's unspectacular but dependable.
On the date of publication, Louis Navellier has a position in COP in this article. Louis Navellier did not have (either directly or indirectly) any other positions in the securities mentioned in this article. The InvestorPlace Research Staff member primarily responsible for this article did not hold (either directly or indirectly) any positions in the securities mentioned in this article.
The opinions expressed in this article are those of the writer, subject to the InvestorPlace.com Publishing Guidelines.
Louis Navellier, who has been called "one of the most important money managers of our time," has broken the silence in this shocking "tell all" video… exposing one of the most shocking events in our country's history… and the one move every American needs to make today.
More From InvestorPlace
The post 7 A-Rated Energy Stocks to Buy Before Winter Strikes appeared first on InvestorPlace.
dollar
gold
inflation
derivatives
commodities
markets
reserve
interest rates
TSX's winning streak ends as most sectors fall, loonie down
Well the green streak is over it lasted 14 straight trading sessions Tuesday October 26 saw the TSX Composite Index drop 0 52 per cent or 111 39 points…
Well, the green streak is over, it lasted 14 straight trading sessions. Tuesday, October 26, saw the TSX Composite Index drop 0.52 per cent or 111.39 points to 21,173.45 points.
Bar financials, every other major sector lost ground. Still, this is only the second trading session the index closed in the red in October.
One-year price chart (October 26). Analysis by Kalkine Group
Volume active
The most traded stock was the Royal Bank of Canada with 11.49 million shares exchanging hands. It was followed by Athabasca Oil Corporation where eight million shares exchanged hands, and the Bank of Montreal with 5.78 million shares exchanging hands.
Movers and laggards
Ticker

Company Name

1-day Price % Change

Top-5 Gainers

CLS

Celestica Inc

7.2%

SIL

6.1%

HCG

Home Capital Group Inc

3.9%

EQB

Shopify Inc

3.9%

CTS

Converge Technology Solutions Corp

3.2%

Top-5 Laggards

DOO

BRP Inc

-8.0%

SOY

Sunopta Inc

-4.7%

CS

Capstone Mining Corp

-4.7%

SHOP

Shopify Inc

-4.4%

IFP

Interfor Corp

-4.0%
Wall Street update
The Fed is expected to meet early next week. On Tuesday, the three main indices grew marginally after they rallied on market open and fell by afternoon then stabilizing before close.
The S&P 500 gained 0.18 per cent or 8.31 points to 4,574.79 points. The Dow was up 0.04 per cent or 15.73 points to 35,756.88 points and the Nasdaq grew 9.01 points or 0.06 per cent to 15,235.72 points.
Commodity update
Gold fell 0.74 per cent and traded at 1,793.40. Brent oil rose 0.48 per cent to US$ 86.40/bbl, while crude oil grew 1.06 per cent to 84.65/bbl.
Currency news
The loonie fell against the US dollar on October 26, while USD/CAD ended in the green at 1.2388, up 0.06 per cent.
The US Dollar Index was better off against the basket of major currencies Tuesday and ended at 93.96, up 0.15 per cent.
Money market 
Tuesday saw the US 10-year bond yield fall 1.4 per cent and end at 1.610.
The Canada 10-year bond yield fell 1.27 per cent on October 26 and ended at 1.632.
dollar
gold
commodity
metals
mining
fed
us dollar
tsx-s
sherritt-international-corporation
Cryptos Crash Despite Tesla Leaving Door Open To Accepting Payments
Cryptos Crash Despite Tesla Leaving Door Open To Accepting Payments
Cryptocurrency prices plunged overnight with the selling pressure climaxing…
Cryptos Crash Despite Tesla Leaving Door Open To Accepting Payments
Cryptocurrency prices plunged overnight with the selling pressure climaxing around the opening of the European markets, closing of Asia.
This left Bitcoin back below $60,000 for the first time in 11 days…
Source: Bloomberg
And Ethereum dropped below $4,000…
Source: Bloomberg
There was no obvious news-driven catalyst for the drop and many investors were actually buoyed the last few days after a filing with the SEC suggested Tesla had left the door open to accepting Bitcoin for its products in the future.
"During the nine months ended September 30, 2021, we purchased an aggregate of $1.50 billion in bitcoin. In addition, during the three months ended March 31, 2021, we accepted bitcoin as a payment for sales of certain of our products in specified regions, subject to applicable laws, and suspended this practice in May 2021," the 10-Q document reads.

"We may in the future restart the practice of transacting in cryptocurrencies ('digital assets') for our products and services."
Additionally, CoinTelegraph reports that PlanB, creator of the popular Bitcoin Stock-to-Flow (S2F) model, called Bitcoin's price retracement from the $60,000-level the "2nd leg" of what appeared like a long-term bull market.
#bitcoin bull market, 2nd leg has started pic.twitter.com/N9H2QF7SDe

— PlanB (@100trillionUSD) October 26, 2021
In doing so, the pseudonymous analyst cited S2F, which anticipates Bitcoin to continue its leg higher and reach $100,000 to $135,000 by the end of the year.
The price projection model insists that Bitcoin's value will keep on growing until at least $288,000 per token due to the "halving," an event that takes place every four years and reduces BTC's issuance rate by half against its 21 million supply cap. 
Bitcoin after the 2012, 2016 and 2020 halving. Source: PlanB
Notably, Bitcoin has undergone three halvings so far: in 2012, 2016 and 2020.
Each event decreased the cryptocurrency's new supply rate by 50%, which was followed by notable increases in BTC price. For instance, the first two halvings prompted BTC price to rise by over 10,000% and 2,960%, respectively.
The third halving caused the price to jump from $8,787 to as high as $66,999, a 667.50% increase. So far, S2F has been largely accurate in predicting Bitcoin's price trajectory, as shown in the chart below, leaving bulls with higher hopes that Bitcoin's post-halving rally will have its price cross the $100,000 mark.
Bitcoin S2F as of Oct. 26. Source: PlanB
PlanB noted earlier this year that Bitcoin will reach $98,000 by November and $135,000 by December, adding that the only thing that would stop the cryptocurrency from hitting a six-digit value is "a black swan event" that the market has not seen in the last decade.
Despite the high price projections, Bitcoin can still see big corrections in the future. PlanB thinks the next crash could wipe at least 80% off Bitcoin's market capitalization, based on the same S2F model.
"Everybody hopes for the supercycle or the 'hyperbitcoinization' to start right now and that we do not have a big crash after next all-time highs," the analyst told the Unchained podcast, adding.
"As much as I would hope that were true, that we don't see that crash anymore, I think we will. […] I think we'll be managed by greed right now and fear later on and see another minus 80% after we top out at a couple hundred thousand dollars."
Tyler Durden
Wed, 10/27/2021 – 08:23
markets
crash