US Dollar Surges As New Coronavirus Strain Spooks Investors, Offsets Fiscal Stimulus
The US dollar is staging a rally to kick off the trading week, buoyed by investors pouring into the traditional safe-haven asset as global financial markets plummeted. Despite the US government agreeing to a nearly $1 trillion coronavirus stimulus…
The US dollar is staging a rally to kick off the trading week, buoyed by investors pouring into the traditional safe-haven asset as global financial markets plummeted. Despite the US government agreeing to a nearly $1 trillion coronavirus stimulus and relief package, traders were more focused on news of a new COVID-19 train that is starting to shut down Great Britain and other parts of Europe.
On Saturday, the UK government announced that a new coronavirus strain that is 70% more infectious is spreading throughout the country, accounting for about half of new cases in recent days. The variant that is quickly replacing other versions of the virus has also been found in Australia, Denmark, Italy, and the Netherlands. The mutation was first discovered in September.
But while experts do not think it should affect the efficacy of the current generation of COVID-19 vaccines, the mutation has governments reacting. The British government imposed fresh lockdowns, while more than 30 nations, like Canada, Germany, and France, have implemented travel restrictions.
Dr. Scott Gottlieb told CNBC that "COVID mutations are a reality."
[The UK strain] doesn't seem to have mutated the surface proteins of the virus in a way that they would slip past our vaccines or prior immunity. In fact, we don't think that that's the case. But what this does suggest is that eventually this vaccine probably will evolve its surface proteins in a way that they won't be recognized by the antibodies we have right now, and we will have to update our vaccines.
Despite the disappointing development, there was still plenty of news to cheer on Monday.
Congress is set to vote on a $908 billion package that includes $600 checks to most Americans and $300 in enhanced unemployment insurance (UI) benefits for 11 weeks. Treasury Secretary Steven Mnuchin confirmed that the funds would begin to be distributed next week.
President-Elect Joe Biden welcomed the bipartisan agreement, but he and other Democratic leaders stated that this is a down payment on future stimulus and relief spending that his incoming administration would fight for in 2021.
On Friday, the Federal Reserve announced that it would permit large financial institutions to restart share buybacks in the first quarter of next year.
Still, the leading stock benchmark indexes slumped, with the Dow Jones Industrial Average felling 200 points and the Nasdaq Composite Index sliding 1%.
The US Dollar Index, which gauges the greenback against a basket of currencies, surged 0.46% to 90.43, from an opening of 90.15. The index, which is coming off a 1% weekly loss, had climbed to as high as 91.00 in Asian trading. Year-to-date, the DXY has plunged more than 6%.
The USD/CAD currency pair advanced 0.6% to 1.2863, from an opening of 1.2790, at 14:01 GMT on Monday. The EUR/USD fell 0.38% to 1.2213, from an opening of 1.2258.
---
© AndrewMoran for Forex News, 2020. |
Permalink |
No comment |
Add to
del.icio.us

Post tags: Coronavirus, Dollar, EUR/USD, Federal Reserve, Joe Biden, Steven Mnuchin, United Kingdom, United States, US Dollar Index, USD/CAD

Feed enhanced by Better Feed from Ozh
Here Are Goldman's Four Market-Moving Omicron Scenarios
Here Are Goldman's Four Market-Moving Omicron Scenarios
Goldman Sachs is out with a comprehensive look at four scenarios for the new Covid-19…
Here Are Goldman's Four Market-Moving Omicron Scenarios
Goldman Sachs is out with a comprehensive look at four scenarios for the new Covid-19 'Omicron' strain, which at present appears to be less severe, yet possibly more virulent than previous strains.
On Friday, the World Health Organization declared Omicron as a 'variant of concern' after several confirmed cases in South Africa and elsewhere, causing markets to panic into the weekend. The new variant has approximately 30 mutations to the spike protein over the Alpha strain, making its effects, and spread, difficult to predict at this point.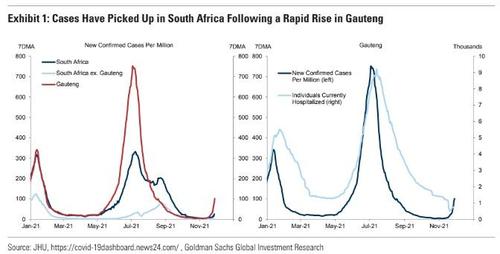 As Goldman notes, "The transmissibility, degree of protection from vaccines and prior infections, and disease severity of Omicron will shape its potential economic impact…"
To that end, analyst Daan Syruyven and team have come up with four scenarios for OMicron and the global economy.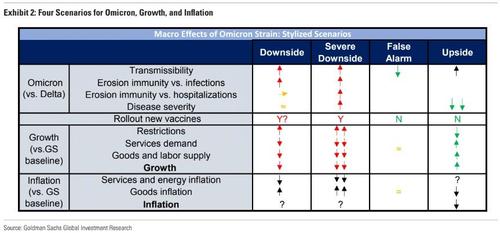 1. Downside scenario: Omicron transmits more quickly than Delta, and evades immunity from vaccines and prior infections. In this case, Omicron unseats Delta as the dominant strain, as well as "evades immunity against hospitalizations only slightly more than Delta, and causes similarly severe disease." As far as economic impact, it would result in another large Q1 infection wave across various economies, resulting in a global growth slowdown to a 2% q/q annual rate – 2.5pp below Goldman's current forecast.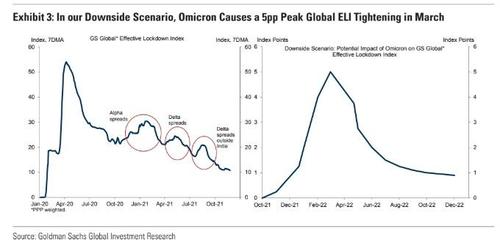 2. 'Severe downside' scenario: This less likely scenario would see both disease severity and immunity against hospitalizations substantially worse than with Delta, and would have a worse economic impact than the 1st scenario. The economic impact would of course be worse, while "The net overall inflation impact is again ambiguous although the moves in energy and services inflation(down) and in goods inflation (up) are larger."
3. False alarm scenario: Omicron is a nothingburger – and spreads more slowly than Delta. It has no significant effects on global growth and inflation.
In this scenario, the sharp rise in reported Omicron cases in Gauteng may reflect skewed sequencing, other data issues, or superspreading events. Finally, any ability of Omicron to outcompete Delta in South Africa does not necessarily carry over to other geographies with higher vaccination/lower prior infection rates
4. Upside scenario: Here, Omicron is slightly more transmissible than Delta but causes much less severe disease. This speculative 'normalization' scenario would result in a net reduction in disease burden on various systems, leaving growth higher than in Goldman's baseline. In this scenario, inflation is likely to decline more quickly than the baseline scenario because of a rebalancing of demand from goods to services, along with an accelerated recovery in goods and labor supply. 
In Conclusion, Goldman notes that Omicron 'could have sizeable growth effects,' however the range of medical and economic outcomes remains unusually wide. Because of this, "we are not making Omicron-related changes to our growth,inflation, and monetary policy forecasts until the likelihood of these scenarios has become somewhat clearer."
Tyler Durden
Mon, 11/29/2021 – 11:20
inflation
monetary
markets
policy
monetary policy
Ford Deal Back-Out Isn't the End of the Road for Rivian
Is seems like there's a constant influx of new electric vehicle (EV) start-ups, doesn't it? Among the most interesting contenders is Rivian Automotive (NASDAQ:RIVN),…
Is seems like there's a constant influx of new electric vehicle (EV) start-ups, doesn't it? Among the most interesting contenders is Rivian Automotive (NASDAQ:RIVN), and there's no shortage of buzz on social media about RIVN stock lately.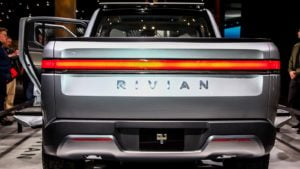 Source: Miro Vrlik Photography / Shutterstock.com
In case you didn't get the memo, Rivian specializes in big vehicles, especially trucks and SUVs. There's a no-cruelty focus here, as the interiors of Rivian's vehicles are made from 100% animal-free materials.
That's not the only feature that sets the audacious automaker apart. Specifically, Rivian's battery packs are designed to be easily removed from the vehicles, and can either be recycled or used in "second-life" applications such as stationary storage.
A collaboration with an automotive-industry icon also provides a unique advantage to Rivian – yet, this appears to be partnership in flux, and possibly in a state of dissolution. It's something for prospective investors to consider, though it actually might not be a deal breaker.
A Closer Look at RIVN Stock
RIVN stock started off with a winning streak, rising for five consecutive trading days after Rivian's initial public offering (IPO).
That's a great start, though as the old saying goes, stocks don't just grow straight to the heavens. In other words, no stock is destined to go up without any retracements.
This harsh lesson was learned on Nov. 17, when RIVN stock tumbled by as much as 18% in a single trading session.
Even on that day, however, the share price was still comparatively high as it settled into the $140s. Bear in mind, the Rivian IPO was priced at $78.
The chatter surrounding RIVN stock has been bearish lately, as the share price pulled back to $118 in the days leading up to Thanksgiving.
Cautious traders might choose to wait for the selling pressure to subside before taking a position.
If your long-term view on Rivian is still optimistic, though, then it could be fine to pick up a few shares at the current price.
An Alliance Is Formed
It's typically a good thing when a newer start-up has a big-money backer. This is especially true when that backer is an iconic business with extensive resources.
Thus, it was certainly a positive development when Ford (NYSE:F) took a 14.4% stake in Rivian.
Sure, Rivian has other big-name backers. These include Amazon (NASDAQ:AMZN) with a 22.4% stake, and T.Rowe Price (NASDAQ:TROW) with 18.8%.
But of course, there's something special about the connection between Ford and Rivian. After all, they're in the same industry, and have similar visions of producing clean-energy vehicles.
Heck, there was even an agreement between the two automakers that extended far beyond taking a stake in Rivian's shares.
Reportedly, in 2019 the two companies planned to work together to create an "all-new, next-generation battery electric vehicle" using Rivian's development platform.
High Hopes, Harsh Reality
At that time, there was no reason to believe that this collaboration would fall apart.
"As we continue in our transformation of Ford with new forms of intelligent vehicles and propulsion, this partnership with Rivian brings a fresh approach to both," former Ford CEO Jim Hackett assured.
A funny thing can happen when companies change their CEOs, though. Priorities can change, and partnerships formed under previous CEOs can fall through.
With current CEO James Farley at the helm, Ford has strongly focused on its own line of EVs.
So, perhaps a break in relations was inevitable.
"We respect Rivian and have had extensive exploratory discussions with them, however, both sides have agreed not to pursue any kind of joint vehicle development or platform sharing," Ford revealed not long ago.
The ties between the two companies isn't completely broken, though. Ford is still a major investor in Rivian.
Furthermore, Rivian took in billions of dollars in proceeds from the IPO. That, undoubtedly, will help the company stay afloat as Rivian develops and markets its tough but eco-friendly EVs.
The Bottom Line
The loosening of ties between Rivian and Ford may be a tough pill for some investors to swallow.
Still, Ford still has a stake in Rivian. Plus, there are other big-name backers in the mix.
So, RIVN stock isn't dead in the water. Setbacks are part of the business world, and sometimes they provide opportunities for audacious EV-market investors.
On the date of publication, David Moadel did not have (either directly or indirectly) any positions in the securities mentioned in this article. The opinions expressed in this article are those of the writer, subject to the InvestorPlace.com Publishing Guidelines.
More From InvestorPlace
The post Ford Deal Back-Out Isn't the End of the Road for Rivian appeared first on InvestorPlace.
Will the Anointed Experts Get It Wrong Again?
The emergence of the new Omicron coronavirus strain is roiling financial and precious metals markets. Investors fear government health officials will order…
The emergence of the new Omicron coronavirus strain is roiling financial and precious metals markets. Investors fear government health officials will order new lockdowns to try to contain it.
Never mind that previous lockdowns don't appear to have worked. Some of the most draconian were imposed by Michigan governor Gretchen Whitmer. Her state now records the nation's highest seven-day rate of infections.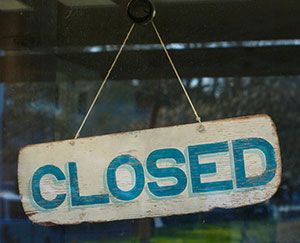 The so-called experts who craft official guidance, such as Dr. Anthony Fauci, have been wrong at every turn.
The list of things they have gotten wrong about COVID-19 would be too extensive to document here. But their credibility on everything from the origins of the virus to the effectiveness of masks, social distancing, and vaccines has been shot.
All the while, the virus seems to defy all attempts to predict its upturns, downturns, and breakout variants.
Back in the summer of 2020, when public health authorities were ordering churches and schools closed, and weddings and funeral services cancelled, they inexplicably endorsed mass civil unrest by Black Lives Matter protestors.
The extent to which the riots helped spread the virus is unknown, but they helped unleash a record-breaking surge in violent crime that is still ongoing.
Now the experts are worried that a recent wave of organized looting sprees…is being called looting.
According to San Francisco's ABC7, "Experts caution use of 'looting' in describing rash of Bay Area smash and grabs."
Much of what gets pushed by the mainstream media as expert opinion is not grounded in sound science at all. The good news is that because the bias has become so blatant, more people are seeing through it.
More people are becoming skeptical of official pronouncements – be they from government health bureaucrats or central bankers.
The Federal Reserve has certainly lost credibility on inflation being transitory. The White House has lost credibility on the economy being strong. And Wall Street may lose credibility with investors if artificially high valuations do prove to be transitory.
Markets are inherently unpredictable.
Holding gold and silver bullion is a great antidote to many of the threats currently facing financial markets. However, prudent investors should be skeptical even of experts who tout precious metals. (Including us!)
If you're stacking gold and silver coins based solely on the price forecast of some guru, then you may be doing the right thing for the wrong reasons.
If the guru changes his forecast, will you suddenly change your investment strategy (perhaps at the exact wrong time)?
While there may be a place in your portfolio for trading and speculation, the purpose of a core precious metals holding is to protect against unpredictable events at all times.
The case for having such a holding is based on the very modest proposition that you don't know what will happen next – and neither does any expert.
gold
silver
inflation
markets
reserve
metals
precious metals