US stocks close in a sea of red as tax hike fears grow
US stocks closed the week in a sea of red on Friday September 17 after technology shares led the broad losses across segments and tax hike fears dragged…
US stocks closed the week in a sea of red on Friday, September 17, after technology shares led the broad losses across segments and tax hike fears dragged the benchmark indices down.
The S&P 500 fell 0.91% to 4,432.99. The Dow Jones fell 0.48% to 34,584.88. The NASDAQ Composite Index declined 0.91% to 15,043.97, and the small-cap Russell 2000 was up 0.18% to 2,236.87.
Markets have been volatile this week amid mixed global cues. Loses in the Asian markets over worries of slow economic recovery and recent geopolitical developments weighed on investors' minds. The tech-savvy Nasdaq declined the most.
In addition, the recent retail sales and unemployment data offered mixed signals about the US economy. While retails sales were up in August, jobless benefits claims rose noticeably last week.
Meanwhile, lawmakers were considering a proposal to hike corporate tax. The news could be worrisome for some investors as a tax hike may eat into the companies' profits. Democrats are seeking to increase the corporate tax from the current 21% to 26.5%.
Investors will now eagerly wait for the Fed's monthly meeting next week. The central bank officials are expected to discuss the latest economic data as they continue with the stimulus tapering talks.
All the S&P 500 stock segments stayed in the negative territory. Technology and communications services stocks were the biggest losers, pushing the index down. Stocks of vaccine manufacturers Moderna, Inc. (MRNA) and Pfizer Inc. (PFE) plunged 3.57% and 1.34%, respectively.
Invesco Ltd. (IVZ) stock rose 5.71% after reports that it is in talks to merge with the asset management unit of State Street Corporation (STT). STT stock declined 2.47% in intraday trading.
SmileDirectClub, Inc. (SDC) shares surged 12.92% after the stock was discussed on social media.
AbCellera Biologics Inc. (ABCL) stock rose 2.53%, a day after the US Food and Drug Administration extended the emergency use authorization for its covid drug Bamlanivimab.
In technology stocks, Apple Inc. (AAPL) fell 1.94%, Microsoft Corporation (MSFT) fell 1.65%, and ASML Holdings N.V. (ASML) declined 3.18%. Adobe Inc. (ADBE) and Cisco Systems, Inc. (CSCO) fell 1.75% and 1.19%, respectively.
In communication stocks, Alphabet Inc. (GOOG) fell 2.08%, Facebook, Inc. (FB) declined 2.96%, and T-Mobile US, Inc. (TMUS) declined 1.19%. In addition, Sea Limited (SE) dropped 1.23%, and Snap Inc. (SNAP) advanced 3.08%.
In the material sector, BHP Group (BHP) fell 4.46%, Rio Tinto Group (RIO) fell 3.02%, and Vale S.A. (VALE) fell 2.21%. Ecolab Inc. (ECL) and Freeport-McMoRan Inc. declined 2.01% and 4.10%.
Also Read: Check these 5 oil and gas stocks with high price-to-earnings ratio
Copyright ©Kalkine Media 2021
Also Read: ASAN, FORG, & DATS stocks shine on higher demand hopes
Top Gainers
Top performers on S&P 500 included Thermo Fisher Scientific Inc (6.49%), Invesco Ltd (5.46%), Centene Corp (4.95%), Diamondback Energy Inc (3.18%). On NASDAQ, top performers were Corvus Pharmaceuticals Inc (135.40%), Helbiz Inc (96.56%), Priority Technology Holdings Inc (47.23%), Innate Pharma SA (40.87%). On Dow Jones, Amgen Inc (0.93%), UnitedHealth Group Inc (0.80%), American Express Co (0.79%), Procter & Gamble Co (0.16%) were the leaders.
Top Losers
Top laggards on S&P 500 included Unum Group (-6.04%), International Flavors & Fragrances Inc (-5.53%), Copart Inc (-5.46%), Nucor Corp (-4.49%). On NASDAQ, Protagonist Therapeutics Inc (-62.00%), TCR2 Therapeutics Inc (-36.45%), Eliem Therapeutics Inc (-21.92%), Janux Therapeutics Inc (-20.26%). On Dow Jones, Dow Inc (-2.89%), Caterpillar Inc (-1.89%), Apple Inc (-1.83%), Microsoft Corp (-1.75%) were the laggards.
Volume Movers
Top volume movers were Bank of America Corp (43.29M), Nov Inc (41.49M), Apple Inc (40.72M), AT&T Inc (38.62M), Oracle Corp (37.24M), Lucid Group Inc (39.05M), Match Group Inc (36.06M), SoFi Technologies Inc (33.81M), Tellurian Inc (28.37M), Corvus Pharmaceuticals Inc (26.47M).
Also Read: Top five mid-cap retail stocks with more than 100% YTD gain
Futures & Commodities
Gold futures were down 0.22% to US$1,752.85 per ounce. Silver decreased by 1.87% to US$22.367 per ounce, while copper fell 1.15% to US$4.2322.
Brent oil futures decreased by 0.45% to US$75.33 per barrel and WTI crude was down 0.81% to US$71.97.
Bond Market
The 30-year Treasury bond yields was up 1.13% to 1.902, while the 10-year bond yields rose 2.43% to 1.363.
US Dollar Futures Index increased by 0.33% to US$93.227.
dollar
gold
silver
commodities
markets
fed
central bank
us dollar
JPMorgan Turns Positive On Crypto, Sees "A Bullish Outlook For Bitcoin Into Year-End"
JPMorgan Turns Positive On Crypto, Sees "A Bullish Outlook For Bitcoin Into Year-End"
The launch of the first Bitcoin ETF, BITO, even if based…
JPMorgan Turns Positive On Crypto, Sees "A Bullish Outlook For Bitcoin Into Year-End"
The launch of the first Bitcoin ETF, BITO, even if based on futures, was the culmination of seven years of anticipation for bitcoin bulls and it certainly did not disappoint: the leaks and the actual news propelled the cryptocurrency to a new all time high above $66,000 (with some profit-taking to follow).
Yet despite the clear impact on the price of bitcoin, which has more than doubled from its July lows, not everyone is uniformly bullish on the impact of the first bitcoin ETF. As JPM's Nick Panigirtzoglou writes in his latest widely-read Flows and Liquidity note, "the bulls are seeing this ETF as a new investment vehicle that would open the avenue for fresh capital to enter bitcoin markets" while the bears "are seeing the new ETF as only incremental addition to an already crowded space of bitcoin investment vehicles including GBTC in the US, ETFs listed in Canada since last February which have been already accessible to US investors, regulated (CME) and unregulated (offshore) futures, and plenty of direct investment options using digital wallets via Coinbase, Square, Paypal, Robinhood etc."
For its part, JPM – not surprisingly – falls into the skeptics' camp (we say not surprisingly because for much of 2021, the largest US bank has been publishing bearish note after note, as we have repeatedly detailed, urging clients to ignore the largest cryptocurrency and if anything, to take profits. In retrospect, this has been a catastrophic recommendation for anyone who followed it). 
According to the JPMorgan quant, the launch of BITO by itself will not bring significantly more fresh capital into bitcoin due to "the multitude of investment choices bitcoin investors already have. If the launch of the Purpose Bitcoin ETF (BTCC) last February is a guide, as seen in Figure 1, the initial hype with BITO could fade after a week."
Here, once again, JPM's superficial "analytical" approach shines through and we are confident that Panigirtzoglou, who has been dead wrong about bitcoin for the past year, will once again be wrong in his take on BITO. Instead, for a much more nuanced – and accurate – view of the daily happenings in bitcoin ETF land we recommend Bloomberg's inhouse ETF expert, Eric Balchunas who points to what is clearly an unprecedented, and rising demand for crypto ETF exposure (one can only imagine what will happen when Gensler greenlights an ETF based on the actual product not spread-draining and self-cannibalizing futures). Indeed, as Balchunas pointed out on Thursday, BITO – which is "maybe too popular for its own good", has already "used up 2/3 of its total bitcoin futures position limits, only about 1,700 contracts ($600m) left bf it hits 5k total. Could hit in next day or two."
$BITO has already used up 2/3 of its total bitcoin futures position limits, only about 1,700 contracts ($600m) left bf it hits 5k total. Could hit in next day or two. Great story on this from @kgreifeld https://t.co/xcVkw7Nbyl

— Eric Balchunas (@EricBalchunas) October 21, 2021
But what about the ramp in bitcoin prices in recent weeks? Surely the anticipation of the ETF launch was the main catalyst? Well, according to JPM the answer is again no, and instead the JPM strategist writes that "while we accept that bitcoin momentum has shifted steeply upwards since the end of September, we are not convinced the anticipation of BITO's launch was the main reason."
Instead, as the Greek quant explained before (see "JPMorgan: Institutions Are Rotating Out Of Gold Into Bitcoin As A Better Inflation Hedge") he believes that rising inflation concerns among investors "has renewed interest in inflation hedges in general, including the use of bitcoin as such a hedge."
As he further explains, "Bitcoin's allure as an inflation hedge has been strengthened by the failure of gold to respond in recent weeks to heightened concerns over inflation, behaving more as a real rate proxy rather than inflation hedge." This is actually correct, and as we have shown previously gold indeed correlates much more closely to real rates that nominals, although in recent months, even real rates suggest that gold prices should be notably higher, perhaps confirming ongoing precious metal price suppression of the kind we have previously documented to be emanating from the BIS.
In any case, JPM also updates a chart we showed previously, the shift away from gold ETFs into bitcoin funds, which was very intense  uring most of Q4 2020 and the beginning of 2021, has gathered pace in recent weeks.
In turn, by putting upward pressure on bitcoin prices, JPM argues that this shift away from gold ETFs into bitcoin funds likely triggered mean reversion  across bitcoin futures investors which had reached very oversold conditions by the end of September. This is shown in Figure 3 via the bank's position proxy based on CME ethereum futures. Looking at Figure 3, JPMorgan now claims that "there had been a steep decline in our bitcoin futures position proxy" which pointed to oversold conditions towards the end of September triggering a bitcoin rebound. This rebound appears to have accelerated over the past days ahead of BITO's launch with the blue line in Figure 1 fully recapturing all the previous months' unwinding. In other words, the price ramp into the bitcoin ETF launch was just a coincidence. Yeah right, whatever.
Where JPM is however right, is in its assumption that a significant component of bitcoin futures positioning encompasses momentum traders such as CTAs and quantitative crypto funds. Previously, the bank had argued that the failure of bitcoin to break above the $60k threshold would see momentum signals turn mechanically more bearish and induce further position unwinds; it also claims this has likely been a significant factor in the correction last May in pushing CTAs and other momentum-based investors towards cutting positions. At the end of July, these momentum signals approached oversold territory at the end of July and have been rising since then in reversal to last May-July dynamics. The shor-tterm momentum signal has exceeded 1.5x stdevs, a z-score that we would typically characterize as overbought for other asset classes but still below the exuberant momentum levels of January 2021.
So with both With Figure 3 and Figure 4 pointing to exhaustion of short covering and more crowded bitcoin positioning in futures, Panigirtzoglou sees bitcoin relying more on other flows outside futures to sustain its upswing. To him, this elevates the importance of monitoring Figure 2, i.e. the importance for the current shift away from gold ETFs into bitcoin funds to continue for the current bitcoin upswing to be sustained.
In our opinion, the main problem for bitcoin over the previous two quarters had been the absence of significantly more fresh capital as shown in Figure 5 and Figure 6. Figure 5 shows our estimate of retail and institutional flows into bitcoin with an overall downshift in Q2 and Q3 of this year. Similarly, Figure 6 shows that the previous steepening in the pace of unique bitcoin wallet creation has largely normalized returning to pre-Q4 2020 norms, again implying an absence of significantly more fresh capital entering bitcoin.
And yet, despite this latest (erroneous) attempt to downplay the impact of the bitcoin ETF, which JPMorgan says "is unlikely to trigger a new phase of significantly more fresh capital entering bitcoin", by now too many JPM clients are invested in the crypto asset as Jamie Dimon (whose opinions on bitcoin have been an absolute disaster for anyone who traded on them) recently admitted, and so while tactically staying bearish on the impact of BITO, not even JPM's house crypto "expert" can objective stay bearish in general, and as he concludes, "istead, we believe the perception of bitcoin as a better inflation hedge than gold is the main reason for the current upswing, triggering a shift away from gold ETFs into bitcoin funds since September."
So with Bitcoin now perceived as the best inflation hedge among non-traditional assets, Pnaigirtzoglou concludes that this gold to bitcoin flow shift "remains intact supporting a bullish outlook for bitcoin into year-end."
Tyler Durden
Sat, 10/23/2021 – 19:10
gold
inflation
markets
Different CPIs
A recent exchange [1] on Econbrowser regarding forecasts of CPI reminded me that — even among the official series — there's more than one CPI. Figure…
A recent exchange [1] on Econbrowser regarding forecasts of CPI reminded me that — even among the official series — there's more than one CPI.
Figure 1: CPI-all urban (blue), and CPI-wage earners and clerical workers (red), s.a., in logs 2020M02=0. NBER defined recession dates shaded gray. Source: BLS, NBER and authors calculations.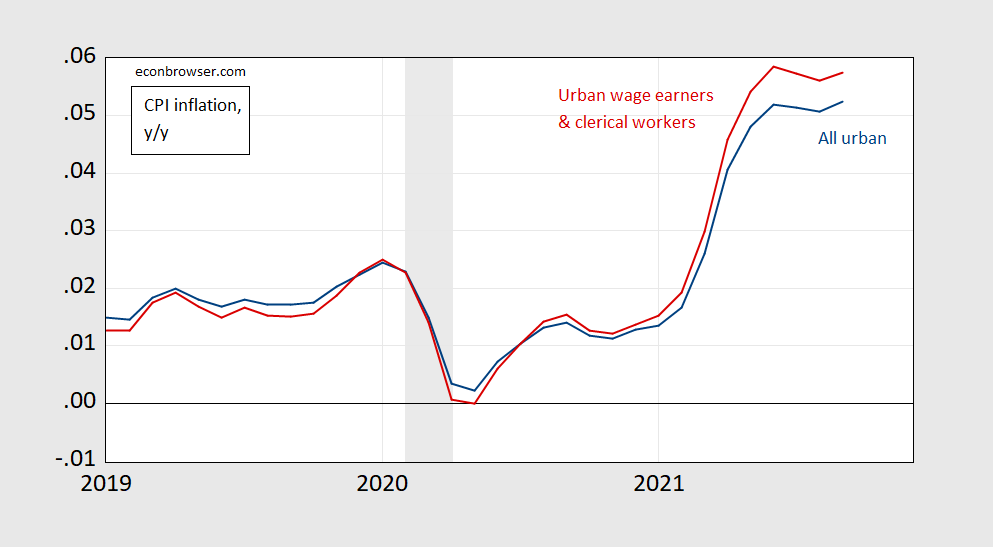 Figure 2: Year-on-year inflation rates for CPI-all urban (blue), and CPI-wage earners and clerical workers (red), s.a., calculated as log-differences. NBER defined recession dates shaded gray. Source: BLS, NBER and authors calculations.
Inflation for the bundle that wage earners/clerical workers has outpaced that for all-urban, by about 0.6 ppts by September.
Interestingly, the weights for the two CPI bundles indicate that wage earners/clerical workers have a higher weight on food, food away from home, and private transportation, and less weight on housing, than all urban consumers. As elevated housing costs feed into the CPI housing components, the places might switch.
Von Greyerz: Shortages & Hyperinflation Lead To Total Misery
Von Greyerz: Shortages & Hyperinflation Lead To Total Misery
Authored by Egon von Greyerz via GoldSwitzerland.com,
At the end of major…
Von Greyerz: Shortages & Hyperinflation Lead To Total Misery
Authored by Egon von Greyerz via GoldSwitzerland.com,
At the end of major economic cycles, shortages develop in all areas of the economy. And this is what the world is experiencing today on a global basis. There is a general lack of labour, whether it is restaurant staff, truck drivers or medical personnel.
There are also shortages of raw materials, lithium (electric car batteries), semi-conductors, food,  a great deal of consumer products, cardboard boxes, energy and etc, etc. The list is endless.
SHORTAGES EVERYWHERE
Everything is of course blamed on Covid but most of these shortages are due to structural problems. We have today a global system which cannot cope with the tiniest imbalances in the supply chain.
Just one small component missing could change history as the nursery rhyme below explains:
For want of a nail, the shoe was lost.
For want of a shoe, the horse was lost.
For want of a horse, the rider was lost.
For want of a rider, the battle was lost.
For want of a battle, the kingdom was lost.
And all for the want of a horseshoe nail.
The world is not just vulnerable to shortages of goods and services.
BOMBSHELLS
Bombshells could appear from anywhere. Let's just list a few like:
Dollar collapse (and other currencies)

Stock market crash

Debt defaults, bond collapse (e.g. Evergrande)

Liquidity crisis  (if  money printing stops or has no effect)

Inflation leading to hyperinflation
There is a high likelihood that not just one of the above will happen in the next few years but all of them.
Because this is how empires and economic bubbles end.
The Roman Empire needed 500,000 troops to control its vast empire.
Emperor Septimius Severus (200 AD) advised his sons to "Enrich the troops with gold but no one else".
As costs and taxes soared,  Rome resorted to the same trick that every single government resorts to when they overextend and money runs out – Currency Debasement.
So between 180 and 280 AD the Roman coin, the Denarius, went form 100% silver content to ZERO.
And in those days, the soldiers were shrewd and demanded payment in gold coins and not debased silver coins.
Although the US is not officially in military conflict with any country, there are still 173,000 US troops in 159 countries with 750 bases in 80 countries. The US spends 11% of the budget or $730 billion on military costs.
Since the start of the US involvement in Afghanistan, Pentagon has spent a total of $14 trillion, 35-50% of which going to defence contractors.
Throughout history, wars have mostly started out as profitable ventures, "stealing" natural resources (like gold or grains) and other goods–often due to shortages. But the Afghan war can hardly be regarded as economically successful and the US would have needed a more profitable venture than the Afghan war to balance its budget.
US HOPELESSLY BANKRUPT  – NEEDS TO BORROW 46% OF BUDGET
The US annual Federal Spending is $7 trillion and the revenues are $3.8 trillion.
So the US spends $3.2 trillion more every year than it earns in tax revenues. Thus, in order to "balance" the budget, the declining US empire must borrow or print 46% of its total spending.
Not even the Roman Empire, with its military might, would have got away with borrowing or printing half of its expenditure.
TOTAL MISERY AS MR MICAWBER SAID:
As Mr Micawber in Charles Dickens' David Copperfield said:
'Annual income 20 pounds, annual expenditure 19 [pounds] 19 [shillings] and six [pence], result happiness. Annual income 20 pounds, annual expenditure 20 pounds ought and six, result misery.'
And when, like in the case of the US, you spend almost twice as much as you earn that is TOTAL MISERY.
Neither an individual, nor a country can spend 100% more than their earnings without serious consequences. I have written many articles about these consequences and how to survive the Everything Bubble
INFLATION IS HERE
The most obvious course of events is continuous shortages combined with prices of goods and services going up rapidly. I remember it well in the 1970s how for example oil prices trebled between 1974 and 1975 from $3 to $10 and by 1980 had gone up 10x to $40.
The same is happening now all over the world.
That puts Central banks between a Rock and a Hard place as inflation is coming from all parts of the economy and is NOT TRANSITORY!
Real inflation is today 13.5% as the chart below shows, based on how inflation was calculated in the 1980s
IMPLOSION OR EXPLOSION
The central bankers can either squash the chronic inflation by tapering and at the same time create a liquidity squeeze that will totally kill an economy in constant need of stimulus. Or they can continue to print unlimited amounts of worthless fiat money whether it is paper or digital dollars.
If central banks starve the economy of liquidity or flood it, the result will be disastrous. Whether the financial system dies from an implosion or an explosion is really irrelevant. Both will lead to total misery.
Their choice is obvious since they would never dare to starve an economy craving for poisonous potions of stimulus.
History tells us that central banks will do the only thing they know in these circumstances which is to push the inflation accelerator pedal to the bottom.
Based of the Austrian economics definition, we have had chronic inflation for years as increases in money supply is what creates inflation. Still, it has not been the normal consumer inflation but asset inflation which has benefitted a small elite greatly and starved the masses of an increase standard of living.
As the elite amassed incredible wealth, the masses just had more debts.
So what we are now seeing is the beginning of a chronic consumer inflation that most of the world hasn't experienced  for decades.
THE INEVITABLE CONSEQUENCES OF CURRENCY DESTRUCTION
This is the inevitable consequence of the destruction of money through unlimited printing until it reaches its the intrinsic value of Zero. Since the dollar has already lost 98% of its purchasing power since 1971, there is a mere 2% fall before it reaches zero. But we must remember that the fall will be 100% from the current level.
As the value of money is likely to be destroyed in the next 5-10 years, wealth preservation is critical.  For individuals who want to protect themselves from total loss as fiat money dies, one or several gold coins are needed.
So back to the nursery rhyme:
For want of a nail gold coin, the shoe was lost.
For want of a shoe, the horse was lost.
For want of a horse, the rider was lost.
For want of a rider, the battle was lost.
For want of a battle, the kingdom was lost.
And all for the want of a horseshoe nail gold coin.
Gold is not the only solution to the coming problems in the world economy. Still, it will protect you from the coming economic crisis like it has done every time in history
And remember that if you don't hold properly stored gold you don't understand:
What happens when bubbles burst

You are living in a fake world with fake money and fake valuations

Your fake money will be revalued to its intrinsic value of ZERO

Assets that were bought with this fake money will lose over 90% of their value

Stocks will go down by over 90% in real terms

Bonds will go down by 90% to 100% as borrowers default

You lack regard for your stakeholders whether they are family or investors

You don't understand history

You don't understand risk
The 1980  gold price high of $850 would today be $21,900,  adjusted for real inflation
So gold at $1,800 today is grossly undervalued and unloved and likely to soon reflect the true value of the dollar.
Tyler Durden
Sat, 10/23/2021 – 14:30
dollar
gold
silver
inflation
money supply
bubble
dollar collapse
austrian economics
money printing
debasement
crash
ax