"Wall of Worry" Pervades Wall Street Thinking Once Again
Leave it to the Wall Street wizards to find yet another thing to worry about. Yes, there has been a raft of recent…
Read More…
The post "Wall of…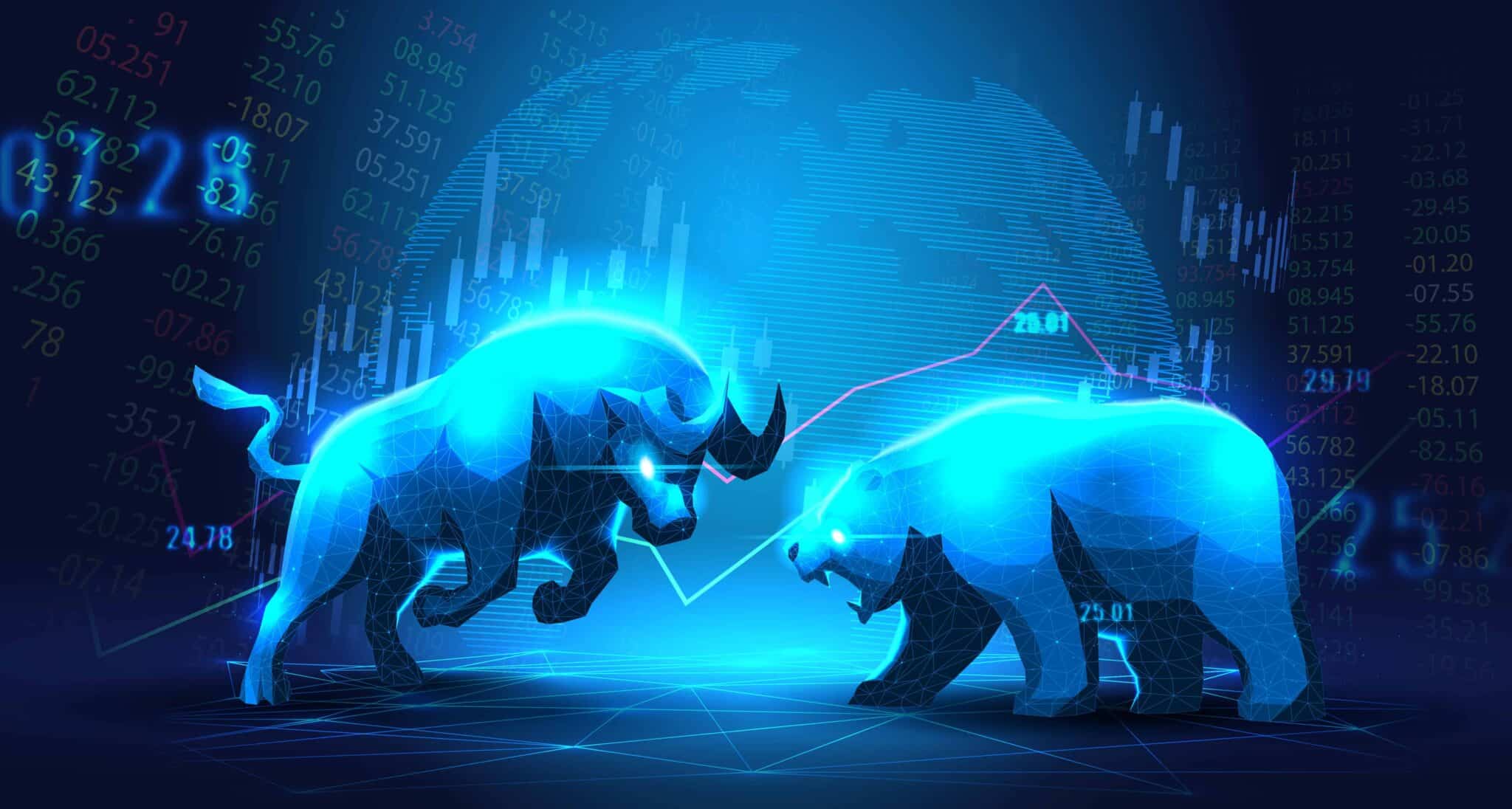 Leave it to the Wall Street wizards to find yet another thing to worry about. Yes, there has been a raft of recent articles decrying the success of the latest recovery, which started during the last week of September last year. The S&P500 hit a bottom of 3,231 then, but from that point forward, it has risen steadily in a gradually increasing fashion to its current watermark of 4,415. If you do the maths, the return for less than a complete year has been 36.6%, a stellar performance by anyone's way of thinking.
Yet, the boo-birds have come out in droves, almost demanding a correction takes place if only to let a little hot air out of the tyres. Our financial markets always seem to be consumed with doubt and uncertainty. The good days surely cannot last forever, though. Stocks dipped sharply at mid-week, a common reaction whenever the Fed speaks or changes a word or two from previous releases of its minutes. Profit-taking soon appears, never a reason to get your toga tied into a knot, but you can never be quite sure if the "Big One" isn't hiding around the bend.
This past week's chart winner, which created some apoplexy and a "Wall Of Worry", as espoused by one creative linguist among the market observers, was a new eye-opener: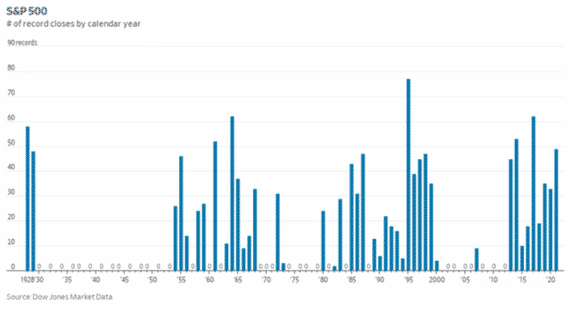 A number nerd back in some deep, dark cave in the Dow Jones data arena put this chart together as if we needed one more indication that the current market rally has run its course. As you are undoubtedly aware, a market trend on the upswing is a succession of higher highs and higher lows. As this chart portrays, these trendy bumps have occurred 49 times in the current calendar year. Are we to assume that the market is exhausted and is ready for a significant correction?
Darrell Cronk, the chief investment officer of Wells Fargo & Co.'s wealth and investment management division, has this to say about our current state of affairs: "It is often said that bull markets climb a wall of worry, and today, there are many bricks stacked in that wall."
Mr Cronk went on to list his ten "bricks" or worrying topics. The usual fear and worry suspects were there – inflation, Covid delta variant concerns, and an upcoming vote on the US Debt Ceiling. However, his primary concern was that everything seems to be peaking after having staged an excellent recovery from the pandemic. Stats like fiscal spending, liquidity, expansion of the gross domestic product, and corporate earnings growth have all hit their stride. How much higher is too high?
But stocks rallied back before the week closed. Surely that means something. Art Hogan, the chief market strategist at National Securities, summarised the market's action for the past week:
"The recent bout of market angst seems to be a combination of investor vertigo, looking for an excuse to take profits, and the bumpy path of reopening the economy, with new Covid variants on the rise."
Concluding Remarks
Can we breathe easy now? All market rallies eventually fizzle out. Let caution be your guide.
The post "Wall of Worry" Pervades Wall Street Thinking Once Again appeared first on Forextraders.com.
inflation
markets
fed
US indices close week mixed, weighed down by tech stocks
Benchmark US indices closed the trading week mixed on Friday September 24 pulled down by losses in technology and healthcare sectors amid mixed global…
Benchmark US indices closed the trading week mixed on Friday, September 24, pulled down by losses in technology and healthcare sectors amid mixed global cues.
The S&P 500 was up 0.15% to 4,455.48. The Dow Jones rose 0.10% to 34,798.00. The NASDAQ Composite fell 0.03% to 15,047.70, and the small-cap Russell 2000 was down 0.49% to 2,248.07.
Global markets remained volatile this week amid mixed cues. US stocks wavered after news that Chinese real estate giant Evergrande Group was on the brink of a major default.
Its US$300 billion debt bomb has sent shockwaves across the global markets. On Thursday, it entered a 30-day grace period after missing an interest payment deadline.
The Fed's sooner-than-expected timeline for stimulus tapering also weighed on investors' minds. The central bank said this week that it is considering withdrawing its bond-buying program by November. Consequently, an interest rate hike may be imminent.
Separately, the Biden administration is also planning to increase the corporate tax. It is currently debating a spending bill, which is expected to outline the program.
On Friday, the energy and financial stocks were the top gainers on S&P 500 index. Real estate and healthcare stocks were the bottom movers. Six of the 11 index segments stayed in the green.
Shares of Nike, Inc (NKE) fell 6.17% after it lowered its sales forecast. The company said it is facing challenges to meet the demand for shoes and athlete wear due to delays in production and shipping. Nevertheless, its revenue jumped 16% YoY to US$12.2 billion in Q1, FY22.
Meredith Corporation (MDP) stock rose 25.27 percent after news that the magazine publisher is in advanced talks for its purchase by media and internet holding company IAC/InterActiveCorp.
In the healthcare sector, Moderna Inc. (MRNA) fell 4.65%, Dexcom Inc. (DXCM) shed 2.25%, and Waters Corporation (WAT) fell 1.78%. Resmed Inc. (RMD) and Boston Scientific Corporation (BSX) ticked down 1.37% and 1.06%, respectively.
In technology stocks, Enphase Energy Inc (ENPH) declined 3.04%, NVIDIA Corp (NVDA) fell 1.89%, and Adobe Inc. (ADBE) declined 1.48%. Accenture plc (ACN) shed 1.20%, and Salesforce.com Inc. (CRM) gained 2.47%.
In the energy sector, ConocoPhillips (COP) rose 2.43%, EOG Resources Inc. (EOG) gained 2.45%, and Baker Hughes Co (BKR) gained 1.25%. Hess Corporation (HES) and Pioneer Natural Resources Company (PXD) advanced 1.10 and 3.21%, respectively.
In the crypto market, prices tumbled after the Central Bank of China declared crypto transactions illegal. Bitcoin (BTC) fell 5.49%, Ethereum (ETH) fell 7.74%, and Dogecoin (DOGE) declined 6.82%.
Also read: With chipmakers in the spotlight, here's a peek at five of them
Also read: Top five communication stocks that rode the Q2 rebound
Also read: Why are Salesforce (CRM), Affirm (AFRM) stocks in limelight today?
 Futures & Commodities

Gold futures were up 0.03% to US$1,750.40 per ounce. Silver decreased by 1.21% to US$22.405 per ounce, while copper rose 1.20% to US$4.2817.

Brent oil futures increased by 1.04% to US$78.05 per barrel and WTI crude was up 0.93% to US$73.98.

Also Read: In the Spotlight: Top 50 US startups in 2021
Bond Market

The 30-year Treasury bond yields was up 3.15% to 1.985, while the 10-year bond yields rose 3.02% to 1.453.

US Dollar Futures Index increased by 0.27% to US$93.278.
dollar
silver
markets
fed
central bank
us dollar
China Is Responsible For More Than A Third Of World GDP Growth – This Is A Problem
China Is Responsible For More Than A Third Of World GDP Growth – This Is A Problem
As Deutsche Bank's FX strategist George Saravelos writes…
China Is Responsible For More Than A Third Of World GDP Growth - This Is A Problem
As Deutsche Bank's FX strategist George Saravelos writes in a recent research report he has been "on the pessimistic side of the reflation narrative for some time now."
In the note titled "three charts for pessimists", he admits that there are many more things happening to the global economy than easy fiscal and monetary policy, including a large negative supply-shock, in turn leading to sizeable demand destruction; stronger than expected precautionary saving behavior from consumers pushing down r*; and massive structural economic change on the back of COVID-led digitization across multiple sectors. And now we have to add China to the mix.
His first chart below highlights a simple observation: China has been acting as a massive global growth turbocharge since the start of the century, and is responsible for more than a third of world GDP growth. As Saravelos gloomily notes, "systemic risks of the unfolding property developer crisis aside, if the last few months experience are signaling a regime break in Chinese tolerance for what authorities have termed "low quality" growth, the world should take notice."
Back to the developed world, Saravelos' second chart shows there is still a massive hole in the UK labor market. Total hours worked are a whopping near-10% below trend compared to pre-COVID. Yet the market is now fully pricing a Bank of England rate hike early next year. For sure, wages are rising, but as a recent IFS study showed there are still massive disruptions in the UK labor market. It will take a brave central bank to hike in to such a hole. Even if it does, it is hardly positive for the currency.
Finally, there are two parallel universes. The global goods sector is overheated. Look no further than US consumption, which is half a trillion dollars above trend. But the US services sector is twice as large and half a trillion below trend. The analytical value of aggregate GDP metrics is severely lessened in the presence of such massive sectoral dislocations. In recent months, the goods sector has started decelerating faster than the services sector has quickened. How the consumer rebalances spending in coming months will be very important.
We are only at the very beginning of trying to understand the true post-COVID steady state, it will be a long ride.
Tyler Durden
Fri, 09/24/2021 - 20:20
monetary
policy
central bank
monetary policy
Finally The Taper Tantrum, Or What's Wrong With August?
If you're fortunate to be able to do this long enough, you're absolutely assured to get caught with your pants down and almost certainly more than once….
If you're fortunate to be able to do this long enough, you're absolutely assured to get caught with your pants down and almost certainly more than once. In the short run, it's all a crapshoot anyway. Markets fluctuate and never, ever go in a straight line. And just when you claim to be right on top, they yank the rug right out from under your conceit(s).

I've spent the past few weeks, really months pointing out how Federal Reserve policymakers via their compliant media hasn't been able to provoke anything out of bonds. Not for lack of trying. Zilch. Nada. Forget tantrum, a whole lot of nothing even though taper – we're always told – would spell the death of the bond "bull." I've been almost gleefully highlighting how this policy farce has been greeted as a complete non-issue across all of those markets.

Until yesterday.
Finally, yields backed up both then and today in a notable selloff. Is this the long-awaited tantrum? Could it be something else?

For the former, start with Fed Governor Christopher Waller. Recall on August 2nd how Mr. Waller had appeared on CNBC and became the first voting FOMC member to encourage not just taper but a very quick one so as to clear enough calendar for a hard 2022 liftoff in rates.

Just two days later, it might appear his "go early, go fast" mantra caught on with at least some parts of the yield curve. From August 5 forward, the long end of the Treasury curve has been backing up from that recent mid-year low. August 4 was the last time before what is now a multi-week somewhat modest possibly reflationary action.

Before crowning Waller's confidence, that particular date – August 4 – should ring a bell. Wasn't it just last year, 2020, that longer-term bond yields had likewise bottomed out on this same day?

Yes, yes it was:


Obviously, the past two years began under very different circumstances; 2020 taking over from 2019 already close if not in recession (especially outside the US) and then the COVID errors. This year, 2021, opened in nearly opposite fashion with allegedly the whole world picking itself back up from all that damage and doing so boosted by every "stimulus" means known to man. Not just rebound, a fiery inflation-filled recovery. 

Yet, in the middle of both there's more the same than different – questions about the initial "V" shaped recovery (which did not pan out) last year and then a pretty conspicuous "growth scare" this year many are plain hoping they can blame on delta COVID for the "unexpected" soft patch.

You probably also remember how that same label "growth scare" was also thrown around quite liberally in 2019, too. Back then, the only part of the yield curve anyone is told to pay attention to had inverted, not just provoking rate cuts out of a befuddled Jay Powell but raising mainstream alarms as to impending recession (which may actually have happened, but we'll never know for sure given the timing of the coronavirus pandemic).

Wouldn't you know it, the low point for LT UST's in 2019 turned out to have been…August 28!




If twice could be random coincidence, yet three times is a pattern, what is four or five? Believe it or not, this same calendar shape can be found inside every one of the last five years – even 2018 when yields were more distorted as they neared their Reflation #3 peak. That year, the same sort of mid-year downward drift reaching its floor by August 20, 2018.

And the year before, during globally synchronized growth's reported arrival, UST rates were, for the most part, moving lower (curve flattening) as the market kept rejecting the idea that there was some legitimately inflationary recovery taking shape. The low in yields for 2017? September 5 (OK, so not August but more than close enough).


Even 2015 and 2016 were pretty close in matching this seasonality; during the latter, yields bottomed out early July and then went up (a lot) later in the Autumn. The year before, 2015, as Euro$ #3 "matured", again a mid-year low on August 24 (following CNY's big theatrics) which had been the same day as the eurodollar shortage striking Wall Street equities (flash crash).

While there were a couple days later on in 2015 when the 10-year yield dropped a few bps lower than August 24, still the same general trend overall.

And that trend seems to have become intriguingly normal, manifested as a regular uptick in yields especially during September and October and then lasting through the end of each year (2018 the obvious exception given the eruption of Euro$ #4's landmine). Quite simple enough, LT yields go up after August. 
Given this clear regularity, could any of these annual BOND ROUTs!!!! be considered reflationary?

Getting back to the original question, there's quite a lot of evidence for something(s) other than Governor Waller's melodramatic CNBC interview – or even the taper announcement and dots this week – which seems more likely to account for the bond market's longer end behavior over the past five weeks. And this would also encompass the "big" selloff yesterday and today.

These last two days, then, have not been some unusual, tantrum-y eruption (look above at how far yields jumped in early September 2019 even as recession moved into the global forefront). Quite to the contrary, what's happened so far over the past two months is entirely consistent with what seems to happen every year. Taper doesn't. 

This could even mean I'm actually off-the-hook, my britches still fashioned tightly right where they need to be. The Fed's people will continue trying to provoke a bond tantrum because of their need for the public to believe taper is in charge of interest rates, yet right at this moment there's only evidence that bonds are just doing what they normally do without regard for dots and QE's.

This only raises the question, of course, what the hell must be going on during the month of August? Sorry for the cliffhanger, but that I'll save for another day. Feel free, however, to tweet or comment your theories and hopefully during next week's podcast Emil Kalinowski and I will be able to discuss them.
inflation
markets
reserve
policy
interest rates
fed
inflationary
crash