Week Ahead – All Eyes on the Fed…Again!
The week we've all been waiting for Next week…
The week we've all been waiting for
Next week is action-packed including rate decisions from the US, Japan, UK, South Africa, Turkey, Switzerland, Norway and Sweden.
The Federal Reserve is the obvious standout among these, with investors seemingly uneasy at the prospect of the central bank tapering asset purchases at a time when the recovery is slowing and Covid is spreading rapidly. Markets will be very sensitive to the communication, especially if the underlying message remains that the central bank still intends to pare back asset purchases this year.
A lot of focus remains on China as the crackdown on various sectors continues, the latest of which being Casinos. Evergrande is also looking likely to reach a conclusion soon, one way or another.
The Russian parliamentary election also takes place this weekend, starting today and lasting three days. The United Russia party is expected to remain in control but its supermajority is at stake.
Is the Fed preparing a dovish taper warning?
Evergrande nearing a conclusion?
US
The main event of the trading week is the FOMC policy decision, but traders should closely watch the developments on Capitol Hill. The most important economic release of the week will be the September preliminary PMI readings, which could show further signs the economy has stabilized from the delta variant hit. 
The two-day FOMC policy meeting will likely be a reiteration that they are poised to taper before the end of the year.  Economists will fixate on the updated dot plot forecast to see if any members brought forward a rate hike into the end of 2022. 
The Fed will not rush a tightening cycle and expectations should remain firm that 2023 is when the first rate hike will be delivered.  Fed Chair Powell may provide hints that tapering won't be quick, possibly indicating it won't finish until next winter.  The economy appears to have survived the delta variant hit, which should suggest further stabilizing economic releases will pave the way for a November taper announcement.    
With monetary and fiscal stimulus starting to wane, clarity on the size of the next economic package will enter a crucial phase. President Biden was unable to convince conservative democrats of a $3.5 trillion budget and talks will likely lead to a final price tag between $1.5 -2.0 trillion. Some traders will pay close attention to the upcoming tax increases and whether they are retroactive from earlier in the year or September could be just as important in determining the major move with risk appetite.
EU 
It's a relatively quiet week in Europe, with flash PMIs on Thursday and German Ifo on Friday the only notable economic events. 
The German election is where all the attention will be, with the final Chancellor debates taking place on Thursday ahead of the election on Sunday 26th September. The polls currently have the Social Democrats in the lead by four points but with coalitions always required, that will just be the start of the negotiations. 
UK
How many interest rate hikes next year is the question on everyone's lips. The market is currently positioned for two, one 15 basis point in March or May and another 25 basis points at the end of 2022, taking the base rate to 0.5%. 
This seems a stretch for a central bank that's not yet completed its asset purchases. Not to mention a country that has seen a slowdown in consumer spending and is facing numerous headwinds over the next 12 months including the end of the furlough scheme and Universal Credit boost, income tax threshold freeze, 1.25% increase in national insurance contributions and higher energy prices. 
Russia
Russia goes to the polls this weekend in a vote lasting three days, with the ruling United Russia party expected to win, despite support waning following an apparent crackdown on critics and political opponents, something the Kremlin denies. At stake is the party's supermajority.
Apple and Google were forced to remove a tactical voting app from their stores this week following pressure from the Kremlin. The app was set up by Alexei Navalny, a jailed critic of Vladimir Putin.
South Africa
The SARB is expected to leave interest rates unchanged next week, with hikes on hold until early next year. Inflation will be released a day before the decision and is expected to rise to 4.8%, which the central bank is comfortable with. The economy is expected to contract this quarter following the riots so the SARB can afford to be patient.
Turkey
It seems Governor Şahap Kavcıoğlu is going to go back on his word to keep interest rates above inflation, after CPI earlier this month rose to 19.25%, above the 19% policy rate. He has previously stressed that inflation is expected to fall again later this year and is clearly in no mood to risk his job just to keep his word. 
Some are even expecting the Governor to cut rates next week by 50 basis points, although under the circumstances, it's more likely that will be left until later in the year when inflation is falling once more. It's one thing not to keep your word, it's another altogether to do the complete opposite.
China
The government squeeze on the private sector continued this week, this time it was the Macau casino industry's turn. Casino stocks listed in Hong Kong plunged. The week is dominated by holidays amongst Asia's heavyweights. Mainland China is on holiday Monday and Tuesday with Hong Kong on Wednesday. South Korea is also away.
The holiday schedule next week will substantially reduce market liquidity in Asia. Readers should watch for further weekend developments regarding Evergrande, which appears to be on the final strait of collapse or liquidation or debt/equity swap. Negative developments over the weekend could cause a severe risk aversion move on Monday in Asia, into a low liquidity day.
The only data from China this week is the 1-year and 5-year Loan Prime Rate decisions. It would be a huge surprise if China blinked and cut them with an October RRR cut far more likely. Nevertheless, a surprise cut would see Asian equities rally strongly in the short term.
USD/CNY remains range-bound with no sign that the PBOC is looking to engineer a weaker currency to stimulate the economy, yet.
India
No significant data or event risk this week. EM will be dominated by central banks globally and the FOMC outcome on Thursday, Asian time.
Australia & New Zealand
The Australian and New Zealand Dollars continue to bounce around on daily shifts in international risk sentiment, rather than domestic developments. Half of Australia and Auckland in New Zealand remain under virus lockdowns. Given that New Zealand's outbreak appears contained to Auckland where daily cases are approaching single digits, any news that suggests the virus has escaped Auckland will provoke an aggressive sell-off in the New Zealand Dollar.
New Zealand releases Services PSI and Balance of Trade, while Australia releases the RBA Minutes and Markit Services, which will show the Covid-19 outbreak. Any reactions in local markets will be subsumed by low Asia liquidity and the focus on the US FOMC outcome.
Japan
Japan's Bank of Japan releases its latest policy decision on Wednesday with no change expected to its stimulus plans. Inflation is released on Friday but will have a low market impact post FOMC. It should be a quiet week for Japan with national holidays on Monday and Thursday. With Greater China and South Korea also having national holidays next week, Asia will suffer from lower than usual liquidity, exacerbating reactions to headline risks.
Equity investors remain myopically focused on Japan's next Prime Minister, who will be selected at the end of the month and should see Japan markets, when open, continue outperforming.  Markets are expecting the new PM to push through a new fiscal stimulus ahead of an election due in November at the latest, giving a boost to the economy and equity prices.
USD/JPY remains a pure rate differential play between the US 10-year and Japan JGBs. Follow that for directions and bring a good book to read in between. 
---
Key Economic Events
 Sunday, Sept. 19
– Conclusion of Russian three-day parliamentary election.
Monday, Sept. 20
– Canada Federal Election
– International Atomic Energy Agency's 65th general conference is held in Vienna.   
– ECB Executive Board Member Schnabel speaks
Economic Data/Events
Hong Kong CPI
Tuesday, Sept. 21
– United Nations 76th General Assembly begins
– Iraq's oil minister speaks at the Gastech conference in Dubai
– The OECD updates its global economic forecasts
Economic Data/Events
US housing starts, building permits, current account balance
New Zealand credit card spending
Australia RBA minutes of September policy meeting
Japan machine tool orders
Mexico international reserves
Sweden central bank (Riksbank) rate decision: Expected to keep Interest Rate unchanged at 0.00%, hotter-than-expected inflation could allow some members to raise the rate path.  
Wednesday, Sept. 22
– Reserve Bank of Australia's Assistant Governor Bullock speaks at the Bloomberg Inside Track online event.
Economic Data/Events
FOMC Rate Decision: Expected to keep interest rates unchanged, possibly inching closer to paring bond purchases
BOJ Rate Decision: Expected to keep BOJ Policy Balance Rate and 10-year target unchanged, possibly lowering their outlook
BOJ Gov Kuroda press conference
US existing home sales
Eurozone consumer confidence
Australia Westpac leading index
China loan prime rates 
Russia industrial production
South Africa CPI
EIA Crude Oil Inventory Report
Thursday, Sept. 23
– Final debate for German chancellor candidates.  Election day is September 26th
-Hungary Central Bank Governor Matolcsy and CEE deputy governors speak. 
Economic Data/Events
US Sept Prelim Manufacturing PMI: 60.5e v 61.1 prior; Services PMI: 55.0e v 55.1 prior, initial jobless claims, leading index
European Flash PMIs: Eurozone, France, Germany, U.K.
BOE Rate decision: No changes expected to Bank Rate, Corporate bond target, and Gilt purchase target, likely to expected to tone down the hawkish rhetoric
Norges Rate decision: Possibly ready to begin the tightening cycle
South Africa central bank (SARB) rate decision: Expected to keep interest rates unchanged at 3.50%
Swiss National Bank (SNB) rate decision: Expected to keep policy rate unchanged at -0.75%
Turkey central bank (CBRT) rate decision: Expected to keep One-Week Repo Rate unchanged at 19.0%
ECB Economic Bulletin
Australia preliminary PMIs
Singapore CPI
Mexico CPI
Thailand trade
China SWIFT global payments
Spain GDP
Friday, Sept. 24
– President Joe Biden hosts prime ministers Morrison of Australia, Modi of India, and Suga of Japan at the White House for the inaugural Quad Leaders' Summit.
– Cleveland Fed President Mester discusses the economic outlook at a virtual event hosted by the Ohio Bankers League; Kansas City Fed President George speaks at an American Enterprise Institute event. 
– Fed Chair Powell delivers opening remarks and Fed Governor Bowman and Vice Chairman Clarida moderate a discussion at "Fed Listens: Perspective on the Pandemic Recovery." 
– Norges Bank Deputy Governor Bache speaks
Economic Data/Events
US new home sales
Germany IFO business climate
Japan CPI
New Zealand trade
Japan PMIs, supermarket/department store sales
Singapore industrial production
Thailand foreign reserves, forward contracts
Mexico retail sales
Sovereign Rating Updates
– Belgium (Fitch)
– Iceland (Fitch)
– Germany (S&P)
– Saudi Arabia (S&P)
– Hungary (Moody's)
– Sweden (Moody's)
– EU (DBRS)
– Finland (DBRS).
dollar inflation monetary markets reserve policy interest rates fed central bank
Visualizing The World's Biggest Real Estate Bubbles In 2021
Visualizing The World's Biggest Real Estate Bubbles In 2021
Identifying real estate bubbles is a tricky business. After all, as Visual Capitalist's…
Visualizing The World's Biggest Real Estate Bubbles In 2021
Identifying real estate bubbles is a tricky business. After all, as Visual Capitalist's Nick Routley notes, even though many of us "know a bubble when we see it", we don't have tangible proof of a bubble until it actually bursts.
And by then, it's too late.
The map above, based on data from the Real Estate Bubble Index by UBS, serves as an early warning system, evaluating 25 global cities and scoring them based on their bubble risk.
Reading the Signs
Bubbles are hard to distinguish in real-time as investors must judge whether a market's pricing accurately reflects what will happen in the future. Even so, there are some signs to watch out for.
As one example, a decoupling of prices from local incomes and rents is a common red flag. As well, imbalances in the real economy, such as excessive construction activity and lending can signal a bubble in the making.
With this in mind, which global markets are exhibiting the most bubble risk?
The Geography of Real Estate Bubbles
Europe is home to a number of cities that have extreme bubble risk, with Frankfurt topping the list this year. Germany's financial hub has seen real home prices rise by 10% per year on average since 2016—the highest rate of all cities evaluated.
Two Canadian cities also find themselves in bubble territory: Toronto and Vancouver. In the former, nearly 30% of purchases in 2021 went to buyers with multiple properties, showing that real estate investment is alive and well. Despite efforts to cool down these hot urban markets, Canadian markets have rebounded and continued their march upward. In fact, over the past three decades, residential home prices in Canada grew at the fastest rates in the G7.
Despite civil unrest and unease over new policies, Hong Kong still has the second highest score in this index. Meanwhile, Dubai is listed as "undervalued" and is the only city in the index with a negative score. Residential prices have trended down for the past six years and are now down nearly 40% from 2014 levels.
Note: The Real Estate Bubble Index does not currently include cities in Mainland China.
Trending Ever Upward
Overheated markets are nothing new, though the COVID-19 pandemic has changed the dynamic of real estate markets.
For years, house price appreciation in city centers was all but guaranteed as construction boomed and people were eager to live an urban lifestyle. Remote work options and office downsizing is changing the value equation for many, and as a result, housing prices in non-urban areas increased faster than in cities for the first time since the 1990s.
Even so, these changing priorities haven't deflated the real estate market in the world's global cities. Below are growth rates for 2021 so far, and how that compares to the last five years.
Overall, prices have been trending upward almost everywhere. All but four of the cities above—Milan, Paris, New York, and San Francisco—have had positive growth year-on-year.
Even as real estate bubbles continue to grow, there is an element of uncertainty. Debt-to-income ratios continue to rise, and lending standards, which were relaxed during the pandemic, are tightening once again. Add in the societal shifts occurring right now, and predicting the future of these markets becomes more difficult.
In the short term, we may see what UBS calls "the era of urban outperformance" come to an end.
Tyler Durden
Sat, 10/23/2021 – 22:00
markets
bubble
JPMorgan Turns Positive On Crypto, Sees "A Bullish Outlook For Bitcoin Into Year-End"
JPMorgan Turns Positive On Crypto, Sees "A Bullish Outlook For Bitcoin Into Year-End"
The launch of the first Bitcoin ETF, BITO, even if based…
JPMorgan Turns Positive On Crypto, Sees "A Bullish Outlook For Bitcoin Into Year-End"
The launch of the first Bitcoin ETF, BITO, even if based on futures, was the culmination of seven years of anticipation for bitcoin bulls and it certainly did not disappoint: the leaks and the actual news propelled the cryptocurrency to a new all time high above $66,000 (with some profit-taking to follow).
Yet despite the clear impact on the price of bitcoin, which has more than doubled from its July lows, not everyone is uniformly bullish on the impact of the first bitcoin ETF. As JPM's Nick Panigirtzoglou writes in his latest widely-read Flows and Liquidity note, "the bulls are seeing this ETF as a new investment vehicle that would open the avenue for fresh capital to enter bitcoin markets" while the bears "are seeing the new ETF as only incremental addition to an already crowded space of bitcoin investment vehicles including GBTC in the US, ETFs listed in Canada since last February which have been already accessible to US investors, regulated (CME) and unregulated (offshore) futures, and plenty of direct investment options using digital wallets via Coinbase, Square, Paypal, Robinhood etc."
For its part, JPM – not surprisingly – falls into the skeptics' camp (we say not surprisingly because for much of 2021, the largest US bank has been publishing bearish note after note, as we have repeatedly detailed, urging clients to ignore the largest cryptocurrency and if anything, to take profits. In retrospect, this has been a catastrophic recommendation for anyone who followed it). 
According to the JPMorgan quant, the launch of BITO by itself will not bring significantly more fresh capital into bitcoin due to "the multitude of investment choices bitcoin investors already have. If the launch of the Purpose Bitcoin ETF (BTCC) last February is a guide, as seen in Figure 1, the initial hype with BITO could fade after a week."
Here, once again, JPM's superficial "analytical" approach shines through and we are confident that Panigirtzoglou, who has been dead wrong about bitcoin for the past year, will once again be wrong in his take on BITO. Instead, for a much more nuanced – and accurate – view of the daily happenings in bitcoin ETF land we recommend Bloomberg's inhouse ETF expert, Eric Balchunas who points to what is clearly an unprecedented, and rising demand for crypto ETF exposure (one can only imagine what will happen when Gensler greenlights an ETF based on the actual product not spread-draining and self-cannibalizing futures). Indeed, as Balchunas pointed out on Thursday, BITO – which is "maybe too popular for its own good", has already "used up 2/3 of its total bitcoin futures position limits, only about 1,700 contracts ($600m) left bf it hits 5k total. Could hit in next day or two."
$BITO has already used up 2/3 of its total bitcoin futures position limits, only about 1,700 contracts ($600m) left bf it hits 5k total. Could hit in next day or two. Great story on this from @kgreifeld https://t.co/xcVkw7Nbyl

— Eric Balchunas (@EricBalchunas) October 21, 2021
But what about the ramp in bitcoin prices in recent weeks? Surely the anticipation of the ETF launch was the main catalyst? Well, according to JPM the answer is again no, and instead the JPM strategist writes that "while we accept that bitcoin momentum has shifted steeply upwards since the end of September, we are not convinced the anticipation of BITO's launch was the main reason."
Instead, as the Greek quant explained before (see "JPMorgan: Institutions Are Rotating Out Of Gold Into Bitcoin As A Better Inflation Hedge") he believes that rising inflation concerns among investors "has renewed interest in inflation hedges in general, including the use of bitcoin as such a hedge."
As he further explains, "Bitcoin's allure as an inflation hedge has been strengthened by the failure of gold to respond in recent weeks to heightened concerns over inflation, behaving more as a real rate proxy rather than inflation hedge." This is actually correct, and as we have shown previously gold indeed correlates much more closely to real rates that nominals, although in recent months, even real rates suggest that gold prices should be notably higher, perhaps confirming ongoing precious metal price suppression of the kind we have previously documented to be emanating from the BIS.
In any case, JPM also updates a chart we showed previously, the shift away from gold ETFs into bitcoin funds, which was very intense  uring most of Q4 2020 and the beginning of 2021, has gathered pace in recent weeks.
In turn, by putting upward pressure on bitcoin prices, JPM argues that this shift away from gold ETFs into bitcoin funds likely triggered mean reversion  across bitcoin futures investors which had reached very oversold conditions by the end of September. This is shown in Figure 3 via the bank's position proxy based on CME ethereum futures. Looking at Figure 3, JPMorgan now claims that "there had been a steep decline in our bitcoin futures position proxy" which pointed to oversold conditions towards the end of September triggering a bitcoin rebound. This rebound appears to have accelerated over the past days ahead of BITO's launch with the blue line in Figure 1 fully recapturing all the previous months' unwinding. In other words, the price ramp into the bitcoin ETF launch was just a coincidence. Yeah right, whatever.
Where JPM is however right, is in its assumption that a significant component of bitcoin futures positioning encompasses momentum traders such as CTAs and quantitative crypto funds. Previously, the bank had argued that the failure of bitcoin to break above the $60k threshold would see momentum signals turn mechanically more bearish and induce further position unwinds; it also claims this has likely been a significant factor in the correction last May in pushing CTAs and other momentum-based investors towards cutting positions. At the end of July, these momentum signals approached oversold territory at the end of July and have been rising since then in reversal to last May-July dynamics. The shor-tterm momentum signal has exceeded 1.5x stdevs, a z-score that we would typically characterize as overbought for other asset classes but still below the exuberant momentum levels of January 2021.
So with both With Figure 3 and Figure 4 pointing to exhaustion of short covering and more crowded bitcoin positioning in futures, Panigirtzoglou sees bitcoin relying more on other flows outside futures to sustain its upswing. To him, this elevates the importance of monitoring Figure 2, i.e. the importance for the current shift away from gold ETFs into bitcoin funds to continue for the current bitcoin upswing to be sustained.
In our opinion, the main problem for bitcoin over the previous two quarters had been the absence of significantly more fresh capital as shown in Figure 5 and Figure 6. Figure 5 shows our estimate of retail and institutional flows into bitcoin with an overall downshift in Q2 and Q3 of this year. Similarly, Figure 6 shows that the previous steepening in the pace of unique bitcoin wallet creation has largely normalized returning to pre-Q4 2020 norms, again implying an absence of significantly more fresh capital entering bitcoin.
And yet, despite this latest (erroneous) attempt to downplay the impact of the bitcoin ETF, which JPMorgan says "is unlikely to trigger a new phase of significantly more fresh capital entering bitcoin", by now too many JPM clients are invested in the crypto asset as Jamie Dimon (whose opinions on bitcoin have been an absolute disaster for anyone who traded on them) recently admitted, and so while tactically staying bearish on the impact of BITO, not even JPM's house crypto "expert" can objective stay bearish in general, and as he concludes, "istead, we believe the perception of bitcoin as a better inflation hedge than gold is the main reason for the current upswing, triggering a shift away from gold ETFs into bitcoin funds since September."
So with Bitcoin now perceived as the best inflation hedge among non-traditional assets, Pnaigirtzoglou concludes that this gold to bitcoin flow shift "remains intact supporting a bullish outlook for bitcoin into year-end."
Tyler Durden
Sat, 10/23/2021 – 19:10
gold
inflation
markets
Different CPIs
A recent exchange [1] on Econbrowser regarding forecasts of CPI reminded me that — even among the official series — there's more than one CPI. Figure…
A recent exchange [1] on Econbrowser regarding forecasts of CPI reminded me that — even among the official series — there's more than one CPI.
Figure 1: CPI-all urban (blue), and CPI-wage earners and clerical workers (red), s.a., in logs 2020M02=0. NBER defined recession dates shaded gray. Source: BLS, NBER and authors calculations.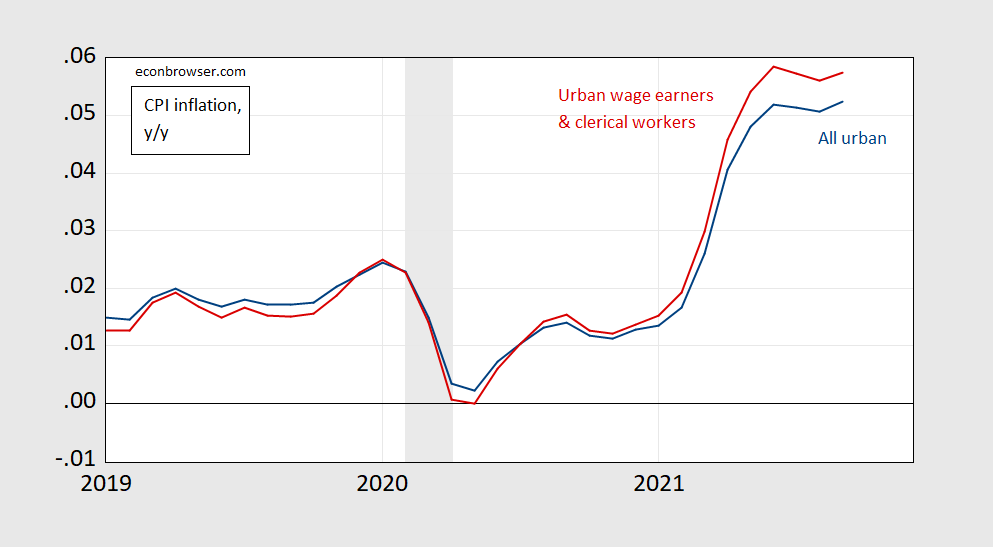 Figure 2: Year-on-year inflation rates for CPI-all urban (blue), and CPI-wage earners and clerical workers (red), s.a., calculated as log-differences. NBER defined recession dates shaded gray. Source: BLS, NBER and authors calculations.
Inflation for the bundle that wage earners/clerical workers has outpaced that for all-urban, by about 0.6 ppts by September.
Interestingly, the weights for the two CPI bundles indicate that wage earners/clerical workers have a higher weight on food, food away from home, and private transportation, and less weight on housing, than all urban consumers. As elevated housing costs feed into the CPI housing components, the places might switch.