Weekly investment update – Twin shocks roil Asian asset markets
The recent spikes in energy prices and US Treasury bond yields have strained emerging Asia's asset prices and currencies. Rising commodity prices are…
The recent spikes in energy prices and US Treasury bond yields have strained emerging Asia's asset prices and currencies. Rising commodity prices are worsening Asia's balance of payments dynamics, putting the currencies of large oil-importing countries under pressure. Meanwhile, the rise of the 10-year US T-bond yield to its highest since June is reminding investors of the adverse impact of a 'taper tantrum' on emerging market assets. 
While stronger Asian macroeconomic fundamentals suggest that a 'taper tantrum' of the kind seen in 2013 over an imminent tightening of US monetary policy might not replay this time, credit events and power shortages in China are complicating matters.
After 20 regions, accounting for over 70% of China's GDP, recently failed to meet their targets on greening measures, Beijing ordered many factories and coal mines to close so that its carbon-emission reduction targets would be attainable. The coalmine closures have aggravated power outages and forced yet more factories to shut down. 
the resulting disruption to production, exacerbated by the recent Covid resurgence, has led to severe problems in global supply chains with delivery lead times lengthening (see exhibit 1). Late deliveries of a particular car chip can, for example, halt entire assembly lines. Such bottlenecks have heightened financial markets' concerns about global inflationary pressures.
Supply chain issues a major drag on activity
Data also shows that delivery lead times have become far longer in developed economies than in China and Asia. The difference between new orders and output – where a positive gap likely reflects producers' difficulties in catching up with orders – shows that Asia did not seem overly stretched.
The region now has a close-to-zero new orders/output gap. However, the gap in developed markets has continued to widen since early this year, hinting at intensifying supply chain bottlenecks. The main issue appears to be shipping from East to West.
With supply falling behind demand, inflation expectations have grown. Should investors start to doubt the main central banks' narrative that inflation is 'transitory', this could boost the upward pressure on Treasury yields, leading to capital outflows from Asia and short-term regional currency weakness.
While the share of fuel prices in the region's consumer price index (CPI) baskets is not large, it also is not negligible. Thailand, Singapore, the Philippines and South Korea typically pass higher global energy prices on to consumers. This implies that their economies could see a higher risk of energy-driven inflation.
US fiscal argy-bargy affecting bond markets…
US fiscal frictions have also hurt market sentiment on US bond yields, underscoring the near-term upward pressure. The last week of September saw continued discussions – and thus continued uncertainty – about the Biden administration's goal to pass both a large bipartisan infrastructure  spending plan and its Build Back Better proposals on social programmes, climate change and taxes.
After a deal was done to kick the can down the road, a deadline now looms in December for the US debt ceiling. Treasury Secretary Janet Yellen has identified this as the date by which the Treasury's extraordinary measures for borrowing could be quickly depleted if the debt limit is not raised or suspended.
As long as uncertainty about the debt limit persists, some investors will be reluctant to hold Treasury bills that mature in the weeks in which Treasury debt operations could potentially be disrupted.
…including those in emerging Asia
Emerging Asia stocks, especially technology stocks, and currencies are vulnerable under these crosscurrents. The uncertainties could weigh on the region's bond markets, too.
Already Asia's tech stocks have been hit hard, Chinese stocks in particular due to Beijing's regulatory tightening. One positive aspect is that the tech stocks have already experienced months of weakness so their valuations are more reasonable now and further downside could be limited.
Regulatory tightening since President Xi Jinping came to power in 2013 shows that the authorities have been effective in stabilising debt and productivity growth, as well as cleaning up corruption. In all of the three rounds of regulatory measures since 2013, which lasted 12 to 18 months, China's stock market reacted positively up after suffering initial short-term declines.
If history repeats itself, we may see Chinese stocks embark on a sustained recovery once the current round of regulatory tightening is over. All things being equal, this would have a positive impact on investor sentiment on the region. 
---
Any views expressed here are those of the author as of the date of publication, are based on available information, and are subject to change without notice. Individual portfolio management teams may hold different views and may take different investment decisions for different clients.
The value of investments and the income they generate may go down as well as up and it is possible that investors will not recover their initial outlay. Past performance is no guarantee for future returns.
Investing in emerging markets, or specialized or restricted sectors is likely to be subject to a higher-than-average volatility due to a high degree of concentration, greater uncertainty because less information is available, there is less liquidity or due to greater sensitivity to changes in market conditions (social, political and economic conditions).
Some emerging markets offer less security than the majority of international developed markets. For this reason, services for portfolio transactions, liquidation and conservation on behalf of funds invested in emerging markets may carry greater risk.
Writen by Chi Lo. The post Weekly investment update – Twin shocks roil Asian asset markets appeared first on Investors' Corner – The official blog of BNP Paribas Asset Management, the sustainable investor for a changing world.
inflation
commodity
monetary
markets
policy
monetary policy
inflationary
Be Careful with Simple Treasury-TIPS Spreads
The five year Treasury-TIPS spread has, inarguably, shot up: Figure 1: Five year inflation breakeven calculated as five year Treasury yield minus five…
The five year Treasury-TIPS spread has, inarguably, shot up: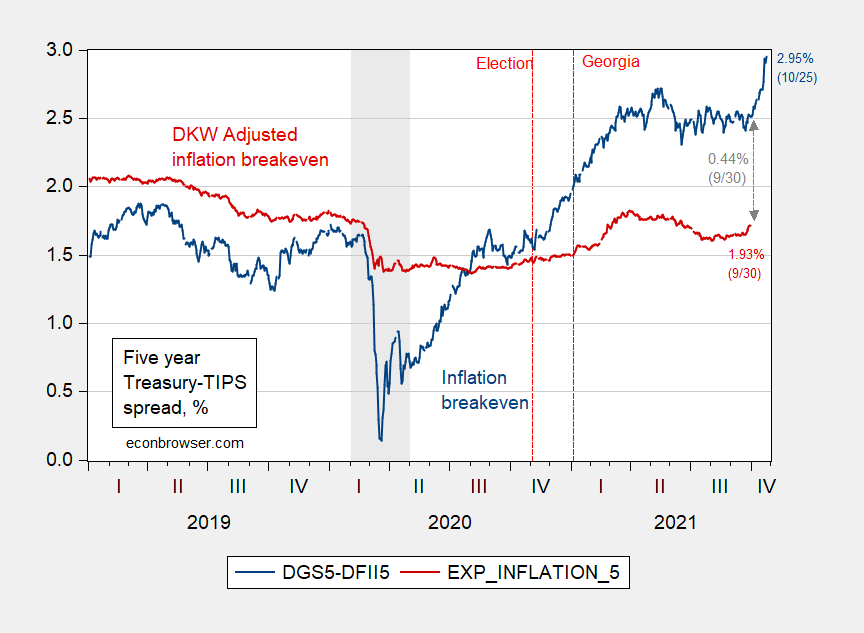 Figure 1: Five year inflation breakeven calculated as five year Treasury yield minus five year TIPS yield (blue), five year breakeven adjusted by inflation risk premium and liquidity premium per DKW (red), all in %. NBER defined recession dates shaded gray (from beginning of peak month to end of trough month). Source: FRB via FRED, Treasury, KWW following D'amico, Kim and Wei (DKW) accessed 10/7, NBER and author's calculations.
What to make of this development?
The gap between the unadjusted and adjusted spreads was 0.44 ppts as of 9/30. If that gap — the combination of inflation risk and liquidity premia — had stayed the same, the implied inflation rate would be 2.5% over the next five years. (Of course, there's no particular reason why the composite premium would have stayed constant…)
Analysts often look at the the five year five year forward as an indicator of inflation over the five years five years from now. If one applies the same logic about premia to the usual calculation, then one obtains Figure 2.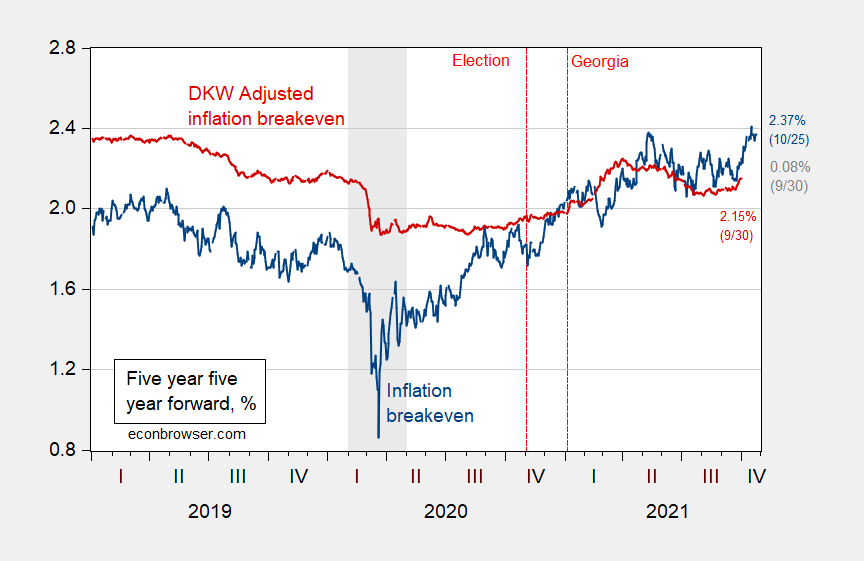 Figure 2: Five year five year forward spread (blue), five year five year forward spread calculated using inflation risk premium and liquidity premium per DKW (red), all in %. NBER defined recession dates shaded gray (from beginning of peak month to end of trough month). Source: FRB via FRED, Treasury, KWW following D'amico, Kim and Wei (DKW) accessed 10/7, NBER and author's calculations.
Two observations:
If one believed in the DKW adjustment (and that adjustment held constant over the past four weeks), and the gap between CPI and PCE inflation remains roughly constant, that would place average PCE inflation over the next five years at about … 2%.
The five year five year forward, which is often taken as long term CPI inflation, is then 2.3%; implied PCE inflation is then 1.9%…
Walking The Path Of Self Destruction
Walking The Path Of Self Destruction
Authored by MN Gordon via EconomicPrism.com,
Central planners have destroyed the future.  Today we…
Walking The Path Of Self Destruction
Authored by MN Gordon via EconomicPrism.com,
Central planners have destroyed the future.  Today we walk the path of their self-destruction…
If you recall, fiscal and monetary policies employed to counter the effects of government mandated lockdowns were supposed to stimulate a self-sustaining economic boom.  Instead, these policies of extreme intervention have stimulated chaos and destruction.
The official inflation rate, as measured by the government's consumer price index (CPI), is rising at an annualized clip of 5.4 percent.  But that's nothing.  Alternative inflation rates, which better reflect what consumers are actually experiencing, are double and triple the official CPI.
At the same time, the economy appears to be slowing down…
According to the Atlanta Fed's GDPNow forecasting model, as of October 19, real gross domestic product (GDP) growth in the third quarter of 2021 is estimated to be just 0.5 percent.  This is down from 1.2 percent on October 15, 6 percent in late August, and 14 percent in May.
At this rate, by the next GDPNow update, which is scheduled for October 27, growth estimates could be negative.  And if you factor in the inflation adjusted growth rate, the economy's already shrinking at a rate of 4.9 percent per year.  In other words, the U.S. economy's in an inflationary recession.
How could that be?
The occurrence of simultaneously rising inflation and declining growth is an unnatural manifestation.  In fact, we'd posit that such an occurrence would be naturally impossible if there were balanced budgets and a stable money supply.  Thus, attaining the misery of stagflation is the result of massively excessive fiscal deficits and monetary stimulus.
And now, with the misery now bearing down upon us, fiscal and monetary policies are becoming grossly disjointed.  The Democrats in Congress want to burp a $2.2 trillion – down from $3.5 trillion – social spending bill into the economy in the face of rising inflation.  At the same time, the Federal Reserve wants to taper back its asset purchases as the economy is slowing.
In effect, fiscal and monetary policy will soon be working against each other.  Namely, they'll be promoting rising inflation and slower growth.  What to make of it…
No Free Lunch
The era of stimmy checks and cheap consumer goods was fun while it lasted.  Like a hot lunch, it always tastes better when free.  The smell is more aromatic.  The bites are more flavorful.  Most of all, the belly leaves the table more contented.
But is a free lunch ever really free?
"It is an immutable economic fact," said WWI Brigadier General Leonard P. Ayres many years ago, "that there is no such thing as a free lunch." 
With that brief statement Ayres crystalized one of the world's essential axioms.  Like gravity or the golden rule, you can't refute it.
Fred Brooks, the man who changed the IBM 360 series from a 6-bit to an 8-bit byte, thus allowing the use of lowercase letters, elaborated the idea when he said, "You can only get something for nothing if you have previously gotten nothing for something."
Similarly, if one person or group gets something at no cost, someone else must pick up the tab.  This, in short, is why fiscal and monetary stimulus are such a massive sham.
Wealthy asset owners get a boost to their stock portfolios and property holdings.  Wage earners get scraps.  The unemployed get stimmy checks.  Everyone pays for it through rising prices and a skyrocketing debt burden.  Future generations get screwed.
One group of people get a free lunch off the backs of another.  The rich and the poor get something for nothing.  The lowly wage earner gets nothing for something.
Certainly, all entitlement programs are doomed for this reason.  There's no way around it…there are no free lunches.  But this simple fact doesn't stop policy makers from promising them anyway.  For promising something for nothing is good politics.
Just this week, for instance, the monetary policy virtuosos at the Federal Reserve told the world they'd keep giving them something for nothing…but not quite as much as before.  Here's Fed Governor Christopher Waller…
"While there is still room to improved on the unemployment leg of our mandate, I believe we have made enough progress such that tapering of our asset purchases should commence following our next FOMC meeting, which is in two weeks."
Walking the Path of Self Destruction
If you recall the Fed has been creating credit from thin air to buy $120 billion a month of U.S. Treasuries and mortgage-backed securities since early 2020.  These purchases have held interest rates artificially low and supplied free lunches in the form of low borrowing costs.  Consequently, government debt and housing prices have soared to unbelievable heights.
Who knows how much the Fed will initially taper?  We suppose we'll find out following the next FOMC meeting.  But suppose the Fed starts by tapering back asset purchases by 20 percent.  What would this mean?
The tapering of asset purchases from $120 billion to $96 billion a month is like a cigarette smoker cutting back from 40 to 32 cigarettes a day.  The tapering's really of no significance.  The Federal Reserve, like the smoker, has signed its death certificate regardless.
Until the Fed eliminates asset purchases and starts reducing its balance sheet, its policies are still inflationary.  Until the Fed meaningfully raises the federal funds rate, it isn't serious about getting its monetary policy house in order.
As a result of its asset purchase program, the Fed's balance sheet has exploded to over $8.4 trillion.  Just 15-years ago, the Fed's balance sheet was about $800 billion.
Moreover, the Fed created this $8.4 trillion out of thin air.  In other words, it created something from nothing on a grand scale.
Who pays for this?
By the law of the no free lunch axiom, we must get nothing for something to balance out the Fed's money games.  That's how you get something for nothing.  What we mean is, we'll all pay for it in the end.
We'll pay with our time.  We'll pay with our talents.  We'll pay with our soul.  We'll work for a diminishing standard of living.
The havoc to be wreaked will also show up in seemingly unrelated places.  Rising food prices in northern Africa – with the help of the CIA – could prompt another coup.  Wage inflation could pop up in China, derailing its economic miracle and causing mass civil discontent.  Here in the U.S. the dollar could plummet on the world currency market…sending everything to hell in a hand bucket.
There are dramatic consequences for pursuing something for nothing.  To get it, you must walk the path of self-destruction.  This is the path the central planners have paved.  Avoiding it as best you can will be the ultimate challenge.
Tyler Durden
Mon, 10/25/2021 – 17:52
dollar
inflation
stagflation
monetary
reserve
policy
money supply
interest rates
fed
monetary policy
inflationary
S&P, Dow Jones climb to fresh highs ahead of big tech earnings
The S P 500 Index and Dow Jones closed at record highs on Monday October 25 ahead of quarterly earnings of big technology companies like Apple Amazon…
The S&P 500 Index and Dow Jones closed at record highs on Monday, October 25, ahead of quarterly earnings of big technology companies like Apple, Amazon, and Alphabet this week.
The S&P was up 0.47% to 4,566.48. The Dow Jones rose 0.18% to 35,741.15. The NASDAQ Composite rose 0.90% to 15,226.71, and the small-cap Russell 2000 rose 0.93% to 2,312.64.
Market participants are in high spirits as the third-quarter earnings season is in full swing. Several major financial and retail companies have reported robust growth in the quarter.
The earnings come in the backdrop of inflation, supply disruptions, and labor shortages. Hence, some analysts were initially worried over quarterly performance amid these factors.
Traders will now eagerly wait for the earnings of mega-cap technology companies that have around 30% weightage on the S&P 500 index by market capitalization.
According to Refinitiv data, some 165 S&P 500 companies are expected to report this week. Analysts expect the index to grow by 34.8% in the quarter YoY.
In addition, of the 119 companies reported so far, 83.2% beat Wall Street estimates.
On Monday, consumer discretionary and energy stocks led gains on S&P. Utilities and financial stocks were the bottom movers. Nine of the 11 stock segments of the index stayed in the green.
Shares of Tesla, Inc. (TSLA) jumped 12.66% at the market close on Monday, taking its market cap to more than US$1 trillion for the first time, as the car rental company Hertz said it placed an order for 100,000 Tesla vehicles. Morgan Stanley also raised its price target to US$1,200 from US$900.
PayPal Holdings, Inc. (PYPL) stock was up 2.70% after it said it had no plan to buy Pinterest Inc. (PINS). Media reports had earlier claimed that it was in talks to acquire the social media firm for US$45 billion in a stock-and-cash deal. The PINS stock fell 12.71% after PayPal's clarification.
Facebook, Inc. (FB) shares jumped 3.78% in after-market trading after missing analysts' expectations in the third quarter. Its revenue surged 35% YoY to US$29.01 billion in Q3, FY21, and its net income rose 17% to US$9.19 billion, or US$3.22 per diluted share. Analysts had predicted diluted EPS of US$3.19 on revenue of US$29.57 billion, Refinitiv data showed.
In the consumer discretionary sector, Home Depot, Inc. (HD) rose 1.44%, LOWE's Companies, Inc. (LOW) rose 1.33%, and Target Corporation (TGT) gained 1.73%. TJX Companies, Inc. (TJX) and Aptiv PLC (APTV) advanced 1.71% and 1.13%, respectively.
In energy stocks, Exxon Mobil Corporation (XOM) increased by 1.95%, ConocoPhillips (COP) rose 1.06%, and EOG Resources, Inc. (EOG) gained 2.22%. Schlumberger N.V. (SLB) and Kinder Morgan, Inc. (KMI) ticked up 1.33% and 1.02%, respectively.
In the utility sector, Duke Energy Corporation (DUK) declined 0.91%, Dominion Energy, Inc. (D) fell 1.02%, and American Electric Power Company, Inc. (AEP) fell 1.06%. Xcel Energy Inc. (XEL) and WEC Energy Group, Inc. (WEC) plummeted 1.36% and 1.40%, respectively.
Also Read: Top companies to watch for quarterly earnings this week
Also Read: Seven most anticipated IPOs this week
Also Read: Kimberly-Clark revenue up 7%, OTIS raises 2021 outlook
Futures & Commodities
Gold futures were up 0.71% to US$1,809.05 per ounce. Silver increased by 0.83% to US$24.652 per ounce, while copper rose 0.70% to US$4.5293.
Brent oil futures increased by 0.58% to US$85.13 per barrel and WTI crude was down 0.08% to US$83.69.
Also Read: Top artificial intelligence stocks to explore amid AI boom
Bond Market
The 30-year Treasury bond yields was down 0.37% to 2.083, while the 10-year bond yields fell 1.36% to 1.633.
US Dollar Futures Index increased by 0.21% to US$93.817.