Weekly Market Pulse: Not So Evergrande
US stocks sold off last Monday due to fears over the potential – likely – failure of China Evergrande, a real estate developer that has suddenly discovered…
US stocks sold off last Monday due to fears over the potential – likely – failure of China Evergrande, a real estate developer that has suddenly discovered the perils of leverage. Well that and the perils of being in an industry not currently favored by Xi Jinping. He has declared that houses are for living in not speculating on and ordered the state controlled banks to lend accordingly. Evergrande is known as a real estate developer and it certainly is but it is also a sprawling company with investments in multiple industries including, of course, an electric car company. Cutting off its financing isn't just going to affect the Chinese real estate market. And real estate accounts for roughly 70% of household net worth in China so everyone in the country is going to take a hit. But is there a connection to the US or other developed country stock markets?
Real estate represents anywhere from 15 to 25% of the Chinese economy depending on what source you want to believe. The exact number isn't really important, just suffice it to say that construction is a very large part of China's economy and speculating on real estate is a national pastime. But the impact of it goes well beyond China. It is well known – according to the news reports I read – that China's share of global commodity consumption is large and a large part of that goes to the construction industry. I read some research last week that claimed China's property sector accounted for 20% of global steel and copper output. That sure sounds big and scary – as I'm sure the authors intended – but I would just point out that copper prices are near their all time highs and actually finished higher last week. The general commodity indexes were higher too. If Evergrande's demise is going to materially impact commodity demand you wouldn't know it from last week's action. Maybe China's commodity consumption isn't "well known" in the commodity pits.
The doom and gloom crowd spent all of last week trying to convince investors – or themselves – that Evergrande is China's "Lehman moment", based on nothing more than the fact that Evergrande and Lehman both involved real estate. And in the case of Lehman that connection was incidental but superficially I guess the comparison made sense. There are certainly banks with exposure to Evergrande but the vast majority of them are Chinese. HSBC has been mentioned as having exposure but they stopped lending on Evergrande properties a few months ago. UBS was said to have exposure but the CEO said last week it was immaterial. Credit Suisse, which seems to be the new Citibank, involved in just about everything that has blown up the last few years, was so happy they avoided this one they almost broke an arm patting themselves on the back. US banks, as best I can tell, have no exposure. There are some junk bond funds with exposure but for the ones I looked at, it was a rounding error. There just doesn't seem to be much interconnection with the rest of the global financial system and that was reflected in credit default swaps and credit spreads which barely moved on the week. 
Evergrande appears to be mostly a domestic China concern, at least for now. The impact will be seen in Chinese growth figures which were already on the decline. What does that mean for the rest of the world? I don't know yet but I am old enough to remember the last time the world's second largest economy popped a real estate bubble. That was Japan in the early 90s and their economy certainly suffered over the next decade but you'd be hard pressed to find a big blowback on the rest of the global economy. Maybe China will be different but I can easily make a case that a Chinese economic slowdown would be beneficial to the rest of the world. Suppose those estimates of commodity consumption are correct and copper and steel prices take a tumble. That probably wouldn't be pleasant for Chile and Brazil (iron ore) but I'd guess that the rest of the world would welcome cheaper steel and copper. There are plenty of things to worry about right here in the US with political wrangling over the debt ceiling, a possible government shutdown (which I generally take as a positive) and potential tax and spending hikes. I see no need – yet – to start worrying about Xi Jinping's re-Maoing of the Chinese economy.
For stock investors I think the more important event last week was the rapid rise of the 10 year Treasury yield from Wednesday to Friday. I don't mean to imply that higher rates mean stocks are going to fall because history says that isn't the likely outcome. Rising rates are generally associated with rising growth expectations which doesn't exactly strike fear into stock investor's hearts. And that is what we saw last week as inflation expectations were unchanged as real rate rose exactly the same as nominal rates. Higher rates will affect which stocks perform well though and we started to see that last week. Higher rates and a steeper yield curve were positive for financials. Energy stocks also had a very good week. In general, I'd expect value stocks to perform better if rates keep rising while growth stocks take a breather.
The move in rates last week came with seemingly no trigger. There was no economic data or other event that should have changed growth expectations. Of course, there really wasn't any spur for the bond rally of the last 6 months either. But eventually the data caught up with the market and it probably will again. I say probably because markets are not always right, just most of the time. What I think we're going to see over the next few weeks is the market anticipating the end of the Delta surge and the resumption of the economic re-opening both here and in Europe. Whether it does or not or how long it might last or how far it might go I don't know. But that investors will try to front run the virus isn't exactly news. Of course people will try to get ahead of events. 
During the course of an  economic cycle, growth will ebb and flow. We've just come through a growth rate slowdown and bond yields now seem to be anticipating a growth rate upturn. I'm not convinced yet and there's a lot of potential potholes ahead – mostly political – so I'll continue to classify the environment as slowing growth/strong dollar but that may not last long. One thing I still don't see is any change in the dollar trend. It is a short term uptrend and I've acknowledge that but the long term trend is no trend at all. The dollar index is in the bottom half of the range it's been in for over 6 years and I don't know what would change that. The lack of a dollar trend makes our job a bit more difficult and shorter term but we play the hand we're dealt. 
---
The economic data last week was a little better and better than expected but not significantly so. Housing starts improved as have sales over the last quarter but still well below last year's peak. Existing home sales are still softening and we're starting to see some price cuts which is the only thing that is going to have a big impact on sales.
The monthly reading of the CFNAI fell back a bit but the 3 month average moved higher to 0.43, a reading that indicates the economy continues to grow above trend. We had a slowdown but it didn't amount to much.
This week's data includes durable goods, personal income and consumption, the Chicago PMI and the ISM manufacturing index. I think the two to keep an eye on are income and consumption. It will be interesting to see if either was impacted by the impending end of extended unemployment benefits.
Commodities had a good week which seems curious considering the potential growth impact of Evergrande. But as the title says, maybe it isn't so Grande. Maybe it is just pequeno. 
US and European stocks were up last week while the rest of the world was down. Is that because a China slowdown is good for the US and Europe and bad for Asia and Emerging markets more generally? Maybe but I think I'll wait for more evidence on that front before making any big pronouncements.
Value outperformed last week across all market caps.
As I said above financials and energy led last week. Of equal importance I think is that real estate and utilities – both rate sensitive – lagged the field. If rates keep rising, that seems likely to continue as well. 
The 10 year Treasury yield bottomed in March 2020 around 40 basis points. It rose and then fell back to about 50 basis points in August of last year. It rose too far, too fast (1.75%) and the last six months has been nothing but a correction of that trend. Now, it appears rates are resuming their rise. How far will they go? Assuming the Delta end/re-re-opening narrative takes hold and there are no surprises along the way – some very large assumptions – my inner trader says about 1.85% as a first target. But that's just an extrapolation so I wouldn't place any big bets on it. What most investors should know is that rates are in an uptrend because the economy continues to recover from COVID. We had a growth rate slowdown and so far that's all it was. And the market says it is ending. I'll take that over all the breathless Evergrande articles any day.
Joe Calhoun
dollar
inflation
commodities
commodity
markets
bubble
commodity demand
ax
copper
iron
steel
Biden Finally Admits Dems Don't Have The Votes To Raise Corporate Taxes For 'Build Back Better' Agenda
Biden Finally Admits Dems Don't Have The Votes To Raise Corporate Taxes For 'Build Back Better' Agenda
After weeks of negotiations at the…
Biden Finally Admits Dems Don't Have The Votes To Raise Corporate Taxes For 'Build Back Better' Agenda
After weeks of negotiations at the White House and on Capitol Hill, it appears the Democrats are hardly any closer to passing President Biden's "Build Back Better" agenda (which, remember, has been split into two bills, a "bipartisan" infrastructure bill and another to finance a massive expansion of the social safety net).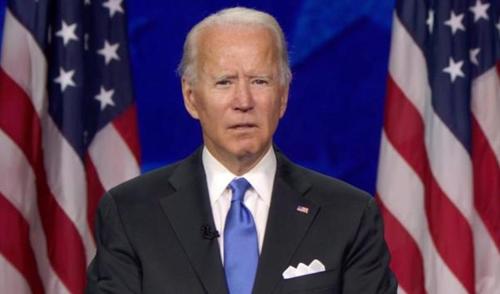 To make matters worse (for America, not the Democrats), the Washington Press Corp reported last night that Democratic moderate Kyrsten Sinema, who has helped to plunge Biden's agenda deeper into chaos, won't support tax increases on corporations, wealthy individuals or capitol gains.
Remember, President Biden and the Democratic leadership promised that their multi-trillion plan for what is effectively a state-managed redistribution of wealth in the economy is supposed to be paid for (for the most part, at least) with tax hikes. Republicans have unanimously opposed this.
We have long suspected that this "commitment" to offset increased spending with tax hikes would ultimately ring hollow, and the other day, Biden seemed to imply that they had abandoned plans to raise taxes on corporations and wealthy individuals. When asked about a corporate tax hike, Sen. Joe Manchin said this week that "they're going to pay their fair share'. Goldman's top political analyst shared his latest thoughts on how the plan might be funded – or not – in a note to clients yesterday.
But for the first time, President Biden faced the American public and effectively admitted as much, saying during a CNN town hall meeting in Baltimore that he doesn't think there are enough Democratic votes to raise tax rates as part of his deal – whether those tax hikes be on wealthy individuals, or corporations.
As Axios put it, Biden's comment that the Dems are effectively jettisoning their hopes to hike corporate taxes was "the most important headline" of the night.
Does that mean the Dems will simply give up, or try for a much more modest plan that might win some GOP support? Of course not: Biden said last night that he believes they'll reach a deal on the overall legislative package anyway – they'll just need to also commit to trillions of dollars in additional spending, debt and money printing.
"I don't think we're going to be able to get the vote," Biden said in response to a question about individual and corporate rates. "Look, when you're in the United States Senate and you're president of the United States and you have 50 Democrats, everyone is the president."
Many have scoffed that Sen. Joe Manchin, due to his status as a key swing vote, is effectively as powerful as the president. Now, Biden is admitting it in a joke. And you know what they say about jokes.
A White House official later told Bloomberg that Biden was only referring to corporate tax-rate increases, not potential hikes on the wealthy, or financial transactions, or whatever else.
At this point, there have been reports that Sen. Sinema has committed to a broad tax hike outline, but what exactly these tax hikes look like is unclear. As BBG put it, "the specifics of what she would support weren't immediately clear."
Despite progressives' attempts to push back, the headline number for the Dems' social safety net expansion bill has reportedly shrunk to $2 trillion, from $3.5 trillion.
Biden also acknowledged that two provisions of his agenda have been vastly curtailed or eliminated: one is an initiative to provide paid family leave, which would be slashed to just four weeks from 12, and a proposal to make community college free. Biden said he would push for increasing Pell grants for lower-income college students instead.
Thanks to the trillions in post-COVID spending, inflation in the US is already accelerating at its fastest rate in decades, and it's not just the US: prices are rising around the world.
But what's the danger of the Dems' passing another massive spending package without enough tax hikes to offset it? Well, as Paul Tudor Jones said the other day, inflation is already "the single biggest threat to our society".
In all likelihood, the Dems already understand this: but if they don't pass some kind of spending package, what will they have to campaign on ahead of next November's midterms?
Tyler Durden
Fri, 10/22/2021 – 10:20

inflation
money printing
Truth, Social Justice, And The American Way
Truth, Social Justice, And The American Way
By Michael Every of Rabobank
Former President Trump is launching a new social media platform…
Truth, Social Justice, And The American Way
By Michael Every of Rabobank
Former President Trump is launching a new social media platform called TRUTH. Ironically, this DC-rattling news came days after DC Comics changed Superman's motto from "Truth, justice, and the American way" to "Truth, justice, and a better tomorrow." Perhaps "truth" will need to be dropped to prevent free advertising. Or Facebook's metaverse rebrand will be to "Tomorrow".
Superman, first published in 1938, was created by two Jewish-Americans, hence his name, Kal-El, at a time when the world was wracked with anti-Semitism: Kristallnacht came seven months later. He represented the US immigrant experience – arriving from a shattered planet, thriving, and using his strength to fight for the "American way". To kids in the UK, that part of the slogan never made sense to us: did Superman care about capitalism? Today he does: the financial logic of appealing to a foreign audience is the perfect symbol of the pro/anti-globalisation thread in US politics, as well as broader changes in the country's view of itself.
One can argue the last thing needed in a deeply polarized America arguing over social justice, and not sure about its way, is another social media platform – for Trump. Those thinking that way can be reassured that perhaps it will fizzle out, or the 400% surge in the shares of the SPAC controlling TRUTH is a grubby money grab with no viable tech. However, Facebook is accused of manipulating news feeds; Twitter openly suppresses news and bans people – just a year ago, it blocked the Hunter Biden's laptop story, as did most of the mainstream media; YouTube gets to decide what scientists get to say about science; and Instagram just removed a post stating scientific fact. Are we really in 'safe hands' at present? Is truth capable of emerging?
There is a larger point here for markets beyond swings in tech shares. They only have a genuine social function if they allow price discovery. When *everyone* can play, the balance of buyers and sellers will eventually settle on what the agreed price of a resource, product, or service should be. Is this system perfect? No! Large players bully smaller ones – and almost all US shares are now owned by the rich. We also see market failures: water is cheap despite the fact that we will all die without it; the price of carbon is a key issue – as China digs all the coal it possibly can ahead of COP26; and not even America would be stupid enough to fight a war using 'market forces'. Even so, well-regulated markets are the best mechanism we have for settling things. Name one better.
It's also a positive if those regulators are neutral, which is why it's nice to see the Fed finally banning its senior staff from personal stock and bond trading. Will this cut down on the quality of potential future candidates? Not if $250,000 after-dinner speech fees are still available. Senator Warren is still opposing Fed Chair Powell's renomination: does this trading ban give him cover?
But do we have true price discovery in markets when, if you follow the white rabbit, central banks tell us what bond yields are, and throw in countless billions of liquidity every month, which then benchmarks other asset prices higher, while governments corral markets more aggressively?
One asks, as US stocks hit fresh record highs despite inflation soaring and labor striking; the RBA steps in to protect its yield curve target, hitting bond bears; Chinese tech shares rally sharply as the state that said it would not allow powerful private tech monopolies is now seen as not meaning it; and as Evergrande somehow made an $83.5m bond coupon payment today, despite having no money and no property sales, showing the central bank wants to keep it afloat – for now.
"What's that worth?"

"Very, very little."

"Central banks are buying it, and maybe the government wants us to buy it."

"Oh, I will too then. We are good at market analysis, aren't we?"
Perhaps that's partly why ideas are censored so lightly today as the 'American way', despite the First Amendment – because it's consistent with the market backdrop. You don't need to worry about what's true and what isn't, or what's value or isn't. Just press the button and get the treat. Or don't, and get the electric shock.
In short, for those recoiling at the idea of TRUTH –whose name is indeed ridiculous— take succor from the knowledge that, like markets, the marketplace of ideas does not have any viable long-run replacements. As Czech dissident, then President, Havel advised in 'The Power of the Powerless': "Keep the company of those who seek the truth – run from those who found it."
On which note, allow me to move to the awkward truths of geopolitics to conclude. The Financial Times today discusses 'What China's hypersonic test launch reveals about the global arms race', underlining it has spooked the Pentagon…into announcing it just tested hypersonic missiles too. Despite the fact it did so back in 2011, and the tech has been around for decades. If China is developing more nuclear capability, it isn't doing so for a nuclear war. It's not mad. It's to ensure in a conventional war, the US could not escalate to a nuclear threat unilaterally.
So, MAD (mutually assured destruction). Yet that could mean *conventional* military power would matter most. Who does the regional strength/production dynamic favor, and as time passes? The fat tail risks should be clear, but markets won't see them. The upside ones are the prospect of more US defense spending – which is really 'the American way'.
Even Senator Manchin, who is fine with a genuine zero dollars Biden stimulus bill, and Senator Sinema, who won't raise taxes, may agree to that.
Happy Friday.     
Tyler Durden
Fri, 10/22/2021 – 10:39

inflation
markets
fed
central bank
You Think Inflation Fears Are Overhyped? Think Again
You Think Inflation Fears Are Overhyped? Think Again
By Bloomberg markets live commentator and former Lehman trader Mark Cudmore
U.K. breakeven…
You Think Inflation Fears Are Overhyped? Think Again
By Bloomberg markets live commentator and former Lehman trader Mark Cudmore
U.K. breakeven rates at the highest levels this century aren't yet high enough…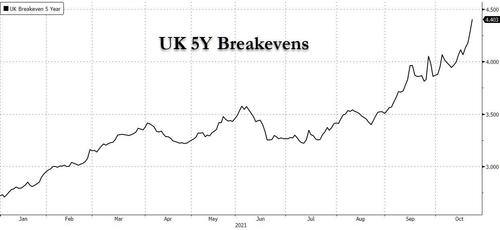 We're entering the eye of the earnings season and the message from corporates is already coming through loud and clear: prices will climb a chunk further over the coming months, even as output is impaired. Every day brings fresh news of supply-chain disruption and rising costs.
U.K. 5-yr inflation expectations (as measured by breakevens) have climbed an incredible 160bps so far this year, to reach the highest levels on records going back more than 25 years. If you thought you experienced an inflationary environment pre-GFC, you ain't seen nothing yet. The U.K. hasn't seen something like this since the early 90s when the BOE rate was at 15%.
This doesn't mean that we're locked into an inflationary death spiral — but it does mean that there most people active in markets today have little professional experience of trading in this environment. The corollary is that no one should have high conviction in the inflation-is-transitory mantra; if they do, be suspicious.
One final point: greenhouses are being switched off due to the exorbitant energy and fertilizer costs – the supply of fresh fruit and veg may be a real problem this Christmas.
[ZH: It's not just the Brits, medium-to-long-term market-implied inflation expectations are at or near record highs globally…]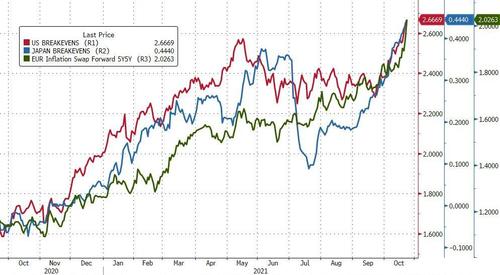 Anything but transitory.
Tyler Durden
Fri, 10/22/2021 – 10:00

inflation
markets
inflationary