Weekly Market Pulse: This Again??!!
Here we go again. Or maybe, more accurately here we go still. COVID has reared its ugly head again, this time in the form of a new variant called Omicron….
Here we go again. Or maybe, more accurately here we go still. COVID has reared its ugly head again, this time in the form of a new variant called Omicron. The name surprised some folks because the next letter in the Greek alphabet was Nu but the WHO thought that sounded too much like "new" so they skipped that one as Greek speakers are generally confined to Greece these days. And the next letter was "Xi" which the WHO said was a common last name and that their policy required "avoiding causing offense to any cultural, social, national, regional, professional, or ethnic groups." Well, goodness no, wouldn't want to offend anyone, certainly not the most famous man with the last name of Xi. What I'm trying to figure out is if I actually slept through epsilon, zeta, eta, iota, kappa, lambda and mu or if WHO thought those might offend someone too, like maybe some fraternity or sorority. They sure didn't seem to mind offending Animal House fans by naming the last one Delta. Maybe they were worried about offending nerds (Lamda, Lamda, Lamda). Ah, WHO cares?
About the only thing we know for sure is that last Friday's selloff didn't have anything to do with the name because that happened while the WHO was deep into research on the Greek alphabet and who it might offend. We were having a nice pleasant Thanksgiving week, eating turkey and ham and yams, watching football – if that's what you call what the Lions play – and just generally enjoying a couple of days away from the market when WHAM! Here comes Mu or Nu or Xi or Omega or whatever and the market tanks like it hasn't done since all the way back in February. Worst week since, um, well, last month. The S&P 500 was down 2.2% last week which, in normal times, would be barely worth a mention. But in today's speculative market, that qualifies as a correction and Twitter is all atwitter this evening about the rebound everyone expects tomorrow.
We don't know anything about this new variant yet and so there is no way to judge the impact. Yes, some countries are closing borders but they can be opened just as quickly. I have said since the onset of this pandemic that we better learn how to live with this thing because it isn't going away. And unless Omicron turns out to be an extremely deadly version of COVID, my guess is that people are just going to go on with their lives; COVID exhaustion has set in. So, whatever the state of the economy was prior to the arrival of the big O, that's what it is now too no matter the WHO's permanent state of panic.
The global economy is still recovering from the COVID shock – the shutdowns and the response. The first two quarters of this year were a big rebound as the vaccines were rolled out. Last quarter was a bummer with the emergence of the delta variant (or at least that was the accepted wisdom). And this quarter so far is looking like a pretty good rebound from that slowdown. The Chicago Fed National Activity index rebounded in October to 0.76, a big improvement from -0.18 in September. The 3 month average is now 0.21, showing growth as just a bit above trend. Until the new variant news hit Friday, markets were starting to confirm the improvement in the economy. Both nominal and real rates were up on the week – for a change – and the economic data was almost uniformly positive. But rates were down hard on Friday and finished the week in the red. We'll see if that lasts this week.
When it comes to economic and market data I try not to react too much to any one report. I learned a long time ago that the first pass on economic data is really just a guess and revisions can change your entire view of the economy. And this week we got reason number bajillion why that is true. Last month we got a report on goods trade that showed a large drop in exports. A lot of pixels were expended in explaining why that was a big warning sign about the global economy. But the drop was confined to one category of goods called "industrial supplies" and I warned that we didn't know what caused it. Well, since then we discovered that the biggest drop was in "non-monetary gold" which means essentially nothing to the global economy. I don't know why it dropped that month but it rebounded this month and the entire drop has now been wiped away. There were some other weak items in that category as well – crude oil and petroleum products – but none of it was that surprising or important to the global economy. The point is that one shouldn't make any rash judgments about the markets or the economy based on one report.
And the same applies to the latest virus news, whatever it might be. The emergence of the Omicron variant could be negative – or not. It may evade the vaccines – or not. It may be deadly – or have mild symptoms with low hospitalization and death rates. We just don't know. I do believe, based on my own reading about coronaviruses, that COVID-19 will eventually mutate into something our immune systems can handle. It could become like the flu or even better like the common cold (which is actually a bunch of viruses). That is, after all, what coronaviruses do (not all viruses obviously). They evolve and mutate to a form that allows it and its host to survive. How long that takes is anyone's guess but if history is a guide it doesn't happen quickly. You could be talking years before we reach that point. In the meantime, we need to do the best we can and live with it. Because it isn't going away. Still.
---
As I said above, the economic data released last week was almost uniformly positive. New and existing home sales rebounded although both are still down year over year. Durable goods were lower for the second straight month but ex-transportation orders were up a solid 0.5%, the eight consecutive monthly gain. Core capital goods were also higher again, up 0.6% for the sixth consecutive gain.
Personal income and consumption were both up in October as wages and salaries continue to move up. Incomes fell off some after the end of the extended unemployment benefits but that is rapidly fading in the rear view mirror. Consumption remains well above the pre-COVID trend and shows little sign of abating. And by the way, that is true of real, inflation adjusted consumption too. Incomes are still struggling a bit after inflation and taxes are taken into account; real disposable income was down 0.3% last month and 0.9% year over year.
Despite that we continue to classify the current environment as one of falling growth. That is primarily due to real rates which are still near their lows of this cycle at -1.07% for the 10 year TIPS. The nominal 10 year at 1.48% is still quite a bit below the peak last spring of about 1.75%. Lastly, the yield curve continues to flatten although it is still a long way from flat or inverted. The dollar is also still in an uptrend, hitting its highest level since June 2020 last week before pulling back on Friday. While we might see some near term weakness the short term trend is obviously up.
We get more housing data this week in the form of pending home sales which will give us a better idea of how the market is right now.
Jobless claims should be interesting this week. Last week's report dropped under 200k. The last time initial weekly claims were that low the summer of love was just ending (September 1969 for all you youngsters out there). It seems like a possible seasonal adjustment mistake but maybe not. The trend should put this week's number up around 250k.
We get payrolls this week and that is often a market moving event. It is backward looking and subject to huge revisions but for some reason people still pay attention so we will too, at least for this week.
Finally, we get the ISM reports this week.
Stocks were down across the board last week while bonds were mostly higher (in the chart below is shows the 3-7 Year Treasury index as down for the week but that is wrong for some reason; the ETF for the index was up on the week.) Corporate bonds, high grade and junk, were down last week as spreads have widened every so slightly. Junk spreads are still very tight historically so just something to keep an eye on at this point.
Commodities also took a beating last week as crude oil dropped below $70. Blame it on omicron I guess but it was due for a pullback in any case. The commodity line below is the GSCI index which we sold months ago. Our preferred index right now is the BCOM which was down about half as much as the GSCI last week. In any case, commodities are still the best performing asset of the ones we track and own in our portfolios.
In a strong dollar year it isn't surprising to see foreign markets lagging. Global ex-US stocks are up just about 5% this year while EM, Asia ex-Japan and China are all down YTD. Japan is clinging to a small gain. It is hard to fathom the gap in performance between US and international markets over the last decade. Just truly stunning and the reversal, when it comes, will likely be just as spectacular. But we aren't there yet.
Value outperformed last week but it wasn't anything to write home about.
With everyone expecting the market to rebound tomorrow I wouldn't be surprised at all to see us take another leg down. A lot of Friday may have been nothing more than a convenient excuse to take profits in a wildly overvalued market. A 2% down day hasn't changed that. About the only thing that would is a certified bear market but with the economy at least okay for now, that doesn't seem likely. So, what do we do to our portfolios? Nothing is the usually the best answer to that and this is no exception. Our portfolios continue to be defensive with a larger than normal allocation to cash. That's what the current environment of falling growth and rising dollar calls for. Maybe omicron will be the catalyst for the long overdue correction of at least 10%. With margin debt as high as it is, it probably wouldn't take much more to really accelerate the selling, forced or otherwise. And 10% is nothing, a normal market fluctuation that comes, on average, about every 19 months. This is the 20th month since the bottom of the COVID bear. Just sayin'.
Joe Calhoun
dollar
gold
inflation
commodities
commodity
monetary
markets
policy
fed
Say Goodbye To The Beta Trade, This Year May Be All About Alpha
Say Goodbye To The Beta Trade, This Year May Be All About Alpha
By Ven Ram, Bloomberg Markets Live analyst and commentator
In the past few…
Say Goodbye To The Beta Trade, This Year May Be All About Alpha
By Ven Ram, Bloomberg Markets Live analyst and commentator
In the past few years, you could have closed your eyes and gone long beta.
Preferably even higher beta if you felt a bit more adventurous. And the markets would have rewarded you with returns far, far higher than even your rose-tinted marketing material could have possibly projected.
Fast forward three weeks into the new year, and those portfolios and closet-index trades have taken it on their knuckles.
Given Monday's stock rebound, the mood may have turned again for now, though traders may prefer to revive their best bets — short or long — after the Fed has spoken on Wednesday. However, whatever the color of their trade, it's clear that the coming months and years will belong to those who have done their homework, back that up with conviction, have the guts to drown the incessant noise thereafter and hold their poise.
If you rewound life back to say, 2019 — or any other year before the pandemic for that matter — you had little by way of (officially recorded) inflation, no tensions surrounding Russia and Ukraine and certainly no uncertainty to the broader macroeconomy stemming from possible variants. Now, each one of those has to be accounted for: will inflation in the U.S., already running at 7%, head even higher as crude prices threaten to push toward $100 a barrel, or will the numbers go mellow from the second half? Will geopolitical tensions spill over into a full-fledged confrontation, cause even more supply bottlenecks and send commodity prices a-soaring as colleague Jake Lloyd-Smith notes?
You could possibly solve for all those variables and arrive at a Grand Theory of where the Fed will be a couple of years down the line and what that means for asset prices — though you would run the very real risk of supplanting simplicity with complexity and false precision.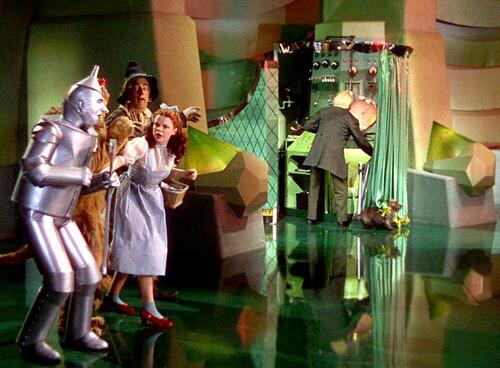 As Benjamin Graham counseled Warren Buffett, "You are neither right nor wrong because the crowd disagrees with you. You are right because your data and reasoning are right."
And if your conviction is high that your reasoning is right, sit tight and let your alpha do the work for you — chances are, you will stand out from the crowd and come out smiling.
Tyler Durden
Wed, 01/26/2022 – 06:30
inflation
commodity
markets
fed
Costco Stock Is a Great Buy Here on This Pullback
Down 15% year-to-date, now is a great time for investors to load-up on grocery retailer Costco (NASDAQ:COST) stock.
Source: ARTYOORAN / Shutterstock.com
The…
Down 15% year-to-date, now is a great time for investors to load-up on grocery retailer Costco (NASDAQ:COST) stock.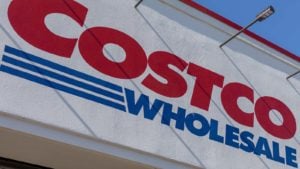 Source: ARTYOORAN / Shutterstock.com
The leading warehouse club's stock has gotten pulled down with the broader market and is currently trading at around $477, which is just off its 52-week high of $571.49.
Despite the current pullback, Costco's share price is still up 32% over the past 12 months.
Rather than fear the decline, investors should see it as an opportunity to load up on a great stock that has delivered a 195% return to investors over the last five years.
A Closer Look at COST Stock
Costco was performing well before anyone had heard of Covid-19, but the Seattle-based company has thrived during the global pandemic as people continued to turn to its membership-only stores to stock up on food and other essentials.
Costco now boasts 62.5 million membership households globally and more than 90% of those households renew their membership each year.
The company's revenue grew at a compound annual growth rate (CAGR) of 8.2% over the last decade, rising from $99 billion in 2012 to $195 billion in 2021. By just about every metric, Costco has been a success as a retailer and COST stock a success as an investment.
The company has used the pandemic to enhance its online offerings and expand the services it provides to its members.
This includes providing at-home delivery in some markets, allowing people to schedule returns and in-store pick-ups, and expanding the items available online.
The result has been stellar growth in Costco's e-commerce sales. Costco, which provides monthly updates, said its e-commerce sales grew a solid 17.8% in December following growth of 12.2% in November.
The company has made clear that e-commerce will continue to be a key focus moving forward.
Costco also continues to expand its brick-and-mortar retail outlets. During 2021, the company opened 25 new physical locations, bringing its total number of stores worldwide to 828.
The retailer continues to push into new markets internationally, including France and China. Costco has even opened a store in Iceland.
The company plans to add an additional 27 new store locations this year.
Pricing Power
Inflation, which is currently at a 40 year high in the U.S., is putting pressure on retailers right now and Costco is no exception. Inflationary pressures and ongoing supply constraints have forced Costco to raise prices on some of its in-store items.
Fortunately, the rise in consumer prices has actually pushed many consumers to spend more at the warehouse club because people find they get more food for less money than at other grocers.
This helps to account for the fact that Costco's December revenue grew 16% while its comparable sales climbed 14.5%, trends that have continued for the last 10 years.
Costco's pricing power and ability to raise prices while still coming in lower than its competitors should help it weather the current inflationary environment.
The company increasing prices in the past has not led consumers to abandon Costco or its stores as evidenced by its greater than 90% membership renewal rate.
Charlie Munger, the long-term business partner of Warren Buffett, who has helped turn Berkshire Hathaway (NYSE:BRK.B) into a great success, recently highlighted Costco's pricing power and growing e-commerce business.
He recommended the stock, saying he thinks Costco will one-day rival e-commerce giant Amazon (NASDAQ:AMZN).
Buy COST Stock
Costco is a great stock to buy and hold long-term. The current pullback in the share price presents a fantastic opportunity for investors to purchase shares on the cheap.
It's worth noting that, in addition, to its share price appreciation, Costco stock also pays a dividend yield of 0.66%, equal to about $0.79 a share per quarter.
However, Costco is known to make special dividend payments. At the end of 2020, the company rewarded shareholders with a one-time special dividend payout of $10 per share, and that was during the depths of the pandemic. For its steady growth and returns to shareholders, COST stock is a buy. Get while it's on sale!
Disclosure: On the date of publication, Joel Baglole did not have (either directly or indirectly) any positions in the securities mentioned in this article. The opinions expressed in this article are those of the writer, subject to the InvestorPlace.com Publishing Guidelines.
Joel Baglole has been a business journalist for 20 years. He spent five years as a staff reporter at The Wall Street Journal, and has also written for The Washington Post and Toronto Star newspapers, as well as financial websites such as The Motley Fool and Investopedia.
More From InvestorPlace
The post Costco Stock Is a Great Buy Here on This Pullback appeared first on InvestorPlace.
7 Cryptos That Aren't Worth the Hype No Matter What You Hear
Crypto is divisive, we can all agree on that I think. There are those who believe in crypto and those who don't. There seems to be a steady stream of…
Crypto is divisive, we can all agree on that I think. There are those who believe in crypto and those who don't. There seems to be a steady stream of new cryptos being hyped as well.
That hype tends to follow a very polarized path as well. Early believers stay on board, while those early to dismiss rarely change their minds. That's one aspect of crypto hype. 
But I'd also like to add that crypto remains in a funk overall. Bitcoin (CCC:BTC-USD) continues its downward march that began back in early November. The gravity it exerts across the crypto universe continues to act in predictable ways. 
As crypto wavers, hype naturally should too. That's what we're witnessing right now according to the Crypto Fear & Greed Index. That index sits at 11, on a 0-100 scale. 
Even the most legitimate crypto projects will have a tough time in this environment. The weaker, more overhyped projects will look especially weak now. That's where we'll focus. They are the cryptos to avoid that aren't worth the hype. 
Cryptos to Avoid: Dogecoin (DOGE)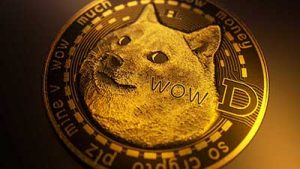 Source: Orpheus FX / Shutterstock.com
The crypto ecosystem has a long way to go before people begin to take it seriously on a wide scale. Here's why: Dogecoin presently carries the 8th largest market capitalization of all crypto projects.
If you're like me and believe it's overhyped, that's really saying something. Most everyone knows by now that Dogecoin was started as a joke. It was created as a means of poking fun at the entire crypto movement.
That joke now commands the 8th largest market capitalization within crypto. That doesn't bode well for crypto overall, now does it?
There's really no way to justify that being the case. Well, there are explanations, but they seem flimsy at best. 
That article that I linked to is from May, but the explanation it gave then remains true. There is a community of supporters collectively willing this thing to succeed despite a near-total lack of utility.
Shiba Inu (SHIB)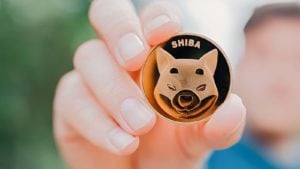 Source: Maria Shipakina / Shutterstock.com
Shiba Inu is another very popular and overhyped dog-inspired crypto.
Despite the fact that I am not big on Shiba Inu at all, I'll start by giving it kudos for one thing I particularly like about it. It was leveraged for a social good in these strange pandemic times. 
The creator of Shiba Inu, Ryoshi, gave 50% of the initial supply of SHIB to Ethereum (CCC:ETH-USD) founder Vitalik Buterin. Buterin donated more than 50 trillion SHIB to the India COVD-Crypto Relief Fund. 
So, despite the fact that you can't use Shiba Inu many places, it does have value in that its monetary exchangeability helped pandemic efforts in India.
Buterin's decision actually prompted a sharp drop in SHIB prices of 35%. It's hard to know what to make of that, honestly. 
Anyway, Shiba Inu was created as a joke on Dogecoin, which was itself created as a joke. Like so many other cryptocurrencies it is essentially a trading tool.
You can buy and sell Shiba Inu and make a tidy profit from its rapid fluctuations. Fans of SHIB are eager to repeat those tales, but it is what it is. There are many losers and given that SHIB is continuing to slide, consider yourself warned. 
Cryptos to Avoid: Ryoshi Token (RYOSHI)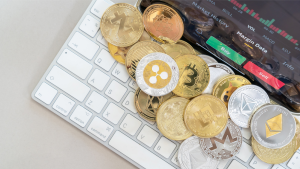 Source: Chinnapong/Shutterstock.com
Where to start with Ryoshi Token? Honestly, there's so much that's so ridiculous about it.
Meme coins are underpinned by absurd, half-baked stories which are devoid of any logic. Here's the one behind Ryoshi Token:
"See, Ryoshi is Shiba's older, wiser father. He's proud of everything his son has accomplished but is pretty bummed about the fact that so many people missed their chance to get on the moon rocket."
Remember, Ryoshi is the creator of Shiba Inu. Somehow by naming this project after him and stating that this is more experienced (it isn't, but that jocular tone is common among some people boosting cryptos) people should buy-in.
But here's the kicker: Didn't make a bunch of money on Shiba Inu's wild, illogical fluctuations? Well, you can make up for it by purchasing Ryoshi Token because RYOSHI implicitly offers you a ticket on its "moon rocket."
That's hype, nothing more, nothing less. 
Ryoshi Token differentiates itself from Dogecoin in terms of its tokenomics. RYOSHI is deflationary, meaning that as more transactions occur on its network, an increasing proportion of its supply is burned.
That's something, but not much because the entire project is simply too silly. 
SIMP Token (SIMP)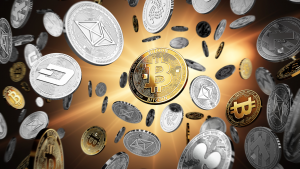 Source: Wit Olszewski / Shutterstock.com
Buy SIMP in order to be a Simp. That's a niche term to be sure, so it warrants explanation.
Most often it relates to males being overly submissive to females in an effort to curry favor but gaining nothing. 
SIMP was created for adult content creators by adult content creators. The problem it seeks to solve is that the company claims banks and traditional finance channels have outsized power over the adult content industry.
SIMP supposedly solves that. How? No one knows. It's basically an assertion that SIMP has your back if you work in that industry. 
SIMP Token looks like more of the same vague promises we've come to expect from these kinds of projects.
The company is attempting to market the idea that a rug pull-type situation won't happen. It states on the website that liquidity is locked in for two years for the presale and launch. 
The company wants to become the primary current on two adult sites, pocketstars.com and rocketstars.io. But it's far too early and vague to take anything from the project. 
Cryptos to Avoid: ShibaDoge (SHIBDOGE)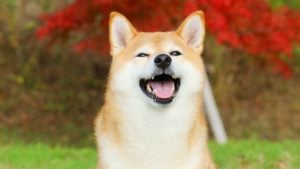 Source: Shutterstock
If you follow the narrative undergirding ShibaDoge you will realize that we have a serious problem.
Central banks are government-controlled monopolies with outsized influence over money supplies. 
Fortunately, there is a way to give the power back to the people. It's all contingent upon the community banding together in a concerted manner.
However, there's a problem with that as well. According to ShibaDoge, the diametric opposition between the Shiba Inu community and the Dogecoin community is the only thing preventing that goal from being achieved.
Per ShibaDoge's website, "The only way that can happen is if the community comes together for the greater good of all mankind."
Merge those two communities and suddenly the grand promise of defi will materialize. 
So, go buy some of the 10,000 hand-drawn NFTs that cost 0.15 ETH each. Those hand-drawn NFTs feature uniquely dressed dog generals representing inspirational nations including "bullish tokenomics" and "generational wealth."
Sounds a bit too crazy to me but perhaps I'm just not in the know.
Cryptos to Avoid: Crazy Rich Coin (CRC)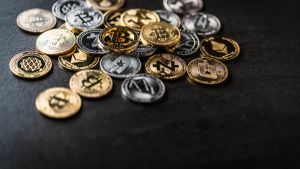 Source: WHYFRAME/ShutterStock.com
Normally, I'd dismiss a project like Crazy Rich Coin based on its market cap of $2.8 million.
A market cap like that isn't usually going to drive my hype, but given that CRC jumped by 200% recently it merits discussion. Remember, I think it's overhyped and dangerous. 
The token is aspirational and purports to empower millennials and Gen Z to own real estate and control their own assets. Crazy Rich Coin draws its naming conventions from the movie "Crazy Rich Asians." 
The details are vague on the website, but what I can gather is that real estate NFTs are important to the project.
The project features fractionalized ownership of real estate NFTs targeted at younger buyers who can't keep up with rising real estate prices. So, rather than buying physical real estate, they can purchase fractions of digital real estate. 
I could be missing something here, but I don't see how this solves anything. Otherwise, the whitepaper is jargon-rich with vague ideas prominent in the crypto space these days.
Token burning and things of that nature crop up, but there's very little substance here. Buy real estate NFTs in essence. How that results in real returns remains totally unclear. 
Cryptos to Avoid: Bitgert (BRISE)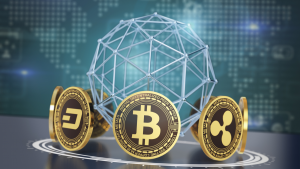 Source: lucadp/ShutterStock.com
Bitgert is a crypto project that attempts to leverage tokenomics and stock market signals to entice buyers to purchase BRISE. 
Let's look at the tokenomics first. BRISE depends on a 12% transaction fee which includes 5% buyback tax, 3% marketing tax and a 4% distribution tax.
Actually, they spelled it distribiution. Call me a stickler for details but grammar and spelling errors are hallmarks of previous rug pulls including Squid Coin.
I don't know what's going on behind Bitgert and I'm not calling it a rug pull, but I always become suspicious when funds are directed into a centralized repository in these projects. In any case, that's one important aspect of it. 
The other is buybacks. The details are confusing here. The whitepaper is simply attempting to equate stock market buybacks to its policies.
It seems like hype to me and given that BRISE trades at minuscule fractions of a penny it's more a trader's tool than anything else.
InvestorPlace does not regularly publish commentary about cryptocurrencies that have a market capitalization less than $100 million or trade with volume less than $100,000 each day. That's because these "penny cryptos" are frequently the playground for scam artists and market manipulators. When we do publish commentary on a low-volume crypto that may be affected by our commentary, we ask that InvestorPlace.com's writers disclose this fact and warn readers of the risks.
 Read More: How to Avoid Popular Cryptocurrency Scams
On the date of publication, Alex Sirois did not have (either directly or indirectly) any positions in the securities mentioned in this article. The opinions expressed in this article are those of the writer, subject to the InvestorPlace.com Publishing Guidelines.
Alex Sirois is a freelance contributor to InvestorPlace whose personal stock investing style is focused on long-term, buy-and-hold, wealth-building stock picks. Having worked in several industries from e-commerce to translation to education and utilizing his MBA from George Washington University, he brings a diverse set of skills through which he filters his writing.
More From InvestorPlace
The post 7 Cryptos That Aren't Worth the Hype No Matter What You Hear appeared first on InvestorPlace.