Who Is Quitting and Why?
Quits: Total NonFarm Payrolls Quits: Professional & Business Services     "The number of U.S. workers quitting their jobs in September was the…
Quits: Professional & Business Services


"The number of U.S. workers quitting their jobs in September was the highest on record." –New York Times

"The Great Resignation 2021: People quitting jobs in droves" –NPR
Catchy phrases in headlines make for great clickbait, but they are often lacking nuance or context. Case in point, "The Great Resignation."
We have been discussing wages and employment forever around here. There is a massive transformation going on in the Labor markets, but it is easy to lose sight of what is occurring beneath the surface. Let's see if we can clarify this.
Start with the two charts above: The first shows the total Quits Rate for all NonFarm payroll workers since the Great Financial Crisis (GFC) ended in 2009, the clear trend is a quits rate that has steadily marched higher for all workers and accelerated this year. I want to take this data apart a bit and analyze who is leaving their jobs and why.
Consider the second chart Quits: Professional & Business Services. These are various white-collar workers who managed to do pretty okay during the pandemic. While the overall trend has had an upward bias since the end of the GFC, for the professional class it's been mostly sideways the past few years. That's instructive because it's telling us that the great resignation is primarily taking place at the lower half of the employment wage scale, entry-level jobs, or those tiers just above them.
We discussed their advantages recently in Embedded Technology:
"Circumstances allowed easy access to the full suite of work tools for professionals to easily work from home. This includes creatives, finance professionals, legal, accounting, media, etc. Those groups all have an enormous amount of flexibility to where and how they do their jobs.

Is it surprising that hospitality, food service, health care, retail workers are fleeing those fields to enter the white collar workforce? It's more than just money: It represents autonomy and a measure of control to feel less like a serf and more like a self-determined professional."
If this trend continues, it would be a significant break from the power dynamics of the 3 decades prior to the GFC. This has deep ramifications for the economy.
Companies whose business model is reliant on cheap labor are running into problems. If your company pays minimum wage or just over, expect to have a hard time finding workers. Even worse, if your employees are also on SNAP and/or Aid to Families with Dependent Children, then expect high turnover, low morale, and a decreasing pool of applicants to select from.
Part of the current problem traces its source back to the failure of the Federal Government to raise the minimum wage appreciably. The minimum wage has not kept up with inflation or productivity or corporate profits for decades; aggressive lobbying by minimum wage companies is why. Hence, these same firms now find themselves short-staffed, chasing the wealthy better-run companies like Amazon, BJ's, and Starbucks for workers.
Instead of gradually raising the minimum wage over time nationally, first to $10, then $12, and putting it on a path towards $15, we have seen the pressure build for years . . . then during the pandemic lockdown, we experienced an 18 month period when low-wage workers reconsidered their careers. The dam broke, the results being both a sudden spike in wages and a shortage of workers.
In other words, you can blame the current labor mess in part of the firms that are suffering the most — they contributed to these circumstances. I expect this will lead to a reckoning among many less efficient, poorly managed companies, those with bad business models, overly reliant on cheap labor. These businesses will disappear, and some will blame the pandemic or mask mandates or "wokeness" or some other excuse, but the simple facts are these were not robust profitable firms. The survivors, on the other hand, have to be.
The workforce has learned the iron laws of supply and demand. It would behoove business owners to learn the same lessons.
Previously:
Shifting Balance of Power? (April 16, 2021)
Elvis (Your Waiter) Has Left the Building (July 9, 2021)
Finding it Hard to Hire? Try Raising Your Wages (May 6, 2021)
Quitters Get Raises (November 5, 2021)
How McDonald's and Wal-Mart Became Welfare Queens (Nov 13, 2013)
The post Who Is Quitting and Why? appeared first on The Big Picture.
"Team Transitory" Is Dead After Powell Says "Time To Retire Word Transitory Regarding Inflation"
"Team Transitory" Is Dead After Powell Says "Time To Retire Word Transitory Regarding Inflation"
Remember when clueless macrotourists  and…
"Team Transitory" Is Dead After Powell Says "Time To Retire Word Transitory Regarding Inflation"
Remember when clueless macrotourists  and worthless econo-hacks who have zero understanding of actual economic dynamics spent miles of digital ink convincing their tiny echochambers that they were right and that inflation was transitory (or rather, desperately scrambled to mask their utter lack of grasp of even the simplest concepts):
Team transitory won btw. pic.twitter.com/7CEwdC11h7

— George Pearkes (@pearkes) October 13, 2021
Three month core inflation. Why isn't everyone calling this a win for team transitory? pic.twitter.com/KB9EawJLo1

— Paul Krugman (@paulkrugman) October 13, 2021
Not out of the supply chain woods but score one for team transitory–used car hyperinflation is behind us@SmokeonCars pic.twitter.com/YLkRkC4MVJ

— Dr. Julia Coronado (@jc_econ) August 11, 2021
Well, one month ago we made it quite clear where in the financial pecking order these so-called 'experts' fall…
"team transitory" is officially the new Gartman pic.twitter.com/BKBqUrPLJZ

— zerohedge (@zerohedge) November 12, 2021
… and then moments ago none other than Jerome Powell put to rest any further debate on the topic of transitory vs permanent inflation:
*POWELL: TIME TO RETIRE THE WORD TRANSITORY REGARDING INFLATION
*POWELL: THREAT OF PERSISTENTLY HIGHER INFLATION HAS GROWN
Powell's cremation of "team transitory" took place after the Fed chair was asked how long inflation has to run above-target before he decides it's not so transitory, with Senator Pat Toomey mocking the term "transitory", saying: "Everything is transitory. Life is transitory" to which he could have also added that "on a long enough timeline the survival rate for everything drops to zero."
In response, Powell said it's probably a good time to "retire that word", a clean and clear admission from Powell that inflation is no longer transitory.
Does the Fed have the power to take out words from the Oxford English Dictionary? #RetireTransitory ????$USD

— Viraj Patel (@VPatelFX) November 30, 2021
And while it is certainly good news that we can finally stop polluting the airwaves with idiotic discussions whether inflation is transitory or not, it hardly helps Americans because as the latest BofA transitory vs permanent inflation reading shows, both are at all time highs.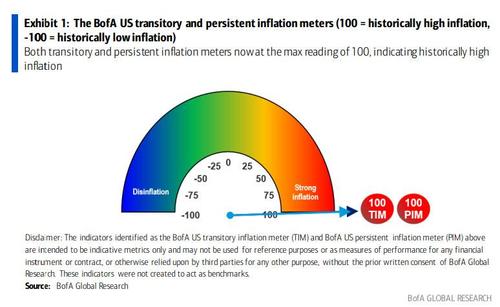 The market was not happy either because just moments later, Powell also said the one thing that traders dread, namely that the taper could wrap up a few months earlier:
*POWELL: CAN CONSIDER WRAPPING UP TAPER A FEW MONTHS SOONER
Tyler Durden
Tue, 11/30/2021 – 11:12
inflation
fed
Stocks, Bonds, & Cryptos Crushed As Powell Threatens Accelerated Taper
Stocks, Bonds, & Cryptos Crushed As Powell Threatens Accelerated Taper
Fed Chair Powell has been more hawkish than many expected during…
Stocks, Bonds, & Cryptos Crushed As Powell Threatens Accelerated Taper
Fed Chair Powell has been more hawkish than many expected during this morning's hearings, specifically noting the non-transitory nature of inflation and the need to use his tools to address it.
"At this point the economy is very strong and inflationary pressures are high and it is therefore appropriate in my view to consider wrapping up the taper of our asset purchases, which we actually announced at the November meeting, perhaps a few months sooner. I expect we will discuss that at our upcoming meeting."
This is a significant change from earlier this month, when the FOMC was pointing to wrapping up the taper in June 2022, and was not what the market wanted to hear…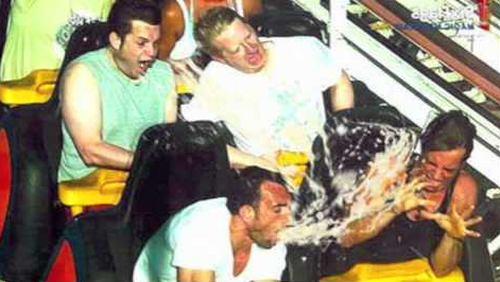 Stocks immediately reversed their post-open ramp…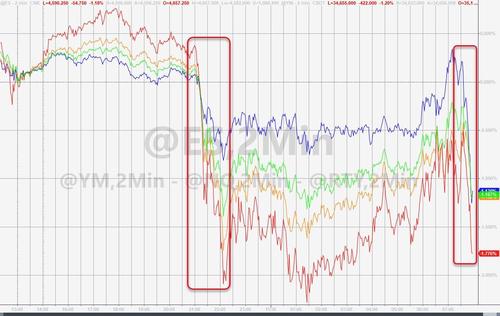 That leaves Small Caps down 6% since the onset of Omicron anxiety…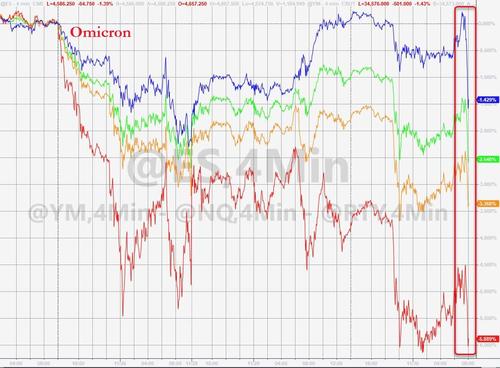 Yields jumped across the curve with the short-end spiking most (30Y has almost erased the initial spike)…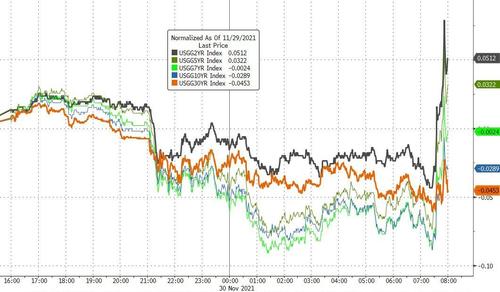 Rate-hike odds spiked dramatically…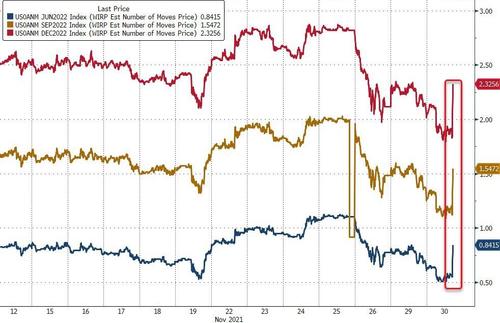 And the yield curve puked as 'policy error' fears soar…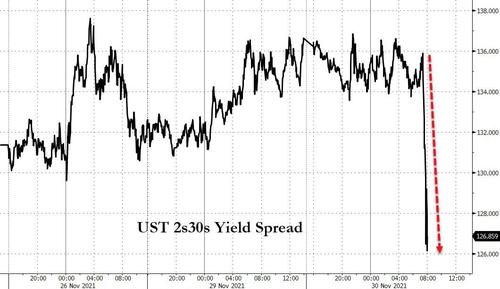 Cryptos also plunged…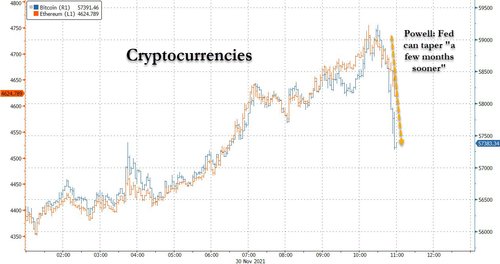 And the Dollar spiked…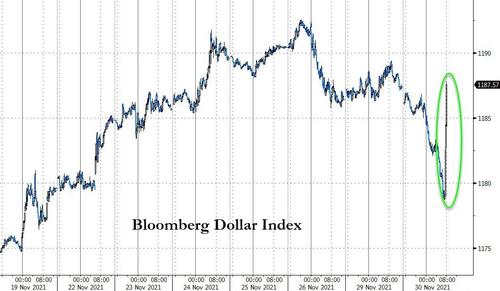 The Powell-Put just went kaput…
Live scenes of the "Powell Put" $USD pic.twitter.com/Rrsm27KT3y

— Viraj Patel (@VPatelFX) November 30, 2021
Tyler Durden
Tue, 11/30/2021 – 10:59
dollar
inflation
policy
fed
inflationary
Rabobank: Brushing Up Our Greek Alphabets
Rabobank: Brushing Up Our Greek Alphabets
By Michael Every of Rabobank
Brushing up our Greek alphabets
After a 'sell first, ask questions…
Rabobank: Brushing Up Our Greek Alphabets
By Michael Every of Rabobank
Brushing up our Greek alphabets
After a 'sell first, ask questions later' Friday, markets regained some confidence on Monday. News that Omicron may lead to relatively mild symptoms may have helped the mood, though much about the new strain still remains unclear, including how infectious it is compared to other variants and whether it requires updated vaccines. The health ministers of the G7 issued a joint statement that contained little new information on the strain, but did warn that it "requires urgent action". European equities also defied news that Germany is now the next country to consider stricter measures to curb the rise in cases.
The risk-on tone weighed on fixed income, with 10y Bund yields rising 2bp on the day, though that reverses only part of Friday's decline. And the German inflation numbers didn't provide much support for Bunds either. High inflation was already expected, with a 5.5% consensus forecast. Nevertheless, the German HICP managed to surpass that, as prices rose 6.0% y/y in November. With similar inflation rates already observed in other European countries, including Spain (5.6%) and Belgium (5.6%), a high Eurozone-aggregate HICP today shouldn't come as a surprise.
In addition to German inflation being higher than expected, it was also a bit more broad-based: certainly, energy was an important contributor, but clothing, furnishing and household equipment, and particularly recreation and culture -though notably a volatile component- also drove prices higher. Despite the wider base of inflationary pressures, that doesn't take away from the fact that most of these effects are probably still temporary factors that result from the reopening of the economy, supply chain disruptions, and the changes to German VAT at the start of the year. Indeed, the Bundesbank had already warned for a near-6% inflation rate this month, and the ECB's Isabel Schnabel stated in a TV interview that "November will prove to be the peak."
Nikkei reported some reassuring news to that extent, noting that the supply chain disruptions in the auto sector are starting to ease. According to the newspaper, the global supply of chips used in the auto industry may finally be improving: "after months of shortages, inventories have risen for the first time in nine months." While it may still take some time before shortages across the entire supply chain are resolved, this does suggest that some bottlenecks are indeed gradually easing, boding well for both price pressures and for the output of one of Germany's key industries. That said, bear in mind that the chip shortages were at the forefront of the global disruptions; since then shortages in many other materials and sectors have followed.
The rebound in China's manufacturing PMI may also offer some reassurance about the recovery of the global value chain. The headline recovered to an expansionary reading of 50.1, but this may understate the improvements in actual output, seeing that one of the main drags on this headline relates to a sharp decline in energy prices faced by manufacturers. This likely reflects the government's interventions in the coal sector, boosting production. Bloomberg reports that the National Development and Reform Commission met with coal producers last week and that prices would have to be guided towards to a "reasonable range".
That is, of course, assuming that omicron does not throw a spanner in the works here. It certainly does make central bankers' jobs that bit harder again. Fed Chair Powell said yesterday that the new strain, as well as the general rise in Covid-19 cases, poses downside risks to the full employment mandate and adds uncertainty to the inflation outlook. While he didn't specifically mention any implications for the Fed's current policy trajectory, it adds to the markets' doubts whether the FOMC will still decide to accelerate the pace of tapering in its December meeting, and whether the market wasn't too aggressive in its pricing of rate hikes next year. EUR/USD continues to find some support in this revaluation of potential for US policy moves.
Certainly, uncertainty also clouds the ECB's decisive December meeting. However, with a more dovish starting point, that is less of a marked change. If anything, the European Central Bank may want to commit less in December, leaving more options open for earlier in the year when the Governing Council has more clarity on the outlook and omicron's impact. A key case in point are Vice President De Guindos' remarks on the TLTRO-IIIs this morning: he is clear that "the TLTROs are not finished yet", confirming that -in his view- this year's long-term liquidity providing operations certainly weren't the last. However, he added that "it's not going to be a decision we discuss in December". Assuming that the future of (or rather after) PEPP will still be decided in December, that does put much more weight on the few other tools the ECB could use to mitigate the expected end of pandemic purchases. This could set markets up for an initial disappointment.
Tyler Durden
Tue, 11/30/2021 – 10:45
inflation
markets
policy
fed
central bank
expansionary
inflationary