Why One Bank Is Warning Its Clients Of An Imminent "Hard Correction"
Why One Bank Is Warning Its Clients Of An Imminent "Hard Correction"
Earlier this week, when recapping the latest bearish outlooks from most…
Why One Bank Is Warning Its Clients Of An Imminent "Hard Correction"
Earlier this week, when recapping the latest bearish outlooks from most large Wall Street banks, we touched on Deutsche Bank's latest House View take in which the bank - along with most of its peers - said that its strategists expects an "imminent correction" without giving much context for the bank's gloomy take.
So fast forwarding to today, the bank's chief equity strategist Binky Chadha expounded on this bearish take, and in a note pointing out that "equity valuations are extremely rich", he first explains "what's keeping equity valuations high", and then goes on to warn that "the risk the correction is hard is growing" adding that "there has been a clear negative relationship between initial valuations and subsequent forward returns, with the relationship strengthening as the return horizon is increased from 1 to 3 to 5 years out. For the highest decile of initial valuations, which is where we currently are, 5-year forward returns have on average been slightly negative."
Starting at the top, Chadha lays out what everyone - even the NY Fed president - is aware of, namely that equity market valuations are "historically extreme" on almost any metric: "trailing and forward price to earnings (P/E), enterprise value to EBIT, EBITDA  or operating cash flow are all well into the 90s in percentile terms. High valuations are broad based across sectors and median company valuations are high."
Furthermore, he notes that "equities are very expensive (36%) relative to the drivers of valuation which have explained the bulk (70%) of historical variation in them." As a result, the cyclically adjusted P/E at 26.2x is well outside its historical 10-20x range "and easily the highest outside of the Tech bubble."
Some more details on the current extreme valuations:
Valuations are high across sectors. Of the 11 sectors in the S&P 500, 7 are trading 10%-85% above their (ex-recession) average trailing multiples since 1995; 3 are trading in line (Materials, Health Care and Financials); and Energy the lone sector that is trading at a discount (-35%).
Median company valuations are very high. DB looks at the valuation of the median company in the S&P 500 to reduce the impacts of outliers or particular sectors in the aggregate. For the median company, the traditional trailing P/E multiple is near a record high and well above Tech bubble peaks, while the multiple on forward consensus estimates is down from its peaks but at levels comparable to Tech bubble peaks.
For the median company, EV to EBIT, EBITDA, or OCF are above their Tech bubble peaks. Unlike for the aggregate (37th percentile), for the median company EV/FCF is much higher (97th percentile) relative to history.
Equities are very expensive (36%) relative to the historical drivers of valuation. According to his market model, which is based on payout ratios (+), earnings deviation from trend (-), inflation (-), real rates (+) and inflation volatility (-), which captures the  large majority (70%) of the variation in P/E multiples over the last 85 years, BofA sees fair value of 17x. That leaves a 6.1 multiple point gap (36%) between the current P/E at 23.1x and fair value of 17x.
The cyclically adjusted P/E (CAPE) is very high. From a long perspective, it is useful to look at cyclically adjusted P/Es. Arguably the best-known measure is the Schiller CAPE. But in to Chadha, that measure has a number of shortcomings as it relies on long moving averages and adjusts for inflation and is not comparable to other measures. Instead, he notes that there has been a very clear trend in S&P 500 EPS since the mid-1930s (when the US left the gold standard, a very different macro regime) and cyclical adjustment of S&P 500 earnings is therefore straightforward. Using this trend as a cyclically adjusted earnings measure, on current trend EPS of $172, the P/E is 26.2x, easily the highest outside the late 1990s bubble when it peaked at 35x.
Ok fine, everything is expensive, but if the Fed continues to inject liquidity there is no reason why stocks can't get even more expensive as every single dip is bought? In his response to this key question, Chadha asks rhetorically "why are valuations high" and debunks one by one all the widely circulated, popular narratives why the S&P is trading at 4,500. As the DB strategist writes, "extreme valuations are naturally fertile ground for new narratives and the list is long." Clearly, this is the case now on the up side, the opposite of what happened post the GFC when the S&P 500 multiple hit a low of 12x and stayed below its historical average for several years and below fair value for even  longer. In his view, the list includes:
low interest rates;
the pandemic accelerating the adoption of technologies that raise productivity, margins and the level and/or trend growth in earnings;
large firms (which dominate the major equity indices) gaining market share at the expense of small, raising the trend level of earnings;
the share of high growth companies in the market has grown;
the cash flow generated from earnings has risen; a paradigm shift in monetary and fiscal policies has reduced downside risks to macro growth;
the increased participation of retail investors.
He discusses some of these in more details below, starting with why he doesn't think it is due to low interest rates:
Rates have been here before, but multiples were much lower then. Looking across time, rates are where they were post the GFC when multiples were low and severely depressed relative to fair value. Similarly, looking across countries, interest rates are lower in Europe and Japan than in the US, but so are equity multiples.
The equity risk premium is a much bigger component of the equity discount rate and inversely related to rates. Rates are a small part (10y yield currently at 1.3%) of the equity discount rate (average 10.3%), with the larger part being the equity risk premium (currently 8%). The equity risk premium has historically moved inversely with rates. That is to say, when rates fell (say because of low growth) the equity risk premium rose, for the same reason that rates fell in the first place. Historically there is a very strong negative correlation between rates and the equity risk premium (beta near -1), implying equities were priced largely independently of rates.
The historical correlation between interest rates and equity multiples has been strong but shifted between long periods of positive and negative correlations. This ambiguity disappears when rates are broken into inflation and real rates. While inflation has robustly been negative for equity multiples, real rates have actually been positive.
In the current context, rates are low because real rates are low, while breakeven inflation rates look in line with history. Low real rates argue for lower not the high multiples currently prevailing, as do inflation risks
Chadha then digs into the heart of the matter and looking at the recent surge in earnings relative to trendline, notes that he is "skeptical the 85-year trend in earnings has changed."
Since there are cyclical reasons for earnings to have risen above trend levels with the economic recovery, it is too early to tell whether either the trend level or growth rate has risen, either because of the adoption of technologies or gains in market share of large companies. This will only become evident over time, if and when earnings start to slow toward trend or that they do not. The 85-year trend has held through numerous regime changes and cycles that included the inflationary 1970s, the Tech boom of the 1990s and through and after the GFC. It held across various sector and industry group rises and reversals: as such Chadha remains "skeptical that the trend (normalized) level of earnings or the underlying growth rate has risen."
Going down the list, Chadha writes that the share of faster-growing companies is well within its historical range. Defining high growth companies as those with 3-year annualized growth in earnings above 15%, their share of S&P 500 companies, at 30%, is at the lower end of the historical range of 20%-55%. Their share in earnings at 45% is in the middle of the historical 20%-65% range, while in terms of market cap at 50% it is on the high side but well below the prior peaks of 60% hit pre-GFC and at the tail end of the Tech bubble. Nor has the earnings growth of high growth companies been higher than in it has historically.
No evidence that earnings are generating higher free cash flows (in fact one can argue the opposite). The ratio of free cash flows to earnings peaked recently at 1.1 and is down to 1.0. The recent peak was comparable to the peaks reached after the Tech bubble burst and after the GFC.
What about the recent surge of retail daytraders? According to Chadha, from a demand-supply perspective, retail investor participation in equity markets has clearly increased, and has been a driver of high valuations. This increased retail investor participation has been spurred by working from and staying home and encouraged by stimulus checks; retail participation had closely followed (inversely) the Covid time line, rising during lockdowns and falling with reopening, while retail investor surveys have shown the role played by stimulus checks.
Retail participation peaked back in January this year, fell and has been noisily going sideways since.
So if it the widely accepted narratives are not behind record valuations, what is it? Chadha next lays out his own view on what is behind the relentless market surge, starting with the surprisingly rapid rebound in earnings which "has been key": 
S&P 500 earnings have beaten the bottom-up analyst consensus estimate by an unprecedented 15-20pp for 5 quarters running. Since the analyst consensus is informed by a dialogue with company managements, large recurring beats suggests that companies themselves were surprised by the strength and speed of the recovery. Meanwhile, the market multiple on forward consensus earnings has been in a relatively narrow range. So price returns have been about equal to changes in forward consensus estimates, which  in turn have been rising rapidly, buoyed by the big beats.
But after a torrid 18 months, the analyst consensus looks to have caught up and Deutsche bank - like us - look for earnings upgrades to slow or even end (note the stark recent profit warnings from the likes of PPG). According to Chadha, earnings beats and upgrades will slow, "diminishing if not ending what has been a key driver of equity upside, particularly year to date and supported multiples." The bottom up consensus for S&P 500 EPS in 2021 has been rising rapidly, from its lows last summer of $160 to $202 presently (+26%). This compares with DB's estimate of $210, which suggests 4% upgrade upside. But this is actually about the typical 4-5% historical beat, suggesting less likelihood of upgrades. The analyst consensus for 2022 has also been rising and at $220 now, about in line with DB's estimate of $222. Historically, Chadha observes, "there is a positive correlation between S&P 500 analyst estimate changes and macro data surprises, which after remaining positive for a little over a year turned negative in late July this year."
And while lofty expectations are set to disappoint, the earnings cycle is also very advanced. S&P 500 earnings had already recovered back up to trend levels by Q4 of 2020; are now 10% above; and could rise to 20% above by year end. With typical expansionary phases of the cycle seeing earnings go 20% above and past records of 30%, there is room for them to go further above trend, but the cycle is clearly very advanced according to DB.
So cutting to the chase, Chadha argues that at a fundamental level, "the key reason multiples are high is market confusion over where we are in the earnings cycle, in part reflecting the speed and surprise with which the economic recovery has unfolded and the large persistent beats this generated." Given that GDP is still well below trend, there is a popular view the better part of the recovery is yet to come. However, the parts of the economy that S&P 500 companies are exposed to are already significantly above trend. Indeed 2/3 of S&P 500 industries have activity levels 1sd or more above trend; about half of those, so about 1/3 of the S&P 500, 5sd above! So - and this probably is the best summary of the DB bear case - "the cycle is much more advanced and the risk is that activity begins to slow, while the market is priced for most of the recovery as yet to come and large beats to continue."
Which finally brings us to the punchline: the coming "hard correction."
According to Chadha, valuation corrections don't always require market pullbacks - indeed multiples can shrink at roughly the same pace as earnings are growing resulting in unchanged stock prices - but they do constrain returns, or as Chadha puts it, "while equities are very expensive, by itself this does not necessitate a large market correction as valuations compress when price increases are smaller than earnings growth." Of note, historically valuation "corrections" in equities happened in slow motion, i.e., equity prices rose by less than earnings grew; and took place slowly, on average over 3 years. That is certainly not the case this time.
Furthermore, while valuation corrections are likely to be softer, i.e., not entail market drawdowns, the earlier in the recovery earnings are as growth is rapid. But with the current cycle advancing very quickly - recall this is also Morgan Stanley's core thesis, as the bank sees the current cycle burning "hotter but shorter" - Deutsche Bank warns that "the risk that the correction is hard" i.e., one requiring a market drawdown - "is growing" for the simple reason that the current cycle "has been advancing very quickly and so the risk that the valuation correction is harder is growing. "
If this is the case, and if a correction is imminent, it is also intuitive that higher valuations will lower returns longer term, since the "market has pulled forward much of the returns of this recovery."
Historically, looking at forward price returns vs initial valuations, there has been a clear negative relationship between initial valuations and subsequent forward returns, with the strength and magnitude of the negative relationship increasing as the return horizon increases from 1 to 3 to 5 years out. Looking at price to trend EPS as the valuation metric, the average and median price return is highest for low initial valuations, then goes mostly sideways to gently down for intermediate valuations, before falling notably for high valuations. For the highest decile of initial valuations, which is where we are currently, 5- year forward annual returns were slightly negative on average. There is a wide dispersion in returns around this average, ranging between -10% (10th percentile) and +5% (90th percentile). But even an outcome at the higher end would mean lower than average returns.
Tyler Durden
Fri, 09/10/2021 - 12:40
gold
inflation
monetary
markets
interest rates
fed
correlation
bubble
expansionary
inflationary
3 Stocks to Buy for Swing Trades Into the 2022 Taper Cycle
Yesterday was a wilder day than expected on Wall Street. The Federal Reserve completed their two-day meeting, then Fed Chair Jerome Powell delivered the…
Yesterday was a wilder day than expected on Wall Street. The Federal Reserve completed their two-day meeting, then Fed Chair Jerome Powell delivered the verdict.
The note itself was exactly as I thought it would be, bearing no surprises; the Fed didn't stray from what they said previously, nor did they commit to any official start to the taper process. The indices closed off their highs, but it was still a strong day for stocks. Within this mini correction, there's opportunity to find stocks to buy from support zones.
Yesterday's question and answer session was where the real fireworks happened for the Fed. Chair Powell offered more specifics, enough to guesstimate a taper schedule: my bet is that they will announce the taper during their next meeting. I also can estimate that they will be relatively aggressive in dialing back purchases, probably to the tune of  $15 billion per month. I derived these numbers from what the comment regarding ending the taper by middle of 2022. The current purchase rate is $120 billion, so you can do the math.
Here are 3 stocks to buy for swing trades into the 2022 taper cycle:
The effect of these developments on stocks is minimal. Wall Street prices things months in advance and the idea of an upcoming taper has been on the table for a long while already. Now we have tangible guesstimates to guide us. Overall, stocks will be fine. Apple (NASDAQ:AAPL) is not going to suffer a crash in sales because the Fed is going to buy $15bn worth of bonds per month. This is still a friendly Fed. And if the economy falters like 2018 I am confident they bring back the medication.
Stocks to Buy: ContextLogic (WISH)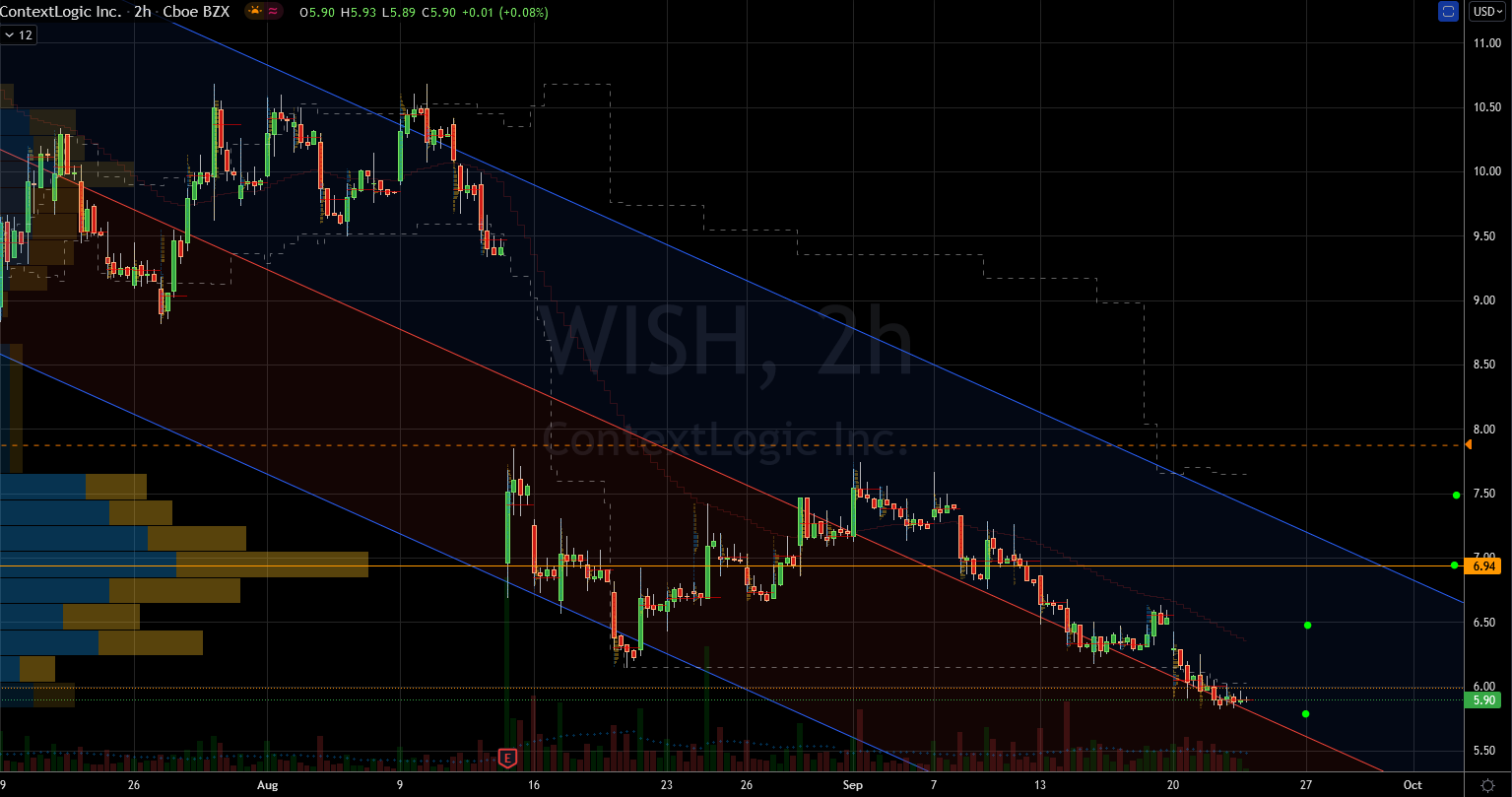 Source: Charts by TradingView
Catching falling knives is always tricky, but doing so in a bullish market is twice as treacherous. If a stock can't find footing in a good market, investors should be worried. Such is the case with WISH stock, which recently set a new all time low.
ContextLogic started public life strong, but quickly fell apart in February. Since then, WISH has lost more than 80% of its value. But the losses are at stark odds with its financial metrics.
According to its income statement, the company is growing aggressively, more than doubling their revenues since 2017. The company is not yet profitable, but that's normal for an aggressive company; growth doesn't happen while pinching pennies. Amazon (NASDAQ:AMZN) taught us this lesson, though the bears were very slow to learn.
For this simple reason, WISH stock makes a great speculative long-term bet for a recovery. The bulls tried to make a stand in June, with WISH stock experiencing a 90% rally in two days. This lasted for about a month and then the disaster resumed. July brought out sellers in droves and prices couldn't even hold the floor from June. The support that was near $8 per share now becomes resistnce.
This descending lower-high trend is nearing zero. The company has to make a decision in the next few months. There isn't much room below, so either delist or recover.
This is a U.S. based company, so there should be enough transparency to trust it. But someone might know something that would explain this rapid descent.
A bit earlier I used the term "speculative" on purpose. Therefore bullish bets on WISH should be small and finite. This is not a stock in which I would average down. Investors should establish the risk amount and stick with it until it becomes unbearable.
So far, this falling knife has earned the machete label.
Rocket Mortgage (RKT)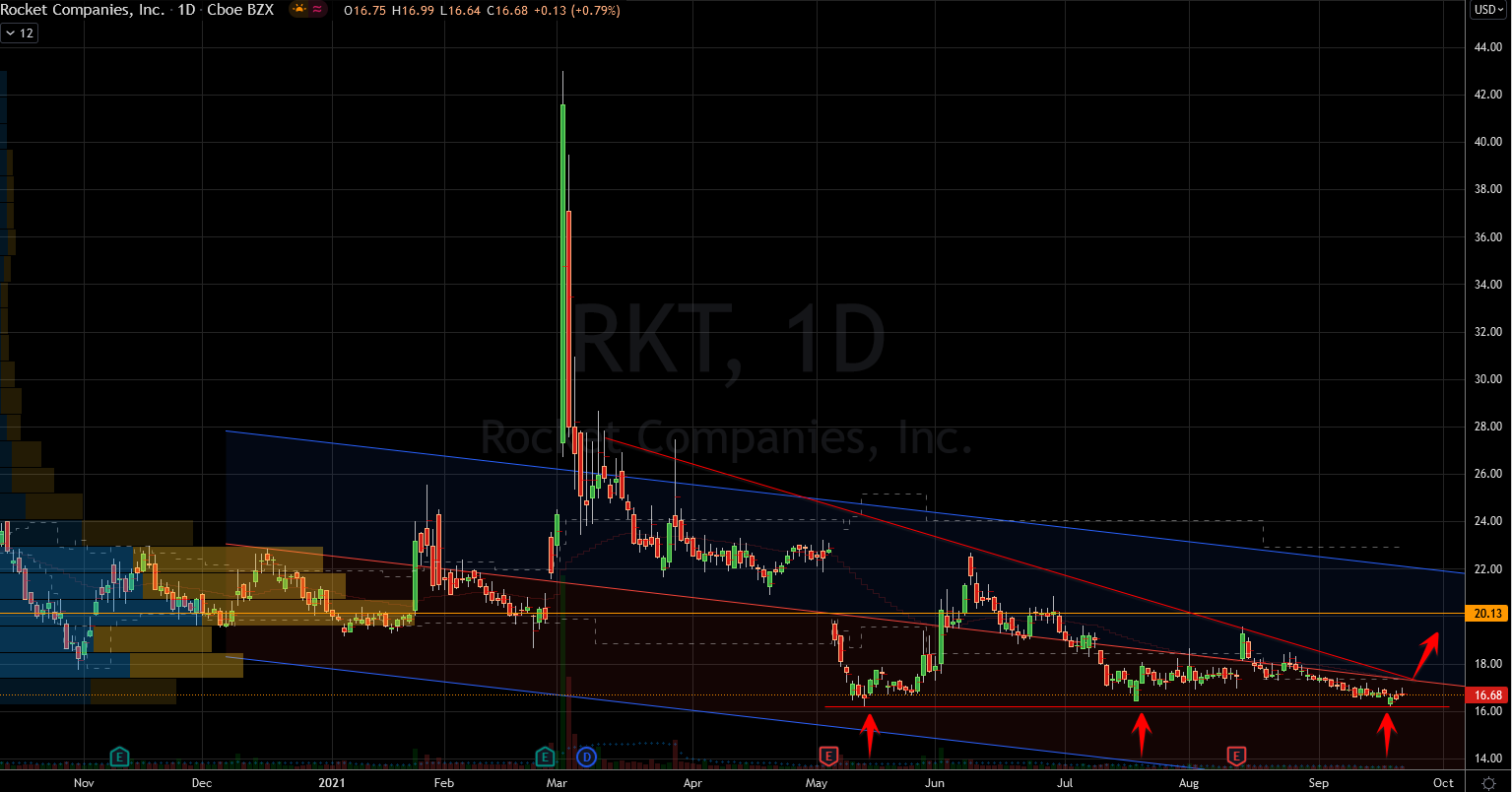 Source: Charts by TradingView
Our second pick today has had an equally hard time on Wall Street. It too started out of the gate running fast with a 90% rally. However it quickly gave up the gains to spend months consolidating below $24 per share. Earlier this year RKT stock went bonkers alongside the Reddit stock mania. In March Rocket Mortgage rallied 110% in a week, but that's as good as it was going to get.
Rocket stock is now 60% below that highwater mark. However unlike WISH stock, this one has held a constant floor since May. The bulls have been able to stay above $16 per share, and this is their third effort at defending it. My assumption is that it will hold one more time before mounting a recovery rally.
The financial statements for this company are fantastic on paper. That raises all kinds of questions for me, mainly, "am I missing something?" On the flip side, this is where the opportunity lies. My thesis is that Wall Street needs more time to fully grasp the health of this company.
Total revenues are now four times bigger than they were in 2017. Moreover, it has a positive net income of $400 million per year. I will feel much better about its financial health when it swings to positive cash flow from its own operations. Meanwhile, it also has a low price-to-sales.
Rocket Mortgage is not a new company but it's new to being public. Investors may just need more time to buy it in the proverbial and literal sense.
If my thesis of a $16 floor is correct, then this is the opportunity to get in on the bottom floor. You could use option strategies to be bullish and leave room for error.
Qualcomm (QCOM)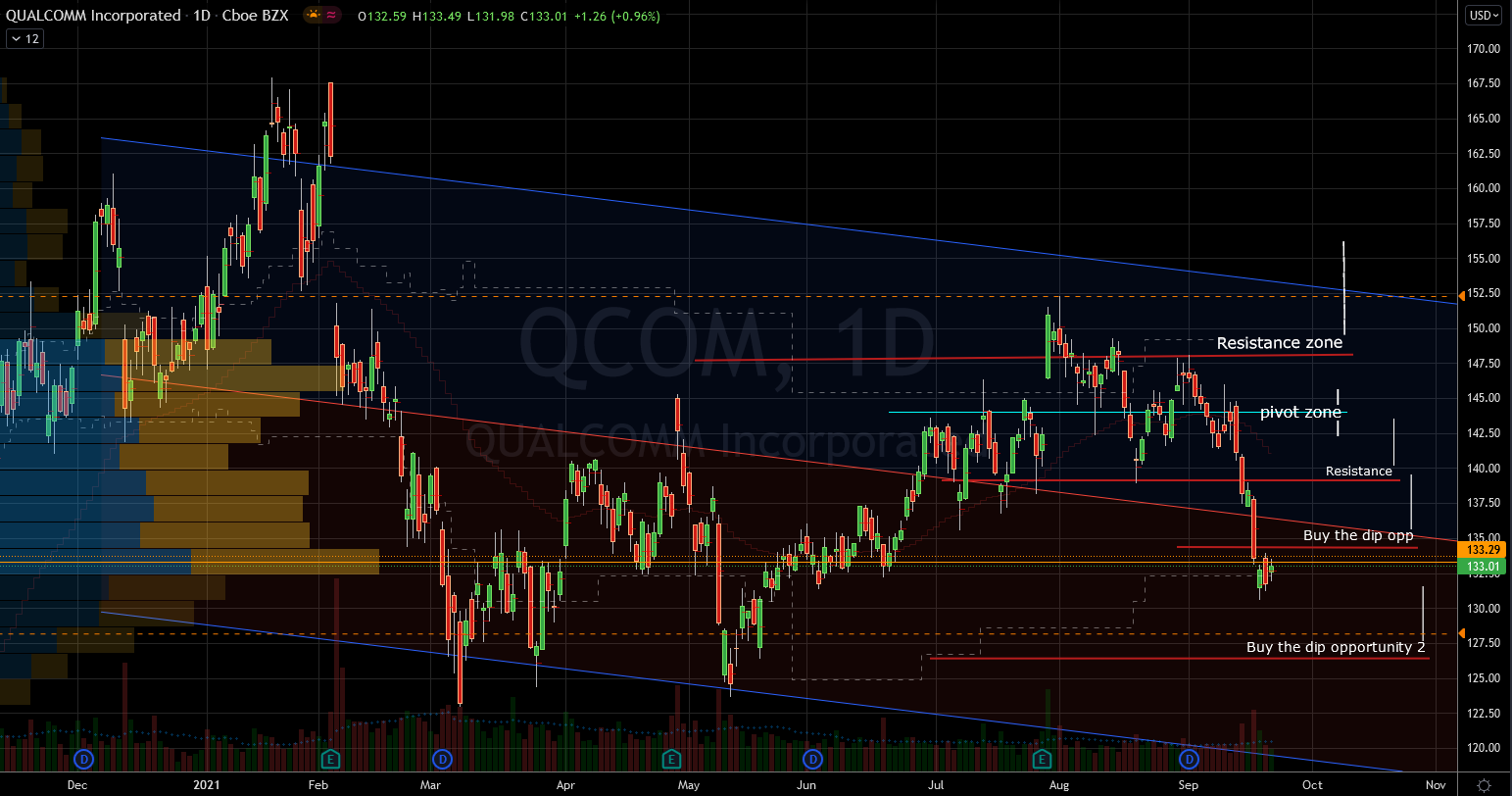 Source: Charts by TradingView
Our third ticker today is an old tech dog that's been around long enough to have survived the dot com bubble. In fact QCOM stock has just corrected harshly, but it's still 35% above its 2000 high. More short-term perspective shows that current price is in recession territory. Wall Street describes that as being down 20% overall.
The reaction to the earnings report was a jubilee that only lasted a couple of days. The sellers stepped in and QCOM dropped 14% from the July high. It has now fallen into a support zone that has served as the base for the last four rallies.
My thesis today is that the support zone will hold one more time and Qualcomm will have a potential rally coming in the next two months. But this is not an all-in situation because this bottom may turn out to be a process rather than a sharp point in time.
The fundamentals are as solid as they come. Even as a mature company, management has grown sales more than 40% in four years. Net income ballooned three times over. The company nets more than $9 billion per year and that is bankable.
Statistically this is a cheap company with a 16.5 price-to-earnings ratio. Its price-to-sales is half of that of Apple.
Any which way you look at it, Qualcomm stock has value. Buying it now as an investment is not likely to be a major financial debacle. However, the stock markets are at their all-time highs and we're going into a tapering session. Investors should leave room for error in all of their investment strategies. Moderation will be key.
On the date of publication, Nicolas Chahine did not have (either directly or indirectly) any positions in the securities mentioned in this article. The opinions expressed in this article are those of the writer, subject to the InvestorPlace.com Publishing Guidelines.
Nicolas Chahine is the managing director of SellSpreads.com.
More From InvestorPlace
The post 3 Stocks to Buy for Swing Trades Into the 2022 Taper Cycle appeared first on InvestorPlace.
markets
reserve
fed
bubble
crash
Where Do Monetarists Think PCE Price Level Is Going To?
From an email from Tim Congdon, at the International Institute for Monetary Research (9/20): I suggest that a more plausible figure for end-year PCE annual…
From an email from Tim Congdon, at the International Institute for Monetary Research (9/20):
I suggest that a more plausible figure for end-year PCE annual inflation is between 5½% and 6%. (The consumer price index – up by 4.5% in the first seven months of 2021 – may finish the year with a rise somewhere in the 6½% – 7½% area.)
The conclusion is based on the following reasoning:
In the background here is the huge overhang of excess money balances. In the year to mid-May 2021 the M3 measure of broad money increased by 35%. The evidence over many decades is that – in the medium term – the growth rates of money, broadly-defined, and nominal gross domestic product are similar. So – unless that 35% number is now followed by a big contraction in the quantity of money – the US economy will continue to be affected by two conditions, specifically,

• 'too much money chasing too few assets', and
• 'too much money chasing too few goods and services'.

Of course the two conditions are interrelated and also interact with each other. Our research emphasized last year that rapid money growth was likely to boost asset prices first, and that has been right. (Incidentally, to attribute the behaviour of the prices of US tech stocks to bottlenecks and supply shortages would be daft. Does one have to say these things?)
What's the implied path of the PCE deflator, relative to nowcasts and forecasts? See Figure 1, where I've used the mid-point of Congdon's forecast (5.75% December y/y), shown as the red square.
Figure 1: Personal Consumption Expenditure deflator (black), Congdon midpoint forecast (red square), Cleveland Fed nowcast as of 9/23 (sky blue +), Survey of Professional Forecasters August median forecast (green line), FOMC 9/22 projections (blue square). Source: BEA, Cleveland Fed, Philadelphia Fed/SPF, Federal Reserve, and author's calculations.
The FOMC median forecast is surprisingly similar to the Survey of Professional Forecasters' median forecast from the preceding month (mid-August). The FOMC members then still perceive a deceleration in inflation in the last half of 2021.
Congdon's forecast looks plausible given the August PCE deflator nowcast (and even more using the September). However, it's far outside of the range projected by the FOMC, as shown in Figure 2, which includes the high/low inflation forecasts.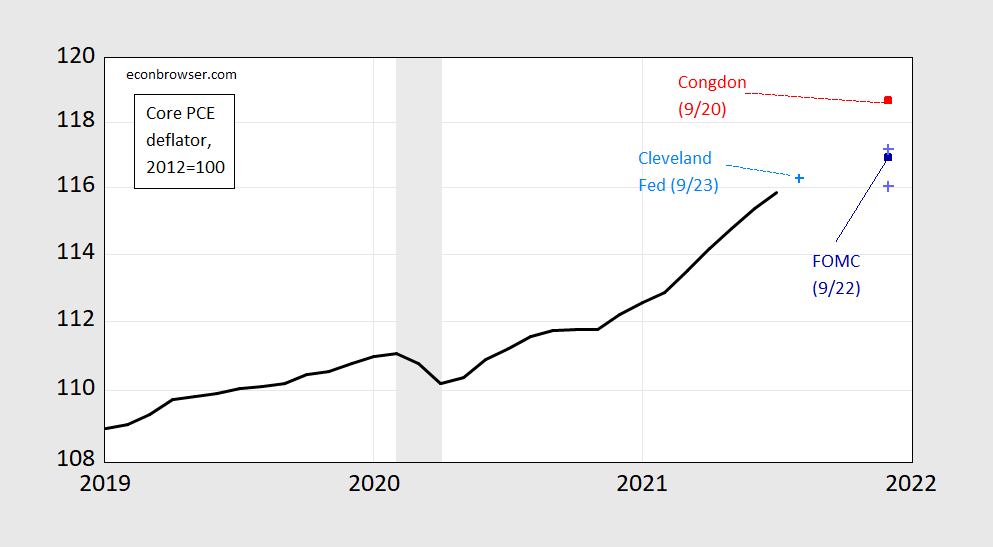 Figure 2: Personal Consumption Expenditure deflator (black), Congdon midpoint forecast (red square), Cleveland Fed nowcast as of 9/23 (sky blue +), FOMC 9/22 projections (blue square), high and low forecasts (dark blue +). Source: BEA, Cleveland Fed, Federal Reserve, and author's calculations.
In other words, the monetarist view (if I can use Congdon's view as a proxy) differs from both a mixed bag of mainly mainstream economists (proxied by the Survey of Professional Forecasters) and policymakers (the FOMC).
inflation
monetary
reserve
fed
These Factors 'Could Drive Gold and Silver Prices Much Higher'
Source: Crescat Capital for Streetwise Reports   09/22/2021
In a Sept. 10, 2021 Crescat Capital broadcast from the Precious Metals Summit in…
Source: Crescat Capital for Streetwise Reports   09/22/2021
In a Sept. 10, 2021 Crescat Capital broadcast from the Precious Metals Summit in Beaver Creek, the firm's Portfolio Manager, Tavi Costa, and its Chief Investment Officer, Kevin Smith, talked about the current macroeconomic environment and highlighted the opportunity in gold and silver mining equities.
Portfolio Manager, Tavi Costa, noted that his funds firm, Crescat Capital, believes we are in a secular bull market for gold and silver and because we are now amid a pullback, the time is right to be taking advantage of stocks in the space over time. He showed a slide of silver's weekly candles and noted that the precious metal looks technically sound for taking advantage of.
"Cryptocurrency is getting a lot of attention these days, but Crescat Capital likes precious metals."
Looking forward, Costa added, "I think there are a lot of fundamentals behind what could drive gold and silver prices much higher and perhaps really benefit the explorers and a lot of the companies we have in our portfolio," he added.
Costa purported that we could be on the cusp of a new phase of mergers and acquisitions given the high level of liquidity among the mining majors. They have generated free cash flow at a pace never seen before and have lots of net cash available.
"I truly believe that tangible assets continue to be something very important for investors to own in their portfolios," Costa said.The portfolio manager said platinum is also at a good entry point and showed a slide of the metal's quarterly candles.
"Gold, we believe, has intrinsic value."
Also in the broadcast, he presented three slides depicting how various economic metrics are trending. The first metric was the Taylor Rule to the Fed funds rate Spread, and it showed that the spread today is the largest it has been since about 1975. Costa said the spread indicates interest rates should be at around 6 percent, but obviously they are not.
"It's a good reminder of how trapped the Federal Reserve is," he added.
Second, the cost of ride sharing with Uber and Lyft increased 92 percent between January 2018 and July 2021, Costa said. However, the intercity transportation component of the Consumer Price Index (CPI) that takes into account taxi, Uber and Lyft fares is up only 5 percent during the same period.
"This is example of how the CPI is massively understated in regards to the real inflation in the system," added Costa.
Third, the Duke survey of chief financial officers showed that internal company optimism about wages and sales is at a record high.
"The cost of living rising started to create a demand for higher wages and salaries, and we're seeing this in a lot of fronts," Costa said.
Next, Kevin Smith briefly summarized today's economic macroenvironment and with that as the backdrop today, what parts of the market Crescat Capital favors.
Smith reiterated that inflation is rising, growth is slowing and the stock market is in a bubble. Real interest rates are negative, and money printing continues. Deficits are the highest they have ever been.
Thus, cryptocurrency is getting a lot of attention these days, Smith said, but Crescat Capital likes precious metals.
"Cryptocurrencies, they're faith-based currencies," he said. "Gold, we believe, has intrinsic value, and the junior mining industry has been through essentially a 10-year bear market."
Read more about the companies Quinton Hennigh, Crescat's Geologic and Technical Director, discusses in part two of the Sept. 10 briefing.
Sign up for our FREE newsletter at: www.streetwisereports.com/get-news
Streetwise Reports Disclosures:
1) This is contributed content from Crescat Capital compiled by Doresa Banning for Streetwise Reports LLC. Doresa Banning provides services to Streetwise Reports as an independent contractor. She or members of her household own securities of the following companies mentioned in the article: None. She or members of her household are paid by the following companies mentioned in this article: None. Her company has a financial relationship with the following companies referred to in this article: None.
2) The information provided above is for informational purposes only and is not a recommendation to buy or sell any security.
3) The article does not constitute investment advice. Each reader is encouraged to consult with his or her individual financial professional and any action a reader takes as a result of information presented here is his or her own responsibility. By opening this page, each reader accepts and agrees to Streetwise Reports' terms of use and full legal disclaimer. This article is not a solicitation for investment. Streetwise Reports does not render general or specific investment advice and the information on Streetwise Reports should not be considered a recommendation to buy or sell any security. Streetwise Reports does not endorse or recommend the business, products, services or securities of any company mentioned on Streetwise Reports.
4) From time to time, Streetwise Reports LLC and its directors, officers, employees or members of their families, as well as persons interviewed for articles and interviews on the site, may have a long or short position in any securities mentioned. Directors, officers, employees or members of their immediate families are prohibited from making purchases and/or sales of those securities in the open market or otherwise from the time of the decision to publish an article until three business days after the publication of the article. The foregoing prohibition does not apply to articles that in substance only restate previously published company releases. 
Important Crescat Disclosures Provided by Crescat Capital 
Please read Crescat's important disclosures.
Nothing herein should be construed as personalized investment advice or a recommendation that you buy, sell, or hold any security or other investment or that you pursue any investment style or strategy.
Case studies are included for informational purposes only and are provided as a general overview of Crescat's general investment process, and not as indicative of any investment experience. There is no guarantee that the case studies discussed here are completely representative of Crescat's strategies or of the entirety of its investments.
Crescat has compiled its research in good faith and while it uses reasonable efforts to include accurate and up-to-date information, it is provided on an "as is" basis with no warranties of any kind. Crescat does not warrant that the information on this site is accurate, reliable, up to date or correct. In no event will Crescat be responsible or liable for the correctness of any such research or for any damage or lost opportunities resulting from use of its data.
You should assume that as of the publication date, Crescat has a position in the securities discussed and therefore stands to realize significant gains in the event the price of security moves. Following the publication date, Crescat intends to continue transacting in the securities, and may be long, short, or neutral at any time.
gold
silver
inflation
reserve
metals
mining
interest rates
fed
bubble
money printing
precious metals