Will Stocks Bounce After a Manic Monday
The equity markets took it on the chin on a manic Monday following frenzied buying on Friday. As the saying goes "volatility begets volatility," and such…
The equity markets took it on the chin on a manic Monday following frenzied buying on Friday. As the saying goes "volatility begets volatility," and such is the market environment we are now in. Interestingly, however, implied volatility (VIX) is rising but not at rates that should leave us concerned, at least not yet.
While seasonality is coming into favor, sentiment is getting to more bearish extremes which tends to be a good contrarian indicator.
What To Watch Today
Economy
8:30 a.m. ET: Trade balance, August (-$70.8 billion expected, -$70.1 billion in July)
9:45 a.m. ET: Markit U.S. services PMI, September final (54.4 expected, 54.4 in prior print)
9:45 a.m. ET: Markit U.S. composite PMI, September final (54.5 in prior print)
10:00 a.m. ET: ISM Services index, September (59.9 expected, 61.7 in August)
Earnings
6:00 a.m. ET: PepsiCo (PEP) is expected to report adjusted earnings of $1.74 per share on revenue of $19.38 billion
Courtesy Of Yahoo!
Despite Sell-Off, Volume Improved
Despite the sell-off yesterday, volume improved. One of the hallmarks of declines this year is sharp spikes in selling volume. While the market was down sharply at the open yesterday morning, volume declined and there was more buying than selling underneath the surface.
With sell-signals in place, there is certainly still risk in the market currently. However, previous bottoms are trying to hold, and support from July remains intact.
Winners and Losers
The graphs below from RIA Pro show a good number of yesterday's winners were energy stocks. Conversely, technology and communications led the way lower.
Breadth Remains Weak, Markets Oversold
As noted in today's "Technically Speaking" report:
"While short-term indicators got oversold, longer-term indicators did not. The dichotomy of these different indicators supports the idea of a rally short-term (days to a couple of weeks) but a more significant correction ahead.

On RIAPRO (Free 30-day trial), we provide the sentiment and technical measures we follow. The number of oversold stocks is back towards extremes, which supports the idea of a short-term rally."
"However, the overall "breadth" and "participation" of the market remains highly bearish. Thus, to avoid a deeper correction, breadth must improve."
"There are reasons to be hopeful for a short-term rally with markets oversold, and the sentiment very negative. Furthermore, we are entering into the "seasonally strong" period of the year. The month of October has a spotty record, but November and December trend stronger."
Will The 50DMA Hold For a 12th Time?
The graph below shows how well the 50DMA has supported the market since the swoon of March 2020. The bottom graph shows the difference between the S&P and the moving average. As highlighted it is currently 2-3% below the moving average, similar to dips in October and November of 2020. While the decline may not feel great, it has yet to show us something different from what we have witnessed over the past year and a half. A further breakdown, especially below the 100dma would be concerning. Conversely, if the S&P 500 re-takes the 50dma, it may likely head back to record highs. As we have been saying over the last few weeks, all eyes are on the 50dma.
Week Ahead
This will be a quiet week for economic data, yet one of the most important of the month. ADP comes out Wednesday with expectations for a gain of 415k new jobs added. The BLS will release its payrolls report on Friday. Economists expect 475k new jobs versus a weak 235k last month in that report. If both data points come near or better than estimates we should assume the Fed will announce tapering QE at their next FOMC meeting (11/03).
Speaking of the Fed we expect they will remain quite vocal this week. As we saw last week, we expect them to continue to reflect concern about inflation and promoting taper soon. Vice-Chair Clarida joins other Fed members in being exposed for personal trading prior to important Fed statements. We suspect, as a result, Powell will not be renominated.
Earnings season kicks off this week but there are not any major companies set to report. The banks will effectively lead off Q3 reporting next week.
Banks Are Not Lending
The graph below from Brett Freeze is a very powerful summary showing why monetary velocity is not rising. As we have written, inflation is a function of money supply and monetary velocity. Fading velocity has offset a large chunk of the surge in the money supply. As his graph below shows, banks are investing in secondary securities, mainly U.S. Treasuries instead of lending money. The tradeoff between the two is normal but the current levels are somewhat extreme.
The post Will Stocks Bounce After a Manic Monday appeared first on RIA.
Cryptos Crash Despite Tesla Leaving Door Open To Accepting Payments
Cryptos Crash Despite Tesla Leaving Door Open To Accepting Payments
Cryptocurrency prices plunged overnight with the selling pressure climaxing…
Cryptos Crash Despite Tesla Leaving Door Open To Accepting Payments
Cryptocurrency prices plunged overnight with the selling pressure climaxing around the opening of the European markets, closing of Asia.
This left Bitcoin back below $60,000 for the first time in 11 days…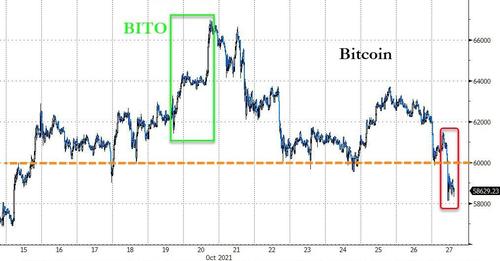 Source: Bloomberg
And Ethereum dropped below $4,000…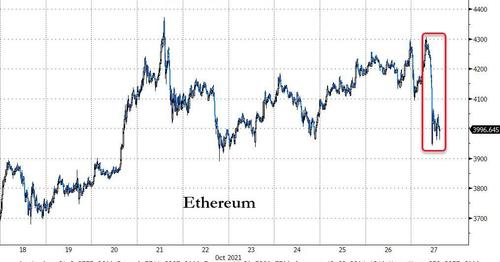 Source: Bloomberg
There was no obvious news-driven catalyst for the drop and many investors were actually buoyed the last few days after a filing with the SEC suggested Tesla had left the door open to accepting Bitcoin for its products in the future.
"During the nine months ended September 30, 2021, we purchased an aggregate of $1.50 billion in bitcoin. In addition, during the three months ended March 31, 2021, we accepted bitcoin as a payment for sales of certain of our products in specified regions, subject to applicable laws, and suspended this practice in May 2021," the 10-Q document reads.

"We may in the future restart the practice of transacting in cryptocurrencies ('digital assets') for our products and services."
Additionally, CoinTelegraph reports that PlanB, creator of the popular Bitcoin Stock-to-Flow (S2F) model, called Bitcoin's price retracement from the $60,000-level the "2nd leg" of what appeared like a long-term bull market.
#bitcoin bull market, 2nd leg has started pic.twitter.com/N9H2QF7SDe

— PlanB (@100trillionUSD) October 26, 2021
In doing so, the pseudonymous analyst cited S2F, which anticipates Bitcoin to continue its leg higher and reach $100,000 to $135,000 by the end of the year.
The price projection model insists that Bitcoin's value will keep on growing until at least $288,000 per token due to the "halving," an event that takes place every four years and reduces BTC's issuance rate by half against its 21 million supply cap.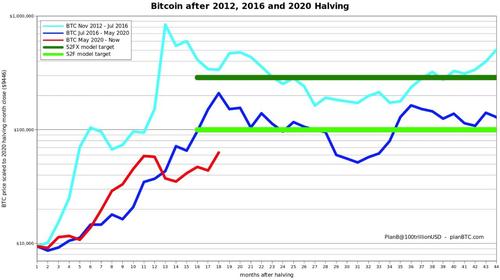 Bitcoin after the 2012, 2016 and 2020 halving. Source: PlanB
Notably, Bitcoin has undergone three halvings so far: in 2012, 2016 and 2020.
Each event decreased the cryptocurrency's new supply rate by 50%, which was followed by notable increases in BTC price. For instance, the first two halvings prompted BTC price to rise by over 10,000% and 2,960%, respectively.
The third halving caused the price to jump from $8,787 to as high as $66,999, a 667.50% increase. So far, S2F has been largely accurate in predicting Bitcoin's price trajectory, as shown in the chart below, leaving bulls with higher hopes that Bitcoin's post-halving rally will have its price cross the $100,000 mark.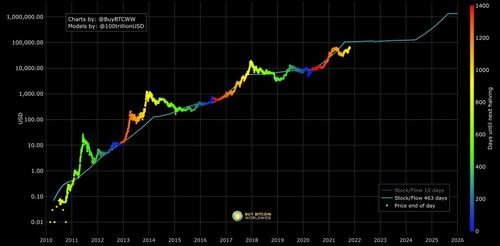 Bitcoin S2F as of Oct. 26. Source: PlanB
PlanB noted earlier this year that Bitcoin will reach $98,000 by November and $135,000 by December, adding that the only thing that would stop the cryptocurrency from hitting a six-digit value is "a black swan event" that the market has not seen in the last decade.
Despite the high price projections, Bitcoin can still see big corrections in the future. PlanB thinks the next crash could wipe at least 80% off Bitcoin's market capitalization, based on the same S2F model.
"Everybody hopes for the supercycle or the 'hyperbitcoinization' to start right now and that we do not have a big crash after next all-time highs," the analyst told the Unchained podcast, adding.
"As much as I would hope that were true, that we don't see that crash anymore, I think we will. […] I think we'll be managed by greed right now and fear later on and see another minus 80% after we top out at a couple hundred thousand dollars."
Tyler Durden
Wed, 10/27/2021 – 08:23

markets
crash
Tesla Won't Be the Only Trillion-Dollar EV Stock
Two days ago, Tesla (NASDAQ:TSLA) did something unthinkable – something that only four tech stocks in the history of capitalism have ever accomplished.
It…
Two days ago, Tesla (NASDAQ:TSLA) did something unthinkable – something that only four tech stocks in the history of capitalism have ever accomplished.
It became a trillion-dollar company.
It joined Alphabet (NASDAQ:GOOG), Apple (NASDAQ:AAPL), Amazon (NASDAQ:AMZN), and Microsoft (NASDAQ:MSFT) as the only U.S. companies to currently hold that distinction. Not only that, but Tesla cleared the trillion-dollar mark faster than any other company.
Source: Morning Brew
Source: Morning Brew
To a lot of folks, all of this just sounds silly.
That's because, at a $1 trillion valuation, Tesla is now worth more than Toyota, Volkswagen, Daimler, General Motors, BMW, Ford, Stellantis, Volvo, Ferrari, Honda, and Hyundai combined – and most of those companies sold way more cars and recorded way bigger revenues than Tesla did last year.
So… Tesla at a trillion bucks… that has to be a bubble, right?
Wrong.
Because, last I checked, companies aren't valued on how many cars they sell or how much revenue they rake in – they're valued on profits. After all, to shareholders, how valuable is the sale of a $40,000 car if the automaker spent $40,000 to make, advertise, and sell the car?
It's not valuable at all.
That's the piece that Tesla bears are missing. Profits – not sales – matter, and Tesla is structurally and significantly more profitable than legacy automakers.
Why?
Let's zoom out here. The reality is that, at scale, making an electric vehicle (EV) will be significantly cheaper than making a gas-powered car.
I know. That's contrary to everything you've ever been told. And before you go pull up statistics showing me that EVs are more expensive to make than gas-powered cars today, let me tell you that the current EV production premium is exclusively because of the battery.
The battery comprises about 25% of an EV's production costs. Strip out the battery and it's way cheaper to make an EV than a gas-powered car, because there are way less parts.
With EVs, there's no oxygen sensors, no spark plugs, no motor oil, no timing belts, etc.
The fewer parts you have, the cheaper it is to make.
So, the only thing keeping EV production costs higher than gas-car production costs is the battery – and those costs are plummeting. Between 2007 and 2020, the cost of EV battery packs has registered an average decline of 16% per year.
The more time goes on, the more battery costs go down, and the cheaper and cheaper it gets to make an EV.
Soon enough, battery costs won't be a hurdle anymore. By that point – likely within the next decade – EVs will be significantly cheaper to make than gas-powered cars.
Not to mention, consumer demand is shifting toward EVs, so today's prospective car buyers are willing to pay a premium for an electric car. That should result in higher sales prices for EVs, and reduce marketing costs for EV makers. Notice how Tesla hasn't had to materially discount its cars, or how the company never runs any ads yet everyone still wants one?
In financial terms, the implications here are obvious. Tesla should sell its cars at higher prices than traditional automakers, and operate at significantly higher gross margins, with lower marketing spend, resulting in significantly higher profits per car.
Let's put some numbers to this…
The average car sells for about $40,000. Tesla's average sales price last quarter was $50,000. Higher sales price? Check.
Automakers typically run at 15% gross margins. Tesla clocked in at 30% gross margins last quarter. Higher gross margins? Check.
Your average automaker spends about 7% of revenues on sales and marketing, and another 5% on research and development. Tesla's marketing spend rate is currently about 7%, and rapidly falling with an opportunity to hit 5% or lower at scale, while the R&D rate is already closing in on 4%. Lower operating expense (opex) rates? Check.
Add it all up, and the average automaker is netting about $1,200 in operating profits per new car sold, while Tesla is making about $10,500 in operating profits per new car sold – a near 9X increase.
So… significantly higher profits per car? Double check.
And that, in a nutshell, is why Tesla deserves its trillion-dollar valuation.
Elon Musk & Co. make about 9X more per car than other automakers, so TSLA deserves to be valued at about 9X your biggest legacy automaker, assuming Tesla can one day sell as many cars as that automaker (which we think is doable).
The biggest legacy automaker? Toyota. Its market capitalization? $240 billion. A 9X multiple on that is a $2-plus TRILLION potential valuation for Tesla one day.
This run isn't over…
More importantly, though, the above "back-of-the-napkin math" is why Tesla won't be the only trillion-dollar electric vehicle company.
Because Tesla won't be the only company in the EV universe to benefit from economies of scale, lower production costs, and lower marketing costs. In fact, almost all pure EV makers will benefit from those dynamics, which means they will make about 9X as much profit per car sold as their legacy automakers at scale.
Therefore, while the auto industry titans of today are worth anywhere between $50 billion and $250 billion, we think the EV industry titans of tomorrow will be worth 9X that – anywhere between $450 billion and $2 trillion.
So what does that mean for you as an investor today?
Well, most EV stocks not named Tesla are worth less than $20 billion today.
That's why – while we're still bullish on Tesla – we're much more bullish on other EV stocks whose best days are still ahead of them… stocks that we feel have 10X, 20X, even 30X upside potential.
The million-dollar – er, trillion-dollar – question is: What are the names of those stocks?
That's what we aim to uncover in our most exclusive investment research service, Early Stage Investor.
For readers who are unaware, Early Stage Investor is our small-cap investment advisory where we focus on investing in the world's most innovative companies and game-changing technologies… while they're still in their early stages… before they soar thousands of percent like Tesla.
Very recently, we just launched a brand-new portfolio in Early Stage Investor called the "4 EV Stocks for Financial Freedom" portfolio – and in that portfolio are the names of four EV stocks that we feel are best positioned to follow in Tesla's footsteps, turn into giants of the future EV industry, and ultimately score shareholders enormous profits.
The best part? All four of those stocks are tiny and off the radar of most investors, so getting in now is like getting in on Tesla back in 2015… before Elon Musk was a household name, and before TSLA stock turned early shareholders into "Teslanaires."
These stocks could do the same.
The only question that remains: Will you be one of them?
On the date of publication, Luke Lango did not have (either directly or indirectly) any positions in the securities mentioned in this article.
The post Tesla Won't Be the Only Trillion-Dollar EV Stock appeared first on InvestorPlace.
Energy Continues To Lead US Equity Sectors By Wide Margin In 2021
The reboot of energy stocks rolls on in the year-to-date sector horse race, based on a set of ETFs through Tuesday's close (Oct. 26). The rebound in…
The reboot of energy stocks rolls on in the year-to-date sector horse race, based on a set of ETFs through Tuesday's close (Oct. 26).
The rebound in the previously faltering energy sector began a month ago. In late-September, CapitalSpectator.com reported that Energy Select Sector SPDR Fund (XLE) regained the lead for the major equity sectors in 2021. That lead has subsequently strengthened through October.
XLE is up an astonishing 61.3% so far this year, or roughly twice the year-to-date gain in our previous report from a month ago. Lifting the fund is a combination of surging oil and gas prices, which in turn is driving bullish earnings expectations amid mounting evidence that higher inflation may persist for longer than previously expected.
Not surprisingly, current conditions have triggered a bullish attitude adjustment for the sector's outlook, reports Barron's:
About 80% of all analysts' profit forecasts for this year and next have been increased, higher than the 74% seen in September, according to Citigroup. That means more profit projections have been increased than reduced in the past month.
The strength of energy's year-to-date rally is no less conspicuous when you consider that the second-best sector performer this year is far behind. Financial Select Sector SPDR (XLF) is up 39.5% — a strong gain in absolute terms, but nowhere near XLE's surge.
The US stock market overall is posting an impressive rise this year via SPDR S&P 500 (SPY). But the ETF's 23.2% increase so far this year pales next to XLE's advance.
The weakest sector performer this year: Consumer Staples SPDR (XLP), which is higher by a relatively moderate 7.9% year to date. The sector, traditionally considered one of the more resilient, defensive corners of the market, is struggling to keep pace with equities overall (SPY), as this chart of relative performance history shows:
When the line is rising, the broad US equity market (SPY) is outperforming XLP. ON that basis, XLP's defensive features have remained out of favor for much of the time since the market began recovering from the coronavirus crash in the spring of 2020.
---
Learn To Use R For Portfolio Analysis
Quantitative Investment Portfolio Analytics In R:
An Introduction To R For Modeling Portfolio Risk and Return

By James Picerno
---
inflation
crash