WTI Dips After API Reports 2nd Straight Week Of (Unexpected) Crude Inventory Builds
WTI Dips After API Reports 2nd Straight Week Of (Unexpected) Crude Inventory Builds
Oil prices extended their gains today (WTI at hits highest…
WTI Dips After API Reports 2nd Straight Week Of (Unexpected) Crude Inventory Builds
Oil prices extended their gains today (WTI at hits highest since 2014 and Brent at three year highs), after the OPEC+ group of producers agreed yesterday to stick to its planned output increase rather than raising it further.
"The market is realizing we are going to be undersupplied for the next couple of months and OPEC seems to be happy with that situation," said Phil Flynn, an analyst at Price Futures Group in Chicago.
Additionally, rocketing global natural gas prices, which may incentivize some power generators to switch from gas to oil, mean crude prices are likely to remain supported even though there could be a short-term pullback, said Gary Cunningham, director of market research at Tradition Energy.
"I think there will be some profit-taking … but we are going into winter with very high natural gas prices," Cunningham said, adding that he expects Brent will find support around $80 and WTI in the mid-$70s.
Saudi Aramco said on Monday that they see switching from Natural Gas to Crude Oil of 500,000 bpd. Who can blame them…
All eyes on tonight's API data (and tomorrow's DOE data) to reassure traders that demand continues to outstrip supply…
API
Crude +951k (-300k exp)

Cushing +1.999mm

Gasoline +3.682mm

Distillates +345k
After last week's surprise inventory builds across the crude complex, analysts expected a modest 300k barrel draw this week but again they were wrong as API reported a small crude build (and builds for Gasoline and Distillates)
Source: Bloomberg
WTI hovered around $79.20 ahead of the print and dipped back below $79 after…
"The price surge comes as fears of depleted supply have stoked panic around the globe," Lindsey Piegza, Stifel's chief economist, said in the note.
"India, for example, has warned it has only four days of coal reserves left, while reports suggest German power plants are running out of fuel. China also reportedly just received an Australian coal shipment despite an import ban."
However, the increase in energy prices could push up inflation and force the Federal Reserve to start raising interest rates sooner than it currently expects, Stifel said.
"Against the backdrop of elevated inflation and rapidly rising energy costs, many market participants are skeptical the FOMC will be able to maintain these low rates for another year, let alone two," Piegza wrote.
On top of that average daily crude production in the US is about 7% lower than last year.
Tyler Durden
Tue, 10/05/2021 – 16:52
inflation
reserve
interest rates
Loonie Soars After Bank of Canada Ends QE Early, Accelerates Rate Hike Timing To Mid-2022
Loonie Soars After Bank of Canada Ends QE Early, Accelerates Rate Hike Timing To Mid-2022
Another day, another hawkish surprise from a developed…
Loonie Soars After Bank of Canada Ends QE Early, Accelerates Rate Hike Timing To Mid-2022
Another day, another hawkish surprise from a developed central bank.
While nobody expected the Bank of Canada to hike rates today despite soaring inflation, the BOC did surprise most most traders when it announced it is ending its bond buying stimulus program, and accelerated the potential timing of future interest rate increases amid worries that supply disruptions are driving up inflation.
In a policy statement on Wednesday, Canadian central bankers led by Governor Tiff Macklem announced they would stop growing holdings of Canadian government bonds, ending a quantitative easing program that has poured hundreds of billions into the financial system since the start of the Covid-19 pandemic, to wit: "The Bank is ending quantitative easing (QE) and moving into the reinvestment phase, during which it will purchase Government of Canada bonds solely to replace maturing bonds." Then again, one look at the BOC's balance sheet makes one wonder just how long this QE halt will survive…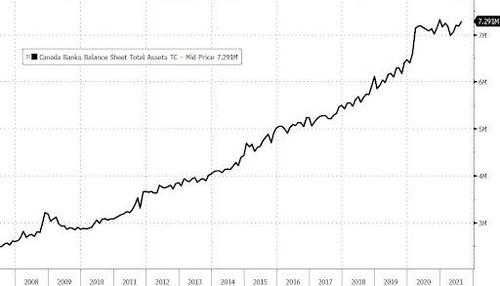 The Bank of Canada will release details of how it will implement the "reinvestment phase'' of bond purchases in a market notice at 10:30 a.m. That will be a situation where it acquires bonds only to offset maturities, keeping overall holdings and stimulus constant. Most recently, weekly bond purchases had been C$2 billion. BOC head Macklem will also provide more insight into his policy decision at an 11 a.m. press conference.
In any case, the BOC also signaled it could be ready to hike borrowing costs as early as April, as supply constraints limit the economy's ability to grow without fueling inflation.
Macklem maintained his pledge not to raise the benchmark overnight policy rate until the recovery is complete, but officials now believe that will happen in the "middle quarters'' of 2022, bringing it forward from the second half of next year as previously thought.
We remain committed to holding the policy interest rate at the effective lower bound until economic slack is absorbed so that the 2 percent inflation target is sustainably achieved. In the Bank's projection, this happens sometime in the middle quarters of 2022. In light of the progress made in the economic recovery, the Governing Council has decided to end quantitative easing and keep its overall holdings of Government of Canada bonds roughly constant.
The language will reinforce market expectations the Bank of Canada is poised to quickly pivot to a tightening cycle amid growing price pressures. Investors are anticipating the Canadian central bank will start raising interest rates within the next six months, with markets pricing in four rate hikes next year.
The Bank of Canada has been using two major tools to keep borrowing costs low: maintaining its policy interest rate near zero and buying up Canadian government bonds from investors to keep longer-term borrowing costs in check. The benchmark interest rate was left unchanged at 0.25% on Wednesday. The central bank has increased its bond holdings by about C$350 billion since the start of the pandemic.
"Shortages of manufacturing inputs, transportation bottlenecks, and difficulties in matching jobs to workers are limiting the economy's productive capacity,'' the BOC said adding that "although the impact and persistence of these supply factors are hard to quantify, the output gap is likely to be narrower than the bank had forecast.''
The more hawkish tone at the bank on Wednesday comes even amid a less rosy outlook for the economy. The central bank cut its growth estimates for both 2021 and 2022, but officials said much of that reflects worse-than-expected supply disruptions in the global economy.
Because of those disruptions, the Bank of Canada marked down estimates of "supply'' by more than their downward revisions to output. That means the central bank now sees less excess capacity in the economy, and less reason to accommodate demand with cheap borrowing costs.  The build-up of inflationary pressures also appears to be testing the Bank of Canada's patience. The Bank of Canada revised higher its forecasts for inflation — to 3.4% in both 2021 and 2022.
This means that the BOC is joining the Fed in tightening into a stagflation.
"The main forces pushing up prices — higher energy prices and pandemic-related supply bottlenecks — now appear to be stronger and more persistent than expected,'' policy makers said. "The bank is closely watching inflation expectations and labor costs to ensure that the temporary forces pushing up prices do not become embedded in ongoing inflation."
In the accompanying Monetary Policy Report that contains the Bank of Canada's new forecasts, policy makers also said upside risks to inflation have become a greater concern because price increases are above the central bank's 1% to 3% control range.
In response to the surprise announcement, the Canadian Dollar soared as much as 0.6%, rising to 1.2309 against the USD…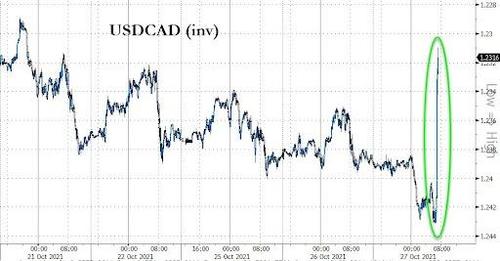 … while the Canadian 2Y yield spiked more than 24bps above 1.00%…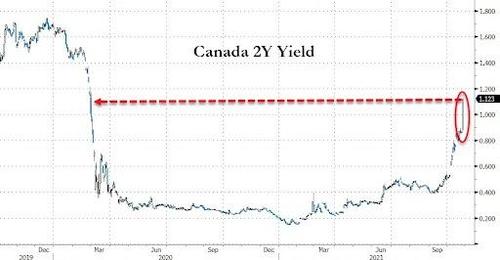 … in a day defined by violent treasury moves, first in the UK and now in Canada.
Tyler Durden
Wed, 10/27/2021 – 10:16

dollar
inflation
stagflation
monetary
markets
policy
interest rates
fed
central bank
monetary policy
inflationary
The Bond Market "Paradox"
The Bond Market "Paradox"
Authored by Peter Tchir via Academy Securities,
I don't remember a lot from the 90's, but one memory has come…
The Bond Market "Paradox"
Authored by Peter Tchir via Academy Securities,
I don't remember a lot from the 90's, but one memory has come back with vivid clarity.
Working with friends and colleagues, who were taking start-up projections and being "conservative" yet completely impossible.
Yes, in their models, users slowed from 200% growth to 50% growth a few years down the road, but their projections still gave them more users than humans within a few years.
That reminds me of legend about grains of rice and a chessboard. According to legend, a ruler asked a servant what they wanted as a reward for some incredible deed. The person asked for one grain of rice to be placed on the first spot on the checkerboard. Two on the second. Four on the third and so on. Doubling the number of grains for each new space on the checkerboard. While that seemed like an absurdly low reward to the ruler, who was probably expecting to be asked to pay his weight in gold (too bad we didn't have bitcoin back then), but it turns out to be an impossibly large number.
Which brings me to Tesla's recent price action. Up 12% on Monday, up 7% on Tuesday morning before falling by almost 9% from that level. While at a glance, the percentage moves are on the high side, it is the market cap moves that are simply astounding. 100's of billions of market cap are being created and sometimes lost, in hours. Even as someone who doesn't believe in efficient markets, that seems bizarre, at best. According to the WSJ, $16.1 billion of option premium was traded on Monday on Tesla. Which was more than the next 99 most actively traded option tickers combined! What is amazing about that is it includes contracts on S&P and Nasdaq futures and ETFs like SPY and QQQ. I assume they only publish the top 100, so if the value of Tesla option contracts wasn't more than the value of every other option contract traded on Monday, I'd be surprised.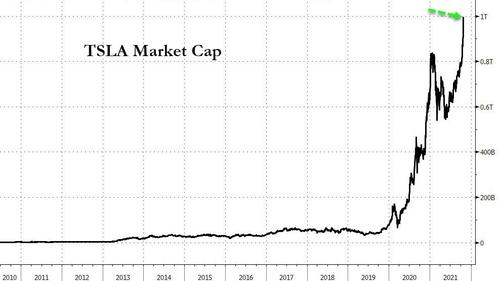 Whether we are at a blow-off top or not, remains to be seen, but
Those sorts of market cap swings seem inexplicable

Those sorts of option trading volumes seem inexplicable
But since they happened, the inexplicable must be explicable, I just wish I had a good explanation other than it is a gambler's market and true liquidity, low at the best of times, is being severely tested by gamma squeezes and portfolios need to be hardened against that (or positioned to take advantage).
The Bond Market "Paradox"
We went into more detail on this in Sunday's "Clear as Mud" but the following seems to be happening:
The market is pricing in the Fed hiking sooner. This is causing yields at the front end to rise. I think it is the wrong thing for the market to do, but I think the headlines will help that trade move along (so I'm betting on something happening that I don't think should happen, but it is also too early to get in the way of the theme). I continue to believe that the next act in the play of not hiking will be to switch from talking "transitory" to talking "long term averages" but that isn't the narrative the market is fixated on, at least not yet.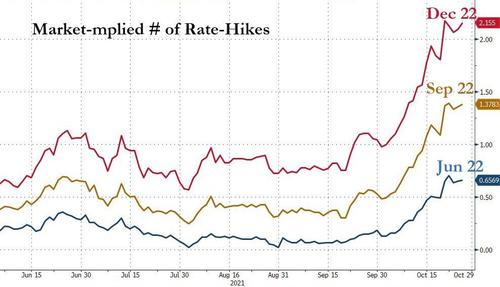 The long end rallies on Fed hikes. The simple narrative would be that the Fed is going to raise rates, which causes bond yields to rise. That is currently not the reaction, as bond investors are sniffing out the potential for the Fed to slow growth too early, or at exactly the wrong time. So fears of a more hawkish fed are driving curves flatter in a "pivot" sort of format (this morning, the pivot point is around 5 years, with bonds less than 5 years to maturity are seeing yields rise, while those longer than 6 years, are seeing yields fall).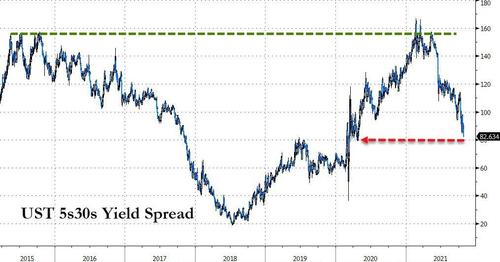 Stocks No Longer "Love" Lower Long-Bond Yields. Parts of the stock market that had been positively correlated to bond prices are now "normalizing" and trading as though they are negatively correlated. That makes sense, because if longer dated bond yields are going lower because of fear of the Fed snuffing growth out, it just isn't good for the market (unlike when yields are going lower because the Fed is buying so much and there is no material threat of sustained inflation).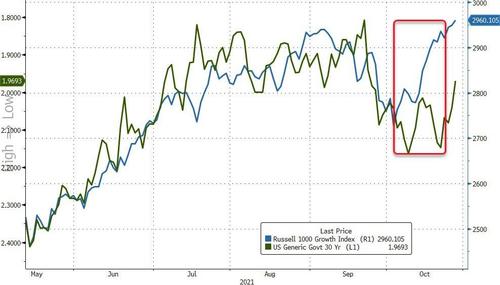 Longer dated bond yields could benefit from a "risk-off" type of move, which the market seems far less positioned for today, than they were a few weeks ago.
I do miss the 90's, but those are stories for another day.
Tyler Durden
Wed, 10/27/2021 – 10:46

gold
inflation
markets
fed
Shiba Inu and other dog coins on heat despite market dip; will ASS explode next?
While Bitcoin and most other top coins take a bath, Shiba Inu is still leg-humping its way up the market. … Read More
The post Shiba Inu and other dog…
While Bitcoin and most other top coins take a bath, Shiba Inu is still leg-humping its way up the market. Meanwhile, an Aussie-themed dog coins is having a crack, and FLOKI is being flogged on the London Underground.
Bitcoin (BTC), Ethereum (ETH) and most other cryptos are having a dog of a day so far, so what's with Shiba Inu (SHIB) and why is it up 22 per cent since this time yesterday, when it was already pumping like crazy?
In fact, the surging dog memecoin hit a fresh all time high a few hours ago, amid the market dump. And it's up 100 per cent over the past week, 689 per cent over the past month, and… um… 66.6 MILLION per cent over the past 12 months.
SHIB still seems to be riding on the fervent speculation it has an imminent listing on the popular Robinhood trading exchange. It's now number 11 on the CoinGecko market-cap leaderboard, with a valuation of US$27.9 billion, ahead of Afterpay and Fox Corporation and closing in on Deutsche Bank. Ridiculous? Hell yeah. But, woof… welcome to crypto.
Shiba Inu hits a new record as a petition asking Robinhood to list the coin gets over 300,000 signatures https://t.co/5aafBt3psY

— FORTUNE (@FortuneMagazine) October 27, 2021
As Fortune reports, a petition on Change.org is requesting  Robinhood list SHIB — and it now has more than 326,000 signatures. On the company's earnings call Tuesday, Robinhood CEO Vlad Tenev said the exchange is "carefully" considering adding new coins to its offerings.
"We feel very, very good about the coins that we're currently listing on our platform and any new coins that we add we want to feel equally, if not more good," Tenev said, making a slight dog's breakfast of his sentence.
Is Shiba Inu 'pointless'?
Shiba Inu – it's just a complete joke coin for pure speculators who don't understand market cap and think it can hit one US dollar… right? Yes, and no.
Despite Michael "Big Short" dismissing the coin as "pointless" just recently, the project does actually have a bit more to it than first memes the eye.
Looking at the project's website, and as the YouTuber Altcoin Daily recently admitted, the thing actually has some surprising utility and an ecosystem built around decentralised finance tenets. These include liquidity provision through ShibaSwap to earn yield in a sub-token called BONE; staking tokens ("burying" BONE); an upcoming layer 2 scaling solution and more. It even has its own NFT marketplace.
$SHIB is a meme coin with a functional DEX, staking and liquidity pools, NFT marketplace, upcoming layer 2 blockchain shibarium and many more planned utilities. #SHIBARMY #Crypto https://t.co/ljk4WhtZMm

— Shib Keeper (@shib_keeper) October 22, 2021
So, yep, it's a meme coin, but as Altcoin Daily points out in a video essentially apologising to the "SHIB Army", it's clearly developed into something quite a bit more.
Not financial advice, but especially after the kind of pumps it's had, investors might consider SHIB a pretty risky buy right now. A Robinhood listing, though, and who knows what could happen. Buy-the-rumour, sell the mutt? Maybe, maybe not.
More canine coins on heat: ASS exploding
A quick scan of some other pooch-powered tokens humping and pumping today, and we can see an Aussie-themed mongrel doing pretty well today, too.
Australian Safe Shepherd, which goes by the ticker ASS, is up a cool 69 per cent (in a coincidental NSFW meme continuation) since this time yesterday.
While this reporter is certainly more of a dog than cat fan, he remains cautious about all this. That said, fans of ASS certainly believe it's going to "explode".
$ASS is going to explode @assfinance #BSCGems pic.twitter.com/rylHA3IID3

— SuperMind (@diamond_a55) October 26, 2021
Australian Safe Shepherd appears be building some expansive DeFi utility around its ASS token, too, as well as having numerous other community-driven activities on its roadmap.
As for some other hounds in the crypto pack today, "the Bitcoin" of meme coins, Dogecoin (DOGE) needs to stock up on its worming tablets – it's down about 10 per cent.
Others posting ridiculously healthy gains, though, include Safemoon Inu (SMI), +82%; CorgiCoin (CORGI), +41%; Dogelon Mars (ELON) +22%; Baby Doge Coin (BABYDOGE), +20%; and Kuma Inu (KUMA), +15%.
The post Shiba Inu and other dog coins on heat despite market dip; will ASS explode next? appeared first on Stockhead.