7 Robinhood Stocks Worth Buying in November
Without a doubt, Robinhood Markets (NASDAQ:HOOD) has changed the way that many people invest. The platform is so popular that the idea of "Robinhood…
Without a doubt, Robinhood Markets (NASDAQ:HOOD) has changed the way that many people invest. The platform is so popular that the idea of "Robinhood stocks" became a thing for people to follow.
Part of the reason for this is the easy functionality of the Robinhood app. It's so easy to use, some detractors complain that Robinhood made investing too much like a game instead of a place where people could legitimately add to (or lose) their portfolios.
Another advantage to apps like Robinhood is the concept of fractional investing. If you don't have $2,400 to drop on a single share of travel website Booking Holdings (NASDAQ:BKNG), no problem! Fractional shares means you can buy $25 or less of BKNG stock at a time, and slowly build your position.
Robinhood says that as of Sept. 30, it hosted 22.4 million accounts on its platform, owned by nearly 19 million monthly active users. The growth of Robinhood has been exceptional, leading the company to launch its own initial public offering earlier this year.
Robinhood stocks, in short, are the equities most popularly traded on the platform. The platform makes that data available to its users daily. It's a closely watched metric by some traders who want to know what other retail traders are buying or selling.
Of course, not all the Robinhood stocks are going to be winners. But these picks have a track record of achievement and rosy prospects for future growth.
Here are seven Robinhood stocks to buy in November:
Robinhood Stocks to Buy in November: Apple (AAPL)
Source: Bloomicon / Shutterstock.com
It's hard to imagine any list of stocks to buy without including the Cupertino, California-based smartphone king, Apple.
It wasn't too long ago – August 2018, in fact, when Apple reached the previously unheard of $1 trillion market cap. But since then, Apple's only gotten bigger and stronger. Currently AAPL stock carries a market cap of nearly $2.5 trillion.
The stock has been a consistent winner in 2021. True, returns haven't been over the moon like some companies, but Apple is evolving from a dynamic growth company to a solid value play. Returns in 2021 are a solid 13%. And Apple carries a reasonable trailing price-earnings ratio of 26.7.
Fiscal fourth-quarter earnings came in a $1.24 per share, which was a 70% increase from last year. Sales also rose 29% to $83.4 billion, but those missed analysts' expectations. You can blame semiconductor chip shortages for that one.
Tesla (TSLA)
Source: Vitaliy Karimov / Shutterstock.com
Apple may be bigger, but very few companies get more publicity — or have such a rabid following — than electric vehicle company Tesla.
Tesla devotees closely follow founder and CEO Elon Musk's social media accounts, and with good reason. Musk is liable to do anything, including most recently trolling Sen. Bernie Sanders. He's also asked his followers if he should sell TSLA stock (he did), he tweets about Mars and suggested that Tesla stock was overpriced.
But there's substance underlying Tesla stock and not just flash from its CEO. Tesla is up a whopping 80% since May. Shares recently topped the $1,000 mark, which is pretty remarkable considering the company did a 5-for-1 stock split in August 2020, when T stock began its latest climb from the then-$498.32 price.
Robinhood Stocks to Buy in November: Microsoft (MSFT)
Source: NYCStock / Shutterstock.com
Microsoft is another amazing growth story. Its market capitalization is a smidge higher than Apple, coming in at this writing at $2.52 trillion. MSFT stock's performance is fantastic, showing year-to-date gains of more than 50%.
Our Dana Blankenhorn recently wrote that the biggest thing pushing MSFT stock these days is the growth of its cloud services. Microsoft buys and builds cloud capacity, and then rents it to other companies. He writes:
Clouds are uniquely profitable because they cap a company's costs while making its software more valuable. Software runs today's world. Microsoft makes the operating system and tool set people rely on most. Thus, Microsoft runs the world.
Microsoft's earnings were another high point for the company. Revenues jumped to $45.32 billion, making top line growth of 22% over last year. Earnings of $2.27 also beat analysts' expectations.
Ford (F)
Source: Vitaliy Karimov / Shutterstock.com
You may wonder what a legacy motor vehicle manufacturer is doing on a list that, at least so far, is dominated by tech and cloud companies. Even Tesla's EVs are more cutting edge than Ford, right?
Not so fast.
Robinhood traders know that Ford is an interesting company these days, with performance that outshines Tesla, Microsoft and many other companies on this list. F stock is up 120% as of this writing, setting new 52-week highs as it reaches levels not seen since 2014.
Ford is leaning hard into the EV space, as the company plans to be able to produce enough batteries by 2025 to power more than 1 million of its vehicles. That would allow Ford to discount the prices of its EVs to be more competitive in the fast-growing field.
Ford is also increasing its foothold overseas, posting year-to-date sales of 457,000 in China. That's an increase of 11%.
Third-quarter revenue for Ford came in at $33.2 billion or 51 cents per share, both of which beat analysts' estimates.
Robinhood Stocks to Buy in November: Disney (DIS)
Source: David Tran Photo / Shutterstock.com
The famous entertainment conglomerate is having a bounce-back year after its theme parks and cruises suffered mightily during pandemic lockdowns. DIS stock is up about 22% so far this year. But more recently, Disney is down more than 8% over the last month.
Much of the recent weakness is due to the company's recent earnings announcement. Disney reported just 2.1 million net additions to its Disney+ streaming service in its fiscal fourth quarter. Much of the weakness was in India, where the company's Disney+ Hotstar service actually lost 2 million subscribers.
But CNBC's Jim Cramer, appearing on his Mad Money show, says that Disney can be a "great long-term story" because of its ability to create new content.
Data collected by TipRanks shows 23 analysts have a consensus price target of $208 on DIS stock, which represents a 30% upside. Of that group, 17 analysts have a "buy" rating on Disney, while the other six suggest to hold your positions.
Nio (Nio)
Source: Sundry Photography / Shutterstock.com
Rightly or wrongly, Nio is referred to as the Tesla of China. Part of that is because of its electric vehicle program. And part of it is because the company has a wildly charismatic leader in CEO William Li.
But in my view, what makes Nio compelling is its unique battery-as-a-service (BaaS) program. Instead of having electric vehicles plug in to recharge, Nio drivers simply pull into a battery-swapping station. There, they can exchange a depleted battery for a fully charged one in less than five minutes.
The BaaS program makes the cost of an electric car as much as $10,000 cheaper, Nio says. And the company has completed more than 4 million battery swaps since starting the program in 2018.
Nio stock struggled so far this year, down 12% after a dynamic first quarter. But it appears to be on the rebound. Over the last month, Nio stock is up 17%.
Robinhood Stocks to Buy in November: Pfizer (PFE)
Source: photobyphm / Shutterstock.com
Pretty much everyone knows what Pfizer does and its role in today's society. Pfizer is one of the companies that successfully developed and marketed its Covid-19 vaccination.
Pfizer just increased its 2021 forecast for vaccine revenue from $33 billion to $36 billion for its coronavirus vaccine. It splits profits with its biotech partner, BioNTech (NASDAQ:BNTX), but that's still a healthy revenue stream.
And those dollars will keep coming. The Centers for Disease Control recently approved the company's Covid-19 vaccine for children ages 5 to 11. Regulators in Israel made the same decision and Canada is likely just around the corner.
Pfizer posted third-quarter earnings on Nov. 2. Revenue was $24.1 billion with earnings per share of $1.34, handily beating analysts' expectations on both fronts.
For the year, PFE stock is up 35%, including 19% over the last month.
On the date of publication, Patrick Sanders was long TSLA. The opinions expressed in this article are those of the writer, subject to the InvestorPlace.com Publishing Guidelines.
Patrick Sanders is a freelance writer and editor in Maryland, and from 2015 to 2019 was head of the investment advice section at U.S. News & World Report. Follow him on Twitter at @1patricksanders.
More From InvestorPlace
The post 7 Robinhood Stocks Worth Buying in November appeared first on InvestorPlace.
Graphite prices heading higher on market tightness
2021.11.30
As expected, the electrification of the global transportation system is creating strong tailwinds for the EV market.
Power Technology, known…
2021.11.30
As expected, the electrification of the global transportation system is creating strong tailwinds for the EV market.
Power Technology, known for its research on the energy sector, reports that EV sales more than doubled in the first half of 2021, increasing by 160% compared to H1 2020. The 2.6 million units sold, 1.1 million of which were in China, represent 26% of total new car and truck sales globally.
An analysis from IDTechEx quoted by the publication forecasts EV sales in 2021 are on track to surpass 5 million passenger cars.  "If they do, it will mean an astonishing growth rate of ~86% CAGR since 2011," the report reads.
Virta, which claims to be the fastest-growing electric vehicle charging platform in Europe, operating in over 30 countries, is more aggressive in its 2021 EV sales forecast.
"Carried by a decarbonization challenge most leading nations now take seriously, 2021 is a game changer in the history of EV sales and it is expected that 6.4 million vehicles (EVs and PHEVs combined) will be sold globally by the end of the year. It would then represent a 98% year over year increase," the company states in a report titled 'The Global Electric Vehicle Overview in 2022: Statistics and Forecasts'.
Projecting further out, Virta cites the International Energy Agency's (IEA) Global EV Outlook 2021, whose Stated Policies Scenario suggests that by 2030, the global EV stock (excluding two- and three-wheelers) could reach nearly 145 million and account for 7% of the total vehicle fleet.
The more ambitious [email protected] campaign envisions, plainly, 30% of all vehicles becoming electric by 2030, putting global sales at 43 million, or almost double that of the Stated Policies Scenario.
Consulting firm McKinsey & Company believes EV sales will continue increasing, fueled by government policies including the Biden administration's stated goal that half of all new vehicle sales by 2030 be zero-emission; state-level adoption of credit programs; tougher emissions standards; and increasing electrification commitments from OEMs.
Second-quarter EV sales in the US increased by nearly 200% compared to Q2 2020, contributing to a domestic penetration rate of 3.6% during the pandemic. The next report should deliver similar or even better growth figures.
Li-ion battery demand
A lithium-ion (Li-ion) battery is a type of rechargeable battery technology common to portable electronics, electric vehicles and large grid-scale storage systems for renewable energy. 
These batteries consist of an anode, cathode, separator, electrolyte and two current collectors (positive and negative).
The cathode contains lithium, either in the form of lithium carbonate or lithium hydroxide, while the anode is made up of graphite. There are no substitutes for either in a Li-ion battery.
While there are several obstacles to increasing the penetration rate of EVs to regular vehicles, including charging station infrastructure and lowering their sticker prices, recent research suggests the battery storage market is growing in leaps and bounds.
According to an analysis by Adamas Intelligence, in 2020 a total of 134.5 gigawatt hours (GWh) of battery capacity was deployed globally into newly sold passenger BEVs, PHEVs and HEVs, an increase of 39.6% compared to 2019.
The added capacity is on trend with a report last year from Roskill, which found that lithium-ion battery demand is expected to increase more than 10-fold.
"The pipeline capacity of battery Gigafactories is reported by Roskill to exceed 2,0‌00GWh in 20‌29, at over 145 facilities globally," the report reads. "Driven by demand from the automotive and energy storage markets, NCM/NCA type cathode materials are expected to remain dominant, though other cathode types will take market share in niche environments or applications." 
In March of this year, Benchmark Mineral Intelligence said it is tracking 200 "super-sized" lithium-ion battery cell plants in the pipeline to 2030, bringing total global capacity to 3.4 terawatt-hours, a massive increase from the 755 gigawatt-hours in 2020. (1TWh = 1,000 GWh)
The bulk of these sprawling new battery-making facilities are likely to be in China, which currently produces around three-quarters of the world's lithium-ion batteries.
Of the 200 plants that BMI is tracking, 148 are in China, compared to 21 in Europe and 11 in the United States.
However, new energy storage systems in the US are sprouting up. According to a 2020 report by commodities consultancy Wood Mackenzie, and the US Energy Storage Association, over 2,000 megawatt-hours (MWh) were brought online in the fourth quarter of last year.
And there's more to come. The firm's head of energy storage, Dan Finn-Foley, predicts the US energy storage market will add five times more megawatts of storage in 2025 than was added in 2020, with front of the meter (FTM) storage continuing to contribute between 75-85% of new MW each year.
There are a number of battery plants in the works to join Tesla, whose first gigafactory in Nevada started production of battery cells in 2017. The company has a plant in Buffalo, New York, and plans to open a third (US plant) in Texas by the end of this year. Tesla also has a "pilot line" at its facility in Fremont, California, for R&D technologies. 
In 2020 General Motors announced plans to install its first battery cell factory in Ohio, a project called Ultium Cells launched with its Korean partner LG Chem. The latter opened a plant in Holland, Michigan in 2013.
Another South Korean company, SK Innovation, is planning on opening the first of two battery plants in Georgia early next year; the company is a supplier to Volkswagen and Ford.
The latter along with American auto icon GM have big plans to electrify their fleets. Ford announced plans to boost spending on electrification by more than a third, and aims to have 40% of its global volume electric by 2030, which translates to more than 1.5 million EVs based on last year's sales.
GM reportedly aspires to halt all sales of gas-powered vehicles by 2035, with plans to invest $27 billion in electric and autonomous vehicles over the next five years.
In October Toyota said it will invest about $3.4 billion on American battery development and production through 2030.
There are currently 11 EV start-ups racing to catch up with market leader Tesla, fueled by money from Wall Street. They include Rivian out of Irvine, California, Lucid Motors based in Newark, CA, Lordstown Motors from Ohio, Nikola Corp (Phoenix), Fisker (Los Angeles), Faraday & Future (Los Angeles), Canoo (Torrance), NIO, Li Auto and XPing from China, and Arrival, based in London.
The latest car company to commit to EVs is Nissan, which plans to spend 2 trillion yen (US$17.6 billion) over the next five years. The Japanese automaker is hoping to launch 23 electrified models including 15 EVs, aiming for 50% electrification by 2030 through its Ambition 30 strategy.
This gives you a sense of the extent to which the EV lithium battery market in the US is growing.
Need for graphite
For all the talk of electrification and battery plant growth, nothing can be achieved without ensuring there is enough supply of the metals used to power these vehicles.
A 2020 World Bank report entitled 'The Mineral Intensity of the Clean Energy Transition', estimated that production of minerals underpinning the clean energy shift would have to increase by nearly 500% by 2050 to meet global demand for renewable energy.
Lithium, obviously a key ingredient for making EV batteries, is set to endure an unprecedented shortage of supply in the coming years. Global miner Rio Tinto has said even if they had another 60 lithium mines, that wouldn't fill the supply-demand gap. Bloomberg NEF research shows that over five times more lithium is needed in 2030 compared to current levels.
Another battery metal less in the spotlight but also facing severe supply concerns is graphite. Graphite is the only material that can be used in the lithium-ion battery anode, there are no substitutes. This is due to the fact that, with high natural strength and stiffness, graphite is an excellent conductor of heat and electricity. The only other natural form of carbon besides diamonds is also stable over a wide range of temperatures.
According to the World Bank, graphite accounts for nearly 53.8% of the mineral demand in batteries, the most of any. Lithium, despite being a staple across all Li-ion batteries, accounts for only 4% of total demand.
An electric car contains more than 200 pounds (>90 kg) of coated spherical graphite (CSPG), meaning it takes 10 to 15 times more graphite than lithium to make a Li-ion battery.
For every million electric vehicles, which is only about 1% of the new car market, we need in the order of 75,000 tonnes of natural graphite, representing a 10% increase in flake graphite demand.
The EV battery market alone is projected to consume well over 1.6 million tonnes of flake graphite per year, resulting in a 10-fold increase in demand by 2030. This is worrisome considering that total graphite mined in 2020 for all uses, including lump graphite for pencils and graphite used in nuclear reactors, was only 1.1 million tonnes.
It is estimated that the natural flake graphite market could reach a deficit as soon as 2023, with few new sources being developed around the world.
Critical graphite
At the moment, nearly all graphite processing takes place in China because of the ready availability of graphite there, weak environmental standards and low costs. Nearly 60% of the world's mined production last year came from China, making it a dominant player in every stage of the supply chain.
After China, the next leading graphite producers are Mozambique, Brazil, Madagascar, Canada and India. The United States does not produce any natural graphite and therefore must rely solely on imports to satisfy domestic demand.
The level of foreign dependence has increased over the years. The US imported 38,900 tonnes of graphite in 2016 and 70,700t in 2018.
According to the USGS, in 2020 the US imported 42,000 tons, of which 71% was high-purity flake graphite, 28% was amorphous, and 1% was lump and chip graphite. The top importers were China (33%), Mexico (23%), Canada (17%) and India (9%). But remember, the US is not 33% dependent on China for its battery-grade graphite, but 100%, since China controls all spherical graphite processing.
It's thought that the increased use of lithium-ion batteries could gobble up well over 1.6 million tonnes of flake graphite per year (out of a total 2020 market, all uses, of 1.1Mt) — only flake graphite, upgraded to 99.9% purity, and synthetic graphite (made from petroleum coke, a very expensive process) can be used in lithium-ion batteries.
The USGS believes that large-scale fuel cell applications are being developed that could consume as much graphite as all other uses combined.
Can the mining industry crank out more graphite every year to match this demand? Call me skeptical. Between 2018 and 2019, world mine production actually declined by 20,000 tonnes, or 1.8%. Global production in 2019 and 2020 was exactly the same, 1.1 million tonnes.
China's limitations 
Currently there are no producing graphite mines in the United States, and only 10,000 tonnes a year is being mined from two facilities in Canada. The fact is, for the United States to develop a "mine to battery" supply chain at home, it currently has no choice but to import its raw materials from foreign countries.
For battery-grade graphite, that means China, which is growing increasingly adversarial, in terms of trade, foreign policy and militarily.
Even if the US wants to keep importing its graphite, doubts have been raised over whether China could keep up with surging global demand. The top producer has already taken steps to retain its graphite resources by restricting its export quota and imposed a 20% export duty.
Metal Bulletin reported in October that Chinese graphite prices are likely heading higher in the last quarter of this year due to rising electricity costs and reduced power supply, as well as insufficient inventories and inadequate availability of feedstock for spherical graphite processing.
High power costs and limits on energy consumption in China may make it increasingly difficult for graphite producers to stockpile material to serve customers during the winter months. Graphite producers typically halt production from mid-November/December until March.
Prohibitively cold temperatures in northern China's Heilongjiang province, where the majority of natural flake graphite production is centered, typically prompt extended graphite production stoppages, with producers supplying customers from inventory during the outage period.
If natural graphite producers in Heilongjiang are unable to produce sufficient volumes of material for their stockpiles, given power shortages and elevated electricity costs, we may see natural graphite shortages emerge in the coming months, lending upward support to prices.
In short, the days of affordable, abundant graphite from China are numbered, adding further urgency for the US to develop its own supply.
The demand for graphite is only headed in one direction. A White House report on critical supply chains showed that graphite demand for clean energy applications will require 25 times more graphite by 2040 than was produced worldwide in 2020.
We have clearly reached a point when much more graphite needs to be discovered and mined.
This is why the US is looking to develop its own "mine to battery" supply chain, which would include a cost-competitive and environmentally sustainable source of graphite.
Political support
In February of this year, President Joe Biden signed an executive order (EO) aimed at strengthening critical US supply chains. Graphite was specifically identified as one of four minerals considered essential to the nation's "national security, foreign policy and economy."
Fortunately there are a growing number of US politicians who like the idea of developing domestic critical metal mines, and are working with the mining industry to achieve results.
Among the most vocal is Alaska Republican Senator Lisa Murkowsi. Murkowski helped draft the bipartisan infrastructure bill recently passed by Congress. The $1.2 trillion package includes money for research and demonstration projects and other efforts aimed at lessening the reliance on China for the supply of critical minerals like lithium and graphite.
In discussing America's dependence on foreign nations such as Russia and China to meet its resource needs, Murkoswski said:
"We need a rational, clear-headed, eyes-wide-open approach to energy and mineral development. We don't want to go back on energy, and we can't be caught flat-footed on minerals. We have the resources, and we have the highest labor standards in the world, the highest environmental standards in the world. Our energy workers, our miners, they hold themselves to that standard. So instead of importing more from places like Russia and China, we need to free ourselves from them to the extent that we can and establish ourselves as this global alternative." 
Fortunately, there is plenty of North American graphite for local consumption, if industry and government can find the collective will to make it happen.
The Kigluaik Mountains on Alaska's Seward Peninsula hosts a deposit with the size and grade to meet the nation's growing need for graphite in Li-ion batteries.
Graphite One
Earlier this year, the Federal Permitting Improvement Steering Committee (FPISC) granted High-Priority Infrastructure Project (HPIP) status to Graphite One Inc. (TSXV:GPH, OTCQX:GPHOF), which is aiming to develop America's first high-grade producer of coated spherical graphite (CSG) integrated with a domestic graphite resource at Graphite Creek, Alaska.
The HPIP designation allows Graphite One to list on the US government's Federal Permitting Dashboard, which ensures that the various federal permitting agencies coordinate their reviews of projects as a means of streamlining the approval process.
Graphite Creek is the highest-grade and largest known flake graphite deposit in North America, spanning a distance of 18 km.
The project is envisioned as a vertically integrated enterprise to mine, process and manufacture high-quality CSPG for the lithium-ion electric vehicle battery market. Graphite One aims to become the first US vertically integrated domestic producer to do so.
The latest resource estimate (March 2019) for Graphite Creek showed 10.95 million tonnes of measured and indicated resources at a graphite grade of 7.8% Cg (graphitic carbon), for some 850,000 tonnes of contained graphite. Another 91.9 million tonnes were tagged as inferred resources, with an average grade of 8.0% Cg containing 7.3 million tonnes.
A Preliminary Economic Assessment (PEA) supports a 40-year operation with a mineral processing plant capable of producing 60,000 tonnes of graphite concentrate (at 95% purity) per year. On a pre-tax basis, the project has a net present value of $1.03 billion using a 10% discount rate, with an internal rate of return (IRR) of 27%.
Once in full production, Graphite One's proposed graphite products manufacturing plant — the second link in its proposed supply chain strategy — is expected to turn graphite concentrates into 41,850 tonnes of battery-grade coated spherical graphite and 13,500 tonnes of graphite powders per year. A location in the Pacific Northwest is being considered.
Conclusion
There are no substitutes for lithium and graphite; these critical metals are expected to remain the foundation of all lithium-ion EV battery chemistries for the foreseeable future. 
Lithium is in the battery cathode and graphite, or more precisely, coated spherical graphite, is in the anode.
Graphite has long been used in the aviation, automotive, sports, steel and plastic industries, as well as in the manufacture of bearings and lubricants. Graphite is an excellent conductor of heat and electricity, corrosion- and heat-resistant, as well as strong and light.
Lithium-ion batteries contain 10 to 15 times more graphite than lithium. The need for lithium batteries not only for EVs, but energy storage, handheld tools like drills, and an array of consumer electronics like cell phones and laptops, is almost certain to outstrip supply.
In fact, the lithium-ion battery manufacturing capacity currently under construction would require flake graphite production to more than double. 
(BMI estimates the major automakers have committed over $300 billion to developing EVs, and more than 2 terawatts of lithium battery production capacity, equating to 800,000 tonnes of new annual graphite demand by 2023 and 1.4Mt by 2028.)
To meet this demand, 12 battery factories are being built in the United States, including Tesla's Texas "Terafactory", which would have an annual battery production capacity of 1 terawatt-hour, or 1,000 gigawatt-hours (GWh).
According to BMI, just one 30 GWh per year lithium-ion battery factory needs roughly 33,000 tonnes of graphite anode material per year. The Texas Terafactory would demand more than 1 million tonnes of graphite per year, about one year's worth of current mined graphite output for all uses.
If all 12 factories are built, they will require about 396,000 tonnes of graphite, every year. This is nearly two-thirds the amount of graphite produced by China, by far the largest graphite producer in the world, in 2020. Remember, the US currently produces NO natural graphite, yet it is consumed by roughly 90 American companies. 
According to MINING.com's EV Metal Index, graphite prices have held steady above $700 a tonne in 2021. But the more important number is the dramatically higher amount of graphite being used for EV batteries. MINING.com states:
In April 2021, just over 14,000 tonnes of synthetic and natural graphite were deployed globally in batteries of all newly-sold passenger EVs combined, a 233% jump over the same month last year. 
The evidence piling up here leads to only one conclusion: if we continue to rely on China and other foreign source for graphite, the price of this indispensable EV battery ingredient is going to go through the roof.
Explosive EV demand + tight supply especially from China, which dominates the production of coated spherical graphite needed for Li-ion batteries = supply insecurity and higher prices.
There is however a happier ending to this story, and that is taking steps to secure a domestic supply of graphite with enough tonnage for America to reduce and even eliminate its dependence on foreign suppliers.
In my opinion, we can build a North American "mine to battery to EV" supply chain, using graphite mined and processed from Graphite One's Graphite Creek deposit.
If we're going to spend hundreds of billions trying to electrify and decarbonize, it just makes sense to us at AOTH that the mining is done in-country. Leaving it up to foreigners only weakens the supply chain, leaving it vulnerable to breakage. 
US critical minerals have been ignored for decades but they are finally getting the attention they deserve. Graphite One is a company on the move with the largest and highest-grade flake graphite deposit in the United States.
Graphite One Inc.
TSXV:GPH, OTCQX:GPHOF
Cdn$2.18, 2021.11.30
Shares Outstanding 83.3m
Market cap Cdn$181.7m
GPH website
Richard (Rick) Mills
aheadoftheherd.com
subscribe to my free newsletter
Legal Notice / Disclaimer
Ahead of the Herd newsletter, aheadoftheherd.com, hereafter known as AOTH.
Please read the entire Disclaimer carefully before you use this website or read the newsletter. If you do not agree to all the AOTH/Richard Mills Disclaimer, do not access/read this website/newsletter/article, or any of its pages. By reading/using this AOTH/Richard Mills website/newsletter/article, and whether you actually read this Disclaimer, you are deemed to have accepted it.
Any AOTH/Richard Mills document is not, and should not be, construed as an offer to sell or the solicitation of an offer to purchase or subscribe for any investment.
AOTH/Richard Mills has based this document on information obtained from sources he believes to be reliable, but which has not been independently verified.
AOTH/Richard Mills makes no guarantee, representation or warranty and accepts no responsibility or liability as to its accuracy or completeness.
Expressions of opinion are those of AOTH/Richard Mills only and are subject to change without notice.
AOTH/Richard Mills assumes no warranty, liability or guarantee for the current relevance, correctness or completeness of any information provided within this Report and will not be held liable for the consequence of reliance upon any opinion or statement contained herein or any omission.
Furthermore, AOTH/Richard Mills assumes no liability for any direct or indirect loss or damage for lost profit, which you may incur as a result of the use and existence of the information provided within this AOTH/Richard Mills Report.
You agree that by reading AOTH/Richard Mills articles, you are acting at your OWN RISK. In no event should AOTH/Richard Mills liable for any direct or indirect trading losses caused by any information contained in AOTH/Richard Mills articles. Information in AOTH/Richard Mills articles is not an offer to sell or a solicitation of an offer to buy any security. AOTH/Richard Mills is not suggesting the transacting of any financial instruments.
Our publications are not a recommendation to buy or sell a security – no information posted on this site is to be considered investment advice or a recommendation to do anything involving finance or money aside from performing your own due diligence and consulting with your personal registered broker/financial advisor.
AOTH/Richard Mills recommends that before investing in any securities, you consult with a professional financial planner or advisor, and that you should conduct a complete and independent investigation before investing in any security after prudent consideration of all pertinent risks.  Ahead of the Herd is not a registered broker, dealer, analyst, or advisor. We hold no investment licenses and may not sell, offer to sell, or offer to buy any security.
Richard owns shares of Graphite One Inc. (TSX.V:GPH). GPH is a paid advertiser on his site aheadoftheherd.com
tsx
tsxv
otcqx
ax
lithium
batteries
energy storage
graphite
electric vehicle
li-ion
renewable
tsxv-gph
graphite-one-inc
Gores Guggenheim Could Be the Next Big EV Play, But Don't Buy Shares Yet
Recently-announced special purpose acquisition company (SPAC) Gores Guggenheim (NASDAQ:GGPI) has raced higher and has since pulled over for a pit stop…
Recently-announced special purpose acquisition company (SPAC) Gores Guggenheim (NASDAQ:GGPI) has raced higher and has since pulled over for a pit stop of sorts. But is now the time for investors to take a test drive and buckle up for the longer road ahead? Or should they steer clear of GGPI stock for the time being?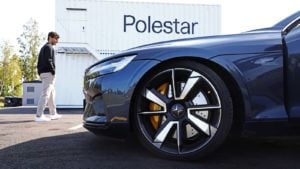 Source: Jeppe Gustafsson / Shutterstock.com
Lucid Motors (NASDAQ:LCID). QuantumScape (NYSE:QS). Blink Charging (NASDAQ:BLNK). Tesla (NASDAQ:TSLA).They're all  electric vehicle (EV) stocks. That's not exactly a secret, of course.
It's also not guarded knowledge that President Joe Biden's infrastructure plan has sent more than a few promising EV-related stocks handily higher the past month. And for good reason, too — with an allocation of $7.5 billion for EVs to become standard technology for the masses, it's big news.
And GGPI, or rather blank-check outfit Gores Guggenheim, is in a strong position to capitalize on momentum within the EV market. This past summer, it announced its merger plans with Sweden's privately-held Polestar.
The Story Behind the Polestar Merger
If timing is everything, GGPI stock mostly failed to gain any traction worth mentioning from the news. Of course, its inability to rally was hardly of its own making. Unlike today, EVs were uniformly underwater at the time and bucking a very green market tide in value and cyclical stocks.
But you knew that already, right? And those days are in the rearview mirror.
What you may not know or appreciate is Polestar's and GGPI's combined pedigree, which sets it apart from most of the EV pack. To steal some background on the merger from InvestorPlace's Stavros Georgiadis, GGPI is coming into a knife fight against other EV plays with a loaded gun.
In a nutshell, GGPI has a longstanding engineering relationship with Volvo's racing vehicles that spans a quarter of a century. There's also Gore's own tenured history, which brings more than 30 years and more than 120 wheeling and dealings to the table.
Unlike much of the competition, Polestar also already has two limited-edition, high-performance EVs in production: Polestar 1 and Polestar 2.
The vehicles look worthy of making Bullitt's titular character rethink his ride of choice if the iconic movie was ever remade. Sacrilege to some, but it wouldn't be out of the question.
Polestar is also committed to launching three new autos by 2024. Gore expects EBIT to break even in 2023, while sales are forecast to climb from $1.6 billion this year to nearly $18 billion by 2025.
GGPI Stock Weekly Price Chart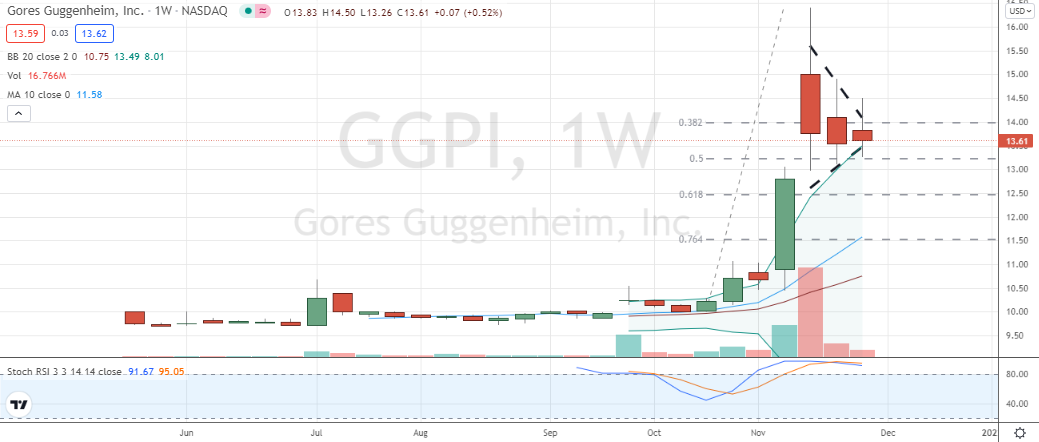 Source: Charts by TradingView
For any merger, there will always be obstacles which need to be navigated. GGPI and Polestar are no exception.
As Will Ashworth, another InvestorPlace colleague smartly notes, there is now some worry regarding Polestar's supply chain because of shortages in key chips and lithium batteries. But Ashworth also proffers buying shares, while stressing there's no particular need to rush right in.
Based on his back-of-a-napkin math, GGPI stock maintains a healthy discount if the deal is approved next year. Shares also offer much more relative value compared to Rivian (NASDAQ:RIVN), the newest EV play on the block.
Technically, and in keeping with Ashworth, the price chart agrees that waiting to buy is the right play. At the moment, shares of GGPI stock are forming an inside candlestick pattern now in its third week of development. The price action also loosely takes on the shape of a symmetrical triangle.
A potential breakout entry aligns itself nicely with a momentum trade. However, the gap between Will's fair value near $18 per share obviously shrinks with this type of entry.
Also, as it stands, GGPI's stochastics is warning investors to stay curbside with its bearish crossover in overbought territory.
In the end, the path of least resistance may lead to a steeper and more generous discount-in-the-making for investors who keep a watchful eye on GGPI stock.
On the date of publication, Chris Tyler did not have (either directly or indirectly) any positions in the securities mentioned in this article. The opinions expressed in this article are those of the writer, subject to the InvestorPlace.com Publishing Guidelines.
Chris Tyler is a former floor-based, derivatives market maker on the American and Pacific exchanges. For additional market insights and related musings, follow Chris on Twitter @Options_CAT and StockTwits.
More From InvestorPlace
The post Gores Guggenheim Could Be the Next Big EV Play, But Don't Buy Shares Yet appeared first on InvestorPlace.
Naked Brand's Pivot to Commercial EV Technology Is Sudden, But Promising
For quite a while, Naked Brand Group (NASDAQ:NAKD) was known as an intimate apparel and swimwear retailer. This wasn't an ideal business model during…
For quite a while, Naked Brand Group (NASDAQ:NAKD) was known as an intimate apparel and swimwear retailer. This wasn't an ideal business model during the spread of Covid-19, and as a result, NAKD stock investors have struggled throughout much of 2021.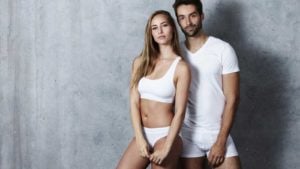 Source: Shutterstock
Sure, there was the meme-stock rally in January but Reddit traders seem to like underdog stocks, so they gifted Naked Brand's shareholders with an epic short squeeze. However, that wasn't a gift that keeps on giving.
As the meme-stock sheen faded, NAKD stock sank below the crucial $1 level. Easy come, easy go, as they say. Still, Naked Brand's investors shouldn't give up hope yet, as the company's undergoing a major transformation with an environmental, social and governance (ESG) angle.
A Closer Look at NAKD Stock
The $1 level is psychologically significant, but there's more to it than that. Sometimes, the Nasdaq exchange may choose to de-list a stock if it drops below $1 and stays there. Unfortunately, NAKD stock fits that description — therefore may be subject to de-listing threats.
Such a treat actually occurred in April, as Naked Brand was non-compliant with Nasdaq's $1 minimum bid-price requirement. Nasdaq gave Naked Brand 180 days to regain compliance with that rule. After that time ran out in October, Nasdaq gave another 180 days.
It's a shame, really, because the shareholders were given a false sense of hope in January. During that month, a meme-stock rally pumped NAKD stock all the way up to $3.40.
Checking in today, the stock is trading at around 60 cents after having drifted sideways for a month and a half. With this, Naked Brand really needs a major event to give the investors something to get excited about. A headline-grabbing buyout could do the trick, right?
It Started with a Hint
By September, it was evident that Naked Brand couldn't rely on Reddit traders to save the company and its stock. Yet, something significant was afoot. The company had already announced the divestiture of Naked Brand's bricks-and-mortar Bendon operations. In an update from Chairman and CEO Justin Davis-Rice, it became evident that something even more consequential was going on. He said:
"I am happy to report that after extensive searching and due diligence, we believe we have found a disruptive opportunity in the clean technology sector."
No real specifics were provided but the CEO did throw Naked Brand's investors a bone, saying, "This company is a market leader with cutting edge patented proprietary technology that we believe satisfies those ESG mandates."
Fast-forward to early November, Naked Brand agreed to acquire the outstanding stock shares of commercial electric vehicle (EV) technology company Cenntro Automotive Group.
Important Meeting on the Agenda
This isn't just a pivot to ESG, however, it's a complete transformation of the company. Admittedly, Naked Brand picked a potentially huge winner of a company with this stock-share takeover.
Allegedly, Cenntro has sold and delivered more commercial electric vehicles than any other EV company. I haven't verified that claim, but for what it's worth, it's mentioned in Naked Brand's press release.
Moreover, apparently customers are estimated to have traveled more than 20 million miles in 26 countries in Cenntro EV's.
Also, Cenntro has more than 238 patents issued to protect its intellectual property. The company expects to generate 2021 revenue of $25.3 million and 2022 revenue of $506 million.
Just recently, Naked Brand revealed that a general shareholder meeting will take place on Dec. 21 to (hopefully) approve the Cenntro takeover.
The Bottom Line
It's hard to imagine that the shareholders won't approve Naked Brand's merger with Cenntro. This event will represent not just an evolution, but a transformation. Naked Brand won't really be the same company after this. So, adjust your investment strategy accordingly.
If you're ready for Naked Brand to potentially abandon the lingerie business and jump head-first into clean automotive tech, feel free to buy and/or hold a few shares of NAKD stock.
On the date of publication, David Moadel did not have (either directly or indirectly) any positions in the securities mentioned in this article. The opinions expressed in this article are those of the writer, subject to the InvestorPlace.com Publishing Guidelines.
David Moadel has provided compelling content – and crossed the occasional line – on behalf of Crush the Street, Market Realist, TalkMarkets, Finom Group, Benzinga, and (of course) InvestorPlace.com. He also serves as the chief analyst and market researcher for Portfolio Wealth Global and hosts the popular financial YouTube channel Looking at the Markets. 
More From InvestorPlace
The post Naked Brand's Pivot to Commercial EV Technology Is Sudden, But Promising appeared first on InvestorPlace.