Bearing Lithium expands Maricunga resources, Chile
Bearing Lithium Corp. [BRZ-TSXV; BLILF-OTCQB; B6K1-FSE] provided an update on the Maricunga lithium project in…
Bearing Lithium Corp. [BRZ-TSXV; BLILF-OTCQB; B6K1-FSE] provided an update on the Maricunga lithium project in the Atacama Desert, Chile. The Maricunga project is the highest grade, undeveloped lithium salar in the Americas.
The updated measured and indicated resource for the Maricunga stage one lithium brine project in Chile confirmed an increase by 90% compared with the 2019 definitive feasibility study. Measured and indicated (M&I) resource now estimated as 1,905,000 tonnes of lithium carbonate equivalent (LCE) for the stage one (old code) mining properties at an average grade of 953 milligrams/litre lithium.
This increase in M&I resources is in addition to the M&I resources (2018) of 979,000 tonnes LCE in the Litio 1-6 (new code) concessions to a depth of 200 metres. The Maricunga resource remains open at depth, with a new exploration target for further resource expansion between 400 metres and 550 metres in the stage one concessions.
The DFS update for the stage one continues as expected by Worley, GEA Messo and Atacama Waters. The latest drilling for the resource increase on the stage one mining concessions at Maricunga has been completed with the five exploration core holes each reaching target depth of 400 metres. Access to the full technical report prepared by Atacama Water Consultants is available on SEDAR and the BRZ website.
The updated resource estimate of 1,905,000 tonnes of lithium carbonate equivalent (LCE) represents close to double the initial resource of 1.02 million tonnes of LCE in the equivalent area (stage one) in the 2019 definitive feasibility study. A resource equivalent to 4.95 million tonnes of KCl was also defined. The resource estimate was prepared in accordance with JORC and NI 43-101 international reporting standards.
The Maricunga resource remains open at depth. A new exploration target between 400 m and 550 m has been defined for further resource expansion below the old code concessions, and between 200 metres and 550 metres below the new code concessions. They could potentially contain between 1.2 million tonnes and 2.1 million tonnes of LCE.
financial institutions and private funds for debt and equity financing of the project."
Bearing Lithium's chairman, Gil Playford, said, "Increasing the 100%-owned stage one old concession resources by 90% solidifies the viability of the definitive feasibility study scheduled for Q4 2021. Having exploration potential at depth for both the old and new concessions portends future growth for the Maricunga salar."
Bearing Lithium is a lithium-focused mineral exploration and development company. Its primary asset is a 17.14% interest in the Maricunga lithium brine project. Over US$67-million has been invested in the Maricunga project to date.
Trident Royalties should benefit from the Thacker Pass resource upgrade
 
Trident Royalties (TRR.L) still seems to be flying a bit under the radar but over the course of the past fifteen months, the company has acquired some…
Trident Royalties (TRR.L) still seems to be flying a bit under the radar but over the course of the past fifteen months, the company has acquired some interesting royalties on non-precious metals deposits. One of the key assets in the portfolio is the 60% ownership in an 8% gross revenue royalty (4.8% attributable to Trident).
Thacker Pass is operated by Lithium Americas which wants to bring the project into production in the next few years. Ahead of the development of the mine, Lithium Americas has released an updated resource estimate on Thacker Pass, which now contains 13.7 million tonnes of LCE in the measured and indicated resource categories and an additional 4.4 million tonnes of contained LCE in the inferred resource category (at a respective grade of 2,231 ppm and 2,112 ppm lithium). The results of this resource update allow Lithium Americas to investigate a production scenario of 40,000 tonnes of LCE per year followed by a Phase 2 expansion to 80,000 tonnes per year (up from 30,000 tonnes and 60,000 tonnes respectively).
As mentioned, Trident owns 60% of an 8% GRR but it's very likely Lithium Americas will repurchase the GRR to the bare minimum, especially in the expanded production scenario as an 8% GRR would result in an annual royalty payment of over $64M at the current lithium prices. The image below shows the different clauses and conditions related to the royalty:
We should indeed assume Trident will end up with an attributable gross revenue royalty of 1.05% as it would make zero economic sense for Lithium Americas to forego the repurchase of the royalty. As it would only cost Lithium Americas US$22M to save about $38M per year in royalty payments at 40,000 tonnes per year and a LCE price of $15,000/t. This means Trident will likely receive US$13.2M in cash when Lithium Americas repurchases the royalty while the remaining 1.05% will bring in over $6M per year (again at 40,000 tonnes per year and a $15,000/t lithium price).
This makes the Thacker Pass royalty very valuable for Trident Royalties and as the Thacker Pass project gets derisked, the value of the royalty will increase towards a value that could likely be in excess of the current market cap of Trident.

Disclosure: The author has no position in Trident Royalties. Please read our disclaimer.
Q3 Report: King coal makes return amid Europe's record gas prices
Record gas prices across Europe saw coal and lignite make up a greater share of Europe's fuel mix than gas in the third quarter of 2021.
The post Q3…
Record gas prices across Europe saw coal and lignite make up a greater share of Europe's fuel mix than gas in the third quarter of 2021.
That was one of the key standouts from the latest report from energy market data analyst EnAppSys, European Electricity Generation Summary Q3-2021.
European coal and lignite plants produced 110TWh during the quarter compared with 92TWh generated by gas-fired plants.
Gas-fired generation output was 21TWh (18%) down on the previous quarter and 55TWh (37%) lower than in the same quarter last year. Meanwhile, coal generation in Q3 2021 was 21TWh (24%) greater than the previous quarter and 19TWh (21%) up on the same quarter last year.
Have you read?
Efficient network tariffs: A must for the energy transition
Britain hits power imports record
Jean-Paul Harreman, director of EnAppSys BV, said: "The sustained trend of increasing gas prices across Europe was driven by several factors, including the need to replenish low levels of storage resulting from a long cold winter last year, high levels of global LNG demand and limited flows of Russian gas into Europe as Russia reportedly sought to replenish its own storage stocks.
"The high price levels flipped the economics of coal/lignite versus gas-fired generation, despite the high price of EU Emissions Trading Scheme (ETS) allowances resulting from the increased demand caused by such fuel-switching."
The third quarter of 2021 saw electricity demand reach 653TWh, slightly below levels in most previous years although 2% higher than in the COVID lockdown-affected Q3 last year.
Renewable output contributed more than 40% of total generation in Q3, as increasing levels of installed wind capacity offset the impact of reduced wind speeds throughout the period. After low levels of output in Q3 last year, nuclear output of 184TWh returned to levels more typically seen in the same period in previous years. 
The EnAppSys report, GB Electricity Market Summary Q3-2021, shows that in the United Kingdom, record-breaking power prices were seen in the third quarter as margins of generation over demand were squeezed due to very low wind output. 
System prices, day-ahead prices and within-day off-peak prices all increased dramatically from the previous quarters – and hit record highs towards the end of the quarter.
EnAppSys said the record prices were due to several factors, including lower wind generation, low nuclear utilisation and unfavourable conditions for solar, higher imports and low European gas storage levels following a long winter last year, which led to extreme gas prices.
Paul Verrill, director of EnAppSys, said: "High wholesale electricity prices throughout the quarter were driven by gas prices, which were already high at the start of the quarter at £31.37/MWh and continued to rise further as the quarter progressed. The price passed £50.00/MWh on September 13 and closed the quarter at £72.01/MWh, showing no signs of easing. A major contributor to this is the global gas shortage, with total European stored gas reserves not yet replenished after a long winter and being around 25% lower than the same period last year. Indeed, these reserves were lower than in any Q3 since 2015.
"Carbon allowance prices were also at an all-time high, rising consistently from August onwards and peaking at £75.57/te on the penultimate day of the quarter. This also fed into the high level of wholesale electricity prices seen throughout the quarter.
"The break-even cost of gas generation increased to such a degree that by mid-September, at times it became cheaper to generate using the least efficient coal units than the most efficient gas units.
"The record prices were also driven by lower wind output, which was 28% down on levels seen in the same period last year, while low nuclear utilisation and unfavourable conditions for solar further reduced supply margins.
"Looking ahead to Q4, if levels of renewable generation remain low, trends of high prices are likely to continue into the winter."
Due to the low levels of renewables and nuclear, interconnectors from the continent saw record level import volumes, although a fire at the IFA interconnector in September reduced capacity in the last two weeks of the quarter.
Gas and coal made up the majority of the generation (42.5%), while renewables accounted for 29.1%. Imports (12.4%) and nuclear 16.1%) made up the rest of Britain's power mix during the quarter.
Paul Verrill continued: "Average APX prices reached £128.59/MWh, a 78.1% increase from Q2. System prices peaked at a record £4,037.80/MWh on September 9. This was the highest imbalance price seen since the £5,003.33/MWh in June 2001, shortly after NETA Go-Live, breaking the next highest for this year that had been set on January 8 2021 at £4,000.00/MWh at 19:00 and 19:30.
"The average system price was £126.14/MWh, the highest of any quarter back to the start of our dataset in Q4 2011, with the next highest being an average of £74.85/MWh in the previous quarter.
"Auctions for the UK Emissions Trading Scheme allowances launched in May 2021, with clearing prices initially higher than those for the EU scheme that it replaced, amounting to £48.01/te for GB compared with £42.37/te for EU. They had converged to within around £2.00/te from June until September, but then diverged with GB prices peaking at £75.57/te on September 29, while EU remained under £55.00/te."
The third quarter of 2021 also saw ten energy suppliers cease trading amid the surge in wholesale gas prices, most notably Avro, Green and People's Energy. In total, more than 1,840,000 customers were affected.
All reports are available online.
The post Q3 Report: King coal makes return amid Europe's record gas prices appeared first on Power Engineering International.
Even After Soaring in its Debut, President Trump's Social Media SPAC DWAC Could be an Interesting Speculation
On October 20, former U.S. President Donald Trump, perhaps the most polarizing world figure in decades, announced an agreement whereby
The post Even After…
On October 20, former U.S. President Donald Trump, perhaps the most polarizing world figure in decades, announced an agreement whereby the newly formed Trump Media & Technology Group (TMTG) will merge in a SPAC transaction with a SPAC sponsor called Digital World Acquisition Corp. (NASDAQ: DWAC). TMTG intends to launch a conservative social network called TRUTH Social. Ultimately, after regulatory and shareholder approval, TMTG would become the surviving publicly traded company.
Details on the venture are scarce, but TRUTH Social plans to launch for invited users in November 2021 and hopes to be available to all users in early 2022. The company also expects to create a subscription video-on-demand service.
TMTG says the enterprise value (EV) of the company will be US$875 million. An undefined US$825 million provision was also mentioned, which could bring the initial EV to US$1.7 billion. We note these figures are presumably based on an initial US$10 share price, as is the convention with SPACs. 
Since DWAC is trading at about US$45 as of yesterdays close, the current implied EV could be around four or more times these US$875 million/US$1.7 billion figures. Reflected in these calculations is some portion of the US$293 million of cash that DWAC has in trust. This cash will initially fund the launch of TRUTH Social. It is not clear if the DWAC-TMTG venture will include private investment in public equity (PIPE) financing that is typically part of SPAC transactions.
It would be easy to scoff at this transaction. In a typical SPAC transaction, the underlying business may not yet be generating revenue, but it is at least operating (e.g., electric vehicle SPACs). TRUTH Social is not yet even operating. In addition, the Trump venture provides no forecast information. Since such forecast information is used to justify (frequently inflated) SPAC valuations, this raises the question of how the initial enterprise valuation was determined.
However, Trump supporters are very loyal and may be inclined to support his venture enthusiastically. Indeed, former President Trump raised US$170 million from donors in just a few weeks last fall to fight what he termed election fraud. 
More explicitly, many Trump supporters could very well join his platform, including as paying subscribers. To put this in a numerical context, President Trump, at his peak before he was barred from appearing on various social media outlets, had 146.5 million total followers on Twitter, Facebook and Instagram combined. If even a fairly smaller fraction of these followers were to join TRUTH Social, that platform could have many tens of millions of members.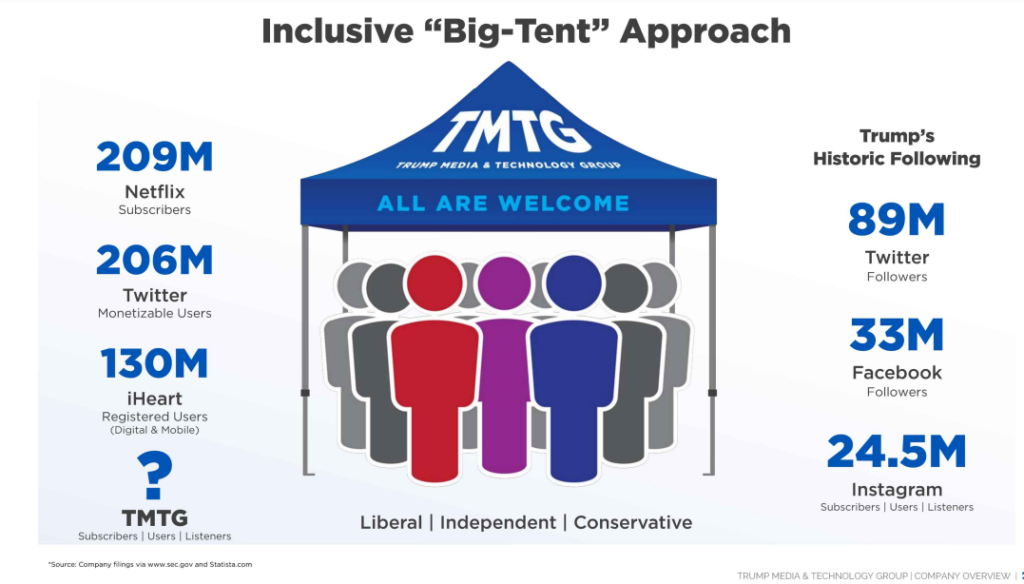 To put this in economic perspective, consider the following: Twitter (NYSE: TWTR) currently has 396.5 million users, including 206 million active users. Its stock market value is US$52 billion. While the number of active users is far from a direct link to stock market capitalization, it does not seem impossible that TRUTH Social could achieve a daily active user base (and therefore an advertising audience) of perhaps a third of Pres. Trump's previous total followers, or around 50 million. Based on Twitter's valuation, the market could value such a venture at significantly more than just US$4-US$7 billion.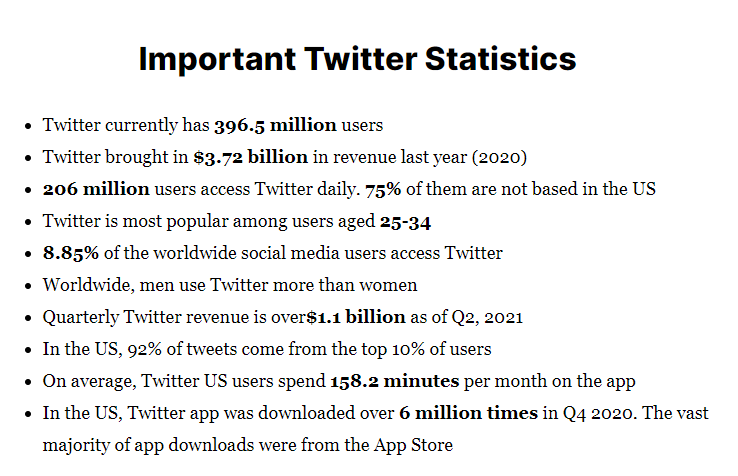 Clearly, DWAC is a highly speculative stock, but the outsized media attention that is lavished on its very public leader could bring many members and subscribers to the upstart social media platform. That attention could drive its equity value well above current levels. After all, "There is no such thing as bad publicity."
Digital World Acquisition Corp. last traded at US$101.50 on the NASDAQ.
---
Information for this briefing was found via Edgar and the companies mentioned. The author has no securities or affiliations related to this organization. Not a recommendation to buy or sell. Always do additional research and consult a professional before purchasing a security. The author holds no licenses.
The post Even After Soaring in its Debut, President Trump's Social Media SPAC DWAC Could be an Interesting Speculation appeared first on the deep dive.