California Bans Small Off-Road Gas Engines, Including Lawnmowers And Chainsaws
California Bans Small Off-Road Gas Engines, Including Lawnmowers And Chainsaws
Authored by Christopher Burroughs via The Epoch Times (emphasis…
California Bans Small Off-Road Gas Engines, Including Lawnmowers And Chainsaws
Authored by Christopher Burroughs via The Epoch Times (emphasis ours),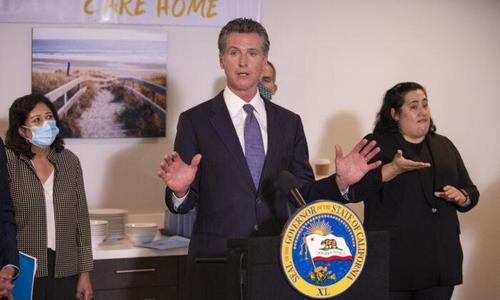 California moved one step closer to ending reliance on fossil fuels as Democratic Gov. Gavin Newsom signed a new bill into law on Sunday to ban all off-road gas-powered engines.
The new law requires the state to apply the new rule by Jan. 1, 2024, or as soon as regulators determine is "feasible," whichever date is later, according to the bill.
The bill served as one step in the governor's California Comeback Plan that includes a strong focus on climate change initiatives.
"In a time when the state and country are more divided than ever, this legislative session reminds us what we can accomplish together. I am thankful for our partners in the state Legislature who furthered our efforts to tackle the state's most persistent challenges – together, we took action to address those challenges head-on, implementing historic legislation and the California Comeback Plan to hit fast forward on our state's recovery," Newsom said in a press release on Saturday.
"What we're doing here in California is unprecedented in both nature and scale. We will come back from this pandemic stronger than ever before," he added.
A 'Massive Change' Measure
Not all Californians approve of the new legislation. Andrew Bray, vice president of government relations for the National Association of Landscape Professionals, argued the zero-emission commercial-grade equipment landscapers will be far too expensive.
"These companies are going to have to completely retrofit their entire workshops to be able to handle this massive change in voltage so they're going to be charged every day," Bray said, according to a Los Angeles Times report Saturday.
The change could strongly impact small businesses in landscaping and related industries. In addition to increased costs, the change could result in other unexpected problems, such as the need to carry charged batteries.
"Bray said a three-person landscaping crew will need to carry 30 to 40 fully charged batteries to power its equipment during a full day's work," according to the report.
A Small Business Disaster
The new law is expected to affect nearly 50,000 small businesses, according to The Washington Examiner. It noted that California's budget includes $30 million for professional landscapers and gardeners to quit using gas-powered equipment, but that it would not be enough to cover the full costs.
The change is also not the only recent climate change announcement regarding gas-powered engines by Newsom. Last month, the governor signed an executive order to ban gas-powered and diesel cars by 2035.
"This is the most impactful step our state can take to fight climate change," Newsom said in the press release announcing the order. "For too many decades, we have allowed cars to pollute the air that our children and families breathe.
Tyler Durden
Tue, 10/12/2021 - 17:40
batteries
How to Navigate a "Risk-Off" Market – and Find Where to Profit
The "risk-on" trade is off… or at least slightly less on.
Source: Shutterstock
In less than the time it takes to click the "sell" button…
The "risk-on" trade is off… or at least slightly less on.
Source: Shutterstock
In less than the time it takes to click the "sell" button in an online brokerage account, the pervasive investor sentiment has shifted from greed to caution.
Gone are the swarms of swashbuckling investors who would eagerly bid up even the most speculative of stocks. The investors who remain active today are much less courageous… and much more skittish.
As a result, most stocks are struggling to make headway, even when they deliver positive surprises to the market. Worse, stocks that disappoint in any way are receiving a swift and severe reckoning from investors.
"Risk-off" phases like these are normal parts of stock market cycles, but that doesn't make them any less frustrating… or anxiety-inducing.
At the "big picture" level, the broad stock market is struggling, which creates a headwind for individual stocks.
One small wrinkle could boost your returns 5X
Even though the S&P 500 index notched a new all-time high as recently as Sept. 2, many major stock market sectors topped out months ago. Even many of the tech-focused sectors that had been leading the market for the last couple of years have been losing steam.
In no particular order, the:
Russell 2000 index topped out March 15 and has slumped 7% since then.
MSCI Emerging Market index topped out Feb. 16 and has dropped 15% since then.
Dow Jones Transportation index topped out May 10 and has slipped 9% since then.
High-profile ARK Innovation ETF (NYSEARCA:ARKK) run by celebrity manager Cathie Wood topped out Feb. 16 and has tumbled 30% since then.
Invesco Solar ETF (NYSEARCA:TAN) topped out January 25 and has plummeted 35% since then.
Amplify Online Retail ETF (NYSEARCA:IBUY) topped out February 16 and has dropped 17% since then.
VanEck Vectors Video Gaming and eSports ETF (NASDAQ:ESPO) topped out February 16 and has dropped 16% since then.
These poor results reflect the significant underlying weakness of our "record-setting" market. Its knees are wobbling a bit.
As one popular gauge of stock market vitality shows, the stock market has been losing strength since last May.
Specifically, the number of new 52-week highs on the New York Stock Exchange is hitting a one-year low, while the number of new lows is hitting a one-year high.
These bearish readings are not the typical vital signs of a healthy stock market.
Fortunately, the news is not all doom and gloom.
This simple strategy could transform a small stock move into a huge gain – see how it works here
Remember, even in the midst of challenging market conditions, it is possible to capture meaningful gains. Identifying megatrends is one of the best ways to achieve market-indifferent success.
After all, our goal as investors is not to simply drift along in the market's ever-changing currents… and to go wherever it happens to take us. Our goal is to identify the powerful trends that can chart their own course to investment gains, no matter what the market "currents" may be.
Identifying megatrends is not always easy, but the search is well worth the effort. A couple of years ago, I highlighted the "battery metal" sector as a megatrend investment play on the nascent boom in EVs and energy storage.
Over the ensuing months, I urged subscribers of The Speculator to buy select battery metal plays like in Galaxy Resources (OTCMKTS:GALXF), Eramet SA (OTCMKTS:ERMAY), Ivanhoe Mines (OTCMKTS:IVPAF), Lynas Rare Earths (OTCMKTS:LYSCF), and Nickel 28 Capital (OTCMKTS:CONXF).
During the last 12 months, all five of these recommendations produced gains ranging from 100% to 300%, compared to the S&P 500's 30% advance.
More to the point, these stocks did not slavishly follow the stock market's day-to-day price action; they produced their triple-digit gains by charting an independent course that was not closely correlated with the S&P 500.
The ability to deliver non-correlated gains is a rare and valuable quality during challenging stock market phases.
I believe battery metal stocks still offer plenty of upside, and I continue to make select recommendations in the sector. But the battery metal sector is not the only mega-trend beneficiary that has caught my eye.
I have identified two others that I believe will reward investors handsomely over the coming years, even if the overall stock market takes a breather for a while.
Obviously, investment success is never easily won, nor is it often immediate. Even modest gains usually take time to play out, but investing selectively in megatrends can increase the odds of success.
To learn more about how I identify, approach, and show my readers how to profit from megatrends, join my colleague Louis Navellier and me at our Escape Velocity Event.
There, we'll go through how you can turn ordinary gains into extraordinary ones – even a 159% stock move into a 4,157% windfall.
Click here to see how.
Regards,
Eric Fry
P.S. Turning small stock moves into huge gains is one of the best-kept secrets in investing. Backtests show you could transform a triple-digit stock move into a staggering quadruple-digit win! Click here to get the full story.
On the date of publication, Eric Fry did not have (either directly or indirectly) any positions in the securities mentioned in this article.
Eric Fry is an award-winning stock picker with numerous "10-bagger" calls — in good markets AND bad. How? By finding potent global megatrends… before they take off. In fact, Eric has recommended 41 different 1,000%+ stock market winners in his career. Plus, he beat 650 of the world's most famous investors (including Bill Ackman and David Einhorn) in a contest. And today he's revealing his next potential 1,000% winner for free, right here.
More From InvestorPlace
The post How to Navigate a "Risk-Off" Market – and Find Where to Profit appeared first on InvestorPlace.
new york stock exchange
nasdaq
rare earths
Green hydrogen – the missing piece in Australia's decarbonisation puzzle
Special Report: The recent IPCC report reminds us that action is needed to help Australia, and the rest of the … Read More
The post Green hydrogen –…
The recent Intergovernmental Panel of Climate Change (IPCC) report reminds us that action is needed to help Australia, and the rest of the world, pick up the pace in reaching net-zero emissions.
Regardless of where you stand politically, the report – like many before it – tells us the world is getting hotter. And unequivocally, atmospheric carbon dioxide (CO2) concentrations are higher and rising faster than ever before.
With insights going back thousands of years, and the ability to send man to the moon, NASA is a reliable source of data into this matter. The graph below is extracted from the NASA website and shows the stark realities of atmospheric carbon dioxide.
And this is usually where the problem starts. More often than not, conversations about climate are fuelled by rage and regret. We do not focus on the facts or pragmatic and realistic options.
For example, how do we reach net-zero emissions whilst still providing 24/7 reliable power. Does driving an electric car fuelled by fossil fuel generated power really reduce CO2? How can we transition away from fossil fuels and maintain our standard of living? How can we reliably store renewable energy to ensure our grid stability?
Letting go of CO2 emissions
Currently, energy generation belches out a third of Australia's CO2 emissions. With entire countries committing to net-zero emissions, surely, we can start with our grid?
Quite simply, without a net-zero energy infrastructure, a net-zero economy cannot exist.
But this won't happen overnight.
We need an approach to bring together multiple renewable technologies to create a reliable renewable energy supply chain. One that won't buckle and strain in peak hours or seasons.
A robust net-zero energy infrastructure is key to delivering lower greenhouse gas emissions without compromising on reliability.
Fuelling the transition
Green hydrogen has the potential to address decarbonisation and rising temperatures. It is clean, reliable, and can generate heat and power for everyday commercial, transport, and residential use.
What's more, the National Hydrogen Strategy states 1kg of clean hydrogen avoids 15kg CO2 emissions.
As a result, it's thought that hydrogen could supply up to 25% of the world's energy needs by 2050.
At the same time, it will enable the storage of valuable solar and wind power for it to be distributed at times of peak consumption.
Safeguarding our planet, our economy, and our future
 The IPCC report is a call to action. But what it tells us is, we still have options.
What we know for sure is, the foundation of a net-zero economy is a net-zero infrastructure. Fossil fuels will be phased out and replaced with sustainable, renewable alternatives.
The place to start is looking at the systems that can be improved now. For example, as we phase out fossil fuels, we should look for integrated energy solutions. These are projects that combine key elements of green energy production and storage such as renewable baseload energy and hydrogen production.
Such projects will allow us to address our energy needs, while moving closer to the renewables that will support net-zero emissions.
More than 70 countries (representing over half the world's GDP) are already on this path with net-zero carbon ambitions. Approximately half of these have hydrogen-specific strategies as a beacon for future decarbonisation and energy security.
To make this move successful however, we need dedicated, governmental focus on bringing green hydrogen to scale.
Verdant Earth Technologies firmly believes that renewable hydrogen will change the world, unlocking the net-zero future desperately needed to protect humanity's collective future.
This article was developed in collaboration with Verdant Earth Technologies, a Stockhead advertiser at the time of publishing.
This article does not constitute financial product advice. You should consider obtaining independent advice before making any financial decisions.
The post Green hydrogen – the missing piece in Australia's decarbonisation puzzle appeared first on Stockhead.
renewable
"The Most Asymmetric Trade For The Coming Years" – Hedge Funds Flood Into Uranium Stocks
"The Most Asymmetric Trade For The Coming Years" – Hedge Funds Flood Into Uranium Stocks
One month ago, we brought readers' attention to one…
"The Most Asymmetric Trade For The Coming Years" - Hedge Funds Flood Into Uranium Stocks
One month ago, we brought readers' attention to one of our favorite market sectors which we have been recommending ever since Dec 2020 - uranium - which we were confident was set for a powerful move higher as a result of an auspicious confluence of technicals and fundamentals: on one hand, as delineated in "A Bitcoin-Like Opportunity In Uranium?", the Sprott Physical Uranium Trust has emerged as a powerful buyer of physical uranium, which in a market as illiquid as uranium, would serve as a powerful catalyst to move prices of both the underlying commodity and various producers sharply higher (the subsequent upsizing of the Sprott Trust by $1 billion only assured that this price-indescriminate buying would continue). That's precisely what happened. On the other hand, the recent global energy crisis has once again turned global attention to nuclear power as an efficient alternative to unreliable "green" energy, with countries from Japan to Finland and France hinting they are making preparations to restart NPPs.
In subsequent days we saw a record investor rush into uranium ETFs...
... coupled with a spike in retail buying as Uranium producer CCJ briefly became the most talked about stock on the Wall Street Bets forum.
And while the sector did see a modest pullback in the second half of September as the initial excitement over the move in uranium died down, a new leg higher may now be starting.
Only this time it's not retail investors that are seeking to spark upward momentum, but much more patient hedge funds that are piling in.
As the FT wrote overnight, after years of stagnant prices, a 37% rally in prices for nuclear fuel uranium has helped attract investors back to the sector. Funds such as Ben Melkman's New York-based Light Sky Macro, Anchorage Capital and Tribeca Investment Partners who have emerged as positive on the outlook for the raw material, as a global energy crunch highlights the role of nuclear power in a transition away from fossil fuels.
The price of raw uranium rose to its highest level since 2012 at $50 a pound last month before giving up some of its impressive gains at the end of the month.
The move - which was inspired by the buying momentum triggered by the Sprott Trust and subsequent retail influx - has attracted new, and much deeper pocketed investors into the market for the first time since before the financial crisis, when buying by investors drove the price from $20 a pound to a record high of $136 a pound in June 2007.
"We've been patiently waiting for something to happen for a long time," Ben Cleary, of Tribeca Investment Partners whose fund is up 345% net of fees this year, told the FT. "Clearly there's speculative money coming back into the sector, there were massive price moves in September."
Well yes, and we documented them all, but they were mostly retail money and ETF buying. The difference this time is that finally the institutions are waking up to what could be a historic surge, especially if the fake ESG lobby starts dumping the bloated FAAMG names and seeks refuge in such "soon to be green" sectors as uranium. Incidentally, the entire Uranium sector is a tiny fraction of Apple's market cap.
Of course, first and foremost we have to again give props to Sprott's Physical Uranium Trust - as we have done repeatedly in the past 2 months - which is one of the few that buys and stores physical uranium. however, most other funds add exposure through mining equities, which have rallied 58% this year.
The rapid rise in natural gas and coal prices to fresh highs this month has exacerbated an energy crisis in Europe and China, and has "placed uranium back in the spotlight", said Rob Crayfourd at CQS New City Investment Managers.
And, echoing what we said a month ago, Crayfourd said that "the political fallout of this energy crisis will be a greater willingness in the west to extend the life of the existing reactor fleet. It has focused governments on the benefits of secure supply of energy from the nuclear fleet. We expect that to lend support [to prices]."
For an example of just that look no further than French President Emmanuel Macron who today said that France would aim to become a leader in green hydrogen by 2030 and build new, smaller nuclear reactors as he unveiled a five-year investment plan on Tuesday aimed at fostering industrial champions and innovation.
While the funds making their way into the uranium sectors are still relatively small, they are hardly inexperienced: Light Sky's founder Melkman, who was previously a partner at hedge fund Brevan Howard, has gained more than 5% this year, said a person who had seen the numbers.
"Light Sky Macro sees an immediate and sizeable opportunity in the uranium sector, making it one of our highest conviction views for 2021," he wrote in a note to clients, seen by the Financial Times, earlier this year. A drawdown of inventory during the coronavirus pandemic has compounded tightening supply, while demand is expected to surge in the coming decades, added Melkman, who has been investing in the sector since 2018.
"The growing focus on 'green energy' at a political level and the growing demand for [sustainable] assets in the investment community should turn uranium into one of the most asymmetric trades for the coming years," he wrote, meaning that the possibility of potential gains far outweighs the risk of losses.
Also profiting is Sean Benson, founder of London-based Tees River. His uranium fund, which buys equity stakes in uranium miners, is up 115% this year.
Benson argued in an investor letter that a deficit of supply relative to demand and a "very supportive" climate change agenda mean that "the current uranium cycle is better than the last on every fundamental metric". His Critical Resources fund, which invests about one-third of assets in uranium, is up 44% this year.
Judging by the surge in uranium stocks today the market is finally starting to pay attention, and while the recent move may seem outsized at least when comped to recent history, when one considers just how much upside there could be in the sector should nuclear power make a triumphal return, we could be in the early stages of a truly staggering move higher.
Tyler Durden Tue, 10/12/2021 - 14:10 aim uranium