CATL Introduces First Generation Sodium-Ion Batteries; up to 160 Wh/kg
Contemporary Amperex Technology Co., Ltd. (CATL) unveiled its first-generation sodium-ion battery, together with its AB battery pack solution—which is…
Contemporary Amperex Technology Co., Ltd. (CATL) unveiled its first-generation sodium-ion battery, together with its AB battery pack solution—which is able to integrate sodium-ion cells and lithium-ion cells into one pack.
The sodium-ion battery has a similar working principle to the lithium-ion battery; sodium ions shuttle between the cathode and anode. However, compared with lithium ions, sodium ions have a larger volume and higher requirements regarding structural stability and the kinetic properties of materials. This has become a bottleneck for the industrialization of sodium-ion batteries.
CATL has been dedicated to the research and development of sodium-ion battery electrode materials for many years. In terms of cathode materials, CATL has applied a Prussian white material with a higher specific capacity and redesigned the bulk structure of the material, which the company says solved the worldwide problem of rapid capacity fading upon material cycling.
For anode materials, CATL developed a hard carbon material that features a unique porous structure, which enables the abundant storage and fast movement of sodium ions, and also an outstanding cycle performance. The specific capacity of the material can reach more than 350 mAh/g. The overall performance is similar to that of graphite.
CATL developed a unique electrolyte system for the cathode and anode materials.
CATL's first generation of sodium-ion batteries has the advantages of high-energy density, fast-charging capability, excellent thermal stability, great low-temperature performance and high-integration efficiency, among others.
The energy density of CATL's sodium-ion battery cell can achieve up to 160 Wh/kg, and the battery can charge in 15 minutes to 80% SOC at room temperature. Moreover, in a low-temperature environment of -20 °C, the sodium-ion battery has a capacity retention rate of more than 90%, and its system integration efficiency can reach more than 80%. The sodium-ion batteries' thermal stability exceeds the national safety requirements for traction batteries.
The first generation of sodium-ion batteries can be used in various transportation electrification scenarios, especially in regions with extremely low temperatures, where its advantages become obvious. Also, it can be flexibly adapted to the application needs of all scenarios in the energy storage field, CATL says.
CATL says that its next generation of sodium-ion batteries will exceed 200 Wh/kg.
AB system. CATL has also developed an AB battery system solution, which mixes and matches sodium-ion batteries and lithium-ion batteries in a certain proportion and integrates them into one battery system. The different battery systems are controlled through the BMS precision algorithm.
The AB battery system solution can compensate for the current energy-density shortage of the sodium-ion battery, and also expand its advantages of high power and performance in low temperatures. Thanks to this innovative structure system, application scenarios for the lithium-sodium battery system are expanded.
Dr. Qisen Huang, deputy dean of the CATL Research Institute, said that sodium-ion battery manufacturing is perfectly compatible with the lithium-ion battery production equipment and processes, and the production lines can be rapidly switched to achieve a high-production capacity.
As of now, CATL has started its industrial deployment of sodium-ion batteries, and plans to form a basic industrial chain by 2023. CATL invites upstream suppliers and downstream customers, as well as research institutions to jointly accelerate the promotion and development of sodium-ion batteries.
Wait for ChargePoint Stock to Bottom Out Before Taking a Position
Down 42% year-to-date, ChargePoint (NYSE:CHPT) stock does not look worthy of investor's money.
Source: JL IMAGES / Shutterstock.com
The largest manufacturer…
Down 42% year-to-date, ChargePoint (NYSE:CHPT) stock does not look worthy of investor's money.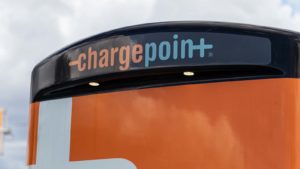 Source: JL IMAGES / Shutterstock.com
The largest manufacturer of electric vehicle charging stations in the world looks good on paper, but so far its potential has not translated into success for shareholders.
ChargePoint went public earlier this year at the height of the frenzy over special purpose acquisition companies (SPACs).
However, like many SPAC deals, CHPT stock has collapsed in the months since it made its market debut. Given the share price's persistent weakness, shareholders might be best advised to cut their losses.
CHPT stock does seem to have gotten pulled down with the broader SPAC sector. After threats of greater regulation over the deals led Wall Street to cool on so-called "blank check" companies or "reverse mergers," underlying fundamentals have also dragged down the company's share price.
The company's revenue for its fiscal 2021 year ended on Jan. 31 amounted to $146.5 million, only 1% higher than the $144.5 million in revenue it generated in the previous 2020 fiscal year.
Coming just months before it went public, the fiscal 2021 financial results led investors to sour on ChargePoint and its prospects, prompting a swift and deep sell-off.
While ChargePoint says it wants to sell its electric vehicle charging units to both commercial and retail customers, the reality is that the vast majority of its current revenue (75%) comes from commercial sales to businesses and office parks.
The general public remains slow to adopt electric vehicles with only about 2% of the vehicles on U.S. roads today being plug-in electric.
Electric vehicles are clearly the future of the automotive industry, but they have a long way to go to achieve mass adoption. Consumers continue to raise concerns ranging from slow charging times to limited driving range when it comes to electric cars, trucks and SUVs.
Lofty Goals and CHPT Stock
Despite its middling financial results and a slowing growing market, ChargePoint continues to have lofty goals and sets itself ambitious targets. Maybe too ambitious.
The company has set a target of achieving $1 billion in sales by 2025, a nearly 10 fold increase from its current sales in a little more than four years.
ChargePoint has also raised its full-year guidance for its current fiscal 2022 year to a range of $225 million to $235 million, which would represent 57% revenue growth over its previous fiscal year.
The second half of this year will need to be exceptionally strong for ChargePoint to reach its targets given that the company generated revenue of $97 million in the first six months of its current fiscal 2022 year.
The company did note in its most recent quarterly financial results that its residential segment saw sales grow by 79% on an annualized basis. This growth was powered by the increasing use of its charging stations at housing complexes across the U.S.
Hopefully, that growth will be sustained in the final months of this year, but it isn't worth betting on.
Recent Acquisition
In August this year, ChargePoint announced that it is acquiring ViriCiti, a commercial fleet management provider. Acquiring ViriCiti will enable ChargePoint to sell its electric vehicle charging stations and related infrastructure to companies with major commercial fleets such as United Parcel Service (NYSE:UPS) and Waste Management (NYSE:WM).
It will also enable ChargePoint to go after lucrative government contracts as the shift to electric vehicles accelerates nationwide.
ChargePoint's fleet segment is an area of strength for the company. In this year's second quarter, the segment grew its sales by 187% year over year. The fleet segment has a lot of potential, but ChargePoint will have to demonstrate that it can grow that area of its business by winning competitive contracts and aligning itself with strategic partners.
ViriCiti is a step in the right direction as it will allow ChargePoint's customers to monitor their operations data and gain valuable insights into their fleet's performance.
Wait and See Where CHPT Goes
The electric vehicle market as a whole has cooled off this year with once high flying stocks such as Tesla (NASDAQ:TSLA) slumping. While electric vehicle companies and their stocks have a bright future, that future remains off in the distance.
ChargePoint's time is coming but it is not here quite yet. As such, investors should wait to see where the company's stock bottoms before taking a position.
In the current environment, and with electric vehicle adoption slow to catch on, CHPT stock is not a buy.
Disclosure: On the date of publication, Joel Baglole did not have (either directly or indirectly) any positions in the securities mentioned in this article. The opinions expressed in this article are those of the writer, subject to the InvestorPlace.com Publishing Guidelines.
Joel Baglole has been a business journalist for 20 years. He spent five years as a staff reporter at The Wall Street Journal, and has also written for The Washington Post and Toronto Star newspapers, as well as financial websites such as The Motley Fool and Investopedia.
More From InvestorPlace
The post Wait for ChargePoint Stock to Bottom Out Before Taking a Position appeared first on InvestorPlace.
electric vehicle
QuantumScape Partners with 'Large Automaker' to Evaluate Battery Prototypes — Report
California-based battery maker QuantumScape (QS) has teamed up with a large automaker to evaluate prototypes of its solid-state battery cells, according…
Airbus reveals the next generation of electric CityAirbus UAM solution; first flight in 2023
Airbus announced plans for a new CityAirbus at the company's first Airbus Summit on "Pioneering Sustainable Aerospace" as the emerging Urban Air…
Airbus announced plans for a new CityAirbus at the company's first Airbus Summit on "Pioneering Sustainable Aerospace" as the emerging Urban Air Mobility (UAM) market begins to firm up.
The fully electric vehicle is equipped with fixed wings, a V-shaped tail, and eight electrically powered propellers as part of its distributed propulsion system. It is designed to carry up to four passengers in a zero-emissions flight in multiple applications.
We are on a quest to co-create an entirely new market that sustainably integrates urban air mobility into the cities while addressing environmental and social concerns. Airbus is convinced that the real challenges are as much about urban integration, public acceptance, and automated air traffic management, as about vehicle technology and business models. We build on all of the capabilities to deliver a safe, sustainable, and fully integrated service to society.

—Bruno Even, Airbus Helicopters CEO
CityAirbus is being developed to fly with a 80 km range and to reach a cruise speed of 120 km/h, making it suited for operations in major cities for a variety of missions.
Sound levels are a key factor for an urban mission; Airbus' extensive expertise in noise-friendly designs is driving CityAirbus' sound levels below 65 dB(A) during fly-over and below 70 dB(A) during landing.
It is optimized for hover and cruise efficiency, while not requiring moving surfaces or tilting parts during transition. The CityAirbus NextGen meets the highest certification standards (EASA SC-VTOL Enhanced Category). Designed with simplicity in mind, CityAirbus NextGen will offer best-in-class economic performance in operations and support.
Airbus is benefitting from years of dedicated research, innovation, two electric Vertical Takeoff and Landing (eVTOL) demonstrators, and development on sound technology across its portfolio of products, as well as decades of experience in certifying aircraft.
The Vahana (earlier post) and CityAirbus (earlier post) demonstrators have jointly conducted 242 flight and ground tests and have flown around 1,000 km in total. Furthermore, Airbus has used extensive subscale flight testing and wind tunnel campaigns and has leveraged its computing and modelling power. CityAirbus NextGen is in a detailed design phase right now and the prototype's first flight is planned for 2023.
We have learned a lot from the test campaigns with our two demonstrators, CityAirbus and Vahana. The CityAirbus NextGen combines the best from both worlds with the new architecture striking the right balance between hover and forward flight. The prototype is paving the way for certification expected around 2025.

—Bruno Even
Beyond the vehicle, Airbus is working with partners, cities, and city inhabitants in order to create the ecosystem that is essential to enabling this new operating environment to emerge.
electric vehicle