Crypto.com Coin: My No. 4 Moonshot Pick for 2022
This article is excerpted from Tom Yeung's Moonshot Investor newsletter. To make sure you don't miss any of Tom's potential 100x picks, subscribe…
This article is excerpted from Tom Yeung's Moonshot Investor newsletter. To make sure you don't miss any of Tom's potential 100x picks, subscribe to his mailing list here.
Counting Down to New Year's
Source: Stanslavs / Shutterstock.com
As we continue our countdown to the New Year, here's a question for you:
Of the top five most-searched stocks on InvestorPlace.com in December 2020, which had the best 2021?
Answer: (A) Airbnb (ABNB)
Unlike other popular names — a mix of profit-free electric vehicle and tech companies — Airbnb was raking in revenue. Its shares would rise 16% in 2021, compared to an average loss of 36% for other retail favorites.
As 2022 rolls around, people are probably wondering if there's any middle ground between meme investments and solid bets.
Rest assured there are.
Today, my No. 4 pick for 2022 covers a company that looks like Airbnb — a meme favorite with plenty of fundamental upside. And crypto fans rejoice: it's also a top blockchain pick.
Source: Catalyst Labs / Shutterstock.com
Robinhood's Stumbles Paving The Way for My No. 4 Pick
When I wrote about Robinhood (NASDAQ:HOOD) back in July, I wasn't exactly enthused with the company's missteps.
"The firm's recent stumble opens the door for other Moonshot bets."
– Moonshot Investor, July 30
Since then, the zero-commission trading app has continued to disappoint like a proverbial lump of coal in the Christmas stocking.
Now that HOOD has fallen below $20, some buy-the-dip investors might be tempted to jump in…
…if not for another contender that could snatch Robinhood's crown.
My No. 4 Pick For 2022
In 2018, upstart crypto Visa card company Monaco had a brilliant idea:
Why not buy the Crypto.com domain?
It was certainly a bold move. The domain owner, UPenn computer science professor Matt Blaze, bought the URL in 1993 and had refused every other offer since then.
But it seems CEO Kris Marszalek has quite a way with words.
"This is a very powerful identity that we are taking on," he said in an interview with TechCrunch. "It's representative of the entire category so it comes with a huge responsibility on us to carry the torch. We don't take it lightly and this is one of the things that I think we conveyed successfully, that, as a company, we do have a higher purpose."
The visionary CEO has since made good on his promises. Crypto.com (CCC:CRO-USD) remained in the top-10 most downloaded apps on the Google (NASDAQ:GOOG, NASDAQ:GOOGL) App store for the entire month of November according to app tracking service SensorTower; even now, it remains in the top 25. The app now counts at least 10 million users.
The reason for success was twofold:
Marketing. The firm has used a smart combination of blockbuster campaigns and smaller-scale ads. Crypto.com reportedly paid $700 million to rename the L.A. Staples Center and recruited Hollywood star Matt Damon as the face of a $100 million television and billboard campaign. Meanwhile, an aggressive ad campaign on Reddit and Twitter (NYSE:TWTR) has likewise yielded strong results.
Product. The company offers 200+ cryptocurrencies, far more than Robinhood's seven and Coinbase's 140. Crypto.com also offers cryptocurrency Visa (NYSE:V) cards, where users can earn up to 8% spending rewards and 14.5% staking ones
In other words, it's the crypto trading app Robinhood should have been: a well-loved app that offers services beyond simple Dogecoin (CCC:DOGE-USD) trading.
Wagging the Doge
Today, Crypto.com investors can buy everything from meme favorite Loopring (CCC:LRC-USD) to Metaverse play Boson Protocol (CCC:BOSON-USD) — provided you live in jurisdictions that allow such trading.
The firm has also expanded aggressively into payments, offering both P2P and B2C options. Crypto.com Pay now supports 22 cryptocurrencies on its app (including Shiba Inu (CCC:SHIB-USD)) and 26 cryptos for Ethereum/ERC-20 compatible wallets. Payments are done off-chain, which allows for zero transaction fees (though slippage costs do apply).
In other words, Crypto.com has managed to wean itself off of Dogecoin mania by offering products outside meme token trading.
Binance Finance
The $15 billion question, of course, is what Crypto.com's native token is actually worth. Even if the parent company succeeds, does that make its token worthwhile?
Here's why Binance's experience says "yes."
The native token for the Binance Smart Chain — Binance Coin (CCC:BNB-USD) — has been on the Moonshot Investor's "buy" list since September (The token is up 30% since then). As the primary exchange method between Binance tokens and real-life money, BNB is an easy way to "park" cash in between transactions. Even the most avid Safemoon (CCC:SAFEMOON-USD) fans need a break from time to time.
CRO follows a similar playbook. Like BNB, CRO is deflationary — investors are competing for a limited supply of the currency. Both crypto firms are also making their native currencies as attractive as possible — Crypto.com offers up to 14.5% staking rewards and pays cash-back in CRO.
That means CRO is likely worth 85 cents, assuming that the company reaches a $50 billion valuation and maintains a similar enterprise-value-to-coin ratio that Binance does. And if CRO becomes a medium of exchange outside the Crypto.com ecosystem, prices could reach $1 or more next year. Either way, it's a top Moonshot pick for next year.
The Execution Risks of Crypto.com
Of course, even CRO comes with significant risks. In October 2020, Crypto.com made headlines for all the wrong reasons when the firm botched its conversion from the original MCO token to the current CRO one. The exchange rate — amounting to a 33:1 ratio — diluted existing holders by a factor of almost 100. The firm would later burn 70% of CRO tokens to compensate holders.
Crypto.com also comes with significant business risk. The company has largely self-financed through a combination of ICOs and capital gains on its Ethereum (CCC:ETH-USD) holdings, but its 5 billion CRO token hoard won't last forever.
That means the company must eventually pivot to earning profits from trades and transactions — a feat that took Block (NYSE:SQ) (formerly known as Square) seven years as a public company to achieve. But if that does come to pass, investors could be getting in on the ground floor of a highly promising startup.
Source: Catalyst Labs / Shutterstock.com
Robinhood's Missed Market Opportunity
Regular Moonshot readers will know that I love fintech firms, particularly those operating in the lucrative business of payments. Visa earns 37% returns on equity, making it more profitable than either Alphabet or Meta (NASDAQ:FB). And Point-of-sale (POS) companies like Fiserv (NASDAQ:FISV) are consistently profitable despite few people knowing their name. When you're earning 1-3% on every credit card transaction, it's hard not to make money.
Crypto fintech firms take this business to the next level. These companies are breaking into highly lucrative markets with never before seen products. Even if these startups need to slash commissions (as Square did when it was expanding into retail PoS markets), they'll eventually make up the difference as rates rise again.
2022 will be the year payments face a blockchain reckoning. And if Crypto.com has its way, its token is one to watch.
P.S. Do you want to hear more about cryptocurrencies? Penny stocks? Options? Leave me a note at [email protected] or connect with me on LinkedIn and let me know what you'd like to see.
FREE REPORT: 17 Reddit Penny Stocks to Buy Now
Thomas Yeung is an expert when it comes to finding fast-paced growth opportunities on Reddit. He recommended Dogecoin before it skyrocketed over 8,000%, Ripple before it flew up more than 480% and Cardano before it soared 460%. Now, in a new report, he's naming 17 of his favorite Reddit penny stocks. Claim your FREE COPY here!
On the date of publication, Tom Yeung did not have (either directly or indirectly) any positions in the securities mentioned in this article.
Tom Yeung, CFA, is a registered investment advisor on a mission to bring simplicity to the world of investing.
More From InvestorPlace
The post Crypto.com Coin: My No. 4 Moonshot Pick for 2022 appeared first on InvestorPlace.
An 'EV Tipping Point' Is Here But Tesla Stock Is Still the Winner
We all got used to watching the progress of the electric vehicle race in 2021. Industry leaders made further innovations and new startups made market history…
We all got used to watching the progress of the electric vehicle race in 2021. Industry leaders made further innovations and new startups made market history with impressive trading debuts. Now, a new year is gearing up, but some experts predict the race may be slowing. Today, Bank of America Securities issued a report that predicts that the EV sector is approaching a tipping point. For companies like Tesla (NASDAQ:TSLA), this type of coverage raises plenty of questions. And while the report stressed that this tipping point means bad news for Tesla stock, investors shouldn't panic.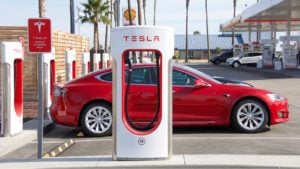 Source: Sheila Fitzgerald / Shutterstock.com
What's Happening With Tesla Stock
In a nice change of pace for investors, Tesla stock is back in the green today. After spending the bulk of this week creeping steadily downward, it is up more than 3%.
But how does the Bank of America report fit in to the equation?
Well, the report's predictions aren't all negative. On the contrary, it predicts that EV sales will rise by 6% in the coming year. In the following two years, it says that they will continue rising by 11% and 16%, respectively.
The bad news for Tesla stock is that the report also predicts that the company's market share will fall to just 19% by 2024. That's hardly reassuring for investors.
Let's take a look at the bigger picture, though. There's no immediate reason to assume that Tesla stock is going to fair as poorly as BofA's analysts predict.
Why It Matters
Every red-hot industry inevitably reaches a tipping point. The report isn't wrong about that. And yes, the EV sector is probably due for one within the years to come. We saw sales explode in 2021 and sales aren't likely to slow down in 2022. American consumer interest in EVs was at 71% at the end of 2021. That doesn't instantly mean that we're going to see that many people buy them. But it does hint at a future in which sales are increasing. In that future, Tesla has plenty of assets that can help it maintain its spot atop the EV race.
The BofA team's main concern regarding Tesla stock seems to be the potential for huge market share loss. Its logic that Tesla will see it diminish so severely simply due to increasing competition is flawed, though.
Yes, more EV startups such as Rivian (NASDAQ:RIVN) are working hard to compete with Tesla. That doesn't mean that they will take away that much market share from the industry's leader. Rivian's electric trucks and SUVs will appeal to a different type of consumer than those purchasing Tesla's four-door sedans.
The only other EV company offering Tesla any serious competition as far as driver car sales will be Lucid (NASDAQ:LCID). While Lucid's sleek vehicles do generate quite a bit of interest, the company has been slow with the rollout of the highly anticipated Lucid Air. It will take time for the vehicle to sell enough to cut into Tesla's market share. While Ford (NYSE:F) and Toyota (NYSE:TM) are also working to compete with Tesla, dedicated EV aficionados will be drawn toward the companies known for EV innovation. If the Tesla Model Y is as close as it seems to be to ramped up output, that will help Tesla continue its lead in deliveries.
Additionally, EV producers are currently facing an industry landscape where manufacturing constraints pose a constant threat. Tesla proved it could keep pace with demand when it shattered Wall Street expectations with its 2021 Q4 delivery statistics. The company is also making progress on the battery front. It has secured partnerships with companies in the battery minerals spaces and has proven that it has no intentions of slowing down. As InvestorPlace Markets Analyst Joanna Makris noted, its size gives it an important advantage here.
What It Means
The EV sector may indeed reach a tipping point, but it is unlikely to be bad news for Tesla stock. Analysts from other firms such as Piper Sander and Jefferies still rate the stock as a buy and hold high price targets.
Some EV producers will likely face constraints in the year ahead, but Tesla is unlikely to be among them. The company is well positioned at the front of the EV race and it intends to stay there.
On the date of publication, Samuel O'Brient did not hold (either directly or indirectly) any positions in the securities mentioned in this article. The opinions expressed in this article are those of the writer, subject to the InvestorPlace.com Publishing Guidelines.
More From InvestorPlace
The post An 'EV Tipping Point' Is Here But Tesla Stock Is Still the Winner appeared first on InvestorPlace.
Nio: Still Risky, But the Situation Has Definitely Improved
Nio (NYSE:NIO) is a Chinese electric vehicle (EV) maker. It's had a wild ride over the past few years. Following the initial public offering (IPO, Nio's…
Nio (NYSE:NIO) is a Chinese electric vehicle (EV) maker. It's had a wild ride over the past few years. Following the initial public offering (IPO, Nio's CEO came out guns blazing, suggesting that Nio would be the Tesla (NASDAQ:TSLA) killer in China. However, a one-two punch of massive operating losses and the pandemic nearly pushed Nio into bankruptcy; the stock lost 90% of its value from IPO to early 2020.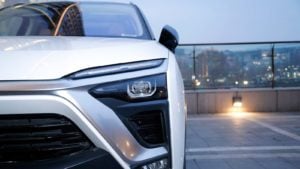 Source: xiaorui / Shutterstock.com
Since then, Nio made one of the most incredible comebacks of recent market history. Despite the bleak macroeconomic conditions, Nio was able to raise funding and reinvigorate its business. NIO stock gained steam, rallying from $2 to $5 to $10 and then much higher. Shares ultimately hit $60, rewarding traders with gigantic gains.
Now, however, Nio shares have slipped 50% once again amid rising concerns about EV valuations in general along with the backlash against U.S.-listed Chinese shares. This is leading investors to wonder if Nio has another comeback in store, or if the firm's luck has finally run out. While I've been in a skeptic of Nio in the past, I must give credit where it is due. This business has gotten a lot better in a hurry.
Rapid Growth With Improving Profitability
For Q4 of last year, Nio delivered more than 25,000 of its luxury vehicles. This is tremendous growth, up 44% year-over-year. As recently as early 2020, Nio was struggling to deliver any meaningful number of vehicles as it faced a liquidity squeeze and economic uncertainty. Now, however, the company has become one of the most important EV makers in the Chinese marketplace.
Thanks to Nio's luxury market positioning, it can earn high profit margins on the vehicles that it sells. This has allowed it to rapidly improve its financial picture. In 2019, back when deliveries were minimal, Nio lost a stunning $1.6 billion in a single year. In 2020, Nio lost another $705 million. For 2021, however, the net loss will be far smaller. Analysts see Nio approaching breakeven in 2022 and even turning a profit in 2023.
Analysts had warned that Nio could end up running out of cash if its 2019 and 2020 levels of losses continued. Fortunately, Nio was able to raise capital to stave off any near-term liquidity squeeze during the height of the pandemic. And now, as sales ramp up, Nio should be able to reach a self-sustaining financial status based on its own vehicle sales.
Nio's Valuation
As far as valuation goes, there's two ways to look at Nio. You can compare it to traditional automakers, against which it is brutally expensive. Analysts expect Nio to turn to positive earnings in 2023, generating 19 cents per share of profit. That's an accomplishment given Nio's string of outsized losses in prior years. However, it still amounts to a P/E ratio in excess of 150.
Meanwhile, the traditional auto makers remain dirt cheap. Ford (NYSE:F) is going for 12 times forward earnings, General Motors (NYSE:GM) is at nine times earnings, and Toyota Motor (NYSE:TM) is around 11. Ironically, folks such as Cathie Wood are suggesting that there is a "bubble" in traditional automaker stocks since their shares have appreciated sharply in recent months. However, they're still far cheaper than the disruptors like Nio or Tesla.
On the other hand, is Nio a bad deal compared to other EV makers like Tesla or Lucid (NASDAQ:LCID)? There, the math is much more favorable to the Nio bulls. Tesla also sells for a triple-digit P/E ratio. And it's going for more than 20 times revenues, whereas Nio is at a healthier 9x multiple. Lucid, of course, is just starting to generate commercial revenues and thus isn't even comparable to an already-established business like Nio.
NIO Stock Verdict
I've never been much of a fan of NIO stock. The combination of its unproven business model, high overhead costs, and China risk has scared me away. And there's still no rush to buy shares today, as those risks largely remain in place.
That said, the price has come down an awful lot since Nio's peak last year. Meanwhile, management has continued to execute with tremendous success on the business plan despite the obstacles in China and the semiconductor supply chain issues that have hampered the auto industry more generally.
There's still a bunch of risk in buying NIO stock at today's price. But, for the first time in awhile, the reward is starting to look attractive enough to possibly justify the risk.
On the date of publication, Ian Bezek did not have (either directly or indirectly) any positions in the securities mentioned in this article. The opinions expressed in this article are those of the writer, subject to the InvestorPlace.com Publishing Guidelines.
Ian Bezek has written more than 1,000 articles for InvestorPlace.com and Seeking Alpha. He also worked as a Junior Analyst for Kerrisdale Capital, a sizable New York City-based hedge fund. You can reach him on Twitter at @irbezek.
More From InvestorPlace
The post Nio: Still Risky, But the Situation Has Definitely Improved appeared first on InvestorPlace.
Investor Says Clean Energy Stock Set to Move
Source: PennyQueen   01/19/2022
PennyQueen explains why you should care about Jericho Energy Ventures Inc.'s announcement that it has led the…
Source: PennyQueen   01/19/2022
PennyQueen explains why you should care about Jericho Energy Ventures Inc.'s announcement that it has led the investment into a company developing a new class of hydrogen electrolyzer.
Jericho Energy Ventures Inc. (JEV:TSX.V; JROOF:OTCMKTS) has done it again! After insiders filled a private placement above market price, Jericho has led a seed investment into Supercritical Solutions Ltd.
Beyond the cool tech, which I'll tell you about later, why should you care?
Last January, insiders exercised warrants which had about a year and a half until expiration and SEDI records show that they didn't even sell shares to do it.  Jericho then used those funds to acquire Hydrogen Technologies and their zero-emissions Dynamic Combustion Chamber boiler technology. This ran their stock from 34 cents all the way up to $1.22, almost four times higher.
The Industry
If you aren't familiar with the burgeoning hydrogen industry, you need to know that the market to produce and utilize green hydrogen as a fuel, feedstock, and means of energy storage is slated to reach a total addressable market size of $2.5 trillion per year by 2050. This, along with the environmental benefits, is how Jericho became part of my PennyQueen portfolio.  I look for companies that have the technology and support needed to enter these growing markets and carve out territory in the frontier of our energy transition.
Be sure to sign up to receive PennyQueen's next stock picks exclusively available for Streetwise Reports' readers. Sign Up Now!
PennyQueen is an investor who focuses mostly on clean tech and does her own independent analysis. She has created a social media community of over 10,000 like-minded investors with whom she has shared her progress of taking a $329k nest egg and building it to over $6 million within a year.
Since I first bought shares of Jericho this past November, they have gone from a clean energy company with great technology to a clean energy company with sales! Jericho's technology was one of the four winners in the UK government's Green Distilleries Competition.  Supercritical was another.
The Tech
Why is Supercritical's technology important? If you want green hydrogen (clean hydrogen), you need to produce it with an electrolyzer. Supercritical has developed a whole new class of electrolyzer with a proprietary membrane-less design allows it to exploit the benefits of supercritical water, creating hydrogen at over 200 bar of pressure. Regular electrolyzers usually produce hydrogen at 10 to 40 bar. This is a major bottleneck in green hydrogen production.
"After being beaten down alongside the majority of Canadian small caps, Jericho is currently sitting at a mere 65 cents and near a double bottom, it is primed to move."
—PennyQueen
Supercritical's tech could very well unlock the needed efficiencies to make the storage of green hydrogen financially feasible, this would also eliminate a major barrier in utilizing hydrogen for transportation.
This acquisition will give Jericho around a 10% stake in Supercritical Solutions and give them access to their technology.
I was taught to watch what the smart money is doing, and there are two great examples here. First, there are the insiders, who own upwards of 60% of the company and keep buying more at higher and higher prices. Then there is Chris Sacca, a brilliant investor, who became a billionaire by picking winners early. His venture capital fund made seed and early stage investments in Twitter, Instagram, Uber, and many other very successful companies.  Now he has come out of retirement on a mission to save the planet. While Jericho is leading the investment into Supercritical, Sacca's new fund Lower Carbon Capital is investing, as well as New Energy Technology. This is to me the equivalent of LeBron James playing on your high school basketball team, your chances of winning the state championship are definitely going up.  
After being beaten down alongside the majority of Canadian small caps, Jericho is currently sitting at a mere 65 cents and near a double bottom, it is primed to move. I expect that the inroads made during the Green Distilleries Competition and the publicity from their win there should also provide them with several more customers in short order.   
If you have not already, be sure to sign up to receive PennyQueen's next stock picks exclusively available for Streetwise Reports' readers. Sign Up Now!
Sign up for our FREE newsletter at: www.streetwisereports.com/get-news
PennyQueen Disclosure: I own shares of Jericho Energy Ventures Inc. I have not and will not be compensated for this report in any way. I write reports on my favorite picks; this is meant to be educational and not investment advice as I am not an investment advisor, just a mom on a mission to make the world better and make money along the way.
Streetwise Reports Disclosures:
1) The PennyQueen's disclosures are listed above.
2) The following companies mentioned in this article are billboard sponsors of Streetwise Reports: Jericho Energy Ventures Inc. Click here for important disclosures about sponsor fees. The information provided above is for informational purposes only and is not a recommendation to buy or sell any security.
3) Statements and opinions expressed are the opinions of the author and not of Streetwise Reports or its officers. The author is wholly responsible for the validity of the statements. The author was not paid by Streetwise Reports for this report. Streetwise Reports was not paid by the author to publish or syndicate this article. Streetwise Reports requires contributing authors to disclose any shareholdings in, or economic relationships with, companies that they write about. Streetwise Reports relies upon the authors to accurately provide this information and Streetwise Reports has no means of verifying its accuracy.
4) This article does not constitute investment advice. Each reader is encouraged to consult with his or her individual financial professional and any action a reader takes as a result of information presented here is his or her own responsibility. By opening this page, each reader accepts and agrees to Streetwise Reports' terms of use and full legal disclaimer. This report is not a solicitation for investment. Streetwise Reports does not render general or specific investment advice and the information on Streetwise Reports should not be considered a recommendation to buy or sell any security. Streetwise Reports does not endorse or recommend the business, products, services or securities of any company mentioned on Streetwise Reports.
5) From time to time, Streetwise Reports LLC and its directors, officers, employees or members of their families, as well as persons interviewed for articles and interviews on the site, may have a long or short position in securities mentioned. Directors, officers, employees or members of their immediate families are prohibited from making purchases and/or sales of those securities in the open market or otherwise from the time of the decision to publish an article until three business days after the publication of the article. The foregoing prohibition does not apply to articles that in substance only restate previously published company releases. As of the date of this article, officers and/or employees of Streetwise Reports LLC (including members of their household) own securities of Jericho Energy Ventures Inc., a company mentioned in this article.

( Companies Mentioned: JEV:TSX.V; JROOF:OTCMKTS,
)