EnerDynamic Hybrid Technologies: Corporate Overview
EnerDynamic Hybrid Technologies Corp (TSXV: EHT) is a Niagara Falls, Ontario-based renewable energy company that is focused on the development
The post…
EnerDynamic Hybrid Technologies Corp (TSXV: EHT) is a Niagara Falls, Ontario-based renewable energy company that is focused on the development and production of innovative proprietary turn-key solar and wind energy solutions. The company currently offers a number of products that have seen its renewable tech incorporated as it pushes for a greener future.
The Investment Thesis
We base our investment thesis on the following factors:
EnerDyanmic has a pipeline of contracts that were delayed by the Covid-19 pandemic that will soon commence.
The firm has focused on several addressable niche markets
EHT can be nimble in responding to customer needs and can customize integrated energy solutions.
We expect that revenue growth will quickly accelerate now that the company can fulfil its contracts.
Investor demand for ESG related names continues to grow as markets shift towards "decarbonization."
The Deep Dive views EnerDynamic Hybrid Technologies as an advanced-stage renewable energy company with several innovative solutions that have a wide variety of applications. Revenue growth could be explosive in the near term as the company can finally execute on its contracts that were stalled during the pandemic.
Furthermore, the recent acquisition of Windular Technologies brings a number of significant revenue opportunities to the portfolio. The renewable energy market will continue to grow rapidly as more governments rush to meet their climate change carbon emission goals.
The Macro Renewable Space
The current global macro environment provides a bullish catalyst for the demand for renewable energy technologies and the companies that develop them, in order to slow the rate of climate change through measures outlined in the Paris Climate Agreement. To align themselves with the objectives of the Paris Agreement, many corporations are planning to be "net-zero," or zero net carbon emissions by 2050, with some planning to achieve this goal by 2030.
The global economy has seen a shift towards green energy such as wind, solar, geothermal, and other methods for power generation to move away from hydrocarbon and coal-based energy sources. Governments are providing incentives for a broad range of industries to reduce their carbon footprint and encourage a move to carbon-neutral industrial production.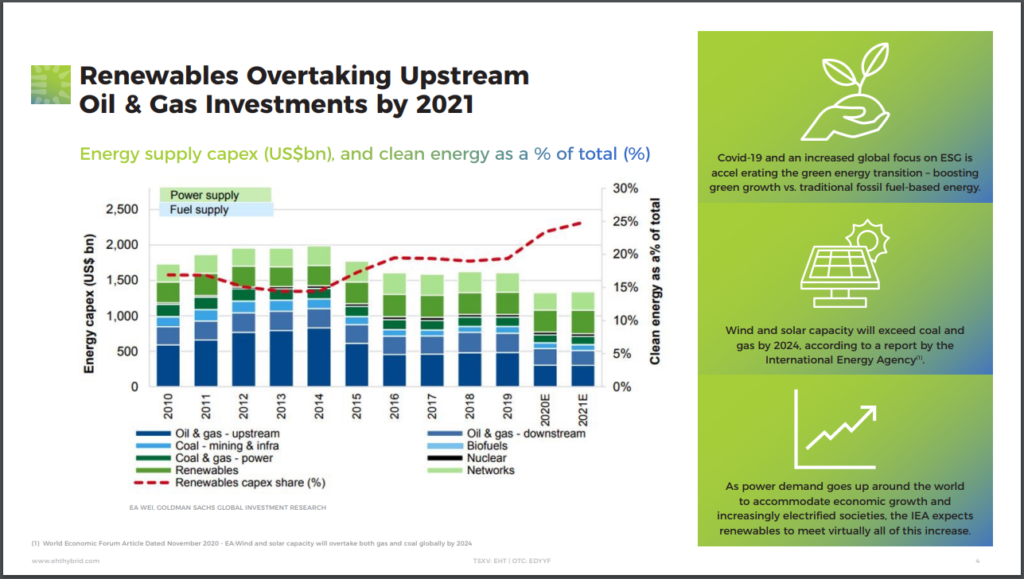 Carbon emission objectives will become an integral part of corporate growth strategies, whether they are driven by shareholders or a corporation's customers. There are three ways in which governments and corporations will be able to achieve these "net-zero" goals: 
Eliminate carbon emissions, 
Reduce carbon emissions,
Offset carbon emissions with carbon credits. 
Many industries are gradually implementing renewable energy technologies for their energy requirements, and we expect that trend will only accelerate as governments provide incentives to enable these shifts. There has been a global trend away from traditional coal-fired power plants, which are being replaced with renewables, not only for emission reduction, but also long-term sustainability. According to DNV GL's Energy Transition Outlook, by 2050 half of the power produced globally will come from renewable energy sources, such as those provided by EnerDynamic.
The Products
As the world quickly moves away from fossil fuel power generation to carbon friendly renewable energy sources, the opportunities for companies that can produce cost-effective and efficient solutions are seemingly without limit. EnerDynamic's products address energy issues across a broad range of target markets, providing diversification of income streams and mitigating risks. 
The 2020 global Covid-19 pandemic caused severe disruptions to the world's economy as lockdowns and travel restrictions prevented significant commercial activity. EnerDynamic was positioned to execute on several major projects at the beginning of 2020 that were put on hold when the lockdowns were instituted. Now that vaccination rates are enabling the economy to reopen, the company is set to capitalize on a number of important projects in a variety of its business silos, which should result in rapid growth acceleration. 
Enertech
EnerDynamic's signature ENERTEC Modular Wall and Roof System has among the highest energy efficiency ratings in today's market which is achieved by using a proprietary skin and foam core to provide more energy efficiency and is stronger than traditional wood or steel structures. The technology can be incorporated into modular building and home systems along with a variety of integrated hybrid alternative energy systems.
The ENERTEC Embedded Solar Roof Module is one of the key components of the Company's Enertec product line. Solar cells are embedded into a fireproof skin, and by eliminating aluminum racks and heavy glass panels, customers can achieve significant cost savings by eliminating the weight of traditional solar panels as well as high labour and transportation costs. This can result in a faster return on investment. EnerDynamic experts are sent to a customer's site to assist with the building installations, and the interior of each structure can be furnished and customized to the customer's needs and specifications.
Cat5 Renewable Energy Homes
The proprietary EnerDynamic Modular Building System enables customers to custom-build homes and other structures, which can be easily erected and customized. A two bedroom home can easily be converted to a four bedroom home without altering the structure's footprint. Modular homes use less energy than traditional homes because of the insulating advantage of the foam core and the proprietary skin. The modular homes generate their own power, which can be advantageous in underdeveloped countries with poor energy infrastructures or remote, off-the-grid locations.
EnerDynamic has a joint-venture in Puerto Rico called CAT 5 SOLAR AND MICROGRIDS which utilizes the Company's modular building technology that has been adapted to build quality inexpensive homes to replace those destroyed on the hurricane and earthquake ravaged island. It is designed so that unskilled labour can easily build the homes, which use colour-coded components that are assembled like "Lego" pieces, and provide R30 insulation.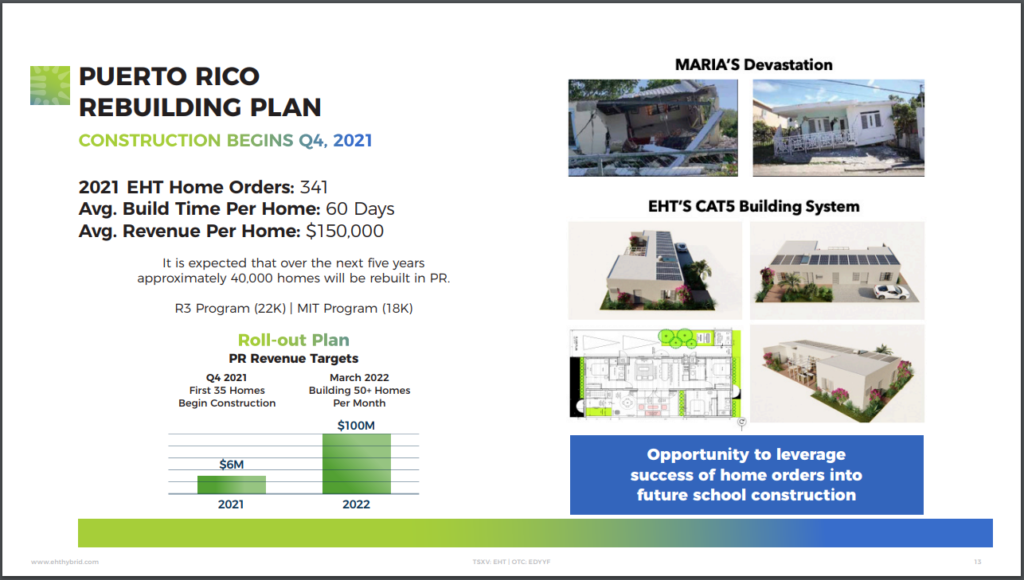 No other hurricane relief homes in Puerto Rico are built to net-zero standards that are achieved using R30 insulation in the external walls and R22 in the roof, and when combined, provide thermal resistance and enhanced energy efficiency. EHT's homes can be built in less than 60 days. The buildings are built to withstand Category 5 hurricanes and are virtually earthquake-proof. The company's "no glass" solar panels are essentially indestructible and continue generating power at all times. The emergency response housing initiative can be replicated in any disaster recovery situation and represents a viable long-term business opportunity.
On September 20, 2021, EnerDynamic announced that its Puerto Rico joint-venture residential rebuilding project received a $21 million order for 141 additional homes for three Puerto Rico based housing developments in Arroyo, Carolina and Vega Baja. Construction is slated to commence immediately and will increase the total housing orders to 341, which will begin construction immediately.
35 homes are expected to be built by Q1 2022, and thereafter, over 50 homes per month will be built until completion of the project. EnerDynamic's joint-venture is in great position to capitalize on a portion of the USD $50 billion of funding committed by federal agencies that is currently being allocated by the Office of Recovery, Reconstruction and Resiliency, with $34 million worth of new contracts expected to be issued on September 23, 2021.
Windular Research and Technologies Inc.
Windular has developed a proprietary rail assembly that is installed on telecom towers to which a "Smart Tracking" system is attached. The system is equipped with sensors that constantly evaluate prevailing weather conditions to enable the assembly to automatically move to a point on the rail to receive the optimum amount of solar and wind to generate power for the tower, as well as position it to provide protection against severe weather events. The system can be serviced and supported remotely, therefore reducing downtime and labour costs.
The tech is ideal for telecom providers, whom are aggressively expanding their mobile networks to ensure that populations everywhere can have reliable, cost-effective internet and cellular services, and they achieve that by erecting a series of telecom towers throughout any given country or region, often in remote locations. The challenge until now has been to ensure a steady supply of power to these towers, which until recently was often completed through the use of diesel generators and other inefficient and costly technologies.
One solution has been to install small wind turbines and/or solar planets to the towers to provide uninterrupted power. Windular has a contract with a major telecom company to install its proprietary "Smart Tracking" system to provide long-term uninterrupted power to telecom towers, which enables these firms to achieve their "green" initiative targets, while reducing the need to rely on diesel generators in remote locations.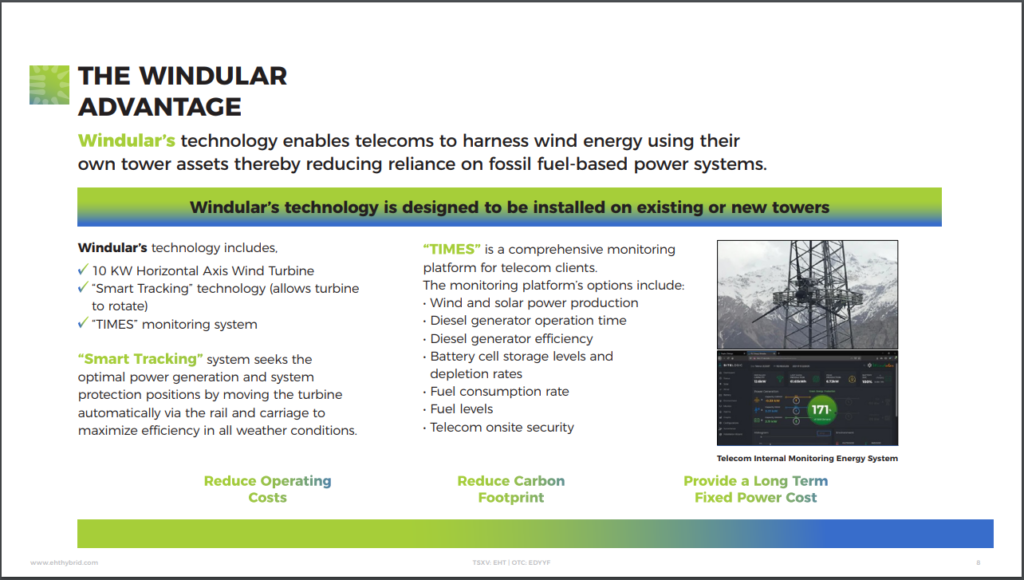 Agriculture
EnerDynamic's EHT Agriculture subsidiary distributes the company's proprietary modular and portable grow units all over the world, providing higher harvest yields and freedom for independent growers. These units can be run off-grid, through a hybrid wind-solar system, resulting in a 20-40% faster seed to harvest period for many types of crops, reduced waste, and reduced transportation costs while reducing carbon emissions.
EnerDynamic has supplied its climate controlled systems to a number of marijuana growers and hydroponic crop farmers. Hydroponic growing employs soilless growing systems to increase crop yields and uniform growing conditions for crop consistency and crop density. A principal advantage of indoor farming is the ability for year-round growing and the ability to harvest multiple crops per year.
Proper lighting is a key factor for optimum plant growth. Another is a consistent power supply to manage the electronic aspects of hydroponic farming, which can be achieved with EnerDynamic's EnerRoom modular energy units, a self-contained unit equipped with managed solar power, a battery system and any necessary electrical connections. These systems are scalable and easy to pack, transport and assemble, and are suitable for a wide variety of applications.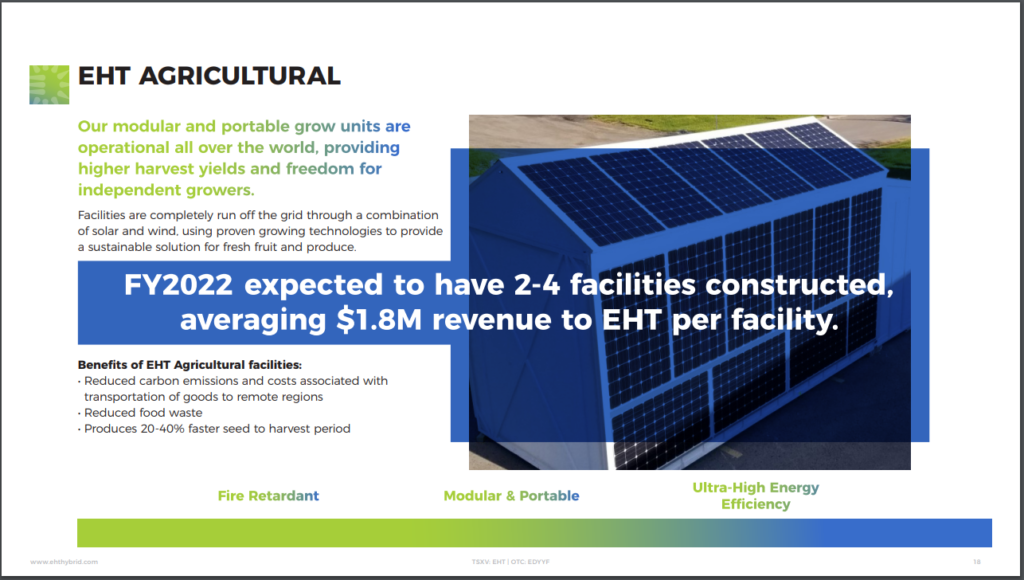 Power Carts
EnerDynamic has developed proprietary green energy power carts that can provide on-site power for construction sites, remote locations, disaster sites and many other applications. These carts can enable a convenient means of recharging power tools, cell phones and computers, water purification systems, and any other power consuming devices.
The Company believes that its power carts could be a massive business opportunity because they can be used in almost any circumstance that requires dependable mobile power.
Solastream
SOLASTREAM is the world's first mobile solar air-to-water system utilizing what the company calls "Atmospheric Water Generators." It uses humidity in the air to extract and provide users with clean and fresh drinking water. The system is powered by a 16KW solar-powered generator and battery back up to operate 24 hours per day. SOLASTREAM is available in two sizes:
GENNY – small scale system that can produce 30 liters of drinking water per day 
GEN-M – mid-size system capable of producing 800 liters of drinking water per day
EnerDynamic has a 50/50 joint venture with Cinergex Solutions Ltd.,  a leading innovator and provider of economically feasible, scalable, and environmentally sustainable water solutions to more than 30 countries worldwide. The first system was recently sold to a hotel in Jamaica to provide drinking water to its guests.
Clean, potable drinking water is a critical need in many regions across the globe, and the need is being exacerbated by climate change. While SOLASTREAM is ideal for disaster relief scenarios, it can also be set up anywhere there is a public need for easily accessible drinking water, such as beaches, parks, sporting events etc.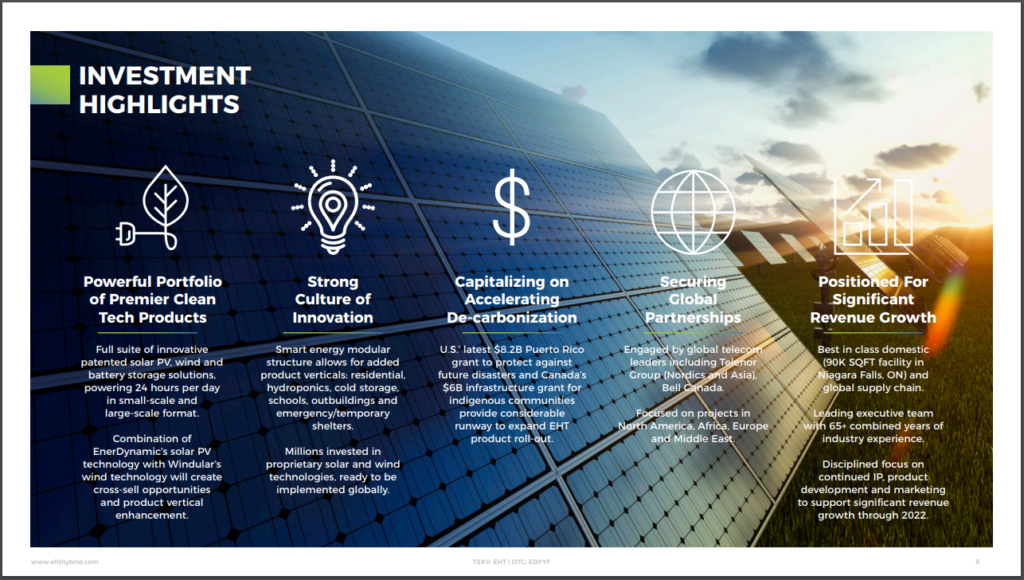 The Management Team
John Gamble – CEO and Director 
Mr. Gambe has over 35 years of business consulting experience across a number of industries including corporate finance, where he has raised in excess of $100 million for various companies. For the past 15 years he has focused on renewable energy and has served in senior management positions, having designed and built solar installations around the world. 
Bruce Bent – Chairman 
Mr. Bent holds a B.Commerce from the University of Manitoba and is a Certified Public Accountant. He is currently CFO with Matthews Southwest Development, a $500 million real estate development company and has been responsible for over $2 billion of construction.
David Woolford – Director and Counsel 
Mr. Woolford obtained his law degree from the University of Western Ontario and is the Principal at Woolford Venture Law, which specializes in corporate finance, corporate governance, intellectual property rights, and other aspects of securities law. He is a Member of the Law Society of Upper Canada and the Institute of Corporate Directors 
Jerry Foster – President and Co-founder of Windular Research and Technologies
Mr. Foster holds a B.Commerce in Marketing and Management from Saint Mary's University in Halifax, Nova Scotia. He served over 20 years in the visual communications industry, and for over 13 years was a senior manager with the Jim Pattison Group, where he designed, developed and implemented many Fortune 500 re-image programs. He has extensive experience in domestic and international business development in various industry sectors, including telecom, automotive and financial.   
The Risks
From our view the following risks are worth considering.
Price of solar and wind technologies. Solar and wind technologies have experienced many fits and starts over the years. The price of solar panels have dropped precipitously as new and innovative technologies have enabled lower price points. Wind technologies have experienced similar circumstances. Price points become more important as the industry is commoditized. We believe EnerDynamic may better withstand this because it is more of a systems integrator, which enables it to price entire projects.
Sales Results. If there are poor sales or production results reported from the Company's various projects, this could adversely affect price performance of the stock. Shareholders would have to assess whether that would be a short-term issue or something that could signify greater problems at the deposit.
Jurisdictional Risk. While most governments are encouraging the shift to green energy, they may also give preference to their own domestic companies, which could create barriers to entry in some of the Company's target markets. Certain jurisdictions could have difficult regulatory frameworks that might be difficult to overcome. Governments can also dictate what they are prepared to pay for power.
Technology obsolescence. Technology companies such as EnerDynamic are always susceptible to competition from other technologies that could make its products redundant. EnerDynamic is focused on specific niche markets with current limited competition and if they establish a market leadership position in these niche markets, it could be easier to withstand disruptive competitors. EHT is somewhat protected due to its diversified portfolio of technologies and target markets.
The Catalysts
Some of the potential catalysts we see that could have a large impact on the share price include:
The growth of the renewable energy sector. Demand for renewable energy is expected to rise over the next two decades as the world races to slow climate change by replacing fossil fuel derived energy sources with green renewable energy technologies such as solar, wind and geothermal to meet the carbon emission reduction targets established by the Paris Climate Agreement.
Broad economic indicators. Given the recent COVID stimulus packages which have seen a massive global effort to bring back millions of lost jobs and boost a return to a post-Covid-19 economic rebound, the assumption is that governments and central banks will take on debt funded through quantitative easing (money printing) to fill the gap. Now that massive vaccination efforts are underway, the global economy is expected to have a significant rebound as business strives to return to pre-pandemic levels.
Resumption of pending contracts. Companies such as EnerDynamic, which had many of their contracts put on hold during the pandemic shutdowns and travel restrictions, should experience a sharp rebound as existing contracts commence and the Company can close on securing new business.
Potential future Merger and Acquisition activity. The Deep Dive believes we are in the early stages of a secular bull market for renewables due to rising global demand for green energy to replace existing fossil fuel based energy infrastructure. Due to EHT's extensive experience, expertise, and credibility, it has the ability to identify solid revenue producing opportunities or synergistic assets to invest in. If the company's revenue growth is as significant as we expect and it achieves a significant share of its target markets, that could make EnerDynamic an attractive acquisition target by a larger entity looking to expand its renewables portfolio.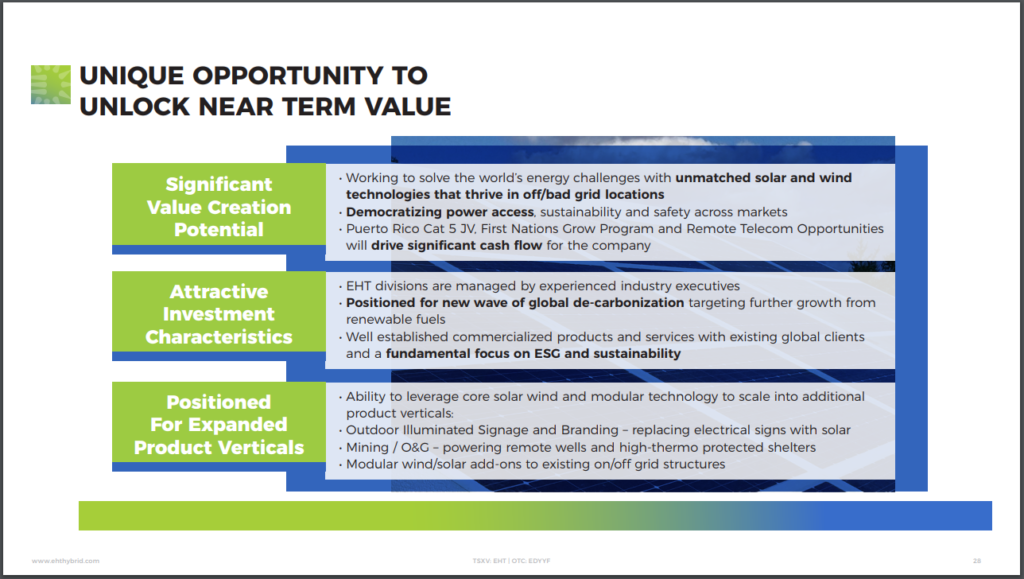 Conclusion
EnerDynamic Hybrid Technologies Corp. appears poised for a period of prolonged growth, as it executes on its project portfolio and continues to expand its pipeline of new business. Management has extensive experience in the renewable energy industry and the company, which has recently closed on a $3.2 million financing, is well-capitalized to kick start its projects and generate revenue.
With 69.5 million shares outstanding and a modest market capitalization of $21.1 million, EHT appears to offer investors a somewhat de-risked, diversified green energy company that has multiple target markets, existing contracts, and an expanding new business pipeline with tremendous upside potential.
---
FULL DISCLOSURE: EnerDynamic Hybrid Tech is a client of Canacom Group, the parent company of The Deep Dive. The author has been compensated to cover EnerDynamic Hybrid Tech on The Deep Dive, with The Deep Dive having full editorial control. Not a recommendation to buy or sell. Always do additional research and consult a professional before purchasing a security.
The post EnerDynamic Hybrid Technologies: Corporate Overview appeared first on the deep dive.
Auroch discovers Nepean lithium in Kalgoorlie
Special Report: Auroch Minerals has uncovered a hidden and potentially rich secret after finding lithium mineralisation at its Nepean nickel … Read More
The…
Auroch Minerals has uncovered a hidden and potentially rich secret after finding lithium mineralisation at its Nepean nickel project.
One of the Goldfields' historic nickel mines, Nepean is the latest to reveal its surprise turn as a lithium domain after regional sampling of pegmatite veins by Auroch (ASX:AOU) revealed grades of 1.05% Li.
A number of locales in the rich mining area around Kalgoorlie host significant lithium deposits as rising demand makes the commodity one of the most sought after in the world.
Auroch picked up Nepean for its historic success in delivering high grade nickel sulphides dating back to the nickel boom of the late 1960s. But evidence of lithium on its ground adds another string to AOU's battery metals bow.
It is now planning to reassay samples from RC holes near the pegmatite for lithium-caesium-tantalum mineralisation.
"The assay results have confirmed that the Nepean tenure hosts significant potential for LCT mineralisation, particularly for lithium," Auroch managing director Aidan Platel said.
"We are excited by this prospect and have already commenced work on understanding the orientation and extent of the LCT -bearing pegmatites.
"Further mapping is required to better define the surface expression of the veins, whilst sampling of pegmatites intersected in nearby drill-holes may provide us with an understanding of the pegmatites in 3D space."
The results come from field investigations assessing the LCT potential of the northern part of the Nepean tenure, where outcropping and sub-cropping pegmatites to the north and east of the third-party Lepidolite Hill and Londonderry pegmatite mines were given priority.
Samples were collected from float, sub-crop and outcrop in five locations.
More fieldwork will be undertaken to map and define the pegmatites, with reassaying of RC holes located close to the rock chip samples along with core samples containing pegmatite  from the first Nepean Deeps drillhole, both of which are still pending.
Nepean Deeps complete
Auroch has also completed the second, 754m deep, drill hole into the Nepean Deeps target, testing conductors beneath and to the west of historic workings at the Nepean mine.
Hole NPDD013 successfully intersected 12.5m of disseminated and matrix to semi-massive nickel sulphides from 576.8m, within a 76.15m intersection of ultramafics from 534.65m to 610.80m downhole.
It is interpreted to be the underexplored Sill 1 ultramafic directly west of the Nepean mine sequence.
Nickeliferous sulphides were intersected just below and are believed to be the cause of down-hole electromagnetic conductor 1A/1B, the uppermost of three DHEM targets identified by the first Nepean Deeps drill-hole, NPDD008.
While Auroch waits for assays, the diamond drill rig is moving to test regional targets.
"On the nickel sulphide front, the drill rig completed diamond hole NPDD013 to a depth of 754.45m, and assays are pending," Platel said.
"The rig has moved to drill exciting targets at the Little Eagle, Spoonbill and Cormorant Prospects before the drilling campaign finishes for 2021, with the Nepean Deeps drill programme to recommence in the new year."
Busy holiday season for Auroch
Auroch has a number of exploration activities upcoming to keep news flow coming over the festive season, with that regional drill program and an induced polarisation under way at Nepean.
Metallurgical test work results on the shallow high-grade nickel sulphide mineralisation proximal to the historic Nepean nickel mine workings are also expected in early January.
Assay results on the pegmatite samples from Nepean Deeps hole NPDD008 and the nickel sulphide samples from NPDD013 are expected this month.
Outside of Nepean Auroch expects to complete a diamond drill programme at the Ragless Range zinc prospect in the Arden Project this month, with infill and extensional diamond drilling at the Saints nickel project north of Kalgoorlie to start in early January.
A scoping study for Saints is due to be completed in the March Quarter.

This article was developed in collaboration with Auroch Minerals, a Stockhead advertiser at the time of publishing.
This article does not constitute financial product advice. You should consider obtaining independent advice before making any financial decisions.
The post Auroch discovers Nepean lithium in Kalgoorlie appeared first on Stockhead.
Watch: YouTuber Straps Rocket Engines To Tesla Model S
Watch: YouTuber Straps Rocket Engines To Tesla Model S
Tesla CEO Elon Musk tweeted in 2018 that a future Tesla Roadster will have a "SpaceX…
Watch: YouTuber Straps Rocket Engines To Tesla Model S
Tesla CEO Elon Musk tweeted in 2018 that a future Tesla Roadster will have a "SpaceX option package" with "10 small rocket thrusters arranged seamlessly around the car" to improve performance. More than three years later, there is still no Roadster that we've seen. However, YouTuber Warped Perception couldn't wait any longer, so he built his own.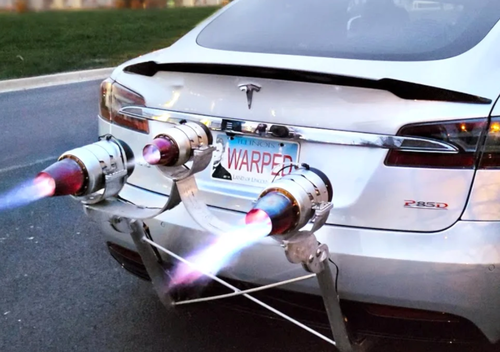 Warped Perception mounted three miniature jet engines on the back of his Tesla Model S P85 electric vehicle, right below the spoiler, in a neutral pressure zone. He said the placement of the engines allows them to be ignited anytime and avoid damage from windmilling.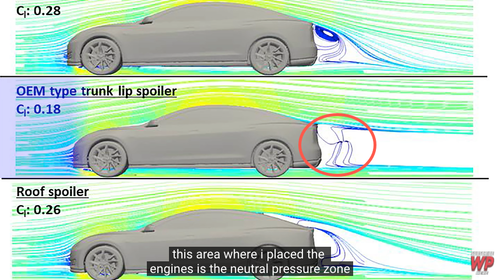 In the first test, he flipped the jet engines to full thrust while cruising in neutral down a highway. He was able to record the speed of the Tesla incrementally climbed. 
The second test was a series of 0-60 mph launches. Under electric power, the car achieved 0-60 mph time of 4.38 seconds. He shaved off an entire second at 3.32 seconds with thrusters engaged under full electric power. 
Warped Perception believes with some more fine-tuning, he could make the Tesla run in the low 2 seconds on a 0-60 mph launch.
Tyler Durden
Tue, 12/07/2021 – 21:45
electric vehicle
Resources Top 5: We have a new contender for copper-gold hit of the year
Emmerson pulls up "stunning" 117m at 3.38% copper from 75m at the 'Hermitage Project' KGL announces record assay of 61.4% … Read More
The post…
Emmerson pulls up "stunning" 117m at 3.38% copper from 75m at the 'Hermitage Project'
KGL announces record assay of 61.4% copper at the 'Rockface' target
Krakatoa unearths ionic type rare earths at the 'Rand' gold project in NSW
Here are the biggest small cap resources winners in early trade, Wednesday December 8.
Is this one of the best drill hits of the year?
ERM has pulled up a "stunning" 117m at 3.38% copper from 75m in drilling at the 'Hermitage Project' in the NT.
Due to drilling difficulties the vertical hole (HERC003) was abandoned in high grade mineralisation –3m at 14.91g/t gold and 4.24% copper, to be exact. Amazing stuff.
This drill hole will be continued with a diamond 'tail' in 2022, ERM says.
Four RC holes were drilled by ERM in this program, testing an area ~200m east-west but focussed on the theory of high-grade mineralisation hosted in almost vertical 'pipes':
An adjacent vertical hole (HERC002) also returned impressive numbers­­­, including:
18m at 1.40% copper and 0.23% cobalt from 117m, and
24m at 4.2g/t gold from 159m (including 3m at 17.61g/t).
Hole HERC001 encountered no significant mineralisation, while results from HERC004 are pending.
"Whilst it is still early days, the metal zonation and mineralisation in drill hole HERC003 displays increasing gold and copper grades with depth – the subject of future diamond drilling," ERM managing director Rob Bills says.
"Although based on limited data (i.e. rock chips), it appears that HERC003 intersected a subvertical, brecciated, high grade metal rich feeder zone which has channelled and concentrated the copper and gold and remains open at depth."
This was a re-rating event for $84m market cap ERM, which is up 125% over the past month. The explorer had $4.5m in the bank at the end of September.
Another standout drilling intercept.
KGL's main game is the 426,200 tonne (and growing) Jervois copper project in NT, where the plan is to produce 30,000 tonnes of copper per year, plus silver and gold.
A final feasibility study is now underway, as well as drilling to extend mine life to a minimum 10 years.
KGL has just announced a new record assay of 61.4% copper at the 'Rockface' target, part of a total intercept of 20.5% copper and 302g/t silver over 4.21m from 698.80m downhole:
This is extraordinary, KGL managing director Simon Finnis says.
"Mineralogically, it represents 97% pure bornite [high grade copper mineralisation] and confirms the previous visual estimate," he says.
"More importantly, together with previous results and the new visual mineral intersections announced here, they demonstrate that the high-grade shoot of massive sulphides has significant dimensions and grades that bode well for the future.
"Equally exciting are the indications from the DHEM geophysics that the Rockface deposit remain open for significant extensions at depth."
Drilling continues with two drill rigs on site, and this will continue into calendar 2022, "focusing on a strong portfolio of exploration targets and brownfield potential to extend existing deposits".
The feasibility study is targeted for completion in early 2022.
The $233m market cap stock is flat over the past month, and up 120% year-to-date. It had $18.1m in the bank at the end of September.
(Up on no news)
$14.5m market cap ERL has been bouncing around like a yoyo over the past few trading days on no news.
The busy polymetallic explorer has already drilled 13,000m so far in 2021 at the 'Penny's and Yuinmery' projects in WA, with diamond drilling of some juicy gold, copper, and nickel-copper-PGE targets at Yuinmery due to kick off sometime this month.
ERL would've drilled even more if not for issues getting hold of a rig, something the company intends to fix in 2022.
"Our exploration plans for 2022 include the lock-in of a core drilling rig and driller for exclusive use by Empire," chairman Michael Ruane says.
"This should assist in accelerating at least the drilling component of our exploration programs for the forthcoming period. The rig will be particularly useful for the deep drilling required for the promising Yuinmery targets (eg Smiths Well/YT01)."
The rig should be ready for commissioning this month, he says. ERL had ~$3.5m in the bank at the end of November.
KTA has unearthed ionic type rare earth (IAC) elements at the 'Rand' project in NSW, which the company is mainly exploring for gold.
IAC projects are in demand right now. Typically found in southern China, they are commonly considered to be some of the cheapest and most accessible sources of heavy rare earths.
In June, KTA reported "encouraging" gold assay results from the maiden aircore (AC) drilling program at the Rand 'Bullseye' magnetic target.
This drilling was re-assayed for REEs, which returned a highlight 11m @ 1,223ppm TREO from 43m.
"We are still very early in this investigation and can only speculate on the origins of the rare earths, but it is clear they have concentrated in the clay rich saprolite zones above the intrusives as well as within the metasediments surrounding these," KTA CEO Mark Major says.
"This is the first discovery of clay hosted REE within this area of NSW.
"The company has significantly expanded its land holding over the already large area via applications of additional tenure with similar geophysical signatures and underlying geology."
KTA also says the Rand area is considered prospective for tin–tungsten deposits and copper–gold porphyries.
The $17m market cap stock is down 3% over the past month. It had $2.5m in the bank at the end of September.
(Up on no news)
The freshly listed stock has uncovered new lithium targets at its namesake project in WA, including one neighbouring the world class Wesfarmers/SQM 'Mt Holland' lithium mine called 'Cohn'.
Cohn, ~6km southeast of Mt Holland, covers a previously defined lithium and caesium soil anomaly that is ~14km long. It is one of many walk-up lithium and gold drill targets emerging, FRS says.
"Given the Forrestania Project's proximity to a world-class lithium mine, a plus one-million-ounce gold camp and several outstanding nickel mines, the exciting challenge for the company's exploration team was always going to be 'where to start?'" FRS chief executive officer Melanie Sutterby says.
Gold and lithium drilling is due to kick off before the end of the year.

The post Resources Top 5: We have a new contender for copper-gold hit of the year appeared first on Stockhead.
asx
gold
silver
lithium
rare earths
ree
nickel
copper
tungsten
diamond