French Finance Minister Issues Declaration Of Independence… From the US
French Finance Minister Issues Declaration Of Independence… From the US
Authored by John V. Walsh via AntiWar.com, 
"Clear Differences…
French Finance Minister Issues Declaration Of Independence... From the US
Authored by John V. Walsh via AntiWar.com, 
"Clear Differences Remain Between France and the U.S, French Minister Says," is the headline to a remarkable piece appearing in the New York Times this week. The Minister, Bruno Le Maire, is brutally frank on the nature of the differences as the quotations below Illustrate. In fact, they amount to a Declaration of Independence of France and EU from the US.
It is not surprising that the differences relate to China after the brouhaha over the sale of US nuclear submarines to Australia and the surprising (to the French) cancellation of contracts with France for submarines. Mr. LeMaire, sounding very much like a reproving parent, characterized this as "misbehavior from the US administration."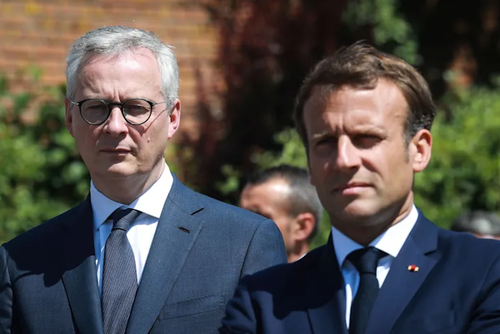 Mr. LeMaire made it crystal clear that the disagreement over submarines is symptomatic of deeper differences in world view that have emerged not only in France but in the EU as a consequence of China's rise. The NYT article states:
"'The United States wants to confront China. The European Union wants to engage China,' Mr. Le Maire, a close ally of President Emmanuel Macron of France, said in a wide-ranging interview ahead of the (IMF) meetings. This was natural, he added, because the United States is the world's leading power and does not 'want China to become in a few years or in a few decades the first superpower in the world.

"Europe's strategic priority, by contrast, is independence, 'which means to be able to build more capacities on defense, to defend its own view on the fight against climate change, to defend its own economic interest, to have access to key technologies and not be too dependent on American technologies,' he said."
The article continued, quoting the Finance Minister:
"The key question now for the European Union, he said, is to become 'independent from the United States, able to defend its own interests, whether economic or strategic interests.'"
LeMaire might have pre-ambled that statement with: "When in the course of human events, it becomes necessary for one people to dissolve the political bonds which have connected them with another, and to assume among the powers of the earth, the separate and equal station to which the Laws of Nature and of Nature's God entitle them, a decent respect to the opinions of mankind requires that they should declare the causes which impel them to the separation."
The fallout between France & AUKUS states has created awkwardness in the #IndoPacific. Australia will need to bridge the trust deficit that joining the #AUKUS has created with its European allies. @PremeshaSaha & @rahulkamath23 write. https://t.co/U9AHB0i2X4

— ORF (@orfonline) October 13, 2021
Still, seasoned diplomat that Mr. LeMaire is, he provided some cold comfort to the naughty US administration, saying, the United States remains "our closest partner" in terms of values, economic model, respect for the rule of law, and embrace of freedom. But with China, he said, "we do not share the same values or economic model."
The article continued:
"Asked if differences over China meant inevitable divergence between the United States and Europe, Mr. Le Maire said, 'It could be if we are not cautious.' But every effort should be made to avoid this, which means 'recognizing Europe as one of the three superpowers in the world for the 21st century,' alongside the United States and China."
The piece concluded;
"One of the biggest lingering points of contention is over metal tariffs that former President Donald J. Trump imposed globally in 2018. Officials face difficult negotiations in coming weeks. Europeans plan to impose retaliatory tariffs on a range of US products as of Dec. 1, unless Mr. Biden pulls back a 25 percent duty on European steel and a 10 percent tax on aluminum.

"'If we want to improve the bilateral economic relationship between the continents, the first step must be for the United States to lift the sanctions in the steel and aluminum case,' Mr. Le Maire said. 'We are fed up with the trade wars,' he added."
Shared values are nice, but shared profits are clearly better.
Tyler Durden
Thu, 10/14/2021 - 02:00
ax
aluminum
steel
Auroch Minerals kicks off lithium-caesium-tantalum sampling at Nepean Project
Special report: Multiple pegmatite intrusions have been identified throughout the project area, including at the historic Nepean nickel mine itself. ……
Multiple pegmatite intrusions have been identified throughout the project area, including at the historic Nepean nickel mine itself.
Auroch Minerals has started the sampling process for lithium-caesium-tantalum (LCT) mineralisation at the Nepean Project in Western Australia.
Following the identification of multiple pegmatite intrusions throughout the project area, the company has now initiated sampling of the pegmatites from the diamond core, which will then be submitted for assaying for LCT mineralisation.
The abundance of pegmatites was also identified in the recently completed first diamond drill-hole into Auroch's (ASX:AOU) Nepean Deeps target, which was designed to test for down-plunge extensions to the high-grade nickel sulphide mineralisation below the historic Nepean mine.
This drill-hole intersected 46m of komatiitic ultramafics over three lower intervals, which are highly prospective for nickel sulphide mineralisation, and also intersected around 700m of pegmatite intrusions, including one 350m thick pegmatite in the hanging-wall below the historic nickel mine workings.
'Very promising Nepean Deeps nickel sulphide target'
AOU managing director Aidan Platel said there is significant potential across the company's tenure at the Nepean Project for lithium-caesium-tantalum mineralisation within the many pegmatites identified.
"Our recently-completed maiden diamond drill-hole into the very promising Nepean Deeps nickel sulphide target has provided us with significant intervals of fresh pegmatite intrusions in drill core, and we have initiated sampling of these zones in order to test for potential LCT mineralisation," Platel said.
"In parallel, the down-hole geophysical surveys of drill-hole NPDD008 are well underway, and we are excited to see what targets they will potentially define to be tested by the ongoing Nepean Deeps diamond drill program."
Down-hole electromagnetics 
Down-hole electromagnetics (DHEM) and down-hole magnetometric resistivity (DHMMR) surveys are being completed on hole NPDD008.
The surveys are to test for any conductive units that may represent nickel sulphide mineralisation within a radius of approximately 100–150m from the drill-hole.
Results from these surveys in conjunction with the geological interpretation will be used to design the next drill-holes into the Nepean Deeps targets.
The surveying and subsequent modelling of results from the down-hole geophysical surveys are expected to be completed by early next week.
Background  
Pegmatites at the Londonderry prospect 6km north of the historic Nepean nickel mine have previously been mined for multiple commodities including lithium, tantalite and beryl.
Auroch holds the tenure around the Londonderry prospects, including on a northeastern trend which will be reviewed for pegmatites both at outcrop and in the previous limited drilling.
Regionally, Mineral Resources' (ASX:MIN) large Mt Marion lithium mine is only 35km to the east.

This article was developed in collaboration with Auroch Minerals, a Stockhead advertiser at the time of publishing.
This article does not constitute financial product advice. You should consider obtaining independent advice before making any financial decisions
The post Auroch Minerals kicks off lithium-caesium-tantalum sampling at Nepean Project appeared first on Stockhead.
asx
lithium
nickel
tantalum
diamond
Lucid Stock Languishes as Investors Wait to See Dreams Turn Into Reality
Lucid Group (NASDAQ:LCID) combined two of 2021's hottest trends — electric vehicle startups and special-purpose acquisition companies. The problem…
Lucid Group (NASDAQ:LCID) combined two of 2021's hottest trends — electric vehicle startups and special-purpose acquisition companies. The problem was that by the time the company completed its reverse merger with Churchill Capital Corp. IV in late July, investor interest in both trends was significantly diminished. Still, LCID stock shot up as much as 20% on its first day of trading, to a high just above $29, before closing the day up 11%.
Source: ggTravelDiary / Shutterstock.com
By Sept. 1, though, shares had plummeted 40%. A quick rebound took LCID stock back up near its post-SPAC-merger highs. But selling over the past three weeks has wiped out any progress made since July.
However, Lucid began production on its first car for customers, the Air Dream Edition, in late September. The luxury sedan is a special edition of its flagship passenger EV that will cost $169,000. Deliveries are scheduled to begin by the end of the month.
Lucid's focus on the luxury market is part of the reason why many see the startup as the first potential competitor to Tesla (NASDAQ:TSLA). A true rival to the OG of EVs would no doubt be enticing to investors, so let's take a closer look at the company and where LCID stock might be heading. 
Lucid Putting Its Best Foot Forward
As I mentioned above, the first car to roll off the assembly line in Lucid's Advanced Manufacturing Plant, called AMP-1, in Casa Grande, Ariz., is the luxury Dream Edition of the Lucid Air. In other words, Lucid has chosen to bring out the big guns first.
This top-of-the-line EV boasts impressive performance stats. Just a few weeks prior to the start of production, the Environmental Protection Agency released its official estimate for the Air Dream Edition's range: 520 miles on a single full charge. Tesla's Model S Long Range falls significantly short of that, with an estimated 405 miles per charge.
Standard in the Air Dream will be Lucid's DreamDrive Pro, an advanced driver assistance platform. According to the company, "DreamDrive employs up to 32 on-board sensors, a multi-faceted driver-monitoring system, and lightning-quick on-board ethernet networking powering more than 30 features through a clear, user-friendly interface." Its driver-assistance features include collision avoidance, adaptive cruise control and traffic jam assistance.
At present, the company plans to manufacture 520 of the Air Dream Edition models. (Does that number sound familiar?) By releasing its best vehicle first, I think Lucid is making a statement that it aims to attract customers away from higher-end Tesla S models. 
The company is expected to deliver the first Dream Editions to customers later this month. Production and delivery of  Lucid's lower-tier EV models are expected to follow. The company says it has already received more than 13,000 reservations for its Lucid Air electric vehicles, with the entry-level version of its flagship sedan set to cost around $78,000.
Production Predictions 
Lucid CEO Peter Rawlinson recently said the firm will build a total of 577 vehicles this year. He also said the company is on track to meet its production targets of 20,000 vehicles in 2022 and 50,000 vehicles in 2023. 
Management has plans to expand the Arizona factory by 2.7 million square feet to help meet production goals. In addition to the Lucid Air models, the company said it expects to release its first electric SUV, called the Gravity, in late 2023.
Lucid's reverse merger raised $4.4 billion for the startup, which Rawlinson said, "sees us through to the end of 2022." So, the company will need to raise more cash to meet its 2023 goals. 
In other words, Lucid is depending on its early production vehicles to perform well. If that indeed occurs, the company should be able to raise further capital to produce 50,000 vehicles in 2023. The key word here, of course, is "if."
The Bottom Line on LCID Stock
LCID stock did not get a boost on news that production had started. In fact, shares sit about 13% lower since the announcement. This leads me to believe any enthusiasm for the start of production was already baked into the price. I doubt we'll see a price spike when deliveries begin either.  
There are currently three analysts with price targets on LCID stock. They range from $12 to $30, showing the wide schism in sentiment surrounding the stock.
A move to the high end of that range would represent a gain of more than 30% from current levels. But investors are likely to wait to see if the company can turn its dreams into reality before bidding shares much higher. 
On the date of publication, Alex Sirois did not have (either directly or indirectly) any positions in the securities mentioned in this article. The opinions expressed in this article are those of the writer, subject to the InvestorPlace.com Publishing Guidelines.
Alex Sirois is a freelance contributor to InvestorPlace whose personal stock investing style is focused on long-term, buy-and-hold, wealth-building stock picks. Having worked in several industries from e-commerce to translation to education and utilizing his MBA from George Washington University, he brings a diverse set of skills through which he filters his writing.
More From InvestorPlace
The post Lucid Stock Languishes as Investors Wait to See Dreams Turn Into Reality appeared first on InvestorPlace.
electric vehicle
Lotus snaps up Malawi uranium project for a song
Special Report: Lotus has expanded its uranium footprint in Malawi with the acquisition of the Livingstonia project that could quickly … Read More
The…
Lotus has expanded its uranium footprint in Malawi with the acquisition of the Livingstonia project that could quickly add to its existing resource base.
The company paid just US$25,000 for Livingstonia and its historical inferred JORC 2004 resource of 6 million pounds of uranium oxide, or a paltry price of less than 0.4c per pound of U3O8.
While work will be required to convert this resource to an industry standard JORC 2012 compliant resource, it highlights the potential for the project to become a satellite of the company's flagship Kayelekera project just 90km away.
Lotus Resources (ASX:LOT) adds that there are multiple exploration targets across Livingstonia as historical drilling at its boundary had ended in mineralisation.
There are also a number of broader, yet sparsely drilled, zones of mineralisation that could host higher-grade offshoots from the existing resource given drill results such as 8m at 1,180 parts per million eU3O8 and 3.6m at 1,800ppm eU3O8.
"This is an extremely accretive acquisition for Lotus with the potential to increase our global mineral resource by 16% for less than $0.004/lb U3O8. More importantly, we have increased our landholding at the highly prospective, yet poorly explored Livingstonia region, to 187sqkm," managing director Keith Bowes said.
"There are multiple walk up, drill ready targets across our Livingstonia tenements, including at the boundary of the Livingstonia resource where an airborne radiometric survey indicates mineralisation continues into our existing tenements.
"This area, as well as the high-grade intercepts previously reported, will be the basis of the first phase of exploration which will commence towards the end of this year.
"Other prospective targets, including Livingstonia North and Chilumba, will be tested in future exploration programs."
Bowes added that in the event of exploration success, the company would carry out ore sorting test work on Livingstonia material in 2022 to determine if it could become a future satellite operation.
Livingstonia project and upcoming work.
Livingstonia is located in northern Malawi about 90km southeast of the Kayelekera uranium mine.
It is hosted in the same Karoo-equivalent sedimentary sequence that hosts the main deposit associated with Kayelekera.
Livingstonia North, which is already held by Lotus, is situated directly along-trend of the Livingstonia uranium resource, with drilling at the northern end of the Livingstonia deposit supporting a continuation of mineralisation into Livingstonia North.
The airborne radiometric anomaly at Livingstonia is coincident with the resource and this anomaly continues into Livingstonia North.
A parallel radiometric anomaly also exists in Livingstonia North that may indicate additional mineralisation.
The company plans to carry out ground-based exploration and sampling along the Livingstonia North trend as well as a reverse circulation drill program to test the extensions of the Livingstonia mineral resource and investigate the potential higher grade zones within the resource boundary.
It will also focus on completing the work required to update the historical resource to JORC 2012 standards.

This article was developed in collaboration with Lotus Resources, a Stockhead advertiser at the time of publishing.
This article does not constitute financial product advice. You should consider obtaining independent advice before making any financial decisions.
The post Lotus snaps up Malawi uranium project for a song appeared first on Stockhead.
asx
uranium