Frontier Lithium To Raise $10 Million In Bought Deal Flow Through Financing
The lithium sector continues to see demand from investor dollars, with Frontier Lithium (TSXV: FL) being the latest recipient. The
The post Frontier Lithium…
The lithium sector continues to see demand from investor dollars, with Frontier Lithium (TSXV: FL) being the latest recipient. The company last night announced it would be conducting a flow through financing on a bought deal basis.
Lead by Canaccord Genuity and BMO Capital Markets, the financing will see a total of $10.0 million raised by the company in an offering priced at $1.86 per flow through share. A total of 5.4 million shares are to be sold under the offering, with no warrant included in the financing.
Further, an over-allotment option has been granted which could see the sale of an additional 1.1 million units of the company.
Proceeds from the company are to be used for eligible exploration expenses within Canada at the firms PAK Lithium Project in Ontario.
The offering is currently slated to close December 15, 2021.
Frontier Lithium last traded at $1.52 on the TSX Venture.
---
Information for this briefing was found via Sedar and Frontier Lithium. The author has no securities or affiliations related to this organization. Not a recommendation to buy or sell. Always do additional research and consult a professional before purchasing a security. The author holds no licenses.
The post Frontier Lithium To Raise $10 Million In Bought Deal Flow Through Financing appeared first on the deep dive.
Resources Top 5: Hopeful uranium stocks, an important graphite deal, and lots of imminent news flow
Aspiring graphite miner Black Rock invited to finalise agreement with Tanzanian government Cauldron Energy dusts off Yanrey uranium project, despite ……
Aspiring graphite miner Black Rock invited to finalise agreement with Tanzanian government
Cauldron Energy dusts off Yanrey uranium project, despite government opposition
Redstone (copper, cobalt), Latrobe (magnesium) and Empire (gold, copper, nickel, PGEs) up on no news
Here are the biggest small cap resources winners in early trade, Tuesday December 7.
(Up on no news)
When the WA state government implemented a ban on most new uranium mines in 2017, CXU stopped work at its flagship 'Yanrey' uranium project and began searching for other dirt to play with.
It now has a historic gold project called 'Blackwood' in Victoria and a silica sands play called 'Ashburton' in WA. It is also poking around Yanrey again, which is a lot more interesting now that uranium prices are on the move.
While government support (or lack thereof) for new mines has not changed, a recent survey uncovered a bunch of "highly prospective targets for follow-up drilling" at Yanrey.
"Our ultimate objective is to explore for uranium mineralisation amenable to extraction by ISR," CXU exec chairman Simon Youds says.
"Economic deposits of sandstone-hosted, palaeochannel-style uranium can be mined using ISR in the lowest cost quartile of uranium mined globally."
"This characteristic makes these deposits extremely attractive for mining at any uranium price and necessarily must form the basis of any uranium resource portfolio."
Yanrey exists within a larger uranium province that is slowly being uncovered, Youds says.
"There is potential here for a scale comparable to the best uranium-endowed province globally and that, with astute leadership, Western Australia is at the threshold of a new energy resources boom."
At Blackwood, CXU has stumbled upon visible gold in an underground area historically excavated for access purposes only:
"The visible gold observed, coupled with the beautiful sandstone-shale contact and structurally complex geology, provides an exciting new target for drill testing," Youds said in November.
"The observation of visible gold further increases our confidence in the remaining mineral potential of these historical mines."
The $11.5m market cap stock is down 6% over the past month, and 30% year-to-date. It had $1.5m in the bank at the end of September.

(Up on no news)
The nanocap, which has partially bounced back from recent losses in early trade Tuesday, is drilling to grow the 38,000t copper, 535t cobalt 'Tollu Copper Vein' deposit, part of the 'West Musgrave' project in WA.
Tollu hosts "a giant swarm of hydrothermal copper rich veins" in a mineralised system covering a +5sqkm area, ~40km from OZ Minerals' (ASX:OZL) world-class Nebo-Babel nickel-copper deposit.
A conceptual (theoretical, not real yet) exploration target suggests up to 627,000t of copper may be present, the company says.
Recent portable XRF analysis of new drilling returned hits like 16m at 2.62% copper from a 74m downhole, including 6m at 6% copper from 76m.
These will be confirmed by traditional assay, the company says. Labs are backed up to the hilt, so who knows when that will be.
RDS say exploration will continue "at the earliest opportunity" in 2022 with a deeper RC drilling program at priority targets.
The $12m market cap stock is up 30% over the past month. It had $2.6m in the bank at the end of the September quarter.
It's been a good news week for aspiring graphite miner BKT.
Today it announced it had been invited by the Mining Commission to attend a ceremony in Dar es Salaam, Tanzania on Monday 13 December "to finalise an agreement with the Government of Tanzania".
Black Rock managing director John de Vries is currently in country and is expected to attend, BKT says.
The company has also just completed a massive 500t pilot plant run – the largest ever, it says — to send off for qualification (testing) to potential customers in North America, Asia and Europe.
This will ultimately support project financing, BKT says.
The company now needs to finalise off-take terms with cornerstone investor POSCO, and secure finance to underpin a $US116m Phase 1 development capex program.
The $183m market cap stock is down 10% over the past month, and up 115% year-to-date. It had $9.3m in the bank at the end of September.
(Up on no news)
Early works – like fixing fences, site clean-up, contracting — are happening apace at LMG's magnesium project in Victoria's Latrobe Valley, with construction on an initial 1,000 tonne per annum magnesium plant due to kick off in Q1 2022.
Production starts up to 12 months later in Q4 2022.
The plant will be expanded to 10,000 tonnes per annum magnesium shortly thereafter, with further plant capacity expansion to be considered once it is operating successfully.
Magnesium has the best strength-to-weight ratio of all common structural metals and is increasingly used in the manufacture of car parts, laptop computers, mobile phones, and power tools.
In November, LMG said current magnesium price was US$6,150 per metric tonne and expected to hold.
"LMG's revenue estimates are based upon US$3,250 per tonne which was the magnesium price in June 2021, before the China supply shortage commenced in September 2021," it says.
"If the current price of US$6,150 per metric tonne held long term, it would increase LMG's estimate of EBITDA for its 10,000tpa plant by some $56m."
In 2020, world magnesium production was ~1 million tonnes, of which China supplied ~85%.  China has begun a 13-year plan to increase Mg in cars from 8.6kg to 45kg by 2030, requiring an additional 1 million tonnes of new Mg production per annum.
$131m market cap LMG is down 21% over the past month, and up 335% year-to-date. It has raised $11.5m  via placement to help fund the initial $39m 1,000tpa plant.
(Up on no news)
This busy polymetallic explorer has already drilled 13,000m so far in 2021 at the 'Penny's and Yuinmery' projects in WA, with diamond drilling of some juicy gold, copper, and nickel-copper-PGE targets at Yuinmery due to kick off sometime this month.
ERL would've drilled even more if not for issues getting hold of a rig, something the company intends to fix in 2022.
"Our exploration plans for 2022 include the lock-in of a core drilling rig and driller for exclusive use by Empire," chairman Michael Ruane says.
"This should assist in accelerating at least the drilling component of our exploration programs for the forthcoming period. The rig will be particularly useful for the deep drilling required for the promising Yuinmery targets (eg Smiths Well/YT01)."
The rig should be ready for commissioning this month, he says.
The $14.85m market cap stock is up 30% over the past month. It had about $3.5m in the bank at the end of November.
The post Resources Top 5: Hopeful uranium stocks, an important graphite deal, and lots of imminent news flow appeared first on Stockhead.
Met testwork proves Sovereign's Kasiya will deliver a premium natural rutile product
Special Report: Metallurgical testwork has confirmed Sovereign Metals' Kasiya project in Malawi will deliver a premium natural rutile product, setting…
Metallurgical testwork has confirmed Sovereign Metals' Kasiya project in Malawi will deliver a premium natural rutile product, setting the stage for the company's landmark scoping study.
Testwork continues to demonstrate the world class nature of Sovereign's (ASX:SVM) Kasiya deposit, with simple and conventional processing delivering levels of 95% to 97.2% TiO2 with low impurities at stand-out metallurgical recoveries ranging from 94% to 100%.
That makes Kasiya competitive on TiO2 grades with some of the world's largest natural rutile operations like Iluka's Sierra Rutile and Rio Tinto's Richards Bay Minerals.
It opens the door for discussions with tier-1 offtakers in the markets for TiO2 pigment, titanium metal and welding, where customers are facing widening supply deficits in a strengthening market.
Additionally, testwork has shown conventional flotation methods can be used to produce a coarse flake graphite by-product from rutile gravity tails with 60% at a coarseness of +150µm, suggesting it will have a high basket value when sold to market.
A program at SGS Lakefield in Canada confirmed simple processing methods delivered a very coarse-flake graphite concentrate at 96.3% TGC.
"Consistently achieving premium rutile specifications with stand-out recoveries via conventional "off the shelf" processing methods reinforces the robustness of metallurgical and processing performance of the Kasiya rutile mineralisation ahead of the upcoming Scoping Study," Sovereign managing director Dr Julian Stephens said.
"These continued very high-quality product specifications should generate further interest from end-users across the titanium sector as the global structural deficit in natural rutile supply continues to widen."
Kasiya scoping study round the corner
With the results in today's announcement, Sovereign has now demonstrated the impressive metallurgical qualities of the Kasiya resource in two separate rounds of met testwork.
The testwork also confirms Kasiya will deliver strong recoveries and product specifications based on conventional off-the-shelf processing technology, which bodes well for its future development.
Proving the original results were certainly no fluke and opening the door to interest from Tier-1 offtake customers, they set up Sovereign to release a scoping study in the coming weeks.
With most of the technical disciplines now complete, mining optimisation and capital and operating cost estimations are currently being finalised.
A new indicated mineral resource estimate is also on the way after substantial resource drilling to build upon the world-class inferred resource released in June.
That confirmed Kasiya as one of the largest natural rutile deposits in the world, with an inferred resource of 644Mt at 1.01% rutile and a high-grade component of 137Mt at 1.41% rutile.

This article was developed in collaboration with Sovereign Metals, a Stockhead advertiser at the time of publishing.
This article does not constitute financial product advice. You should consider obtaining independent advice before making any financial decisions.
The post Met testwork proves Sovereign's Kasiya will deliver a premium natural rutile product appeared first on Stockhead.
Nio Will Bounce Back With Impressive Delivery Numbers
Nio (NYSE:NIO) stock has been under pressure for the past month. The Chinese EV company suffered from the investor sell-off and the Chinese government…
Nio (NYSE:NIO) stock has been under pressure for the past month. The Chinese EV company suffered from the investor sell-off and the Chinese government crackdown.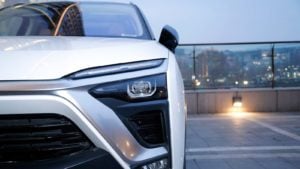 Source: xiaorui / Shutterstock.com
However, China is one of the top EV markets in the world and it is expected that there will be a consistent rise in the demand for EVs in the coming years. The EV market in China nearly tripled to 19% in October, according to Forbes. The market is growing bigger, and it is moving very fast.
Nio is making strong strides in the industry and has already made its presence felt with a wide product range. NIO stock is less than half of the all-time high of $66. 
Nio started the year with a bang and was trading close to $53 in January. It hit a high in February and has been declining since then. NIO stock is down 24% in the past six months, but this does not mean you can write off Nio. The company has a long way to go and there are several catalysts working in its favor.
Impressive Delivery Numbers
The entire EV industry was facing a chip shortage and had major supply chain issues which led to a dip in deliveries. Nio did not have a good October, but it did bounce back in November. It reported 3,667 deliveries in October and delivered 10,878 vehicles in November which is a 105% increase from a year ago. This brings the year-to-date deliveries in 2021 to 80,940 vehicles, a 120% increase from 2020, and the total deliveries to 156,581. 
For the fourth quarter, the company expects deliveries between 23,500 and 25,500 vehicles. That means the company will have to deliver extraordinary numbers in December to meet the projections. Considering the current situation of the market, it looks difficult for the company to meet the revenue or deliveries for the fourth quarter, and this may impact the bottom line.
However, I believe Nio should not be judged simply based on the October deliveries. The chip shortage and supply chain issues affected every automaker and it is temporary. Looking at the big picture, Nio shows strong potential to grow and meet the growing demand of consumers in the thriving EV market.
Battery as a Service Is a Major Draw
Nio recently signed an agreement with Shell (NYSE:RDS.A, NYSE:RDS.B) to build and operate the battery charging stations. It includes the installation of 100 swapping stations in China by 2025 and pilot stations in Europe in the next year. The company's battery-as-a-service (BaaS) offers a huge advantage in the competitive market and this partnership is a clear path towards International expansion. BaaS allows consumers to buy cars without batteries and subscribe to the program to swap batteries at the stations. This reduces the cost of the car significantly. 
It is also setting up a factory at the NeoPark EV industry park in China and expects to roll out the first vehicle in the second quarter of next year. The company will have NIO day on Dec. 18,  when it expects to launch its new ET7 sedan.
The Bottom Line on NIO Stock
Do not panic due to the investor sell-off and instead load up on NIO stock in the dip. Nio is one of the top EV players in the industry and the market is only growing bigger in the coming years. The company has a lot lined up for 2022 and it will benefit investors.
A dip in delivery numbers for one month does not speak anything about the potential of the company. Look at the bigger picture and see how far Nio has come. The company is set to grow bigger on high demand and sales. 
On the date of publication, Vandita Jadeja did not have (either directly or indirectly) any positions in the securities mentioned in this article. The opinions expressed in this article are those of the writer, subject to the InvestorPlace.com Publishing Guidelines.
Vandita Jadeja is a CPA and a freelance financial copywriter who loves to read and write about stocks. She believes in buying and holding for long-term gains. Her knowledge of words and numbers helps her write clear stock analysis.
More From InvestorPlace
The post Nio Will Bounce Back With Impressive Delivery Numbers appeared first on InvestorPlace.