Gentherm receives first production vehicle award for ClimateSense technology
Gentherm, a developer of innovative thermal management technologies (earlier post), has received its first production vehicle award for its ClimateSense…
Gentherm, a developer of innovative thermal management technologies (earlier post), has received its first production vehicle award for its ClimateSense technology on an all-new 2024 model year electric vehicle with a global automaker.
ClimateSense is Gentherm's proprietary microclimate solution comprising advanced thermal products, integrated electronics, embedded software and a thermo-physiology based, human-centric approach.
Our ClimateSense microclimate technology will help OEM customers achieve their electrification goals by increasing vehicle range and energy savings, while delivering a best-in-class personalized thermal experience. We are excited about this first production award for ClimateSense and the potential our technology has to address the growing needs of the electric vehicle market.

—Phil Eyler, President and CEO of Gentherm
Designed, developed, and manufactured by the company, ClimateSense technology seamlessly integrates into the existing vehicle architecture utilizing localized convective and conductive heating and cooling solutions to create personalized comfort while significantly reducing HVAC energy consumption.
Published studies show the technology can deliver between 50% to 69% energy savings in cold-weather testing and 34% energy savings in hot weather testing, when compared to the existing central HVAC system of a first-generation Chevrolet Bolt EV.
electric vehicle
Say Hello to the Smart Grid: The Future of the $2.4 TRILLION Energy Market
New Jersey. Texas. California. Oregon. Montana. Louisiana.
That's the short list of just some of the states across America that have been hit by power…
New Jersey. Texas. California. Oregon. Montana. Louisiana.
That's the short list of just some of the states across America that have been hit by power outages over the past month alone.
And this isn't an "unusual" time. Power outages are par for the course these days. Our grid is too strained and too old to handle the power load of modern society, which includes smartphones in every hand, smart TVs in every room, smart cameras at every door, smart lighting throughout the home, and more.
Indeed, an analysis by Climate Central found that the frequency of major power outages grew by 10X from the mid-1980s to 2012 – and anyone who's been a homeowner since 2012 can tell you that the frequency of power outages has shot up significantly since 2012.
The big picture? Our grid needs help.
Coming to the rescue is the so-called "smart grid" – which, while a term you may not be familiar with, represents the inevitable future of the $2.4 trillion energy market.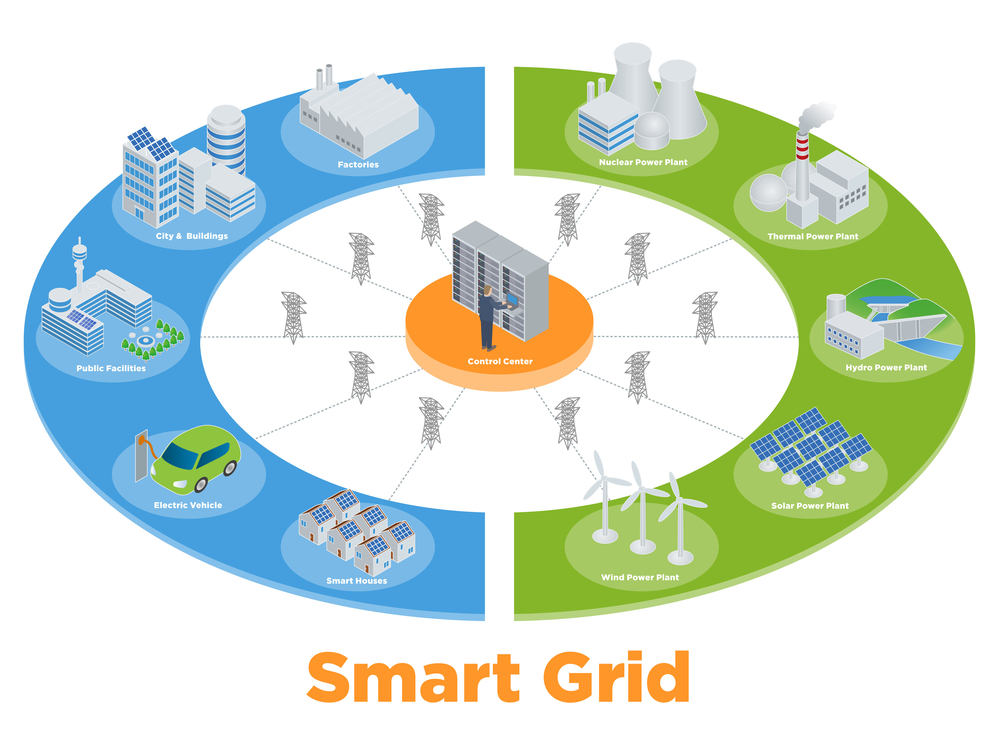 Source: Shutterstock Source: Shutterstock
At its core, the smart grid is simple.
It's a bidirectional, decentralized network of independent clean energy power generators, wherein those power generators can both buy energy from the grid when there's an energy deficit and sell energy back to the grid when there's an energy surplus.
The thinking is that the big problem today isn't a power shortage – but rather, you have two big problems.
One, you have an inefficient distribution of power creation. And two, you have an overreliance on centralized power.
That is, a lot of times, power outages are the direct result of a storm, fire, or some natural disaster forcing a power plant to go offline, which results in all the buildings that obtain power from that plant losing power, too – despite the fact that those buildings themselves may not be threatened by that natural disaster.
Meanwhile, even in the absence of a natural disaster, the grid sometimes gets too strained in extreme weather conditions. But a lot of times, during these episodes, homes with solar panels actually generate a lot of excess energy – which in the current grid network, goes to waste.
The smart grid was invented to solve these two problems.
Fix the central reliance problem by making the grid decentralized, thereby turning every building into its own energy generation hub with solar panels and energy storage batteries. Fix the power distribution problem by making the grid bidirectional, thereby allowing homes to sell their excess solar power back to the grid and enabling the grid to redistribute that power to homes that need it (or storing it for a rainy day).
That's the future of energy in this world. That's the smart grid.
The central technology of this smart grid is artificial intelligence, or AI. In order for the smart grid to work automatically, efficiently, and rapidly, it needs to be able to dynamically process a whole bunch of energy usage data, learn energy usage patterns, and develop models to optimally deploy power across various buildings.
That's something that only an AI system can do…
Therefore, the critical enabling technology of the smart grid energy transformation is AI – or, more specifically, it is an AI-powered software system that can dynamically operate a decentralized, bidirectional energy grid.
A lot of companies are working on this technology because the economic implications of such a system are enormous. The company that figures this out will be a $100-plus BILLION energy tech giant one day.
One company stands head-and-shoulders above the pack at the current moment, and based on our analysis, this company has an extremely high probability of turning into the $100 BILLION smart grid operating giant of the future.
Its market cap today is less than $5 billion.
That's why I included this particular stock in my ultra-exclusive 1 to 30 Hypergrowth Portfolio, which I just debuted last month and that includes 10 different hypergrowth, early-stage technology stocks with 30X or greater upside potential.
I truly believe this is a one-of-a-kind portfolio that you won't find anywhere else – and which could be your ticket to the 1%.
To learn more about that ultra-exclusive portfolio – and about the energy tech stock at the epicenter of the smart grid revolution – click here.
On the date of publication, Luke Lango did not have (either directly or indirectly) any positions in the securities mentioned in this article.
The post Say Hello to the Smart Grid: The Future of the $2.4 TRILLION Energy Market appeared first on InvestorPlace.
batteries
energy storage
Rooftop solar remains untapped yet crucial for energy transition – BNEF
The global market for rooftop solar energy remains untapped yet is crucial for the world to achieve 2050 net-zero targets, say BloombergNEF and Schneider…
The global market for rooftop solar energy remains untapped yet is crucial for the world to achieve 2050 net-zero targets, according to a new report released by BloombergNEF and Schneider Electric.
The report, Realising the Potential of Customer-Sited Solar, states that there is a need for careful policy design to unlock the full potential of the market.
With the right regulation and tariff design in place, the rooftop solar market has the ability to exceed 2,000GW and enable the deployment of 1,000 GWh of energy storage by 2050.
The market has the ability to power 167 million households and 23 million businesses across the globe if fully optimised, according to the study.
In addition to ensuring consumers play their part in the decarbonisation of the economy, the rooftop solar market provides economical returns for hosting sites, creates employment and reduces peak demand.
Have you read?
Consumer rooftop PV transforming Australia's electricity market
Net-zero targets to triple Asia Pacific's solar PV capacity by 2030
According to the report, Australia is an example of where the market has returned favorable benefits to prosumers in less than 10 years since 2013 when rollout began.
Australia has managed to add 2.3GW of rooftop solar capacity for residential customers in 2020, a move taking the country closer to decarbonisation goals, says the report.
Vincent Petit, Head of the Schneider Electric TM Sustainability Research Institute, said: "Customer-sited solar is a huge opportunity that's often completely overlooked. Thanks to falling costs and policy measures, it's already being rapidly deployed in some markets. Its massive scale-up is very likely."
Recommendations to expand the market include:
Governments and project developers to ensure programmes create economic cases for households and businesses investing in the technology. Incentives is one way to encourage adoption. France which has introduced incentives has recorded a 500MW increase in installations in 2020, according to the study.
A key consideration at the early stage of market development is to avoid an unsustainable boom. Policy designs should account for the fact that solar costs will continue to fall over time, and moderate support to reflect these changing dynamics.
Add solar during construction of new buildings to reduce so-called 'soft costs', such as marketing and sales costs, as well as labor and construction costs.
Combine solar with energy storage to expand flexible energy capacity. Coupling solar with energy storage enables solar energy plants to be optimised in performance. Energy storage allows electricity generated during times when generation is high to be used when generation is low and demand high.
Yayoi Sekine, BNEF's Head of Decentralized Energy, adds: "The evolution of customer-sited solar is to add some form of flexibility, which has the ability to unlock a much higher penetration of solar.
"The most obvious form of flexibility is batteries, but energy storage will come in many forms, including shifting demand and using electric vehicles."
To encourage the development of solar-plus-storage projects, the report calls for the introduction of favorable export rates, time-of-use retail electricity rates, payments for storage to provide grid services and the implementation of demand charges.
Find out more about the report.
The post Rooftop solar remains untapped yet crucial for energy transition – BNEF appeared first on Power Engineering International.
batteries
energy storage
ServiceNow Collaborates with Infosys to Digitize Operations
Digital workflow company ServiceNow (NOW) has teamed up with its longstanding partner Infosys (INFY), the Indian multinational information technology company,…
Digital workflow company ServiceNow (NOW) has teamed up with its longstanding partner Infosys (INFY), the Indian multinational information technology company, to provide enterprise-level service management (ESM) for manufacturing customers, helping them with their digital transformation.
Shares of ServiceNow, with a current market capitalization of around $130 billion have gained nearly 39% over the past year. (See ServiceNow stock charts on TipRanks)
The combination of ServiceNow Operations Technology Management (OTM) with Infosys Cobalt cloud blueprints will enable the digitization of factories, floors, and plant operations for the energy and retail sectors, as well as other manufacturing industries.
Binoy Gosalia, Global Head of Industry Partnerships at ServiceNow commented, "Speed and agility are critical for maintaining OT security. Infosys Cobalt's Enterprise Service Management Café accelerates its manufacturing clients' ServiceNow journey with an AI-powered plug-and-play deployment solution. We look forward to our continued collaboration enabling manufacturers to navigate and succeed in today's rapidly changing environment."
Barclays analyst Raimo Lenschow recently increased the price target on ServiceNow from $667 to $784 (19.8% upside potential) and reiterated a Buy rating on the stock.
Lenschow said in the coming months, investors will make 2023 their base year for valuations. With respect to software, he added, "with its high growth rates, this move is important as valuation levels often see a meaningful step down."
Overall, the stock has a Strong Buy consensus based on 18 Buys and 2 Holds. The average ServiceNow price target of $667.21 implies a 2% upside potential.
According to TipRanks' Smart Score rating system, ServiceNow scores a "Perfect 10," suggesting that the stock is likely to outperform market averages.
Related News:
Cognyte Software Beats Estimates in Q2; Shares Fall 13.7%
CVS Health Plans to Hire 25,000 in U.S.
HCA Healthcare Inks Deal to Buy Operations of Five Utah Hospitals
The post ServiceNow Collaborates with Infosys to Digitize Operations appeared first on TipRanks Financial Blog.
cobalt