Is ChargePoint Stock Worth Investing In?
ChargePoint stock is attractive to those looking to invest in EVs and charging infrastructure. It's the largest network in the U.S.
The post Is ChargePoint…
Anyone who has driven an electric vehicle is probably familiar with ChargePoint stock and the plus sign that is seen throughout its branding. The plus sign, in this case, refers to positive and negative charges. ChargePoint is the largest charging network in the world.
Electric vehicles are generating a lot of interest from investors these days as a slew of new EVs hits the market. And with more EVs in development, the demand for charging will inevitably increase. Since ChargePoint is the largest network, it's naturally attractive to those looking to invest in EVs and charging infrastructure.
However, there are some risks facing the company, and we must take a closer look before deciding whether ChargePoint stock is a buy.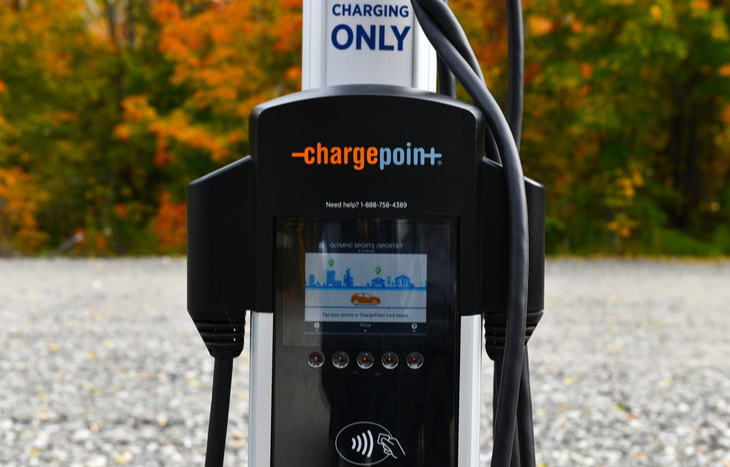 What is ChargePoint (NYSE: CHPT)?
Founded in 2007, ChargePoint has over 114,000 charging locations in operation as of September 2020. If you include stations with roaming integrations, the number comes to 133,000. And while that is the latest figure, ChargePoint continues to expand rapidly and the number will likely be much higher before long.
ChargePoint headquarters is located in Campbell, California. It operates in 14 countries including the U.S., Mexico, Canada and Australia.
ChargePoint stock went public in late 2020 and is now available on the New York Stock Exchange. Its IPO was the result of a special purpose acquisition (SPAC) in which it merged with Switchback Energy Acquisition Corporation.
Quarterly Financials
The most recent earnings call for ChargePoint paints an interesting picture. Its revenue was up 61% year-over-year, bringing in $56 million for the quarter. However, net income was down 141% YoY, for a net loss of $85 million. Diluted EPS was up nearly 96% but was negative at 0.29. Both operating income and net profit margin were down YoY, at -50% and -216%, respectively. Those two figures came in at -$74 million and -151%.
Overall, this quarter was not the best for ChargePoint. Although its revenue and EPS saw YoY increases, it saw decreases in all other areas. And while EPS increased, it was still negative overall. The previous quarter was much better for ChargePoint as every area except operating income had YoY increases at that point.
As for EPS and revenue predictions, it has beat revenue predictions while missing EPS projections in each of the last three quarters. Thus, ChargePoint stock isn't having trouble bringing in revenue, but profitability remains a pain point.
Investor Sentiment
Although there are some risks for ChargePoint, investors are actually quite bullish on CHPT. In fact, various analyses show there is a bullish outlook for the stock in the short, mid, and long term. All of this is despite the fact that Fidelity, for instance, rates the stock as highly overvalued, with a 3 out of 100, where 1 is the most overvalued and 100 is the most undervalued.
However, that same analysis does give it a 95 out of 100 for growth stability, and this could be what is encouraging to investors. After all, we discussed earlier how ChargePoint continues its rapid expansion, including to other countries. If profits increase when charging infrastructure becomes more saturated, things could look quite good for ChargePoint stock investors.
ChargePoint Stock Predictions
In addition to its struggles to maintain profitability, some analysts point to a risk of commoditization in charging infrastructure. Think of it like gas stations: when filling up a gas-powered car, most of us would simply visit whichever gas station has the lowest price per gallon. EV charging could follow a similar path which would make it difficult for ChargePoint to maintain its market dominance.
All of these things being considered, ChargePoint stock is a moderate buy but not necessarily a home run. Its stock price saw a peak in late December of 2020 at over $45 per share. Since then, the price dropped below $20 per share, though it has increased to nearly $27 per share since a low point in October 2021.
Again, we see a mixed bag with ChargePoint. It is never encouraging to see a stock lose more than 50 percent of its value, but the plus side is that it has been increasing since early October. In fact, it is up another 50 percent compared to its October low point.
Thus, we can expect ChargePoint to continue its modest rise while keeping in mind the potential risks the company faces. It is still the largest charging network in the world, and that is a big advantage for it.
Is ChargePoint Stock a Buy?
To decide whether ChargePoint stock is a buy, you will have to decide whether you want to invest in charging infrastructure more generally. While ChargePoint has some potential risk factors, it is nonetheless the largest charging network in the world. Chargepoint is often compared to charging networks, such as Blink and EVgo. However, ChargePoint stock is as good or better in terms of investment opportunity. The market isn't much more bullish around the other two, and neither are analysts. Of course, the other option is EV stocks, many of which are also good investments.
But if you want to invest in EV charging specifically, ChargePoint is a good choice. Plus, the U.S. is finally starting to embrace EV charging, allocating $7.5 billion of the recent infrastructure bill to build out charging stations.
On the other hand, if you are simply looking for the next winning stock and are not particularly interested in EV charging, then ChargePoint may not be the best choice. While it may continue its modest rise, the potential for commoditization in EV charging may hurt its long-term growth.
For more insight on the hottest trends, sign up for the Profit Trends e-letter below. This free e-letter provides tips and tricks from top investing experts. Don't miss out on a profitable investing opportunity and sign up today!
Simply put, it depends on what is important to you and what your investment goals are. Once you have answered those questions, it won't be difficult to decide if ChargePoint stock is a buy.
The post Is ChargePoint Stock Worth Investing In? appeared first on Investment U.
All Bets Are Off Whether the Lucid Stock Rally Can Continue
After prematurely calling a near-term top in Lucid Group (NASDAQ:LCID) stock on Nov. 11, I'll admit so far, I've made the wrong call with Lucid.
Source:…
After prematurely calling a near-term top in Lucid Group (NASDAQ:LCID) stock on Nov. 11, I'll admit so far, I've made the wrong call with Lucid.
Source: ggTravelDiary / Shutterstock.com
The electric vehicle maker's turbocharged surge in price (kicked off by it making its first customer deliveries) has carried on.
Renewed hype for EV stocks, and growing optimism that this upstart will one day beat out established rival Tesla (NASDAQ:TSLA), has pushed Lucid higher. Market-wide uncertainty is knocking it back as of this writing. But it's up for debate whether it can carry on with its incredible run.
On one hand, investor confidence in its "Tesla killer" abilities could continue to grow. In turn, shares could re-hit the highs last hit back when the deal that took it public was first announced. Or make their way to new highs.
On the other hand, the latest wave of EV mania may be fading. More analysts are pointing to EV offerings from the incumbent automakers, plus Apple's (NASDAQ:AAPL) EV plans, as to where you should place your bets. On top of this, overarching uncertainties could still seriously weigh on LCID stock. Put it all together, and Lucid may be at risk of soon giving back a large chunk of its recent gains.
If you believe bullish sentiment will carry on in the short term, you may believe my concerns are overblown. Nevertheless, keep them in mind, as investors may take their foot off the accelerator sooner than you think.
LCID Stock and its Runaway Run-Up in Price
Even for an early-stage EV stock, Lucid's surge in price has been staggering. In the past month, another aspiring Tesla killer, Fisker (NYSE:FSR), is up around 37%. Rivian (NASDAQ:RIVN), which wants to take on not just Tesla, but mass market automakers as well, is also up around 52% since it went public at $78 per share on Nov. 10.
During the same time frame, LCID stock is up nearly 50%. Sentiment is definitely with EV names like LCID stock.
Better yet (at least for investors already long Lucid), this mentality may carry on in the weeks/months ahead. Hitting new milestones could do the trick. So too, could updates on reservation numbers and production targets.
Then again, we could see far fewer big developments out of the company in the next few months. That could lead to a snap-back in sentiment, and a move back to the $30s or $40s per share.
There's Still Plenty in Play to Knock it Back Down
Fears of yet another Covid-19 variant are putting pressure on stocks across the board, including LCID stock. But while this latest bit of uncertainty could prove to be short-lived, this isn't the only thing that could stop this high-flier in its tracks.
There's still plenty in play specific to the company that could cause Lucid to experience a further dive in price. First, there's the possibility of no news being bad news. In other words, if over the next few months, there's little in terms of game-changing news out of the company, more investors could opt to take profit, causing a further reversal in its latest run-up.
Second, sentiment could snap back from the bullishness seen lately, back to the on the fence view the market took on shares throughout mid-2021. What could fuel this? The release of more sell-side commentary that states there are much better EV plays out there from a risk/return standpoint. For instance, like Morgan Stanley analyst Adam Jonas' latest take on Lucid gave shares the equivalent to a "sell" rating.
Jonas believes not just Tesla, but incumbent automaker General Motors (NYSE:GM), along with auto parts maker Aptiv (NYSE:APTV), are better opportunities. In separate commentary, Jonas has also discussed how Apple's plans to develop a self-driving EV is bad news for automotive names across the board. If other analysts follow suit, it could drive a further retreat out of its shares.
The Verdict on Lucid Stock
Calling a near-term top in a particular stock is by-and-large a fool's errand. Your bearish call could prove true in time. But in the interim, shares could still shoot up, thanks to the market's exuberance lasting longer than expected.
That could still be the case here with Lucid. Or will it? More positive news could help reverse its latest pullback, enabling it to zoom past its past high water mark of nearly $65. However, a lack of news, or the release of further bearish commentary, may keep shares moving in reverse.
So, what's the best move with LCID stock today? Wait for more indication which direction the market will send this EV play from here.
On the date of publication, Thomas Niel did not have (either directly or indirectly) any positions in the securities mentioned in this article. The opinions expressed in this article are those of the writer, subject to the InvestorPlace.com Publishing Guidelines.
Thomas Niel, contributor for InvestorPlace.com, has been writing single-stock analysis for web-based publications since 2016.
More From InvestorPlace
The post All Bets Are Off Whether the Lucid Stock Rally Can Continue appeared first on InvestorPlace.
Lucid Stock Could Actually Benefit from the Omicron Variant
All things considered, the loss that electric vehicle manufacturer Lucid (NASDAQ:LCID) stock incurred on Black Friday wasn't too terrible.
Source: Around…
All things considered, the loss that electric vehicle manufacturer Lucid (NASDAQ:LCID) stock incurred on Black Friday wasn't too terrible.
Source: Around the World Photos / Shutterstock.com
As you know, the global equity markets provided their own discount, with several top names shedding serious red ink. But the usual hesitation that accompanies such widespread volatility might not affect LCID stock over the long run.
Don't get me wrong — Lucid isn't running on some magic fuel. After soaring over 91% in the trailing month and 160% over the trailing half-year period, LCID stock might be due for a correction.
But should shares trip up, it might have less to do with the omicron variant of the novel coronavirus and more to do with general profit-taking motivations.
To be sure, the latest drama of the Covid-19 pandemic is not something to be ignored. As the Washington Post reported, the Dow Jones tumbled more than 900 points on the day that typically marks the start of the winter holiday shopping season.
Among analysts, fears have heightened that the new strain of the SARS-CoV-2 virus could derail the global economy.
On the surface, that wouldn't be too hot for LCID stock nor any other automotive manufacturer, electric or otherwise.
According to the U.S. Bureau of Transportation Statistics, between February and April of 2020, vehicle miles traveled hemorrhaged a staggering 42%. Even at the latest read of August 2021, the metric is down 6% from its pre-pandemic peak.
Unless you're buying a vehicle purely for fun or for showboating, making a new purchase against potentially another low-driving-miles environment isn't sensible.
Sure, the underlying premium EVs of LCID stock cater to the rich, but rich people usually don't become that way by committing silly money mistakes.
Still, there's a chance that omicron could be good for Lucid.
LCID Stock Is Built for the Pandemic
When the Covid-19 pandemic first upturned society, all of us learned quite a bit about the little mundane details we took for granted.
As far as combustion cars were concerned, I personally learned that they can be an incredible pain in the hind end when it comes to maintenance.
Like a human being, you need to keep the juices flowing in a regular car for it to operate properly. If it sits around for too long, components start to corrode or shed capacity in a surprisingly rapid manner.
For instance, if you leave a combustion car sitting for a month or two, incremental parasitic loss could drain your battery completely.
That's why some car experts caution that a low-mileage vehicle might not always be the most reliable, especially if it was used intermittently. In that case, a higher-mileage vehicle was frequently used but well taken care of might be the better option.
However, with EVs, you just don't have this issue, at least not to the same magnitude. An EV can sit for months without charging, which will be beneficial if we enter a lockdown to mitigate the omicron variant.
Other nations are taking a proactive stance, locking down their borders.
We still don't know how bad this omicron variant is. However, if our worst fears are realized, the U.S. government could potentially take some drastic measures. If so, that would be a cynical catalyst for LCID stock.
Additionally, EVs feature far fewer moving parts than combustion cars. Ordinarily, this makes electric transportation more reliable than its combustion-based counterpart. But in the new normal, this advantage also makes EVs much more livable.
Drivers won't have to deal with as many maintenance items in EVs as with combustion cars, further bolstering the case for LCID stock.
A Word of Caution
Although a return to lockdowns or strong mitigation measures might help LCID stock, investors shouldn't bank on it.
True, the omicron variant presents serious concerns for the international community. Yet as the AP noted, "Some previous variants, like the beta variant, initially concerned scientists but did not spread very far."
That's not to say you should ignore this strain. Obviously, it was enough to spook the markets so there might be something to this possible threat.
Nevertheless, LCID stock could potentially be sitting on a best-of-both-worlds scenario. If the pandemic worsens, EVs have proven to be the superior urban platform. But if the omicron variant turns out to be a false alarm, Lucid could resume its compelling business narrative.
On the date of publication, Josh Enomoto did not have (either directly or indirectly) any positions in the securities mentioned in this article. The opinions expressed in this article are those of the writer, subject to the InvestorPlace.com Publishing Guidelines.
A former senior business analyst for Sony Electronics, Josh Enomoto has helped broker major contracts with Fortune Global 500 companies. Over the past several years, he has delivered unique, critical insights for the investment markets, as well as various other industries including legal, construction management, and healthcare.
More From InvestorPlace
The post Lucid Stock Could Actually Benefit from the Omicron Variant appeared first on InvestorPlace.
TotalEnergies launches 55MW solar PV plant in France
TotalEnergies, has launched its largest solar photovoltaic power plant in France, with a capacity of 55MW.
The post TotalEnergies launches 55MW solar PV…
Global energy company TotalEnergies has launched its largest solar photovoltaic power plant in France, with a capacity of 55MW.
The solar farm, located northeast of Gien (Loiret), comprises 126,000 photovoltaic panels spread over 75 hectares.
The plant will produce approximately 64GWh per year, equivalent to the annual electricity consumption of 38,000 people and keep more than 550,000 tons of CO2 out of the atmosphere during its lifetime.
Have you read?
SCE Energy deploys over 7MW of monitored solar capacity across Australia
Holcim Philippines reduces footprint with 20-year solar PPA
This photovoltaic project is designed to support the development of renewable energies in France and includes:
A participative financing model: To involve site neighbours, the plant was built with participative financing amounting to €2,200,200 ($2,500,00) to which 212 residents of the Loiret and surrounding departments largely contributed.
A plan to protect biodiversity: The Company has put in place the measures required to preserve biodiversity, including the creation of bat shelters and the construction of a pond to promote amphibian reproduction.
TotalEnergies teams will operate and maintain the plant locally throughout its 30-year operating lifespan.
"This commissioning contributes to France's energy transition and is a further step towards our goal of reaching 4GW of renewable generation capacity by 2025. It reinforces our commitment to be a major player in renewable energy in France," said Thierry Muller, CEO of TotalEnergies Renewables France.
TotalEnergies Lubrifiants will be exhibiting at Enlit Europe in Milan at Stand 16.A52. If you are attending the exhibition, feel free to visit the booth and meet the team.
We can't wait to see you in Milan
Enlit Europe will bring the energy community together during the live event in Milan (30 November – 2 December 2021). Register here
The post TotalEnergies launches 55MW solar PV plant in France appeared first on Power Engineering International.