Italy's INBRE to expand hydroelectricity capacity with €49m EIB support
INBRE has secured a €49M loan from the European Investment Bank (EIB) to modernise existing and build new infrastructure in Tuscany.
The post Italy's…
Italian hydroelectricity company Iniziative Bresciane S.p.A. (INBRE) has secured a €49 million ($55.5 million) loan from the European Investment Bank (EIB) to modernise existing and build new infrastructure in Tuscany.
INBRE will build 12 small run-of-the-river hydroelectric plants along Arno River, as well as restore 13 river weirs in partnership with Iniziative Toscane S.r.l. (Intos).
The weirs will help reduce flooding and improve INBRE's water management and in the process enhance the river's climate resilience. INBRE says it will also plant trees along the river to reduce the environmental impact of pre-existing architectural elements and preserve local biodiversity.
The project is expected to add 10MW of hydroelectricity capacity to INBRE's portfolio, and up to 55GWh of electricity per annum, the equivalent of energy required to power 22,600 households a year, according to the statement.
Have you read?
EU invests €1.1bn in clean tech innovation projects
IRENA emphasises the role of hydropower in achieving energy transition
NREL develops online cybersecurity tool for hydropower operators
The loan will be issued through the EIB's Green Developer Financing Programme which aims to expand the bloc's renewable energy, energy efficiency and green mobility deployment as part of the bank's climate action funding.
The loan is also expected to help Italy to move closer to its energy decarbonisation and climate mitigation goals. Moreover, the more renewable energy is integrated into the grid, the more consumer bills become affordable.
Owing to the pro-renewables policies introduced by the Italian government in recent years and the liberalisation of the market, Italy is well on track to achieve its 2030 target of clean resources accounting for 55% of the total energy mix, according to the International Energy Agency (IEA).
However, IEA urges the government to revise its subsidies, incentives and measures aimed at bringing the renewables deployment costs down and shift towards international benchmarks.
Chairman of INBRE's Board of Directors, Battista Albertani, said: "We are very pleased to have achieved a significant result by signing this EIB financing, with which INBRE is emphasising its commitment to merging economic and financial prerogatives with socio-environmental ones.
"In our business connected to generating renewable energy, this is more important than ever. We hope that this project will help to capture the value of our efforts to pursue a balanced development model and long-term continuous and sustainable growth."
We can't wait to see you in Milan
Enlit Europe will bring the energy community together during the live event in Milan (30 November – 2 December 2021). Register here
The post Italy's INBRE to expand hydroelectricity capacity with €49m EIB support appeared first on Power Engineering International.
Despite Volatility, QuantumScape is a Good Growth Investment
QuantumScape (NYSE:QS) shares are continuing to slide and are now down 53% from the mid-November high of $43.08. What's happening with this promising…
QuantumScape (NYSE:QS) shares are continuing to slide and are now down 53% from the mid-November high of $43.08. What's happening with this promising battery technology company? Electric vehicles (EVs) are hot. The U.S. government is throwing an unprecedented amount of money at the EV industry and QS stock had been rallying after the publication of a study showing impressive results from its new battery technology. However, the rapid price drop has caught many investors off guard. Others have been watching the price — which is now down around 68% year-to-date for 2021 — and sense opportunity.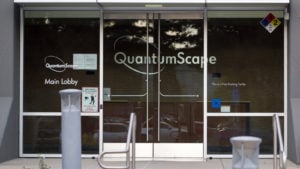 Source: Tada Images / Shutterstock.com
Which camp should you be in?
Well, if you're interested in investing in the EV space, choosing a battery company is one way to do so. Between traditional automakers pivoting to battery powered cars and EV startups, there are dozens of companies looking to sell consumers an EV. Picking which ones will succeed and which will flop isn't easy. However, QuantumScape is developing batteries — something that all EVs need. If the company is successful in leapfrogging current technology, QS stock could be a very lucrative addition to your portfolio, delivering long-term growth.
Why QuantumScape's Battery Technology Is Such a Big Deal
Over the past 12 months, there has been considerable excitement over QuantumScape and its solid-state batteries. A year ago, QS stock was gaining momentum in a rally that would see shares surge over 1,000% in under two months. That rally peaked at a $131.67 close on Dec. 22, 2020. The reason why investors couldn't get enough of QuantumScape was its solid-state batteries.
When it comes to EVs, the battery is critical, and accounts for roughly 30% of the vehicle's price tag. Battery capacity is the biggest factor in their driving range. With range anxiety being a huge concern for EV buyers, vehicle manufacturers are constantly trying to find a balance between cost and range. In addition, there are safety issues around the lithium-ion batteries used in electric vehicles. There have been an unfortunate number of EV fires blamed on the lithium-ion batteries — and they are extremely difficult to extinguish. 
There are other challenges with lithium-ion batteries. Performance degrades significantly in cold temperatures. Charging takes too long. Additionally, capacity begins to drop off after a number of charges — retaining 80% capacity after 500 charge cycles is typical.
Last December, QuantumScape announced details on its new solid-state lithium-metal battery technology for EVs. It promises huge gains. According to QuantumScape, its solid-state batteries can deliver up to 80% further driving range than traditional lithium-ion batteries. They retain over 80% capacity after 800 charge cycles, so they last longer before requiring replacement. They were tested in a wide range of temperatures, down to -30 degrees Celsius. The batteries can charge to 80% capacity in just 15 minutes. And QuantumScape says the design, which isolates the anode from the cathode, makes these solid-state batteries much safer that lithium-ion versions. 
In other words, they could revolutionize the EV industry. Given the promises of QuantumScape's solid-state battery technology, it's little wonder QS stock skyrocketed.
Why Morgan Stanley Has Concerns
After the excitement died down, QS stock suffered a correction, then was flat through the summer. However, in October another rally kicked off after a third-party testing report was released. The test verified QuantumScape's claims and showed an EV battery using this technology would still be operational beyond 240,000 miles.
This rally came to a crashing halt in mid-November after an analyst downgrade. Morgan Stanley's Adam Jonas dropped his QS stock price target from $70 to $40, and downgraded his position from buy to hold.
The reason for the downgrade? It's not that QuantumScape's results aren't impressive. The problem is that QuantumScape isn't yet at the production stage with its solid-state batteries. It's not expecting production to ramp up and have significant revenue coming in until midway through the decade. And competition in the EV market is coming. 
Bottom Line on QS Stock
The current dip in QS stock makes this stock a tempting proposition — assuming you are willing to invest for the long term. Anything can happen at this point, but signs are pointing to QuantumScape being on the track to being a key supplier in the EV industry. Its pre-production status will mean volatility, which could test the nerves of anyone hoping to make short-term gains. However, once QuantumScape solid-state batteries start making their way into EVs, long-term growth will likely follow. 
On the date of publication, Brad Moon did not have (either directly or indirectly) any positions in the securities mentioned in this article. The opinions expressed in this article are those of the writer, subject to the InvestorPlace.com Publishing Guidelines.
Brad Moon has been writing for InvestorPlace.com since 2012. He also writes about stocks for Kiplinger and has been a senior contributor focusing on consumer technology for Forbes since 2015.  
More From InvestorPlace
The post Despite Volatility, QuantumScape is a Good Growth Investment appeared first on InvestorPlace.
Siemens Gamesa and Strohm partner on decentralised hydrogen
Strohm has signed a MOU with Siemens Gamesa Renewable Energy to develop decentralized green hydrogen solutions.
The post Siemens Gamesa and Strohm partner…
Dutch manufacturing company Strohm has signed a memorandum of understanding (MOU) with offshore wind company Siemens Gamesa Renewable Energy to develop decentralized green hydrogen solutions.
The partners will develop hydrogen transfer solutions, whereby green hydrogen is generated in each wind turbine generator and transported to shore by subsea pipes.
Have you read?
Green is the new black: Hydrogen 'is the topic of the year'
ENGIE and Masdar to expand UAE's green hydrogen market with $5bn alliance
In other words, power cables are replaced by pipe infrastructure for storing and transferring hydrogen.
Strohm is a designer and manufacturer of Thermoplastic Composite Pipe (TCP), which is suitable for carrying hydrogen and will be used to develop these solutions.
According to Stohm, TCP is corrosion-resistant technology that does not fatigue or suffer embrittlement. The pipe is also manufactured in long spoolable lengths and is flexible in nature, allowing for quick, cost-effective building.
Martin van Onna, chief commercial officer at Strohm, says: "This is a truly exciting collaboration, working with Siemens Gamesa to understand how TCP can be the missing link in an offshore wind farm, generating green hydrogen. The key attributes of TCP – flexibility, no corrosion or maintenance requirements – allow for the most cost-effective infrastructure on a given wind farm. Our proven track record with TCP offshore is a pre-requisite to be considered a solution in future green hydrogen."
Siemens Gamesa is currently developing the basis for a decentralized offshore solution, that fully integrates an electrolyzer into an offshore wind turbine.
Finn Daugaard Madsen, innovation manager – Power to X at Siemens Gamesa, added: "Strohm has supported us through several case studies, identifying the solutions that can be readily used which complement our own systems. This partnership will assist us to innovate together in an open format, accelerating the availability of green hydrogen."
Originally published on Enlit World
The post Siemens Gamesa and Strohm partner on decentralised hydrogen appeared first on Power Engineering International.
As EV Investors Take December Break, Dips in Lucid and Nio Have Appeal
Even before the news broke on Monday that Lucid Group (NASDAQ:LCID) had received a subpoena from the SEC regarding its SPAC deal, it was clear that investors…
Even before the news broke on Monday that Lucid Group (NASDAQ:LCID) had received a subpoena from the SEC regarding its SPAC deal, it was clear that investors were using December to take a healthy break from the electric vehicle space.
Source: Around the World Photos / Shutterstock.com
Closing out last Friday, LCID stock was down 13.6% for the week and Chinese EV competitor Nio (NYSE:NIO) was down more than 20%. The Global X Autonomous and Electric Vehicles ETF (NASDAQ:DRIV) is lost 4.4% on the week.
To be sure, whatever concerns the market has about the SEC's query should be taken seriously. But early Tuesday morning, pre-market trading shows LCID stock is regaining most of Monday's 5.1% loss as indicators show markets opening in the green.
The question is whether you should consider buying either Lucid or Nio on the December EV dip? I'll examine both businesses.
LCID Stock Still Up This Past Month
In November, I suggested that Lucid was an excellent long-term speculative buy. It's important to note the word "speculative."
While I don't think there's any question the Lucid Air is popular with buyers — it has more than 17,000 reservations for the Lucid Air, the 2022 MotorTrend Car of the Year — until it starts delivering those vehicles and ringing up the register, there is above-average risk inherent in owning LCID stock.
That said, it sits in an enviable position with strong pre-orders worth $1.7 billion, a factory in Arizona that can produce up to 34,000 vehicles a year, and $4.8 billion in cash on its balance sheet.
What's not to like? How about the supply chain issues affecting the entire world.
Toyota Motor (NYSE:TM) cut its November production worldwide by 15% due to chip shortages. That said, it still thinks it can reach its 2021 target of nine million vehicles, so all is not lost.
CEO Peter Rawlinson mentioned the shortages in the Lucid's Q3 2021 press release:
"We see significant demand for the award-winning Lucid Air, with accelerating reservations as we ramp production at our factory in Arizona. We remain confident in our ability to achieve 20,000 units in 2022," Rawlinson stated on Nov. 15.
"This target is not without risk given ongoing challenges facing the automotive industry, with global disruptions to supply chains and logistics. We are taking steps to mitigate these challenges, however, and look forward to the launch of the Grand Touring, Touring, and Pure versions of Lucid Air through 2022."
I'm not sure if investors would be disappointed if, this time next year, Rawlinson confirmed that it was on target to produce 18,000 vehicles in 2022, 2,000 short of its stated goal. But, of course, 18,000 is still a big accomplishment.
Over the past month (thru Dec. 3), LCID is up 25% and trading in the mid-$40s, which values its equity at $75 billion. With no sales or earnings to value it, I'd suggest that its price-to-book ratio of 17.9x is quite rich. You can buy Ford (NYSE:F) at 2.2x book despite its stock more than doubling year to date. However, you'd have to pay 40.3x book to own Tesla (NASDAQ:TSLA).
It's all relative.
Nio's Record Quarter
Nio stock is trading within 6% of its 52-week low of $30.71 and 52% below its one-year high of $66.99.
It's hard to believe how far its share price has fallen. On Dec. 1, it reported November deliveries of 10,878 vehicles, 105.6% higher than last November, and the most delivered in a single month. Through 11 months, it has delivered 80,940 vehicles, 120.4% higher than the same period last year.
What's most impressive is the diversity of its delivery numbers: 2,683 ES8s (6-7 seater SUV), 4,713 ES6s (five-seater SUV), and 3,482 EC6s (five-seater coupe SUV), the company's newest vehicle.
When I last wrote about Nio at the end of October, I argued that the company had yet to shake its Chinese discount, a reality that many overseas companies face that are listed in North America.
"Tesla is trading up almost $17, at 24.3x sales. Meanwhile, Nio is trading just below $40 at 14.6x sales. You would think that Nio, being at approximately the same stage as Tesla was in early 2019, would get a higher multiple for its sales," I wrote on October 25.
However, I ultimately concluded that the company's sizeable operating loss was scaring away investors, not an aversion to Chinese companies.
I've said it before, under $40, I think NIO is an excellent long-term buy. Of the two stocks, it's the less speculative option.
The Bottom Line
If I could only own one stock, at this point, given how much further ahead Nio's business is compared to Lucid, combined with the fact NIO stock has gotten hammered much more than LCID, I would lean toward the more established company.
That said, if you can afford both, I would buy both at this point, maybe dividing your purchase 60% Nio and 40% Lucid.
On the date of publication, Will Ashworth did not have (either directly or indirectly) any positions in the securities mentioned in this article. The opinions expressed in this article are those of the writer, subject to the InvestorPlace.com Publishing Guidelines.
Will Ashworth has written about investments full-time since 2008. Publications where he's appeared include InvestorPlace, The Motley Fool Canada, Investopedia, Kiplinger, and several others in both the U.S. and Canada. He particularly enjoys creating model portfolios that stand the test of time. He lives in Halifax, Nova Scotia.
More From InvestorPlace
The post As EV Investors Take December Break, Dips in Lucid and Nio Have Appeal appeared first on InvestorPlace.