Lucid Stock Is a Hot Buy for Adventurous EV Investors
As I'm writing this, the turbo-charged rally with Lucid (NASDAQ:LCID) seems to be running out of battery power. It was kicked off late last month, on…
As I'm writing this, the turbo-charged rally with Lucid (NASDAQ:LCID) seems to be running out of battery power. It was kicked off late last month, on news of the electric vehicle (EV) maker's first confirmed deliveries of its Air luxury sedan. LCID stock continued to surge higher in early November, soaring from around $35.50 per share, to as much as $48 per share.
Source: Lucid Group
However, now it's starting to move in reverse.
The market has absorbed the delivery news. Along with another positive development. So, as it falls back to the mid-$40s per share, is it time to pack it in?
Not quite.
Traders buying this as a short-term play may want to be careful. Yet for long-term investors who are bullish on its chances of becoming a major EV brand should treat any near-term price fluctuations as noise. Putting it simply, it's not as if this company, on its way from zero-to-sixty in terms of deliveries, revenue and (eventually) profits, is just going to cruise up to higher prices.
Instead, like any early stage company, Lucid is going to experience its fair share of hiccups. After all, if you can remember, one of it its key competitors, Tesla (NASDAQ:TSLA) didn't become a trillion-dollar company in a day.
Best case scenario, a similar situation plays out here with Lucid.
The Latest With LCID Stock
Until just a couple days ago, there hadn't been another game-changing bit of news since its delivery report late last month.
Then, on Nov. 9, Congress passed the trillion-dollar infrastructure bill. Perhaps it's not something that directly improves the company's fortunes, but it helped to bolster enthusiasm for EV stocks in general. It was also enough to give LCID stock an added jolt. This ultimately gave it enough momentum to sustain its rally up to $48 per share.
Again though, the market has absorbed these developments.
And so, the Lucid rally has lost momentum. To make matters worse, this is happening as Tesla is finishing its own respective rally, and has started moving lower. It may take the rest of the EV pack lower with it. That said, like I mentioned above, there's no cause for concern if Lucid continues to experience a short-term decline in price.
It's finding success with its initial moves. Lucid managed to get its flagship vehicle into the hands of customers, and it has received glowing reviews from the automotive press. This may prevent the stock from falling fully back to the mid-$20s per share that it changed hands at before the deliveries announcement.
Just keep in mind that if you see this as a great long-term bet on the future of EVs, what's playing out today won't be the last bit of volatility this stock experiences.
Expect the Ride to Stay Bumpy
Much of the boost LCID stock received was well-deserved, given it has accomplished what few EV upstarts have yet to do. That is, roll its first batch of vehicles off the assembly line, and into the hands of customers.
Even so, despite accomplishing such a major milestone, it has plenty more milestones it needs to hit. First, it needs to successfully scale up production. That's a common challenge among the EV companies. As recently as 2020, Tesla itself was still having scaling-related issues. Second, getting from just a handful of deliveries now, to as many as 250,000 by 2026, is easier said than done.
Additionally, Lucid will not just need to beat out Tesla, plus incumbent automakers. It will need to successfully roll out a wider variety of vehicles, at multiple price points, to get to a six-figure annual delivery number. Fortunately, it appears the company has made plans to eventually offer both electric SUVs, plus an EV model, at a more affordable price point.
There's still uncertainty over whether it will meet these future milestones. So, buckle up for a bumpy ride, if you own the stock, or if you're thinking of doing so.
The Verdict on LCID Stock
As its only now getting out of the pre-revenue stage, you can expect shares in Lucid to remain volatile. Beyond just the pullback that's happening right now, other sharp declines in price may be in store. For example, if it experiences any production delays. If we use Tesla as precedent, I wouldn't rule it out.
Risks notwithstanding, this company is making ample progress. It has a good chance of overcoming future challenges, and becoming a major force in the EV industry.
In turn, leading shares to much higher prices. Another positive aspect to consider? It currently sports a 'B' rating in Portfolio Grader.
If you're bullish on LCID stock, view this latest pullback as an opportunity to add to or enter a position.
On the date of publication, neither Louis Navellier nor the InvestorPlace Research Staff member primarily responsible for this article held (either directly or indirectly) any positions in the securities mentioned in this article.
The opinions expressed in this article are those of the writer, subject to the InvestorPlace.com Publishing Guidelines.
Louis Navellier, who has been called "one of the most important money managers of our time," has broken the silence in this shocking "tell all" video… exposing one of the most shocking events in our country's history… and the one move every American needs to make today.
More From InvestorPlace
The post Lucid Stock Is a Hot Buy for Adventurous EV Investors appeared first on InvestorPlace.
PPSI Stock: 14 Things to Know as Pioneer Power Squeezes 50% Higher
Electric vehicle (EV) names have been catching momentum the past few months, and today it looks like a new name has decided to join the party. This morning,…
Electric vehicle (EV) names have been catching momentum the past few months, and today it looks like a new name has decided to join the party. This morning, shares of Pioneer Power Solutions (NASDAQ:PPSI) soared as high as 50% during premarket trading. Earlier this month, the EV charging company launched three charging products designed to maximize range.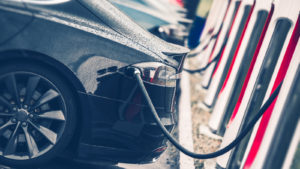 Source: Virrage Images / Shutterstock.com
Additionally, PPSI stock is currently ranked #1 on Fintel's Short Squeeze Screener, with a score of 99.4 out of 100. Within the screener, 100 means a short squeeze is very likely and zero means a short squeeze is very unlikely. Furthermore, the score is based on several factors, such as short interest, borrow rate and volume.
Let's dive into some key highlights about PPSI stock.
PPSI Stock: 14 Things to Know
Shares of PPSI stock have increased by 180% over the past month.
The designer and manufacturer of electrical equipment serves industrial and commercial markets in the U.S.
The company trades at an $89 million market capitalization and reported revenue of $5.7 million last quarter.
Additionally, Pioneer Power Solutions launched three new products this month: the E-Boost G.O.A.T (generator on a truck), the E-Boost Mobile and the E-Boost Pod.
The E-Boost G.O.A.T. is a truck-mounted generator that can provide on-demand charging at any convenient location.
The E-Boost Mobile is a trailer-mounted charging solution that capitalizes on mobility. It can be used at large events to service charging needs, such as sports gatherings.
The E-Boost Pod is a stationary charging station that utilizes DC Fast Charging (DCFC). Impressively, the Pod can charge two vehicles simultaneously and can also be used as a generator during emergency situations.
These new products focus on portability and mobility, seeking to eliminate "range anxiety."
Geo Murickan, president of Pioneer, believes that the adoption of EV vehicles is "accelerating at a pace faster than EV charging infrastructure development can service. The increasing number of electric vehicles will require mobile charging capability to go where the need is. As a result, there are unique opportunities to fill the gaps and establish a market capability to service the coming massive introduction of EV vehicles."
At the end of October, short interest was 32,000 shares.
However, by mid-November, short interest had jumped 5,000% to 1.6 million shares.
Indeed, 1.6 million shares comprises 40.9% of PPSI stock's total float.
Additionally, the borrow-fee rate is currently 82.08%.
It would take 2.47 days to cover all of the shorted shares.
On the date of publication, Eddie Pan did not have (either directly or indirectly) any positions in the securities mentioned in this article. The opinions expressed in this article are those of the writer, subject to the InvestorPlace.com Publishing Guidelines.
More From InvestorPlace
The post PPSI Stock: 14 Things to Know as Pioneer Power Squeezes 50% Higher appeared first on InvestorPlace.
The importance of power flexibility to reach net zero
We need to drastically increase flexibility within our power systems to ensure sufficient renewables integration and achieve the world's net zero pledges…
We need to drastically increase flexibility within our power systems to ensure sufficient renewables integration and achieve the world's net-zero pledges and Paris Agreement goals.
This was one of the core sentiments expressed by Enrique Gutierrez, Analyst at the International Energy Agency, in his session at Enlit Europe.
According to Gutierrez, flexibility plays a key role in reaching emissions targets and how the world is tracking on the road to net zero.
"Progress has been made since the Paris agreement, with countries announcing their zero pledges at COP26 in Glasgow. However, we need to accelerate the deployment of clean energy."
The International Energy Agency (IEA) created various scenario's to track the world's decarbonisation progress, as well as to measure what still needs to be done.
Solar and wind will lead the generation space. However, the Net Zero Emissions by 2030 scenario requires around 1000GW of solar and wind to meet decarbonisation and energy access goals.
Gutierrez: "Adding this amount of renewable energy will radically change the way we operate our system."
Across the various scenarios, variable renewables take the lion's share in generation supported by dispatchable low carbon fuels
According to Gutierrez, there needs to be an ambitious and dramatic increase in installed capacity in order to meet the net-zero goals. This, in turn, will require a rapid increase in investments.
"One of the key areas requiring investments is grids – which will be a key enabler of the flexibility requirements to allow the increase in variable renewable energy."
Achieving flexibility
Gutierrez explained that in order to transform power systems and increase renewables, flexibility is vitally important. In order to cover flexibility requirements, the world can expect a change in the generation matrix to ensure a variety of available resources.
"Coal will be displaced although it will continue to play a role in terms of flexibility. New technologies such as batteries and demand response will kick in and interconnections will play a much more significant role in balancing the power system.
"Of course, to enable the interconnections, we need investments in grids and networks to support inter-regional trading."
Gutierrez emphasises the importance of preparing markets for the participation of these new technologies and renewable resources in order to drive deployment and ensure remuneration for the value they provide to the system.
As renewable capacity increases, another key consideration to be addressed is maintaining system inertia – which is key to stability, said Gutierrez.
"We need to update practices and regulatory frameworks to incentivize the right mix of technologies in the power system".
In terms of systems and technologies, Gutierrez explained what is required depending on the amount of variable renewables integration.
With +- 60% share of instantaneous renewable penetration, more stability can be guaranteed by maintaining some conventional generation rotating machines.
With higher variable renewable deployment, +- 80% penetration, new market or response services can be introduced to keep the system in balance.
In systems with 80% + of renewable integration, technology or asset-based solutions become key. These include synchronous condensers as well as developing grid forming capabilities such as batteries.
Many of these solutions are in the R&D phase, however, deployment at scale still needs to be understood properly in a way that minimises cost, said Gutierrez.
Another source of flexibility will be interlinking to other parts of the energy sector, such as the planned interlinking between the gas and electricity grid, which, according to Gutierrez, is becoming more critical.
"Gas will provide a significant role in providing flexibility in the short term, so we need a greater understanding of the flexibility that can be provided by the gas grid that can be relied upon by power system planners to cope with seasonal fluctuations."
To ensure flexibility, said Gutierrez, we will see an increased focus on demand shaping to cope with and reduce peak loads, as well as smart charging.
As transport electrifies, smart charging will become more important to ensure system savings, however, to achieve this successfully, Gutierrez recommends closer policy coordination between sectors providing appropriate pricing signals.
Gutierrez concluded by emphasising the need to shift our understanding of the power system, from a traditional centralised system to a new decentralised system.
"This requires demand response in buildings, transport and also using the capabilities in variable generation and ensuring we have a better-interconnected system to enable coordination in a secure manner."
We can't wait to see you in Milan
Enlit Europe will bring the energy community together during the live event in Milan (30 November – 2 December 2021). Register here
The post The importance of power flexibility to reach net zero appeared first on Power Engineering International.
NEO Lithium's Closest Neighbor Gets Ready to Drill
If you believe in the old adage, "the best place to find a deposit is near an existing one," you should consider Portofino Resources (TSX-V: POR)…
When Neo Lithium started early stage exploration they recovered surface lithium grades of 190 mg/L compared to 373 mg/L for Portofino Resources adjacent Yergo property.
If you believe in the old adage, "the best place to find a deposit is near an existing one," you should consider Portofino Resources (TSX-V: POR). This Vancouver-based company holds an option to acquire a 100% interest in the Yergo lithium brine project located in Argentina, in the heart of the Lithium Triangle, along with the Allison Lake North lithium and rare elements property. Portofino also owns five gold projects in Canada, and is overseen by an exceptional management team with deep experience in the resources industry.
One of the reasons that all eyes are on the Yergo project is the growing demand for lithium to support the green revolution. As one of the world's lightest metals, lithium is playing one of the largest roles in our green and clean future. Demand is predicted to increase seven times over the next 10 years, reaching a total global demand of 1.79 million metric tons. Furthermore, for every 1% surge in battery electric vehicle (BEV) market penetration, the world's need for lithium will rise by an estimated 70,000 tonnes per year. 
This has industry experts asking – where will the supply come from?
Sharing a similar geological history with a world class asset
Argentina, Chile, and Bolivia comprise what is known as the Lithium Triangle, and these countries host a whopping 75% of the world's lithium resources. Portofino's Yergo project is a salar located approximately 15 kilometres southeast of Neo Lithium's 3Q project – one of the largest and highest-grade lithium brine deposits in the world. It was initially discovered in late 2015 and took only five years to advance to the construction phase. In October of this year, Neo Lithium announced it had received an all cash, takeover offer of $960 million for all its outstanding equity from Zijin Mining. 
Situated in the Lithium Triangle which accounts for >40% of global production in concentrates and >90% of lithium brine resources, Yergo's close proximity to the 3Q project is significant because the 3Q deposit hosts some of the lowest sulfate and magnesium impurities, classifying it as a world class asset. Furthermore, the 3Q project has measured and indicated resources of lithium grades of >900 mg/L. Portofino's Yergo project is potentially an extension of the same salar as this neighbouring project with similar grades and low impurities. David Tafel, Portofino's President and CEO commented:
"Given the proximity of Neo Lithium's 3Q project, it is likely that the Aparejos salar has experienced a similar geological history, including lithium and potassium enrichment, due to their common evaporitic climate and local geology. The 3Q and Yergo projects are located within the same volcanic package likely with exposure to the same potential lithium source rocks and mineralizing processes."
Portofino carried out an initial exploration program at the Yergo property in 2019 which included surface and near-surface brine sampling and geological mapping. The sample results reflected values of up to 373 mg/L lithium with low impurities. Following the initial sampling program, Portofino conducted a geophysical survey and geochemical sampling program in 2021. The project is drill ready with an initial drill program expected to commence shortly which will test the volume and content of the brines. 
Neo Lithium started early stage exploration at their 3Q project in 2016/2017 and recovered surface lithium grades of 190 mg/L compared to 373 mg/L for Yergo. Subsequently, Neo Lithium discovered surface samples in the northern salar containing an average lithium concentration of 784 mg/L. 
While we're not implying that Yergo is definitively an extension of 3Q, we believe it's a high odds possibility, and results from the their drill program will prove out Yergo's significant potential. 
In April 2021, Portofino reported that it was adding to its lithium portfolio with the acquisition of the Allison Lake North lithium and rare elements property, located 100 kilometres east of Red Lake, Ontario. It is accessible by logging roads while a hydro-electric power line runs through the property. Ontario is home to several well-known lithium and rare element deposits, notably the PAK lithium deposit along the "Electric Avenue," as well as the Spark deposit. 
Portofino completed a channel sampling and initial exploration program at the Allison Lake project in June, 2021. Initial grab samples returned values up to 398 ppm Li, 90.5 ppm Cs, 1040 ppm Rb, and 135 ppm Ta. Looking forward, this project will be the focus of an expanded geological exploration program. 
This is highly significant when considering that the global quest for electric vehicles and clean energy has caused lithium to emerge to the forefront as one of the most necessary components for lithium-ion batteries. Market penetration for electric vehicles is estimated at ~4% globally and is anticipated to jump to roughly 30% over the next decade. Furthermore, the processing of lithium brine to produce battery-grade lithium carbonate is a relatively simple process which has been tested for over 20 years. With the Zijin Mining proposal to acquire Neo Lithium for its 3Q project, it's not a stretch to assume that other acquisitions and joint ventures will follow. 
Add in a high-grade gold portfolio
In addition to it's two lithium projects, Portofino also holds the South of Otter and Bruce Lake projects in the Red Lake District, as well as Gold Creek, Sapawe West, and Melema West projects in the Atikokan District of Ontario. Both South of Otter and Bruce Lake projects are proximal to the Dixie Gold project, a high-grade gold deposit currently being explored by Great Bear Resources Ltd. (TSX-V: GBR). In the Atikokan District, the Gold Creek property is located immediately south of the Shebandowan Ni-Cu mine, and the Sapawe West and Melema West properties are located east of Atikokan.