Lucid Stock Languishes as Investors Wait to See Dreams Turned Into Reality
Lucid Group (NASDAQ:LCID) combined two of 2021's hottest trends — electric vehicle startups and special-purpose acquisition companies. The problem…
Lucid Group (NASDAQ:LCID) combined two of 2021's hottest trends — electric vehicle startups and special-purpose acquisition companies. The problem was that by the time the company completed its reverse merger with Churchill Capital Corp. IV in late July, investor interest in both trends was significantly diminished. Still, LCID stock shot up as much as 20% on its first day of trading, to a high just above $29, before closing the day up 11%.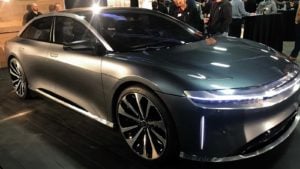 Source: ggTravelDiary / Shutterstock.com
By Sept. 1, though, shares had plummeted 40%. A quick rebound took LCID stock back up near its post-SPAC-merger highs. But selling over the past three weeks has wiped out any progress made since July.
However, Lucid began production on its first car for customers, the Air Dream Edition, in late September. The luxury sedan is a special edition of its flagship passenger EV that will cost $169,000. Deliveries are scheduled to begin by the end of the month.
Lucid's focus on the luxury market is part of the reason why many see the startup as the first potential competitor to Tesla (NASDAQ:TSLA). A true rival to the OG of EVs would no doubt be enticing to investors, so let's take a closer look at the company and where LCID stock might be heading. 
Lucid Putting Its Best Foot Forward
As I mentioned above, the first car to roll off the assembly line in Lucid's Advanced Manufacturing Plant, called AMP-1, in Casa Grande, Ariz., is the luxury Dream Edition of the Lucid Air. In other words, Lucid has chosen to bring out the big guns first.
This top-of-the-line EV boasts impressive performance stats. Just a few weeks prior to the start of production, the Environmental Protection Agency released its official estimate for the Air Dream Edition's range: 520 miles on a single full charge. Tesla's Model S Long Range falls significantly short of that, with an estimated 405 miles per charge.
Standard in the Air Dream will be Lucid's DreamDrive Pro, an advanced driver assistance platform. According to the company, "DreamDrive employs up to 32 on-board sensors, a multi-faceted driver-monitoring system, and lightning-quick on-board ethernet networking powering more than 30 features through a clear, user-friendly interface." Its driver-assistance features include collision avoidance, adaptive cruise control and traffic jam assistance.
At present, the company plans to manufacture 520 of the Air Dream Edition models. (Does that number sound familiar?) By releasing its best vehicle first, I think Lucid is making a statement that it aims to attract customers away from higher-end Tesla S models. 
The company is expected to deliver the first Dream Editions to customers later this month. Production and delivery of  Lucid's lower-tier EV models are expected to follow. The company says it has already received more than 13,000 reservations for its Lucid Air electric vehicles, with the entry-level version of its flagship sedan set to cost around $78,000.
Production Predictions 
Lucid CEO Peter Rawlinson recently said the firm will build a total of 577 vehicles this year. He also said the company is on track to meet its production targets of 20,000 vehicles in 2022 and 50,000 vehicles in 2023. 
Management has plans to expand the Arizona factory by 2.7 million square feet to help meet production goals. In addition to the Lucid Air models, the company said it expects to release its first electric SUV, called the Gravity, in late 2023.
Lucid's reverse merger raised $4.4 billion for the startup, which Rawlinson said, "sees us through to the end of 2022." So, the company will need to raise more cash to meet its 2023 goals. 
In other words, Lucid is depending on its early production vehicles to perform well. If that indeed occurs, the company should be able to raise further capital to produce 50,000 vehicles in 2023. The key word here, of course, is "if."
The Bottom Line on LCID Stock
LCID stock did not get a boost on news that production had started. In fact, shares sit about 13% lower since the announcement. This leads me to believe any enthusiasm for the start of production was already baked into the price. I doubt we'll see a price spike when deliveries begin either.  
There are currently three analysts with price targets on LCID stock. They range from $12 to $30, showing the wide schism in sentiment surrounding the stock.
A move to the high end of that range would represent a gain of more than 30% from current levels. But investors are likely to wait to see if the company can turn its dreams into reality before bidding shares much higher. 
On the date of publication, Alex Sirois did not have (either directly or indirectly) any positions in the securities mentioned in this article. The opinions expressed in this article are those of the writer, subject to the InvestorPlace.com Publishing Guidelines.
Alex Sirois is a freelance contributor to InvestorPlace whose personal stock investing style is focused on long-term, buy-and-hold, wealth-building stock picks. Having worked in several industries from e-commerce to translation to education and utilizing his MBA from George Washington University, he brings a diverse set of skills through which he filters his writing.
More From InvestorPlace
The post Lucid Stock Languishes as Investors Wait to See Dreams Turned Into Reality appeared first on InvestorPlace.
electric vehicle
Battery metals could rival oil in a Net Zero world: IMF
The IMF says a Net Zero by 2050 scenario would more than quadruple the revenues generated by copper, nickel, cobalt … Read More
The post Battery metals…
Decarbonisation policies could see battery metals rival the oil and gas industry, with the IMF saying a Net Zero by 2050 scenario would more than quadruple the revenues generated by copper, nickel, cobalt and lithium companies over the next two decades.
In a special feature of the latest World Economic Outlook by the International Monetary Fund, IMF analysts say under ambitious climate reduction targets the battery metals complex could generate around US$13 trillion in revenue between now and 2040.
That would rival the oil industry and fall just US$6t short of the fossil fuel sector as a whole, signalling a radical shift in the industrial might of base metals producers.
Between 1999 and 2018 fossil fuel companies amassed a collective US$70t in revenue, against just US$3t for copper, nickel, lithium and cobalt, most of it by companies mining the red metal.
"In the Net Zero by 2050 emissions scenario, the demand boom would lead to a sixfold increase in the value of metal production — totaling $12.9 trillion over the next two decades for the four energy transition metals alone, providing significant windfalls to producers," the IMF's report authors said.
"This would rival the potential value of global oil production in that scenario."
The IMF says price shocks caused by the rapid pace of change required in a Net Zero by 2050 scenario could see them "reach historical peaks for an unprecedented, sustained period."
Who stands to benefit?
As the world's dominant raw lithium producer and boasting some of the largest reserves of all four battery metals, Australia would have a competitive advantage in this economic transition, alongside copper rich nations like the DR Congo and Chile.
Australia's GDP is heavily reliant currently on its exports of iron ore, gold, coal and natural gas.
But battery metals exporters would see huge benefits in the ambitious International Energy Agency Net Zero by 2050 scenario as global production of energy storage facilities and electric vehicles booms.
In that hypothetical future the world's consumption of lithium and cobalt would rise by a factor of more than six, copper consumption would double and nickel demand would rise fourfold.
"The supply of metals is quite concentrated, implying that a few top producers may stand to benefit. In most cases, countries that have the largest production have the highest level of reserves and, thus, are likely prospective producers," the report authors said.
"The economic benefits of higher prices for metal exporters could be substantial.
"Econometric analysis identifies the impact of price shocks, exploiting the different responses of GDP and government balances between the 15 largest metal exporters and importers.
"A 15 percent persistent increase in the IMF metal price index adds an extra 1 percentage point of real GDP growth (fiscal balance) for metal exporters compared with metal importers."
Miners and explorers seeing increased mainstream interest
Peter Harold is the managing director of Poseidon Nickel (ASX:POS), which is aiming to restart its Black Swan nickel mine and concentrator near Kalgoorlie in WA.
Nickel prices are sitting around US$19,000/t today, some 250% above the early 2016 trough of US$7600/t and a price at which low cost operations are coming out of mothballs.
Harold said the IMF report was an example of the growing mainstream awareness of the need to increase nickel supply.
"I definitely saw the article and I'm very interested in the numbers on that," he said.
"I've been sort of quoting in my presentations for a while now, the increase in demand for nickel that Glencore put out, from 2.5 million tonnes in 2019 to 9Mt in 2050.
"And that's nearly a fourfold increase in demand. So I think now people are starting to sort of focus on this a bit … that this is potentially real.
"And as a result of that, I think there's been renewed interest in the battery metals space clearly.
"So it's very encouraging and clearly it's going to happen, it's just a matter of how quickly."
Market diversifying away from traditional consumers
More than 70% of the market for nickel comes from stainless steel.
Traditionally a small producer like Poseidon would sell offtake to a larger company like BHP (ASX:BHP), which owns the integrated Nickel West refining business in WA, who would then supply steelmakers in Asia.
Now battery makers and EV dealers are in the market for refined nickel products as well.
Just this year Tesla inked a supply deal with BHP, Korea's POSCO is buying a stake in the Ravensthorpe nickel mine and LG signed an offtake deal with junior Australian Mines (ASX:AUZ).
Poseidon expects to complete studies on the restart of Black Swan, which has been shut since 2008, by around April next year ahead of financing.
Harold said inquiries about its future product had come from more diverse sources than when his previous company Panoramic Resources (ASX:PAN) transitioned from developer to producer in the mid-2000s.
"There's definitely more players in the market now," he said.
"Still the traditional smelting and trading companies are the primary discussions, but there's lots of other groups that are popping their head up and making contact.
"There's a lot of people trying to obviously secure nickel units, but obviously until we know exactly what we're going to be producing and the volume it's still a bit premature."
Higher prices needed to induce supply
The IMF is one of a number of groups that has highlighted supply lags as a risk to the energy transition.
"To limit global temperature increases from climate change to 1.5 degrees Celsius, countries and firms increasingly pledge to reduce carbon dioxide emissions to net zero by 2050," they said.
"Reaching this goal requires a transformation of the energy system that could substantially raise the demand for metals.
"Low-greenhouse-gas technologies — including renewable energy, electric vehicles, hydrogen, and carbon capture — require more metals than their fossil-fuel-based counterparts.
"If metal demand ramps up and supply is slow to react, a multiyear price rally may follow — possibly derailing or delaying the energy transition."
This could see prices rise several hundred per cent on 2020 levels, with historical peaks being hit for sustained periods and are expected to peak around 2030 when construction of renewable energy hits its highs.
This would induce a supply reaction, the IMF says.
While nickel sulphide mines like Poseidon's are likely to be viable at current prices or higher, a lot of new production needs to come from more difficult laterite ore sources, which use the capital intensive high pressure acid leach process.
"You will need higher prices for the (battery) commodities to entice more material into the market, there's no question about that," Harold said.
"Some of the projects that are around are major numbers if you're talking about HPAL, and some of these other big projects.
"As a result, you know, you've got to have higher prices for longer, especially if the grades are getting lower."
Poseidon taking a look at precursor supply
As well as exporting raw materials there could be ways for Australian miners to get a bigger slice of the battery pie.
Poseidon announced an MoU yesterday with privately owned Pure Battery Technologies to study the suitability of ore from Poseidon's projects to supply a proposed 50,000tpa precursor cathode active material plant to be based in Kalgoorlie.
PCAM is an intermediate chemical which goes into batteries.
By selling a higher value product more of the supply chain value would be captured onshore and Australian miners could improve the revenues they receive for their end product.
While the MoU is still at a formative stage, Harold said downstream processing of battery materials made sense in Australia.
"If the investment dollars are available for investments like this, they should be built in places like Australia and especially Western Australia," he said.
"It's got the technical expertise to build these things, it's got the right sort of political environment and it's got a history from the mining side, and so it would be great to see more downstream investment here.
"And I don't think that pure batteries are the only ones looking in the space."
The post Battery metals could rival oil in a Net Zero world: IMF appeared first on Stockhead.
asx
lithium
cobalt
nickel
copper
iron
Guy on Rocks: Beaten down Predictive 'a buying opportunity', another M&A target emerges
'Guy on Rocks' is a Stockhead series looking at the significant happenings of the resources market each week. Former geologist … Read More
The post…
'Guy on Rocks' is a Stockhead series looking at the significant happenings of the resources market each week. Former geologist and experienced stockbroker Guy Le Page, director and responsible executive at Perth-based financial services provider RM Corporate Finance, shares his high conviction views on the market and his "hot stocks to watch".
Market Ructions: Stagflation, my friend
Commodities have staged a solid recovery outperforming equities, bonds, and credit for five quarters in a row through to 2Q 2021.
The 3Q21 sell-off was in response to poor economic performances in China and the US, together with the sale of Chinese stockpiles.
While many commodity commentators are bearish or neutral on the base metals, it only takes a hint of supply side tightness to turn things around. Recent smelter shutdowns (such as Kosovo's ferro-nickel producer Newco Ferronikell) due to rising energy prices and the recent blockade of Peru's sixth largest copper mine, Antapaccay, are examples of both foreseen and unforeseen events that can quickly turn demand-supply balances.
Citigroup Inc. recently suggested that the highest-cost Aluminium smelters in Europe might be running at production costs of as much as $2,900/ton (compared to spot prices of US$2,869/tonne-(figure 1) after the recent spike in energy prices.
Interestingly, China is relying on coal to see itself through the winter with the government ordering its banks to ramp up funding to coal and energy companies to ease a power crunch and ensure winter supplies.
With rising input costs Citi are anticipating a period of 1970s style stagflation (that followed previous oil shocks in the 1970s) and have since downgraded Chinese GDP growth from 5.5% to 4.9%.
Base metals staged a strong recovery last week, even with less than favourable macro-economic news. Copper finished at US$4.20/pound up almost 2% on the week in response to low stockpiles and supply side pressures.
Gold closed US$1,757 down $3 for the week however platinum and palladium performed strongly up 5% and 10% respectively closing at US$1,020/oz  for Pt and US$2026/oz for Pd.
Uranium prices have fallen around 30% to US$36/lb after reaching highs of US$51/lb four weeks ago. So far the Sprott Physical Trust has only removed the overhang in the uranium spot market with approximately 30 million pounds accumulated so far.
Iron ore has bounced back strongly from its lows around US$95/dmt (62% fines) in September and is now trading at around US$135/dmt. I agree with the recent comments of Mike Henry from BHP at the Financial Times Mining Summit who considers China's policy as remaining "pro-growth".
The Stockhead faithful will already be aware that gold performed well during the stagflation of the 1970s (figure 2), starting its bull run in late 1976 at around US$100 and climbing to US$650/ounce in 1980, when the annualised CPI rate reached 14%:
With Fed Chairman Powell and Treasury Secretary Yellen doing a good impersonation of Laurel and Hardy, anything can happen.
On a final note, I have to congratulate Barnaby Joyce on his Sunday Times (October 10th, 2021) interview for a remarkable observation comparing WA with North Korea and claiming WA is akin to a "hermit" kingdom that may as well "mint its own currency".
Well, WA could mint its currency (the "Westralian Dollar" – I already have a design) and maybe cut off the welfare funding back to the eastern states, so it's actually not a bad suggestion.
Only problem is that the "inbred tomato" (according to Johnny Depp – figure 3) Barnaby wouldn't be able to afford so much as a roll of toilet paper or sunscreen to stop his scone from being incinerated by the Queensland tropical sunshine.
Maybe WA could be the lender of last resort to eastern Australia, which would look more "fly-blown" than Argentina after nine defaults on its debt.
Company News
Predictive Discovery (ASX:PDI) was off 28% on turnover of 93m shares after the company reported that  two known Bankan deposits (figure 5) and some other parts of the Kaninko and Saman permits are located within the Outer Buffer Zone of the Upper Niger National Park.
This National Park consists of three more or less concentric areas. Buffer Zone 2 of the Upper Niger National Park is a protected area where mining is not permitted; however, the Guinean Government has previously granted exemptions in similar situations.
Like most things in Africa (and Asia for that matter) there is a cost for moving boundaries, so stay tuned but I think this could be a good buying opportunity.
On a more positive note, Sunshine Metals (ASX:STM) (figure 6) closed up 23% to 4.8c on turnover of 139 million shares after reporting some very encouraging assays from its El Palmar gold-copper project in Ecuador.
Better results (figure 7) included EPDD001 with 163.55 metres at 0.71g/t gold and 0.20% copper from 52.35 metres downhole.
In addition, assays from EPDD002 over 250 to 417.5 metres downhole returned  167.50m at 0.58g/t gold and 0.26% copper  with assays from the remainder of hole EPDD002 and from hole EPDD003 are expected in ~six weeks.
The company has a strong balance sheet ($21 million in cash) and has an enterprise value of approximately $80 million, so the stock isn't cheap but is sure to go higher if it continues to deliver these grades and widths.
The project is located in northern Ecuador in the vicinity of the 1.0Bt Llurimagua copper-molybdenum porphyry deposit, and in the same regional structural belt that hosts the 2.6Bt Alpala copper-gold deposit within the Cascabel project.
Have a look at ViaGold Rare Earths (ASX:VIA) which is currently in a trading halt.
Up from 2 cents to $2.00 per share over the last 12 months or so.
Feel free to read their quarterly and annual reports. If anyone knows what they actually do, also feel free to contact me at your earliest convenience or the ASX who are seeking more clarification after a speeding ticket.
The company is domiciled in Bermuda with auditors based out of Hong Kong…
New Ideas
With M&A activity picking up in the resources sector, Alto Metals (ASX:AME) presents an interesting opportunity (figure 9).
The company holds 900km2 in the Sandstone Greenstone Belt in the East Murchison of WA with JORC Resources of 6.2Mt @ 1.7g/t gold for 331,000 ounces (figure 10). The project area is surrounded by numerous producing gold mines with  two RC and one diamond rig plugging away in the highly prospective Lords Belt, Vanguard, and Indomitable Prospects.
The company recently announced (ASX Announcement, 5th October 2021) excellent results from Juno, Lord Nelson, and Orion (figure 12).
Juno is believed to be an extension of mineralisation below the Lord Nelson pit, outside the current resource, that extends for over 1km strike and remains open.
Better results from Juno included:
13m @ 5.1g/t gold from 162m, incl. 3m @ 17.0 g/t gold from 168m (SRC443)
23m @ 1.7g/t gold from 141m, incl. 5m @ 5.4 g/t gold from 154m (SRC444)
22m @ 1.6g/t gold from 135m, incl. 5m @ 5.5 g/t gold from 152m (SRC449)
Lord Nelson & Orion also delivered excellent results from deeper RC and Diamond drilling, below and to the south of the Lord Nelson pit, including:
45m @ 3.2g/t gold from 161m, (SRC432) – Lord Nelson
5m @ 1.5g/t gold from 192m (SDD008) – Lord Nelson
24m @ 1.3g/t gold from 129m (SRC433) – Lord Nelson
21m @ 3.5g/t gold from 76m (SDD003) – Orion
43m @ 1.0g/t gold from 104m (SRC437) – Orion
Have a look at the news flow (figure 11). You would have to think there is more good news to follow.
On the corporate front, analyst Keith Goode pointed out (Alto Metals Limited, Research, 5th October 2021) that the period commencing early CY 2019 represented a run of continuous failed takeover offers from Goldea, Habrok and Middle Island Resources (ASX:MDI). Westgold Resources (ASX:WGX), whose share price has been surging recently (closing at $1.82 today) now holds 67 million shares (14.9% undiluted) and must surely be assembling the cavalry for a frontal assault on AME sooner than later.
Who can blame them!
At RM Corporate Finance, Guy Le Page is involved in a range of corporate initiatives from mergers and acquisitions, initial public offerings to valuations, consulting, and corporate advisory roles.
He was head of research at Morgan Stockbroking Limited (Perth) prior to joining Tolhurst Noall as a Corporate Advisor in July 1998. Prior to entering the stockbroking industry, he spent 10 years as an exploration and mining geologist in Australia, Canada, and the United States. The views, information, or opinions expressed in the interview in this article are solely those of the interviewee and do not represent the views of Stockhead.
Stockhead has not provided, endorsed, or otherwise assumed responsibility for any financial product advice contained in this article.
The post Guy on Rocks: Beaten down Predictive 'a buying opportunity', another M&A target emerges appeared first on Stockhead.
asx
gold
uranium
rare earths
copper
iron
molybdenum
diamond
Falcon Gold has two advanced stage projects ready to generate cash flow
2021.10.13
It is unusual for a junior gold company to have as many properties as Falcon Gold (TSXV:FG, Frankfurt:3FA.G, OTC:FGLDF), and rarer still for…
2021.10.13
It is unusual for a junior gold company to have as many properties as Falcon Gold (TSXV:FG, Frankfurt:3FA.G, OTC:FGLDF), and rarer still for two of those projects to have reached such an advanced stage of development as to become cash-generating assets.
With all that it has going on, Vancouver-based FG has been generating a lot of news lately, so much that it's a challenge to keep up. We spoke to CEO Karim Rayani on Thanksgiving Monday who gave us the ahead of the herd track on the company's business strategy as it relates to advancing multiple mineral exploration properties across Canada and one in Argentina.  
Central Canada flagship
With a total area of 10,392 hectares, Falcon Gold has the largest land position in Ontario's Atikokan gold camp — bested only by Agnico Eagle and its 32,070-hectare Hammond Reef exploration project.
The company's flagship project — known as the Central Canada Gold & Polymetallic Project — is located about 20 km southeast of Agnico's Hammond Reef gold deposit, which has an estimated 3.32 million ounces of gold (123.5Mt grading 0.84 g/t Au) in mineral reserves, and 2.3 million ounces of measured and indicated mineral resources (133.4Mt grading 0.54 g/t Au).
The Hammond Reef property lies on the Hammond shear zone, which is a northeast-trending splay off of the Quetico Fault Zone (QFZ), and may be the control for the gold deposit. Falcon's Central Canada property lies on a similar major northeast-trending splay of the QFZ.
Under Falcon Gold's ownership, an initial seven-hole, 1,055m program completed in July 2020 featured a 3m interval of 10.17 g/t Au at 67m downhole. Falcon also intersected a new mineralized zone, untested by previous operators, at 104m depth, which sampled 18.6 g/t Au over 1m.
A second round of drilling took place last November-December, with another 10 holes totaling 1,890m.
By March 2021, all assays from Falcon's inaugural drill program were received, from which continuity of the mineralized trend containing the historical shaft was confirmed.
Encouraged by these results, the company has undertaken additional work programs on the property this year, with initial focus on the outcrop exposures and trenched areas. The geological team has been conducting detailed structural mapping along the 275 meter-long strike of the Central Canada mine trend.
The team is also attending to the other high-priority gold targets along strike and paralleling the mine trend.
For the 2021 drill program, Falcon plans to complete up to 20 diamond drill holes for approximately 2,000m of core. The goal is to target gold mineralization in the shaft area, and to test other excellent gold zones such as mineralized quartz-feldspar porphyries and the northern vein, also known as the No. 2 vein.
A notable aspect of the Central Canada gold project, which hosts a historical resource of 230,000 oz grading just shy of 10 g/t Au, is the historical Staines copper and cobalt showing, with a reported drill intersection of 0.64% copper, 0.15% cobalt, 1.1% zinc and 0.35% gold over a true width of 40m.
"Part of this polymetallic system, we're very fortunate to have cobalt numbers, we have the copper, we have the gold, when you add the cobalt in there it's quite a significant project," says Rayani, referring to the mineral necessary for electric vehicle batteries whose price he is bullish on.
According to Rayani, as the company moves towards a new NI 43-101-compliant resource at Central Canada, for every hole they drill, they are adding significant ounces to the original resource estimate.
"We've done three phases of drilling, hitting mineralization all the way through. Our first two programs were designed to test the surface mineralization, we've been adding a meter to a meter and a half, some zones are higher-grade some are low. Even the low it's 2-3 grams per tonne, that really helps with our modeling."
Additional field work including sampling, mapping and stripping has identified a number of new zones that extend the high-grade mineralization. The next step for Falcon is to continue drilling the system to depth, going beyond the current 200m level being tested, to 300m below surface.
Newfoundland properties
The Hope Brook property's 996 claims, or 24,900 ha, acquired by Falcon Gold in July, are contiguous to the Sokoman Minerals- Benton Resources joint venture, Marvel Discovery Corp's claims and First Mining's ground which is optioned to Big Rig Exploration. Rock lithologies and structures on the property are also related to those associated with Marathon Gold's Valentine gold deposits, Sokoman's Moosehead gold project and New Found Gold's Queensway gold project — the first mover in the highly prospective Central Newfoundland Gold Area Play.
The Hope Brook mine was in production from 1987 to 1997, producing 752,163 oz. Coastal Gold outlined 6.3Mt at an average grade of 4.68 g/t Au, for 954,000 oz in the indicated and inferred categories.
Asked why the focus on snapping up fresh, unworked ground in Central Newfoundland, Rayani told me, "We were able to acquire this ground for 10 cents on the dollar, most of our assets are owned 100%, no NSRs (net smelter royalties). That's really my motto," he stated. "By doing this we can really focus in on the projects ourselves and the company doesn't have to give away the farm, the objective here is to really assess what we have on our three assets."
An enticing glimpse of what could lie beneath came via the Sokoman Minerals-Benton Resources alliance, in September. The two companies said that 35 of 58 samples taken from lithium-bearing pegmatite dikes on their Golden Hope project in southwestern Newfoundland confirmed that the pegmatites carry significant lithium values — making it the first documented occurrence of lithium in the province of Newfoundland-Labrador.  
Golden Hope is only a kilometer away from Hope Brook, suggesting the mineralization could carry onto Falcon's property. The company plans to follow-up that theory with further exploration. 
"Falcon and our sister company Marvel Discovery have made a lot of noise as of late not only in acquiring sizable land positions tied on to major structures but also following the structures to find what we believe are hidden gems that were overlooked and passed by. Sokoman and Benton's new Lithium discovery being less than a 1 km away is a testament to our business model," Rayani stated in a Sept. 17 news release.
Initial permits have been filed for a first phase of exploration at Hope Brook which includes high-resolution magnetic gradiometry surveys that help to sort structural complexities in geological terranes. The company will also be sending prospecting crews to begin baseline prospecting to determine if the magnetic trends highlighted in regional government surveys are due to similar mineralized structures as those hosting the nearby Sokoman/Benton lithium discovery.
Falcon Gold recently acquired two new properties in Central Newfoundland, both located in strategic locations close to known mineral zones or producing mines.
Baie Verte
The first deal, announced on Aug. 18, involved 548 claims totaling 13,700 hectares located along the Baie Verte Brompton Line (BVBL) of the Central Newfoundland gold belt, home to some of the province's largest gold deposits.
There are more than 100 gold prospects and zones, many of which are orogenic-style, related to major splays and associated structures linked to the BVBL. Falcon's new property covers a 50-km corridor along the BVBL.
Producing mines in the region are headlined by Anaconda Mining Inc.'s Point Rousse gold mine and Rambler Metals & Mining operations. Former producing mines include the Terra Nova mine, and deposits of the Rambler mining camp. All of these mines are close to the BVBL.
Falcon's new claims are also 13 km southwest of the Glover Island Trend, an 11-km mineralized corridor that hosts 17 base metal and polymetallic mineral prospects as well as numerous gold showings and anomalies.
These include the Lunch Pond South Extension (LPSE) deposit owned by Mountain Lake Resources, which has indicated and inferred resources of 120,000 ounces of gold (June 2017).
The new land acquisition is also close to the Four Corners project held by Triple Nine Resources (see map below).
The Four Corners project consists of iron-titanium-vanadium mineralized rock that has been outlined for 3,000m of strike with intercepts 200m wide and 600m vertically. This project is said to contain sufficient tonnage and grades to warrant developing a world-class mineral resource.
With the Baie Verte acquisition, Falcon now controls a large swath of mineralization for a distance of between 10 and 15 kilometers, including a 300-meter-long identified gold structure.
And with much of the ground already surveyed by government, the company saves a lot of money — Rayani estimates around $2 million — in geophysical studies. "Because we have government mag with at least 60 to 70% of it [surveyed], we're in pretty good shape."
Great Burnt
Then, in early September, Falcon announced it has acquired through staking 91 claims totaling 2,275 hectares in the Great Burnt greenstone belt of central Newfoundland, which is rich in base metals.
The Great Burnt greenstone belt is host to the Great Burnt copper zone that contains an indicated resource of 381,300 tonnes at 2.68% Cu and inferred resources of 663,100 tonnes at 2.10% Cu.
Recent drilling by Spruce Ridge Resources returned some of the best copper results across the board, highlighted by 8.0% Cu over 27.2m and 6.9% Cu over 22.7m.
The Great Burnt greenstone belt also hosts the South Pond A and B copper-gold zones and the End Zone copper prospect within a 14-km mineralized corridor.
The greenstone belt is characterized by Besshi-type massive sulfide deposits, which generally occur in thick sequences of marine sedimentary rocks. Sulfide lenses can be several meters thick and extend for several kilometres. Besshi-type massive sulfide deposits are generally copper-dominant and can contain precious metals such as gold, and often cobalt.
As shown on the map below, Falcon's Great Burnt property is located right in the middle of Spruce Ridge's land package. It is also situated 4 km west of the Crest Resources-Exploits Discovery joint venture project within the Exploits Subzone.
The Exploits Subzone is known to contain deep-seated gold-bearing structures of the Dog Bay-Appleton Fault — GRUB Line deformation corridor, and is home to the high-grade Keats Zone of New Found Gold. Falcon's new property is located just 20 km west of the Queensway project held by NFG.
"This property not only has the potential to host important Exploits Subzone orogenic gold mineralization but also copper-rich massive sulphides that contain gold," Rayani stated in a news release.
In my conversation with him, Rayani commented,
"The Great Burnt project is in a world-class copper district, it's probably one of the more prolific mining camps in Newfoundland. Most of the defined deposits are in that jurisdiction. We're next door to some of the highest-grade deposits there."
Falcon now intends to perform a high-resolution airborne magnetic and electromagnetic survey over the entire property, integrating mineralization trends and historical results to vector its exploration efforts.
Spitfire/Sunny Boy
Heading to the other side of the country, at Falcon's Spitfire/Sunny Boy project near Merritt, BC, a second phase of exploration commenced in mid-September.
Best described as a swarm of low-sulfidation, epithermal gold veins, Spitfire/Sunny Brook features reported gold grades up to 127 g/t gold and 308 to 514 g/t silver in quartz vein material from underground workings. The high-grade veins have been trenched, pitted, blasted and drilled but never commercially mined.
Falcon Gold's first phase of exploration last year successfully identified gold mineralization over a 300m strike length. Highlights from a September 2020 sampling program included a 2.2m channel sample that averaged 59.8 g/t Au; a 1m channel sample from within the 2.2m sample assayed 122 g/t Au on the Master Vein. Additional highlights are in the table below.
The company's second phase is a more aggressive follow-up using pack-sack drilling along the Master Vein and four parallel vein systems. Fifteen holes have been completed with assays pending.
"We are thrilled to finally send exploration crews to follow up on our original findings from last year. We believe the nature of the veining conforms to a low sulfidation epithermal deposit type model that could host world class gold grades,"  Rayani said in the Sept. 22 news release.
In my conversation with him Rayani went further, telling me the objective at Sunny Boy is to try and pull together anywhere from 30,000 to 100,000 ounces of high-grade gold at surface, enough for a bulk sample that, by his estimates, would be a very nice cash generator for Falcon Gold. 
Gaspard
Meanwhile Falcon Gold's Gaspard gold claims acquisition was approved by the exchange in March.
Comprising three mineral claims (3,955 ha) in the Clinton mining district of central BC, the Gaspard property is located 60 km from Williams Lake and about 16 km from the Blackdome gold mine. Blackdome has indicated resources of 144,500 tonnes grading 11.29 g/t gold and 50 g/t silver, and 90,600t inferred grading 8.79 g/t Au and 18.61 g/t Ag.
Blackdome mineralization is characterized as volcanic-hosted epithermal gold and silver, and according to Falcon, may represent the target type for the Gaspard gold claims.
Historical work includes stream sediment and soil sampling in the northern part of the claims, where gold geochemical anomalies were discovered.
Next steps include a helicopter magnetic survey comprised of 320 km of flight lines along 150m spacings; additional stream sediment sampling; and more prospecting, mapping and sampling of the brecciated rhyolite with quartz vein stockwork, needed to determine the source of the stream and soil anomalies. A budget of around $250,000 is expected to yield drill targets.
Latamark spinout
On March 11 the TSX Venture Exchange approved the company's option to acquire a 100% interest in the Esperanza gold, silver and copper mineral concessions located in La Rioja province, Argentina.
On Oct. 7 Falcon Gold announced it plans to spinout the project into a new entity known as Latamark Resources Corp. Under the terms of a reworked option agreement, Falcon will pay the vendors 500,000 common shares plus 500,000 warrants along with USD$350,000 in exploration expenditures to earn an 80% interest in the project.
Comprising 10 mineral concessions covering 11,768 hectares, Esperanza is within the Sierra de Las Minas district, where there are a number of past-producing gold and silver mines.
High-grade gold mineralization was first discovered in 1865 at the Callanas occurrences, which was followed by limited mining on a gold-copper-silver zone. Nine hundred meters of drilling was conducted at Callanas during the 1990s, from which two holes reported encouraging results — 1m @ 9.11 g/t gold and 28.59 g/t silver; and 0.42m @ 24.3 g/t Au and 61.10 g/t Ag.
More recently, Esperanza Resources mapped the Callanas West zone along a northwest-southeast strike for about 4 km.
In 2018 Falcon Gold completed a limited sampling program as part of its due diligence on the property. Highlights included a trench sample from Callanas East reporting 1m @ 5.61 g/t Au, and a 2.5m continuous chip sample from Callanas East showing 5.90 g/t Au, 20.6 g/t Ag and 0.29% Cu.
Around 4 km east of the Callenas area, a 30-cm chip sample assayed 15.63 g/t Au and a grab sample of a quart vein float returned 28.43 g/t Au.
Surface sampling results featured 27.03 g/t Au across 50cm from Callana III vein; and a 50-cm width of visible gold from the Callana IV vein that assayed 45.71 g/t Au with >100 g/t silver and 0.78% Cu.
Falcon completed its first exploration work on the Esperanza property in January 2019, with visible gold samples from the Callenas area of 44.90 g/t Au, 123.2 g/t Ag, 0.73% Cu; and another 50-cm chip sample that assayed 26.07 g/t Au, 424 g/t Ag and 1.23% Cu.
Rayani told me the company has similar plans for Latamark Resources, as for their Spitfire/Sunny Boy property in south-central British Columbia.
The project has about a 100,000-ounce resource with high-grade narrow veins and topography similar to Nevada — known for its epithermal, near-surface gold deposits and disseminated, "Carlin-style" gold.
"There's multiple pods and we believe we can turn it into a cash-flow property. If each pod has 20koz on the low side we can bulk sample and process it ourselves. Because this project is outside of North America I thought it was in the best interests of Falcon and its shareholders not to dilute the current share structure, we'd spin this out into a wholly owned subsididary called Latamark Resources," said Rayani, in explaining the rationale for the spinout.
He added the company is currently going through the process of filing an NI 43-101 resource, with the structure of the new-co expected to unfold within the next four the six weeks.
Conclusion
Falcon Gold is very active junior with multiple properties located within some of Canada's best mineral districts, and an advanced-stage project in Argentina.
Since we started covering the company about a year ago, Falcon has reported visible gold at its flagship Central Canada project, significantly expanded its land position in the Central Newfoundland Gold Area Play, started phase 2 exploration at Spitfire/Sunny Boy in BC, and spun out the high-grade Esperanza gold project in Argentina into a new company, Latamark Resources.
As the company moves towards a new NI 43-101-compliant resource at Central Canada, for every hole they drill, they are adding significant ounces to the original resource estimate. The first two programs were designed to test surface mineralization, and they've been hitting it all the way through.
Now the drills are diving deeper, up to 400m, to see how far down the system goes. Sampling, mapping and stripping have identified a number of new zones that extend the high-grade mineralization.
Rayani told me "we're in the system" and Falcon is in the process of completing a model on it. "There's 50,000m of historic drilling and I would say ~50% of that we're actually able to use towards the current 43-101, the former numbers and the numbers we're drilling right now are all very consistent."
A notable aspect of the Central Canada gold project, which hosts a historical resource of 230,000 oz grading just shy of 10 g/t Au, is the historical Staines copper and cobalt showing, with a reported drill intersection of 0.64% copper, 0.15% cobalt, 1.1% zinc and 0.35% gold over a true width of 40m.
Falcon has "close-ology" in its favor at Central Canada too. With a total area of 10,392 hectares, Falcon has the largest land position in Ontario's Atikokan gold camp — bested only by Agnico Eagle and its 32,070-hectare Hammond Reef exploration project. Hammond Reef has an estimated 3.3 million ounces of gold in reserves and 2.3Moz in measured and indicated.
In Central Newfoundland, Falcon Gold has been busy acquiring projects in ground attached to the larger players in the camp. They started off with the Hope Brook project and now have Baie Verte and Great Burnt. With the Baie Verte acquisition, Falcon controls a large swath of mineralization between 10 and 15 kilometers, including a 300-meter-long identified gold structure. Great Burnt not only has the potential to host important Exploits Subzone orogenic gold mineralization but also copper-rich massive sulfides that contain gold.
In September the Sokoman Minerals-Benton Resources alliance discovered the first occurrence of lithium in the province of Newfoundland-Labrador.  It happens to be 1 km away from Falcon Gold's Hope Brook. Initial permits have been filed for a first phase of exploration at Hope Brook.
The last but certainly not least two projects, have the exciting potential to give Falcon Gold a revenue stream as it continues to develop, or perhaps spin out other properties within its exploration portfolio. The nature of the Gaspard mineralization, a series of low-sulfidation, epithermal gold veins, makes it amenable to a bulk sample. Fifteen short holes have been drilled with assays pending.
A similar model applies to the Esperanza gold project now under the rubric of a new Latin America-focused company, Latamark Resources. Falcon Gold's management team has smartly decided to separate out Esperanza and has done so without having to dilute the share structure.
The project has about a 100,000-ounce resource with high-grade narrow veins and a long history of previous exploration.
In 2019 FG identified visible gold-silver copper samples of 44.90 g/t Au, 123.2 g/t Ag, 0.73% Cu; and another 50-cm chip sample that assayed 26.07 g/t Au, 424 g/t Ag and 1.23% Cu. Pretty impressive.
Two future cash-cow projects would be nice, but for now, Falcon Gold's treasury is flush from a recent financing, raising just over a half-million dollars at $0.13. Rayani told me that current exploration activities have already been paid for, and with a low burn rate, he expects they will get most of the first-pass drill targets in Newfoundland identified, and still have lots of money left over for drilling. Again, pretty smart.
From what I've seen so far, I have a lot of confidence in Falcon Gold being able to deliver on its goals. Between drilling in Ontario, assay results from the Sunny Boy program in BC, potential lithium at the Hope Brook project in Newfoundland, plus developments at the two new projects, Baie Verte and Great Burnt, we can expect a ton of news flow from Falcon Gold and multiple catalysts for stock price appreciation for the remainder of this year and into 2022.
Falcon Gold Corp.
TSXV:FG, Frankfurt:3FA.G, OTC:FGLDF
Cdn$0.09, 2021.10.12
Shares Outstanding 100.2m
Market cap Cdn$9.9m
FG website
Richard (Rick) Mills
aheadoftheherd.com
subscribe to my free newsletter
Legal Notice / Disclaimer
Ahead of the Herd newsletter, aheadoftheherd.com, hereafter known as AOTH.
Please read the entire Disclaimer carefully before you use this website or read the newsletter. If you do not agree to all the AOTH/Richard Mills Disclaimer, do not access/read this website/newsletter/article, or any of its pages. By reading/using this AOTH/Richard Mills website/newsletter/article, and whether you actually read this Disclaimer, you are deemed to have accepted it.
Any AOTH/Richard Mills document is not, and should not be, construed as an offer to sell or the solicitation of an offer to purchase or subscribe for any investment.
AOTH/Richard Mills has based this document on information obtained from sources he believes to be reliable, but which has not been independently verified.
AOTH/Richard Mills makes no guarantee, representation or warranty and accepts no responsibility or liability as to its accuracy or completeness.
Expressions of opinion are those of AOTH/Richard Mills only and are subject to change without notice.
AOTH/Richard Mills assumes no warranty, liability or guarantee for the current relevance, correctness or completeness of any information provided within this Report and will not be held liable for the consequence of reliance upon any opinion or statement contained herein or any omission.
Furthermore, AOTH/Richard Mills assumes no liability for any direct or indirect loss or damage for lost profit, which you may incur as a result of the use and existence of the information provided within this AOTH/Richard Mills Report.
You agree that by reading AOTH/Richard Mills articles, you are acting at your OWN RISK. In no event should AOTH/Richard Mills liable for any direct or indirect trading losses caused by any information contained in AOTH/Richard Mills articles. Information in AOTH/Richard Mills articles is not an offer to sell or a solicitation of an offer to buy any security. AOTH/Richard Mills is not suggesting the transacting of any financial instruments.
Our publications are not a recommendation to buy or sell a security – no information posted on this site is to be considered investment advice or a recommendation to do anything involving finance or money aside from performing your own due diligence and consulting with your personal registered broker/financial advisor.
AOTH/Richard Mills recommends that before investing in any securities, you consult with a professional financial planner or advisor, and that you should conduct a complete and independent investigation before investing in any security after prudent consideration of all pertinent risks.  Ahead of the Herd is not a registered broker, dealer, analyst, or advisor. We hold no investment licenses and may not sell, offer to sell, or offer to buy any security.
Richard does not own shares of Falcon Gold Corp. (TSXV:FG). FG is a paid advertiser on his site aheadoftheherd.com
tsx
tsxv
tsx venture
otc
gold
silver
lithium
cobalt
vanadium
copper
zinc
iron
titanium
diamond
tsxv-fg
falcon-gold-corp