Mapping The World's Solar Power In 2021
Mapping The World's Solar Power In 2021
The world is adopting renewable energy at an unprecedented pace, and solar power is the energy source…
Mapping The World's Solar Power In 2021
The world is adopting renewable energy at an unprecedented pace, and solar power is the energy source leading the way.
Despite a 4.5% fall in global energy demand in 2020, Visual Capitalist's Govind Bhutada notes that renewable energy technologies showed promising progress. While the growth in renewables was strong across the board, solar power led from the front with 127 gigawatts installed in 2020, its largest-ever annual capacity expansion.
The above infographic uses data from the International Renewable Energy Agency (IRENA) to map solar power capacity by country in 2021. This includes both solar photovoltaic (PV) and concentrated solar power capacity.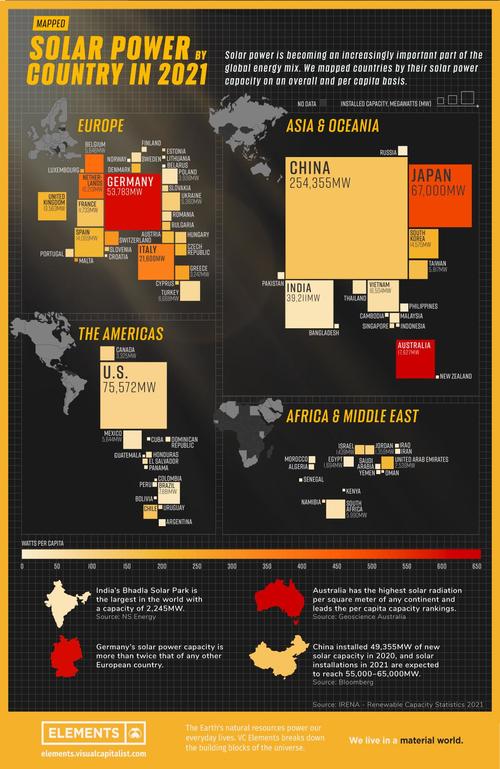 The Solar Power Leaderboard
From the Americas to Oceania, countries in virtually every continent (except Antarctica) added more solar to their mix last year. Here's a snapshot of solar power capacity by country at the beginning of 2021: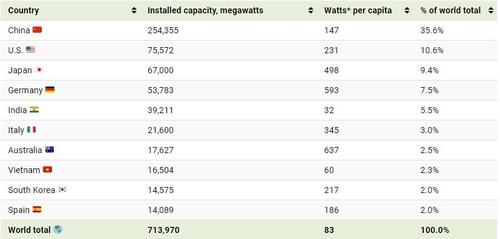 *1 megawatt = 1,000,000 watts.
China is the undisputed leader in solar installations, with over 35% of global capacity. What's more, the country is showing no signs of slowing down. It has the world's largest wind and solar project in the pipeline, which could add another 400,000MW to its clean energy capacity.
Following China from afar is the U.S., which recently surpassed 100,000MW of solar power capacity after installing another 50,000MW in the first three months of 2021. Annual solar growth in the U.S. has averaged an impressive 42% over the last decade. Policies like the solar investment tax credit, which offers a 26% tax credit on residential and commercial solar systems, have helped propel the industry forward.
Although Australia hosts a fraction of China's solar capacity, it tops the per capita rankings due to its relatively low population of 26 million people. The Australian continent receives the highest amount of solar radiation of any continent, and over 30% of Australian households now have rooftop solar PV systems.
China: The Solar Champion
In 2020, President Xi Jinping stated that China aims to be carbon neutral by 2060, and the country is taking steps to get there.
China is a leader in the solar industry, and it seems to have cracked the code for the entire solar supply chain. In 2019, Chinese firms produced 66% of the world's polysilicon, the initial building block of silicon-based photovoltaic (PV) panels. Furthermore, more than three-quarters of solar cells came from China, along with 72% of the world's PV panels.
With that said, it's no surprise that 5 of the world's 10 largest solar parks are in China, and it will likely continue to build more as it transitions to carbon neutrality.
What's Driving the Rush for Solar Power?
The energy transition is a major factor in the rise of renewables, but solar's growth is partly due to how cheap it has become over time. Solar energy costs have fallen exponentially over the last decade, and it's now the cheapest source of new energy generation.
Since 2010, the cost of solar power has seen a 85% decrease, down from $0.28 to $0.04 per kWh. According to MIT researchers, economies of scale have been the single-largest factor in continuing the cost decline for the last decade. In other words, as the world installed and made more solar panels, production became cheaper and more efficient.
This year, solar costs are rising due to supply chain issues, but the rise is likely to be temporary as bottlenecks resolve.
Tyler Durden
Thu, 11/18/2021 – 23:20
renewable
Monsters of Rock: Good news continues to flow if you're in lithium
The news continues to get brighter for lithium producers and up and comers trying to ride the same wave. Benchmark … Read More
The post Monsters of Rock:…
The news continues to get brighter for lithium producers and up and comers trying to ride the same wave.
Benchmark Mineral Intelligence data from November shows spodumene prices continued to climb, rising 17.3% month on month in November to an average of US$1525/t FOB Australia.
That's 301.3% up in just 12 months and more than 290% higher year on year.
Prices are so far beyond levels of just a year ago (in around the US$400/t mark) that US$1250/t is now the low point of recorded sales, which ranged as high as US$1800/t.
Starving battery manufacturers are paying as much as US$32,000/t to get their hands on uncontracted lithium hydroxide chemicals, with prices up 5.4% MoM and 92.1% YoY to US$19,500/t FOB North America and prices in China averaging $30,300/t, up 2.1%.
The inflection on these index charts is so hectic it looks like a goddamn cobra about to strike.
On a weighted average basis hydroxide prices were up 6.2% to US$25,894/t, while carbonate prices are up 2.8% to US$23,798/t.
BMI analyst George Miller said the supply-demand situation left producers very much in control during contracting season.
"Activity in the domestic Chinese lithium chemical market picked back up in the latter half of November, as buyers looked to restock inventories ahead of the Spring Festival. The increased demand drove upward price pressure as trading gained pace following a quiet period at the end of October and during early November," he said.
"Outside of China, prices also continued to rise during the ongoing contracting season, as buyers became increasingly willing to accept higher prices to secure any available lithium supply towards the end of 2021 and into 2022.
"Furthermore, producers sought to introduce more regular pricing breaks in contract structures given the potential upside on the back of supply deficit expectations, lifting the bottom end of prices as contracts begun to be revised higher amidst ongoing negotiations.
"The upper end of the range of recorded prices also ticked upwards, with lower volume spot transactions shifting towards Chinese domestic prices in response to very limited availability.
"As such, the Benchmark Lithium Price Index rose by 4.4% m-o-m in November, which alongside rising demand, was driven by expectations of a widening supply deficit into the New Year and continued international demand growth in Q4 2021. High prices and robust demand gave way to a stream of investments into the lithium value chain in November, in particular, Chinese incumbents striking deals with western companies in pursuit of supply expansions."
China, which is increasing its production of lithium-iron-phosphate battery chemistries, has imported almost 70,000t of lithium carbonate this year, 80.8% up on the same period in 2020, while European demand for EVs remains high.
Sales were up 91.1% year on year to 180,000 units.
Lithium mid-tiers rule the roost
With that in mind it was lithium project developers that dominated the gains in the materials sector today.
AVZ Minerals (ASX:AVZ), owner of the giant Manono project in the DRC was up 14.16% after a big feature Q & A in Stockhead's morning newsletter, while Vulcan Energy (ASX:VUL) rose 6.23% and Ioneer (ASX:INR) climbed 7.83%.
Among the large caps oil and gas stocks Woodside and Santos were up after Oil Search shareholders approved their mega merger with the latter to create a $23 billion energy major.
Lithium stocks share price today:
The post Monsters of Rock: Good news continues to flow if you're in lithium appeared first on Stockhead.
Resources Top 5: Hopeful uranium stocks, an important graphite deal, and lots of imminent news flow
Aspiring graphite miner Black Rock invited to finalise agreement with Tanzanian government Cauldron Energy dusts off Yanrey uranium project, despite ……
Aspiring graphite miner Black Rock invited to finalise agreement with Tanzanian government
Cauldron Energy dusts off Yanrey uranium project, despite government opposition
Redstone (copper, cobalt), Latrobe (magnesium) and Empire (gold, copper, nickel, PGEs) up on no news
Here are the biggest small cap resources winners in early trade, Tuesday December 7.
(Up on no news)
When the WA state government implemented a ban on most new uranium mines in 2017, CXU stopped work at its flagship 'Yanrey' uranium project and began searching for other dirt to play with.
It now has a historic gold project called 'Blackwood' in Victoria and a silica sands play called 'Ashburton' in WA. It is also poking around Yanrey again, which is a lot more interesting now that uranium prices are on the move.
While government support (or lack thereof) for new mines has not changed, a recent survey uncovered a bunch of "highly prospective targets for follow-up drilling" at Yanrey.
"Our ultimate objective is to explore for uranium mineralisation amenable to extraction by ISR," CXU exec chairman Simon Youds says.
"Economic deposits of sandstone-hosted, palaeochannel-style uranium can be mined using ISR in the lowest cost quartile of uranium mined globally."
"This characteristic makes these deposits extremely attractive for mining at any uranium price and necessarily must form the basis of any uranium resource portfolio."
Yanrey exists within a larger uranium province that is slowly being uncovered, Youds says.
"There is potential here for a scale comparable to the best uranium-endowed province globally and that, with astute leadership, Western Australia is at the threshold of a new energy resources boom."
At Blackwood, CXU has stumbled upon visible gold in an underground area historically excavated for access purposes only:
"The visible gold observed, coupled with the beautiful sandstone-shale contact and structurally complex geology, provides an exciting new target for drill testing," Youds said in November.
"The observation of visible gold further increases our confidence in the remaining mineral potential of these historical mines."
The $11.5m market cap stock is down 6% over the past month, and 30% year-to-date. It had $1.5m in the bank at the end of September.

(Up on no news)
The nanocap, which has partially bounced back from recent losses in early trade Tuesday, is drilling to grow the 38,000t copper, 535t cobalt 'Tollu Copper Vein' deposit, part of the 'West Musgrave' project in WA.
Tollu hosts "a giant swarm of hydrothermal copper rich veins" in a mineralised system covering a +5sqkm area, ~40km from OZ Minerals' (ASX:OZL) world-class Nebo-Babel nickel-copper deposit.
A conceptual (theoretical, not real yet) exploration target suggests up to 627,000t of copper may be present, the company says.
Recent portable XRF analysis of new drilling returned hits like 16m at 2.62% copper from a 74m downhole, including 6m at 6% copper from 76m.
These will be confirmed by traditional assay, the company says. Labs are backed up to the hilt, so who knows when that will be.
RDS say exploration will continue "at the earliest opportunity" in 2022 with a deeper RC drilling program at priority targets.
The $12m market cap stock is up 30% over the past month. It had $2.6m in the bank at the end of the September quarter.
It's been a good news week for aspiring graphite miner BKT.
Today it announced it had been invited by the Mining Commission to attend a ceremony in Dar es Salaam, Tanzania on Monday 13 December "to finalise an agreement with the Government of Tanzania".
Black Rock managing director John de Vries is currently in country and is expected to attend, BKT says.
The company has also just completed a massive 500t pilot plant run – the largest ever, it says — to send off for qualification (testing) to potential customers in North America, Asia and Europe.
This will ultimately support project financing, BKT says.
The company now needs to finalise off-take terms with cornerstone investor POSCO, and secure finance to underpin a $US116m Phase 1 development capex program.
The $183m market cap stock is down 10% over the past month, and up 115% year-to-date. It had $9.3m in the bank at the end of September.
(Up on no news)
Early works – like fixing fences, site clean-up, contracting — are happening apace at LMG's magnesium project in Victoria's Latrobe Valley, with construction on an initial 1,000 tonne per annum magnesium plant due to kick off in Q1 2022.
Production starts up to 12 months later in Q4 2022.
The plant will be expanded to 10,000 tonnes per annum magnesium shortly thereafter, with further plant capacity expansion to be considered once it is operating successfully.
Magnesium has the best strength-to-weight ratio of all common structural metals and is increasingly used in the manufacture of car parts, laptop computers, mobile phones, and power tools.
In November, LMG said current magnesium price was US$6,150 per metric tonne and expected to hold.
"LMG's revenue estimates are based upon US$3,250 per tonne which was the magnesium price in June 2021, before the China supply shortage commenced in September 2021," it says.
"If the current price of US$6,150 per metric tonne held long term, it would increase LMG's estimate of EBITDA for its 10,000tpa plant by some $56m."
In 2020, world magnesium production was ~1 million tonnes, of which China supplied ~85%.  China has begun a 13-year plan to increase Mg in cars from 8.6kg to 45kg by 2030, requiring an additional 1 million tonnes of new Mg production per annum.
$131m market cap LMG is down 21% over the past month, and up 335% year-to-date. It has raised $11.5m  via placement to help fund the initial $39m 1,000tpa plant.
(Up on no news)
This busy polymetallic explorer has already drilled 13,000m so far in 2021 at the 'Penny's and Yuinmery' projects in WA, with diamond drilling of some juicy gold, copper, and nickel-copper-PGE targets at Yuinmery due to kick off sometime this month.
ERL would've drilled even more if not for issues getting hold of a rig, something the company intends to fix in 2022.
"Our exploration plans for 2022 include the lock-in of a core drilling rig and driller for exclusive use by Empire," chairman Michael Ruane says.
"This should assist in accelerating at least the drilling component of our exploration programs for the forthcoming period. The rig will be particularly useful for the deep drilling required for the promising Yuinmery targets (eg Smiths Well/YT01)."
The rig should be ready for commissioning this month, he says.
The $14.85m market cap stock is up 30% over the past month. It had about $3.5m in the bank at the end of November.
The post Resources Top 5: Hopeful uranium stocks, an important graphite deal, and lots of imminent news flow appeared first on Stockhead.
Met testwork proves Sovereign's Kasiya will deliver a premium natural rutile product
Special Report: Metallurgical testwork has confirmed Sovereign Metals' Kasiya project in Malawi will deliver a premium natural rutile product, setting…
Metallurgical testwork has confirmed Sovereign Metals' Kasiya project in Malawi will deliver a premium natural rutile product, setting the stage for the company's landmark scoping study.
Testwork continues to demonstrate the world class nature of Sovereign's (ASX:SVM) Kasiya deposit, with simple and conventional processing delivering levels of 95% to 97.2% TiO2 with low impurities at stand-out metallurgical recoveries ranging from 94% to 100%.
That makes Kasiya competitive on TiO2 grades with some of the world's largest natural rutile operations like Iluka's Sierra Rutile and Rio Tinto's Richards Bay Minerals.
It opens the door for discussions with tier-1 offtakers in the markets for TiO2 pigment, titanium metal and welding, where customers are facing widening supply deficits in a strengthening market.
Additionally, testwork has shown conventional flotation methods can be used to produce a coarse flake graphite by-product from rutile gravity tails with 60% at a coarseness of +150µm, suggesting it will have a high basket value when sold to market.
A program at SGS Lakefield in Canada confirmed simple processing methods delivered a very coarse-flake graphite concentrate at 96.3% TGC.
"Consistently achieving premium rutile specifications with stand-out recoveries via conventional "off the shelf" processing methods reinforces the robustness of metallurgical and processing performance of the Kasiya rutile mineralisation ahead of the upcoming Scoping Study," Sovereign managing director Dr Julian Stephens said.
"These continued very high-quality product specifications should generate further interest from end-users across the titanium sector as the global structural deficit in natural rutile supply continues to widen."
Kasiya scoping study round the corner
With the results in today's announcement, Sovereign has now demonstrated the impressive metallurgical qualities of the Kasiya resource in two separate rounds of met testwork.
The testwork also confirms Kasiya will deliver strong recoveries and product specifications based on conventional off-the-shelf processing technology, which bodes well for its future development.
Proving the original results were certainly no fluke and opening the door to interest from Tier-1 offtake customers, they set up Sovereign to release a scoping study in the coming weeks.
With most of the technical disciplines now complete, mining optimisation and capital and operating cost estimations are currently being finalised.
A new indicated mineral resource estimate is also on the way after substantial resource drilling to build upon the world-class inferred resource released in June.
That confirmed Kasiya as one of the largest natural rutile deposits in the world, with an inferred resource of 644Mt at 1.01% rutile and a high-grade component of 137Mt at 1.41% rutile.

This article was developed in collaboration with Sovereign Metals, a Stockhead advertiser at the time of publishing.
This article does not constitute financial product advice. You should consider obtaining independent advice before making any financial decisions.
The post Met testwork proves Sovereign's Kasiya will deliver a premium natural rutile product appeared first on Stockhead.