NIO Has Strong Catalysts Going for It in 2022
Chinese premium electric vehicle (EV) maker Nio (NYSE:NIO) hasn't had a smooth 2021. NIO stock was once trading at the highs of $60 and is down to $30…
Chinese premium electric vehicle (EV) maker Nio (NYSE:NIO) hasn't had a smooth 2021. NIO stock was once trading at the highs of $60 and is down to $30 today. Nothing has gone wrong with the company but the overall investor sentiment has led to the sell-off. There are also several concerns associated with Chinese regulations and this has had an impact on NIO stock.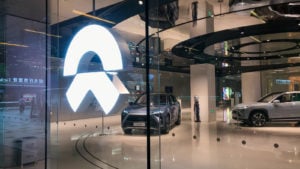 Source: Andy Feng/Shutterstock.com
It was trading at $14 in July 2020 and doubled in October 2020. The stock then hit $54 in November 2020 and saw the best days in the early months of 2021. However, the highs didn't last long and the stock started falling since March 2021. It hit $33 in May and soared to $53 in June 2021 and fell back to the lows of $30 since then.
Nio has consistently impressed investors with the solid quarterly delivery numbers. Despite rising competition, Nio is walking with pride and is on the way to leading the EV industry. I have always been a fan of NIO stock and I am of the opinion that it could hit the all-time high again in 2022.
The company has already started the year on a strong note. With that in mind, let's consider two reasons to invest in NIO stock.
The Future of the EV Industry Is Bright
The global electric vehicle market is expected to reach $802.81 billion by 2027, at a growth rate of 22.6%. The highest contributor to the industry in the Asia-Pacific region, followed by Europe and North America. The Asia-Pacific market is expected to reach $357.81 billion by 2027 at a compound annual growth rate (CAGR) of 20.1% and North America is estimated to reach $194.2 billion by 2027.
As countries continue to move towards fuel-efficient and low-emission vehicles, the demand for EVs is only going to rise. Meanwhile, in tandem with the rise in market demand, technological advancements and government initiatives will boost the growth of EV makers in the coming years.
Nio's battery as a service model holds an advantage here and it could attract users who are looking for low-cost EVs that promise high performance.
Exciting Model Lineup
Nio is launching the ET7 sedan this year which will be followed by the ET5 compact sedan. There is also speculation that we will see even more new vehicle models this year. There is a lot of excitement surrounding the ET7 and the car will enter the German market soon.
My InvestorPlace colleague David Moadel believes that the ET5 will spark Nio's recovery.
The ET7 will be Nio's first model that will be sold in Germany. The company's ES8 SUV is already sold in neighboring Norway and might make its way to Germany soon as well.
Nio has seen high interest from several potential users, particularly in the European markets.
If the company introduces new models in the coming year, it will be able to attract a larger customer base and increase revenues. Nio has already entered the Norwegian market and it will soon plan to enter other European countries this year. The company has already doubled the production capacity at their plant in China to 240,000 vehicles a year. This will allow the company to reach its full potential and the margins are expected to pick up soon after.
The Bottom Line On NIO Stock
Besides the strong operating numbers and impressive deliveries, Nio is working towards the expansion of its market and this will push NIO stock higher. I believe Nio has the potential to beat the rivals with its product line and the battery as a service.
An HSBC analyst Yuqian Ding has raised their price target of NIO stock to $54 with a Buy rating after the company reported strong delivery numbers for December and announced new models at the NIO Day event. The analyst thinks that new models in this year could boost the volume growth.
Nio has already set the stage for 2022 and I believe it will report strong revenue numbers in the quarterly results. This will help NIO stock recover in the coming two months.
On the date of publication, Vandita Jadeja did not have (either directly or indirectly) any positions in the securities mentioned in this article. The opinions expressed in this article are those of the writer, subject to the InvestorPlace.com Publishing Guidelines.
Vandita Jadeja is a CPA and a freelance financial copywriter who loves to read and write about stocks. She believes in buying and holding for long-term gains. Her knowledge of words and numbers helps her write clear stock analysis.
More From InvestorPlace
The post NIO Has Strong Catalysts Going for It in 2022 appeared first on InvestorPlace.
Cleantech Boom 2.0: Does Mining Have a Place?
Investment in mining and its resources is an integral part of cleantech as green initiatives to make the energy transition possible.
The post Cleantech…
The climate crisis is back at the forefront of political discussions following COP26 and several initiatives aiming to reduce carbon emissions have been announced. Decarbonising our economy is a difficult but urgent task and continued technological innovation will help. Although new technologies will aid the reduction of carbon emissions, the sheer volume of raw materials required to innovate are significant. Is investment in decarbonisation a reasonable excuse to further dig up the planet?
Defining cleantech
'Cleantech' (often used interchangeably with 'climatetech') refers to innovative solutions to address the challenges of climate change. These solutions help to achieve the goals of environmental sustainability by storing or generating energy with limited carbon emissions, thus assisting decarbonisation efforts. Investors are recognising the importance and potential longevity of this industry and investment is pouring in.
Electric vehicles (EVs) are one of the leading technologies required to reduce the emissions of the transport industry, but the transition to renewables and EVs will require an abundance of materials and extraction rates are rising.
Investment floods in
While there was a boom in cleantech investment in 2005, it began to be seen as a risky choice and interest dwindled due to investment failures in areas such as biofuels and solar. The investment bubble then burst. However, the urgency to reach net-zero has reignited interest in cleantech and, as innovations in areas such as agriculture and batteries are announced, investors are scrambling for their share. This investment boom is spurring an increase in the number of start-ups, driving the much-needed innovation required to help solve the climate crisis.
Mining activity is on the rise
To deal with the growing number of clean technologies, mining extraction rates are also growing. Various metals and minerals are required in the transition to decarbonisation and minerals such as cobalt and lithium are the building blocks of cleantech. As the world attempts to reach net zero, demand for critical minerals will skyrocket.
According to a 2020 World Bank Report, a low-carbon future will be more mineral intensive as clean energy requires more materials than fossil-fuel-based technologies. The International Energy Agency estimates that EVs require six times the amount of minerals as a typical car and nine times more minerals are required for wind energy plants than gas-fired equivalents. However, ESG concerns around the traditional heavy industry are so far causing investors to look the other way.
ESG in mining
There are several ESG concerns tied to mining, notably, the environmental degradation caused by the erection and operation of mines to meet the growing demand for materials. Social and governance concerns are becoming increasingly apparent and stories of dangerous working conditions, artisanal miners and child labour are common. ESG funds often exclude mining as a result. To counteract this, the mining sector is beginning to show signs that it is taking ESG seriously. A leading example is Glencore, who GlobalData classifies as a climate leader. Glencore has pledged to reach net-zero carbon emissions by 2050. Its carbon reduction strategies include the electrification of mining fleets, which has been pioneered by companies such as Newmont and Boliden.
As investors are increasingly becoming more climate aware, mining companies are recognising the potential upsides of taking ESG seriously. This will drive companies to innovate to establish how they can decouple their growth from emissions.
Investors need to think about the future
A boom in green investment has begun again but shifting investment away from mining will undermine the green energy transition. Mining companies should further implement ESG principles and demonstrate that they are serious about ESG. Green funds should also include these mines in their portfolios instead of blacklisting them. Without the mining industry, the energy transition is not possible and investors should stop shying away from this heavy industry by focusing all their investment on renewable technologies. Currently, the production of these technologies cannot be achieved without mining and the resources it produces. Investors should instead use the power they possess to exert pressure on mining companies to consider ESG strategies. They would then need to prove that they are more sustainable and innovate their techniques to achieve this. Therefore, the boom in green investment can be used to tidy up the mining industry and keep the cleantech bubble afloat.
The post Cleantech boom 2.0: Does mining have a place? appeared first on Mining Technology.
Here's What Triggered Today's Selloff
Well, the stock market sure woke up on the wrong side of the bed this morning!
Source: ventdusud / Shutterstock.com
After a long holiday weekend, investors…
Well, the stock market sure woke up on the wrong side of the bed this morning!
Source: ventdusud / Shutterstock.com
After a long holiday weekend, investors were greeted with a more than 1% drop in the major indices. The NASDAQ was hit particularly hard, down as much as 2% earlier in the trading day. The fact of the matter is Wall Street was cranky because the 10-year Treasury surged to a two-year high today.
The 10-year Treasury yield now sits at about 1.85%. That's up from 1.51% on December 31, 2021. That's a fairly dramatic rise in the 10-year Treasury, and it's a big reason for why we saw a massive rotation out of the tech-heavy index today.
The financial media would have you believe higher rates will hurt tech stocks, but that's simply not true. Here's the reality: The global pandemic accelerated technological change, with many folks working and studying remotely. And this technological change boosted productivity in the U.S., with several industries leading the productivity miracle. So, tech stocks, especially semiconductor companies, will have some of the best quarterly results in mid-January through mid-February. And wave-after-wave of positive results will not only help these stocks firm up but also drive their shares higher. It's one reason why I'm betting big on 5G.
Tech stocks aside, this earnings season should also trigger rebounds in fundamentally superior stocks that were hit during today's selling. I expect Wall Street to become laser-focused on earnings over the next five weeks, and after all the reports are out, we'll see who's left standing. I anticipate the winners will be those with superior fundamentals, i.e., my Breakthrough Stocks. My Buy List companies have 57.2% average forecasted annual sales growth and 231% average forecasted annual earnings growth. They should also issue positive forward guidance.
Now, due to more difficult year-over-year comparisons, my Breakthrough Stocks are actually "decelerating" from the previous 78.2% average annual sales growth and 724.8% average annual earnings growth. However, my Buy List stocks are still set to achieve earnings and sales growth well above the average S&P 500 company. According to FactSet, the S&P 500 is anticipated to achieve 21.8% average earnings growth and 12.9% average revenue growth.
The Bellwether Steps Up to the Earnings Bat
We've heard from a few companies so far, including the Big Banks (I'll review their quarterly results later in the week, so stay tuned for that!), but I'm most excited to hear from Alcoa Corporation (NYSE:AA), which will report its fourth-quarter earnings results tomorrow afternoon. As you probably know, Alcoa is known for establishing the aluminum industry more than 130 years ago. The company primarily manufactures and sells bauxite, the primary source of aluminum, as well as alumina, aluminum, cast products, energy and rolled products. Alcoa actually is one of the largest bauxite producers in the world with seven active mines, as well as is the leading producer of alumina.
Alcoa is also considered a "bellwether" for earnings season, as it's a stock investors have turned to in the past as an indicator for how the coming earnings season will shake out. Currently, analysts expect Alcoa's earnings to surge 653.8% year-over-year to $1.96 per share, up from earnings of $0.26 per share a year ago. Revenue is estimated to climb 40.5% year-over-year to $3.36 billion.
I should note that analysts have lowered earnings estimates in the past three months, following the company's announcement that it will temporarily halt production at its Spain plant due to rising energy costs. Alcoa noted that the production halt would reduce earnings by $0.32 per share, which is why analysts have lowered earnings estimates initially. Interestingly, in the past week, analysts have increased estimates by nearly 11%.
Personally, I believe Alcoa will post impressive fourth-quarter results. The reality is that aluminum prices are trekking higher again. The World Bank revealed that aluminum prices jumped from $2,004 per tonne in January 2021 to more than $2,900 per tonne in January 2022. Prices are anticipated to rise 6% this year, thanks to ongoing demand from the auto industry, rising energy prices and supply shortages.
Suffice it to say, Alcoa is the stock to watch tomorrow.
But for today, don't be discouraged by today's wild market gyrations. The reality is that earnings work 70% of the time, so given that earnings momentum has tapped the brakes a bit due to tougher year-over-year comparisons, I think companies that achieve better-than-expected results will see their shares climb higher as investors celebrate their results.
It's why now is the time to make sure you've filled your portfolio with fundamentally superior stocks. If you're not sure where to look, you might want to review my Breakthrough Stocks Buy List. As I mentioned, my stocks should post much strong earnings than the average S&P 500 company. I should also note that I recently created a special model portfolio I call the 5G Hypergrowth Portfolio: Six Stocks to Incredible Wealth. Each company is directly in line to profit from 5G.
I will be recommending another 5G stock on Thursday, after the market close. So, if you join Breakthrough Stocks today, you'll have access to this new recommendation as soon as it's released.
Sincerely,
Louis Navellier
The Editor hereby discloses that as of the date of this email, the Editor, directly or indirectly, owns the following securities that are the subject of the commentary, analysis, opinions, advice, or recommendations in, or which are otherwise mentioned in, the essay set forth below:
Alcoa Corporation (AA)
Louis Navellier, who has been called "one of the most important money managers of our time," has broken the silence in this shocking "tell all" video… exposing one of the most shocking events in our country's history… and the one move every American needs to make today.
More From InvestorPlace
The post Here's What Triggered Today's Selloff appeared first on InvestorPlace.
Be Ready To Take Advantage of a Dip in Lucid Stock
If you've been waiting to buy Lucid Group (NASDAQ:LCID) on the cheap, this may be your chance. LCID stock currently sits 32% below its high of $57.75,…
If you've been waiting to buy Lucid Group (NASDAQ:LCID) on the cheap, this may be your chance. LCID stock currently sits 32% below its high of $57.75, made in mid-November. Shares have fallen nearly 14% in the past week alone as the company approaches the lockup expiration for legacy shareholders.
Source: ggTravelDiary / Shutterstock.com
Following the completion of its successful blank-check merger in late July with special purpose acquisition company Churchill Capital Corp IV, LCID stock shot up as much as 129%. This isn't all that surprising when you consider what a hot commodity electric vehicle stocks were at the time.
Today, shares sit about 55% above their public debut, having been caught up in a broader sell-off in the sector and in anticipation of some volatile trading around the end of the lockup period. If LCID stock falls to $35 or lower in the coming days, it may be time to pounce.
What Does the Lockup Expiration Mean for LCID Stock?
The lockup period for existing Lucid shareholders expires on Jan. 19, which marks 180 days from the closing of the SPAC merger with Churchill. That means those shareholders are free to dump their stock or trim their positions.
When the reverse merger closed, there were 1.19 billion shares of LCID stock held by legacy shareholders, according to a filing submitted to the Securities and Exchange Commission. The largest shareholder, by far, is the Saudi Public Investment Fund. It holds a 67.2% stake in Lucid.
If we see a huge amount of shares hit the market tomorrow, it's a good indication that legacy shareholders think LCID stock is a little overvalued right now.
The first private investment as public equity (PIPE) lockup expiration for LCID stock occurred on Sept. 1. In the week preceding the event, LCID stock fell 8.5%. It fell another 11% on Sept. 1. Three months later, though, the share price had more than doubled.
Lucid at a Glance
Lucid CEO Peter Rawlinson was best known (before his Lucid days) as the vehicle engineer for the Tesla (NASDAQ:TSLA) Model S. Tesla, which delivered more than 900,000 vehicles in 2021, now has a market cap of more than $1 trillion. It's no wonder Lucid devotees dream of similar success for the EV startup.
Compared to Tesla, Lucid is a baby. The first vehicle deliveries of the Lucid Air sedan were made on Oct. 30. However, the vehicle was named the MotorTrend 2022 Car of the Year and the company said it had more than 17000 reservations as of Nov. 15.
Lucid plans to produce 20,000 vehicles this year at its plant in Arizona. Currently, the factory has a top capacity of 34,000 vehicles, according to Lucid. But an expansion project that's already underway should allow the company to produce 90,000 vehicles a year by the end of 2023. What's more, management has plans to open plants in China and the Middle East.
Lucid's Nov. 15 earnings report was its first as a publicly traded company. Lucid reported a Q3 loss of 42 cents per share versus analysts' expectations of a loss of 25 cents per share. But LCID stock jumped 24% on the day because investors were impressed with the company's growth projections.
The Bottom Line on LCID Stock
Undoubtedly, Tesla is the big brother in this relationship. Elon Musk's company will be a formidable competitor.
That's one reason why Redburn analyst Charles Coldicott initiated coverage of LCID stock with a price target of $39 and a "neutral" rating.  He says Lucid should win a "fairly moderate" market share in the U.S., but warns it will have more difficulties in the global market where China has a greater advantage.
Personally, I think the $39 price target is low. If we see LCID stock dip to $35 or below after the lockup period ends tomorrow, it could present an excellent entry point.
On the date of publication, Patrick Sanders was long TSLA stock. The opinions expressed in this article are those of the writer, subject to the InvestorPlace.com Publishing Guidelines.
Patrick Sanders is a freelance writer and editor in Maryland, and from 2015 to 2019 was head of the investment advice section at U.S. News & World Report. Follow him on Twitter at @1patricksanders.
More From InvestorPlace
The post Be Ready To Take Advantage of a Dip in Lucid Stock appeared first on InvestorPlace.