Nio Stock Is Ready for a Great Year After a Troublesome 2021
Nio (NYSE:NIO) stock entered 2021 close to $50 and is nowhere close to it today, trading closer to $30. This is a little unexpected.
Source: Robert Way…
Nio (NYSE:NIO) stock entered 2021 close to $50 and is nowhere close to it today, trading closer to $30. This is a little unexpected.
Source: Robert Way / Shutterstock.com
Despite the pandemic, the global electric vehicle industry has undergone a massive change. The demand for EVs is consistently growing and it has become difficult for automakers to keep up with the same.
On top of that, there is a shortage of chip supply and concerns about the Chinese government regulations, which was one of the things that put Nio in a fix.
The EV maker has grabbed a large market share and is expanding globally but the chip shortage and regulatory fears led to a dip in delivery numbers.
The stock went as high as $61 in January 2021 and started the downward journey at the end of February. It is trading close to $30 today and is much lower than the all-time high.
However, I continue to believe that NIO stock is the one for the long term and it will reward patient investors. If you are looking for EV stocks to add to your portfolio, do not miss NIO stock. Let's dig deeper into what's working for the company.
Strong Delivery Numbers
Not a lot of people could believe that Nio could manufacture close to 100,000 EVs annually but this was at the beginning of 2021. As the year comes to a close, we have seen the company prove itself time and again.
In terms of production, Nio has impressed with strong delivery numbers. It delivered 10,489 cars in December 2021 which is a 49% rise year over year. For this quarter, the company has delivered 25,304 EVs representing a 44% rise year over year.
The company delivered a total of 91,429 vehicles in the year. According to the guidance, Nio expected fourth-quarter deliveries between 23,500 and 25,500 vehicles. It managed to achieve the numbers which will reflect on the bottom line.
Although the delivery numbers are lower than that of rival Xpeng (NYSE:XPEV) they are proof that the company can bounce back and make the most of the growing demand, even in a pandemic.
It is important to note that Nio targets a different market as compared to XPeng and there is also a price difference. Nio caters to the luxury car market and has higher-priced models while XPeng is working to attract the younger demographic.
At the recent NIO Day event, the company gave investors a lot to look forward to. It unveiled a mid-sized sedan, the ET5, and has already opened reservations for it. The company will begin deliveries in September this year.
Further, to meet the global expansion goals, Nio plans to enter Sweden, the Netherlands and Denmark in 2022. This will allow the company to attract a wider customer base and cater to their needs.
The new model and competitive price point can boost Nio's position in China. As sales continue to grow in the EV market, Nio will have a stronghold in the industry.
It will also benefit from the increased manufacturing capacity and high customer loyalty. Despite the competition and the chip shortage, Nio is making strong moves and has a lot to look forward to.
The Bottom Line on NIO Stock
I believe NIO stock is a great EV play. It is trading at a discount currently and may not be this cheap in the coming months. The company is doing everything right, from launching a new model to working toward expansion of production capacity. Nio will have a strong run in 2022 and the annual numbers will set the stage for it.
Place your bet on NIO stock while it is trading close to a 52-week low. This is the stock to own and hold for the long term.
On the date of publication, Vandita Jadeja did not have (either directly or indirectly) any positions in the securities mentioned in this article. The opinions expressed in this article are those of the writer, subject to the InvestorPlace.com Publishing Guidelines.
Vandita Jadeja is a CPA and a freelance financial copywriter who loves to read and write about stocks. She believes in buying and holding for long-term gains. Her knowledge of words and numbers helps her write clear stock analysis.
More From InvestorPlace
The post Nio Stock Is Ready for a Great Year After a Troublesome 2021 appeared first on InvestorPlace.
GEVO Stock is a Risk-On Asset in a Risk-Off Market
I wrote about Gevo (NASDAQ:GEVO) in February 2021 when it was heading towards its meme-stock induced 52-week high. As a company that was, and remains,…
I wrote about Gevo (NASDAQ:GEVO) in February 2021 when it was heading towards its meme-stock induced 52-week high. As a company that was, and remains, a pre-revenue company, I made a bearish call on GEVO stock.
Source: Shutterstock
That proved to be the right call. Since February, GEVO stock went on a steady trip lower, but had seemed to find a solid level of support.  
However, since December 2021, GEVO stock has cut through that level of support and, as of this writing, sits at $3.50 a share. Realistically, it could go lower.
Now trading below $5, Gevo looks a bit more interesting. However, I have to caution you. This stock is only for speculative investors who have the time and patience to wait for the company to deliver revenue. 
A Bet on Renewable Fuels 
The elevator pitch for Gevo is certainly compelling.
The company is a play on renewable hydrocarbon products, specifically low-carbon liquid transportation fuels that will be sustainable alternatives to traditional fossil fuels.
The company's process is to transform carbon into liquid hydrocarbons that have a potentially "net zero" GHG footprint. Gevo does this by using a combination of photosynthetic energy, wind energy and biogas energy.
And the company is focusing on three areas that would appear to have high demand. The first is sustainable aviation fuel. The electric vehicle (EV) movement is certainly ramping up, but whatever form that takes, it will be a long time before technology like that is ready for the aviation industry.
Gevo is also making inroads into two other areas: renewable gasoline for commercial fleets and regenerative agriculture that focuses on "growing feedstocks in ways that sequester carbon and improve the soil."
Managing Revenue Expectations 
First the good news: if the company's estimates are correct, revenue is on the way. In its December 2021 investor presentation (page 5), Gevo said it has approximately $3 billion in financeable contracts already in place. And the company is negotiating an additional $30 billion in contracts with what the company terms "high-quality" customers.
That's bullish news. However, the commercial supply arrangements won't begin until 2024. In the meantime, Gevo is taking steps to get its Net Zero projects constructed..
However, as our own Louis Navellier wrote late last year, Gevo does have $522.4 million in cash on hand. That should sustain the company until it begins to generate revenue. That would be welcome to investors who had become frustrated by share dilution from stock offerings.
However, I would be remiss if I didn't share with you this reminder from Ian Bezek: "every year since 2012, Gevo's gross margin has been negative. Consequently, it costs the company more to produce its fuels than it earns from selling them."
With Friends Like These
I can't blame investors for getting excited about the prospects for GEVO stock. After all, the presumption was that the Biden administration was going to make clean, renewable energy a priority. However, biofuels continue to have a complicated relationship with the rest of the renewable energy sector. 
In December, the Environmental Protection Agency (EPA) released its proposed Renewable Fuel Standard volumes for 2021 and 2022. Unfortunately, industry experts saw the move as "placing a feather on the renewable fuels pedal" precisely when the Biden administration is trying to push through bold action on climate change.
What to Do With GEVO Stock?
Purely based on its stock price, GEVO stock looks oversold. However, as I noted above whether that makes it a buy depends on your personal risk tolerance. At this point, you're investing in a company with a business model of questionable sustainability. And in the current market environment that would be the definition of a risk-on asset.
Nevertheless, with the stock trading below $5, it might be worth a speculative investment as part of a clean energy portfolio.
On the date of publication, Chris Markoch did not have (either directly or indirectly) any positions in the securities mentioned in this article. The opinions expressed in this article are those of the writer, subject to the InvestorPlace.com Publishing Guidelines.  
Chris Markoch is a freelance financial copywriter who has been covering the market for eight years. He has been writing for InvestorPlace since 2019. 
More From InvestorPlace
The post GEVO Stock is a Risk-On Asset in a Risk-Off Market appeared first on InvestorPlace.
Nio's Underperformance Makes It One of the Best Chinese EV Stocks for 2022
The electric vehicle transition that is well and truly underway has made investors sit up and take a look at some promising opportunities. Even as most…
The electric vehicle transition that is well and truly underway has made investors sit up and take a look at some promising opportunities. Even as most stocks capitalized on this frenzy in 2021, some, including NIO (NYSE: NIO) stock, have missed the bus.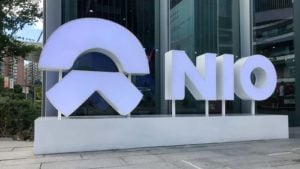 Source: Andy Feng / Shutterstock.com
This is despite the Shanghai-headquartered Chinese EV start-up making all the right noises and navigating through the supply constraints without much damage.
NIO Stock Under Grey Sky In 2021
Nio is locally called Weilai, which roughly translates to "Blue Sky Coming." But far from clear skies, NIO had a forgettable year in 2021, with the stock cratering despite lacking any strong negative catalysts. The company did have its fair share of fundamental woes, but the issues were more industry-wide in nature than company-specific.
NIO had a relatively stronger pandemic year in 202, and had a rip-roaring start to 2021. Catalyzed by a hugely successful "NIO Day 2020" event held on Jan. 9, 2021, the stock ran up to an all-time high of $66.99 in the session that followed the annual event.
The stock pulled back from the peak immediately after, dragged down by a $1.3 billion convertible note offering announced Jan. 11, 2021.
Despite a couple of attempts to break the downtrend throughout the year, it broadly moved lower before bottoming for a time at $30.71 on May 13. The weakness in the interim was exacerbated by the broader market pullback amid the reemergence of the Covid-19 pandemic and NIO's announcement to temporarily stall production for five working days, beginning March 29, citing the chip shortage. The company also trimmed its quarterly production forecast.
Although NIO stock came back up from the mid-May lows, the multiple rebound attempts could not take the stock anywhere near its previous peak. The weakness looks all the more glaring because most other EV stocks were on a strong recovery path after bottoming in mid-May.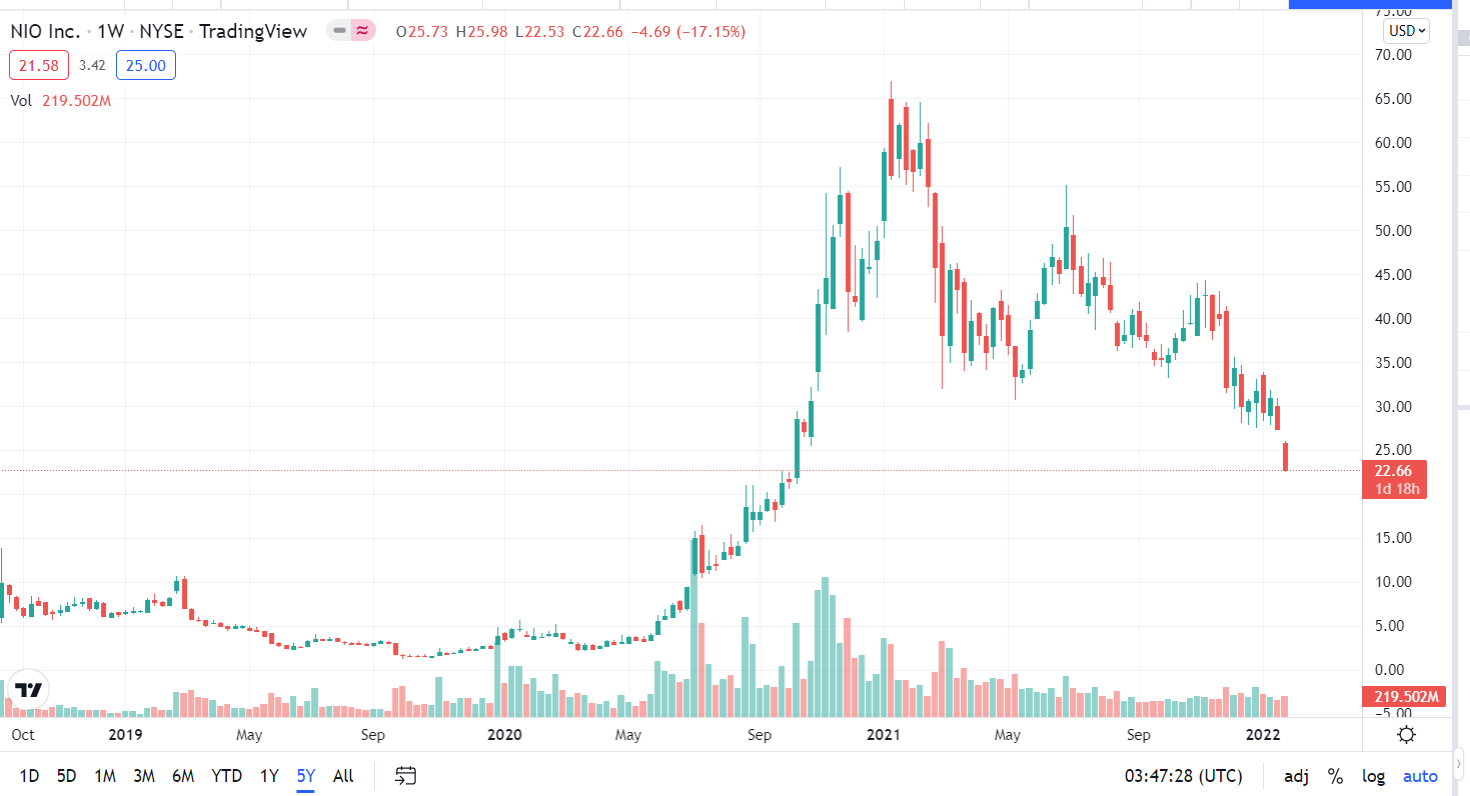 Source: Charts by TradingView
From the perspective of deliveries, except in October, when a steep drop was seen, the company managed to hold up fairly well. Nio also reported:
"The vehicle delivery in October was significantly impacted by reduction in production volume as a result of the restructuring and upgrades of manufacturing lines and the preparation of new products introduction from September 28 to October 15, as well as certain supply chain volatilities."
The Chinese EV maker forayed into Norway, marking its first overseas expansion, in 2021.
NIO Day 2021 Disappoints
As a dismal year drew to a close, NIO investors stayed loyal to the company and pinned their hopes on a turnaround, thanks to several impending catalysts. The main one of these catalysts, however, did not pan out as they would have liked.
As opposed to the 2020 event, Nio Day 2021 was light on announcements. The company announced its fifth production model – the ET5, a midsized sedan with a starting price of 328,000 yuan ($51,670). But barring the newest model, the annual affair just did not have much to write home about.
And now, the new year hasn't started well for the financial markets, and Nio shares have been languishing along with the broader market.
How NIO Stock Fared Vs. Competition
NIO shares have been an underperformer relative to the competition since 2021. Domestic rivals such as XPeng (NYSE:XPEV), Li Auto (NASDAQ:LI) and BYD (OTCMKTS BYDDF) have all either recorded far smaller losses or managed modest gains in the same period. EV giant Tesla (NASDAQ:TSLA), despite the recent pullback, has been a standout performer.
Company
Performance Since Jan. '21 (% Change)
Nio
(-53.5%)
Xpeng
(-12.9%)
Li Auto
(-13.0%)
BYD
(+18.3%)
Tesla
(+32.9%)
EV startups such as Rivian (NASDAQ:RIVN), Lucid (NASDAQ:LCID) and Fisker (NASDAQ:FSR) have yet to generate any meaningful revenues. The market, however, has willingly assigned premium valuations to the stocks on the promise of future outperformance.
Many EV companies are still working on becoming profitable, after all, so a better valuation metric to evaluate these stocks will be the price-to-sales (P/S) ratio.
On a trailing-12-month basis (TTM), NIO's P/S ratio is at 6.7 compared to 22.7 for Tesla, 16.4 for XPeng and 9.4 for Li Auto. Only Warren Buffett-backed BYD has a better TTM P/S ratio of 2.2.
As far as Tesla is concerned, one may argue that it has the potential to diversify its revenue streams due to the multiple areas it operates in. Tesla's fiscal-year 2021 results reveal that 88% of the annual revenue came from its automotive business, while the rest was from its charging infrastructure and services. Analysts expect self-driving software revenue to be a major revenue earner when it finally is adopted on a large scale.
NIO's recent quarterly results for the three months ended Sept. 30 show that a little over 88.1% came from its automotive business and the remainder from services. The Chinese company has been laying emphasis on its autonomous driving technology, named Nio Autonomous Driving (NAD). This was announced in January 2021 along with the unveiling of the ET7 sedan.
Just as it has done with battery swapping, the company plans to offer its Autonomous Driver Assistance System as a service offering for a monthly subscription fee.
Impending Catalysts for NIO Stock
Near term, NIO's January deliveries number due on Feb. 1 could serve as a catalyst. Can the company see an uptick from the 10,489 vehicles it delivered in December? Notable deviation from the number is unlikely, given the company is delivering from the same pool of vehicle models as it did in the previous month. Given that the company has not sounded out any dragging factors, marked downside from the level is also unlikely.
Next up will be the company's quarterly results, which are expected in early March. The earnings release, however, is likely to be a non-event.
What could truly move the needle on the stock are updates on the two new production models — the ET7 and ET5. The company has suggested a strong order book for the latter model, which is seen as a potent threat to Tesla's best-selling Model 3 sedan.
Barring any hiccups in production and ramp of these models, Nio stock looks poised to stage a strong recovery in 2022. Added cushion is likely to come from the aggressive international expansion the company has charted out.
Optimistic forecasts about EV adoption in China as well as overseas is also a macro factor that could work in Nio's favor, especially if it can sort out its production problem.
The Bottom Line on NIO Stock
NIO's shares are trading at their lowest level since late 2020. Technically, for the stock to reverse course, it has to fill the gap made earlier this week and move above the $27.40 overhead resistance. Further up the $33-$34 area could serve as major resistance levels.
For those investors who are looking for a bargain EV value buy, NIO could be the best fit for their portfolios. The stock looks relatively cheap vis-à-vis the other publicly listed Chinese EV makers. Fundamentally too, NIO appears to have an edge over its domestic rivals in terms of its product lineup and service offerings.
With so many catalysts lined up, it appears that investors will soon come around to appreciate the true value that NIO stock offers and a rerating could be in the offing in the medium- to long-term.
On the date of publication, Shanthi Rexaline did not have (either directly or indirectly) any positions in the securities mentioned in this article. The opinions expressed in this article are those of the writer, subject to the InvestorPlace.com Publishing Guidelines. 
Shanthi is a contributor to InvestorPlace.com as well as a staff writer with Benzinga. Equipped with a Bachelor's degree in Agriculture and an MBA with specialization in finance and marketing, she has about two decades of experience in financial reporting and analysis, and specializes in the biopharma and EV sectors. 
More From InvestorPlace
The post Nio's Underperformance Makes It One of the Best Chinese EV Stocks for 2022 appeared first on InvestorPlace.
Portofino Reported 412 ppm Lithium Sample Results From Allison Lake Property: 2-Times the Lithium Previously Reported
Portofino Resources(TSXV: POR)(OTCQB: PFFOF) updated stakeholders earlier in January regarding a systematic channel sampling program on its Allison Lake North lithium and rare elements property…
Follow-up analysis shows a two-fold increase in lithium and rubidium values compared to older estimates.
Portofino Resources (TSXV: POR)(OTCQB: PFFOF) updated stakeholders earlier in January regarding a systematic channel sampling program on its Allison Lake North lithium and rare elements property. In addition to reporting impressive lithium and tantalum values, the company also found elevated values for Niobium and Rubidium as well.
Back in September 2021, the company submitted 35 channel samples and 11 select grab samples for independent chemical and mineral analysis. The more recent follow-up analysis showed 412 ppm lithium and 857 ppm rubidium values from select channel samples. These results also included values of 143 ppm tantalum. 
This corresponds to the tantalum concentrations found from the SJ Pegmatite occurrence close to Allison Lake, results which were described as being "economically interesting" in an older, 2003 Ontario Geological Survey (OGS) report.
Further grab sample details  
Initial grab samples from Portofino taken back in September returned values of 398 ppm lithium, 90.5 ppm cesium, 1040 ppm rubidium, and 135 ppm tantalum. These grab sample results represent a two-fold increase in both lithium and rubidium found in the earlier 2003 OGS report. 
Additionally, these results demonstrate a ten-fold increase in tantalum compared to that same OGS report, which had originally showed values of up to 190 ppm lithium, 90 ppm cesium, 587 rubidium, and just 12.9 ppm tantalum.
"This is an exciting, unexplored project located within a very active lithium and rare earths exploration region, where systematic and methodical exploration programs are needed to unlock the potential of this project," said Portofino Resources' CEO David Tafel.
Geological details about Portofino's Allison Lake project
Portofino Resources announced back in April that it would acquire the Allison Lake property for a sum of $78,000 in cash and common shares, paid over a three-year period. CEO David Tafel said the project represented a highly strategic acquisition for the company, especially as the Canadian government looks to ramp up its domestic rare-earth and lithium supplies.
The overall Allison Lake project totals 1,618 hectares and is located 100 km east of the Red Lake town in northwestern Ontario. The surrounding area hosts a number of well-known lithium and rare-earth discoveries, including the PAK and Spark deposits, each of which contains millions of tonnes of estimated lithium oxide. 
The broader Allison Lake batholith contains a high degree of rare-earth mineralization along its outer rim. Portofino's Allison Lake property is located between the broader Allison Lake batholith and the Jubilee Lake rock formations and exhibits key attributes for lithium-bearing pegmatite dykes.
Besides Allison Lake, Portofino's other lithium properties include the recently acquired Greenheart Lake project located near Ignace, Ontario and the Yergo Project in Argentina. Located near the historical 3D (NEO Lithium/Zijin) lithium deposit, the Yergo project is set to commence drilling immediately upon receipt of a drilling permit.
Disclaimer:
This website is owned, operated and edited by NXT.financial media. Any wording found on this website / media webpage or disclaimer referencing to "I" or "we" or "our" refers to NXT.financial media. Parts of this website and this page in particular are a paid advertisement, not a recommendation nor an offer to buy or sell securities. Our business model is to be financially compensated to market and promote small public companies. By reading our website / media webpage you agree to the terms of our disclaimer, which are subject to change at any time. We are not registered or licensed in any jurisdiction whatsoever to provide investing advice or anything of an advisory or consultancy nature and therefore are unqualified to give investment recommendations. Always do your own research and consult with a licensed investment professional before investing. This communication is never to be used as the basis for making investment decisions and is for entertainment purposes only. At most, this communication should serve only as a starting point to do your own research and consult with a licensed professional regarding the companies profiled and discussed. Companies with low price per share are speculative and carry a high degree of risk.  By using our service you agree not to hold our site, its editor's, owners, or staff liable for any damages, financial or otherwise, that may occur due to any action you may take based on the information contained within our website.
This publication and their owners and affiliates may hold positions in the securities mentioned, which we may sell at any time without notice to our visitors, which may have a negative impact on share prices. NXT.financial media is paid fees to market public companies. Therefore, this communication should be viewed as a commercial advertisement only. We have not investigated the background of any third party or parties that have compensated us. Our web pages, communications, content and emails may contain forward-looking statements, which are not guaranteed to materialize due to a variety of factors
We do not guarantee the timeliness, accuracy, or completeness of the information on our website. The information on our website is believed to be accurate and correct, but has not been independently verified and is not guaranteed to be correct. The information is collected from public sources, such as the profiled company's website and press releases, but is not researched or verified in any way whatsoever to ensure the publicly available information is correct. Furthermore, NXT.financial media often employs independent contractor writers who may make errors when researching information and preparing these communications regarding profiled companies. The information in our disclaimer is subject to change at any time without notice.