Phunware Won't Recapture That $24 Magic Anytime Soon
Are you having fun yet? For many growth investors, there's been a detour of sorts this week. But when it comes to Phunware (NASDAQ:PHUN), the "phun-and-games"…
Are you having fun yet? For many growth investors, there's been a detour of sorts this week. But when it comes to Phunware (NASDAQ:PHUN), the "phun-and-games" for PHUN stock is long over.
Source: apichon_tee/ShutterStock.com
From legitimate growth stories to their meme-bred cousins with narratives built on short interest and hype, and all those shades of gray in-between, a market made up of stocks has turned into a real turkey for many investors in front of the U.S. Thanksgiving holiday.
There's Snowflake's (NYSE:SNOW) 12% multiple melt over just three sessions that's causing some to sweat. And persistent hemorrhaging in Teladoc (NYSE:TDOC) probably has many investors now convulsing as the stock trades back to its Covid low.
And the much tinier electric vehicle battleground stock Blink Charging (NASDAQ:BLNK), with its 36% short interest, has zapped bulls with its 10%-plus plug pulling in five days.
Needless to say, it's been tough week for investors seeking the next big thing.
What About Phunware?
But that type of suffering doesn't hold a candle to Phunware's PHUN stock plunge. And for good reason too.
PHUN is a meme stock. But Phunware's shares aren't your typical meme stock that goes way, way up, only to come crashing down. It did check that box, but there's more to the story. Specifically, a connection to former President Donald Trump.
In brief, PHUN stock shot up as much as 2,300% in a single session a month ago. The rocket-like gain followed reports of the mobile phone SaaS (Software as a Service) company negotiating a still-unconfirmed advertising software deal with the former President and his Trump Media & Technology company. Trump Media & Technology is expected to go public via a special purpose acquisition company (SPAC) called Digital World Acquisition Corp (NASDAQ:DWAC).
But Phunware's rise from about $1 per share to a $24 mid-cap was short-lived even by the low standards of meme stocks. PHUN stock finished that session up just over 470% to close at $8.74. And PHUN has barely looked back, with the stock fetching $3.37 as of Wednesday's closing bell.
But while I see the optics for PHUN stock as mostly ugly monkey business to avoid, others see things differently.
In walking the aisle, InvestorPlace's Mark Hake embraced PHUN's lightening-quick decision to capitalize on the crowd. And management was correct in beefing up it's incredibly meager war chest of less than $3 million with a raise of more than $60 million.
That gives Phunware some obvious wiggle room to expand its business.
Also, Louis Navellier — a guy known to sniff out ten-baggers — is upbeat on PHUN's next-level "Multiscreen-as-a-Service" (M-a-a-S) success, as well as its diverse digital asset ambitions including investments, high-performance computers for mining and its very own blockchain ecosystem.
PHUN Stock Weekly Price Chart

Source: Charts by TradingView
There's little doubt many investors who bought into PHUN stock at its highs feel as though they've been cheated. Today though, the possibility of recouping some of those losses is growing. Still, I strongly suspect any reaction to the upside will be fleeting and fall well short of making the unluckiest of Phunware's shareholders whole.
Specifically, with Phunware testing January's GameStop (NYSE:GME) led meme rally high for support and possible nearby bullish stochastics crossover in neutral territory, a quick move towards $5, $6 or even $7 is possible.
But also appreciate that with few bears to squeeze, PHUN stock could just continue dribble lower back towards $1.
On the date of publication, Chris Tyler did not have (either directly or indirectly) any positions in the securities mentioned in this article. The opinions expressed in this article are those of the writer, subject to the InvestorPlace.com Publishing Guidelines.
Chris Tyler is a former floor-based, derivatives market maker on the American and Pacific exchanges. For additional market insights and related musings, follow Chris on Twitter @Options_CAT and StockTwits.
More From InvestorPlace
The post Phunware Won't Recapture That $24 Magic Anytime Soon appeared first on InvestorPlace.
Bradda Head Lithium will receive $10M from Lithium Royalty Corp
 
Bradda Head Lithium (BHL.L), which aims to advance its sedimentary lithium project in Arizona, has announced it was able to sign a royalty and investment…
Bradda Head Lithium (BHL.L), which aims to advance its sedimentary lithium project in Arizona, has announced it was able to sign a royalty and investment deal with Lithium Royalty Corp. The latter will subscribe for $2M in new shares priced at 7.7 pence, and will acquire a 2% Gross Overriding Royalty on the claims for a cash payment of US$8M.
The $8M cash payment will be staged: $2.5M will be paid on closing, an additional $2.5M will be paid once the company has outlined a resource of 1 million tonnes of lithium carbonate equivalent at a grade exceeding 800 ppm while the final $3M will be paid once Bradda Head confirms a resource of at least 2.5 million tonnes of LCE at the same grade.
This seems to indicate how 'desperate' Lithium Royalty Corp is to spend its cash. The project it's investing in doesn't even have a resource yet so even in a best case scenario, the project is at least a decade away from production. But of course, this bet could pay off nicely as a 2% GOR could potentially be very valuable should Bradda Head indeed define an economically viable project. Should the project produce 25,000 tonnes of LCE per year at an LCE price of $20,000/t (these are just theoretical assumptions of course), the 2% GOR will yield about $10M per year so although it is risky to purchase a royalty on a non-resource stage project, the risk/reward ratio looks interesting for Lithium Royalty.

Disclosure: The author has no position in Bradda Head. Please read our disclaimer.
Already-scarce battery & energy metals facing more pressure from fossil-fuel phase-out
2021.12.04
For all their successes building Europe's strongest economy, the Germans have made some pretty dumb moves regarding energy policy.
In 2002,…
2021.12.04
For all their successes building Europe's strongest economy, the Germans have made some pretty dumb moves regarding energy policy.
In 2002, Germany enacted a law to phase out nuclear power, but the government led by Chancellor Angela Merkel decided in 2010 to extend the lifetimes of the country's reactors by an average of 12 years. This was based on the judgment that Germany would not be able to meet its power demand using renewable energy sources – wind and solar power – nor could it meet the government's ambitious goal of a 40% reduction in carbon emissions by 2020 burning more coal and natural gas.
Then, playing populist politics and over-reacting to the partial meltdowns in Japan's Fukushima Daiichi nuclear complex, Merkel's government immediately shut down almost half of the country's nuclear power. Germany, overnight, decided 40% of its nuclear power capacity would be eliminated, and removed 8,800 megawatts (MW) from the grid; the remaining 12,700 MW of nuclear-supplied electricity will be gone by 2022.
The country rapidly approaching that deadline, Germany has moved to shut down six nuclear plants or 8.5 gigawatts (1GW = 1,000MW) by the end of next year. Three of its newest and best plants are due to close in just over a month, removing 4.05GW, equivalent to the average electricity consumption of Denmark, from northern Europe's power grid.
Germany also plans to take all its natural gas plants offline by 2038.
According to Clean Energy Wire, the country in the first six months of this year got 41.4% of its power from renewables; 17.8% from lignite, a form of coal; 16.7% from natural gas, 11.7% from nuclear and 8.4% from hard coal. 
The real surprise here is not that Germany is following through on its 20-year-old nuclear phase-out, but the fact that the energy sources designed to take its place are so inadequate.
"Energiewiende" (energy transition) refers to Germany's policy of increasing its share of renewables, and phasing out nuclear power, which before Fukushima amounted to about 25% of the country's total electricity load.
However Germany's production of solar and wind power has failed expectations, with the gap between supply and demand having to be met by nuclear and coal, and consumers faced with horrendous power bills.
A recent analysis by Verivox found that Germany's US$0.45 per kilowatt hour is the third-highest-priced electricity in the European Union (behind the Czech Republic and Romania) and more expensive that all the other G20 countries.
In 2021, due to unfavorable weather conditions, the country's production of wind and solar power for the first three quarters plummeted compared to the same period in 2020, with onshore wind producing 18% less, 14% less from offshore plants, and solar energy producing only half as much.
Despite energiewiende, Germany's energy sources this year were dirtier than previously, with hard coal consumption 20% higher from January to September and electricity and heat generation from hard coal increasing by 28%. (Germany has two types of coal, hard coal and lignite). Coal-fired power production is considered to be the worst form of electricity generation for the environment, despite power plant companies' use of scrubbers and claims of "clean coal".
The irony is, notwithstanding the country's disdain for fossil fuels and nuclear energy, if it wasn't for these traditional base-load sources, deployed to make up for the failure of solar and wind to deliver as expected, Germany would have been facing black-outs.
In fact parts of the country could still be plunged into darkness if Germany's ill-conceived plan to retire three nuclear power plants in the middle of winter without a reliable source of replacement power comes to pass.
Germany of course isn't the only country whose near-religious zeal to convert to clean energy has run up against astronomical power prices. Closer to home, we have the example of Ontario.
The provincial Liberals decided to build gas plants in Mississauga and Oakville as part of a commitment to end coal-produced power in Ontario. However after local opposition, they canceled the plants at a cost of CAD$1 billion. In 2015 under the watch of then-Premier Kathleen Wynne, an auditor general's report found that Ontarians had paid $37 billion more for power than they should have between 2006 and 2014, because the province had allowed exorbitant prices for wind, solar and other alternative energy sources.
Battery & energy metals
The shift to renewable energy and the electrification of the global transportation system doesn't happen without a major push to mine more metals. Copper for electric vehicle motors, charging stations and electrical transmission lines; lithium for Li-ion batteries; and graphite for the anode part of the battery are in high demand now, and the need for them is only going to increase, as governments push for stricter limits on greenhouse gas emissions in an effort to limit global temperature rise.
According to Bloomberg New Energy Finance (NEF), by 2030 consumption of lithium and nickel will be at least five times current levels, demand for cobalt used in EV batteries will be 70% higher, and copper, manganese, iron, phosphorous and graphite — all needed in clean energy technologies and to expand electricity grids — will see sharp spikes in demand.
This is nothing new from our perspective. AOTH has been covering the markets for these in-demand "future-facing metals" for years. High demand is occurring at the same time as a supply crunch is taking hold, particularly for copper, lithium and nickel, which is shoring up prices and driving the valuations of deposits containing these metals higher.
For example, the EV battery market alone is projected to consume well over 1.6 million tonnes of flake graphite per year, resulting in a 10-fold increase in demand by 2030. This is worrisome considering that total graphite mined in 2020 for all uses, including lump graphite for pencils and graphite used in nuclear reactors, was only 1.1 million tonnes.
It is estimated that the natural flake graphite market could reach a deficit as soon as 2023, with few new sources being developed around the world.
The prices of lithium carbonate and lithium hydroxide, both used in the Li-ion battery cathode, have soared this year on break-neck demand and tight supply. Benchmark Mineral Intelligence forecasts lithium demand to more than triple between 2020 and 2025, rising to an annual million tonnes and out-pacing supply by 200,000 tonnes.
Added to these structural supply deficits, supply chain bottlenecks relating to the covid-19 pandemic have further pressured prices, resulting in a disturbing trend for end-users known as "greenflation". Indeed the costs associated with "going green" are starting to become a serious concern.
While low costs in relation to fossil fuel sources have been a driving force of the clean energy boom, this is beginning to change. Higher prices of the commodities needed for renewable energy are increasing the costs of setting up green power projects.
According to a recent article in Oilprice.com,
A 2019 report from the nonprofit Rocky Mountain Institute found that it was cheaper to build and use a combination of renewables like wind and solar than to build new natural gas plants. Another 2020 report from Carbon Tracker found that in every single one of the world's energy markets, it's cheaper to invest in renewables than in coal.
But this remarkable trend has now gone into reverse gear, with prices of metals such as tin, aluminum, copper, nickel, and cobalt, which are essential to energy transition technologies, climbing between 20% and 90% this year, thanks to massive global supply chain disruptions.
The piece by Alex Kimani goes a step further in predicting that "metals have been tipped to become the oil of the future," with clean-energy technologies requiring more metals than their fossil fuel-based counterparts.
According to a recent Eurasia Review analysis, prices for copper, nickel, cobalt, and lithium could reach historical peaks for an unprecedented, sustained period in a net-zero emissions scenario, with the total value of production rising more than four-fold for the period 2021-2040, and even rivaling the total value of crude oil production.
Rising greenflation could prove to be a big problem for countries hoping to lighten their carbon footprints. That's because a colossal shift to renewables is seen as the only way of achieving climate neutrality by 2050, meaning rising costs could be "baked into" plans for electrification and decarbonization going forward.
According to BloombergNEF's New Energy Outlook, getting to "net zero" carbon emissions by 2050 will require rapid scaling of investment in the energy transition over the next 10 years.
It says over 75% of the effort to cut emissions falls to the power sector; and that if the world is even get close to achieving its net-zero goal, we must accelerate deployment of low-carbon solutions, meaning even more wind, solar, batteries and electric vehicles than are being planned currently.
The report says the following milestones will need to be hit 2030 to be on track for net-zero by 2050:
Add 505 gigawatts of new wind power each year to 2030 (5.2 times the 2020 total)
Add 455 gigawatts of solar PV each year to 2030 (3.2 times the 2020 total)
Add 245 gigawatt-hours of batteries each year to 2030 (26 times the 2020 total)
Add 35 million EVs added to the road each year to 2030 (11 times the 2020 total)
Reduce coal-fired power generation 72% from 2019 levels by 2030, and retire up to around 70%, or 1,417 gigawatts, of coal-fired power capacity by 2030
NEF's 'Green Scenario' requires an even more dramatic scale-up to renewables, with:
Wind: 25 terawatts in 2050, or average of 816 gigawatts installed per year to 2050
Solar: 20 terawatts in 2050, or average of 632 gigawatts installed per year to 2050
Batteries: 7.7 terawatt-hours in 2050, or average of 257 gigawatt-hours installed per year
One of the most important takeaways from New Energy Outlook 2021 is this statement:
Achieving net-zero carbon emissions by 2050 will require as much as $173 trillion in investments in the energy transition.
Part of that huge investment should be a significant, to put it mildly, earmarking of public and private money that would go into a major ramp-up of mining the materials required for making the global shift from fossil fuels to renewables.
The mining industry is going to need help in finding and developing new sources of copper, lithium and graphite, what I have deemed The Big Three Commodities of Electrification and Decarbonization.
Unfortunately, however, the task is being made that much harder by more supply-related curve balls being thrown.
Graphite
Let's start with graphite.
Tesla's Elon Musk has been complaining about the high cost of graphite needed to make electric-vehicle battery anodes. There is no substitute for this unique mineral, which along with diamonds, is the only source of natural carbon. Graphite is an excellent conductor of heat and electricity, making it an ideal anode material.
Tesla and SK Innovation, the Korean battery-maker building two new plants in the US, are among the hundreds of auto-industry players reportedly asking for tariff waivers on parts and materials imported from China.
The tariffs were imposed during the US-China trade war, most of which are still in place. Among them is a 25% levy on synthetic graphite.
As we have previously written, China really has the US over a barrel when it comes to graphite. Because China controls the market for coated spherical graphite, the only kind suitable for an EV battery's anode, the United States is 100% dependent on a foreign supplier. Tesla confirmed as much when it stated in a public comment, via CNBC, that only mainland China could provide the quantity of graphite it needs in flake or powder form to manufacture its batteries in the U.S.
"As a result of Tesla's due diligence process for suppliers of artificial graphite, globally and in the United States, Tesla has concluded that no company in the United States is currently capable of producing artificial graphite to the required specifications and capacity needed for Tesla's production," Tesla wrote.
The situation isn't going to get better anytime soon.
Doubts have been raised over whether China can keep up with surging global demand. The top graphite producer has already taken steps to retain its graphite resources by restricting its export quota and imposed a 20% export duty.
Metal Bulletin reported in October that Chinese graphite prices are likely heading higher in the last quarter of this year due to rising electricity costs and reduced power supply, as well as insufficient inventories and inadequate availability of feedstock for spherical graphite processing.
Lithium
The majority of the world's lithium brine production is in the "lithium triangle" spanning, Chile, Argentina and Bolivia. In 2020 Chile was the second-largest producer of the crucial battery ingredient, mining 18,000 tonnes.
Importantly, it is also the world's largest copper producer.
For many years Chile's pro-mining government made the country a focus for investment, however its recent lurch to the left is casting doubts on how much of a player the former bastion of free-market policies and privatization will be.
Currently in the midst of an election campaign, front-running leftist presidential candidate Gabriel Boric this week talked up his plans for a state lithium firm, and according to Reuters, slammed the Andean country's "historic error" of privatizing its resources.
Copper
Chile has also proposed legislation that would see copper mine profits taxed at 75%. State-owned Codelco is the world's largest red-metal producer in the world, and presumably is the model Boric envisions for creating a national lithium company.
Next door in Peru, the second-largest copper producer, the new leftist government led by Pedro Castillo is seeking to impose a 70% tax on copper mining profits, which would discourage further spending on existing and future projects.
Resource nationalism of a different sort has forced the closure of one of the country's largest copper mines. Chinese miner MMG will reportedly end production from Las Bambas by mid-December following months-long road blockades that have prevented supplies from reaching the operation.
A dirt road used to transport copper is at the heart of the dispute with local communities, who want compensation for the land used to build the road and alleged damage to their crops. In all 400 production days have been lost since 2016, including a three-week-long roadblock protest at the end of 2020 that prevented MMG from exporting 189,000 tonnes of copper concentrate worth $530 million.  
Meanwhile in the DRC, Africa's top copper producer, the Chinese embassy is apparently telling its nationals to leave three provinces where mining takes place, following a spate of attacks on Chinese working in the country's mining industry.
According to Texas-based geopolitical consultancy Stratfor, an attack on Nov. 24 against an artisanal gold mine in Ituri province left four people dead, including two Chinese nationals. The other two provinces of concern are North Kivu and South Kivu, where small-scale artisanal mining is common.
Infamous for its wars, child labor and appalling working conditions, last year about 1,300 civilians were killed in the DRC over eight months, involving armed groups and government forces in the eastern part of the country. More than half a million were forced from their homes.
Militants often attack villages as a ruse for stealing metals and selling them on the black market.
The attack on Chinese marks a new development in conflict-ridden Africa, where Chinese companies have tried to win local support for mining through the building of schools, water systems, roads and other infrastructure. Perhaps that is not enough anymore and the locals are getting more desperate.
Conclusion
All of the above manifestations of resource nationalism — Chinese mining employees being attacked in the DRC, copper producers in Chile and Peru facing higher taxes, a possible nationalization of Chile's lithium industry, and Chinese quotas/ export duties on graphite — are on top of existing structural supply issues for key electrification & decarbonization graphite, lithium and copper. Anti-mining governments or governments that don't appear to govern at all, like the DRC, make increasing mine output to meet higher demand all that much harder.
And with decarbonization agendas being rolled out by several countries including the United States, which just passed $2.8 trillion in new infrastructure and climate-related investments, the demand side of the equation is only going to strengthen.
(While some US politicians like Alaska Sen. Lisa Murkowsi "get" the need to support a "mine to battery to EV" supply chain in North America, the best the US government can is to provide consumer incentives. For example Joe Biden's Build Back Better Act would raise the EV purchase credit to $12,500 from $7,500, making it one of the most aggressive EV incentives in the world)
They need to do more.
Countries like Germany are phasing out nuclear and coal-fired plants but have not yet achieved the renewable power capacity needed to replace shuttered power-generation facilities.
Yet the only plan in town, so to speak, is renewables, if the goal of net-zero carbon emissions by 2050 is to be met.
This means an incredible ramp-up of renewable power is needed, with all the required metals that go along with that.
Without security of supply, though, it's all but impossible for mining companies to reach that level of production. As the example of Tesla and graphite has shown, the total dependence on Chinese graphite imports for making electric cars in the United States means the only way of lowering costs is to urge the US government to reduce tariffs on what is increasingly becoming a hostile power whose geopolitical interest are counter to America's and most Western countries. (the US also relies on Russia for many critical metals, such as palladium and nickel)
The trick is sourcing production locally, instead of relying on foreign suppliers and paying exorbitant shipping costs to get the raw materials from battery-making facilities in Asia to North American auto assembly plants.
There are no doubt several companies with the capability of adding to a North American battery supply chain. We could actually start building a locally-sourced, locally-made battery supply chain, from mine to battery to electric car.
Richard (Rick) Mills
aheadoftheherd.com
subscribe to my free newsletter
Legal Notice / Disclaimer
Ahead of the Herd newsletter, aheadoftheherd.com, hereafter known as AOTH.
Please read the entire Disclaimer carefully before you use this website or read the newsletter. If you do not agree to all the AOTH/Richard Mills Disclaimer, do not access/read this website/newsletter/article, or any of its pages. By reading/using this AOTH/Richard Mills website/newsletter/article, and whether you actually read this Disclaimer, you are deemed to have accepted it.
Any AOTH/Richard Mills document is not, and should not be, construed as an offer to sell or the solicitation of an offer to purchase or subscribe for any investment.
AOTH/Richard Mills has based this document on information obtained from sources he believes to be reliable, but which has not been independently verified.
AOTH/Richard Mills makes no guarantee, representation or warranty and accepts no responsibility or liability as to its accuracy or completeness.
Expressions of opinion are those of AOTH/Richard Mills only and are subject to change without notice.
AOTH/Richard Mills assumes no warranty, liability or guarantee for the current relevance, correctness or completeness of any information provided within this Report and will not be held liable for the consequence of reliance upon any opinion or statement contained herein or any omission.
Furthermore, AOTH/Richard Mills assumes no liability for any direct or indirect loss or damage for lost profit, which you may incur as a result of the use and existence of the information provided within this AOTH/Richard Mills Report.
You agree that by reading AOTH/Richard Mills articles, you are acting at your OWN RISK. In no event should AOTH/Richard Mills liable for any direct or indirect trading losses caused by any information contained in AOTH/Richard Mills articles. Information in AOTH/Richard Mills articles is not an offer to sell or a solicitation of an offer to buy any security. AOTH/Richard Mills is not suggesting the transacting of any financial instruments.
Our publications are not a recommendation to buy or sell a security – no information posted on this site is to be considered investment advice or a recommendation to do anything involving finance or money aside from performing your own due diligence and consulting with your personal registered broker/financial advisor.
AOTH/Richard Mills recommends that before investing in any securities, you consult with a professional financial planner or advisor, and that you should conduct a complete and independent investigation before investing in any security after prudent consideration of all pertinent risks.  Ahead of the Herd is not a registered broker, dealer, analyst, or advisor. We hold no investment licenses and may not sell, offer to sell, or offer to buy any security.
Lithium Prices Continue to Soar – Deals In The Space Are Accelerating
Lithium, a key component of the cathode in most electric vehicle (EV) batteries, is not only perhaps the best performing
The post Lithium Prices Continue…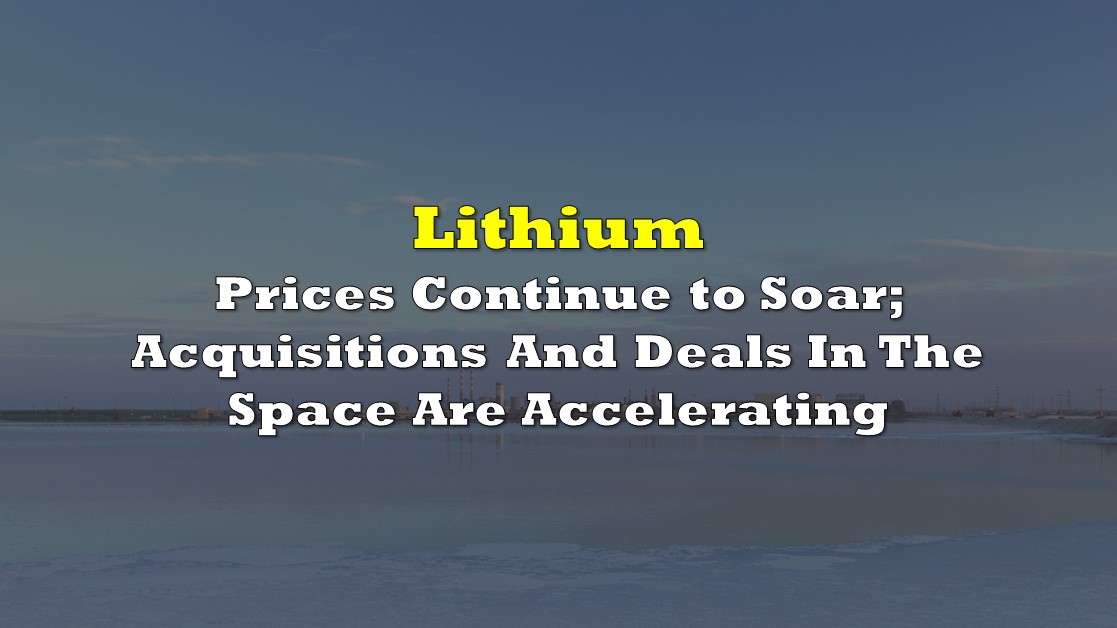 Lithium, a key component of the cathode in most electric vehicle (EV) batteries, is not only perhaps the best performing commodity in 2021, but also among the best performing assets of any type this year. Battery grade lithium carbonate prices have approximately quadrupled since December 31, 2020, and the pace of the increase has accelerated over the past few months.
According to China Central Television, this increase in lithium carbonate pricing has increased the cost to produce a battery-powered vehicle by nearly US$500. By comparison, through early October, Bitcoin, with a 49% return, was the broad asset class with the greatest year-to-date appreciation.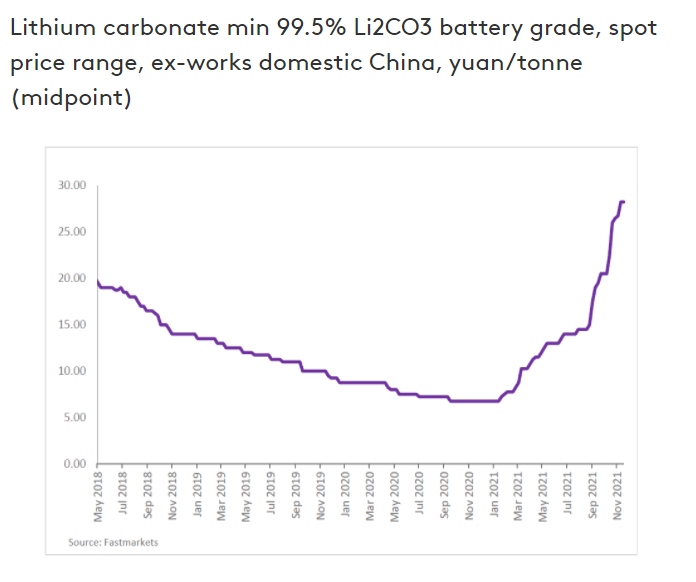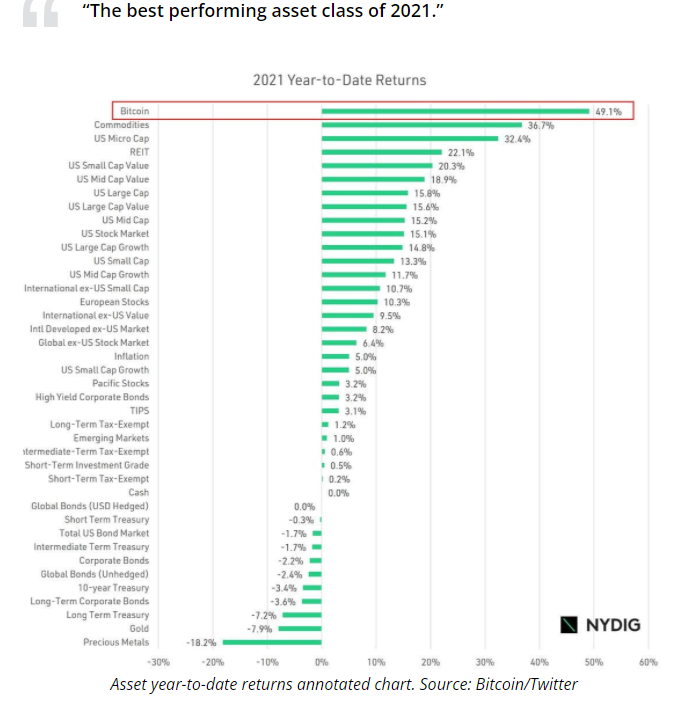 A passage in Fastmarkets, a publication which chronicles prices and supply-demand characteristics of many commodities, discussing the status of the lithium market in late November is telling: "A Chinese distributor active in southern Europe that sources lithium technical-grade carbonate said that producers he dealt with preferred to discuss short-term supply contracts rather than committing to long-term contracts on expectations that prices will continue to rise."
The supply-demand lithium situation has prompted many lithium producers and EV manufacturers, particularly China-based companies, to secure future lithium production capacity. This is the case despite China's possessing the fourth largest lithium reserves in the world (primarily in its remote Tibet and Qinghai provinces). Indeed, China imports about 70% of its lithium from foreign producers. As U.S.-based EV OEMs ramp up production, they will have to source all lithium from overseas producers as no lithium mines are currently operational in America.
Over the last few months, Ganfeng Lithium, one of the world's leading lithium producers, and battery maker Contemporary Amperex Technology Co., Limited (CATL), China's second largest company by stock market value, attempted to acquire Millennial Lithium Corp. (TSXV: ML). Millennial Lithium owns a lithium brine development project in Argentina. Another lithium company, Lithium Americas Corp. (TSX: LAC) ultimately outbid both Chinese companies for Millennial.
In September, Ganfeng bought the 9% stake it did not own in another lithium brine project in Argentina called the Mariana project. Mariana is less than 140 kilometers south of Atacama Salar in Chile, the largest producing lithium brine deposit in the world.
In October, Zijin Mining Group, a China-based gold, copper and zinc producer, decided to enter the lithium mining business when it reached a deal to buy Neo Lithium Corp. (TSXV: NLC) for around US$750 million in cash. Neo's lithium brine project in Catamarca, Argentina is one of the highest-grade projects of its kind.
In early November, Do-Fluoride New Materials of China agreed to supply lithium hexafluophosphate (LiPF6) to BYD, a China-based EV OEM, for four years beginning in January 2022. The supply price was not disclosed.
Finally, on November 29, Stellantis NV (NYSE: STLA), the parent of Fiat Chrysler and Peugeot, signed a five-year agreement starting in 2026 with Germany-based Vulcan Energy Resources Ltd. Vulcan, which plans to utilize clean geothermal energy to produce battery-quality lithium hydroxide, will supply 81,000 to 99,000 tonnes of that material to Stellantis. The accord is predicated on the future successful start of production at Vulcan and full product qualification.
As an aside, even Albemarle Corp. (NYSE: ALB; market cap of US$31 billion), the world's largest lithium miner, does not rule out acquiring smaller lithium producers, according to Eric Norris, its head of lithium, in an early November interview with Yahoo Finance.
Investors may want to consider two smaller lithium developers, Lithium Americas Corp. and Sigma Lithium Corporation (NASDAQ: SGMA). The flagship lithium properties for both companies, located in Argentina and Brazil, respectively, are expected to commence production in 2022.
And this is just the start. With the price of lithium expected to continue to rise, more transaction of this nature are surely to arise as global producers look to secure their supply chains in an increasingly electrified world.     
---
Information for this briefing was found via Edgar and the companies mentioned. The author has no securities or affiliations related to this organization. Not a recommendation to buy or sell. Always do additional research and consult a professional before purchasing a security. The author holds no licenses.
The post Lithium Prices Continue to Soar; Acquisitions And Deals In The Space Are Accelerating appeared first on the deep dive.
tsx
tsxv
nyse
nasdaq
lithium
zinc
tsxv-sgml
sigma-lithium
sigma lithium