Provisions In U.S. Infrastructure Bill Could Suggest That ChargePoint is Ahead of Itself
Shares of ChargePoint Holdings, Inc. (NYSE: CHPT), a leading maker of electric vehicle (EV) charging stations, have rallied more than
The post Provisions…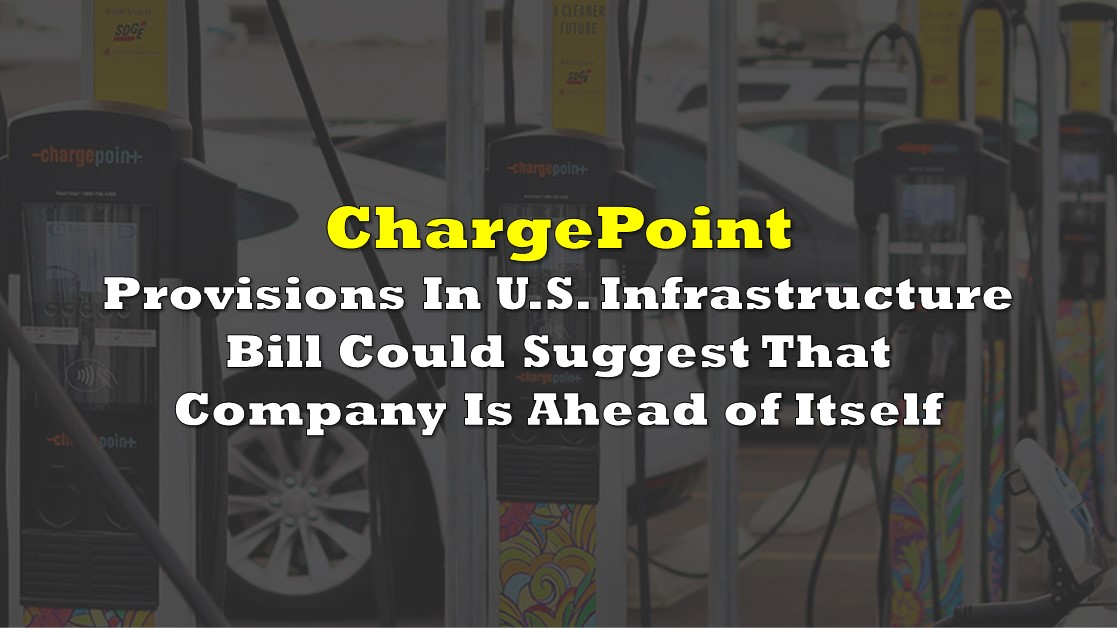 Shares of ChargePoint Holdings, Inc. (NYSE: CHPT), a leading maker of electric vehicle (EV) charging stations, have rallied more than 40% since early October, first on the anticipation of a US$1+ trillion infrastructure bill passing out of the U.S. Congress and then on its actual passage on November 5. The legislation includes US$7.5 billion in federal grants to build a national network of charging stations.
ChargePoint's move, which boosted its stock market capitalization by about US$2.5 billion, may not be fully merited given some of the details of the legislation. (No one generally wants to see how the meatloaf gets made.) A few details of the EV provisions in the infrastructure bill are as follows:
The US$7.5 billion in federal grants is about half of the US$15 billion that President Biden cited during his campaign as the amount necessary to build 500,000 charging stations across the U.S. According to the International Council on Clean Transportation, the U.S. would require about 2.4 million stations by 2030 if about 36% of new car sales were electric. In 2020, just 216,000 stations were in place. (Edmunds.com estimates that in the first six months of 2021, only 2.2% of vehicle sales in the U.S. were electric.)
DC fast charge ports, which can charge a vehicle to around 80% of its capacity, cost about US$40,000 – US$100,000. More conventional 240-volt chargers have a price tag in the US$2,000 vicinity, but those chargers can take eight hours to charge a car. ChargePoint has more than 118,000 charging points in North America and Europe, including 3,700 DC fast charge ports.
The US$7.5 billion in grants will be passed out fairly slowly. About US$5 billion of it will be doled out in approximate US$1 billion annual amounts over the next five years. Allocations to each state will generally be made based on state-by-state population. The remaining US$2.5 billion is a competitive grant program to be passed out by the federal government over five years based on "strategic needs." It may take a year for the first portion of this money to be distributed.  
On September 1, ChargePoint reported 2Q FY22 (quarter ended July 31, 2021) revenues of US$56.1 million versus US$40.5 million in the year-ago period. In turn, the company raised its full year FY22 guidance (year ending January 2022) to US$225 – US$235 million from its previous US$195 – US$205 million outlook. 
With its recent rally, ChargePoint's enterprise value is approximately US$7.7 billion. This implies the ratio of its enterprise value-to-calendar 2021 revenue is in the vicinity of 33x, an extraordinarily high figure and a valuation which may not be sustainable regardless of the company's growth prospects.
| | | | | | |
| --- | --- | --- | --- | --- | --- |
| (in thousands of US dollars, except for shares outstanding) | 2Q FY22 | 1Q FY22 | 4Q FY21 | 2Q FY21 | 1Q FY21 |
| Revenue | $56,121 | $40,510 | $42,391 | $34,957 | $32,776 |
| Operating Income | ($74,288) | ($46,598) | ($35,320) | ($23,530) | ($29,552) |
| Operating Cash Flow | ($23,232) | ($37,966) | N/A | ($15,375) | ($34,694) |
| Cash | $618,089 | $609,809 | $145,491 | N/A | N/A |
| Debt – Period End | $21,582 | $22,866 | $57,353 | N/A | N/A |
| Shares Outstanding (Millions) | 322.0 | 305.1 | N/A | N/A | N/A |
Despite the revenue improvement, ChargePoint seems unlikely to generate positive operating income or operating cash flow for some time. Indeed, the company's operating loss expanded to US$74 million in 2Q FY22 from US$47 million in the April 2021 quarter.  
Similarly, its 2Q FY22 operating cash flow shortfall was US$23 million versus a smaller US$15 million deficit in 2Q FY21. ChargePoint has been in business since 2007 but has yet to record a quarterly profit. The company is expected to report 3Q FY22 results in late November or early December.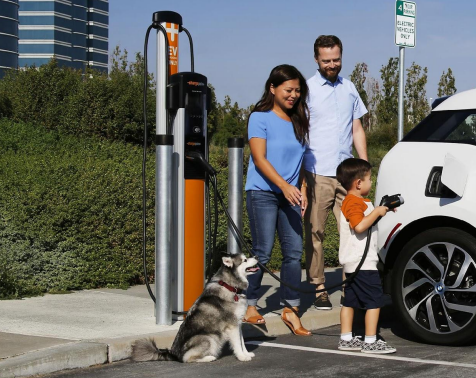 ChargePoint is a product of a SPAC merger with SPAC sponsor Switchback Energy. The merger closed in late February 2021.
ChargePoint stock has benefitted from the market's recent re-embrace of the EV industry and has paid little attention to the valuations accorded to many EV-related stocks. It is of course possible that this trend continues.
Passage of the U.S. infrastructure is clearly a positive for ChargePoint and the overall EV industry. However, the money will be distributed at perhaps a slower pace than investors appreciate. This could suggest that ChargePoint stock, after a sharp upward move, may be ahead of itself.
 ChargePoint Holdings, Inc. last traded at US$26.90 on the NYSE.
---
Information for this briefing was found via Edgar and the companies mentioned. The author has no securities or affiliations related to this organization. Not a recommendation to buy or sell. Always do additional research and consult a professional before purchasing a security. The author holds no licenses.
The post Provisions In U.S. Infrastructure Bill Could Suggest That ChargePoint is Ahead of Itself appeared first on the deep dive.
Go From Zero to 60 with an Early-Stage Stake in Fisker
While electric vehicle (EV) start-up Fisker (NYSE:FSR) certainly isn't the only company with unique vehicles, it has generated a lot of press coverage….
While electric vehicle (EV) start-up Fisker (NYSE:FSR) certainly isn't the only company with unique vehicles, it has generated a lot of press coverage. It's not difficult to find commentators talking about FSR stock with both positive and negative reviews.
Source: T. Schneider / Shutterstock.com
You've probably heard about the the $1 trillion infrastructure bill that just passed, which will allocate $7.5 billion toward vehicle electrification. It's reasonable to expect Fisker and its stakeholders to benefit from this event.
On the other hand, other electric vehicle companies will also benefit from this historic legislation. The question then revolves around whether FSR stock, in particular, offers compelling value to investors.
Fortunately, Fisker provided a definitive response to this question not long ago. By unveiling the company's potentially game-changing electric SUV, Fisker's not just talking about the EV revolution – it's fighting the battle on the front lines.
A Closer Look at FSR Stock
FSR stock is back. Actually, it never went away, but the stock appears to be staging a strong, bullish comeback. On Sept. 13, I predicted that the Fisker share price could double from where it was at that time. The stock was trading at around $13.60 then.
As of Nov. 23, FSR stock had already ramped up to $20.10. That's not quite a 2x move, but bear in mind the stock did reach $23.68 just one week earlier.
Therefore, I'm still going to pound the table for investors to consider a long position in Fisker. After all, the share price has rallied as high as $31.96 during the past 12 months.
As the old saying goes, the trend is your friend. After struggling for a while in 2021, FSR stock is now trending to the upside, so this could be the breakout moment that the loyal shareholders have been waiting for.
Don't Forget the Financials of FSR Stock
We'll certainly take a peek at the specifications of Fisker's recently unveiled all-electric SUV, which so many people are talking about now. However, I would never recommend investing in a stock unless you've checked under the hood of the company, financially speaking.
Now, I'm not saying that Fisker's third-quarter 2021 results are going to make everyone smile. Indeed, the company's quarterly net earnings loss of $109.8 million is going to be off-putting to some folks.
Yet, Fisker's fans know the deal. This is a company with no earnings now, as it's still getting ready to start mass-producing and selling its EVs to the public.
At least we can say that Fisker is in a solid capital position, with cash and cash equivalents of $1.4 billion as of Sept. 30. The company had $962 million as of June 30, so we're witnessing a rapid improvement in that area.
Dive Head-first into the Ocean
And now, the moment so many Fisker fans have been waiting for: the unveiling of the production-intent version of the Ocean SUV.
This event took place with much fanfare at the Los Angeles Auto Show. As you would expect, Chairman and CEO Henrik Fisker was present and issued some enthusiastic commentary.
"Our mission is to create the world's most innovative and sustainable vehicles that are also affordable, and it all starts with the Fisker Ocean as we fully embrace a clean future for all," Fisker declared.
People use the word "affordable" a lot, but the Fisker Ocean is actually reasonably priced. The all-wheel-drive Fisker Ocean Ultra costs $49,999, while the all-wheel-drive Fisker Ocean Extreme is priced at $68,999.
There were plenty of bragging points at the Ocean presentation, including:
California Mode, which provides a near-convertible SUV experience
Fisker's SolarSky roof, available on select models
An infotainment interface
22-inch F3 SlipStream wheels
Battery packs with a nickel manganese cobalt cell chemistry
EPA ranges for the Fisker Ocean Ultra and Fisker Ocean Extreme of approximately 340 miles and over 350 miles, respectively
The Bottom Line on FSR Stock
It's fair to say the Los Angeles Fisker Ocean unveiling was a huge success. People are talking about the company, and it appears a comeback is afoot with FSR stock.
When the Ocean SUV starts production on Nov. 17, 2022, there will likely be another burst of excitement. Knowing this, you might want to take a position in the stock long before that happens.
On the date of publication, David Moadel did not have (either directly or indirectly) any positions in the securities mentioned in this article. The opinions expressed in this article are those of the writer, subject to the InvestorPlace.com Publishing Guidelines.
David Moadel has provided compelling content – and crossed the occasional line – on behalf of Crush the Street, Market Realist, TalkMarkets, Finom Group, Benzinga, and (of course) InvestorPlace.com. He also serves as the chief analyst and market researcher for Portfolio Wealth Global and hosts the popular financial YouTube channel Looking at the Markets.
More From InvestorPlace
The post Go From Zero to 60 with an Early-Stage Stake in Fisker appeared first on InvestorPlace.
Lucid Motors Very Well May Be the Next Tesla, But There's a Catch
Lucid Motors (NASDAQ:LCID) has completely taken the world by storm. Or at least, the electric vehicle (EV) world, when it comes to the stock market. LCID…
Lucid Motors (NASDAQ:LCID) has completely taken the world by storm. Or at least, the electric vehicle (EV) world, when it comes to the stock market. LCID stock has seen an explosive move to the upside, rallying roughly 125% over the past month.
Source: T. Schneider / Shutterstock.com
Is that run about to come to an end? On Wednesday we were able to size up the perfect reversal trade in Lucid. 
As satisfying as it was to nail a trade like that, it's only because it was a great risk/reward opportunity. It doesn't mean LCID stock is a screaming short and it doesn't mean that shares can't push to new all-time highs. 
More importantly, Lucid has investors asking a question we haven't heard in a while: Can it be the next Tesla (NASDAQ:TSLA)?
Can Lucid Be the Next Tesla?
The answer very well could be a resounding "Yes!" 
Notice how we said "the next Tesla." That's a very important distinction because it's not saying that Lucid will displace or dethrone Tesla as the EV leader. It's simply a question of whether another disruptor can enter the space and carve out a dominant position within it. 
It's debatable whether it's easier now ten years after Tesla forged its way into the auto industry — or if it's harder. 
On the one hand, Tesla has done a bulk of the heavy lifting. It transformed consumers' view of electric vehicles and forced traditional automakers to make investments in the space. Charging companies, increased infrastructure spending on EV and far better technology has resulted. 
While all of this will make Lucid's entrance easier, it also faces a heck of a lot more competition. 
Tesla's the 800-lb gorilla in the room — or if you'd rather, the $1 trillion company — and has multiple global production facilities, impressive growth, robust financials and a massive lead in the EV market. 
Looking past Tesla, there's a whole host of new EV-specific companies in the space. They include several SPACs, but there's also Nio (NYSE:NIO), Rivian (NASDAQ:RIVN), Fisker (NYSE:FSR), Xpeng (NYSE:XPEV), presumably Apple (NASDAQ:AAPL) and others. Then there's the entire traditional auto space, which has a near-endless budget and now knows it has to go hard into electric vehicles if it wants to have a chance. 
In short, competition will be the most difficult it's ever been. 
Can Lucid Motors Compete?
CEO Peter Rawlinson isn't a noobie. He was the chief engineer for Tesla's Model S before leaving the company almost 10 years ago. Now, he's making a serious charge as the head of his own company. 
The Lucid Air is just starting to roll off the production line and it's doing so with plenty of fanfare. The vehicle just won MotorTrend's coveted Car of the Year award. "It's a major vote of confidence for one of the most promising up-and-coming challengers to Tesla. It also marks the first time that MotorTrend has given the title to a carmaker's inaugural product," BusinessInsider's Tim Levin wrote.
That's pretty impressive stuff — but so is this car.
The Lucid Air has an EPA-estimated 520 miles of driving range and over 1,100 horsepower available. This range really spanks all of Tesla's vehicles (even the long-range versions). 
Obviously there's more than horsepower and driving range to consider, but the Lucid Air goes a long way to making a strong case for its specs. Of course, Lucid now has to grapple with many of the similar problems that Tesla has faced in the past. That includes ramping production, growing its orders and being mindful of its financials. 
That said, it currently commands a market cap of more than $80 billion, which is a rather obnoxious figure given that it's barely generating any revenue. 
Still, the question is: Can Lucid compete and the answer is yes, it can. So with that answered, it's also true that Lucid can be the next Tesla if it executes well. 
There is one caveat: While Lucid can be the next Tesla in the EV world, I don't know that LCID stock can be the next TSLA stock. Meaning, I don't foresee it generating a $1.2 trillion market capitalization any time soon. 
The Bottom Line on LCID Stock

Click to EnlargeSource: Chart courtesy of TrendSpider
The company is forecast to generate just over $80 million in sales this year. Lucid recently said it can do $2.2 billion in revenue in 2022. At that time, analysts were only looking for $1.7 billion in sales. Estimates now call for roughly $2 billion in sales. Those estimates climb to more than $4.3 billion in 2023. 
In other words, it's possible that current expectations are conservative — again, if the company can execute. 
That said, 41.5 times 2022 sales is expensive and 20 times 2023 is also pretty "full." I mean, quality high-growth software companies with huge tangible address markets (TAM) and fat margins rarely see these types of valuations. 
What makes us think there's considerable upside in an automaker with this type of valuation, no matter how good the product is? 
Lucid Motors may very well be the next Tesla, but LCID stock may very well need a pullback before being a buy. 
On the date of publication, Bret Kenwell did not have (either directly or indirectly) any positions in the securities mentioned in this article. The opinions expressed in this article are those of the writer, subject to the InvestorPlace.com Publishing Guidelines.
Bret Kenwell is the manager and author of Future Blue Chips and is on Twitter @BretKenwell. 
More From InvestorPlace
The post Lucid Motors Very Well May Be the Next Tesla, But There's a Catch appeared first on InvestorPlace.
Irrational Exuberance in Lucid Group Is a Valuable Lesson for Investors
Lucid Group's (NASDAQ:LCID) stock price performance in 2021 can be described with only two words: "irrational exuberance." Former Federal Reserve…
Lucid Group's (NASDAQ:LCID) stock price performance in 2021 can be described with only two words: "irrational exuberance." Former Federal Reserve Board chairman Alan Greenspan used to mention the phrase often. LCID stock saw gains of more than 400% and is priced around $52 today.
Source: ggTravelDiary / Shutterstock.com
For those who are unfamiliar, Lucid is an electric vehicle (EV) company. In the past month, its stock more than doubled as per MarketWatch data. In light of these considerable returns, here is what you should know about this EV play.
LCID Stock Is Overvalued Despite Gains
I have written three articles on Lucid — two when it was still Churchill Capital Corp IV stock, and one after it made its trading debut as LCID stock in early September. All three articles share one common factor: my concern that Lucid Group is overvalued.
History has proved me wrong, though, as this EV company has rallied ever since. But value is not the same as price, and the facts still indicate LCID stock is extremely overvalued.
Last week, Lucid's market capitalization was measured to be higher than Ford's (NYSE: F) value of $79 billion and almost the same as General Motors' (NYSE:GM) market cap of $93 billion. This is insane not because I say so, but because the valuation is disconnected from reality. Lucid has just started its production phase, with all excitement, risks and problems that come with it.
In my last article, I summed up my concerns about LCID stock:
"Call it FOMO, FUD, or whatever fancy acronym you want. I call it two things. A greater fool's theory game and a return to logic and reality. It is for these reasons that I dislike "meme" stocks.
… As a result, I am still very reluctant about LCID stock. Until I see solid financial results I consider it too pricey, too risky and now too overestimated."
What are these solid financial results that I expect? Profitability, positive free cash flow and strong margins, but also liquidity and efficiency performance. When a newcomer such as Lucid enters the market, what is its efficiency related to its capital and assets used?
The Good and Bad News From Q3 Earnings
We now have the first earnings report since the trading debut of LCID stock, and some highlights to analyze.
First of all, the Lucid Air sedan was named MotorTrend's Car of the Year for 2022. Additionally, customer reservations increased to 13,000 with an order book of approximately $1.3 billion for the third quarter. Since then, the number of orders has increased by at least 4,000. Finally, Lucid ended Q3 with about $4.8 billion in cash on its balance sheet.
The net loss attributable to common stockholders for the nine months ended Sept. 30 was $3.7 billion. Meanwhile, Lucid's loss from operations in the same period was more than $1 billion. As expected, the numbers were much higher and much worse than the figures for the nine months ended Sept. 30, 2020.
Why? The answer lies in another argument below about the economic lesson of Lucid Group.
Is Lucid an Example of an Unhealthy Stock Market?
Matt Maley, Miller Tabak's chief markets strategist, has argued that the price surges of Lucid and Rivian (NASDAQ:RIVN) are "a sign of an unhealthy stock market." Maley elaborated on his concerns:
"this market is being run by liquidity, and much less so than on economic growth or earnings growth. This liquidity is going to become less plentiful and people need to be preparing for how they will react when this market starts to come down at point. It's inevitable, and I think will come down at some point in the next 12 months."
I agree with him 100%. I will add that ignoring valuations, especially for newcomers such as Lucid and Rivian, is a very risky game that leads to violently burst stock market bubbles.
The market at its best is all about results — real financial results. But right now, it operates simply on hopes, dreams and estimates, along with tons of enthusiasm about EV stocks.
Considerable caution is needed, plus a return to the basics of a solid market approach. From that angle, what makes any stock valuable? It is its real financial performance, profits, earnings, growth and the "derivative" of its products.
LCID Stock Is a Valuable Economic Lesson
In any business, the average cost (AC) is the sum of the average fixed cost and the average variable cost. The AC curve is U-shaped. It reaches a minimum point that represents the optimal capacity for a given output.
If a business is expanding its output, it operates above capacity and the AC curve starts rising. This is what Lucid is doing now. It expanded its plant capacity and wants to build 20,000 cars in 2022. Its costs can only go higher.
What does this mean for its profitability? As its costs will rise, profit margins should remain under pressure. Businesses need to find the optimal capacity of production to reach profitability.
Simply pursuing higher production numbers puts companies at risk of being unprofitable for several years while burning cash to support expansion. I reckon Lucid will need plenty of time to reach profitability if we assume it follows the example of Tesla (NASDAQ:TSLA).
Can investors continue to ignore Lucid losing money for several quarters, or even years? I believe they cannot, so be wary of LCID stock's lofty valuation.
On the date of publication, Stavros Georgiadis, CFA  did not have (either directly or indirectly) any positions in the securities mentioned in this article. The opinions expressed in this article are those of the writer, subject to the InvestorPlace.com Publishing Guidelines.
Stavros Georgiadis is a CFA charter holder, an Equity Research Analyst, and an Economist. He focuses on U.S. stocks and has his own stock market blog at thestockmarketontheinternet.com/. He has written in the past various articles for other publications and can be reached on Twitter and on LinkedIn. 
More From InvestorPlace
The post Irrational Exuberance in Lucid Group Is a Valuable Lesson for Investors appeared first on InvestorPlace.