South Australia experiences negative electricity demand thanks to renewables
South Australia's gigawatt-scale grid reached zero demand on Sunday when the combined output of rooftop solar PV and other non-scheduled generators exceeded…
South Australia's gigawatt-scale grid reached zero demand on Sunday 21 November when the combined output of rooftop solar PV and other non-scheduled generators exceeded local customer load demands.
This is the first time that a gigawatt-scale grid has achieved this landmark event, noted RenewEconomy. This event was brought about when minimum operational demand hit a new record low of 104MW, down 45% from the previous record of 188MW on 31 October 2021.
Between 1PM to 1:30PM on Sunday, the estimated rooftop solar PV output was 1,220MW, accounting for 92% of the region's underlying electricity demand, according to Australian Energy Market Operator (AEMO).
At 1:05PM, AEMO stated that it was directing approximately 120MWs of gas to maintain power system stability in South Australia with the high proportion of renewable energy generation.
In addition to the 120MW of directed gas generation, a further 16MW of gas, 130MW of wind and 46MW of grid solar generation in South Australia was bidding into the National Electricity Market (NEM).
All of this electricity, and 38MW of excess rooftop solar PV, was exported into Victoria via the two interconnectors for consumption in the NEM.
Have you read?
ARENA releases bioenergy roadmap for Australia
Australia adds ultra-low-cost solar to latest low emissions tech statement
This resulted in a scheduled demand of -38MW and a total demand of -46MW, when accounting for interconnector electricity losses, as displayed through AEMO's market management system.
AEMO Executive General Manager Operations, Michael Gatt, said: "South Australia had negative electricity demand on Sunday for several five-minute trading intervals, which is a first for the NEM.
"This happened because the combined volume of surplus rooftop solar PV and non-scheduled solar and wind generation was greater than electricity consumed in South Australia.
"The NEM performed as expected during this unique event, made possible by directing gas plants to maintain system strength and capacity available via the Victoria-South Australia interconnectors to spill the excess rooftop solar and dispatch the 350MW of electricity sold into the NEM," he said.
The milestone achieved on Sunday is the latest in a series of achievements in South Australia, a region leading the country in solar and wind energy deployment.
The post South Australia experiences negative electricity demand thanks to renewables appeared first on Power Engineering International.
With Fisker Up 33% in November, Is There Still Room for Growth?
Electric vehicle (EV) company Fisker (NYSE:FSR) has had a roller-coaster year. But now with 2021 reaching a close, FSR stock is on a roll. Specifically,…
Electric vehicle (EV) company Fisker (NYSE:FSR) has had a roller-coaster year. But now with 2021 reaching a close, FSR stock is on a roll. Specifically, the month of November was big for the company, highlighted by an Ocean EV unveiling at the LA Auto Show. FSR stock closed out October at $16.05. By the last day of November, it was worth $21.39. That's a 33% gain — not bad for one month.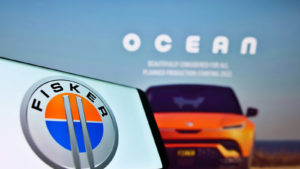 Source: T. Schneider / Shutterstock.com
Can the climb continue? After all, although we have finally seen a completed version of the vehicle, the Fisker Ocean is still a year from production in November 2022.
A lot could go wrong between now and then. It's also possible that the excitement over the Ocean's debut has boosted FSR stock to a point where further gains are unlikely, at least in the short term. As such, it's time to take a closer look at this Portfolio Grader "C" rated stock and see if it deserves a spot in growth-oriented portfolios.
FSR Stock: The Ocean Is Real and Consumers Are Onboard
The start of 2020 was not long ago, but it was the beginning of a new era. Tesla (NASDAQ:TSLA) had begun ramping up to mass production levels. In 2019, the EV maker delivered 367,500 vehicles, up 50% from the prior year. Further, a total of 2.1 million EVs had been sold globally in 2019 as well. Meanwhile, CEO Henrik Fisker was preparing for CES 2020 with his prototype battery-powered Ocean SUV.
Details were lacking at CES and Fisker's claims were taken with a big grain of salt. For instance, an article in The Verge noted that Fisker was known for "ambitious vision" but also had a reputation for his "trouble executing."
Fast forward to November 2021.
Climate change reality is hitting home. Now, the White House is pushing to make half of all vehicles sold in the U.S. zero-emission certified by 2030. That means there will be a lot of EVs. One recent report put the value of the global EV market at over $2.49 trillion by 2027.
So, now publicly traded, Fisker is capitalizing on these catalysts by showing off its production-ready Ocean SUV. The battery-powered Fisker Ocean starts at $37,499 and can be had for just $379 per month on a flexible lease. Plus, it's not just any old EV — the model is also one of the world's most sustainable vehicles, thanks to features like a vegan leather interior and its extensive use of recycled materials.
The fact that FSR stock got a bump in November is really a no-brainer, then. But more importantly, Fisker is showing every sign that it's executing.
The Bottom Line on FSR Stock
It's easy to see the potential in Fisker. The market for EVs is huge and, after decades as a curiosity, battery-powered vehicles are going mainstream. 
Tesla has shown just how spectacular the growth potential is for EV makers. Now, the company has a first-mover advantage and is unlikely to lose market dominance anytime soon.
I'm not trying to suggest that Fisker is another Tesla. However, Tesla has shown it's possible to do the unthinkable —  not only starting an EV company from scratch, but also going from zero production capacity to 238,000 EVs manufactured in a quarter.
Will FSR stock ever see the explosive growth that TSLA stock has seen? It's 33% climb in November was a good start. There's also no shortage of analysts who are bullish on Fisker. For instance, Bank of America analyst John Murphy recently upgraded his price target from $18 to $24.
The bottom line here? Fisker has potential and the risk involved with investing in this company is considerably less than it once was. With production a year out, there are ways its plans could still go sideways. However, with production-ready versions of the Ocean already on display — details published and pricing confirmed — FSR stock is looking more and more like a good candidate for long-term growth.
On the date of publication, neither Louis Navellier nor the InvestorPlace Research Staff member primarily responsible for this article held (either directly or indirectly) any positions in the securities mentioned in this article.
Louis Navellier, who has been called "one of the most important money managers of our time," has broken the silence in this shocking "tell all" video… exposing one of the most shocking events in our country's history… and the one move every American needs to make today.
More From InvestorPlace
The post With Fisker Up 33% in November, Is There Still Room for Growth? appeared first on InvestorPlace.
EV Nickel starts trading on TSX Venture Exchange
  TORONTO – EV Nickel Inc.'s [EVNI-TSXV] initial public offering (IPO) prospectus dated November 19, 2021, has been filed with and accepted by the…
TORONTO – EV Nickel Inc.'s [EVNI-TSXV] initial public offering (IPO) prospectus dated November 19, 2021, has been filed with and accepted by the TSX Venture Exchange and has begun trading on the Exchange.
The closing of the IPO, scheduled for December 2, 2021, was expected to have gross proceeds of $5,440,292 for a total of 1,442,200 flow-through (FT) common shares at 86 cents per FT common share and of 5.6 million units at 75 cents per unit. The company has 30,355,667 common shares issued and outstanding
EV Nickel, classified as a Tier 2 issuer, is a Canadian nickel exploration company, focused on the Shaw Dome area, south of Timmins, Ontario. The Shaw Dome area is home to its Langmuir project, which includes W4, the basis of a 2010 historical estimate of 677,000 tonnes at 1% nickel for approximately 15 million pounds of Class 1 nickel.
EV Nickel's objective is to grow and advance a nickel business, targeting the growing demand for Class 1 nickel from the electric vehicle battery sector. EV Nickel has almost 9,100 hectares to explore across the Shaw Dome area and has identified 30 km of additional strike length.
"We are excited to get out into the public markets and begin telling the world about our wonderful assets, on the Shaw Dome, just south of Timmins," said Sean Samson, president and CEO. "The world needs more nickel and especially the type of high-grade, clean nickel that we plan to build our business around. Decarbonization is the challenge of a lifetime and we plan to source the material that will help the EV [electric vehicle] companies grow and help address that challenge."
Vision Lithium to Buy The Cadillac Canadian Lithium Property
Canadian-based exploration company Vision Lithium agreed to acquire 100% interest in 215 contiguous mining claims in Quebec, Canada.  Combined with an…
Canadian-based exploration company Vision Lithium agreed to acquire 100% interest in 215 contiguous mining claims in Quebec, Canada. 
Combined with an additional 105 stakes claimed by the company, the group of claims will be collectively referred to as The Cadillac lithium property.  
Details of the agreement include the vendor groups receiving an aggregate cash consideration of $102,427.92 from Vision Lithium, as well as ​​issue a total of 4,300,000 common shares of the company. The shares are not divided evenly, with 1.5 million each going to the CMH Group and Fancamp, the Leblanc-Lavoie Group will receive 1 million and 300,000 Shares will go to the Tremblay Group. The company will also pay each vendor group a 2% net smelter return royalty on the claims. 
President & CEO of Vision Lithium Yves Rougerie commented in a press release, "The Cadillac lithium project is an exciting addition to our growing portfolio of lithium properties. The Property is located 10 km south of the Trans-Canada highway and only metres from the secondary road, ensuring easy access for logistics, materials and qualified manpower."
The claims acquired by Vision Lithium combined with the additional 105 claims staked, means the property holds a total of 320 claims covering 18,378 hectares. The property is easily accessible year-round in an area with well-maintained roads. This is especially helpful since Quebec can become covered in snow for multiple months of the year, and established infrastructure gives the company a head start.
There are also at least 4 pegmatite dikes which are spaced approximately 100 metres apart and traced for at least 300 metres along on the property. 
Rougerie continued "The property hosts a cluster of close-spaced parallel lithium-bearing dikes. Spodumene has been observed in the outcropping dikes and we believe there are likely more dikes in the cluster. The dikes have seen surprisingly little historical exploration with only a handful of samples and no drilling to date." 
High Potential for Additional Lithium Discoveries
Lithium crystals have been observed on all four dikes of the property, with even a few large crystals visible. 
The property is located approximately 10 km south of Cadillac, a historic mining town, and about halfway between the major mining centres of Rouyn-Noranda and Val-d'Or in Quebec. 
"We believe the potential for additional lithium discoveries within the main cluster area is excellent and the larger property also has tremendous upside potential for discovery. The entire area acquired and staked is very large at almost 200 square kilometres. We plan to aggressively explore the Property over the winter by drilling the main cluster of dikes and to plan and complete field work next summer over the large tract of land," Rougerie said. 
There are a number of closing conditions and post-closing obligations for the company until the transaction is officially completed. This includes the execution of certain deeds and instruments of conveyance, and the approval of joining the TSX Venture Exchange. Completion of the transaction is expected to be finished in the coming days. 
Vision Lithium focuses on exploring and developing mineral assets such as lithium and copper in different parts of Canada. Other than the claims they have just received in the recent transaction, the company has operations in Manitoba, and multiple properties in New Brunswick and Quebec. The first drill program at the company's Dome Lemieux copper property in Quebec has commenced. Vision has also recently completed the Red-Brook copper and zinc drill program in New Brunswick. 
Vision Lithium is focused on developing their Sirmac lithium project in Quebec which is a hard rock source of lithium. Lithium can either come from hard rock sources or brines, and about 50% of each make up the world's lithium compound production. Both sources can produce battery-grade lithium, but the extraction process is very different. The company plans on using existing methods to extract lithium for the battery market. This is a key area for the company as demand for battery materials is soaring in the middle of a global energy transition. 
The above references an opinion and is for information purposes only. It is not intended to be investment advice. Seek a licensed professional for investment advice. The author is not an insider or shareholder of any of the companies mentioned above.
The post Vision Lithium to Buy The Cadillac Canadian Lithium Property appeared first on MiningFeeds.