Stelco Joins Electric Vehicle Battery Market With German Recycler Primobius
Stelco Holdings Inc. (TSX: STLC) is making a move to enter the electric vehicle battery game. The Canadian steelmaker has
The post Stelco Joins Electric…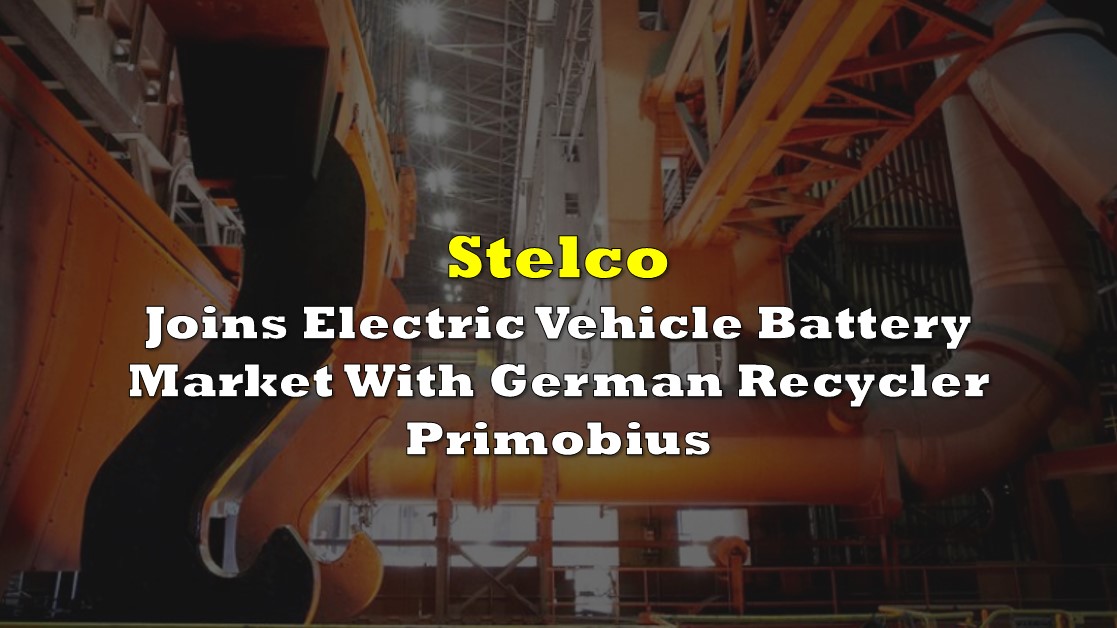 Stelco Holdings Inc. (TSX: STLC) is making a move to enter the electric vehicle battery game. The Canadian steelmaker has executed licensing and option agreements with German battery recycler Primobius GmbH.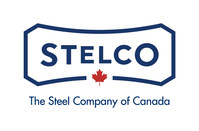 "Stelco has reached an agreement that will enable Stelco to create a closed-loop system of auto recycling and provision of green steel and battery metals back to its automotive OEM customers," said CEO Alan Kestenbaum.
The binding agreements allow the Ontario-based steel company to "commercialize Primobius's proprietary advanced electric vehicle battery recycling and processing technologies in North America." The licensing agreement permits the firm to advance sourcing agreements and start engineering processes while the option agreement gives Primobius the right to acquire 25%-50% of Stelco's venture performing said operations.
If Primobius decides not to exercise this option, Stelco gains sole rights to utilize the firm's proprietary lithium-ion battery recycling technology in Canada, the United States, and Mexico–with due royalty to Primobius.
Stelco currently has plans to start its lithium-ion battery recycling operations at its 20,000-net ton per annum refinery in Lake Erie Works. The facility is expected to produce 18,400 net tons per annum of nickel, manganese and cobalt sulphates, and lithium hydroxide and carbonate, as well as 40,000 net tons per annum of scrap steel to be fed into the steelmaker's operations.
Primobius is a 50-50 joint venture of Australian metals company Neometals (ASX: NMT) and private German metallurgy firm SMS Group. Its battery recycling technology is currently commissioned at its 4,000-net ton per annum facility in Hilchenbach, Germany.
Detailed engineering studies for the venture are expected to be completed by mid-2022 while initial operations are targeted to commence in 2023.
Stelco last traded at $38.94 on the TSX.
---
Information for this briefing was found via the companies mentioned. The author has no securities or affiliations related to this organization. Not a recommendation to buy or sell. Always do additional research and consult a professional before purchasing a security. The author holds no licenses.
The post Stelco Joins Electric Vehicle Battery Market With German Recycler Primobius appeared first on the deep dive.
Without a Doubt, Lithium's "White Gold" Label is Merited
2022.01.21
Electrification and decarbonization are anticipated to be one of the biggest investment trends of 2022.
Just two weeks into the new year, we're…
2022.01.21
Electrification and decarbonization are anticipated to be one of the biggest investment trends of 2022.
Just two weeks into the new year, we're already witnessing a big rally in EV battery minerals, perhaps a precursor to what could be a historic year for metals considered vital to the energy transition.
Nickel prices last week surged to its highest in a decade, with investors betting on a global scramble for supplies of the EV battery material.
Another key battery mineral that has seen its prices soar is lithium, which started 2022 on a record high, continuing its strong form from last year. Data from S&P Global Platts last week showed that lithium carbonate prices in China have now risen 35% on month and are up 531% on the year.
And this uptrend in lithium (and other EV battery metals) is only going to continue, according to those within the battery metals industry.
Caspar Rawles, chief data officer at Benchmark Mineral Intelligence, the world's leading lithium price reporting agency and EV supply chain data provider, notes that the early transactions from 2022 suggest that "lots of legs" are left in this rally.
Gavin Montgomery, research director for battery raw materials at Wood Mackenzie, recently said in a Financial Times article that lithium prices are unlikely to crash, as they did in previous cycles.
"We're entering a sort of new era in terms of lithium pricing over the next few years because the growth will be so strong," he added.
According to a December report from S&P Global, further demand growth in 2022 will mean a lithium deficit this year as use of the material outstrips production and depletes stockpiles.
Supply is forecast to jump to 636,000 tonnes of lithium carbonate equivalent in 2022, up from an estimated 497,000 in 2021 — but demand will jump even higher to 641,000 tonnes, from an estimated 504,000, the report said.
Lithium Supply Problem
Driving the latest lithium rally are near-term risks that are threatening deeper shortages in the metal's supply, from plant maintenance and Winter Olympics curbs in China to pandemic-related labor shortages in Australia.
"The lithium market is extremely tight at present, so spot prices are very sensitive to any supply disruptions," Alice Yu, analyst at S&P Global Market Intelligence, recently wrote in a note to Bloomberg.
As we speak, lithium prices are still rising in China as consumers look to restock ahead of the Chinese New Year festivities at the end of the month and early February. The high level of buying in the world's biggest EV economy also pushed prices higher in other regions such as Europe and the US, according to Fastmarkets.
Beyond the short-term issues, there are challenges for lithium supply to expand fast enough to avoid a prolonged market squeeze over the coming years.
Skeptics point to Rio Tinto's controversial lithium project in Serbia, which is now on hold due to environmental protests, and the growing concerns around the sustainability credentials of South America's brine-based production, as long-term threats to global supply.
"Customers are realizing that new supplies are very difficult to bring on," said Tony Ottaviano, CEO at Australian lithium miner Liontown Resources, in the Bloomberg report. His company recently signed an agreement to ship lithium to South Korean battery giant LG Energy Solution from 2024, when its project is scheduled to start.
Last week, BlackRock's Evy Hambro, global head of thematic and sector-based investing, told Bloomberg TV that commodity prices may stay high for decades as mining companies struggle to keep up with demand from the energy transition.
"We've got decades worth of high rates of investment into infrastructure as the world seeks to decarbonize. That's a widely held consensual view," he said.
Among the key raw materials listed was lithium, which is set to face fresh demand from the creation of a "greener world".  Bloomberg New Energy Finance (NEF) estimates that, by 2030, consumption of lithium (and nickel) will be at least five times current levels.
Hambro still sees the mining sector as remaining undervalued, given its importance in providing the materials like lithium needed to decarbonize the global economy.
"It seems as though this core element of the transition has been completely ignored by many investors," he said. "At some point people will realize how essential these businesses are for the transition and capital will flow into them, and that should change the valuations."
More Expensive EVs
The tightening supply of metals is happening just as EV uptake around the world is about to explode, which is exerting serious cost pressure on battery production.
In fact, we could see the first rise in battery prices since 2010 this year, potentially undermining global efforts to speed up the adoption of EVs and clean energy technologies, analysts say.
Between 2010-2021, battery pack prices had dropped a staggering 89%, from above $1,200/kWh to $132/kWh in real terms, BloombergNEF's annual battery price survey showed in November.
Li-ion battery prices dropped by 6% from $140/kWh in 2020 to $132/kWh in 2021, but could now rise to $135/kWh in 2022 in nominal terms due to higher raw material prices, BloombergNEF estimated.
According to the research provider, even low-cost chemistries like lithium iron phosphate (LFP), which have been used more in 2021 and are particularly exposed to lithium carbonate prices, have felt rising costs throughout the supply chain in recent months.
Since September, Chinese producers have raised LFP prices by between 10-20%, according to BloombergNEF estimates. Indeed, the average price of these cells is now the same as the average price of high-performing nickel-based cells in the first half, at around $100/kWh.
If other technology improvements cannot mitigate the higher cost of raw materials, the point of breaking below the critical threshold of $100/kWh battery pack price could be pushed back by two years from BloombergNEF's current expectation of 2024.
"This would impact EV affordability or manufacturers' margins and could hurt the economics of energy storage projects," the research provider warned.
"Higher battery price creates a tough environment for automakers, particularly those in Europe, which have to increase EV sales in order to meet average fleet emissions standards," said James Frith, BNEF's head of energy storage research and lead author of the report.
Automakers may now have to make a choice between reducing their margins or passing costs onto consumers. Either way, some carmakers are likely to lose out in the global race to produce affordable EVs after failing to meet their ambitious targets.
In the grand scheme of things, the clean energy transition could be costlier and more distant than initially thought. Fatih Birol, executive director of the International Energy Agency (IEA), said last year:
"Today, the data shows a looming mismatch between the world's strengthened climate ambitions and the availability of critical minerals that are essential to realizing those ambitions."
US Falling Behind
The United States still lags behind both China and Europe when it comes to the production and domestic uptake of EVs, and the world's biggest economy has made it loud and clear it wants to challenge its rivals' dominance.
In an executive order, US President Joe Biden has already set a national goal for 50% of new car sales by 2030 to be electric. Jumpstarting his EV initiative is a proposed $7.5 billion spending package to build a network of 500,000 EV charging stations across the country.
Meanwhile, its EV industry is also making more noise than ever. Nearly every major automaker in the US has announced a transition to electric vehicles; Tesla delivered almost one million cars in 2021, while new electric vehicle companies like Rivian and Lucid are rolling out new models off the line.
However, to power these new EVs requires more batteries — and the materials to build them.
According to Benchmark Mineral Intelligence, EV growth will be responsible for more than 90% of demand for lithium by 2030. The UK-based consultancy forecasts that demand for lithium is set to triple by 2025, rising to 1 million tonnes and outpacing supply by 200,000 tonnes.
So for the US to really become an EV powerhouse, it needs to first solve its lithium supply problem.
Over 80% of the world's raw lithium is currently mined in Australia, Chile and China. Moreover, China controls more than half of the world's lithium processing and refining, and has three-fourths of the lithium-ion battery megafactories in the world, according to the IEA.
The US, meanwhile, mines and processes only 1% of the world's lithium, according to the US Geological Survey (USGS). There is only one lithium mine in operation, Albemarle's Silver Peak, which extracts lithium from brine outside of Tonopah, Nevada, outputting a paltry 5,000 tonnes of lithium carbonate a year.
However, this is not to say we can rule out the US as a major producer of lithium, dubbed "white gold" for its vital role in rechargeable batteries and high demand.
Next Lithium Hub?
The US had been the leading producer of the metal until the 1990s, so scarcity is not a problem.
Within its borders are almost 8 million tonnes of lithium in reserve, ranking it among the top five countries in the world, according to the USGS.
So, with the right amount of investment, a burgeoning domestic "mine to battery to EV" supply chain is certainly within reach. Several projects are already in the works across the states of Nevada, North Carolina, California and Arkansas.
Nevada looks to be the focal point of the next "white gold rush" given the abundance of lithium-rich brines and clays, plus its history of lithium production dating back to the 1960s. It currently hosts the only US lithium mine, for now.
Conclusion
Lithium prices have already set new records to begin the year; China's lithium carbonate prices jumped to over $47,500 last week, representing a six-fold increase over January 2021.
The BMI lithium index has already shot up by 280% year-on-year, and nearly 12% over the past month alone.
Some are predicting that this run is far from done. Australian lithium miner Allkem told Reuters this week that lithium carbonate prices could explode in the second half of the year, rising by about 80% to over $20,000/tonne in the six months to December.
"It's a very, very tight supply market and as a result of this we're seeing this very rapid increase in pricing," the company representative said.
Strong demand for lithium-ion batteries for EVs and other applications is expected to put a strain on the global supply of battery raw materials, which will likely invoke a string of new investments.
China's biggest battery makers and miners are already gobbling up lithium assets left, center and right, with more deals still left to be done. Without a doubt, lithium's "white gold" label is merited.
With the global race to secure minerals in full throttle, there will be calls made to companies holding lithium projects within the most prolific regions of the world.
Richard (Rick) Mills
aheadoftheherd.com
subscribe to my free newsletter
Legal Notice / Disclaimer
Ahead of the Herd newsletter, aheadoftheherd.com, hereafter known as AOTH.
Please read the entire Disclaimer carefully before you use this website or read the newsletter. If you do not agree to all the AOTH/Richard Mills Disclaimer, do not access/read this website/newsletter/article, or any of its pages. By reading/using this AOTH/Richard Mills website/newsletter/article, and whether you actually read this Disclaimer, you are deemed to have accepted it.
Any AOTH/Richard Mills document is not, and should not be, construed as an offer to sell or the solicitation of an offer to purchase or subscribe for any investment.
AOTH/Richard Mills has based this document on information obtained from sources he believes to be reliable, but which has not been independently verified.
AOTH/Richard Mills makes no guarantee, representation or warranty and accepts no responsibility or liability as to its accuracy or completeness.
Expressions of opinion are those of AOTH/Richard Mills only and are subject to change without notice.
AOTH/Richard Mills assumes no warranty, liability or guarantee for the current relevance, correctness or completeness of any information provided within this Report and will not be held liable for the consequence of reliance upon any opinion or statement contained herein or any omission.
Furthermore, AOTH/Richard Mills assumes no liability for any direct or indirect loss or damage for lost profit, which you may incur as a result of the use and existence of the information provided within this AOTH/Richard Mills Report.
You agree that by reading AOTH/Richard Mills articles, you are acting at your OWN RISK. In no event should AOTH/Richard Mills liable for any direct or indirect trading losses caused by any information contained in AOTH/Richard Mills articles. Information in AOTH/Richard Mills articles is not an offer to sell or a solicitation of an offer to buy any security. AOTH/Richard Mills is not suggesting the transacting of any financial instruments.
Our publications are not a recommendation to buy or sell a security – no information posted on this site is to be considered investment advice or a recommendation to do anything involving finance or money aside from performing your own due diligence and consulting with your personal registered broker/financial advisor.
AOTH/Richard Mills recommends that before investing in any securities, you consult with a professional financial planner or advisor, and that you should conduct a complete and independent investigation before investing in any security after prudent consideration of all pertinent risks.  Ahead of the Herd is not a registered broker, dealer, analyst, or advisor. We hold no investment licenses and may not sell, offer to sell, or offer to buy any security.
Capstone Green Energy Bags 3.4 MW Renewable Energy Contract In California
Capstone Green Energy Corporation (Nasdaq: CGRN) shared today a renewable energy project secured by its distributor, Cal Microturbine. The contract
The…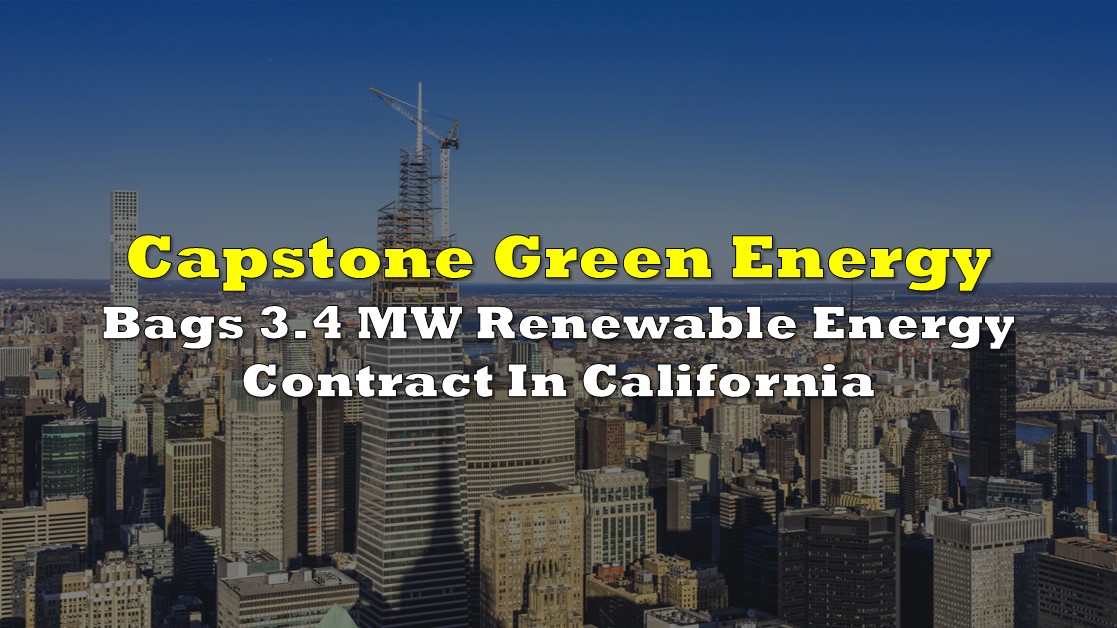 Capstone Green Energy Corporation (Nasdaq: CGRN) shared today a renewable energy project secured by its distributor, Cal Microturbine. The contract seeks to provide a 3.4 MW microturbine-based system for an unnamed customer in California.

No financial details have been shared but the firm said the system will consist of three Capstone Green Energy C1000S Signature Series microturbines and one C400S Signature Series microturbine, and are expected to use 100% renewable fuel.
"This order is indicative of the shift we are seeing to more renewable fueled energy projects in recent years," said Capstone VP of Marketing and Distribution Jen Derstine. "In fiscal 2019, renewables made up 7% of our overall business and in fiscal 2021 they made up 13% of our business."
The company also said that the customer "initially considered leveraging reciprocating engines" but eventually went with Capstone's microturbines "for low emissions and low life cycle costs."
Capstone Green Energy last traded at $3.28 on the Nasdaq.
---
Information for this briefing was found via the companies mentioned. The author has no securities or affiliations related to this organization. Not a recommendation to buy or sell. Always do additional research and consult a professional before purchasing a security. The author holds no licenses.
The post Capstone Green Energy Bags 3.4 MW Renewable Energy Contract In California appeared first on the deep dive.
Quantumscape Could Be Cheap Here From Stationary Energy Battery Sales
Quantumscape (NYSE:QS) is now well off of its highs, trading at $17.30 per share as of Thursday, Jan. 20. A month ago when I wrote about QS stock, it…
Quantumscape (NYSE:QS) is now well off of its highs, trading at $17.30 per share as of Thursday, Jan. 20. A month ago when I wrote about QS stock, it was at $23.57 per share. As a result, Quantumscape has fallen by $6.27 per share to $17.30, a drop of 26.6% in the last month.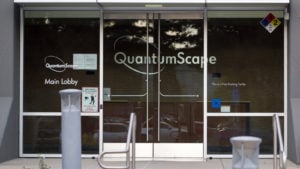 Source: Tada Images / Shutterstock.com
At the time I wrote that Quantumscape, the lithium metal battery maker, was a bargain. As a result, that makes it an even better investment find this month. After all, since closing at $22.19 on Dec. 31, QS stock is already down 22% since the end of 2021.
As a result, QS stock is likely to be fairly volatile, especially until the company starts booking revenue.
Where Things Stand For Quantumscape
Investors still seem to be concerned that Quantumscape won't start making any revenue until 2024 with its existing solid-state battery technology. This is based on page 28 of the company's September 2020 investor presentation.
Based on these projections, which don't seem to be in its August 2021 investor presentation, the company will have just $14 million in revenue by 2024. Next, in 2025, its projection is for $39 million.
In fact, it's not until 2026 that Quantumscape will make any really significant revenue. The 2020 presentation shows its forecast for that year predicts sales of $275 million. The problem is that this is still five years from now.
That is a long time for investors in Quantumscape to wait for any kind of financial prospects for the company. That likely accounts for the high volatility in QS stock, at least in the past several months.
Moving Into Stationary Energy Uses
On Jan. 13, Quantumscape announced a new partnership that will allow it to produce batteries for more than electric vehicles (EVs). Its deal with Florence Energy (NASDAQ:FLNC) will allow it to introduce its solid-state batteries for stationary energy storage applications.
This is a whole new area that will open up large markets for Quantumscape, including utilities (battery-based storage on the electric grid.) The two companies will validate and test QuantumScape solid-state battery cells to be used in Fluence's stationary storage products.
As Barron's points out, batteries are also being used by utilities to help make renewable power generation available 24/7 by storing wind and solar energy.
Moreover, based on recent studies, the market for stationary energy products could be as much as $385 billion by 2030. If the company can garner even a 1% share in that business, its annual revenue will be $3.85 billion. That goes a long way toward justifying Quantumscape's $8.24 billion market capitalization as of Jan. 20.
Valuing QS Stock
For example, let's say it can produce $5 billion in sales from stationary energy by the end of 2030. Including 2022, that is nine years from now, and at a 10% annual discount rate, the present value factor is 42.4%. That implies the present value of $5 billion nine years from now is $2.12 billion today.
As a result, that puts the stock on an adjusted price-to-sales (P/S) multiple of just 3.88 times. This also does not include its expected revenue from EVs by the time.
According to its 2020 slide deck, the company expects EV revenue of $6.49 billion by the end of 2028, or seven years from now. With a present value factor of 51.31%, the present value of that EV revenue is $3.33 billion. So, including the $2.12 billion in stationary power revenue,  the total present value is $5.45 billion.
As a result, the present value P/S multiple is just 1.5x revenue. That is a very cheap price. Granted, this involves a lot of forecast revenue and major assumptions.
For example, if we set the discount rate to 15%, the present value of both streams of revenue works out to $3.86 billion ($1.42 billion for the stationary energy part and $2.44 billion from EVs.) That raises its P/S ratio to 2.13 times. This is still very cheap.
Where This Leaves Investors in QS Stock
The bottom line seems to be if you can stand the volatility, QS stock looks pretty cheap here. The fact that the company is now expanding into a new line of revenue could help it bring forward revenue earlier than from EVs.
That could also help reduce the volatility in the stock going forward. Nevertheless, investors in QS stock are going to have to be patient. They should expect a bumpy ride, but at least the company is trying to make its future revenue sources look more secure.
On the date of publication, Mark R. Hake did not hold any position (either directly or indirectly) in the securities mentioned in this article. The opinions expressed in this article are those of the writer, subject to the InvestorPlace.com Publishing Guidelines.
Mark Hake writes about personal finance on mrhake.medium.com and runs the Total Yield Value Guide which you can review here.
More From InvestorPlace
The post Quantumscape Could Be Cheap Here From Stationary Energy Battery Sales appeared first on InvestorPlace.