Supply Chain Disruptions Will Continue
Supply Chain Disruptions Will Continue
Authored by James Rickards via DailyReckoning.com,
Forty percent of all the cargo into the United…
Supply Chain Disruptions Will Continue
Authored by James Rickards via DailyReckoning.com,
Forty percent of all the cargo into the United States comes through the ports of Los Angeles and Long Beach. Offshore, there are thousands of containers stacked up on vessels waiting to get in. How many containers can the ports unload on a normal day?
New containers are coming in. There are daily arrivals. When will that supply chain backlog clear?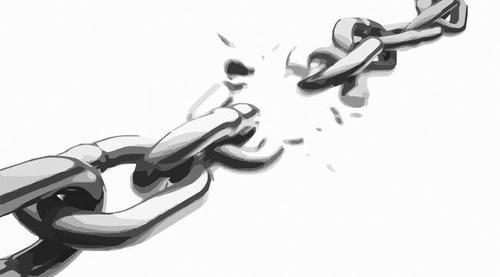 The answer is never. If there are more coming in than you can unload and you have an existing backlog that's getting worse, it will never clear.
But let's just say that with no new shipments coming in, it would take 30 days just to unload what's already waiting offshore. Thirty days, by the way, puts you into December and the Christmas rush.
And getting it offloaded in California is just the beginning of the supply chain. You've got to put it on a train or a truck and get it to a distribution center and put it on another truck and get it to a store.
But wait, there's also a trucking shortage. That's a big part of the supply chain problem. If you can unload the merchandise but can't transport it due to a trucking shortage, what good is it?
So this is not getting better. That's probably the understatement of the year.
You may have heard about a semiconductor shortage. But you don't need a computer, so what's the big deal? Well, no, there are semiconductors in everything. You have semiconductors in your refrigerator, dishwasher, home entertainment system, etc.
The point is we're highly dependent on vulnerable supply chains that are currently breaking down. Something radical is going to have to happen. We're just going to have to stop importing goods. And China may actually oblige us, though not for these reasons…
China now has what's called a zero-COVID policy. That means they're not going to tolerate any cases. If they see a case, they're going to take extreme actions, and they are.
But this is a country of 1.4 billion people. It's the second-largest economy in the world. You're going to have zero COVID? Sorry, that's not realistic. You can't have zero COVID.
The policy is bound to fail. Ample evidence indicates lockdowns don't work. Masks don't work. The virus goes where it wants. It's going to run its course and then fade, no matter what.
But if you've decided that your policy is zero COVID cases? You're just going to shut down your economy, or parts of your economy, cities, hubs, transportation networks, factories, more or less randomly. That reduces economic output, obviously, but it also breaks up the supply chain.
What if the particular outbreak shuts down a factory? Sure, that's bad for the factory. But what if that factory is a critical supplier of intermediate parts to another factory that's not shut down?
Guess what? The other factory is going to be idle because they can't get the parts.
The shutdown ripples, and that's the key element. Global trade is a complex, dynamic system. It's very efficient under normal circumstances. But what we know about complex, dynamic systems is that it takes very little to disturb them. A very small event somewhere in the system can cause the whole system to break down.
We have more than one event occurring, incidentally, and they're not small. It's therefore not surprising that the system is breaking down.
China has a severe energy shortage right now. Well over 50% of its total electricity generation comes from coal fire plants. It gets most of its coal from Australia. But China started a trade war with Australia because Australia was calling for an independent investigation of the source of the COVID virus, which China didn't want. The result has been a shortage of coal in China.
So what did China do? It imposed price controls on coal. But we all know that price controls don't work; it's basic economics. When you cap the price of coal, you get less of it.
The coal shortages are not going away, and China is dealing with the shortages by diverting power to densely populated residential areas and housing. That's understandable because the Chinese Communist Party doesn't want people freezing in the dark. That's a good recipe for social unrest.
But if there's an energy shortage and you're diverting it to people for political reasons, then who gets deprived? The answer is factories. And so you shut down steel mills, for example, which again causes another disruption in the supply chain. It has a ripple effect.
One of the big industries in China is lithium mining. Well, if you shut down the mining because you don't have coal to run the electricity, where are you going to get the lithium to make the lithium-ion batteries to get a new Tesla?
The answer is you're not. The waiting list for Teslas is about six months. I'm not going to get into a debate about Teslas, but if you want one, don't think you're getting one soon.
When you add it all up, we have a serious problem.
I recently spoke to the CEO of a major corporation. He said, "Jim, what you have to understand is that it took us 30 years to build these supply chains. We blew it up in three years, beginning in 2018, and you can't put it back together. This is Humpty Dumpty. It will take at least 10 years to reconstruct the supply chains if we don't want to do it with China and globalization."
So don't think that any of this is going away soon.
Germany's another example. Due to pressure from environmentalist groups, Germany got rid of all its coal mines and nuclear plants. Guess what? The Germans are going to freeze in the dark this winter because they're utterly dependent on natural gas, which is a fossil fuel, by the way. They can't rely on wind and solar because they're intermittent and can't meet demand.
Vladimir Putin controls the tap on the natural gas pipelines. He's dialing it down. He's saying, "You want natural gas? Be prepared to pay me a lot of money, or you're just not getting it."
That's going to hurt German industrial production, which is already going down. Again, that results in more supply chain disruption.
Now let's consider the role of vaccine mandates in supply chain disruptions…
The Biden administration is pushing mandates hard. There are also lots of state and city mandates, especially in blue states. The bluer the state, generally speaking, the stricter the mandates.
Now, these experimental mRNA vaccines don't stop you from acquiring the virus or from spreading it to others, and their effectiveness fades with time, so mandates really have little scientific basis. But put all these considerations aside and focus on their practical effects.
Take a look at the aviation industry. There are thousands, perhaps millions, of components that go into the manufacturing of an aircraft. Those components are specialized and they're made in different places. Then they're shipped and assembled.
The avionics industry (aviation electronics) is very heavily concentrated in the vicinity of Wichita, Kansas, for historical and other reasons. It's like the Silicon Valley of avionics.
But the industry has a very low participation rate in the vaccine mandates, meaning about 50%. Nationally, about 80% have received at least one dose. But in this particular industry, maybe because it's more male-oriented, maybe because it's more conservative, the rate is much smaller. The reason doesn't really matter.
But if they're not vaccinated by now, they probably aren't going to be. It's not like they don't know these things are available for free at the local CVS. Since they won't obey the mandates, they're going to quit, get fired, take early retirement, etc. That means a shortage in critical avionics.
What does it mean when the airlines cannot get their avionics updated? It means those planes go out of service, potentially, or they put them in for service and they don't come out for a long time. We're talking six months for some of the more sophisticated navigation and communication systems.
The backlogs are already building in that industry. How does it help the economy if planes are sitting idle because of components shortages?
And look at the impact of mandates on pilots. Many pilots are hesitant to take the vaccine because studies indicate pilots are more susceptible to developing blood clots than the general population.
Well, guess what's a known side effect of the vaccine? You guessed it, blood clots.
Not only can blood clots kill them, they could also end their careers because pilots must undergo rigorous health tests regularly.
Southwest Airlines recently had to cancel thousands of flights. American later canceled thousands of flights. They like to claim it's the weather. But how come the weather only affects one airline at a time?
It wasn't the weather, it was pilots (and air traffic controllers) conducting informal strikes because of the vaccine mandates.
Oh, and mandates extend to large air cargo carriers like FedEx and UPS that haul freight all around the world. More supply chain disruptions if these planes aren't flying.
Supply chain disruptions are a very big deal. The problem is pervasive. It's not going away anytime soon because it would require undoing decades of globalization.
You're going to have to get used to it. When I say get used to it, I don't mean tough luck. I just mean that this problem is going to continue.
Tyler Durden
Mon, 11/15/2021 – 05:00
lithium
batteries
NASA wants a nuclear reactor on the moon by 2030 and nuclear fusion development attracts more private investors worldwide
It sounds like a sci-fi movie plot, but NASA wants a nuclear reactor on the moon by the end of … Read More
The post NASA wants a nuclear reactor on the…
It sounds like a sci-fi movie plot, but NASA wants a nuclear reactor on the moon by the end of the decade.
Battelle Energy Alliance, a contractor for the US Department of Energy's Idaho National Laboratory (INL), is teaming up with NASA to seek proposals from nuclear and space industry leaders to develop innovative technologies for a fission surface power (FSP) system for lunar power applications.
Basically, the idea is to put a fission reactor on the moon which would pave the way for sustainable operations and even base camps on the moon and Mars.
"Plentiful energy will be key to future space exploration," NASA's Space Technology Mission Directorate associate administrator Jim Reuter said.
"I expect fission surface power systems to greatly benefit our plans for power architectures for the moon and Mars and even drive innovation for uses here on Earth."
The plan is to design, fabricate and test a 10-kilowatt class FSP which might look something like this:
Rolls-Royce secures UK funding for small modular reactors
But nuclear fission is also attracting attention, new policies and investment down here on planet Earth, driven by the dual climate and energy crises.
At the COP26 conference, the UK Government announced it invested £210 million into Rolls-Royce's next generation nuclear reactors.
Which along with $195m across three years from the Rolls-Royce Group, BNF Resources UK Limited and Exelon Generation Limited, will allow the Rolls-Royce Small Modular Reactor (SMR) business to deliver a low cost, deployable, scalable and investable programme of new nuclear power plants.
"Our transformative approach to delivering nuclear power, based on predictable factory-built components, is unique and the nuclear technology is proven," Rolls-Royce SMR CEO Tom Samson said.
"Investors see a tremendous opportunity to decarbonise the UK through stable baseload nuclear power, in addition to fulfilling a vital export need as countries identify nuclear as an opportunity to decarbonise."
 
Micro-reactors can be built fast at 1/10th the size
UK Business and Energy Secretary Kwasi Kwarteng said that Small Modular Reactors offer exciting opportunities to cut costs and build more quickly, "ensuring we can bring clean electricity to people's homes and cut our already-dwindling use of volatile fossil fuels even further."
A Rolls-Royce SMR power station will have the capacity to generate 470mw of low carbon energy, equivalent to more than 150 onshore wind turbines.
It will provide consistent baseload generation for at least 60 years, helping to support the roll out of renewable generation, helping to overcome intermittency and will occupy around one-tenth of the size of a conventional nuclear generation site and power approximately one million homes.
But Rolls isn't the only company eyeing micro-reactors.
The US is close on its heels, with TerraPower planning to replace an aging coal-fired plant with a set of its mini-reactors which would be assembled in a factory and transported to the plant location – and be up and running by 2028.
And the Biden administration plans to shore up existing reactors and invest in new ones, with the $1.2 trillion infrastructure bill directing billions in research into the next generation of mini reactors.
"It's the SpaceX moment for fusion." CEO Chris Mowry talks to @Bloomberg about the new technologies enabling breakthroughs in #fusionenergy development: https://t.co/xdqNjOfYOd

— General Fusion (@GeneralFusion) January 3, 2019
Nuclear fusion beginning to attract investment
According to the Fusion Industry Association, there are currently more than 30 private fusion firms around the world, with 18 declaring funding totalling $2.4 billion combined.
Five companies – Commonwealth Fusion Systems, Helion Energy, General Fusion, TAE Technologies and Tokamak Energy – currently account for 90% of this funding.
Helion just nabbed $375 million from Silicon Valley investor Sam Altman, with plans for its demonstration reactor Polaris to be in operation by 2024.
Commonwealth Fusion Systems is targeting a pilot reactor by 2025 at a cost of around $3 billion and has major shareholder Italian energy player Eni poised to invest in the next round of financing.
Then there's TAE Technologies, which has raised around $880 million, with investors including Goldman Sachs.
And just last month, Canada's General Fusion announced it had closed a $130 million funding round to commercialise Magnetized Target Fusion (MTF), with an impressive line-up of individual investors including Jeff Bezos.
The company is scheduled to start operating in 2025 and aims to have its reactors for sale early in the next decade.
The post NASA wants a nuclear reactor on the moon by 2030 and nuclear fusion development attracts more private investors worldwide appeared first on Stockhead.
Guy on Rocks: Iron ore – back in black
Guy on Rocks is a Stockhead series looking at the significant happenings of the resources market each week. Former geologist … Read More
The post Guy…
Guy on Rocks is a Stockhead series looking at the significant happenings of the resources market each week. Former geologist and experienced stockbroker Guy Le Page, director, and responsible executive at Perth-based financial services provider RM Corporate Finance, shares his high conviction views on the market and his "hot stocks to watch".
Market Ructions
Reports of iron ore's demise may have been premature with improving economic data coming out of China.
GDP growth in October 2021 came in at a better-than-expected YoY bottom of 3.3% (or 4.9% 2Y CAGR) in 4Q21 and rebounding to 5.5% in 2022 according to Morgan Stanley (China and the Miners, November 2021).
The property market is also looking a little healthier after a sharp contraction in property sales and construction starts over CY 2021 (figure 1).
Property and infrastructure demand rose 3.5% YoY in October (+3.1% September), however PMI contracted to 49.2, from 49.6 in September 2021. The PMI however rose to 50.1 last month for the first time in three months reinforcing the more positive manufacturing outlook.
The Chinese government's response to the soft property market is a loosening of property policy to bolster demand.
It appears the government is also about to ease production cuts, with My Steel suggesting that Chinese steel mills are restocking ahead of a restart sometime this month after running down steel inventories (figure 2).
This is also likely to coincide with an increase in pig iron production which is projected to rise by around 37,000 tonnes per day.
The Dalian iron ore price jumped over 6% on Tuesday to just over US$103/tonne.
The January contract was also around 2.5% higher at US$95.75, still in backwardation but higher, nonetheless.
The supply side also remains tight with Vale forecasting production in the range of 315-320 million tonnes this year which is on the lower end of their guidance of 315-335 million tonnes.
The other variable to watch out for, of course, are disruptions to shipping as Australia enters the wet season over November to March.
RFC Ambrian published an updated report on copper as a follow up to their 'Copper M&A – The Cupboard is Nearly Bare', that was published in November 2018.
Well not surprisingly, figure 4 confirms what we know about declining exploration over the last 9-10 years with the majority of the world's largest copper projects located in regions subject to civil and political unrest (figure 5).
Put this together with the EV demand and you have set the scene for a bull market that could run for 5-10 years or more.
Some interesting information from Sprott regarding uranium safety (surely they are not talking their own book?).
It is interesting that everyone wants to talk about the handful of people that have been fried from nuclear accidents, but it appears hydro, wind and solar have claimed many more victims on a per terawatt hour (TWh) basis! (figure 6).
It appears Biomass has claimed a very high number of people also.
Burning wood and biomass creates a PM2.5 air pollution, including volatile organic compounds (VOCs), and nitrogen oxides (NOx).
All of this air pollution damages health, from airway inflammation to free radical damage to cancer and numerous health problems. They are also known to aggravate and can cause asthma and emphysema.
The following map (figure 7) shows the current reliance on nuclear power. I would think the yellow footprint will spread.
So, what are the biggest pollutants out there now?
Electric vehicles that consume more carbon than petrol cars in their construction and plug into coal-fired power for their energy.
That is if you believe that carbon is the primary contributor to global warming of course. Cooling during the Middle Carboniferous reduced average global temperatures to about 12C (54F) however atmospheric carbon levels were similar to today. So maybe the whole carbon debate is also crap?
So, if the Stockhead faithful think the world has gone mad pumping money into relatively inefficient power sources such as wind and solar while chasing a possibly flawed carbon argument as the primary driver to global warming, you are probably correct.
The real crime is turning our backs on nuclear, the cleanest, greenest, and safest source of available base load power in the medium to longer term.
Company News
Coda Minerals Ltd (ASX:COD) has seen a 21% spike in its share price possibly following the release by Shaw and Partners research report which put a price target of $2.30/Share based on their projected copper resources at their Elizabeth Creek Copper Project (100km south of BHP's Olympic Dam). That includes the Emmie Bluff deposit (figure 9) which Shaw's believe should come in around 800kt CuEq (100% basis) at ~1.6% CuEq or 50Mt @ 1.6% CuEq.
It's a little deep at around 400m below the surface but if the grades come in as Shaw's anticipate this will be one of the first Zambian style copper projects of any size found in the Adelaidean formation, a sequence of rocks that sits above the Hiltaba suite (lower Proterozoic felsic intrusives) that host the giant Olympic Dam deposit.
I believe Emmie Bluff looks a little more promising than the IOCG targets at Elizabeth Creek which are +800m deep and a bit lower grade.
On the other hand, there are some decent widths (up to 28m downhole) with plenty of assays outstanding together with visible bornite.
In other words, they are drilling in the "boiling" zone at similar ore forming temperatures, pressures, salinities etc to Olympic Dam so they are well and truly still in the game to find something large and relatively high-grade, or at least comparable grade to Olympic Dam.
More recently, the company had some encouraging results at its Cameron River project (earning 80% an interest) located in the Mt Isa province of North QLD.
A total of 696 samples were collected, 31 returning anomalous copper and 16 returning anomalous gold values. Better results included 12.6% Cu, 2.72g/t Au and 4.3g/t Ag. I don't generally get too excited about rock chip results but will be reviewing the results of the planned 50-hole RC program in due course.
I thought the company was a little expensive when it was trading at $1.72 (+$170 million market capitalisation) but at 83 cents and an enterprise value of just over $65 million it is coming into buying territory with a good a good pipeline of news flow to follow (figure 11).
You have to admire companies drilling holes to the centre of the earth and with plenty of new targets to follow up (such as Elaine – IOCGU target) the company looks set for an exciting and volatile 2022.
At RM Corporate Finance, Guy Le Page is involved in a range of corporate initiatives from mergers and acquisitions, initial public offerings to valuations, consulting, and corporate advisory roles.
He was head of research at Morgan Stockbroking Limited (Perth) prior to joining Tolhurst Noall as a Corporate Advisor in July 1998. Prior to entering the stockbroking industry, he spent 10 years as an exploration and mining geologist in Australia, Canada, and the United States. The views, information, or opinions expressed in the interview in this article are solely those of the interviewee and do not represent the views of Stockhead.
Stockhead has not provided, endorsed, or otherwise assumed responsibility for any financial product advice contained in this article.
The post Guy on Rocks: Iron ore – back in black appeared first on Stockhead.
Energy Fuels Inc. – What Top Wall Street Analysts Are Saying
Energy Fuels Inc. (UUUU) is priced at $9.18 after the most recent trading session. At the very opening of the session, the stock price was $9.01 and reached…
Energy Fuels Inc. (UUUU) is priced at $9.18 after the most recent trading session. At the very opening of the session, the stock price was $9.01 and reached a high price of $9.31, prior to closing the session it reached the value of $8.71. The stock touched a low price of $8.35.Recently in News on November 10, 2021, Consolidated Uranium to Acquire the Milo Uranium-Copper-Gold-REE Project in Queensland Australia. Consolidated Uranium Inc. ("CUR" or the "Company") (TSXV: CUR) (OTCQB: CURUF) is pleased to announce that its wholly owned Australian subsidiary, CUR Australia Pty Ltd, has signed a definitive sale and purchase agreement (the "Agreement") with Isa Brightlands Pty Ltd (the "Vendor"), a wholly owned subsidiary of GBM Resources ("GBM") (ASX: GBZ), an Australian listed Mineral Exploration company, to acquire (the "GBM Transaction")a 100% interest in the Milo Uranium, Copper, Gold, Rare Earth Project ("Milo" or the "Project"). The Project consists of EPM (Exploration Permit – Minerals) 14416 which consists of 20 sub blocks or approximately 34 square kilometres located within The Mt Isa Inlier approximately 40 kilometres west of Cloncurry in Northwestern Queensland. You can read further details here
Energy Fuels Inc. had a pretty favorable run when it comes to the market performance. The 1-year high price for the company's stock is recorded $11.39 on 11/12/21, with the lowest value was $3.53 for the same time period, recorded on 01/13/21.
Energy Fuels Inc. (UUUU) full year performance was 318.75%
Price records that include history of low and high prices in the period of 52 weeks can tell a lot about the stock's existing status and the future performance. Presently, Energy Fuels Inc. shares are logging -19.42% during the 52-week period from high price, and 375.04% higher than the lowest price point for the same timeframe. The stock's price range for the 52-week period managed to maintain the performance between $1.93 and $11.39.
The company's shares, operating in the sector of Energy managed to top a trading volume set approximately around 1250857 for the day, which was evidently lower, when compared to the average daily volumes of the shares.
When it comes to the year-to-date metrics, the Energy Fuels Inc. (UUUU) recorded performance in the market was 104.46%, having the revenues showcasing 61.00% on a quarterly basis in comparison with the same period year before. At the time of this writing, the total market value of the company is set at 1.28B, as it employees total of 94 workers.
Energy Fuels Inc. (UUUU) in the eye of market guru's
During the last month, 6 analysts gave the Energy Fuels Inc. a BUY rating, 0 of the polled analysts branded the stock as an OVERWEIGHT, 0 analysts were recommending to HOLD this stock, 0 of them gave the stock UNDERWEIGHT rating, and 0 of the polled analysts provided SELL rating.
According to the data provided on Barchart.com, the moving average of the company in the 100-day period was set at 7.01, with a change in the price was noted +3.84. In a similar fashion, Energy Fuels Inc. posted a movement of +73.28% for the period of last 100 days, recording 4,336,220 in trading volumes.
Energy Fuels Inc. (UUUU): Stocks Technical analysis and Trends
Raw Stochastic average of Energy Fuels Inc. in the period of last 50 days is set at 56.25%. The result represents improvement in oppose to Raw Stochastic average for the period of the last 20 days, recording 24.01%. In the last 20 days, the company's Stochastic %K was 26.76% and its Stochastic %D was recorded 33.74%.
If we look into the earlier routines of Energy Fuels Inc., multiple moving trends are noted. Year-to-date Price performance of the company's stock appears to be pessimistic, given the fact the metric is recording 104.46%. Additionally, trading for the stock in the period of the last six months notably improved by 22.33%, alongside a boost of 318.75% for the period of the last 12 months. The shares increased approximately by -2.57% in the 7-day charts and went down by 11.10% in the period of the last 30 days. Common stock shares were driven by 61.00% during last recorded quarter.