The Contrarian Trade Of The Decade: The Dollar Refuses To Die
The Contrarian Trade Of The Decade: The Dollar Refuses To Die
Authored by Charles Hugh Smith via OfTwoMinds blog,
Which is more valuable:…
The Contrarian Trade Of The Decade: The Dollar Refuses To Die
Authored by Charles Hugh Smith via OfTwoMinds blog,
Which is more valuable: Wall Street's debt/asset bubbles or the global empire? You can't have both, so choose wisely.
The consensus makes sense: the U.S. dollar is doomed because the Federal Reserve and the Treasury will conjure trillions of new dollars out of thin air to prop up the status quo entitlements, monopolies, cartels and debt/asset bubbles, and since little of this issuance actually increases productivity, all it will accomplish is the dilution / devaluation of the currency.
Put simply, the dollar will lose its purchasing power as the inevitable result of the need to print and borrow ever-increasing sums to pay interest on existing debts, fund Bread and Circuses to keep the masses placated and keep inflating the asset bubbles in stocks, housing, bat guano, etc. to maintain the illusion of prosperity.
This destruction of the dollar is TINA writ large: there is no alternative. The only way to keep the status quo from imploding is to print as many trillions as are needed, and this inevitably devalues the currency to the point of worthlessness.
OK, we get it: TINA so the dollar dies. But let's consider TINA from the perspective of the Deep State. Destroying the purchasing power of the dollar destroys the engine of America's power, which is the ability ("exorbitant privilege") to conjure "money" out of thin air and be able to trade this "money" for cobalt, steel, semiconductors, etc. supplied by other nations.
If the dollar is destroyed by over-issuance, then how do we buy the cobalt and other goodies we need to keep the aircraft carriers and all their aircraft in working order? This is a problem, for if we can't conjure "money" out of thin air and persuade everyone it still have value, then America's global influence dissipates into thin air.
So what the consensus proposes as inevitable is financial trickery will destroy America's global influence and its prosperity, and there's no alternative. In other words, the Deep State will just throw up its collective hands and surrender its empire so Wall Street can continue inflating its bubble of phantom wealth, even as that destroys the dollar, America's global empire and ultimately its prosperity.
Is this really inevitable? Isn't it plausible that the Deep State might rouse itself from its various distractions and take notice that once the dollar loses purchasing power, the Deep State loses all its power? Are there really no adults left in the room who can make this basic observation?
For the sake of argument, let's assume there are a few adults left who understand that the dollar is the linchpin of the entire empire and so it's actually worth protecting. And let's also assume these few adults understand that boatloads of parasites, leeches, speculators, etc. will have to be sacrificed, and all manner of politically sacrosanct bubbles, skims, scams, rackets, monopolies and cartels will have to be demolished, much to the dismay of the parasites, leeches, speculators, etc. who have gotten immensely wealthy off these bubbles, skims, scams, rackets, etc.
It seems impossible that the parasites, leeches, speculators, etc. at the top of the heap could be brought down. It's certainly a stretch, given their entrenched power. It seems much more likely that the game of incrementally devaluing the dollar will continue indefinitely.
But what's the endgame of this devaluation? Is it really so far away that the banquet of consequences will never be served? These sorts of things have a way of gathering momentum as self-reinforcing feedbacks kick in, and then the consequences are served up faster than anyone believed possible.
Which is more valuable: Wall Street's debt/asset bubbles or the global empire? You can't have both, so choose wisely.
The contrarian bet is the Deep State finally awakens from its troubled sleep and decides the Empire is more valuable than the bubbles, skims, scams, rackets, etc. and so the dollar will have to be defended regardless of the cost to those benefiting from its devaluation. Very few are willing to take that bet now, but let's get comfortable and watch the printing-borrowing-trillions / devaluation game for a few more years and see how it plays out.
*  *  *
If you found value in this content, please join me in seeking solutions by becoming a $1/month patron of my work via patreon.com.
My recent books:
A Hacker's Teleology: Sharing the Wealth of Our Shrinking Planet (Kindle $8.95, print $20, audiobook $17.46) Read the first section for free (PDF).
Will You Be Richer or Poorer?: Profit, Power, and AI in a Traumatized World (Kindle $5, print $10, audiobook) Read the first section for free (PDF).
Pathfinding our Destiny: Preventing the Final Fall of Our Democratic Republic ($5 (Kindle), $10 (print), ( audiobook): Read the first section for free (PDF).
The Adventures of the Consulting Philosopher: The Disappearance of Drake $1.29 (Kindle), $8.95 (print); read the first chapters for free (PDF)
Money and Work Unchained $6.95 (Kindle), $15 (print) Read the first section for free (PDF).
Tyler Durden
Wed, 11/10/2021 – 16:45
dollar
reserve
bubble
cobalt
NIO Stock Alert: One Big Reason EV Maker Nio Is Plunging Today
As all eyes turn to Chinese stocks today, Chinese electric vehicle (EV) producer Nio (NYSE:NIO) is in the spotlight. Indeed, as NIO stock slides, investors…
As all eyes turn to Chinese stocks today, Chinese electric vehicle (EV) producer Nio (NYSE:NIO) is in the spotlight. Indeed, as NIO stock slides, investors are left to ponder the news coming out of the Securities and Exchange Commission (SEC) as well as what it might mean for the EV industry as a whole.
Source: Sundry Photography / Shutterstock.com
So, what is this big news?
Chinese stocks that trade on major U.S. exchanges have been sliding since markets opened this morning, a direct result of the recent news from the SEC. The regulatory agency has announced that it will be implementing a new law that will require all international companies that trade on the NYSE or Nasdaq to turn over their financial books to U.S. regulators upon request or face being delisted.
One major stock has already delisted and others seems poised to follow. These events have cast a cloud of uncertainty over markets, and investors have many questions about their Chinese investments. Investors have a lot to think about as NIO stock falls, in terms of the future of both the company and its industry.
What's Happening With NIO Stock
Like most China-based companies that trade in the U.S., NIO stock has been falling all day. As of this writing, it is down by almost 9%. Despite an earlier uptick, it isn't showing signs of rebounding. The stock has been declining since December began, but yesterday's news has caused it to plunge, pulling it into the red by more than 20% for the month. It's clear that since news broke of Chinese ride-sharing giant Didi Global (NYSE:DIDI) making the move to delist from the NYSE, investors are nervous, bracing for a selloff.
Nio isn't the only Chinese EV manufacturer that hasn't been enjoying the ride today. Its peers XPeng (NYSE:XPEV) and Li Auto (NASDAQ:LI) have seen worse declines. Both are down as of this writing, by 9% and 13%, respectively.
Why It Matters
While this news has sent Chinese stocks across many different sectors into a downward tailspin, there are other factors that are worth considering. Nio filed for an additional listing on a Hong Kong exchange in early 2021, but the decision was delayed for months, stretching into 2022 with little information provided by the company as to the reasons behind it. If the company was already planning to list in another market, this news from the SEC could prove the incentive it needs to delist in order to expedite the process. It's hard to pinpoint exactly what this means for NIO stock.
Wall Street hates uncertainty. And since an important international company decided to comply with unprecedented orders from its government, uncertainty has reigned supreme. Nio's incentive to delist is likely high, and if one industry leader makes a decision, others may follow. Adding to the turbulent market outlook is the fact that many Chinese business leaders haven't said much since news broke of the SEC's decision, leaving investors to wonder what the immediate future will look like.
The fact that Chinese EV stocks are slipping across the board indicates that this news is serious. The EV race, in which China's companies have played a key role, has come to define investing in 2021 and looks set to continue into the new year. If such a prominent sector can feel the strain of this news, no industry is immune.
What It Means
The road ahead looks bumpy for all Chinese stocks that trade on U.S. markets, not just the EV sector. The emerging threat of the omicron variant was already casting doubt over markets, as investors braced for what will likely be known as the "omicron winter." Now they have an even shorter-term concern to field.
With all this in mind, there are plenty of factors that contribute to a stock making the move to delist. We don't know for sure what this news will mean for NIO stock, but it is certainly a name to watch as Chinese companies make decisions and trends start to develop.
On the date of publication, Samuel O'Brient did not have (either directly or indirectly) any positions in the securities mentioned in this article. The opinions expressed in this article are those of the writer, subject to the InvestorPlace.com Publishing Guidelines.
More From InvestorPlace
The post NIO Stock Alert: One Big Reason EV Maker Nio Is Plunging Today appeared first on InvestorPlace.
Northern Graphite Snaps Up 2 Mines for US$40M
Northern Graphite Corp. [NGC-TSXV; NGPHF-OTCQB] has agreed to acquire a 100% interest in two graphite…
Northern Graphite Corp. [NGC-TSXV; NGPHF-OTCQB] has agreed to acquire a 100% interest in two graphite mines from French industrial minerals company Imerys Group for US$40 million, a move that CEO Greg Bowes described as "transformational" for the company.
The assets being acquired include the producing Lac des Iles graphite mine in Quebec and the Okanjande graphite deposit/Okorusu processing plant in Namibia. The Namibian project is held by Imerys and a joint venture partner.
Closing of the transaction is subject to a number of conditions, including the approval of the TSX Venture Exchange. The transaction is considered a "fundamental acquisition" under TSX Venture Exchange policies. As a result, trading in the company's shares has been halted pending a satisfactory review by the TSX-V or closing of the transaction, whichever occurs firs.
Northern Graphite said it intends to raise US$55 million in financing to complete the transaction, which includes payment of the purchase price, capital improvements, reclamation bonding, working capital and transaction expenses.
The company has signed a term sheet with Sprott Resource Streaming and Royalty Corp. for US$40 million in debt/royalty/stream financing and an engagement letter with Sprott Capital Partners LP to act as lead agent with respect to an equity offering of US$15 million.
The Sprott Group intends to participate in the equity offering with an investment of US$3 million, and Imerys will receive US$3 million in equity on the same terms as the offering, as partial payment for the purchase price. Imerys is also providing other support for the transaction.
Northern Graphite is a mineral development and technology company that has been working to develop its flagship Bissett Creek graphite deposit in northern Ontario.
The company is also focused on upgrading mine concentrates into high value components used in lithium-ion batteries, electric vehicles, fuel cells, graphene and other advanced technologies.
Its aim has been to become a leading supplier of graphite, an industrial mineral that has long been associated with steel manufacturing, lead pencils and golf clubs, but is now a key ingredient used in the production of electric vehicles.
Speaking about the acquisition of the Imerys assets, Bowes said: "This is a truly transformational deal that will elevate Northern from one of over 20 junior graphite companies looking for project financing to being the only North American and the world's third largest non-Chinese graphite-producing company."
In addition, he said Northern will have two large-scale development projects in stable jurisdictions that will enable the company to significantly expand production to meet growing demands from the [electric vehicle]/battery markets,'' Bowes said.
Transaction highlights include the acquisition of 40,000 to 50,000 tonnes per year of graphite concentrate production capacity. The Namibian operation will be brought back on line, enabling Northern Graphte to expand its market share in North America and Europe.
Terms of the deal were announced just before the market close on December 2, 2021, when Northern Graphite shares were priced at 83 cents and trade in a 52-week range of 92 cents and 23 cents.
China Creates China Rare Earth Group To Tighten Control Over Rare Earth Supplies
China Creates New State-Owned Mining Giant To Tighten Control Of Rare Earth Supplies
Now that aggressive foreign policy toward China has attracted…
China Creates New State-Owned Mining Giant To Tighten Control Of Rare Earth Supplies
Now that aggressive foreign policy toward China has attracted bipartisan consensus, evidenced by the fact that President Biden has opted to keep certain tariffs imposed by the Trump Administration in place, Beijing is looking for new ways to squeeze Washington. For years now, we have been warning about the risk of China cutting off supplies of 17 rare earth metals critical for the production of tech gadgets.
Earlier this year, we reported that Beijing was keeping a rare-earth export ban in its "back pocket". Now, it appears the CCP is moving to tighten state control over rare earth production so that they might more easily control who gets the metals.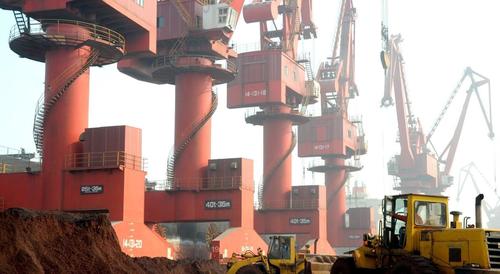 Whereas rare earth metals were previously mined by six major Chinese firms, the CCP is merging assets from several state-owned firms to create China Rare Earth Group. The new mining giant will be based in resource-rich Jiangxi Province; it's expected to allow Beijing more leverage over the supply, and by extension, the price, of these incredibly valuable commodities that are essential for the production of chips and other components used in high-tech products from computers to weapons systems.
China is believed to control up to 90% of global supplies of rare earth metals. Only a small number of rare earth mining operations exist outside China. As for where the rest are mined, the chart below offers some insight.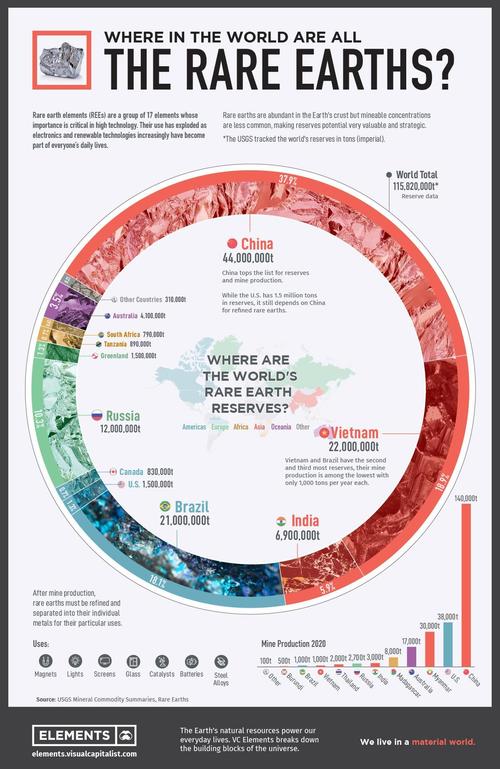 Some say China's control over the global market for rare earths is diminishing, but the truth is this is only slightly true.
You will find more infographics at Statista
Washington has long worried that Beijing might use its control over rare earth supplies toward "strategic ends", and WSJ reports that the this latest push to consolidate the industry comes at a time of "increased sensitivity" toward the West. Beijing has also cited environmental concerns, since opening new mines can irradiate entire neighborhoods.
The US has taken some steps to encourage more rare earth production in Australia, a staunch ally that has also recently curried Beijing's wrath. Back in February, the US Defense Department signed a technology investment agreement with Australia's Lynas Rare Earths which the Pentagon called "the largest rare earth element mining and processing company outside of China." According to the terms of the deal, Lynas will establish a light rare-earth processing facility in Texas. President Biden has also issued an executive order naming rare-earth minerals as one of four key areas in need of more robust policy options to reduce supply-chain risks.
A visit in 2019 to a rare earth refinery by President Xi was seen by many as a sign that rare earth miners had finally "arrived", to use vague economic parlance.
Beijing has been coy about its plans. 'China has no intention to use rare earths as a countermeasure against any country,' the state-run Global Times wrote earlier this year, However, it added that this remains an option when "foreign companies hurt China's interests."
Tyler Durden Fri, 12/03/2021 – 12:16 rare earths rare-earth