This Will Help the Market Right Itself
Despite recent weakness, expect buybacks to help support the market … look for a break to new highs later this fall … a preview of the amazing technologies…
Despite recent weakness, expect buybacks to help support the market … look for a break to new highs later this fall … a preview of the amazing technologies headed our way this decade
Coming into September, it seemed just about everyone was expecting a market pullback.
And whether it was a self-fulfilling prophecy, market dynamics, or just seasonal weakness, this month has, in fact, seen losses.
As I write Friday at lunch, the S&P and Nasdaq are down 1.7% and 1.3%, respectively, on the month. The Dow leads the losses, off 2.1% so far in September.
If your portfolio is in worse shape, that's because pockets of the market have been underperforming the broader indexes for weeks now.
From CNBC:
About 15% of S&P 500 stocks are more than 20% below 52-week highs, but much larger swaths of the midcap and small-cap universe are down 20% or more. The latter groups are less tech-focused and more susceptible to an economic slowdown:
Slow motion deterioration
(percentage of stocks that are 20% or more below their 52-week highs)
S&P 500 15%
S&P Midcap 30%
S&P Small Cap 48%
Below are a handful of widely-owned stocks, as well as the percentage by which they're now trading below their 52-week high.
American Airlines 26%… FedEx 20%… Nordstrom 41%… Pulte 26%… Eli Lilly 14%… Dupont 20%.
***What are we to make of this? Are we slowly slipping into a stealth correction?
Let's go straight to our technical experts, John Jagerson and Wade Hansen of Strategic Trader:
After breaking to new all-time highs and briefly riding above up-trending resistance a few weeks ago, the S&P 500 started pulling back last week on some post-Labor Day profit-taking.
While this pullback has gotten the permabears out there all hot and bothered, this pullback is just that… a pullback.
It's not the beginning of the end.
There's just too much demand for U.S. equities to allow the S&P 500 to break below the up-trending support level that has been interacting with the index since May.
Daily Chart of the S&P 500 (SPX)
***One factor that will keep the bull market going
In John and Wade's Wednesday update, they pointed toward a reason why stocks have support, despite the current volatility – share buybacks.
For any readers less familiar, when a company has extra cash, it can use it to buy back its own shares, in effect "retiring" or canceling those shares.
Assuming the company is still generating the same amount of profit, fewer shares will boost a company's earnings per share (EPS). This is a benefit to shareholders.
Here's John and Wade illustrating how this works:
For example, if a company earns $100 and there are 100 shares outstanding, the EPS is $1 ($100 / 100 shares = $1 per share).
Similarly, if a company earns $100 and buys back 50 shares so there are now only 50 shares outstanding, the EPS is $2 ($100 / 50 shares = $2 per share). The company didn't increase its earnings at all, but by buying back its shares, it doubled its EPS.
Today, we're seeing companies resume their share buyback programs following a COVID-19-related slowdown.
John and Wade provided the chart below, illustrating the ramp-up in buybacks here in 2021.
Source: Standard & Poor's
Quarterly S&P 500 Buybacks (source Yardeni Research)
Back to the Strategic Trader update:
This increase in share buybacks among S&P 500 companies is good news. Buybacks had slipped during the pandemic, but they are making a strong comeback in 2021.
We expect more companies to announce increased buyback programs as we head into Q4. This should keep demand for S&P 500 stocks strong in the near-term.
So, returning to our question at the top of today's Digest, what are we to make of the recent pullback in the market?
Here's John and Wade's bottom-line:
We've been here before.
The S&P 500 climbs to new all-time highs and traders take profits. This pushes the index lower, which attracts more buyers.
We expect this pattern to continue for the foreseeable future.
***Let's end today with a fun look at the amazing technologies that will be in your portfolio tomorrow
Bank of America Global Research just released a 152-page research report that highlights 14 "radical technologies that could change our lives and accelerate the impact of global megatrends."
According to the report, these technologies have a market size of $330 billion today. But by next decade, they could explode to $6.4 trillion.
As we've noted here in the Digest, the 2020s will be the most transformative decade in human history. That's because technology is leading to exponential progress, not traditional linear progress.
The BofA report echoes this point:
The pace at which themes are transforming businesses is blistering, but the adoption of many technologies – like smartphones or renewable energy – have surpassed experts' forecasts by decades, because we often think linearly but progress occurs exponentially.
Here are the 14 "radical technologies." We'll dig into a handful below.
6G
Brain Computer Interface
Emotional Artificial Intelligence
Synthetic Biology
Immortality
Bionic humans
eVTOL
Wireless Electricity
Holograms
Metaverse
Nextgen Batteries
Ocean Tech
Green Mining
Carbon Capture & Storage
Source: B of A Global Research
Here's more detail on a handful of these moonshot technologies.
From the BofA report:
Brain Computer Interfaces: "As we reach a point where humans are unable to keep up with computers and AI, brain computer interfaces could help 'level up' humans with computers. Shorter term, brain computer interfaces hold solutions for paralyzed individuals and promise a new wave of innovation in gaming."
Immortality: "Traditionally, aging has not been viewed as a disease that can be treated but this is changing. Actors in this space are increasingly looking to tackle the hallmark of aging via pathways such as 'genomic instability, telomere attrition, mitochondrial dysfunction, and cellular senescence' among others."
eVTOL: "Electrical vertical take-off and landing vehicles that could provide an alternative mobility transportation solution to outdated infrastructure and overly stressed roads in urban settings."
Holograms: "A technology capable of creating a simulated environment through light imagery projections that will allow everyone to come together in one virtual room, without having to leave their physical location."
Metaverse: A "future iteration of the Internet, made up of persistent, shared, 3D-shared spaces linked into a virtual universe. It could comprise countless persistent virtual worlds that interoperate with one another, as well as the physical world and transforming markets such as gaming, retail, entertainment etc."
It's hard to look at this list and not be excited about what's coming this decade – from both a societal and portfolio perspective.
We'll keep you up to speed with the development of these trends here in the Digest.
Have a good evening,
Jeff Remsburg
The post This Will Help the Market Right Itself appeared first on InvestorPlace.
Pegasus Resources Expands Its Uranium Assets In Saskatchewan
Pegasus Resources Inc. (TSXV:PEGA) continues to make its presence in the prolific Athabasca Basin uranium camp with the recently announced
The post Pegasus…
Pegasus Resources Inc. (TSXV:PEGA) continues to make its presence in the prolific Athabasca Basin uranium camp with the recently announced acquisition of three uranium properties at the northwest edge of the Basin. The 54,026 hectare properties comprising 13 mineral claims contain a cumulative total of 535,718 lbs of uranium, and significantly, includes a historic resource estimate of 202,200 tons at 0.119% U308 at an average width of 4.8 metres.
These new properties add to the previously announced Pine Channel uranium property which consists of six mineral claims covering 6,028 hectares and is located at the northern edge of the Athabasca basin, roughly 40 km west of the town of Stony Rapids. The Athabasca Basin in Northern Saskatchewan is host to several of the world's largest and highest-grade uranium mines, including Cameco's (TSX: CCO) McArthur River Mine and Cigar Lake Mine.
The Wollaston Northeast property is located in the 20A zone within the prolific Wollaston Domain, 45 kilometres northeast of the Eagle Point Uranium Mine. The property has at least eight known base metals showings and five previously documented uranium occurrences, and is considered highly prospective for basement hosted uranium mineralization.
Much of the recent renewed interest in uranium in the region is due to recent discoveries within the Wollaston Domain where the Eagle Point deposits are hosted within its basement rocks. In addition to the Eagle Point Mine, the area also hosts the historic Rabbit Lake Mine and Cameco/Orano Key Lake Mine, the world's largest high-grade uranium mine.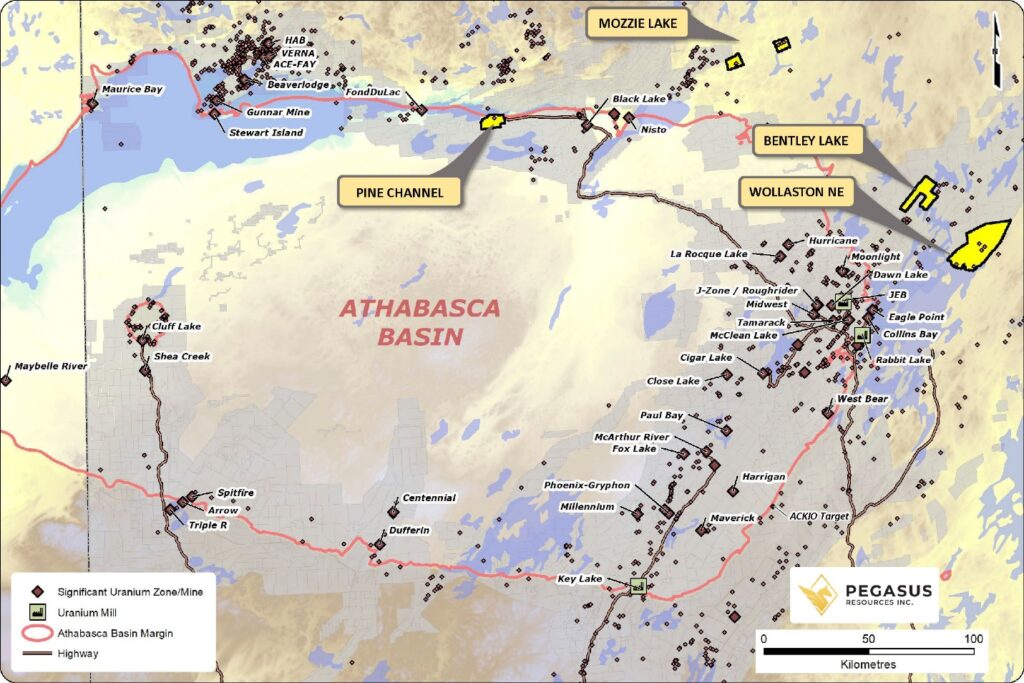 The 12,397 hectare Bentley Lake Uranium Property consisting of three mineral claims, and is located 35 kilometres northeast of the edge of the Athabasca Basin, within a transition zone between the Wollaston and Mudjatic Domains. This trend is host to several major uranium deposits, including Cigar Lake, Roughrider, McArthur River and Midwest. It is located at the transition zone between the Wollaston and Mudjatik geological domains.
The third property is located approximately 40 kilometres northeast of the edge of the Athabasca Basin and within the Charlebois-Higginson Lake Uranium District. The 6,908 hectare Mozzie Lake Uranium Property consists of three mineral claims and has a historical resource estimate of 204,200 tons at 0.119% U308, with an average width of 4.8 metres, and containing 535,718 lbs of uranium. What makes the Mozzie Lake Property particularly compelling, aside from the historical resource estimate that Pegasus's exploration efforts may be able to increase significantly, are the pegmatite deposits of the Charlebois-Higginson Lake Uranium District.
Since being initially explored from the 1940's through to the 1960's, there has been virtually no exploration on the property. Previous work in the region, as well as on the Pinkham Lake property at Mozzie Lake, indicated that the pegmatite deposits may also host mineralization which contains rare-earth-element bearing minerals. Rare earth minerals are in high demand today due to the needs of the various technology, consumer electronics, and electric vehicle manufacturing industries. PEGA plans to examine the property's rare earth potential as part of its uranium exploration program at Mozzie Lake.
Pegasus will next review the historical data on the properties to determine an exploration strategy and work programs, and will provide shareholders with updates in the near future. The company's recent announcements of the uranium assets have certainly rekindled interest in PEGA shares, and its market capitalization has increased by almost 50% to $7.98 million in recent weeks, signifying that investors are enthused about the direction management has taken.
PEGA last traded at $0.095 on the TSX Venture exchange.
---
FULL DISCLOSURE: Pegasus Resources is a client of Canacom Group, the parent company of The Deep Dive. The author has been compensated to cover Pegasus Resources on The Deep Dive, with The Deep Dive having full editorial control. Not a recommendation to buy or sell. Always do additional research and consult a professional before purchasing a security.
The post Pegasus Resources Expands Its Uranium Assets In Saskatchewan appeared first on the deep dive.
tsx tsxv tsx venture uranium electric vehicle rare-earth base metals tsxv-pega pegasus-resources-inc
Fantasy Garage?
    In Jay Leno's first career, he was a stand-up comic. His second career was as a talk-show host. The income he earned over 40 years of those first…
In Jay Leno's first career, he was a stand-up comic. His second career was as a talk-show host. The income he earned over 40 years of those first two jobs allowed him to amass one of the world's great collections of automobiles. This hobby has led to the third phase of his career: Jay Leno's garage.
It's a YouTube channel, a CNBC show, and a set of car care products and other swag (among my various ratty weekend t-shirts is one from Leno's Garage).
It looks like a lot of work managing a collection like that: It is intimidating, expensive, and time-consuming. You need a full-time mechanic on staff. Every time you take a car out for a ride, you have to consider the financial ramifications of that mileage and depreciation. Just keeping that many car batteries charged and all of those tires from getting flat spots or bubbles is a full-time job.
Classic cars are like tattoos: One is either too many or not enough.
I cannot imagine ever doing that. Despite myself, I have accumulated a few cars that are now worth more than I paid for them. During the pandemic lock-down, I entertained myself by buying and selling a few (Sold: MB SL, and BMW M235i). I am loathed to sell any of them. But if I am going to keep up this hobby, I have to find a better way to house these. I see how others have allowed this to get out of hand and run amuck, and I want to avoid that fate.
Still, If I were to imagine having more than a few cars in my garage — not as investments, but as machines, I would happily take out for a spin, depreciation be damned — I imagine it might look something like this:
1. 1957 Mercedes-Benz 300SL Gullwing
2. 1963 Aston Martin DB5
3. 1963 Corvette Stingray Split Window Coupe
4. 1967 Ferrari 275 GTB/4
5. 1972 Ferrari 246 Dino
6. 2003 BMW Z8
7. 2005 Ford GT
8. 2016 Bentley Continental GT V8-S
9. 2017 Ferrari California T 70th Anniversary
10. 2018 Mercedes-AMG GT R

Trucks
1978 Toyota Land Cruiser FJ40/43
1958 Land Rover 109 Series II 4×4
1987 Freightliner Unimog 419

Others
1935 Auburn 851 SC Boattail Speedster
1949 Talbot-Lago T26 Record Cabriolet by Dubos
1957 BMW 507
1960 Ferrari 250 GT Pinin Farina Coupe
1962 Porsche 356B Twin Grille Roadster
1999 Ferrari 550 Maranello
1983 Ferrari BB 512i
2018 Ferrari 812 Superfast
That's my fantasy garage . . .
The post Fantasy Garage? appeared first on The Big Picture.
The Ethical Investor: ESG moves, lessons from the energy crisis and JP Equities' stock tips
The Ethical Investor is Stockhead's weekly look at ESG moves on the ASX. This week's special guest is JP Equity … Read More
The post The Ethical…
The Ethical Investor is Stockhead's weekly look at ESG moves on the ASX. This week's special guest is JP Equity Partners' director and partner, Nic Brownbill.
The world is in the grip of an ongoing global power crisis that has seen energy prices soaring by thousands of percentage points.
From China to Europe and now India, the cost of energy is surging drastically. The price of natural gas has even quadrupled in some parts of the world.
But economists are now warning this might be just the first of many power crunches the world will see as we transition into the new economy.
According to a research paper by CommBank's analyst Vivek Dhar, there are two main root causes that led to the crisis — a strong demand recovery from the pandemic, and an acute shortage of two key power-producing fuels – natural gas and thermal coal.
As economies reopen, there is a sudden pent up demand from consumers which meant that factories were forced to switch on their production capacity at short notice. This was exacerbated by a colder than usual European autumn, as the continent potentially faces a more-freezing-than-usual winter season.
In China, the crisis mainly stemmed from an undersupply in local production of coals, according to Dhar, adding that coal supply has been hampered in China because of the government's own environmental protection regulations.
So what can we learn from all this?
Dhar reckons that we are transitioning into the new economy too fast, too soon.
"What the recent energy crisis has shown is that the energy transition needs to be planned carefully," Dhar wrote.
"This will mean significant investment in renewable generation, batteries, electricity grids and hydrogen."
But he thinks the roll-out of a decarbonised grid and role of gas need to be clearly defined too.
"Under-investing in gas infrastructure relative to its role in coming years will only serve to make Europe's energy market more vulnerable to prolonged gas shortages, and increase dependence on Russia."
Like Europe, China's decarbonisation ambition will need to be planned as well, Dhar said.
"If coal mines and coal power plants are closed before a renewable replacement is in place, power shortages in China could be an ongoing concern."
 
What's happening in Australia
Australians have chosen climate change as the top ESG priority, according to the latest survey conducted by global ESG consultant, SEC Newgate.
And more than half of the 1,000 Aussies surveyed said they were happy with the direction the government is taking on the environment.
Aussie respondents also nominated retailers Coles Group (ASX:COL) and Woolworths (ASX:WOW) as the top local companies when it came to doing well on ESG metrics.
These results should provide food for thought for PM Scott Morrison, who's currently caught in a political wrangle with the Nationals in setting our 2050 climate goals.
The PM has told Liberal colleagues that he wants to bring a binding 2050 net zero commitment to the COP26 Summit in Glasgow next month, without having to upgrade Australia's 2030 commitments.
Nationals Leader and also Deputy PM, Barnaby Joyce, said however that he was willing to back the 2050 targets only if funding for regional producers and farmers were made as part of the deal.
 
Special guest JP Equities' Nic Brownbill shares his views and ESG stocks
Nic Brownbill, a partner at JP Equity, told Stockhead that decarbonisation is a mega global investment opportunity, one that JP Equity wants to be all in on.
How big is the potential for ESG investing?
"We see the whole decarbonisation theme as the next mega global investment opportunity. An estimated $41 trillion is required to decarbonise the planet. It's going to be a bigger opportunity than the crypto market, because unlike cryptos, the carbon market is going to be mandated by governments, major asset managers and pension funds."
Which segment of the ESG market do you see outperforming?
"Some companies will fall short in trying to make their carbon targets, so the balance will need to be met with carbon credits. I think carbon emissions will eventually be metricated, and the carbon offset market is going to be a way for major companies to offset their emissions."
Would that investment opportunity catch on in Australia?
"I believe the Australian market hasn't really caught on to the opportunity of this yet. But I think something will really start to emerge from the COP26 conference in November, where you'll see a sustained mega theme starting to unfold in this country.
"I think we will start to see a complete emergence of Australian companies in the carbon space over the next few months and beyond."
What are the ASX stocks that JP Equity likes in the carbon credit space?
One ASX stock that we've been watching very closely is  Fertoz (ASX:FTZ). They're a leading North American fertiliser manufacturer that produces a unique low-emission rock phosphate product that increases crop yield by 15%.
"Importantly, it can generate significantly lower CO2 emissions in manufacturing compared with other commercial fertilisers.
"This presents a really significant opportunity because agriculture as a sector accounts for 24% of all human generated greenhouse emissions. Fertoz is one of the first movers in the carbon credit market, and since May this year has been issuing carbon offset credit certificates.
"It's not a matter of if, but when disclosure of carbon emissions will become metricated. And as a result, Fertoz is getting some strong enquiries from other companies looking to offset their footprints by buying carbon credits."
Any other ASX stocks you like in the ESG space?
"We're also bullish on Mpower (ASX:MPR). The company is Australia's leading specialist in renewable energy, battery storage and micro-grid business. It has a focus on five megawatt solar farms, and is in the process of creating an initial portfolio of 20 sites across Australia in the coming years.
"That gives them an aggregate capacity of around 100 megawatts, and an estimated value of more than $150 million. It's now down to what the team can deliver in some of those projects to build up the portfolio."
Notable ASX ESG-related news during the week
The energy giant announced that it was targeting a 50% reduction in Scope 1 and 2 emissions by 2030, and a 15% reduction by 2025 from a 2018 baseline of 32.6Mt.
Around $7.5 billion in direct capital expenditure will be spent on decarbonising Rio Tinto's assets from 2022 to 2030, including $0.5 billion per year from 2022 to 2024.
Strandline Resources (ASX:STA)
The company released its Sustainability Report for 2021, outlining its commitment to the United Nations Sustainable Development Goals (UNSDGs).
STA said it's focused on managing development risks at its Coburn project in WA to safeguard workers and ensure environmental compliance.
The company has appointed global consulting firm Deloitte to ensure a robust ESG program at its Maricunga project in Chile.
Deloitte has been tasked to imbed sustainable protocols in LPI's lithium extraction operations, and to establish ambitious standards for LPI to become a carbon neutral producer, while keeping high standards on the social aspects.
The company also said it has completed its maiden Sustainability Plan, with strategies aligned to the UNSDGs.
The views, information, or opinions expressed in the interview in this article are solely those of the interviewee and do not represent the views of Stockhead.
Stockhead has not provided, endorsed or otherwise assumed responsibility for any financial product advice contained in this article.
The post The Ethical Investor: ESG moves, lessons from the energy crisis and JP Equities' stock tips appeared first on Stockhead.