Trading with Focus – We're kicking off our corporate plays with a nickel/cobalt IPO
First we gave you live-streaming ASX data, so that you could bridge the gap between you and the pros from … Read More
The post Trading with Focus –…
First we gave you live-streaming ASX data, so that you could bridge the gap between you and the pros from that '70s style click-to-refresh slideshow, or that delayed crap that you normally use, to try and trade shares with, in the same market as the pros, who all live-stream.
And made it all available on mobile, because you need to go to the toilet sometime.
We gave you high-level technical charts, so you could try and see patterns within patterns like some sort of gypsy-nerd.
We gave you $5 trades, or 0.02%. On HIN. With a high-yielding and secure Macq CMA, because we haven't had a big pooled trust go bankrupt for a few years running, and you'll be pissy when it happens again.
We connected Sharesight to help sooth your sometimes volatile relationship with the tax-man.
We gave you access to the NSX, so you could help Australia have its own NASDAQ.
We got you some free research and advice from some of the best in the business – Marcus Today – so you could have a virtual 'stockbroker in your pocket' – but one that you could trust, because they aren't profiting from brokerage on turnover.
All for $45 a month.
But we're not finished.
We should have all the Chi-X ETFs in play this week, and have it fully blended into the ASX depth early next year (as an option), and if you're lucky you'll be able to nominate which market to put your orders in, or even the centrepoint. And multi-screen/multi-chart function should be an early Xmas present.
So we are crushing all the online players, now what about the full-service stockbrokers? What can they possibly offer (that we would need to get for you) to fill out this veritable treasure trove of everything that is 'serious investing'…?
Of course – access to capital raisings and IPOs!
I was going to pitch ANZ Bank to help them with their capital needs, but after they sold Etrade to CMC for pennies on the pound I thought they might be a bit a bit touchy about it being devalued (by us, probably). And we figured that anyone can access a big bank capital raise; they literally advertise them in newspapers.
So we thought our first one should be 'boutique'. Hard to get. And we're from Perth, so it had to be mining. And, let's face it, it had to be 'battery metals'.
So, we humbly present, to you, the serious active investors.
Those who presumably know what you're doing. Who are not getting caught up in the hype and spin of the buy/sell button brigade's race-to-the-bottom, in price and quality.
The first capital raising via an IPO that our clients can directly participate in and get priority to, through Marketech.
Yes, you better believe it! We are a 'Joint Lead Manager' with Blue Ocean Equities on an Australian Nickel Cobalt play. Rubbin' shoulders on Day 1 with Sydney corporate royalty!
I'm not here to hype it up, that is certainly not my job. But the fact remains, Nico is the spin-out of the Wingellina nickel cobalt deposit from Metals X (MLX.ASX) and it is amongst the biggest nickel cobalt deposits in Australia.
Here's an old slide from the Metals X days, comparing Australian undeveloped nickel deposits by volume and grade. Don't take too much from it as it's old and doesn't give you the whole story – just that it's big.
The prospectus lays out the facts and figures, and you can read more about the project on the internet. If you want some then I certainly wish you the best luck in the world, and if your broker can't get it for you, well… we might be able to do you a solid. As its our job to provide 'spread'.
But you'll need to be quick.
You'll need to have opened a HIN with us and a Macquarie account and have cash in it and a subscription to Marketech Focus within a couple of weeks, or before we fill our allocation. And we don't control the pace at which Macquarie opens bank accounts; in this new world, filled with money launderers and terrorism-funders…
You can follow the trail here to a better, more professional share trading experience:
https://www.nicoresources.com.au/
What I am going to do is explain a few things about this stuff.
We get paid a fee for helping them. Which seems cool, except none of us are paid on commission (so as far as I'm concerned it's more work for the same amount of money). Like everything we do we're doing this because we want to give you a trading platform like the pros have, and access to capital raises is a part of that. But you don't pay the fee, the company does, and it covers costs like staffing and settlement and helps us to fund more features for you!
When listing on the ASX, you need to have what is called 'market spread'. That means you can't just have 3 shareholders controlling the distribution and price of the stock as that is called a cartel, not a fair market.
A listing company needs to have a few hundred shareholders with more than a couple of grand's worth each, so that market forces can determine a fair price. And having it in your name, your super fund, the cat – these all get counted as 'one'. So we have 300 lots of a minimum $2000 as a priority for our subscribers.
New listings and capital raises aren't free money. You still have to think a bit deeper than 'nickel's so hot right now'…
We'll have more raises coming our clients' way, but they don't get automatic access to all of them. 'Sophisticated Investors' are generally thought of as being wealthy enough to take a few hits, so only they can access the really fruity ones for the companies that don't have time to build a full prospectus.
The theory with a full prospectus is that it's supposed to have all the info that you need to get up to speed, but they are very expensive and time consuming, so if a company needs money right now they just tap the rich dudes that have bulk cash or bulk income.
It still doesn't mean it's free money. It might just mean that they can make a decision with less information, and, in the eyes of financial law, can take the loss and shrug it off.
When you apply, you're entering a very similar contract to the one that you enter when you buy shares. You have to pay up even if nickel falls out of bed, or you're breaking a contract.
We get an allocation to distribute, but the company raising the dough ultimately decides who gets it.
Lastly, a super fund isn't automatically a sophisticated investor, but a sophisticated investor can have a super fund.
Anyways, that was the news for this week – big news, we believe, and now I just need to get Elon on the phone and see if he wants a few.
At Marketech our platform is about technology, providing you the tools and technology to trade.  We encourage our high-function trading platform to get you live pricing, live charts, live market depth to ensure you have the tools and trading capability at your fingertips, and on your mobile phone or PC.
You trade your own stock on your individual HIN. It is your cash in your own Macquarie account where you keep the competitive interest you earn.
Our subscribers get access to brokerage starting at $5, and then 0.02 per cent for trades over $25k.  If you want to trade the market, you need immediate access wherever you are and the seamless Marketech mobile app means you are live anywhere anytime. 
Marketech Focus subscribers also get 2-months free access to the 'Marcus Today' newsletter to help you with your investing and trading goals. 
Go to www.marketech.com.au to set up a free trial – you will be astounded by the simplicity and tools that this technology gives you.  No spin, just low-cost trading and the tools that give you advantage over hype.
This article was developed in collaboration with Marketech Online Trading Pty Ltd (ACN 654 674 432), an Authorised Representative (1293528) of Sanlam Private Wealth Pty Ltd (AFSL 337927), and a Stockhead advertiser at the time of publishing.
All information and material contained herein is general in nature and does not consider your financial situation, investment needs or objectives.
The information does not constitute personal financial advice, nor a recommendation or opinion that a security or service is appropriate for you.
You should seek independent and professional tax and financial advice before making any decision based on this information.
Any documents linked or referred to in this article were not selected, modified or otherwise controlled by Stockhead. Stockhead has not provided, endorsed or otherwise assumed responsibility for any financial product advice contained in the documents linked or referred to in this article.
The post Trading with Focus – We're kicking off our corporate plays with a nickel/cobalt IPO appeared first on Stockhead.
3 Rare Earth Stocks on Watch as Talk of a Chinese Mega-Merger Grows
At a time when both the global supply chain crisis and U.S.-China relations hang hotly in the balance, China has announced an important decision that threatens…
At a time when both the global supply chain crisis and U.S.-China relations hang hotly in the balance, China has announced an important decision that threatens to affect both matters significantly. Today, the Wall Street Journal reports that China is planning to create a new rare earth mining company that will be owned by the state. While there's no question that the forming of such a company will directly affect rare earth stocks, so far the reactions from the sector have been mixed.
Source: LuYago / Shutterstock.com
What's Happening With Rare Earth Stocks
The rare earth sector has been an interesting one to follow this year, particularly as the electric vehicle (EV) boom has highlighted a new market for its companies. The news out of China today hasn't done much to affect Nevada-based MP Materials (NYSE:MP), a company that has seen more than its fair share of turbulence this past year but has remained overall in the green for most of it. As of this writing, MP stock is up 2.16% for the day, although it has declined slightly from the peak it saw this morning. While it's down more than 6% for the week, the stock is in the green for the month by more than 2%.
In a state not too far away, though, things aren't looking so rosy. Texas Mineral Resources Corp (OTCMKTS: TMRC) has seen its shares fall by more than 4% today, demonstrating a fairly turbulent pattern. Despite being up by more than 12% for the week, TMC is down for the month by almost 19%.
Many miles away in Australia, a similar company is experience similar patterns. Lynas Rare Earths (OTCMKTS:LYSCF) is down by more than 2% for the day with losses for the week just shy of that figure. For the month, though, the small stock has seen shares rise by more than 18%.
Why It Matters
China's new firm, titled China Rare Earth Group, will be based in the country's southern province of Jiangxi, an area rich in resources. It will be built through the merging of assets of several prominent state-owned mining firms. According to WSJ, part of the mindset behind this massive industry consolidation is the goal of gaining the clout necessary to "undercut Western efforts to dominate critical technologies."
For a company like MP Materials, there will very likely be negative implications if the firm is indeed constructed. The company has emphasized that its goals involve helping restore the rare earth supply chain and helping reduce the sector's heavy dependence on China. The international economic superpower that MP has focused on challenging is about to get considerably stronger and more powerful. That's bad news for MP and most other rare earth stocks.
While some reports have framed it as a company well-positioned to accomplish an important task, the picture painted for investors hasn't always been so positive. In October 2021, a report from Grizzly Research staked the claim that the company had issued unattainable projections. While the stock was down during that month, it's been rising fairly steadily since. Earlier this year, InvestorPlace's Joseph Nograles touted the upside potential he saw in MP stock as a key component of the emerging EV market.
What It Means
As TRMC and LYSCF trade at much lower levels than MP, it's hard to gauge just how much they stand to be affected. What is clear, though, is that China is clearly furthering its quest to dominate the section of the global supply chain that concerns strategic metals. The construction of a state-owned giant to help the country gain further control of highly valuable rare earth materials certainly won't do any favors for the U.S.
This story is certainly worth watching as it unfolds, but this is likely not the time for a bullish play on rare earth stocks.
On the date of publication, Samuel O'Brient did not have (either directly or indirectly) any positions in the securities mentioned in this article. The opinions expressed in this article are those of the writer, subject to the InvestorPlace.com Publishing Guidelines.
More From InvestorPlace
The post 3 Rare Earth Stocks on Watch as Talk of a Chinese Mega-Merger Grows appeared first on InvestorPlace.
Dear NIO Stock Fans, Mark Your Calendars for This Potential Catalyst on Dec. 18
Fans of electric vehicle (EV) stocks are anxiously awaiting Nio Day, which has been confirmed to take place on Dec. 18 in Suzhou, China. Nio (NYSE:NIO)…
Fans of electric vehicle (EV) stocks are anxiously awaiting Nio Day, which has been confirmed to take place on Dec. 18 in Suzhou, China. Nio (NYSE:NIO) is expected to debut at least two new vehicle models and possibly a brand new vehicle brand. During Nio Day 2020, the EV maker unveiled the ET7 sedan to much fanfare. Deliveries for the ET7 sedan are expected to start in 2022 for most countries, although confirmation for this timetable will likely be answered at Nio Day.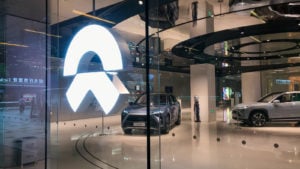 Source: Andy Feng/Shutterstock.com
Nio also impressed shareholders after releasing its November delivery numbers. The company reported that it had delivered 10,878 vehicles, up nearly 106% year-over-year (YOY). This brings total year deliveries to 80,940 vehicles, up more than 120% YOY. The November numbers were much needed after Nio reported disappointing October deliveries. Those numbers came in lower due to supply-chain issues and chip shortages. InvestorPlace contributor Vandita Jadeja notes that Nio's expected fourth-quarter deliveries of 23,500 to 25,500 vehicles will be difficult to accomplish.
Without further ado, let's dive right in to what investors should know about Nio's most exciting day of the year.
Nio Day: What NIO Stock Investors Should Know
Rumors are flying around that one of the new vehicles to be released during Nio Day is the ET5, a mid-sized sedan. The ET5 will reportedly compete with the BMW (OTCMKTS:BMWYY) 3-series and the Audi A4 at a lower price (Audi is owned by Volkswagen (OTCMKTS:VWAGY)).
The ET5 will likely be priced below the ET7, which has a base cost of around $69,000.
According to a research note from Deutsche Bank, the second mystery EV is expected to be similar to the Toyota (NYSE:TM) Alphard, a luxury multi-purpose vehicle (MPV) that "sold 20,000 units in China last year." Deutsche's second guess is a high-performance sports coupe.
Nio recently filed a trademark registration for the name EF9, according to ElectricVehicleWeb. This has led many to speculate that the new vehicle will be a convertible version of the EP9.
CEO William Li confirmed that Nio plans on adding three new models to the Nio Technology Platform 2.0 in 2022. One of the models will be the new ET7 sedan. The other two are still unknown.
Fans of NIO stock are also waiting for an update on overseas delivery times and availability, especially in European countries. The company will likely answer this question at Nio Day.
Li confirmed during a Q2 conference call that Nio had assembled a team to work on a new vehicle brand. In regards to the possible new vehicle brand, Li commented, "The relationship between Nio and our new mass-market brand will be like that of Audi-Volkswagen and Lexus-Toyota."
On the date of publication, Eddie Pan did not have (either directly or indirectly) any positions in the securities mentioned in this article. The opinions expressed in this article are those of the writer, subject to the InvestorPlace.com Publishing Guidelines.
More From InvestorPlace
The post Dear NIO Stock Fans, Mark Your Calendars for This Potential Catalyst on Dec. 18 appeared first on InvestorPlace.
Apple CEO Tim Cook Signed Discrete $275 Billion Deal With China in 2016
Apple CEO Tim Cook allegedly signed a discrete $275 billion agreement with China back in 2016, in an an effort
The post Apple CEO Tim Cook Signed Discrete…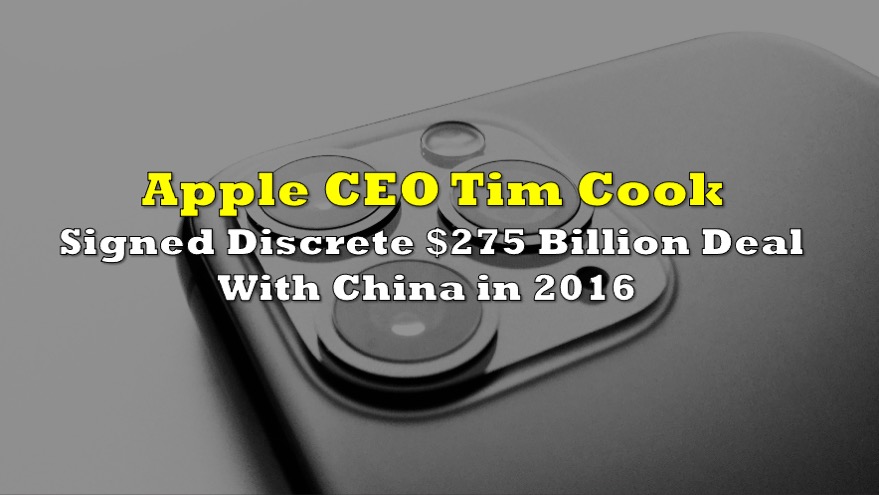 Apple CEO Tim Cook allegedly signed a discrete $275 billion agreement with China back in 2016, in an an effort to appease the country's authorities that were threatening to halt the distribution of Apple devices and services.
According to a comprehensive report published by The Information on Tuesday, which cited people familiar with the matter as well as internal Apple documents, Cook secretly entered into a five-year agreement with China via in-person visits throughout 2016. The objective of the deal was to appease the Chinese government, which threatened Apple with bad publicity and accused the US-based tech company of not doing enough for the country's economy.
Internal Apple documents reveal that the company's CEO "personally lobbied officials" to create a "memorandum of understanding" with the National Development and Reform Commission, in exchange for regulatory immunity. The agreement was allegedly devised by Apple's Chinese government affairs team, was personally served by Cook to Chinese officials, and amounted to more than $275 billion in spending.
The agreement comprised of a pledge to aid Chinese authorities in advancing their manufacturing capabilities, support domestic talent training, collaborate on research at Chinese universities, sign deals with local suppliers, and make direct investments in Chinese-based tech companies. In addition to that, Apple also agreed to spend billions of more dollars beyond its initial agreement, including setting up new retail locations, exploring renewable energy projects, and creating research and development facilities.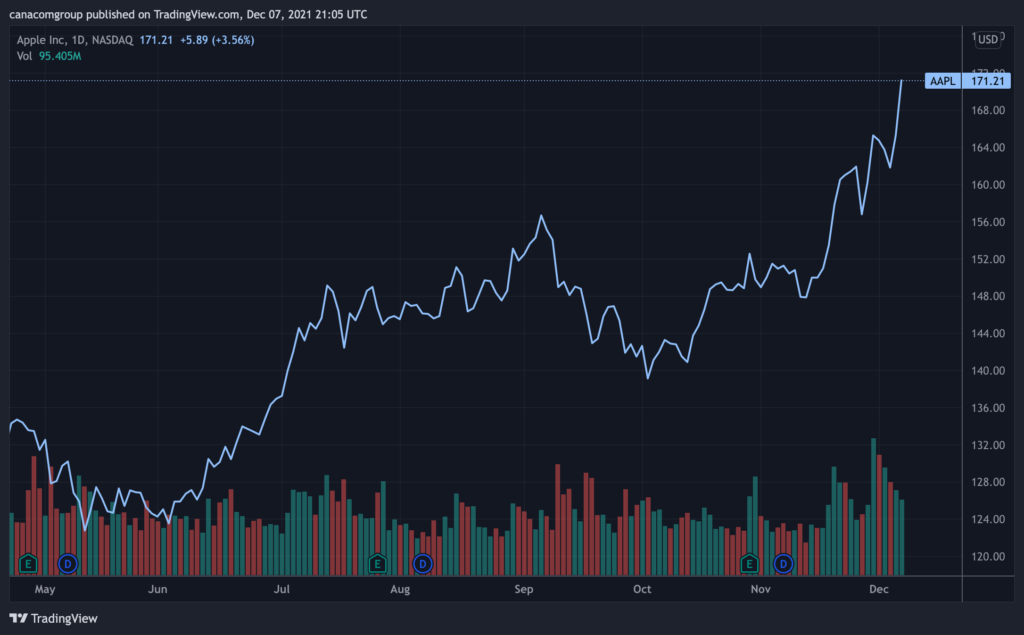 Information for this briefing was found via The Information. The author has no securities or affiliations related to this organization. Not a recommendation to buy or sell. Always do additional research and consult a professional before purchasing a security. The author holds no licenses.
The post Apple CEO Tim Cook Signed Discrete $275 Billion Deal With China in 2016 appeared first on the deep dive.