CanAlaska Stakes Three New Uranium Properties in Athabasca Basin
74,283 Hectares with multiple targets near existing uranium depositsVancouver, British Columbia–(Newsfile Corp. – November 25, 2021) – CanAlaska Uranium…
74,283 Hectares with multiple targets near existing uranium deposits
Vancouver, British Columbia–(Newsfile Corp. – November 25, 2021) – [nxtlink id="268893"]CanAlaska Uranium Ltd.[/nxtlink] (TSXV: CVV) (OTCQB: CVVUF) (FSE: DH7N) ("CanAlaska" or the "Company") is pleased to announce that compilation work by the Company's staff has identified uranium potential in three areas of the western Athabasca Basin and a total of 74,283 hectares have been staked (Figure 1).
Figure 1
To view an enhanced version of Figure 1, please visit:
https://orders.newsfilecorp.com/files/2864/105077_b2df486d14fc0863_001full.jpg
The Chymko project (32,603ha) is adjacent to the Virgin River shear zone and a series of potential shear structures have been identified; a uranium showing is adjacent to one of these structures. The Taggart project (28,328ha) is on trend with the Patterson corridor, which host the Triple R and Arrow deposits with combined reported resources of 472M lbs U3O8. The Carswell project (13,352ha) is located in proximity to the Shea Creek and Cluff Lake deposits with total combined resources and production of 135M lbs U3O8. A major conductive structure has been identified on this property.
Work will continue to identify key targets on each project in preparation for future exploration programs.
CanAlaska CEO, Cory Belyk, comments, "The addition of these three large project areas in the vicinity of world-class uranium deposits and districts in the Athabasca Basin is another example of CanAlaska successfully deploying its project generator model. We look forward to working with new joint venture partners to move these projects forward."
Other News
The Company has very recently completed drilling on its West McArthur Joint Venture Project in the 42 Zone discovery area, a joint venture with [nxtlink id="268558"]Cameco Corporation[/nxtlink]. The Company is awaiting results from 433 assay samples and 793 short-wave infrared (SWIR) samples submitted for analysis. The Company's other joint venture partner, [nxtlink id="268570"]Denison Mines[/nxtlink], has just completed drilling on the Moon Lake South project.
About CanAlaska Uranium
[nxtlink id="268893"]CanAlaska Uranium Ltd.[/nxtlink] ([nxtlink id="268893"]TSXV: CVV[/nxtlink]) (OTCQB: CVVUF) (FSE: DH7N) holds interests in approximately 300,000 hectares (750,000 acres), in Canada's Athabasca Basin – the "Saudi Arabia of Uranium." CanAlaska's strategic holdings have attracted major international mining companies. CanAlaska is currently working with Cameco and Denison at two of the Company's properties in the Eastern Athabasca Basin. CanAlaska is a project generator positioned for discovery success in the world's richest uranium district. The Company also holds properties prospective for nickel, copper, gold and diamonds. For further information visit www.canalaska.com.
The qualified technical person for this news release is Dr. Karl Schimann, Ph.D., P.Geo., CanAlaska's Senior Exploration Consultant.
On behalf of the Board of Directors
"Peter Dasler"
Peter Dasler, M.Sc., P.Geo.
President
[nxtlink id="268893"]CanAlaska Uranium Ltd.[/nxtlink]
Contacts:
Cory Belyk, Executive VP and CEO
Tel: +1.604.688.3211 x 306
Email: [email protected]
Peter Dasler, President
Tel: +1.604.688.3211 x 138
Email: [email protected]
Neither TSX Venture Exchange nor its Regulation Services Provider (as that term is defined in the policies of the TSX Venture Exchange) accepts responsibility for the adequacy or accuracy of this release.
Forward-looking information
All statements included in this press release that address activities, events or developments that the Company expects, believes or anticipates will or may occur in the future are forward-looking statements. These forward-looking statements involve numerous assumptions made by the Company based on its experience, perception of historical trends, current conditions, expected future developments and other factors it believes are appropriate in the circumstances. In addition, these statements involve substantial known and unknown risks and uncertainties that contribute to the possibility that the predictions, forecasts, projections and other forward-looking statements will prove inaccurate, certain of which are beyond the Company's control. Readers should not place undue reliance on forward-looking statements. Except as required by law, the Company does not intend to revise or update these forward-looking statements after the date hereof or revise them to reflect the occurrence of future unanticipated events.
To view the source version of this press release, please visit https://www.newsfilecorp.com/release/105077
drilling
tsx-cco
cameco-corporation
[nxtlink id="268558"]cameco corporation[/nxtlink]
press-release
An overdue reform? The new issue of MINE Magazine is out now
Mining is one of the most heavily-regulated, and heavily-taxed, industries in the world, with governments big and small eager to…Read More…
The post…
Mining is one of the most heavily-regulated, and heavily-taxed, industries in the world, with governments big and small eager to take a share of the Earth's mineral wealth. Yet this has not been the case in the Western US, where a law dating back to 1872 has allowed hard rock mining to flourish without royalty taxes.
The legislation has allowed miners to expand their operations, and their profits, relentlessly for almost a century and a half, but this golden age may be coming to an end. Proposed laws would implement a royalty tax structure for the industry, potentially generating billions of dollars for state governments, but at the cost of mining company turnover. We consider if the proposals are fair, and what their implementation could mean for US domestic mining.
Elsewhere, we highlight the impacts of some of the world's bigger mining projects, from uranium mining harming water reserves for the Navajo Nation, to political fallout from cross-border hydropower dams. Can the productivity of these project ever be worth some of the damage they are bound to cause?
Whether you are on a desktop, tablet or smartphone, you can read the magazine for free online, and join the conversation on Twitter.
In this issue
The legacy of uranium mining in the Navajo Nation
Earlier this year, residents of the Navajo Nation filed a case with the Inter-American Commission on Human Rights regarding the disastrous impacts of uranium mining in the region. Zachary Skidmore examines the filing and the legacy of abandoned mining operations.
Which companies are capitalising on the energy transition by mining key minerals?
Saywah Mahmood assesses reports from GlobalData that reveal how traditional mining companies are dominating the race to mine key energy transition minerals.
An overdue reform: Will the US update a 150-year-old mining law?
After 150 years of royalty tax-free mining, Western US miners could be hit with new bills that could raise up to $2bn for state governments. JP Casey asks whether this could help balance a historically skewed mining industry, or is it more likely to impede domestic production at a critical time for US mining?
Autonomous drones driving innovation on the mine site
Zachary Skidmore speaks with Dor Abuhasira, CEO of Percepto, about how the company's AIM platform has revolutionised inspection and monitoring at mine sites.
Ending anonymous company ownership: the extractive sector takes action
For decades, opaque companies have facilitated large-scale corruption, including in the mining and other extractive industries. Heidi Vella investigates a new initiative from Open Ownership and the Extractive Industries Transparency Initiative, which aims to end shady practices.
Cybersecurity in mining: lessons to learn from the Weir attack
Earlier this year, industrial supplier Weir suffered a cyberattack that threatens to wipe $27m off the company's revenue, and sent alarm bells ringing through the mining industry. JP Casey speaks to Skybox Security to learn what miners can do to improve their digital defences.
Next issue: exploration
Despite mining's long history as a cornerstone of much of human industry, not every mineral deposit on the planet has been exhausted. Exploration work remains integral to the global mining sector, both as a source of new minerals and commodities, but also as a form of hope and promise, for an industry bogged down by criticisms of its environmental and social damage.
What will the future of exploration hold for the mining industry?
The post An overdue reform? The new issue of MINE Magazine is out now appeared first on Mining Technology | Mining News and Views Updated Daily.
Frontier Lithium To Raise $10 Million In Bought Deal Flow Through Financing
The lithium sector continues to see demand from investor dollars, with Frontier Lithium (TSXV: FL) being the latest recipient. The
The post Frontier Lithium…
The lithium sector continues to see demand from investor dollars, with Frontier Lithium (TSXV: FL) being the latest recipient. The company last night announced it would be conducting a flow through financing on a bought deal basis.
Lead by Canaccord Genuity and BMO Capital Markets, the financing will see a total of $10.0 million raised by the company in an offering priced at $1.86 per flow through share. A total of 5.4 million shares are to be sold under the offering, with no warrant included in the financing.
Further, an over-allotment option has been granted which could see the sale of an additional 1.1 million units of the company.
Proceeds from the company are to be used for eligible exploration expenses within Canada at the firms PAK Lithium Project in Ontario.
The offering is currently slated to close December 15, 2021.
Frontier Lithium last traded at $1.52 on the TSX Venture.
---
Information for this briefing was found via Sedar and Frontier Lithium. The author has no securities or affiliations related to this organization. Not a recommendation to buy or sell. Always do additional research and consult a professional before purchasing a security. The author holds no licenses.
The post Frontier Lithium To Raise $10 Million In Bought Deal Flow Through Financing appeared first on the deep dive.
This Is the Topic I'll Be Debating Over Thanksgiving Dinner
Once upon a time – a long, long time ago – my mother was a high school debate champion in Montana.
Source: Shutterstock
She's reminded me of…
Once upon a time – a long, long time ago – my mother was a high school debate champion in Montana.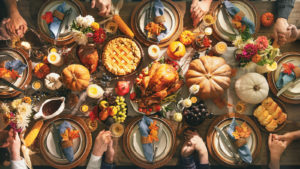 Source: Shutterstock
She's reminded me of that every day I've been alive.
And so, our Thanksgiving dinners – which, for most families, involve going around the table and saying what you're thankful for – were all about debating the year's hot topics.
I know. It sounds like a nightmare. The very thing most people try to avoid on Thanksgiving, is the one thing we actively sought.
But, as it turns out, I like debating as much as my mom. My old man does, too. My wife has picked it up, and my 18-month-old daughter is perhaps the best debater of us all (she's excellent at saying "No" and no one has figured out a good rebuttal for that yet – the perks of being adorable, I suppose).
As they say, one man's trash is another man's treasure…
Many of my best memories growing up involve sitting around the dinner table at Thanksgiving, debating climate change, or the wealth gap, or even the value of modern art, going back and forth, point-for-point, until somebody concedes – and the debate is over.
Winning the annual Thanksgiving debate at the Lango household was like a badge of honor that you got to wear all year long – until next November rolled around, and you had to earn it all over again.
This tradition lives on today, and this Thanksgiving, I know exactly the debate topic I'm bringing to the table: Electric vehicles.
Specifically, I'm ready to staunchly defend the thesis that thanks to one miraculous battery breakthrough, electric vehicles will become ubiquitous by 2030.
You see… EVs are taking over the world, but they're going about it very slowly. I mean, we're still at just roughly 5% auto market penetration today – and the Model S launched about a decade ago.
EVs are moving at a snail's pace, and that's mostly because the batteries underlying electric cars have been limiting. Namely, they don't last very long, they take forever to recharge, and you have to replace them super often.
In short: The EV Revolution won't go mainstream until we make better batteries.
That harsh reality here is that while batteries make things work, today's batteries are keeping EVs from working as well as they could.
Conventional lithium-ion batteries – which are currently the dominant status quo in smartphones, smartwatches, electric cars, and so on – are built on liquid battery chemistry. That is, they're made using a solid cathode and anode with a liquid electrolyte solution connecting the two.
These batteries have worked wonders for years. But, due to the physical constraints of dealing with a liquid electrolyte, they are now reaching their limit in terms of energy cell density – which basically means that if we want our phones, watches, and electric cars to last longer and charge faster, we need a fundamentally different battery.
Insert the battery breakthrough that will fix all of that and press the fast-forward button on the EV Revolution.
Get ready, Langos, because this is going be the best debate of the past 20 years.
And for you – well, for you, this battery breakthrough may represent the most compelling investment opportunity of the past 20 years.
Click here to learn more about it.
On the date of publication, Luke Lango did not have (either directly or indirectly) any positions in the securities mentioned in this article.
The post This Is the Topic I'll Be Debating Over Thanksgiving Dinner appeared first on InvestorPlace.