New Age Metals Completes Maiden Drill Program at its Lithium Two Project in Manitoba, Canada
December 9, 2021 – TheNewswire – Rockport, Ontario – New Age Metals Inc. (TSXV:NAM); (OTC:NMTLF); (FSE:P7J2) ("NAM" or "Company") is pleased…
December 9, 2021 – TheNewswire – Rockport, Ontario – New Age Metals Inc. (TSXV:NAM); (OTC:NMTLF); (FSE:P7J2) ("NAM" or "Company") is pleased to announce the completion of its maiden 1,630 metre drill program at its Lithium Two Project in Manitoba, Canada. To date, 678 drill core samples have been submitted to the Saskatchewan Resource Council Geoanalytical Laboratories ("SRC") for assay. This drill program was the first work program funded by the Company's partner, Mineral Resources Limited ("MRL"), see press release dated (September 28, 2021).
Harry Barr, Chairman & CEO commented: "We would like to thank our exploration team from Axiom Exploration Group Ltd. ("Axiom") for the successful completion of the maiden drill program at Lithium Two. We are eager to share initial results from this highly prospective project. While we patiently await assay results from SRC, management has asked our exploration team to develop a follow up exploration program that would include a second phase of drilling at the Project, maiden drilling at Lithium One and a 2022 field program to follow up on prospective targets from the 2021 geophysical surveys completed on five of the Company's projects."
The maiden drill program at the Lithium Two Project consisted of 15 drill holes totalling 1,630 metres. The purpose of the maiden drill program was to confirm historical drill results from the 1940's drill campaign at the Eagle Pegmatite on the Lithium Two Property. Additionally, the program was designed to test nearby targets generated from field reconnaissance programs and UAV-borne drone magnetic geophysical surveys completed between 2016 and 2021.
After the completion of the first phase of drilling, the Company has made drill permit applications to the Manitoba government for an additional 1,500 metres of drilling over 10 holes at Lithium Two. Future drilling at Lithium Two will test the down dip extension of the near-surface lithium bearing pegmatites in this first phase of drilling and additionally, evaluate other areas of interest at Lithium Two.
The drill program focused on the Eagle Pegmatite which was the source of the historical non-NI 43-101 compliant resource estimate of 544,000 tonnes at 1.4% Li20 indicated to a depth of 61 metres. The Eagle pegmatite is exposed at surface along a 533-metre strike length as a series of lenticular spodumene-bearing dykes which occur in (Precambrian) granite and meta-volcanic rock units. The 10 largest of these pegmatite bodies are a series of en echelon lenses that range up to 75 metres in length and 9 metres in width as exposed on surface (Rowe, 1956). Historic drilling results suggest that the dykes dip from 80° to the north to near vertical.
Ten drill holes were completed along strike of the Eagle Pegmatite intending to intersect the pegmatite dykes at 40 to 50 metres vertical depth below surface. Two holes were drilled to test the extension of prospective zones between 80 to 100 metres vertical depth. Additionally, three drill holes tested nearby pegmatites, including the FD 5 Pegmatite and the Unnamed Pegmatite, which exhibit lenses of mineralization at surface. Assay results are expected to be released late December or early January.
In advance of the drilling program, an archaeological assessment was completed by White Spruce Archaeology on the Lithium Two Project that has identified three areas of potential archaeological significance. As such, drilling activity will occur outside of a 25-metre buffer around the identified areas and all drill trails will stay outside of the identified areas. The recommendations for the Lithium Two Project have been reviewed and agreed by the Archaeological Assessment Services Unit, Historic Resources Branch, Ministry of Sport, Culture and Heritage.
The Company is now planning with both its geological consultants at Axiom and MRL for the next steps for exploration on its portfolio of projects. To that end, the Lithium One Project is likely the next drill target for which the Company already holds a drill permit on. Additionally, a work program is being designed for 2022 to mobilize a field crew to specified areas of geophysical interest that were identified from the 2021 geophysical surveys completed on site (see Company press release dated May 19, 2021).
The Lithium Two Project covers 137 hectares and is located approximately 20 kilometres north of the Tanco Mine which is owned and operated by Sinomine Rare Metals Co.
Lithium Two is geologically situated in the Cat Lake portion of the Winnipeg River Pegmatite Field and is road accessible. This pegmatite field is hosted in the Archean age Bird River Greenstone Belt and into the surrounding granites. To date, three significant pegmatites have been identified on the Lithium Two Project.
The Eagle pegmatite is exposed at surface as a series of lenticular spodumene-bearing dykes, over approximately 823 metres with widths of up to 30 metres. The Eagle Pegmatite has a general strike of 77° and a near vertical dip. The FD No. 5 Pegmatite is surface exposed over an area of 27 by 15 metres and is poorly exposed away from the main showing. The unit strikes at 80° with a near vertical dip to the north. The FD No. 5 Pegmatite appears to have not been previously drill tested. Surface sampling over the two pegmatites during the 2016 field season yielded assays for the Eagle Pegmatite up to 2.44% Li2O and assays up to 3.04% Li2O for the FD No. 5 Pegmatite.
About NAM
New Age Metals is a junior mineral exploration and development company focused on the discovery, exploration and development of green metal projects in North America. The Company has two divisions; a Platinum Group Metals division and a Lithium/Rare Element division.
The PGM Division includes the 100% owned, multi-million-ounce, district scale River Valley Project, one of North America's largest undeveloped Platinum Group Metals Projects, situated100 km by road east of Sudbury, Ontario. The Company completed a positive Preliminary Economic Assessment on the Project in 2019 and, is fully financed to complete a Pre-Feasibility Study on the Project in 2022. In addition to River Valley, the Company owns 100% of the Genesis PGM-Cu-Ni Project in Alaska and has plans to complete a surface mapping and sampling program in 2022.
The Lithium Division is one of the largest mineral claim holders in the Winnipeg River Pegmatite Field, where the Company is exploring for hard rock lithium and various rare elements such as tantalum and rubidium. Plans for 2021 include drone geophysics on at least five of the Company's seven projects and a maiden drill program on the Company's Lithium Two Project. On September 28, the Company announced a partnership with Mineral Resource Limited (MRL, ASX: MIN), the world's fifth largest lithium producer to explore and develop the Company's lithium project portfolio.
Our philosophy is to be a project generator with the objective of optioning our projects with major and junior mining companies through to production. The Company is actively seeking an option/joint venture partner for its road-accessible Genesis PGM-Cu-Ni project in Alaska.
Investors are invited to visit the New Age Metals website at www.newagemetals.com where they can review the company and its corporate activities. Any questions or comments can be directed to [email protected] or Harry Barr at [email protected] or Cody Hunt at [email protected] or call 613 659 2773.
This maiden 2021 drilling and exploration program is being conducted under the supervision of Lynde Guillaume, G.I.T. and Matthew Schwab, P.Geo., both of Axiom Exploration Group Ltd.
A thorough chain-of-custody and QA/QC program is being carried out during the 2020 drill program on all half-core split samples. The implemented QA/QC procedures will include the insertion of certified standard control samples, duplicates, and blanks to ensure proper calibration of lab equipment. Sample analyses are being conducted by SRC Geoanalytical Laboratories in Saskatoon, Saskatchewan.
The technical information in this news release has been reviewed and approved by Matthew Schwab, P.Geo. (Senior Vice President, Axiom), who is a "Qualified Person" for the Company as defined under National Instrument 43-101 – Standards of Disclosure for Mineral Projects ("NI 43-101").
If you have not done so already, we encourage you to sign up on our website (www.newagemetals.com) to receive our updated news.
On behalf of the Board of Directors
"Harry Barr"
Harry G. Barr
Chairman and CEO
Neither the TSX Venture Exchange nor its Regulation Services Provider (as that term is defined in the policies of the TSX Venture Exchange) accepts responsibility for the adequacy or accuracy of this release. Cautionary Note Regarding Forward Looking Statements: This release contains forward-looking statements that involve risks and uncertainties. These statements may differ materially from actual future events or results and are based on current expectations or beliefs. For this purpose, statements of historical fact may be deemed to be forward-looking statements. In addition, forward-looking statements include statements in which the Company uses words such as "continue", "efforts", "expect", "believe", "anticipate", "confident", "intend", "strategy", "plan", "will", "estimate", "project", "goal", "target", "prospects", "optimistic" or similar expressions. These statements by their nature involve risks and uncertainties, and actual results may differ materially depending on a variety of important factors, including, among others, the Company's ability and continuation of efforts to timely and completely make available adequate current public information, additional or different regulatory and legal requirements and restrictions that may be imposed, and other factors as may be discussed in the documents filed by the Company on SEDAR (www.sedar.com), including the most recent reports that identify important risk factors that could cause actual results to differ from those contained in the forward-looking statements. The Company does not undertake any obligation to review or confirm analysts' expectations or estimates or to release publicly any revisions to any forward-looking statements to reflect events or circumstances after the date hereof or to reflect the occurrence of unanticipated events. Investors should not place undue reliance on forward-looking statements.
Copyright (c) 2021 TheNewswire – All rights reserved.
drill results
drilling
drill program
tsxv-nam
new-age-metals-inc
press-release
LCID Stock Pops 5% as Investors Shake Off Lockup Expiration Fears
Shareholders of Lucid (NASDAQ:LCID) should be pleased that LCID stock is positive on the day. That's because the lockup period for legacy shareholders…
Shareholders of Lucid (NASDAQ:LCID) should be pleased that LCID stock is positive on the day. That's because the lockup period for legacy shareholders of Lucid expires today, Jan. 19. This is a significant event because legacy shareholders of Lucid own 1.19 billion shares out of 1.61 billion shares outstanding. Interestingly enough, the volume for LCID stock today is trending near its daily average. So, what implications does the lockup expiration have for Lucid?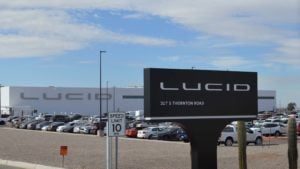 Source: Around the World Photos / Shutterstock.com
LCID Stock: Lockup Expiration Day Is Today
Shareholders were expecting a volatile day for LCID stock today, and rightfully so. Shares traded in the premarket in the low-$39 range and are now trading at the $41 level, up more than 5%. Furthermore, today's daily volume is trending near its daily average, signaling that legacy Lucid shareholders are not selling out en masse. However, this simply implies that legacy shareholders are choosing not to sell today. Those same legacy shareholders can choose to sell at any time in the future.
For example, the previous lockup expiration for private investment as a public equity (PIPE) shareholders occurred on Sept. 1. However, PIPE shareholder Magnetar Financial decided to wait until the end of the year to cut its Lucid position by 94%. Magnetar was an early backer of Lucid and invested $250 million into the electric vehicle (EV) maker in 2017. The financial firm also purchased an additional 10 million shares of LCID stock for $15 per share as a PIPE investor.
Fans of Lucid will also be monitoring the Saudi Public Investment Fund (PIF). That's because the PIF is the largest legacy shareholder of LCID stock with a 67.2% stake. However, the PIF usually holds investments for long periods of time, so investors are not anticipating a major sale.
What's Next For Lucid After Today's Lockup Expiration?
During the previous Lucid lockup expiration for PIPE shareholders, shares of LCID stock fell by more than 20% the week prior to the expiration date. Similarly, LCID stock fell more than 13% from Jan. 11 to Jan. 18. However, one month after the PIPE expiration, Lucid traded 35% higher. Today, LCID stock trades more than 130% higher relative to its PIPE expiration day closing price. While this doesn't signify that Lucid will trade 35% higher a month from today, it's interesting to note how the stock performed after a similar event.
The next expiration date for Lucid will fall on Jan. 23, 2023. On that day, Churchill sponsors will be allowed to sell their shares. According to the updated S-1 filing, Churchill sponsors own 51.7 million shares. Since Churchill sponsors own significantly less shares than legacy Lucid shareholders, the next expiration event should not be as notable as the one today.
On the date of publication, Eddie Pan did not hold (either directly or indirectly) any positions in the securities mentioned in this article. The opinions expressed in this article are those of the writer, subject to the InvestorPlace.com Publishing Guidelines.
More From InvestorPlace
The post LCID Stock Pops 5% as Investors Shake Off Lockup Expiration Fears appeared first on InvestorPlace.
QS Stock Alert: Why Is Battery Maker QuantumScape Stumbling Today?
One month ago, the industry landscape looked promising for QuantumScape (NYSE:QS). Despite being heavily shorted in 2021, QS stock was being hailed as…
One month ago, the industry landscape looked promising for QuantumScape (NYSE:QS). Despite being heavily shorted in 2021, QS stock was being hailed as a potential sector breakout to watch in the coming year. The electric vehicle (EV) battery producer saw shares rise last week after announcing that it would be expanding beyond the EV sector. However, this week isn't going so well, particularly following this morning's news. Law360 reports that the company is facing a shareholder lawsuit.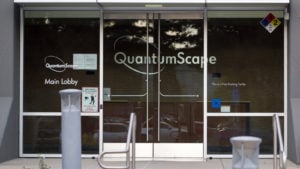 Source: Tada Images / Shutterstock.com
What's Happening With QS Stock
Shares are slipping today, and it's not hard to see why. According to the report, a state judge has ruled that the Silicon Valley-based company will be forced to face "all the securities class action claims made by investors" with the exception of one. Shareholders are alleging that the company lied about both battery quality and performance-measuring tests.
QS stock has been falling since news broke of the shareholder suit. After a sharp decline, shares are in the red by 6% as of this writing. Its performances for the week and month are worse, down 15% and 19%, respectively. While the stock is currently flatlining, there is nothing to indicate that it will rise.
Why It Matters
Frankly, there's no reason that QS stock should go up anytime soon. A shareholder lawsuit rarely ends well for a publicly traded company. Even if the claims against it are thrown out, the negative momentum it generates will drive down prices in the short term as investor confidence wains.
U.S. District Judge William H. Orrick has stated that allegations against QuantumScape were "sufficient to state a claim and adequately alleged scienter and loss causation." Law360 also reports that plantiff's legal counsel has informed them that they "look forward to litigating the case's merits." QuantumScape's legal department did respond to the outlet's request for a comment.
None of this bodes well for the company's chances in court. This is truly a tale of how hard the mighty can fall. In 2020, Wired reported that QuantumScape had the data to prove that its solid-cell battery technology could change the EV field forever. For the investors seeking to cash in on the EV boom in its early stages, this sounded too good to be true. As it turns out, that's exactly what it was.
Just how good is QuantumScape's technology? We may never know. Any progress that the company makes moving forward will be colored by this legal battle. Unless it turns out that all claims made against it are false — and no signs point to that outcome — QuantumScape's run may be over. While this company fights it out in court, its competitors such as Solid Power (NASDAQ:SLDP) will be working to expand their share of one of the hottest markets.
What It Means
This company has big plans for the future that they may have to scrap, at least for now. Unless a complete change in leadership occurs and the company is able to demonstrate complete evidence of progress, it will be hard for investors to confidence assess QS stock as a winner. That doesn't mean it's impossible, but the road ahead will be quite difficult for a company that recently seemed to have so much potential.
It is certainly worth watching these legal proceedings to see how this story unfolds. However, overcoming a shareholder lawsuit is difficult. Even if the company does manage to pull off a miracle, it will likely not be for months. For the foreseeable future, QS stock seems destined to remain stagnant at best.
On the publication date, Samuel O'Brient did not have (either directly or indirectly) any positions in the securities mentioned in this article. The opinions expressed in this article are those of the writer, subject to the InvestorPlace.com Publishing Guidelines.
More From InvestorPlace
The post QS Stock Alert: Why Is Battery Maker QuantumScape Stumbling Today? appeared first on InvestorPlace.
Top 50 Mining Companies Took in $90 Billion+ in Bullish Investor Inflows
Investors in the mining sector are preparing for what should be another strong year for the industry by adding a total of $86.3 billion of market capital…
Investors in the mining sector are preparing for what should be another strong year for the industry by adding a total of $86.3 billion of market capital to the top mining companies in the Top 50 ranking in 2021.
The overall value of the Top 50 ended 2021 at just under $1.4 trillion after peaking a little above that. This amount represents an increase of about $100 billion since the beginning of the year and double the market capitalization they had during March and April 2020, i.e., the peak of the pandemic.
Coal Doesn't Go Cold
With no exposure to iron ore other than trading, Glencore (OTC:GLNCY) and its investors bucked the trend by closing the year with $25 billion. 
The Swiss multinational company, Glencore, a commodity trading and production company, has not abandoned coal mining. Like its peers, its coal, gas and oil trading arm is benefiting from rising energy prices. 
The performance of coal miners in 2021, especially in China, is the clearest evidence of the volatility of commodity markets. Although only a short time ago, towards the end of the year coal miners and their coal divisions in the diversifieds were threatening to drop out of the ranking altogether. 
The rest of the three remaining coal companies (the ranking excludes power companies that operate their own mines such as Shenhua Energy) rose and Coal India halted its decline. The world's largest coal miner, Coal India was number 4 in the rankings four years ago.  
Lithium on the Rise
The high demand for electric cars has caused lithium prices, used for the motors and battery technology, to remain high, and their rebound has been prolonged. At the moment, the top three lithium producers, listed in the Top 50 ranking, have a global value of more than $66 billion. 
Tianqi Lithium briefly dropped its position in the rankings in 2019, due to its market value being below $5 billion. However, China's Shenzhen-listed Lithium producer is now ranked in the top 20 of the majors, with a value of about $25 billion surpassing SQM.
For its part, Albemarle (NYSE:ALB), the world's number one producer, has risen 59% since the year began which made its investors $10 billion richer. Charlotte, North Carolina-based Albemarle announced that it intends to buy, with the aim of expanding downstream, a Chinese lithium producer.
Ganfeng, the leading manufacturer of lithium chemicals (a company not ranked as mining is not a major part of its business) is striving to secure investment in that sector of production. For its part, copper producer Codelco is advancing work on its lithium project. However, concessions in Chile could become scarce or disappear altogether in the decades to come. 
Pilbara Minerals is currently ranked 54th but Pilbara is expected to enter the top 50 mining rankings very soon, as the company continues to post record highs and operations at the Pilgangoora project are ramping up to supply the huge demand for spodumene for Chinese transformers. 
Rio Tinto's (ASX:RIO) Jadar project is not off to a good start in Serbia. The Anglo-Australian company's lithium business is likely to start to look up in the rankings in the next few years as well as Sibanye's entry into battery metal with an acquisition in Nevada. 
Iron Ore, and More
Falling iron ore prices and the decline of copper in the market in the last months of 2021 affected the ranking position of the big three companies, BHP (NYSE:BHP), Rio Tinto (ASX:RIO) and Vale (NYSE:VALE). Over the course of last year, they lost a total of $56 billion.
Last year, BHP had a valuation of almost $200 billion being worth slightly more than oil company Royal Dutch Shell for some time. This made it the most valuable stock in the UK. 
A sign of the belief investors have in the effect on mining for the green energy transition is the fact that BHP has lost almost $50 billion despite activating the search for nickel for battery manufacturing. Rio Tinto, for its part, has lost $43 billion since its peak. These losses are indicators that iron ore mining remains central to the sector. 
The fall in iron ore caused South Africa's Kumba Iron Ore to have its worst valuation of the year, plummeting 30%. Australia's Fortescue Metals, the world's fourth largest iron ore producer, plunged by $13 billion over the year. While its ranking fell six places as its trading arm, Fortescue Future Industries, got off to a slow start. 
CSN Mineração, one of the biggest mining IPOs since Glencore's in 2011, dropped out of the 50 ranking in its first quarter debut. But thanks to last year's 87% rise, the Cleveland-Cliffs company is ranked in the top 50 after spending years in obscurity. 
Uranium 
For the first time after many years, the value of uranium producers is once again ranked in the top 50.  
Kazakhstan's Kazatomprom expanded its stock exchange listing beyond Almaty. As a result, the company has doubled in value this year. Kazakhstan, responsible for about 40% of uranium production, despite the turmoil in the country, has not affected the fortunes of the state-controlled company.
AngloGold Ashanti, Cameco's main rival, has been overtaken by Cameco leaving Cameco out of the rankings at the end of the year. However, the stock's performance since the Dec. 31 close would see the Saskatoon-based company move back up the rankings in the hope that it can take advantage of the revival of uranium mining and the problems in Kazakhstan. 
A Banner Year
Overall, the mining industry had a banner year with record investor inflows. The bullishness of 2021 is likely to continue as the pandemic recedes and producers get back to normal with production targets as well as a more balanced and predictable supply chain.
The above references an opinion and is for information purposes only. It is not intended to be investment advice. Seek a licensed professional for investment advice. The author is not an insider or shareholder of any of the companies mentioned above.
The post Top 50 Mining Companies Took in $90 Billion+ in Bullish Investor Inflows appeared first on MiningFeeds.