Wait for the Dip Before Snapping up More QuantumScape Stock
Electric vehicles are the future, and they're coming in fast. The plug-in hybrid vehicle has been around for a few years now. But it's only beginning…
Electric vehicles are the future, and they're coming in fast. The plug-in hybrid vehicle has been around for a few years now. But it's only beginning to take off because of its environmental friendliness — especially when you compare them with gas-guzzling cars or trucks on our streets today. Currently, EVs are difficult to manufacture. But that could change thanks to QuantumScape (NYSE:QS); EVs could soon be more efficient and affordable than ever before. Hence, QS stock has a one-year return bump of around 70%.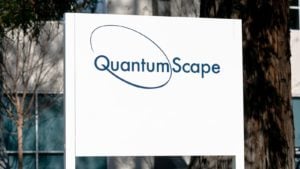 Source: Michael Vi / Shutterstock.com
It's important to remember how we got here. QuantumScape, which is backed by Volkswagen (OTCMKTS:VWAGY), completed a reverse merger with Kensington Capital Acquisition Corp., and the markets reacted very favorably to the combination. At its peak in late December last year, the stock was changing hands for $132 a pop. However, it soon plunged after reopening plays started to do well.
There are several reasons why the stock has done very well recently. It reported a stellar third-quarter earnings report, an independent lab published their findings to back up their product line's single solid-state layer cells. And the company's CEO also provided an update on the production schedule in a letter to shareholders.
But the company is not making money yet and still manages to find itself with a market cap of $14.63 billion. If you are thinking about investing in this space, it is best to wait for this one to dip before snapping up more shares or initiating a position.
Third-Party Test Results
QuantumScape announced the release of independent third-party test results and they're quite promising.
Mobile Power Solutions found the batteries steady with over 800 cycles at 25 °C with one-hour charge/discharge rates. Even under 3.4 atmospheres of pressure, these batteries managed to keep running strong.
Less technically speaking, these batteries are said to last longer than standard ones. And they provide better performance and affordability while maintaining almost no downtime for maintenance needs.
It is exactly the kind of news investors are craving. But they won't hear about revenues just yet.
Instead, QuantumScape's quarterly reports are a way to review progress made developing solid-state batteries. The company doesn't have any sales yet. So, these releases serve as an opportunity for executives to help investors understand more about their projects' development.
The Long-Term Impact
The company has been working hard to keep its progress a secret, but the battery test validated it. QuantumScape reported in its December 2020 Battery Showcase that they were doing well, and this news was seen positively by investors who have not yet seen any prototypes from them or received updates on when one might come out.
There is also a very exciting piece of news that came out of the company recently.
QuantumScape announced that it had signed an agreement with another top global automaker, marking the company's second big partner. Now, QuantumScape didn't disclose which automotive manufacturer would be partnering up for this project. But they did say it is one of the largest car OEMs in the world.
In addition, the unnamed company reportedly undertook a recent evaluation of early battery cells made by QuantumScape. Which led them to buy around ten megawatt-hours (MWh) of batteries from the pre-production "QS-0" product line. Delivery is slated for 2023 when manufacturing begins on the pre-pilot models.
The Risks and Rewards of Investing in QS Stock
QuantumScape will start production of test cells for EVs in 2023 with mass production starting in 2024 at the soonest. This means that there will only be meaningful revenues after this timeline, if they can meet their goals.
That's pretty ambitious. Especially given how long it takes for new technology like this to catch on among car manufacturers who are often slow-moving when adapting to changes.
QuantumScape's main aim is to create single-layer and four-layer batteries but they are even already looking forwards towards the future with ten-layer batteries in the works. These batteries are intended, and essential, for electric vehicles. Their integration with automotive majors is an important factor that could lead them to further success down the road. It would mean a larger market scale at a lower cost than their competitors.
All of this means QS stock has the potential to be a multi-bagger. Investing in startup companies is a very risky business. But with the right approach and knowledge, you can make it work for your portfolio.
The only issue with QS stock is the valuation. Once it falls closer to its 52-week low, then you will have an excellent opportunity at a great stock.
On the publication date, Faizan Farooque did not have (either directly or indirectly) any positions in the securities mentioned in this article. The opinions expressed in this article are those of the writer, subject to the InvestorPlace.com Publishing Guidelines.
Faizan Farooque is a contributing author for InvestorPlace.com and numerous other financial sites. Faizan has several years of experience in analyzing the stock market and was a former data journalist at S&P Global Market Intelligence. His passion is to help the average investor make more informed decisions regarding their portfolio.
More From InvestorPlace
The post Wait for the Dip Before Snapping up More QuantumScape Stock appeared first on InvestorPlace.
NEO Lithium's Closest Neighbor Gets Ready to Drill
If you believe in the old adage, "the best place to find a deposit is near an existing one," you should consider Portofino Resources (TSX-V: POR)…
When Neo Lithium started early stage exploration they recovered surface lithium grades of 190 mg/L compared to 373 mg/L for Portofino Resources adjacent Yergo property.
If you believe in the old adage, "the best place to find a deposit is near an existing one," you should consider Portofino Resources (TSX-V: POR). This Vancouver-based company holds an option to acquire a 100% interest in the Yergo lithium brine project located in Argentina, in the heart of the Lithium Triangle, along with the Allison Lake North lithium and rare elements property. Portofino also owns five gold projects in Canada, and is overseen by an exceptional management team with deep experience in the resources industry.
One of the reasons that all eyes are on the Yergo project is the growing demand for lithium to support the green revolution. As one of the world's lightest metals, lithium is playing one of the largest roles in our green and clean future. Demand is predicted to increase seven times over the next 10 years, reaching a total global demand of 1.79 million metric tons. Furthermore, for every 1% surge in battery electric vehicle (BEV) market penetration, the world's need for lithium will rise by an estimated 70,000 tonnes per year. 
This has industry experts asking – where will the supply come from?
Sharing a similar geological history with a world class asset
Argentina, Chile, and Bolivia comprise what is known as the Lithium Triangle, and these countries host a whopping 75% of the world's lithium resources. Portofino's Yergo project is a salar located approximately 15 kilometres southeast of Neo Lithium's 3Q project – one of the largest and highest-grade lithium brine deposits in the world. It was initially discovered in late 2015 and took only five years to advance to the construction phase. In October of this year, Neo Lithium announced it had received an all cash, takeover offer of $960 million for all its outstanding equity from Zijin Mining. 
Situated in the Lithium Triangle which accounts for >40% of global production in concentrates and >90% of lithium brine resources, Yergo's close proximity to the 3Q project is significant because the 3Q deposit hosts some of the lowest sulfate and magnesium impurities, classifying it as a world class asset. Furthermore, the 3Q project has measured and indicated resources of lithium grades of >900 mg/L. Portofino's Yergo project is potentially an extension of the same salar as this neighbouring project with similar grades and low impurities. David Tafel, Portofino's President and CEO commented:
"Given the proximity of Neo Lithium's 3Q project, it is likely that the Aparejos salar has experienced a similar geological history, including lithium and potassium enrichment, due to their common evaporitic climate and local geology. The 3Q and Yergo projects are located within the same volcanic package likely with exposure to the same potential lithium source rocks and mineralizing processes."
Portofino carried out an initial exploration program at the Yergo property in 2019 which included surface and near-surface brine sampling and geological mapping. The sample results reflected values of up to 373 mg/L lithium with low impurities. Following the initial sampling program, Portofino conducted a geophysical survey and geochemical sampling program in 2021. The project is drill ready with an initial drill program expected to commence shortly which will test the volume and content of the brines. 
Neo Lithium started early stage exploration at their 3Q project in 2016/2017 and recovered surface lithium grades of 190 mg/L compared to 373 mg/L for Yergo. Subsequently, Neo Lithium discovered surface samples in the northern salar containing an average lithium concentration of 784 mg/L. 
While we're not implying that Yergo is definitively an extension of 3Q, we believe it's a high odds possibility, and results from the their drill program will prove out Yergo's significant potential. 
In April 2021, Portofino reported that it was adding to its lithium portfolio with the acquisition of the Allison Lake North lithium and rare elements property, located 100 kilometres east of Red Lake, Ontario. It is accessible by logging roads while a hydro-electric power line runs through the property. Ontario is home to several well-known lithium and rare element deposits, notably the PAK lithium deposit along the "Electric Avenue," as well as the Spark deposit. 
Portofino completed a channel sampling and initial exploration program at the Allison Lake project in June, 2021. Initial grab samples returned values up to 398 ppm Li, 90.5 ppm Cs, 1040 ppm Rb, and 135 ppm Ta. Looking forward, this project will be the focus of an expanded geological exploration program. 
This is highly significant when considering that the global quest for electric vehicles and clean energy has caused lithium to emerge to the forefront as one of the most necessary components for lithium-ion batteries. Market penetration for electric vehicles is estimated at ~4% globally and is anticipated to jump to roughly 30% over the next decade. Furthermore, the processing of lithium brine to produce battery-grade lithium carbonate is a relatively simple process which has been tested for over 20 years. With the Zijin Mining proposal to acquire Neo Lithium for its 3Q project, it's not a stretch to assume that other acquisitions and joint ventures will follow. 
Add in a high-grade gold portfolio
In addition to it's two lithium projects, Portofino also holds the South of Otter and Bruce Lake projects in the Red Lake District, as well as Gold Creek, Sapawe West, and Melema West projects in the Atikokan District of Ontario. Both South of Otter and Bruce Lake projects are proximal to the Dixie Gold project, a high-grade gold deposit currently being explored by Great Bear Resources Ltd. (TSX-V: GBR). In the Atikokan District, the Gold Creek property is located immediately south of the Shebandowan Ni-Cu mine, and the Sapawe West and Melema West properties are located east of Atikokan.