Why Nio Stock Is About to Lift Off From Here
Despite the unpredictability in China-based stocks, Nio (NYSE:NIO) stock is remarkably steady.
Source: Robert Way / Shutterstock.com
The electric vehicle…
Despite the unpredictability in China-based stocks, Nio (NYSE:NIO) stock is remarkably steady.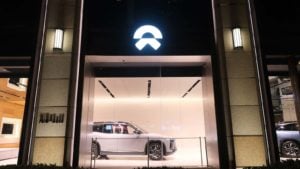 Source: Robert Way / Shutterstock.com
The electric vehicle manufacturer has tremendous upside ahead as competitor Rivian prepares for its debut as a publicly traded company. Tesla (NASDAQ:TSLA) crossed the $1.2 trillion valuation effortlessly. The quick rise in EV stocks will boost NIO stock.
After Nio posted October deliveries, investors took advantage of the brief intra-day dip below $40. The EV giant has a good chance of lifting off from here.
Sustained Uptrend For NIO Stock
When the Nasdaq composite started to correct last month, Nio shares bottomed at below $35. The index's sharp rally encouraged bottom-fishers to buy Nio. On Nov. 1, the premium smart EV supplier in China reported a 27.5% year-on-year drop in vehicle deliveries. It delivered 3,667 units. Nio said a drop in production volume is due to the restructuring and upgrades of manufacturing lines.
At first, markets reacted negatively to the production issues. Months before that, Nio said that supply chain disruptions would hurt output. Conversely, Tesla posted impressive deliveries and did not face any output problems due to semiconductor chip shortages. Fortunately, markets are in a forgiving. They will accept Nio's explanation that it prepared for new product introductions from Sept. 28 to Oct. 15.
Nio resumed its ES8 production at the end of last month. Its ES6 accounted for most of the productions in the period. The company said that it delivered 145,703 cumulative deliveries as of Oct. 31.
Opportunity
Lucid Group (NASDAQ:LCID) is trading at a $65 billion market capitalization after selling a small handful of premium EVs in the last weekend. Nio's market cap of barely $72 billion is too low. Few controversial headlines surround Nio. For example, in August, Nio denied tampering with data after a fatal crash. To prevent future crashes, Nio now requires its customers to complete a test on its app. After doing so, users may unlock the ability to use Navigate on Pilot.
The test features a six-minute video. Customers must answer a 10-question multiple-choice quiz. Once they pass, they will have access to the assisted driving feature.
Nio's response to the crash is critical in earning customer trust. As it expands to Europe starting in Norway, the EV firm cannot have customers worried about product safety. Nio is not alone in protecting customers from themselves. Over the users, Tesla drivers circumvented the automation safety features. This resulted in fatal crashes. It also gave the media a chance to question Tesla's safety.
Risks
Nio's 3,667 deliveries for the month is a weak performance. The company did not report its order book. Without new order figures and its backlog, investors have a partial view of the company's business health.
Competitor XPeng (NYSE:XPEV) posted a 233% increase from a year ago in deliveries, to 10,138 units. The firm almost doubled its P7 deliveries in Oct., to 6,044 units. Cumulative deliveries of 100,000 still trailed that of Nio's total.
The relatively high market capitalization of Lucid, Rivian, and Tesla may not lift Nio's value. Markets may decide to invest locally, shunning China-based companies like Nio. Still, XPeng broke out to the upside last month. Li Auto (NASDAQ:LI) also attracted buyers.
Fair Value
Ten analysts offer a one-year price target that ranges from $45 to $72. Per Tipranks, the average price target is almost $60, for a potential return of over 40%.
Investors who missed the LCID stock rally since shares fell to $17 in Sept. may consider Nio stock instead. Now that Tesla stock trades at over $1,200 and doubled in the last year, investors are wary of buying at current levels. Stuck in a trading range of between $35 and $50, Nio may reward the patient investor.
The company posted light October deliveries. After the company reports demand levels for its refreshed EVs, it may raise its outlook for the year. Nio has no reason not to increase investor expectations. XPeng is posting strong sales. China is encouraging its citizens to embrace green solutions.
Also, should EV sales stall, China could reinvigorate demand by offering local incentives and subsidies.
Your Takeaway
Markets lost interest in Nio stock in the last few months. But the upcoming initial public offering for Rivian and Tesla's trillion-dollar valuation may change that. EV investors scrambling to find the relatively cheapest stock should look at Nio stock again. The company started expanding outside of the China market into Europe. Growing sales in that region is a slow process. If Nio experiences strong demand and satisfied customers from Norway, it will increase its efforts there.
The expanded addressable market will lead to higher revenue. This would lift Nio's share price from current levels.
On the date of publication, Chris Lau did not have (either directly or indirectly) any positions in the securities mentioned in this article. The opinions expressed in this article are those of the writer, subject to the InvestorPlace.com Publishing Guidelines.
The post Why Nio Stock Is About to Lift Off From Here appeared first on InvestorPlace.
Best Mining Penny Stocks to Buy Right Now? 3 To Look at This Month
Will these mining stocks make your watchlist? When discussing mining penny stocks,…
The post Best Mining Penny Stocks to Buy Right Now? 3 To Look at…
Will these mining stocks make your watchlist?
When discussing mining penny stocks, it is difficult not to highlight how well they have performed over the last year and a half. It all started with the pandemic, which pushed precious commodities like gold and silver to new highs. As a result, more types of mining equities began to perform better. There are far more of these assets than many investors think.
Many people think of gold and silver stocks when they think about mining assets. In reality, there are numerous different types of mining stocks. Companies in this category include those that look for copper, steel, uranium, lithium, lead, and other minerals. Bitcoin mining stocks, for example, can be considered for this type of asset.
What should you look for when investing in mining penny stocks, you may be wondering? There are a few critical actions that may be taken to ensure that the moment is perfect to invest in a company. The first and most obvious step is to read the news from across the world. Consider how the pandemic affected and continues to affect the mining industry. Sector news is also critical; for example, shortages and growing demand are useful pieces of information to have. Let's look at three mining stocks performing well in December 2021.
Top Mining Stocks To Watch
Denison Mines Corp. is a mining penny stock that just gained 2% on December 2nd. This is a mining business that is engaged in uranium development. The development business owns a 95 percent share in the Wheeler uranium project, which is located in the Athabasca Basin of northern Saskatchewan. This is a mining stock that has previously gotten a lot of attention on this site due to its consistent upward market momentum.
The corporation announced the adoption of an Indigenous Peoples Policy, or IPP, on December 2nd. The Board of Directors endorsed this, which indicates the company's acknowledgment of the critical role of Canadian business in reconciling with Indigenous peoples in the country. This is consistent with Denison's pledge to take action to advance reconciliation. This was critical for the corporation because it operates in several areas across Canada that are on Indigenous peoples' traditional territory.
President and CEO of Denison, David Cates said, "I believe Industry has an important role to play in acknowledging, and building awareness of, the history of Indigenous people in Canada and the critical importance of pursuing the objectives of reconciliation. As such, the adoption of an Indigenous Peoples Policy is a notable step in our Company's journey to bring reconciliation to the forefront of what we do and how we do it." DNN stock has increased in value during the last six months. Will DNN stock be added to your watchlist as a result of its recent advancements?
IAMGOLD Corporation is a gold mining company that has seen its stock price rise in the previous 30 days. This firm looks for, develops, and manages land for the sale of gold in a variety of countries. IAMGOLD is a global company with operations in North America, South America, and West Africa. These territories are home to the Westwood mine, the Boto gold project, and a slew of other ventures.
IAMGOLD released their third-quarter results for 2021 on November 3rd. The firm released its third-quarter results for 2021 on November 3rd. IAMGOLD generated $121.6 million in mine-site free cash flow, while adjusted EBTIDA was $265.7 million. During the same time period, IAMGOLD reported a total net loss of $20.1 million, or $0.04 per share. Despite certain flaws in its financial results, IAMGOLD has had several moments of strong performance this year.
CEO and President of IAMGOLD, Gordon Stothart said, "The third quarter of 2021 saw improvement in our operating performance supported by the continued strong results at Essakane. Rosebel performed in line with the revised plan. Construction activities at Côté continue to proceed well, reaching 36% project completion at quarter-end." Is IAG on your list of mining penny stocks to watch right now?
We've previously identified New Gold Inc. as a mining penny stock with a lot of momentum on multiple occasions. This firm develops and manages a number of mineral properties throughout North America. The Rainy River gold-silver mine, which it controls 100 percent of, is one of its most important assets. The Rainy River mine is located in the Canadian province of Ontario. In addition, the corporation owns a 100% stake in the New Afton gold-copper mine. This mine is in the Canadian province of British Columbia.
On October 13th, the company revealed its third-quarter operational results. New Gold produced a total of 105,628 gold equivalent ounces throughout this time. Rainy River and New Afton mines yielded 60,785 and 44,843 gold equivalent ounces, respectively. Due to fewer tons milled, its gold equivalent production dropped in the third quarter.
President and CEO of New Gold, Renaud Adams said, "We remain on track to deliver on our updated guidance, and we continue to make progress towards securing the Company's future growth at both assets. Our liquidity position improved for a third consecutive quarter, and I continue to expect meaningful free cash flow generation from our operations in the near-term" Amid these new developments, will NGD be on your mining penny stock watchlist?
Top Mining Penny Stocks To Buy?
Penny stocks are infamous for being extremely volatile and unpredictable. As a result, it is suggested that you concentrate on studying and investing carefully. No one knows what will happen to mining stocks in the market as long as inflation fears persist. As we approach 2022, only time will tell what happens to mining penny stocks. For the time being, which companies will you add to your watchlist?
The post Best Mining Penny Stocks to Buy Right Now? 3 To Look at This Month appeared first on Gold Stocks to Buy, Picks, News and Information | GoldStocks.com.
nyse
gold
silver
uranium
copper
tsx-img
iamgold-corporation
iamgold corporation
The Buckingham Graphite Project – Noble Mineral Exploration (TSX.V: NOB)
CEO, Vance White and Exploration Manager, Wayne Holmstead had us out to the Buckingham Graphite property to highlight the opportunity it presents the company….
CEO, Vance White and Exploration Manager, Wayne Holmstead had us out to the Buckingham Graphite property to highlight the opportunity it presents the company. Graphite of this quality will be in high demand as several auto manufacturers have publicly stated they will shift to EV's by 2030. Furthermore, the Quebec government is already taking steps to ensure that Quebec is a leader in Battery metals, manufacturing and clean energy.
About The Buckingham Graphite Project
The Buckingham graphite property is located in the Outaouais area of the Grenville Subprovince of Quebec. It consists of 30 claims (1803 hectares) and contains 3 separate graphite occurrences. The main occurrence (McGuire) was worked by Stratmin Inc. in 1985-86 when a ground electromagnetic survey was done following a regional airborne survey. Three diamond drill holes were completed to intersect the electromagnetic anomalies, 2 of which intersected graphite mineralization which was found to be hosted by marble and gneissic rocks.
Although the nature of the graphite on the Buckingham Property has not been determined, graphite concurrences in this area are normally coarse grained, flake graphite. This type of graphite is the most desirable of the naturally occurring types that is used to produce lithium-based batteries. Lithium-based batteries are required for a variety of 'green' technologies, including electric vehicles. The global demand for these types of products is expected to rise as world governments lean towards environmentally friendly products rather than petroleum-based ones.
The second graphite occurrence (Cummings) is described as a "deposit in the form of narrow bands of graphite occurring in gneiss and marble over a length of 300 m and a width of 30 m. The graphite occurs in several irregular bands within the 30 m zone." The Cummings Occurrence is located about 1.5 km southeast of the McGuire Occurrence.
The third graphite showing on the property is called the Robidoux Occurrence and is located about 4 km east of the McGuire Occurrence. It was described by the Quebec Superintendent of Mines in a 1910 report as a "partially uncovered graphitic bed over a length of about forty feet. Some shallow pits have also exposed graphitic outcrops, presumably of the same bed, for an additional distance of 75 to 100 feet. The bed where exposed by the main stripping is about four feet thick and dips into the side of a low hill at an angle of 40 to 50 degrees." It was also noted that "the graphite ore contains over 30% carbon."
About Noble Mineral Exploration
Noble Mineral Exploration Inc. is a Canadian-based junior exploration company which, in addition to its shareholdings in Canada Nickel Company Inc., Spruce Ridge Resources Ltd. and MacDonald Mines Exploration Ltd., and its interest in the Holdsworth gold exploration property in the Wawa, Ontario area, holds approximately 72,000 hectares of mineral rights in the Timmins-Cochrane areas of Northern Ontario known as Project 81. Project 81 hosts diversified drill-ready gold, nickel-cobalt and base metal exploration/VMS targets at various stages of exploration. More detailed information is available on the website at www.noblemineralexploration.com
For additional information please visit www.insidexploration.com/nob/ and be sure to follow Insidexploration through our various social media platforms.
Website – https://insidexploration.com
Follow us on Twitter – @insidexplr – https://twitter.com/insidexplr
Join us on Facebook – https://www.facebook.com/Insidexplr/
Youtube Channel – https://www.youtube.com/channel/UCZC6W8B-k3uo39V042iKcng
Linkedin – https://www.linkedin.com/in/insidexploration/
Disclaimer
The content of this video contain forward looking statements and are subject to change. We caution the viewer that this video is for informational purposes and should not be considered investing advice. Prior to making investment decisions, we encourage you consult a financial advisor and always do your own due diligence.
With Fisker Up 33% in November, Is There Still Room for Growth?
Electric vehicle (EV) company Fisker (NYSE:FSR) has had a roller-coaster year. But now with 2021 reaching a close, FSR stock is on a roll. Specifically,…
Electric vehicle (EV) company Fisker (NYSE:FSR) has had a roller-coaster year. But now with 2021 reaching a close, FSR stock is on a roll. Specifically, the month of November was big for the company, highlighted by an Ocean EV unveiling at the LA Auto Show. FSR stock closed out October at $16.05. By the last day of November, it was worth $21.39. That's a 33% gain — not bad for one month.
Source: T. Schneider / Shutterstock.com
Can the climb continue? After all, although we have finally seen a completed version of the vehicle, the Fisker Ocean is still a year from production in November 2022.
A lot could go wrong between now and then. It's also possible that the excitement over the Ocean's debut has boosted FSR stock to a point where further gains are unlikely, at least in the short term. As such, it's time to take a closer look at this Portfolio Grader "C" rated stock and see if it deserves a spot in growth-oriented portfolios.
FSR Stock: The Ocean Is Real and Consumers Are Onboard
The start of 2020 was not long ago, but it was the beginning of a new era. Tesla (NASDAQ:TSLA) had begun ramping up to mass production levels. In 2019, the EV maker delivered 367,500 vehicles, up 50% from the prior year. Further, a total of 2.1 million EVs had been sold globally in 2019 as well. Meanwhile, CEO Henrik Fisker was preparing for CES 2020 with his prototype battery-powered Ocean SUV.
Details were lacking at CES and Fisker's claims were taken with a big grain of salt. For instance, an article in The Verge noted that Fisker was known for "ambitious vision" but also had a reputation for his "trouble executing."
Fast forward to November 2021.
Climate change reality is hitting home. Now, the White House is pushing to make half of all vehicles sold in the U.S. zero-emission certified by 2030. That means there will be a lot of EVs. One recent report put the value of the global EV market at over $2.49 trillion by 2027.
So, now publicly traded, Fisker is capitalizing on these catalysts by showing off its production-ready Ocean SUV. The battery-powered Fisker Ocean starts at $37,499 and can be had for just $379 per month on a flexible lease. Plus, it's not just any old EV — the model is also one of the world's most sustainable vehicles, thanks to features like a vegan leather interior and its extensive use of recycled materials.
The fact that FSR stock got a bump in November is really a no-brainer, then. But more importantly, Fisker is showing every sign that it's executing.
The Bottom Line on FSR Stock
It's easy to see the potential in Fisker. The market for EVs is huge and, after decades as a curiosity, battery-powered vehicles are going mainstream. 
Tesla has shown just how spectacular the growth potential is for EV makers. Now, the company has a first-mover advantage and is unlikely to lose market dominance anytime soon.
I'm not trying to suggest that Fisker is another Tesla. However, Tesla has shown it's possible to do the unthinkable —  not only starting an EV company from scratch, but also going from zero production capacity to 238,000 EVs manufactured in a quarter.
Will FSR stock ever see the explosive growth that TSLA stock has seen? It's 33% climb in November was a good start. There's also no shortage of analysts who are bullish on Fisker. For instance, Bank of America analyst John Murphy recently upgraded his price target from $18 to $24.
The bottom line here? Fisker has potential and the risk involved with investing in this company is considerably less than it once was. With production a year out, there are ways its plans could still go sideways. However, with production-ready versions of the Ocean already on display — details published and pricing confirmed — FSR stock is looking more and more like a good candidate for long-term growth.
On the date of publication, neither Louis Navellier nor the InvestorPlace Research Staff member primarily responsible for this article held (either directly or indirectly) any positions in the securities mentioned in this article.
Louis Navellier, who has been called "one of the most important money managers of our time," has broken the silence in this shocking "tell all" video… exposing one of the most shocking events in our country's history… and the one move every American needs to make today.
More From InvestorPlace
The post With Fisker Up 33% in November, Is There Still Room for Growth? appeared first on InvestorPlace.