With Plenty of Positive Catalysts, Trading Canoo Stock Just Makes Sense
It's easy to get lost in today's popular again, high-octane field of EV stocks. But when it comes to the manufacturing of profits, Canoo's (NASDAQ:GOEV)…
It's easy to get lost in today's popular again, high-octane field of EV stocks. But when it comes to the manufacturing of profits, Canoo's (NASDAQ:GOEV) GOEV stock is shaping up for some bullish investors. Let me explain.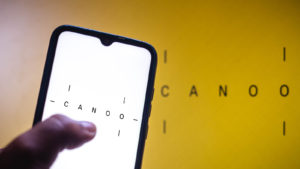 Source: shutterstock.com/rafapress
Anchored by Tesla's (NASDAQ:TSLA) pedal-to-the-metal rally over the past couple months, it's been a good stretch to have been invested in electric vehicle plays.
And recent $66.5 billion IPO Rivian Automotive (NASDAQ:RIVN) or the boatload of high profile plays — such as QuantumScape (NYSE:QS), Lucid Motors (NASDAQ:LCID) and Blink Charging (NASDAQ:BLNK) — rising from the ashes adds full-blown technicolor to a period in which bulls should be giving thanks for.
Some of that appreciation of course should also be sent Joe's way.
It's no secret President Joe Biden's massive $2 trillion economic deal is funneling billions towards a buildout of EV-related infrastructure in the U.S.
And the agreement has acted as a significant boost to many EV stocks in recent weeks. Prescient and anticipatory buying has been followed up with excited "your tax dollars at work" confirmation.
Still, whether trusting Joe or a broader secular trend in renewables, Nikola (NASDAQ:NKLA), Romeo Power (NYSE:RMO), Hyliion Holdings (NYSE:HYLN), Arcimoto (NASDAQ:FUV) and many others warn it's still not a one-way street for EV investors wanting exposure to the group.
But if you're going to dream a tiny bit, one stock that's worth considering is GOEV.
Since Nov. 18, the pre-revenue EV designer has seen GOEV stock soar higher by 21% on the back of positive progress.
First, the outfit is making an incentives-driven, Tesla-like move by pulling up its California stakes.
Canoo's new headquarters and research and development facility will be in Arkansas and near its under-construction Oklahoma factory, as well as other planned facilities.
Moreover, the geographic alignment also boasts roughly $100 million in kickbacks from both states.
Also, GOEV's management set a target of "$100 million in vehicle orders" which got investors' attention. Lastly and to get them towards that end, Canoo updated Wall Street with a more bullish manufacturing timeline.
The company now expects production of its first of three modular skateboard platform EVs called the Lifestyle Vehicle, an off-road-ready, "loft on wheels" van, to begin prior to next year's fourth-quarter.
GOEV Stock Weekly Price Chart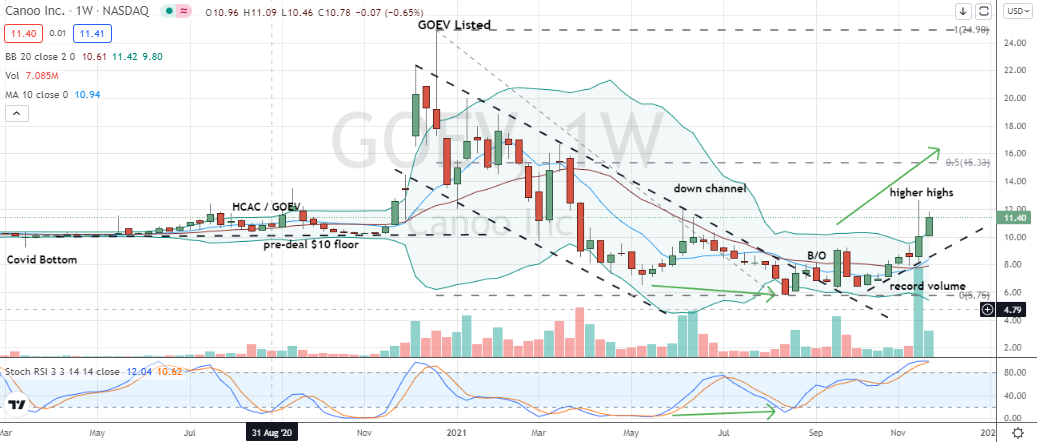 Source: Charts by TradingView
Everyone wants to own a ten bagger, right? And with Canoo's market cap of $2.8 billion and operations now scheduled to begin in earnest by late next year, there's plausibly room for a much larger valuation in GOEV stock to emerge.
But what's that going to really look like for investors?
Less desirably, given that GOEV has been ramping up its capital expenditures in relation to its cash reserves, investors should brace for valuation increase vis-à-vis a secondary offering.
And maybe it's that type of dilutive event that some of GOEV's nearly 28% in bearish short interest is still waiting on? Could be.
That's not a warning to steer clear of Canoo though.
Just realize GOEV stock's improved uptrend curb appeal — and the possibility of a second offering, which would be a prudent move by management — makes GOEV at risk for a below-the-market capital raise.
Today the observation is Canoo can still work its way into a larger valuation by trading towards this year's 50% retracement level near $15.
Consider everything that GOEV stock is and isn't. In a market that has shown its ability for speculative excess, that's not some distant forecast. It could happen at any time.
But should bulls be successful in rallying shares, expect Canoo's C-suite to do the right thing for GOEV to improve its path towards sustainability.
Bottom-line, if you're in it to win it, trading around GOEV's volatility by buying low today and selling high while you can — and then maybe reloading down the road — makes sense.
On the date of publication, Chris Tyler did not have (either directly or indirectly) any positions in the securities mentioned in this article. The opinions expressed in this article are those of the writer, subject to the InvestorPlace.com Publishing Guidelines.
Chris Tyler is a former floor-based, derivatives market maker on the American and Pacific exchanges. For additional market insights and related musings, follow Chris on Twitter @Options_CAT and StockTwits.
More From InvestorPlace
The post With Plenty of Positive Catalysts, Trading Canoo Stock Just Makes Sense appeared first on InvestorPlace.
Renault Unveils Flying Car For Travel On Sky Highways 
Renault Unveils Flying Car For Travel On Sky Highways 
French automaker Renault has unveiled a flying car for the 60th anniversary of the…
Renault Unveils Flying Car For Travel On Sky Highways 
French automaker Renault has unveiled a flying car for the 60th anniversary of the iconic Renault 4.  
Renault teamed up with Miami-based design firm TheArsenale to create the flying car based on an updated version of the 4 (also known as the 4L or "quatrelle"), which began production in 1961 and concluded in 1992. The modern version of the 4 sits on top of the drone frame. "AIR4 is a symbol of independence and freedom, born out of the realization that traffic is compounding, lives are grinding to a halt, and the world above us is unhampered," Renault wrote.
TheArsenale wrote, "a symbol of independence and freedom in carbon-fiber form, the AIR4 is born of the realization that traffic is compounding, lives are grinding to a halt, but the world above us is clear." 
The specifications of the AIR4 show it's powered by 22,000mAh lithium-polymer batteries, which means it can fly around at speeds of 55 mph and have a total lifting capacity of around 840 pounds. There was no mention of flight time. 
AIR4 is expected to be showcased at the Atelier Renault museum in Paris and worldwide, including Miami, New York, and Macau in 2022. 
"After a year-long celebration, we wanted to create something unconventional to close up the 60th anniversary of 4L," said Arnaud Belloni, Renault's marketing boss. "This collaboration with The Arsenale was a natural fit. The flying show car AIR4 is something unseen and a wink to how this icon could look like in another 60 years."
This past summer, Renault announced the Renault 4 will be re-released in an electrified version by 2025. The automaker plans to have up to 90% of cars sold under its brand to be electric by 2030. As for the AIR4, there was no word if the flying car would go into series production. 
Tyler Durden
Tue, 11/30/2021 – 04:15
batteries
IPO Watch: Lithium explorer Winsome Resources listed today – here's how it performed
Two companies IPOd today but the biggest winner was lithium explorer Winsome Resources (ASX:WR1) who listed after raising a tidy … Read More
The post…
Two companies IPOd today but the biggest winner was lithium explorer Winsome Resources (ASX:WR1) who listed after raising a tidy $18 million at $0.20 per share.
The company's shares were trading at 26 cents per share near close of play –  a healthy 30% above issue price.
Funds from the IPO will accelerate the company's exploration at its three project areas – Cancet, Adina and Sirmac-Clappier – in the James Bay Region of Quebec Province, Canada.
The aim is to establish a maiden resource of high quality spodumene concentrate that is suitable for conversion across multiple battery applications.
Notably, the most advanced project – Cancet – is a shallow, high grade lithium deposit and is strategically located close to established infrastructure and supply chains.
Plus, the company says that Quebec is one of the world's most supportive, lowest risk mining regions, renowned for its world-class infrastructure and support for mining developments and is at the forefront of the North American push to develop its own EV battery supply chain.
Winsome managing director Chris Evans was previously MD of FireFinch (ASX:FFX) and COO of Altura Mining (ASX:AJM) – so it's safe to say he knows what he's talking about when he says it's an exciting time to be exploring for lithium.
"Current trends show up to 10 times more lithium is required in the next decade to meet the demand and it is going to require a huge investment to get there," Evans said.
"With more than 99 per cent of the world's lithium reserves located in Australia, Argentina, Chile and China, our projects offer jurisdictional diversity and opportunity to contribute to the expanding North American battery industry."

Also listing today was microbiome health company Biome Australia, who licences, develops and markets innovative, evidence-based, complementary medicines, including nutraceuticals (food-based vitamins and weight management products) and live biotherapeutics (probiotics).
The company IPOd at $8 million at $0.20 per share, and its shares were trading at 11 cents per share – a huuuge 41.25% drop below the issue price.
Biome will use the funds to accelerate new product development and commercialisation in the complementary medicines industry – which it says in Australia is estimated to be worth $5.69 billion.
The company currently distributes 22 products through more than 2,300 community pharmacies and a range of health practitioners and health food stores in Australia, New Zealand and the United Kingdom, with some of its products also available online.
"While supporting health professionals to improve patient health outcomes, Biome has doubled its revenue over each of the last two financial years, with annualised sales revenue to October 2021 showing continued growth," chairman Ilario Faenza said.
It has a clear growth strategy that will be propelled by the IPO proceeds, accelerating commercialisation and product development."

The post IPO Watch: Lithium explorer Winsome Resources listed today – here's how it performed appeared first on Stockhead.
Galan Lithium's PEA returns robust economics for 25-year Candelas Lithium project
Special report: A competitive cash production cost for lithium carbonate of US$4,277/t positions the Candelas project as a low-cost developer … Read…
A competitive cash production cost for lithium carbonate of US$4,277/t positions the Candelas project as a low-cost developer in the lithium industry.
Galan Lithiums' preliminary economic assessment (PEA) for the Candelas Project in Argentina's Catamarca Province has returned 'robust' economic results, featuring a pre-tax NPV of US$1,225 million and IRR of 29.9% with a four-year payback period.
The study has estimated a production profile of 14,000 tonnes per annum of battery grade lithium carbonate (LCE) product including some technical grade product for the first three years.
This means Galan (ASX:GLN) now has two PEA study level projects with combined long term production potential of 34,000 tpa LCE.
The company believes the outcomes at Candelas can be further optimised and enhanced to refine the project's potential.
'Projects among the lowest cost of any future products'
Galan (ASX:GLN) managing director Juan Pablo Vargas de la Vega said: "We remain excited about the potential value add for our shareholders once we enter the lithium market with prices expected to be +US25k/t LCE.
"Our projects would now be among the lowest cost of any future producers in the lithium industry, due to their high grade and low impurity setting, green credentials and a low carbon footprint.
"Galan is excited to be a part of the solution to the global decarbonisation story."
Optimising next steps
Vega added that the company now has a solid commercial base to move forward with a clean, low-tech, and low energy solution.
"We also believe we have capability to further review and reduce Opex and Capex.
"We have learnt so much more about Candelas on this journey and will continue to apply our findings in optimising our next steps at the pre-feasibility and definitive feasibility studies.
"Importantly, we will also continue to review the possibility to produce lithium chloride concentrate to reduce time to market and capital expenditure at both of our projects.
"As a result, we remain determined to bring our projects to market in the shortest possible time so that we can supply lithium for future lithium battery requirements needed for electric vehicles."
Preparation of the project's PEA was managed by Ad Infinitum and Galan's project manager for the engineering inputs including the recovery method, project layout and infrastructure, capital cost and operating cost estimates and overall economic evaluation.
The other sections of the study were managed by consultants and employees of Galan Lithium Limited.
Market outlook
Galan has assumed a conservative view to long term lithium pricing and as a result, has taken a mid-point between the long-term pricing between the 17th and 18th Editions from Roskill of US$18,594/t.
Roskill expects contract prices for lithium carbonate battery grade and hydroxide to remain near to or above US$25,000/t on a long-term real (inflation adjusted) basis.
After softening in 2019 and 2020, prices on a nominal basis the long-term lithium carbonate battery grade price is projected to rise to around US$30,000-40,000/t .
Strong demand growth for refined lithium products is forecast to be sustained by expanding production, new market entrants and the draw-down of stockpiled material through to 2026, though a fundamental supply deficit is expected to form in the late 2020s.
Significant further investment in expanding production capacity at existing operations, in addition to new projects and secondary lithium sources will be necessary to meet projected demand growth through to 2030.

This article was developed in collaboration with Galan Lithium, a Stockhead advertiser at the time of publishing.
This article does not constitute financial product advice. You should consider obtaining independent advice before making any financial decisions.
The post Galan Lithium's PEA returns robust economics for 25-year Candelas Lithium project appeared first on Stockhead.