A Bad Jobs Miss
The unexpectedly bad jobs report … the 10-year yield keeps rising … the support level gold investors need to be watching
Well, that was disappointing.
Last…
The unexpectedly bad jobs report … the 10-year yield keeps rising … the support level gold investors need to be watching
Well, that was disappointing.
Last Friday, we learned that the economy added just 194,000 new jobs in September. Economists polled by The Wall Street Journal had been expected 500,000.
This is the second disappointing month in a row, and marks the fewest jobs created in nine months.
This miss is causing some investors to wonder if it will delay the timing of when the Fed begins to slow its bond-purchasing program. Just about everyone had been expecting next month.
Whether or not that happens, it's likely that the poor jobs report will cause the Fed to think twice about any tightening policy.
For more color on the report, here's our hypergrowth expert, Luke Lango, from his Early Stage Investor Daily Notes on Friday:
The news is particularly puzzling because it comes on the heels of falling weekly jobless claims and a strong ADP Employment Report on Wednesday.
It was a shockingly bad jobs report.
Yet, in response to the bad jobs report, the 10-year Treasury yield powered higher, mostly because the jobs report did have hints of inflation with a better-than-expected 0.6% rise in average hourly earnings.
And, unlike (Thursday), stocks mostly dropped as yields powered higher.
***This underscores an important point to remember about rising yields
Rising yields don't automatically mean stocks will drop. What matters most for stock performance is what's driving the increase in yields.
Back to Luke on this point:
Zooming out, there are two big yield drivers: economic growth and inflation.
When yields move higher because of the former, that's a healthy rise in yields, and stocks power higher.
When yields move higher because of the latter, that's an unhealthy rise in yields, and stocks drop.
(Last Thursday) was a healthy rise in yields. (Last Friday) was an unhealthy rise in yields.
If we pull out bigger picture, Luke believes that today's stock volatility is largely because the bond market is driving the stock market. Stocks need clarification on Fed policy, as well as evidence that inflation is easing.
Right now, we don't have either. The jobs miss on Friday brings into question the timing of the Fed tapering. And we don't have conclusive data suggesting inflation is ebbing.
However, here's Luke on what will happen when those conditions are met:
The bond market will calm down, and the stock market will start operating with independence again – meaning the focus will return to earnings and fundamentals…
All in all, we can't wait for the stock market to stop taking cues from the bond market.
In the meantime, expect more volatility.
***Meanwhile, gold continues to snooze, and is dangerously close to a key support level
Despite jarring inflation numbers over the last several quarters, gold continues to be comatose.
Since hitting a high in August 2020, the precious metal has dropped roughly 15%. And if its price doesn't hold a key support level, additional losses could come fast.
Below, we look at gold's three-year chart. I've added its long-term support line, which is roughly $1,700.
Source: StockCharts.com
As I write Monday, gold is trading about 3% above this level.
Now, there are two worrisome dynamics that make this 3% spread feel a little too thin for comfort.
First, look below at the same chart, but this time we've included two long-term trend lines. What you're seeing is a compressing wedge-pattern.
Source: StockCharts.com
As we've noted before here in the Digest, a study of market history shows that assets often make strong moves after going through periods of compressed price action.
Most recently, we called attention to a wedge pattern in gold back in early August – though that wedge covered a shorter time-horizon.
We were right about gold breaking out of that wedge with a strong move – unfortunately, we were wrong about the direction. Gold fell through the support level we'd identified (though quickly bounced back…then fell again).
When looking at the longer-term wedge pattern above, we expect a similar strong move out of this wedge. Unfortunately, given that the dominate price trend since summer 2020 is "down," it suggests the direction of the wedge-break will be south.
If you look back to our first chart, you'll see that if gold falls below $1,700, there's a lot of room to drop before finding new support.
***The second worrisome detail in all of this is the strengthening dollar
In the long run, we're concerned for the dollar given the trillions of dollars our government has blasted into the economy.
However, in the shorter-term, the dollar has upward momentum – and that's bad for gold.
Here's our macro specialist and the editor of Investment Report, Eric Fry:
Although it is impossible to cite a specific reason why the gold price has been drifting lower, the dollar's recent uptrend is certainly part of the reason.
After bottoming out at 89.20 on Jan. 6, the Dollar Index has advanced nearly 5%.
That's a big move in the world of currencies. And since gold tends to move inversely with the dollar, the greenback's recent winning ways have produced losing ways for the gold market.
As Eric just noted, gold and the dollar tend to have an inverse relationship. When one increases in value, the other usually decreases.
You can see this dynamic play out in the chart below. It compares gold and the dollar over the last 16 months.
The price of gold is in black, on the top part of the chart. The value of the U.S. dollar is in green, on the bottom part of the chart.
Notice how they tend to move opposite of one another.
Source: StockCharts.com
Below, we look at the dollar over the last two-an-a-half years.
You can see it double-bottoming this year. And since May, it's largely been showing strength or consolidation.
Most recently, it broke out of its summer trading range between 92 and 93.
Source: StockCharts.com
Bottom-line, the dollar is showing bullish technical action right now. Translation – bad for gold.
One thing to point out, however, is gold's prospects usually turn around when it appears all hope is lost.
Here's Eric:
The yellow metal is barely registering a pulse at the moment. Most of the wax figures inside Madame Tussauds museum seem more vibrant and lifelike.
But that's simply how gold behaves from time to time. It "does nothing" for such extended periods of time that investors begin to doubt it could fog a mirror.
Gradually, they turn their back on the comatose metal and leave it for dead. But that's usually about the time it comes to life.
Though we agree with Eric, we're hard-pressed to find an immediate catalyst that will help gold's price in the immediate future – though we hope to be proven wrong.
Bottom-line, keep your eye on $1,700. If gold fails to hold this price-level, watch out below.
We'll continue to keep you updated here in the Digest.
Have a good evening,
Jeff Remsburg
The post A Bad Jobs Miss appeared first on InvestorPlace.
Pampa Metals' surface geological work at Block 4 property leads to intense porphyry-related quartz-vein stockwork zone
2021.10.25
Pampa Metals Corp. (CSE: PM) (FSE: FIRA) (OTCQX: PMMCF) continues to make significant progress in its quest to find greenfield porphyry discoveries…
2021.10.25
Pampa Metals Corp. (CSE: PM) (FSE: FIRA) (OTCQX: PMMCF) continues to make significant progress in its quest to find greenfield porphyry discoveries along the mineral-rich belts of Chile's Atacama region.
This week, the junior miner provided an update regarding its Block 4 project, where the company recently completed detailed surface geological reconnaissance together with a ground magnetic geophysical survey of the 4,200-hectare project area.
Block 4 Project Overview
Pampa Metals' Block 4 project is located along the Cordillera de Domeyko porphyry copper belt in northern Chile, which is host to some of the world's largest copper deposits and mines.
The property is located along a highly prolific segment of this Andean mineral belt, centered along trend some 110 km south of the giant La Escondida – Zaldivar copper mining district and 115 km north-northeast of the El Salvador copper mine (see map below).
Significant portions of the Block 4 project area are characterized by post-mineral Miocene to recent alluvial and volcanic cover, particularly to the north and east within the property boundary, where the underlying geology is obscured.
Elevated sierras around the western and southern margins of the property expose basement rocks that include Palaeozoic felsic volcanics and intrusions, and Mid to Late Triassic andesites, sediments and andesite-dacite porphyries.
According to Pampa Metals, these basement rocks are limited to the east by a series of north-south to north-northeast faults, which to the north have continuity with the Escondida fault that cuts the La Escondida – Zaldivar mining district.
Old reports and regional data indicate that Jurassic sediments are intruded by Lower Tertiary dioritic rocks under the gravels to the east of the north-south fault system.
Palaeozoic felsic volcanic rocks in the central-northeastern part of the property display copper-oxide mineralization at surface associated with hydrothermal alteration with quartz veins and veinlets, the relationship of which to porphyry systems has been tested in the past by 11 RC drill holes identified on this portion of the property, the results of which are still unknown.
Felsic basement rocks in the central part of the project area are cut by a possibly Lower to Mid- Tertiary porphyry of fine, dacitic composition that is poorly exposed over an approximate area of 600m x 300m. This shows strong evidence of porphyry-type development with phyllic alteration and narrow and thick veinlets of "A" type quartz veinlets together with sinuous, banded grey quartz veinlets (see photo below).
This veinlet style is typical of some gold-rich porphyry systems in northern Chile. Limited samples (due to the lack of outcrop) have been submitted for chemical analysis, with results pending.
Various processed product maps from the recently completed ground magnetic geophysical survey at Block 4 consistently reveal a clear, isolated magnetic high in the central part of the property, which is coincident with the zone of quartz-veinlet stockworks.
The magnetic anomaly is about 800m x 800m in surface plan view, and depth slices of the data suggest a subvertical, conical body at least 750m in vertical extent, possibly connected to a larger intrusion to the northeast and southeast (see figure below).
The magnetic data indicate additional anomalies that may be associated with magmatic centers and/or porphyry-related hydrothermal alteration zones, with minor copper oxides occurring in the exposed zones, while others under cover are associated with north-south faults or magnetic lineaments. One of these has four historic RC drill holes on its margins, with unknown results.
Pampa Metals is continuing with the processing and interpretation of its field geological and geophysical data, including pending chemical analyses from limited sampling, to decide the next steps for the project.
These may include one or more of further geological work, limited trenching, additional geophysical surveys and reconnaissance drilling.
Project Portfolio
Block 4 is only one of several highly prospective projects that the company is actively advancing in the heart of Chile's world-class mineral belts.
Pampa Metals has a unique portfolio of eight exploration projects covering a series of greenfield copper and gold targets within a total area of 59,000 hectares, which, in terms of land position, is almost unrivalled for a junior miner operating in Chile.
These projects (Arrieros, Block 2, Redondo-Veronica, Block 3, Block 4, Cerro Buenos Aires, Cerro Blanco and Morros Blancos) are all located along proven mineral belts of the Atacama region, including the Central Paleocene and Domeyko belts that have dominated the world's copper production.
As shown on the map above, five of those projects are situated along the mid-Tertiary porphyry copper belt of northern Chile — the Domeyko Cordillera — that is host to three of the world's top five copper mining districts at Collahuasi, Chuquicamata and Escondida (the world's biggest).
The remaining three are located in the heart of the Paleocene mineral belt, which hosts a series of important porphyry copper deposits and mines such as Cerro Colorado (BHP), Spence (BHP), Sierra Gorda (KGHM & Sumitomo) and Relincho (part of Nueva Union – Teck-Goldcorp).
Note that many, but not all, porphyry deposits in Chile (and worldwide) occur in clusters, and brownfields exploration once a discovery is made can be very productive.
The northern Chilean Atacama Desert extends from the Peruvian border into Peru, down to somewhere north of Santiago; most of the principal mining districts in Chile are located in this sparsely populated, desert area. The main exceptions are the large copper mines (El Teniente, Los Bronces, Andina, Pelambres) to the east of Santiago.
The northern desert is characterized by elevated ranges of mountains, separated by relatively flat, piedmont-gravel-filled "pampas" that conceal the underlying geology. A rough estimate would suggest that at least 50% of northern Chile is covered by pampa deposits. One might consequently deduce that half of the likely mineral deposits are thus concealed by pampas.
These areas remain underexplored because they contain a layer of gravel, 30-50m thick, that was deposited after the formation of the porphyries.
Notwithstanding the important discoveries noted above, there are still very large areas of untested pampas in northern Chile that have the potential to conceal important mineral deposits.
Outcrops in the pampas are rare, however. If found, they can display similar characteristics, in terms of geology and hydrological alteration, as copper porphyry deposits. Pampa Metals' game plan is to first conduct surveys to find the outcrops, and then sample and drill them.
2021 Drilling Plan
Since its inception in late 2020, Pampa Metals has been rapidly self-funding exploration on projects with the greatest potential for copper discoveries.
Detailed geological mapping has already been completed at the Redondo-Veronica, Cerro Buenos Aires, Block 3, Arrieros and now the Block 4 projects.
Phase 1 drilling on the Redondo-Veronica and Cerro Buenos Aires properties has also been completed, with more drilling planned on both properties in the coming months, along with initial drilling at Block 3 and Block 4. These four projects will be Pampa Metals' near-term exploration focus.
Results so far from just the Cerro Buenos Aires portion drilling have shown "highly encouraging indications of a porphyry system," the company recently revealed.
Could the outcrop at Cerro Buenos Aires be the tip of the iceberg of a large porphyry underneath? Further drilling should reveal more about the geology and mineralization.
Meanwhile, Pampa Metals is also leveraging third-party funding from major shareholder Austral Gold Ltd. to expedite exploration activities on the Cerro Blanco and Morros Blancos properties.
Cerro Blanco and Morros Blancos are considered two of the three "lithocap" projects within Pampa Metals' eight-project exploration portfolio. Lithocap targets geologically represent the upper portions of potential porphyry copper systems, and, according to the company, often have significant precious metals potential.
Historical results to date at both projects suggest good potential for near-surface gold-silver mineralization possibly associated with deeper copper mineralization.
Copper Squeeze
Pampa Metals' hunt for the next big porphyry discovery in Chile comes amid a historic copper bull market.
Copper is a major component of motors, batteries, inverters, wiring and charging stations for EVs, and as such, is essential to the global drive towards low-carbon technologies.
Data analytics firm Fitch Solutions estimates that demand for "green" copper alone could reach 1.4 million tonnes in 2021, then rising to 5.4 million tonnes in 2030 at an average growth rate of 13% year-on-year.
An influx of infrastructure spending to reinvigorate economies during the Covid pandemic has also jolted the commodities market, sending copper prices to a record high earlier this year.
However, a copper bull market poses widespread challenges to the global supply chain. Due to a lack of new projects and booming demand, we're seeing a supply deficit that is rapidly growing on a yearly basis.
A report by CRU Group had predicted earlier this year that the world will face a massive copper shortfall within a decade, with the annual supply deficit estimated at 4.7 million tonnes by 2030.
Without new projects, the global copper supply gap could reach as high as 15 million tonnes by 2035, CRU says.
To close the gap, the world will need at least 10 million tonnes of copper, according to CRU, requiring upwards of $100 billion in total spending.
Global commodities trader Trafigura went even further, anticipating a significant deficit in the region of 10 million tonnes by then.
Exacerbating the issue is the surging power costs in parts of the world that have caused factory slowdowns, imperiling the production of smelters worldwide.
Last week, the London Metal Exchange began to experience a critical shortfall in its copper inventories, with the metal available for withdrawal hitting its lowest levels since 1974.
Bank of America Corp. recently said a copper price of $20,000/tonne — which is almost double its all-time high — could be possible if major supply-side issues arose simultaneously.
The short-term headwinds, combined with escalating copper demand, illustrate why it is imperative for miners to quickly develop new projects in time to catch the upcoming rally.
Conclusion
Out of all copper explorers, what really works to Pampa Metals' advantage is its considerable land position within Chile, the #1 copper-producing nation, accounting for over 25% of the global output.
Three of the world's top 5 copper mining districts in the northern desert area, where all eight of Pampa Metals' projects are located. Some of the biggest copper mines, such as El Teniente, Chuquicamata and Escondida (the world's largest), are all found within this region.
The company's executive team has also accumulated years of experience at global majors like BHP, Rio Tinto and Anglo American; these mining giants have all undertaken significant exploration and production in this particular part of Chile.
The Pampa Metals' team, too, has significant experience within the Atacama Desert in northern Chile, having helped to bring BHP's large-scale Spence copper mine online.
As we've previously discussed, recent drilling at both the Cerro Buenos Aires and Redondo-Veronica properties has given the company early indications that they are in the vicinity of a highly mineralized porphyry copper system.
Further drilling would be needed for confirmation, but given the success of those who have explored for copper here in the past, PM's large land position, and experienced management, there's no reason why Pampa Metals can't be as successful
Pampa Metals Corp.
CSE:PM, FSE:FIRA
Cdn$0.42, 2021.10.21
Shares Outstanding 46.4m
Market cap Cdn$19.3m
PM website
Richard (Rick) Mills
aheadoftheherd.com
subscribe to my free newsletter
Legal Notice / Disclaimer
Ahead of the Herd newsletter, aheadoftheherd.com, hereafter known as AOTH.
Please read the entire Disclaimer carefully before you use this website or read the newsletter. If you do not agree to all the AOTH/Richard Mills Disclaimer, do not access/read this website/newsletter/article, or any of its pages. By reading/using this AOTH/Richard Mills website/newsletter/article, and whether you actually read this Disclaimer, you are deemed to have accepted it.
Any AOTH/Richard Mills document is not, and should not be, construed as an offer to sell or the solicitation of an offer to purchase or subscribe for any investment.
AOTH/Richard Mills has based this document on information obtained from sources he believes to be reliable, but which has not been independently verified.
AOTH/Richard Mills makes no guarantee, representation or warranty and accepts no responsibility or liability as to its accuracy or completeness.
Expressions of opinion are those of AOTH/Richard Mills only and are subject to change without notice.
AOTH/Richard Mills assumes no warranty, liability or guarantee for the current relevance, correctness or completeness of any information provided within this Report and will not be held liable for the consequence of reliance upon any opinion or statement contained herein or any omission.
Furthermore, AOTH/Richard Mills assumes no liability for any direct or indirect loss or damage for lost profit, which you may incur as a result of the use and existence of the information provided within this AOTH/Richard Mills Report.
You agree that by reading AOTH/Richard Mills articles, you are acting at your OWN RISK. In no event should AOTH/Richard Mills liable for any direct or indirect trading losses caused by any information contained in AOTH/Richard Mills articles. Information in AOTH/Richard Mills articles is not an offer to sell or a solicitation of an offer to buy any security. AOTH/Richard Mills is not suggesting the transacting of any financial instruments.
Our publications are not a recommendation to buy or sell a security – no information posted on this site is to be considered investment advice or a recommendation to do anything involving finance or money aside from performing your own due diligence and consulting with your personal registered broker/financial advisor.
AOTH/Richard Mills recommends that before investing in any securities, you consult with a professional financial planner or advisor, and that you should conduct a complete and independent investigation before investing in any security after prudent consideration of all pertinent risks.  Ahead of the Herd is not a registered broker, dealer, analyst, or advisor. We hold no investment licenses and may not sell, offer to sell, or offer to buy any security.
Richard does not own shares of Pampa Metals Corp. (CSE:PM). Pampa is a paid advertiser on his site aheadoftheherd.com.
US stocks close mixed on Powell's hawkish remark
Dow Jones closed higher while S P 500 and Nasdaq drifted on Friday October 22 after Fed Chair Jerome Powell s tapering remarks weighed on investors…
Dow Jones closed higher, while S&P 500 and Nasdaq drifted on Friday, October 22, after Fed Chair, Jerome Powell's tapering remarks weighed on investors' sentiment. However, the optimism over the robust earnings has pushed the indices towards their third consecutive week of gains.
The S&P 500 was down 0.11% to 4,544.90. The Dow Jones Industrial Average increased by 0.21% to 35,677.02. The NASDAQ Composite Index fell 0.82% to 15,090.20, and the small-cap Russell 2000 was down 0.21% to 2,291.27.
On Friday, the Federal Reserve Chair, Jerome Powell said that the central bank should start dialing back its asset-buying program soon while suggesting that the interest rate shouldn't be increased as of now. While the strong earnings results have lifted the investors' confidence in recent weeks, the remarks from the Fed Chair raised concerns of the investors.
The Fed has reassured that the interest rate will be kept at the "near-zero" level until the economy returns to its expected employment and the inflation would come under the Fed's expectation level of 2%. Meanwhile, the supply-chain disruptions and the rising costs of the raw materials indicated that inflation is likely to stay above the level for some time.
Will the US Markets rise on Monday after Powell's remarks?
The financial and the real-estate sector topped the S&P 500 index on Friday, with communication services and consumer discretionary sectors as the bottom movers. Eight of the 11 critical sectors of the S&P 500 index stayed in the positive territory.
The stocks of Cleveland-Cliffs Inc. (CLF) gained 12.10% in intraday trading, after reporting better-than-expected quarterly earnings on Friday, before the bell. The company has reported record revenue of US$6 billion in Q3, FY21, while its net income came in at US$1.28 billion.
The shares of American Express Company (AXP) rose 5.50% after the company has reported strong quarterly earnings results as more people used their cards for traveling, dining, and other leisure activities. The total revenue of the company surged around 25% YoY to US$10.92 billion, while its net income was up 70% from the previous year's same quarter to US$1.82 billion.
The stocks of Honeywell International Inc. (HON) plunged 2.90% after the company has lowered its full-year sales forecast due to the bottleneck supply constraints. The company's sales rose 9% YoY to US$8.47 billion in Q3, FY21, while its EPS was up 68% YoY to US$1.80 apiece. However, the company has lowered its sales forecast to be between US$34.2 billion and US$34.6 billion from its previous forecast of US$34.6 billion and US$35.2 billion.
In the financial sector, JP Morgan Chase & Co. (JPM) increased by 1.15%, Bank of America Corporation (BAC) rose 1.27%, and Morgan Stanley (MS) surged 1.54%. Citigroup, Inc. (C) and Goldman Sachs Group, Inc. (GS) gained 1.28% and 1.65%, respectively.
In real-estate stocks, American Tower Corporation (AMT) advanced 1.86%, Equinix, Inc. (EQIX) jumped 1.52%, and Public Storage (PSA) soared 1.21%. Digital Realty Trust, Inc. (DLR) and SBA Communications Corporation (SBAC) ticked up 1.03% and 1.71%, respectively.
In the communication sector, Alphabet Inc. (GOOGL) decreased by 3.13%, Facebook, Inc. (FB) fell 5.91%, and Walt Disney Company (DIS) declined by 1.10%. Twitter Inc. (TWTR) and Snap Inc. (SNAP) plummeted 4.15% and 25.99%, respectively.
Also Read: Roper (ROP) & Seagate (STX) stocks rally after Q3 reports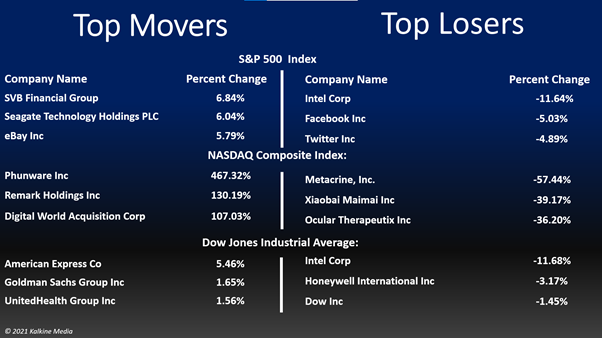 Also Read: Top 7 REITs with over 50% YTD returns to explore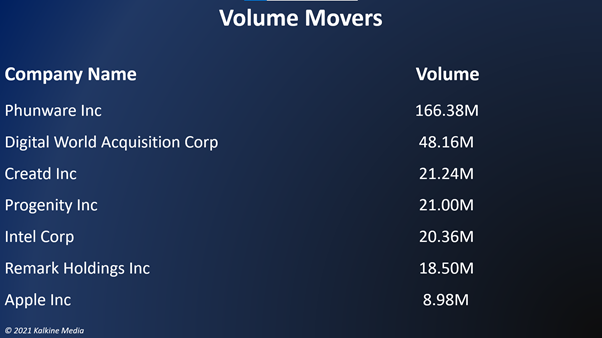 Also Read: 5 industrial stocks with over 40% YTD returns to explore
Futures & Commodities
Gold futures were up 0.71% to US$1,794.60 per ounce. Silver increased by 0.86% to US$24.378 per ounce, while copper fell 1.24% to US$4.5018.
Brent oil futures increased by 1.55% to US$85.92 per barrel and WTI crude was up 2.06% to US$84.20.
Bond Market
The 30-year Treasury bond yields was down 2.47% to 2.075, while the 10-year bond yields fell 1.91% to 1.643.
US Dollar Futures Index decreased by 0.17% to US$93.602.
dollar
gold
silver
inflation
commodities
markets
reserve
fed
central bank
us dollar
Trending Silver Stocks To Buy Now? 3 For Your Watchlist This Week
Which trending silver stocks are on your watchlist this week? In recent…
The post Trending Silver Stocks To Buy Now? 3 For Your Watchlist This Week appeared…
Which trending silver stocks are on your watchlist this week?
In recent months, the market for silver stocks has been fairly interesting to follow. During the last year and a half, silver assets have skyrocketed in price due to the pandemic. Many silver assets saw bigger percentage returns than gold stocks. This attracted a large number of new investors to the metal who had previously passed it up. Another semi-recent occurrence also attracted a large number of new investors to silver. You've probably heard about the GameStop scenario, in which Reddit traders artificially inflated the stock's price. This is something that has occurred multiple times with silver stocks as well.
Right present, the biggest factor pushing the price of this metal is the ongoing epidemic. When incidences of COVID-19 began to decline as a result of vaccines, things began to look bleak for mining stocks. Nobody knows what will happen in the United States now that the Delta variant has been rampant in multiple locations around the world.
As a result of the increased volatility, some investors have returned to silver stocks. If the government issues additional stimulus or the stock market crashes, mining equities are likely to benefit. Silver stocks were also boosted after news broke that Reddit traders were pushing the metal's price higher at the start of 2021. This drew a lot more attention to silver equities and, as a result, attracted a lot more investors. Keeping this information in mind, which silver stocks will be on your watchlist as October continues?
Top Silver Stocks To Watch
Pan American Silver Corp. (NASDAQ: PAAS)
Endeavour Silver Corp. (NYSE: EXK)
Hecla Mining Company (NYSE: HL)
Pan American Silver Corp. is a mining company that discovers, develops, extracts, refines, and reclaims silver from various mines. These mines are located in Canada, Mexico, Peru, Argentina, and Bolivia, and are operated by the business. Gold, zinc, lead, and copper are also sold by Pan American. Pan American has a stake in a number of mines, all of which contribute to its bottom line.
The corporation released its second-quarter financial results for 2021 on August 10th. During the quarter, the company produced 142.3 ounces of gold consolidated. In 2021, it earned $382.1 million in revenue. These results were considered to be positive for Pan American Silver Corp. The company now expects its cash flows to further improve in the second half of 2021.
Now we will find out if the company's cash flows have improved, as it will soon be reporting its third-quarter 2021 unaudited results. The release of these results will take place on November 9th. Pan American Silver will host an accompanying conference call and webcast on November 10th. It will be interesting to see what the company reports, as it could impact its stock price. For now, is PAAS going to be on your list of silver stocks to watch?
Endeavour Silver Corp. is a silver stock that has recently seen a price increase. This business acquires, explores, and develops land. Endeavour's mineral characteristics are being processed, refined, and reclaimed. The majority of Endeavour's key assets are in Mexico and Chile. Endeavour's mines are mostly used to seek for silver and gold.
Endeavour reported new production numbers on October 7th, 2021. The company reported 1,305,399 silver ounces and 10.541 gold ounces in the third quarter of 2021. This means that its total silver equivalent production was 2.1 million oz at an 80:1 silver:gold ratio, totaling 6.1 million AgEq for the 9 months ended September 30th. Currently, its silver equivalent production at each mine is on track to meet or improve on its 2021 production plans.
The CEO of Endeavour, Dan Dickson said, "Our 2021 business plan shows strong performance, which has resulted in higher production than last year, despite suspending operations at the small El Compas mine. This reaffirms an important year of investment into our people and culture programs to ensure the long-term sustainability of our operations." On October 22nd, EXK stock price went up by 2.46% in the market. Its volume is also nearly double its market average. With this new info to note, will EXK be on your silver stock watchlist?
Hecla Mining Company (NYSE: HL)
Hecla Mining Company is a silver stock that went up 2.64% on the trading day of October 22nd. This company has an interest in base and precious metal properties all over the world. The company engages in the acquisition, development, production, and discovery at these properties. It offers silver and gold bullion bars, lead, zinc, and bulk concentrated. It has a 100% interest in the Greens Creek mine in Alaska, and the Lucky Friday mine in Idaho, as well as many others.
On October 12th, the company reported its preliminary production results for the third quarter of 2021. During this period, its silver production decreased to 2.7 million ounces because of lower grades at its Greens Creek mine due to sequencing. This was partially offset by its positive Lucky Friday production. Hecla's total gold production was in line with last year, at 42,206 ounces.
The President and CEO of the company, Phillips S. Baker Jr. said, "Greens Creek had a good quarter but was down compared to an exceptional 2020 third quarter. The mine experienced lower grades due to the mine sequence, which was driven by manpower challenges that are being addressed through schedule changes and other means." On October 22nd, HL stock's volume is at about 7.7 million compared to a market average of 6.2 million. With this to note, will HL stock make it on to your silver list this month?
Best Silver Stocks To Buy?
Choosing the top silver stocks to invest in can be a difficult task. Developing an investment strategy can assist to mitigate many of the risks. This might be as basic as checking the company's or industry's recent news. Analyzing what's going on in the world can also be beneficial, as everything from job reports to government stimulus has a significant impact on mining stocks. With all of this in mind, which silver stocks will you add to your list this month?
The post Trending Silver Stocks To Buy Now? 3 For Your Watchlist This Week appeared first on Gold Stocks to Buy, Picks, News and Information | GoldStocks.com.